Waterloo Region has had a gaming community for as long as I've been aware of gaming and probably longer. Unsurprisingly, this extends to the creative side of things as well. Local gaming companies have included firms like RAFM and Guardians of Order. Waterloo Region adjacent creators have included Jose Garcia, Dave Okum, and Ed Greenwood (if memory series). There are many others. I've been out of the field for 16 years, so I didn't feel comfortable writing up the local gaming scene. Instead I turned to Anna Kreider of Peach Pants Press to write a piece about her work and the work of others in the region.
By complete coincidence (I first spoke to Anna about the possibility of her writing an essay for me months ago), two of her games are featured in this week's Bundle of Holding!

Game Design in Kitchener-Waterloo
When I first moved to Kitchener-Waterloo, I had trouble connecting with the local tabletop gaming scene and felt very disconnected from the hobby. It wasn't until several years later that I was connected by chance to a thriving local gaming scene, which has only grown more vibrant since the opening of local board game cafes like The Adventurers' Guild, Crossroads, and Games On Tap. And while designing games isn't quite as popular a hobby as playing them is, Kitchener has several local game designers doing interesting work.
---
A Year of Waterloo Region Speculative Fiction
Sea of Wind — Fuyumi Ono
The Twelve Kingdoms, book 2
1993's portal fantasy Sea of Wind is the second volume in Fuyumi Ono's Twelve Kingdoms series. The 2007 English language edition was translated by Alexander O. Smith and Elye J. Alexander.
Taiki spent his childhood wracked with guilt for continually disappointing his judgmental grandmother, who never fully explained what he had done wrong. Small wonder that the ten-year-old leapt at a mysterious summons from another realm. Bye granny! Destiny awaits!
Destiny and, it turns out, heavy responsibilities and great danger.
---
Translation
Trotsky's Run — Richard Hoyt
James Burbage, book 1
1982's Trotsky's Run is the first of Richard Hoyt's James Burbage thrillers.
Twenty years after fleeing to Moscow, Kim Philby wants to escape his dreary life in the Soviet Union. Returning to the United Kingdom is not in the cards. But what Philby knows (or can prove) may suffice to buy his way into the United States.
He claims that a Soviet mole is slated to become President of the United States.
---
Reds Under The Bed
Reviewing reviews is a bit meta, but … if I were going to review another reviewer in this series, the reviewer would be Spider Robinson, whose columns I devoured as a teenager. His review in the December 1976 issue of the late, lamented Galaxy Magazine (RIP) had an enormous effect on me, because in it he revealed a previously unknown fact: Toronto, then Canada's second largest city, had a bookstore specializing in science fiction and fantasy. A bookstore called Bakka Books.
There was just one problem. I didn't live in Toronto. In fact, I didn't even live in Kitchener-Waterloo. I lived adjacent to KW, on a farm well away from any intercity bus routes. Then as now, I did not drive. While I am an avid walker, 100 km to Toronto and 100 km back seemed a bit far. What to do?
Misappropriate school resources, of course.
---
Because My Tears Are Delicious To You
A Peace Divided — Tanya Huff
Peacekeeper, book 2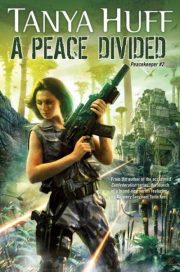 2017's A Peace Divided is the second novel in Tanya Huff's Peacekeeper series.
War's end means that many former soldiers are dumped back into civilian life. Not all of the veterans are suited to peacetime occupations. Some, like Gunnery Sergeant Torin Kerr and her team, find gainful employment as Wardens, the interstellar police of the Confederation. Less fortunate cast-offs, like Commander Yurrisk and his soldiers, become bandits and mercenaries.
33X73's natives vanished long before the Confederation was formed. Even at their height, they never got close to star-flight or Elder-Race-level technology. Why then did Yurrisk's mercenaries attack and occupy an archaeological dig on 33X73?
The fact that the attackers are drawn from both Confederation and Primacy forces is a clue. Though rivals, the two polities do have a mutual enemy: the so-called plastic aliens. 33X73 offers a unique opportunity to hit back at the enemy.
---
Military Speculative Fiction That Doesn't Suck
Shadow of a Musical — Armon Kishen Kohli & The UW Cabaret Club
Weather prevented me from seeing Armon Kishen Kohli's Winter 2016 UW Cabaret Club's production Shadow of a Musical, which features an original script and re-purposed songs1.
Providentially, not only is Shadow suitable for this series of reviews, it turns out that UW Cabaret Club puts its productions online .
The small town's motto isn't "Come for the suspiciously low rent! Stay because the cultists have taken you prisoner!" But it should be.
---
A Year of Waterloo Region Speculative Fiction
Chiho Saito
Revolutionary Girl Utena, book 2
Volume 2 is the second half of Viz's The Revolutionary Girl Utena Complete Deluxe Box Set, which collects all of Chiho Saito's popular manga, Revolutionary Girl Utena.
---
Translation
Not This August — C. M. Kornbluth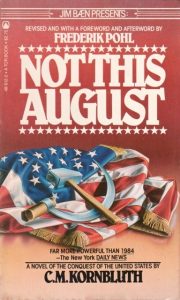 C. M. Kornbluth's 1955 Not This August is a standalone novel of what was then the near future.
April 17, 1965: the bitter war between the United States and its allies—essentially just Canada by this stage of the war—and the combined forces of People's Republic of China and the Soviet Union ends with a glorious victory! But not for the US. America has been invaded, its armies crushed, its government given no choice but to surrender.
In the aftermath of unconditional surrender, the United States of America is swept away, replaced by the North American People's Democratic Republic. What this means for former Americans is not clear.
---
Reds Under The Bed
Star Songs of an Old Primate — James Tiptree, Jr.
1978's Star Songs of an Old Primate was James Tiptree, Jr's third collection. Three years separated it from Warm Worlds and Otherwise —three years and a significant revelation.
---
Because My Tears Are Delicious To You
Sovereign — April Daniels
Nemesis, book 2
2017's Sovereign is the second novel in April Daniels' Nemesis series.
Less than a year after super-powers were thrust on her, Danny "Dreadnought" Tozer seems to be finding her feet as a superhero and as a person. She and her lawyer have a cunning scheme to recreate the effectively defunct Legion Pacifica under Danny's control. Danny is also on the verge of being legally emancipated from her abusive parents. Not bad for someone only barely old enough to drive.
With everything under control, it seems like the perfect time for a working holiday at a global convention for superhumans. This is, of course, exactly when her enemies unite against her.
---
The Song of Hadariah — Alisse Lee Goldenberg
Dybbuk Scrolls Trilogy, book 1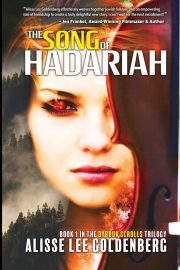 Alisse Lee Goldenberg is an award-winning author of Horror, Young Adult Paranormal Romance, and Young Adult Fantasy fiction. She is currently working on three series: The Sitnalta Series, The Dybbuk Scrolls, and The Bath Salts Journals (co-authored with An Tran). She has her Bachelors of Education and a Fine Arts degree, and has studied fantasy and folklore since she was a child. Alisse is also a voice actress living in Toronto with her husband Brian, and their triplets Joseph, Phillip, and Hailey.
2017's The Song of Hadariah is the first volume in Alisse Lee Goldenberg's Dybbuk Scrolls Trilogy: Book 1
Seventeen-year-old Carrie has a lot of important decisions to make; her choices could shape her entire adult life. When she saves a beleaguered fox from her dog, she does not think that she is making one of those Big Decisions. Yet her impulsive act of kindness turns out to be not just Big, but the Biggest.
---
A Year of Waterloo Region Speculative Fiction
Red Girls — Kazuki Sakuraba
Kazuki Sakuraba's Red Girls: The Legend of the Akakuchibas was published as Akakuchibaki no Densetsu in 2006. The 2015 English language edition was translated by Jocelyne Allen.
No one would have thought that the foundling Manyo was marked for great things. A mysterious mountain-dwelling clan had left the infant in Benimidori, an insignificant rural village. Fostered by a local family, she grew up as just another rustic in a small town notable only for the old Akakuchiba iron works and some recent shipyards. But fate had other plans for Manyo.
---
Translation
The Takeover — G. C. Edmondson & C. M. Kotlan
C. G. Edmondson and C. M. Kotlan's 1984 novel The Takeover is a near-future thriller, written in those long-forgotten days when Americans were terrified that the Russians might somehow subvert America's most basic institutions. Of course, these days we can look back and laugh at such ludicrous fears.
The Russian military adventure codenamed Cassandra was intended to exploit a moment of American vulnerability and win concessions for the Soviet Union. Even Cassandra's architect, Undersecretary of Agriculture and Commerce Pikusky, didn't expect his little project to succeed to the extent it did. The Soviets wanted trade concessions. They got total conquest!
Or so it seemed.
---
Reds Under The Bed
Seven Days in May — Fletcher Knebel & Charles W. Bailey II
Fletcher Knebel and Charles W. Bailey's 1962's Seven Days in May is a best-selling political thriller set in the early 1970s.
The struggle over Iran brought the Americans and Soviets to the brink of all-out war. Republican President Edgar Frazier's decision to accept a divided Iran was reasonable under the circumstances (it averted nuclear war) but it was political suicide for him1.
As his Democratic Party replacement Jordan Lyman discovers, sometimes success is just the opportunity to fail on a more epic scale.
---
Because My Tears Are Delicious To You
Dreadnought — April Daniels
Nemesis, book 1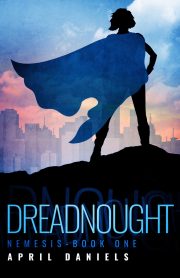 2017's Dreadnought is the first novel in April Daniels' Nemesis series. It's the first book I have read by this author and it will not be the last.
Fifteen-year-old Danny went shopping. Buying nail polish, which was their coping mechanism for life with a domineering father who would react with rage and abuse if he were to discover that his son Danny is actually his daughter Danny. What Danny got out of the shopping trip was a starring role as "vulnerable bystander in a battle between two superhumans," a bystander cowering as the mighty Dreadnought fights to the death with villain Utopia.
Danny was lucky not to be reduced to a sooty outline on a wall. Their luck does not stop there.
---
Special Requests
A Place So Foreign and Eight More — Cory Doctorow
Cory Doctorow probably requires no introduction, but a link to his Wikipedia entry seems prudent. Doctorow's connection to Waterloo Region is, as is so often the case, via education. He attended the University of Waterloo in the 1990s and again in the 2000s.
2003's A Place So Foreign and Eight More is a collection of Doctorow stories. I seem to have misfiled my copy of this but no worry: large portions of it are available online1.
---
A Year of Waterloo Region Speculative Fiction
Hiromu Arakawa
Fullmetal Alchemist, book 1
Viz' Fullmetal Alchemist (3-in-1 Edition), Volume 1 includes Volumes 1, 2, and 3 of the original Japanese manga [1]. Story and art are by Hiromu Arakawa; English translation by Akira Watanabe; English adaptation, by Jake Forbes and Egan Loo; touch-up art & lettering by Wayne Truman. The original manga appeared in 2003. The English translation appeared in 2011.
Wait! Are you confused yet? As my editor was confused? "You already reviewed Full Metal Alchemist!" Yes, but I reviewed the second volume in the series, not the first. Which was checked out and never returned to Kitchener Public Library.
On a war-wracked continent, two young brothers wander from town to town. Although Edward Elric is only fifteen and Alphonse Elric is just fourteen, both are skilled alchemists. Indeed, their skill is only outmatched by their boldness, which is why they are searching for the Philosopher's Stone.
The Stone might be able to give Ed back his missing arm and leg and Al back his missing body…
---
Translation
The Sorcerer of the Wildeeps — Kai Ashante Wilson

Kai Ashante Wilson's 2015 The Sorcerer of the Wildeeps is set in the same universe as his A Taste of Honey (reviewed here).
Long ago, the gods fled Earth, leaving their mortal offspring behind. The demigods are too weighted by flesh to ascend, but have great powers in the mortal realm.
One demigod, the Captain, uses his gifts to lead a company of mercenaries. Demane, also semi-divine, is one of his soldiers. Demane is hopelessly smitten with the Captain and follows him despite having no real taste for the life of a mercenary. His fellow soldiers are wary of him; they call him a sorcerer, even though he tries to conceal his gifts.
Both men's gifts will be needed to get the mercenaries and the merchants they are guarding through the Wildeeps. Well, at least some of the mercenaries and some of the merchants.
---
Military Speculative Fiction That Doesn't Suck
Change the Sky and Other Stories — Margaret St. Clair
1974's Change the Sky and Other Stories is a collection by the prolific Margaret St. Clair.
---
Because My Tears Are Delicious To You
The Cordwainer Smith Rediscovery Award Anthology — A. N. Editor
The Cordwainer Smith Rediscovery Award

honors under-read science fiction and fantasy authors with the intention of drawing renewed attention to the winners. The award was initiated in 2001 by the Cordwainer Smith Foundation.
That's a fine goal. Yet, even though the award has been given every year since 2001, the award's website has not been updated since 2012. That's not the way to draw attention to the honoured works. At least the Wikipedia entry seems to be up-to-date.
Something else the Rediscovery Award people have never done, to my knowledge, is commission a Rediscovery-theme anthology. If they did, it might look something like this:

---
Miscellaneous Reviews
2011's Triptych is a standalone science fiction novel by J. M. Frey.
Forced to flee their dying homeworld [1], the aliens found new homes on Earth. In stark contrast to the experiences of pretty every previous wave of refugees in the history of our planet, the governments of Earth, working through the UN, organized a sensible, effective effort to integrate the aliens into human society. Key to this effort are the Specialists who act as cultural ambassadors to the aliens.
Now the effort has gone horribly wrong.
---
A Year of Waterloo Region Speculative Fiction
Sea of Shadow — Fuyumi Ono
The Twelve Kingdoms, book 1
1992's portal fantasy Sea of Shadow is the first volume in Fuyumi Ono's Twelve Kingdoms series. The 2007 English language edition was translated by Alexander O. Smith, and Elye J. Alexander.
Yoko Nakajima's oddly coloured hair, lighter than any proper Japanese person's hair should be, makes her an object of suspicion to her parents and schoolmates. It's true that her hair has been its present colour since birth, and that she is to all appearances a normal, hardworking student and dutiful daughter. But isn't that just the sort of facade a covert nonconformist would adopt? Her reluctance to assimilate by dying her hair black only underlines here oddity. Although if she did colour her hair, that would also be bad (her school forbids hair-colouring [1]).
But things could get worse, and do. Accosted by a stranger, given a magic sword and the ability to use it, attacked by monsters, Yoko is transported from Japan to the strange world of the Twelve Kingdoms.
---
Translation
Miranda and Caliban — Jacqueline Carey
Jacqueline Carey's Miranda and Caliban is a standalone retelling of Shakespeare's novelization of Forbidden Planet, which for some reason he called The Tempest.
Determined to have revenge on his usurping brother Antonio and Antonio's ally, the King of Naples, Prospero has retreated to a deserted island to hone his magical skills. Usurping the witch Sycorax's legacy for his own, he is determined to use every resource at his disposal to punish his enemies.
This book does not tell Prospero's story. Shakespeare already did that. It focuses on his naïve daughter Miranda.
---
Miscellaneous Reviews
Rocket to the Morgue — Anthony Boucher
Sister Ursula Mysteries, book 2
H. H. Holmes' 1942 mystery Rocket to the Morgue is a sequel to 1940's Nine Times Nine . In Nine Times Nine , Detective Inspector Terry Marshall, assisted by Sister Ursula of the Sisters of Martha of Bethany, solved a locked-room mystery. In Rocket, the intrepid duo will confront something far more vexing:
Science fiction authors.
---
Because My Tears Are Delicious To You
1981's Aventine is Lee Killough's sole short-story collection to date. The stories share a common setting: Aventine, an artists community on a distant world. At least, that is how the inhabitants like to see themselves. The truth is darker.
---
Note
The Author/Editor list will be back soon; we're having a minor technical difficulty!