A Spell for Chameleon — Piers Anthony
Xanth, book 1
1977's British Fantasy Award-winning A Spell for Chameleon is the first volume in Piers Anthony's seemingly endless Xanth series.

Spoiler warning.
Poor Bink! Each human Xanth has their own unique magical gift. Bink appears to be one of the few exceptions, with no discernible magical talent. Not only does this place him at a considerable disadvantage to his fellow humans but it will cost him his place in Xanth. Human law mandates exile for those without magic.
On the slim chance the Good Magician Humfrey's powers can uncover the talent all previous attempts to discover have failed to spot, Bink set out to offer a year of service to the Magician in exchange for Humfrey's help.
Humfrey may be Good but he is not Friendly or Easy to Reach.
---
Because My Tears Are Delicious To You
Hellmaw: Soul Larcenist — Suzanne Church
Dagger of Sacrados, book 1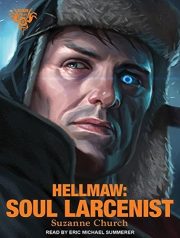 Suzanne Church's 2016 supernatural thriller Hellmaw: Soul Larcenist is book one in the Dagger of Sacrados Trilogy. It is set in Ed Greenwood's shared universe, Hellmaw.
Called to the scene of a spectacularly brutal double homicide, protagonist Detective Sergeant Windsor Kane has no idea that she and her husband Davian are being stalked by the killer. By the time she does figure that out, she and Davian have been overpowered, kidnapped, and prepared for a slow, painful death.
---
A Year of Waterloo Region Speculative Fiction
Hiromu Arakawa
Fullmetal Alchemist, book 2
Viz' Fullmetal Alchemist (3-in-1 Edition), Volume 2 includes Volumes 4, 5, 6 of the original Japanese manga [1]. Story and art are by Hiromu Arakawa; English translation by Akira Watanabe; English adaptation, by Jake Forbes and Egan Loo; touch-up art & lettering by Wayne Truman.
The first thing a stranger might notice about Edward Elric is his prosthetic arm and leg. The first thing they might notice about Edward's younger brother Al is his huge metal body. More on those detail later. Both are skilled alchemists. Both are not yet teenagers. Both are members of a military organization, trading service for training.
As Volume 2 of the omnibus edition opens, Al and Ed have gotten their asses soundly kicked by a stabby, shape-shifting woman named Envy and her minions [2]. Death is a distinct possibility.
---
Translation
The Core of the Sun — Johanna Sinisalo
2013's The Core of the Sun is a standalone dystopian novel by Johanna Sinisalo. First published in Finnish, the 2016 English edition was translated by Lola Rogers. It's also the first of four reviews of 2017 Prometheus Nominees (I sure hope I have written the intro for the series of reviews by the time this review is posted).
The Eustitocratic Republic Finland is a utopia … or so it assures its citizens. If you cannot trust an intrusive, nanny-state that goes to extraordinary lengths to isolate its people from the outside world, whom can you trust? The people of Finland live healthy, properly ordered lives, unlike the legions of unfortunates trapped in hedonistic, decadent democracies.
The key to this dazzling success is the proper domestication of women.
---
The 2017 Prometheus Award Finalists
A Closed and Common Orbit — Becky Chambers
Wayfarers, book 2
2016's Hugo nominee A Closed and Common Orbit is the second novel in Becky Chambers' Wayfarers series.
Forced by circumstance to abandon her life as the mind of a starship, artificial intelligence Lovelace is re-homed in an android body. She adopts a new identity as Sidra. Life in a humanoid shell, tottering precariously on two legs and dealing with complex, unfamiliar social protocols, is challenging.
She meets Pepper, who is eager to help Sidra learn to cope. Unlike many others, Pepper believes that artificial intelligences are people. Why does Pepper have this peculiar and economically inconvenient belief?
The answer to that lies twenty years in the past.
---
Special Requests
Tales of Known Space: The Universe of Larry Niven — Larry Niven
1975's Tales of Known Space: the Universe of Larry Niven was Larry Niven's sixth collection (if you don't count the British-only Inconstant Moon and the Dutch De Stranden van Sirius Vier) or his eighth (if you do.). It is the fourth instalment in an informal series I call "the essential collections of Larry Niven [1], being an irregular review series I may not even get around to finishing or continuing" (or tagging or giving its own formal series name in the sidebar).
An unkind reviewer might call this "the Known Space stories that weren't good enough to make it into Neutron Star. " That's not entirely true … but Niven himself acknowledges that a couple of the stories are not very good. Rather than bury them and try to conceal that they ever existed, he opted for completism (although it took another couple of collections to accomplish that goal).
There's a very good reason beyond being a Niven fanboy as a teen that I picked this up. I will explain my reasoning at the end of the review.
---
Because My Tears Are Delicious To You
Ascending — James Alan Gardner
League of Peoples, book 5
To quote Wikipedia (because if Jim's site has a bio section, I am missing it):
James Alan Gardner (born January 10, 1955) is a Canadian science fiction author. Raised in Simcoe and Bradford, Ontario, he earned bachelor's and master's degrees in applied mathematics from the University of Waterloo.

Gardner has published science fiction short stories in a range of periodicals, including The Magazine of Fantasy and Science Fiction and Amazing Stories. In 1989, his short story "The Children of Creche" was awarded the Grand Prize in the Writers of the Future contest. Two years later his story "Muffin Explains Teleology to the World at Large" won a Prix Aurora Award; another story, "Three Hearings on the Existence of Snakes in the Human Bloodstream," won an Aurora and was nominated for both the Nebula and Hugo Awards.
Ascending is the fifth book in James Alan Gardner's League of Peoples series.
To quote its protagonist, the transparent glass woman Oar:
This is my story, the story of Oar. It is a wonderful story. I was in another story once, but it was not so wonderful, as I died in the end. That was very most sad indeed. But it turns out I am not such a one as stays dead forever, especially when I only fell eighty floors to the pavement.
Oar's people are physically immortal, but their minds, sadly, are not. Given time, they lapse into catatonia, living but inert. There is no way to cure the condition nor is there any way to avoid it except dying.
---
A Year of Waterloo Region Speculative Fiction
iD — Madeline Ashby
Machine Dynasty, book 2
Madeline Ashby's 2016 Company Town is a standalone science fiction novel that has received enough acclaim—in large part due to its position in Canada Reads—that I have as yet been unable to obtain a copy [1]. That is why this is a review of her 2013 novel, iD.
iD is the second instalment in Madeline Ashby's Machine Dynasty series.
Every von Neumann robot that has ever been built comes with an infallible fail-safe that will kill the robot deader than the dodo if the robot fails to protect and serve their humans. Every robot save Amy, that is. Amy's failsafe does not work. What's worse from the human point of view is that vN robots spawn copies unless actively prevented; all of Amy's iterations will have similarly defective failsafes.
There is an easy solution: simply kill Amy. Or rather, use her lover Javier's failsafe to compel him to do it for the humans.
This simple plan has only one flaw.
---
Miscellaneous Reviews
Orbital Cloud — Taiyo Fujii
Taiyo Fujii's Orbital Cloud is a standalone science fiction thriller. Originally published in 2014 under the title Ōbitaru Kuraudo, Orbital Cloud was translated into English by Timothy Silver. The Haikasoru edition was published in March 2017.
Even in 2020, putting objects into orbit is still the domain of national governments and billionaires. Observation of objects in orbit, on the other hand, is something well within the grasp of the motivated amateurs like Kazumi Kimura's website Meteor News. Meteor News, focused on shooting star prediction, is among the first to notice SAFIR 3's bizarre behaviour.
---
Translation
Earthblood — Rosel George Brown & Keith Laumer
The Keith Laumer and Rosel George Brown 1966 collaboration Earthblood is a standalone space opera.
Although Roan's adopted father Raff was only a mutant human, and his adopted mother Bella a lowly Yill. Roan himself was a true-blooded pure-strain Terran—something not seen in the galaxy since the Imperial Terran Navy was swept from the skies by the Niss, five thousand years earlier. Where Roan came from, and how he found his way to a backwater world like Tambool, neither Raff nor Bella can guess. What they do know is they love their adopted son and intend to raise him as best they can.
But in a galaxy populated by mutants and aliens, can there be room for even one true human?
---
Because My Tears Are Delicious To You
The Case of the Vanishing Boy — Alexander Key
Alexander Key's 1979 standalone young adult novel, The Case of the Vanishing Boy, is the first novel by Key I have knowingly read. It was also his final novel.
How he got onto the commuter train is a mystery to the young boy. So is his name and his past. All he knows is that he is on the run and that it will be very bad for him if his pursuers catch him.
Blind Ginny takes an interest in the amnesiac boy. She cannot see as others do, but she can see as others do not. In short order, she gives him a name—Jan—and something much more valuable: allies.
---
Graveyard Orbits
Dragon Whisperer — Vanessa Ricci-Thode
To quote the biography at the end of the novel:
Vanessa has always been a bookaholic, even as a young child—making picture books before she learned to read and write. She has been writing for most of her life, completing her first novel when she was eighteen, handwriting it on a thick notepad on the floor of her bedroom. This is Vanessa's first foray into the world of publishing, and she's so excited that she hasn't slept since her book was accepted.
2013's Dragon Whisperer is a secondary world fantasy by Vanessa Ricci-Thode.
The Ovailens and Joaseras have planned an arranged marriage between their two scions, Reiser Ovailen and Vyranna Joasara. This scheme may have seemed reasonable when the two children were young, but ran aground when it became clear that Vyranna was a spiteful bully. Reiser opts out and marries another Joasara, Vyranna's younger sister Dionelle.
Vyranna is outraged. She may despise Reiser, but he was hers. She never liked her sister anyway! She flounces out of their village and out of the plot … temporarily. Dionelle and Reiser know that she will take revenge when she can.
For now, Dionelle and her new husband have some more immediate challenges.
---
A Year of Waterloo Region Speculative Fiction
Dawn — Yoshiki Tanaka
Legend of the Galactic Heroes, book 1
1982's Dawn is the first volume in Yoshiki Tanaka's ten-volume Legend of the Galactic Heroes, a series of space-opera novels . It was translated into English by Daniel Huddleston.
The Milky Way is divided between two great powers. On one side, the autocratic Galactic Empire, with twenty-five billion subjects. On the other, the democratic Free Planets Alliance, with thirteen billion citizens. The Empire refuses to admit the right of people to live outside the Empire and has sought to conquer the Free Planets ever since they discovered the existence of the Alliance. The Free Planets, founded by escaped serfs, are determined to remain free. The balance of power is such that neither side has been able to win a decisive victory. The war has lasted over a century.
Two military geniuses enter the arena.
---
Translation
The House of Binding Thorns — Aliette de Bodard
Dominion of the Fallen, book 2
The House of Binding Thorns is the second volume in Aliette de Bodard's Dominion of the Fallen series.
The dragon realm hidden under the Seine has until now held itself aloof. Their kingdom has been known only to a very few in ruined Paris. Now something has changed. An ongoing crisis in their realm gives Asmodeus, head of House Hawthorn, a chance to open diplomatic exchange with the hermit domain. More than exchange: dynastic merger.
Of course, the dragon kingdom has its own agenda, not to mention long experience of cunning plans aimed its way. The diplomatic mission may well be one from which none will return. It is a risk Asmodeus is willing to accept. That's why he is sending trusted or expendable (such as returned exile and angel-essence-addict Madeleine) subordinates to conduct the negotiations.
---
Miscellaneous Reviews
Gunner Cade — Cyril Kornbluth & Judith Merril
Gunner Cade is an SF adventure novel 1by Cyril Kornbluth and Judith Merril, originally published under the pen-name Cyril Judd.
Wow, am I slow on the uptake … it's just now I see how they came up with the pen-name.
It is fitting that the Emperor rules. It is fitting that the Armsmen serve the Emperor through the Power Master and our particular Stars. While this is so all will be well, to the end of time.
Gunner Cade believes this with every atom of his well-conditioned body. If not for the emperor and the unbending rules Cade and his fellow warriors serve, the world might fall back into the clutches of the Beetu-Nine, the Beefai-voh, and Beethrie-Six. Thanks to the selfless sacrifice of the Emperor, the world has been secure for ten thousand years.
Cade is loyal to a fault and nobody can fault his determination to adhere to the rules. His imagination is sadly deficient, which is why it never occurs to him he should distrust the elderly commoner. So he quaffs the drugged drink she offers him.
---
Because My Tears Are Delicious To You
Brother's Ruin — Emma Newman
Industrial Magic, book 1
Emma Newman's Brother's Ruin is an amiable introduction to her Industrial Magic gas-lamp fantasyseries.
Great Britain's power and prosperity rests on the talents of the Society for Esoteric Arts. Accordingly, the Society has been granted the legal powers it needs to ensure its continued existence. This includes the right to impress any person with magical talents into the Society, even if the candidate, or the candidate's family, object to the conscription.
Losing a family member to the Society is not necessarily bad. The Society compensates the candidate's family. This compensation would be a godsend to the Gunn family, which is struggling with mounting debts. Benjamin Gunn, aspiring mage, might be able to save his family. There is one problem: the Society pays in proportion to the prospective mage's talents. Although he has some magical ability, Benjamin is a comparative lightweight. It's his sister Charlotte who has the stupendous talent … and she is determined not to be conscripted. It would be much more convenient if Benjamin were the one to be press-ganged. Now, if there were only a way that Benjamin's talents could be augmented to increase his compensation …
Charlotte has a cunning plan.
---
Miscellaneous Reviews
The Forgotten Gemstone — Kit Daven
Xiinisi, book 1
To quote Kit Daven's online biography:
Kit Daven was born in Toronto, Ontario, the only child in a military family. Writing since the age of seven, she has a continued fascination with stories, writing, and making books. After spending many years producing literary zines in her youth, Kit was published in Ryerson University's White Wall Review under a different pen-name in the mid 1990's. In 2009, she decided to begin writing a serial to publish online. […] Kit currently lives in Cambridge, Ontario, with her husband, surrealist artist Sean Chappell, and two Siamese cats.
The Forgotten Gemstone is the first volume in Kit Daven's Xiinisi trilogy.
The Xiinisi are gods (or as good as gods), creating and shaping whole universes as whim dictates. Within the limits of certain guidelines, of course. Gods are as vulnerable to personal setback as puny mortals, but at least gods rule tangible worlds of the imagination, pocket paradises, where they can retreat when life becomes too much.
As Ule discovers when she returned to a world she last visited when she was an adolescent, what the Xiinisi expect to be true and what is true can be very different things.
---
A Year of Waterloo Region Speculative Fiction
The Library at Mount Char — Scott Hawkins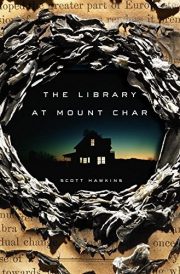 Scott Hawkins' 2015 The Library at Mount Char is a standalone contemporary fantasy.
Retrieved from certain doom by neighbor Adam Black (or as he prefers to be called, "Father"), Caroline and her young companions—David, Margaret, Michael and Richard, Jacob, Felicia, Jennifer, Lisa, Peter, Alicia, and Rachel—are taken on as apprentices. Father's methods are brutal but effective. Each child is forced to master one of Father's twelve catalogues of skills. As wielders of the uncanny, they are outmatched only by the omnicompetent Father himself.
Now Father has vanished. And someone has cast a magical barrier around the dimensional intrusion that is the library; none of the twelve can cross the barrier. They are marooned outside the library.
Someone who was not one of the targeted twelve might be able to simply ignore the barrier.
---
Special Requests
Mira Grant's 2017 Final Girls is an upcoming standalone work.
Jennifer Webb has invented a new virtual-reality-based therapy and opened an institute to test and develop it. Seeking publicity and credibility, she offers Esther Hoffman, an investigative journalist, a chance to visit the institute and report on the new tech.
This would seem to have been a bad choice. Hoffman is a professional debunker with a strong personal grudge against pseudoscience therapies. But it is that very grudge that makes Hoffman a credible reporter. If Webb can convince Hoffman that the therapy has merit, Webb can convince everyone else.
The question that kickstarts many good plots: what could possibly go wrong?
---
Miscellaneous Reviews
Farthest Star — Frederik Pohl & Jack Williamson
Cuckoo, book 1
Frederik Pohl and Jack Williamson's 1975 Farthest Star is the first novel in the Cuckoo duology, which was a fixup of the 1973 novella Doomship (1973) and the 1974 serial The Org's Egg,
Farthest Star is an example of the Big Dumb Object school of science fiction. This makes it cousin to such classics as Ringworld, Rendezvous with Rama , and Orbitsville, as well as to books like The Wanderer .
By the late 21 st century, humans have made contact with a loose association of alien civilizations. These civilizations are linked, not by physical spacecraft, but by near-instantaneous tachyon communication. Tachyon beams carry information; they cannot transmit matter, but material objects can be scanned., That information can then be transmitted by the tachyon transporter, to be duplicated at a distant location 1. This tech has allowed humans to join the association and travel, as copies, to other worlds.
What if the traveller dies? Run off another copy. Or another dozen copies. Just ask the ill-fated Ben Pertin.
---
Because My Tears Are Delicious To You
Shadowlands — Violette Malan
Mirror Prince, book 2
To quote Malan's on-line biography:


Violette Malan has a PhD from York University in 18th-Century English Literature, but reports that most people don't hold it against her. She started reading fantasy and science fiction at the age of eight, and was writing stories not long after. Violette has been a book reviewer, and has written feature articles on genre writing and literature for the Kingston Whig Standard. She has taught creative writing, English as a second language, Spanish, beginner's French, and choreography for strippers. On occasion she's worked as an administrative assistant, and a carpenter's helper. Her most unusual job was translating letters between lovers, one of whom spoke only English, the other only Spanish.

Violette is co-founder of the Scene of the Crime Festival on Wolfe Island, a single-day event focusing on Canadian crime writing, and celebrating the birthplace of Grant Allen, Canada's first crime writer. Violette is currently the president of the festival board, but in the past she's given writing workshops, and was the original organizer and co-judge of The Wolfe Island Prize for first crime fiction, which is sponsored by the festival.
Violette Malan's 2012 Shadowlands is the second in her Mirror Prince series.
Wars' consequences don't vanish when the war ends. The leaders of one side may be vanquished or dead but their followers may not be. As well, the consequences of actions taken for what seemed like good reasons at the time can reverberate for a very long time.
Particularly when quasi-immortal faerie are involved.
---
A Year of Waterloo Region Speculative Fiction
Kings of Petaling Street — William Tham Wai Liang
William Tham Wai Liang's Kings of Petaling Street is a standalone crime thriller.
Wong Kah Lok Syndicate's power is waning, but it is still one of the most powerful gangs in Kuala Lumpur.
Gangster Wong has slowed of late. The heart went out of the aging criminal when his wife and oldest son died in an assassination attempt. Wong's primary goal is now to see his remaining son, Gavin, settled in a respectable, safe occupation.
He shows poor judgment, then, in allowing the heir apparent to his gang, Crazy Foo, to mentor the impressionable Gavin.
---
Miscellaneous Reviews
Hunger Makes the Wolf — Alex Wells
Hunger Makes the Wolf is the first volume in Alex Wells' as yet unnamed series.
Tanegawa's World is one vast desert; it has very little to offer the other worlds of the Federal Union Moreover, the harsh natural conditions tend to wreck delicate advanced technology far in advance of its expected MTBF. How fortunate for the world's inhabitants that TransRift, Inc, has taken the planet and its human inhabitants under its wing, providing the able-bodied with full time employment in the mines Without the distractions of decent pay, unions and law beyond that supplied by TransRift's private army.
All of which will go part way to explain why Hob, Coyote, and Dambala find a dead man desiccating in the desert.
---
Miscellaneous Reviews
To steal a description I posted on actor Amal Al's Facebook wall a few days ago, Fritz Leiber's 1964 The Wanderer is about "hollow planets filled with catgirls who want to steal the moon." Many of you may think that sounds awesome or at least intriguing. Certainly a sufficient number of fans [1] thought so; the novel won a Best Novel Hugo in 1965.

The reality of the novel falls well short of its potential.
Yesterday's Tomorrow AD: the Americans have a moon base, and the Soviets have a manned Mars expedition. The Cold War simmers, threatening to go Hot. That would be the only threat to the planet as a whole … or so they thought.
Four photographs of distorted star-fields foreshadow a grim reality. There are aliens and they are on their way to Earth. What do they have planned for us?
---
Because My Tears Are Delicious To You
All Systems Red — Martha Wells
The Murderbot Diaries, book 1
2017's All Systems Red is the first instalment in Martha Well's The Murderbot Diaries.
The Company cares (<3 <3 <3), which is why every one of their survey teams is required to have at least one Sec Unit. This is a construct: part machine, part organic, a guardian bound by programs stored in supposedly unhackable governor units. Its duty: to protect its squishy human charges. Of course, the Company is also profit-oriented, which means that the Sec Unit has been assembled from the cheapest components available, which in turn means that those governor units are, in fact, easily hacked.
Dr. Mensah's team is small and it has just the one Sec Unit. That seems sufficient for a world without any significant known hazards. But appearances can be misleading. There is an undocumented giant predator in the team's assigned territory. And the team's Sec Unit is a Murderbot. Its governor has been hacked and disabled. Murderbot refrains from murdering its humans mainly because it can see no good reason to kill them. Not as long as it has new entertainment material to amuse it.
There is another, far greater, threat to the team than a soap-opera-obsessed Murderbot in the offing.
---
Note
The Author/Editor list will be back soon; we're having a minor technical difficulty!