Empire in Black and Gold — Adrian Tchaikovsky
Shadows of the Apt, book 1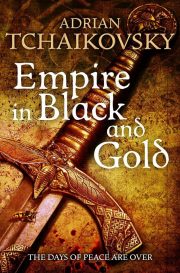 2008's Empire in Black and Gold is the first volume in Adrian Tchaikovsky's Shadows of the Apt decalogy. I should note that he completed the whole ten-book series in eight years. Completed, I say, completed. This may be of interest to certain other authors whom I will not name.
In the seventeen years since the Empire of the Wasps conquered the Commonweal city of Myna, Stenwald has been unable to convince his fellow citizens that Collegium (as well as the other city-states of the Lowlands) are on the Wasps' to-conquer list. Most Lowlanders find it comforting to believe that the Wasps are sated with conquest. Stenwald knows that the Empire was merely taking its time to recover from its long war with the Commonweal.
Now there are hints that the Empire has recovered.

---
A Dozen by Tchaikovsky
Children of Time — Adrian Tchaikovsky
Anyone who has read Adrian Tchaikovsky's ten-part Shadows of the Apt series, with its insect-themed kinden (clans) might well think that Tchaikovsky is fond of bugs. Unlike so many of the rest of us. Remember the neighbourhood kids warning you about earwigs? Those horrifying creepy crawlies that might even now be laying their eggs in your ear while you are distracted reading this text?
You don't know the half of it. But you will, once you read 2015's Children of Time.
Centuries from now, the never-modest Doctor Kern thinks of the nameless world twenty light-years from Earth as "Kern's World"; she may not have terraformed the world, but she certainly plans to populate it with a species of her creation; monkeys infected with a nanovirus designed to push the primates towards intelligence.
Everything goes exactly to plan … except that there's a catastrophic, civilization-levelling war back on Earth. All the monkeys are killed before they can reach Kern's World. However, the nanovirus reaches the surface. There, it finds alternate hosts on whom to inflict the Exaltation of Beasts.
Spiders …
---