Leo and Diane Dillon's art — Leo Dillon & Diane Dillon
I would love to review "the complete collection of book covers illustrated by Leo and Diane Dillon" but as far as I can tell, such a volume does not exist. What do exist: The Art of Leo & Diane Dillon (1981) and To Every Thing There Is a Season: Verses from Ecclesiastes (1998). Collections I cannot review because 1) I don't own either and 2) I've never seen either. I do not mind all that much, because the first collection does not seem to have been well-received and the second looks too, um, religious for my taste.

But the Dillons do have a special place in my heart and I would love to direct some attention their way. So I am going to talk about my favourite Dillon covers.
My enjoyment of their work began with this specific set of covers.
---
Because My Tears Are Delicious To You
In the Company of Others — Julie E. Czerneda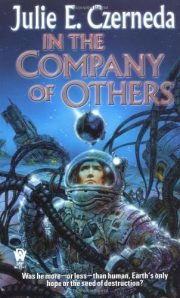 To quote Julie E. Czerneda's online bio:

Julie Czerneda is a Canadian author and editor whose first novel, A Thousand Words for Stranger, was published in 1997 by

DAW

Books. Since then, Julie has produced over a dozen more novels, edited fifteen anthologies, and written numerous short stories. Her work has won awards, consistently made bestseller lists, and garnered praise from readers and reviewers around the world.
As noted that same bio, Czerneda was a student at the University of Waterloo and thus she is fodder for A Year of Waterloo Region Speculative Fiction.
Czerneda's 2001 Aurora Award-winner In the Company of Others is a stand-alone science fiction novel.
Interstellar exploration turned up dozens of worlds suitable for human occupation, given some well-thought-out terraforming. All that stands between humanity and endless frontiers is a bit of time, some ingenuity, will, and applied technology.
And the Quill. But the Quill on their own are enough to bring the space colonization effort to a sudden halt.
---
A Year of Waterloo Region Speculative Fiction
Dark Matter — Sheree R. Thomas
Dark Matter, book 1
Sheree R. Thomas' 2000 anthology Dark Matter: A Century of Speculative Fiction from the African Diaspora delivers what it promises. One clarification, however: it is not a Resnickian collection of works about members of the African Diaspora but works by members of the African Diaspora.
---
Miscellaneous Reviews
Binti: Home — Nnedi Okorafor
Binti, book 2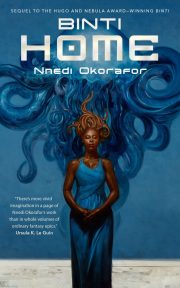 2017's Binti: Home is the sequel to Nnedi Okorafor's Nebula and Hugo-winning Binti.
Binti has been a student at Oomza University for a year. It's a year that has transformed her, both physically and mentally. Some of those changes were beneficial. Others, like her post-traumatic stress disorder, are not. Seeking an end to the nightmares, Binti returns to her home on Earth, in Africa, to participate in a healing pilgrimage.
---
Miscellaneous Reviews
Blacula — William Crain
Blacula, book 1
Director William Crain's 1972's Blaxploitation horror film Blacula was the first (and most successful) of the two Blacula films. To quote Wikipedia, Blaxploitation
or blacksploitation is an ethnic subgenre of the exploitation film, emerging in the United States during the early 1970s. Blaxploitation films were originally made specifically for an urban black audience, but the genre's audience appeal soon broadened across racial and ethnic lines.
Of course, films aimed at black audiences appeared almost immediately after the invention of film. What made Blaxploitation different is it was also marketed to white people. That meant Canadian television stations desperate for content bought the rights. Which in turn means I got to see an edited for TV in grainy black-and-white broadcast version of Blacula.
Determined to end the scourge of slavery, Prince Mamuwalde (William Marshall) appeals to a European aristocrat in the hopes the aristocrat will use his influence in the cause of anti-slavery. The African Prince is apparently quite poorly informed about European politics in the year 1780 because he has pinned his hopes on the benevolence of Count Dracula.
Dracula amuses himself by turning Mamuwalde into a vampire before sealing him in a coffin to starve undying for centuries. Mamuwalde's unfortunate wife Luva is sealed in the same locked room with Mamuwalde's locked coffin, starving to death as her helpless husband listens.
By 1972, Dracula is only a legend and nobody has any idea what's in that sealed coffin.
---
Because My Tears Are Delicious To You
Salvage and Destroy — Edward Llewellyn
Douglas Convolution, book 4
Edward Llewellyn-Thomas (1917- 1984) had a long and interesting career. Two elements of that career warrant inclusion here. The first is that towards the end of his life, he began writing and publishing science fiction under the pen-name Edward Llewellyn. The second is that he was a Professor in the University of Waterloo's Psychology Department, something I only discovered while reading his obituary in 19841.
1984's Salvage and Destroy is the fourth book in his Douglas Convolution sequence.
The Ult have ruled the Cluster for millennia, ever since the Drin, former masters of the Cluster, made the terrible mistake of contacting the then-barbaric Ult. Extermination denied the Drin the chance to learn from their error; the Ult, now the most civilized of civilized races, remember how they came to power. They will never make the mistake of handing a youthful barbarian race the keys to the stars.
Their compulsively altruistic Ara cousins, on the other hand, could not leave well enough alone. Which gets us to the matter of the humans.
---
A Year of Waterloo Region Speculative Fiction
Buffalo Soldier — Maurice Broaddus
Maurice Broaddus' 2017 Buffalo Soldier is a steam-punk western. It will be published in April.
Desmond Coke and Lij Tafari appear to be father and son, just a pair of migrant workers making their way across the Tejas Free Republic in search of employment. Jamaica and Albion's agents know the truth: Lij is a treasure their master are determined to possess and Desmond is an impediment to be removed.
---
Miscellaneous Reviews
Racing the Dark — Alaya Dawn Johnson
Spirit Binders, book 1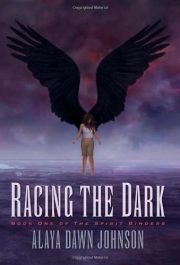 Alaya Dawn Johnson's 2007 debut novel Racing the Dark is the first of the Spirit Binders secondary world fantasy series.
The great elemental spirits leave chaos in their wake. Centuries before, the islanders dealt with them by binding the great spirits, death, fire, water and air, into forms abhorrent to the spirits but tolerable to the humans.
Born on a backwater island, Lana would have been content to be just another diver among many, talented but not remarkable. Instead, her rite of passage into adulthood marked her as extraordinary. She will be no mere diver. She will be a harbinger of doom.
---
Miscellaneous Reviews
The Three Musketeers — Alexandre Dumas
D'Artagnan Romances, book 1
Alexandre Dumas' 1844 The Three Musketeers, originally published in French as Les Trois Mousquetaires, is the first of three D'Artagnan Romances.
The young Gascon aristocrat D'Artagnan sets out to find his fortune, armed with an elderly horse, his sword, a small sum of money, a letter of introduction to the Musketeers and some comprehensively bad advice from his father.
---
Because My Tears Are Delicious To You
A Taste of Honey — Kai Ashante Wilson
Kai Ashante Wilson's 2016 A Taste of Honey is a stand-alone story set in the same universe as Wilson's The Sorcerer of the Wildeeps.
Aqib's life has been charted out for him. For his family to regain the status they lost when Aqib's father was tempted by love to marry far beneath him, Aqib must marry well. This is a sacrifice his family is more than willing for Aqib to make.
Man plans, gods laugh.
---
Miscellaneous Reviews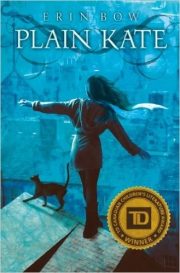 American-born Canadian by choice Erin Bow is a physicist turned novelist, whose work has won the TD Canadian Children's Literature Award, the CBC Canadian Literary Award, for the poems that became Ghost Maps, the Monica Hughes Award twice, once for The Scorpion Rules and once for Sorrow's Knot, the CLA Book of The Year for Young Adults for The Scorpion Rules. Shortlists include the Pat Lowther (for Ghost Maps), the Amy Mathers Award (for The Scorpion Rules) and currently the White Pine (for The Scorpion Rules) and the Sunburst (once for Plain Kate and once for Sorrow's Knot). More details on Bow can be found at her website.

2012's secondary world fantasy Plain Kate is a stand-alone young adult novel. Young adult fiction is a lot like juvenile science fiction, except that teens actually buy and read young adult fiction.

Plain Kate to her neighbours in the village of Samilae, Katerina Carver is beautiful to her doting father. She demonstrates a talent for wood-working as a toddler; in a better world she would have become her father's apprentice as soon as she came of age. In the rather dismal world in which she lives, disease takes Kate's father from her before he has a chance to give her the legal status of apprentice. The carver's guild then steps in to take from Plain Kate virtually everything else her father owned.
Bereft of everything save her father's tiny market stall, the clothes on her back, some tools and her skills, Plain Kate is forced into a hand-to-mouth existence.
The mysterious stranger will cost Plain Kate even that.
---
A Year of Waterloo Region Speculative Fiction
Dustland — Virginia Hamilton
Justice Cycle, book 2
1980's Dustland is the second book in Virginia Hamilton's Justice Trilogy.
Tom, Levi and Dorian's psionic abilities are impressive but it took Justice to weld them together into the Unit, able to span time and space at will. There are limits.Although they can project their minds out of their home space-time, the Unit aways manifests in the same distant location. And what an odd location it is.
---
Miscellaneous Reviews
The Lottery and Other Stories — Shirley Jackson
1949's The Lottery and Other Stories is a collection of short pieces by Shirley Jackson. Aside from The Haunting of Hill House, there's a giant Jackson-sized hole in my reading. When I saw how inexpensive The Lottery ebook was, I snapped it up. Time spent in various waiting rooms allowed me the leisure to actually read it.
There are twenty-five pieces in this book. I am not going to do my usual story by story approach; cue sighs of relief all round.
---
Miscellaneous Reviews
The Gods of Xuma or Barsoom Revisited — David J. Lake
Breakout, book 4
[due to a technical issue, this is unedited]

1978's The Gods of Xuma or Barsoom Revisited is the fourth book in David J. Lake's Breakout series1. Readers intrigued by my review need not worry if they have not read the first three books; not only does Gods function as a standalone, good luck finding a copy. Many authors benefited from the golden age of ebook reprints but the late Mr. Lake does not appear to have been one of them.
The stars are ours! Well, the Moon is ours (albeit at the cost of World Wars Three and Four largely depopulating the Earth but eggs and omelettes), not that the Russians, Americans and Chinese like sharing that world with each other. The stalwarts of the Euro-American moon base have every hope Operation Breakout will plant Euro-Americans on the worlds of 82 Eridani, Epsilon Eridani and Delta Pavonis.
The unfortunates sent to Epsilon Eridani found only airless rocks and the Delta Pavonis ship has yet to report its findings but in 2143, starship Riverhorse hits the jackpot. 82 Eridani 3 is small but habitable, the Mars ours solar system never had. Linguist Tom Carson favours the name "Barsoom", after Edgar Rice Burroughs but humourless Captain Mannheim insists on Ares. Whatever the planet is called, it is clearly life-bearing, a potential home for humanity.

Pity about the natives.
---
Because My Tears Are Delicious To You
A Wizard's Henchman — Matthew Hughes
Kaslo Chronicles, book 1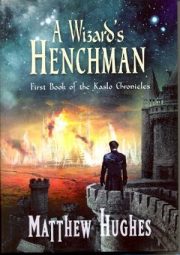 British-born Canadian Matthew Hughes has lived in many places. One of them was Kitchener-Waterloo, which earns him a spot in A Year of Waterloo Region Speculative Fiction. Hughes writes in a wide range of genres, both non-fiction and fiction. To quote from his site, he has been employed as
a journalist, then as a staff speechwriter to the Canadian Ministers of Justice and Environment, and — from 1979 until a few years back — as a freelance corporate and political speechwriter in British Columbia.
He also writes science fiction and fantasy, as well as mystery. He has won the

Crime Writers of Canada's Arthur Ellis Award and has been shortlisted for the Aurora, Nebula, Philip K. Dick, Endeavour,

A. E.

Van Vogt, and Derringer Awards.
Despite these accolades, Hughes is often overlooked. It's inexplicable, although his tendency towards humour may explain some of it. Humorous F&SF, save of the broadest, least subtle sort, is generally not popular in North America. Perhaps this work, which is more apocalyptic than funny, will appeal to a broader range of readers.
2016's A Wizard's Henchman is the first volume in Matthew Hughes' Kaslo Chronicles.
There are ten thousand inhabited worlds in the Spray and none of them are utopias. Problems abound. Erm Kaslo has made a very nice living for himself as an all-round troubleshooter for rich men who are able to pay well for services rendered. The rich and powerful don't get that way by being ethical or trustworthy—but even the most ruthless learn that it's never a good idea to disappoint Erm Kaslo.
---
A Year of Waterloo Region Speculative Fiction
Hammers on Bone — Cassandra Khaw
Persons Non Grata, book 1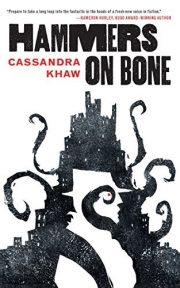 2016's Hammers on Bone is the first work in Cassandra Khaw's Persons Non Grata series.
The sign on his door says "John Persons, PI". It doesn't say "John Persons, Killer for Hire." Abel, the kid currently on the other side of Persons desk, wants a killer, someone who will deal with his stepdad McKinsey before the stepdad can kill Abel and his brother James.
Persons has killed, but only in self-defence. Just like any other completely normal person. Persons is trying very hard to be a normal person. Abel is convinced that there's more to Persons than meets the eye and he's a very persuasive kid. Persons agrees to take a look at the stepdad and proceed as seems … ethical.
A faint mewling voice in the back of Persons' head thinks that this is the right choice.
---
Miscellaneous Reviews
Tomoe's Story — Stan Sakai
Usagi Yojimbo, book 22
Tomoe's Story is the 22nd volume in Stan Sakai's long-running Usagi Yojimbo anthropomorphic comic series. It collects six stories featuring Tomoe, a feline woman samurai, who keeps crossing paths with Miyamoto Usagi. Unlike other friends/allies, such as morally unencumbered Gen and ostentatious jerk Inukai, Usagi and Tomoe share many moral perspectives, but their friendship is not without its complications.
---
Special Requests
Crosstalk — Connie Willis
Connie Willis' 2016 Crosstalk is a standalone near-future SF novel. I regret to inform my readers that this review may not be as enjoyably vitriolic as previous Willis reviews. (I may revisit that decision once Crosstalk gets its inevitable, inexplicable Hugo nomination.) As Willis novels go, I didn't hate it all that much.
In the exciting world of Tomorrow CE, couples are not limited to intrusive social media and ever-present electronic communications. Now there's the option of the EED, a device that creates an empathic link between lovebirds. Or at least, it's supposed to.
Pressured into submitting to elective brain surgery by her loving fiancé Trent, Briddey Flannigan gets an EED. Alas! there is no sign of the empathic link that should have formed between Briddey and Trent. What Briddey got was…
---
Miscellaneous Reviews
Judgment Night — C.L. Moore
C. L. Moore's short novel Judgment Night was serialized in two issues of John W. Campbell's Astounding back in 1943. Judgment Night is also the title of a collection published by Dell back in the Disco Era (which is how I encountered the story) .. but the edition I have in hand is Diversion Books' 2015 ebook. They've presented the novel as a standalone—which it is. Not only are there no sequels of which I am aware, it's not clear to me how there could be.
The race that holds Ericon holds the galaxy, because the race that holds Ericon can draw on the wisdom of the Ancients. Access to the Ancients does not mean that one will be able to put their wisdom to effective use. In fact, dynasty after dynasty have interpreted the advice they were given in ways that led to their doom. All human governments are as mortal (if not so short-lived) as their members.
Our protagonist, Juille, believes that she can defy fate.
---
Because My Tears Are Delicious To You
Fractured: Tales of the Canadian Post-Apocalypse — Silvia Moreno-Garcia
Silvia Moreno-Garcia's 2014 anthology Fractured: Tales of the Canadian Post-Apocalypse delivers exactly what it promises: post-apocalyptic tales told from Canadian perspectives.
The moral here seems to be that it's going to get worse before it gets better.
Also, it's not going to get better.
---
Miscellaneous Reviews
The Untold Tale — J. M. Frey
Accidental Turn, book 1
To quote the bio in her novel:
(

J. M.

Frey) is a voice actor,

SF

/F author, professionally trained music theatre performer, not-so-trained but nonetheless enthusiastic screenwriter and webseries-ist, and a fanthropologist and pop culture scholar. She's appeared in podcasts, documentaries, radio programs, and on television to discuss all things geeky through the lens of academia.
Frey has been nominated for both the Aurora and the Lambda Awards.
2015's The Untold Tale is the first volume in The Accidental Turn series.
Kintyre Turn is a bona fide hero, complete with the magic sword Foesmiter and his very own loyal sidekick, Sir Bevel. Most damsels in distress, at least the ones from Hain, would be relieved to get Kintyre's help. Lucy "Pip" Piper isn't from Hain and she's not at all relieved to be rescued by Kintyre. That's because she has to make do with Kintyre's much less impressive stuttering brother Forsyth.
---
A Year of Waterloo Region Speculative Fiction
The Dream-Quest of Vellitt Boe — Kij Johnson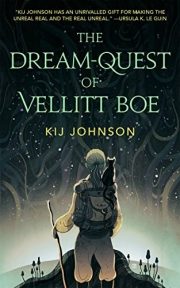 Although modern discussion of Howard Phillips Lovecraft's fiction often focuses on his virulent racism, he was also something of a misogynist. His female characters tended to be absent or objectionable. Is it possible to write in the Lovecraftian vein without racism and misogyny? Or is Lovecraft's world of eldritch horrors dependent on rampant hatred of the Other?
Kij Johnson's 2016's The Dream-Quest of Vellitt Boe is something of a test for the hypothesis "I can write Lovecraftian fiction that does not reek of hatred and disgust." It is also a test of my recent suggestion that the most flawed originals can inspire the best modern interpretations.
Professor Boe is woken from a sound sleep to deal with a crisis. One of her most promising students, Jurat, has eloped with a lover, Heller. Heller is objectionable because he is a dreamer from the waking world and it is to the waking world Jurat and Heller are fleeing. The university's toleration of Ulthar Women's College is grudging at best. If news gets out that the daughter of a trustee has been … misplaced, the hard-won women's college might be shut down entirely.
Someone must retrieve Jurat. Retired adventurer Boe is the logical choice.
---
Martians Abroad — Carrie Vaughn
Carrie Vaughn's 2017 Martians Abroad is a standalone young-adult SF novel, written in the manner of a very famous series of juvenile SF novels. In fact, it seems to be a response to a specific juvenile SF novel, about which more anon.
Young Polly Newton has a bold plan for her life, one that involves pilot school and helming humanity's first starship. Polly's mother also has bold plans for Polly and her brother Charles. Those plans involve an unwanted sojourn at the prestigious Galileo Academy on Earth. Polly's plans are irrelevant. Mother knows best.
Martha Newton didn't become Director of the Mars Colony by being easy to out-manoeuvre. By the time Polly learns what her mother has planned, it is too late for either Polly or her brother to do anything about it except pack their bags and give in to the inevitable.
---
Miscellaneous Reviews
The Tombs of Atuan — Ursula K. Le Guin
Earthsea, book 2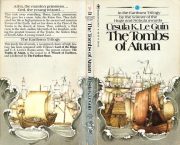 1970's The Tombs of Atuan is the second volume in Ursula K. Le Guin's Earthsea Cycle.
The influence of the Nameless Ones has dwindled over the long ages, but they still have power in the Tombs of Atuan. There they still are worshipped. There they are served by their immortal Priestess.
The little girl once named Tenar is the latest incarnation of the Priestess. The bodies of the One Priestess of the Tombs of Atuan die, but the Priestess lives on, reborn in a newborn body at the time of the Priestess' death. Stripped of her birth family and her name, the girl who was Tenar becomes Arha, "the eaten one," paramount human servant of the ancient and fearsome Nameless Ones.
---
Because My Tears Are Delicious To You
Two Travelers — Sarah Tolmie
---
A Year of Waterloo Region Speculative Fiction
Note
The Author/Editor list will be back soon; we're having a minor technical difficulty!