Dreadnought — April Daniels
Nemesis, book 1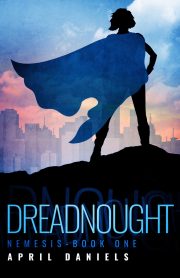 2017's Dreadnought is the first novel in April Daniels' Nemesis series. It's the first book I have read by this author and it will not be the last.
Fifteen-year-old Danny went shopping. Buying nail polish, which was their coping mechanism for life with a domineering father who would react with rage and abuse if he were to discover that his son Danny is actually his daughter Danny. What Danny got out of the shopping trip was a starring role as "vulnerable bystander in a battle between two superhumans," a bystander cowering as the mighty Dreadnought fights to the death with villain Utopia.
Danny was lucky not to be reduced to a sooty outline on a wall. Their luck does not stop there.
---
Special Requests
A Place So Foreign and Eight More — Cory Doctorow
Cory Doctorow probably requires no introduction, but a link to his Wikipedia entry seems prudent. Doctorow's connection to Waterloo Region is, as is so often the case, via education. He attended the University of Waterloo in the 1990s and again in the 2000s.
2003's A Place So Foreign and Eight More is a collection of Doctorow stories. I seem to have misfiled my copy of this but no worry: large portions of it are available online1.
---
A Year of Waterloo Region Speculative Fiction
Hiromu Arakawa
Fullmetal Alchemist, book 1
Viz' Fullmetal Alchemist (3-in-1 Edition), Volume 1 includes Volumes 1, 2, and 3 of the original Japanese manga [1]. Story and art are by Hiromu Arakawa; English translation by Akira Watanabe; English adaptation, by Jake Forbes and Egan Loo; touch-up art & lettering by Wayne Truman. The original manga appeared in 2003. The English translation appeared in 2011.
Wait! Are you confused yet? As my editor was confused? "You already reviewed Full Metal Alchemist!" Yes, but I reviewed the second volume in the series, not the first. Which was checked out and never returned to Kitchener Public Library.
On a war-wracked continent, two young brothers wander from town to town. Although Edward Elric is only fifteen and Alphonse Elric is just fourteen, both are skilled alchemists. Indeed, their skill is only outmatched by their boldness, which is why they are searching for the Philosopher's Stone.
The Stone might be able to give Ed back his missing arm and leg and Al back his missing body…
---
Translation
The Sorcerer of the Wildeeps — Kai Ashante Wilson

Kai Ashante Wilson's 2015 The Sorcerer of the Wildeeps is set in the same universe as his A Taste of Honey (reviewed here).
Long ago, the gods fled Earth, leaving their mortal offspring behind. The demigods are too weighted by flesh to ascend, but have great powers in the mortal realm.
One demigod, the Captain, uses his gifts to lead a company of mercenaries. Demane, also semi-divine, is one of his soldiers. Demane is hopelessly smitten with the Captain and follows him despite having no real taste for the life of a mercenary. His fellow soldiers are wary of him; they call him a sorcerer, even though he tries to conceal his gifts.
Both men's gifts will be needed to get the mercenaries and the merchants they are guarding through the Wildeeps. Well, at least some of the mercenaries and some of the merchants.
---
Military Speculative Fiction That Doesn't Suck
Change the Sky and Other Stories — Margaret St. Clair
1974's Change the Sky and Other Stories is a collection by the prolific Margaret St. Clair.
---
Because My Tears Are Delicious To You
The Cordwainer Smith Rediscovery Award Anthology — A. N. Editor
The Cordwainer Smith Rediscovery Award

honors under-read science fiction and fantasy authors with the intention of drawing renewed attention to the winners. The award was initiated in 2001 by the Cordwainer Smith Foundation.
That's a fine goal. Yet, even though the award has been given every year since 2001, the award's website has not been updated since 2012. That's not the way to draw attention to the honoured works. At least the Wikipedia entry seems to be up-to-date.
Something else the Rediscovery Award people have never done, to my knowledge, is commission a Rediscovery-theme anthology. If they did, it might look something like this:

---
Miscellaneous Reviews
2011's Triptych is a standalone science fiction novel by J. M. Frey.
Forced to flee their dying homeworld [1], the aliens found new homes on Earth. In stark contrast to the experiences of pretty every previous wave of refugees in the history of our planet, the governments of Earth, working through the UN, organized a sensible, effective effort to integrate the aliens into human society. Key to this effort are the Specialists who act as cultural ambassadors to the aliens.
Now the effort has gone horribly wrong.
---
A Year of Waterloo Region Speculative Fiction
Sea of Shadow — Fuyumi Ono
The Twelve Kingdoms, book 1
1992's portal fantasy Sea of Shadow is the first volume in Fuyumi Ono's Twelve Kingdoms series. The 2007 English language edition was translated by Alexander O. Smith, and Elye J. Alexander.
Yoko Nakajima's oddly coloured hair, lighter than any proper Japanese person's hair should be, makes her an object of suspicion to her parents and schoolmates. It's true that her hair has been its present colour since birth, and that she is to all appearances a normal, hardworking student and dutiful daughter. But isn't that just the sort of facade a covert nonconformist would adopt? Her reluctance to assimilate by dying her hair black only underlines here oddity. Although if she did colour her hair, that would also be bad (her school forbids hair-colouring [1]).
But things could get worse, and do. Accosted by a stranger, given a magic sword and the ability to use it, attacked by monsters, Yoko is transported from Japan to the strange world of the Twelve Kingdoms.
---
Translation
Miranda and Caliban — Jacqueline Carey
Jacqueline Carey's Miranda and Caliban is a standalone retelling of Shakespeare's novelization of Forbidden Planet, which for some reason he called The Tempest.
Determined to have revenge on his usurping brother Antonio and Antonio's ally, the King of Naples, Prospero has retreated to a deserted island to hone his magical skills. Usurping the witch Sycorax's legacy for his own, he is determined to use every resource at his disposal to punish his enemies.
This book does not tell Prospero's story. Shakespeare already did that. It focuses on his naïve daughter Miranda.
---
Miscellaneous Reviews
Rocket to the Morgue — Anthony Boucher
Sister Ursula Mysteries, book 2
H. H. Holmes' 1942 mystery Rocket to the Morgue is a sequel to 1940's Nine Times Nine . In Nine Times Nine , Detective Inspector Terry Marshall, assisted by Sister Ursula of the Sisters of Martha of Bethany, solved a locked-room mystery. In Rocket, the intrepid duo will confront something far more vexing:
Science fiction authors.
---
Because My Tears Are Delicious To You
1981's Aventine is Lee Killough's sole short-story collection to date. The stories share a common setting: Aventine, an artists community on a distant world. At least, that is how the inhabitants like to see themselves. The truth is darker.
---
Miscellaneous Reviews
Far-Seer — Robert J. Sawyer
Quintaglio Ascension Trilogy, book 1
Many science fiction writers (Canadians in particular, because Canada) are not especially outgoing and thus not inclined to actively promote themselves (one reason why I try do that for them.. With one noteworthy exception: a former Waterloo resident and past Edna-Staebler-Writer-in-Residence [1] named Robert J. Sawyer, who, if he ever suffered from this common debility, managed to overcome it. As a result, his online bio is sufficiently voluminous that I find myself paralyzed by choice. What, if anything, to quote? So I will just link to the ten-thousand-word Sawyer version. Enjoy!
1992's Far-Seer is the first volume in Robert J. Sawyer's Quintaglio Ascension Trilogy.
The dinosaurs may have perished on Earth, but their descendants live on, on the habitable moon of a distant gas giant [2]. The intelligent carnosaurs known as Quintaglios have no inkling of their past. Indeed, their grasp of the present is shaky. As far as they are concerned, they live on a vast island floating down a vaster river. They do not know that their world is a sphere or that the body their religion worships is the greater world around which theirs orbits.
Apprentice astrologer Afsan will change all that.
---
A Year of Waterloo Region Speculative Fiction
Endurance — Yoshiki Tanaka
Legend of the Galactic Heroes, book 3
1984's Endurance is the third volume in Yoshiki Tanaka's MilSpaceOpera manga series, Legend of the Galactic Heroes. The 2016 English language edition was translated by Daniel Huddleston.
Two civil wars have ended; both the Galactic Empire and its deadly enemy, the Free Planets Alliance, are at peace. Reinhard uses the respite to consolidate his control over the Empire, becoming Emperor in all but formal title.
The FPA uses peace for an entirely different purpose.
---
Translation
Dissidence — Ken MacLeod
The Corporation Wars, book 1
The Corporation Wars: Dissidence is the first volume in Ken MacLeod's Corporation Wars series. It is one of two books from the series that were nominated for this year's Prometheus Award. Due to lack of time, it is the only one of the two that I will be reviewing.
Illicit drone warfare for the shape of the human future is all fun and games until, as Carlos the Terrorist found out, your allies turn on you and frame you for an atrocity—your enemies work out where you are—and someone drops a building on your head. Player One has left the game. Not completely out (the building was full of cryogens and you were flash frozen) but out for several centuries.
Fast forward those few centuries and medical advances have made death a curable condition.
---
The 2017 Prometheus Award Finalists
RuneQuest, Second Edition — Steve Perrin & Ray Turney
My first year at university, I encountered my first roleplaying games; two of those games I still remember fondly. Well, perhaps three, but I'll explain that in a footnote [1]. The first game was Traveller, which I reviewed here. The second was Chaosium's RuneQuest, 2nd Edition. Which is now in print again, thank Ghu.
Like Traveller, RuneQuest is a skill-based system. Like Traveller, the skills that count are somewhat mundane. However, unlike Traveller, whose basic rule set was quite unspecific about the setting, RuneQuest was explicitly set in Greg Stafford's Glorantha.
I should perhaps add that both games, unlike a lot of role-playing games then and now, are designed to put wandering murder hobos at a considerable disadvantage. Just in case you wondered.
---
Because My Tears Are Delicious To You
Chiho Saito
Revolutionary Girl Utena, book 1
The collective Be-Papas and Chiho Saito's [1] Revolutionary Girl Utena, Volume 1 is the first of two volumes in the Revolutionary Girl Utena Complete Deluxe Box Set. Utena first ran in the monthly manga magazine Ciao from 1996–1997. Translation is by Lillian Olsen.
Rescued as a child from drowning by a mysterious stranger Utena knows only as "Licky-lick" [2], Utena vowed to be worthy of her savior, the man she yearns to meet again. She will live a strong and noble life.
The Japanese schoolgirl will become a prince!
---
Translation
Gehenna: Death Valley — Becka Kinzie

To quote Becka Kinzie's website:
I'm a freelance artist from the K-W Region. I've also been working as a colour flatter and colouring assistant since the early 2010s. In my spare time, I create my own macabre series of comics, which are posted online. The pages are eventually made into comic book issues, and so far I have self-published 15 of them (for sale at events/conventions).
Kinzie's on-going horror webcomic Gehenna: Death Valley is one of several to be found on her website.
Teenagers! Just how blatant do warnings have to be before teens will actually pay heed? In the case of Lauren, Max, Sean, Max and Anika, more blatant than this.
Hilarity can only ensue.
---
A Year of Waterloo Region Speculative Fiction
An Ancient Peace — Tanya Huff
Peacekeeper, book 1
Set in the same Confederation universe as her Valor novels, 2015's An Ancient Peace is the first volume in Tanya Huff's Peacekeeper series.
A covert op seems like a useful application of the skills of Torin Kerr's elite squad … as well as a welcome distraction from the revelation that the war that killed so many was an enigmatic civilization's science project. And it's not as if the op is unimportant: the future of the human and other Younger races may depend on what it finds.
Archaeology sounds so harmless.
---
Military Speculative Fiction That Doesn't Suck
The Mandibles: A Family, 2029-2047 — Lionel Shriver
Lionel Shriver's 2016 The Mandibles: A Family, 2029-2047 is the third in a series of reviews … a series I am increasingly coming to repent ever having begun.
When investors decline to continue funding America's soaring debt, the US's foreign-born Latino President decides the only acceptable solution is to default on the debts. The consequences will reverberate for decades.
Many members of the implausibly named Mandible family used to take comfort from the knowledge that when their irascible patriarch finally died, his fortune would be divided among them. But the collapse of the US dollar (and the American economy with it) has stripped the old man of most of his assets. His remaining assets have lost most of their value. The Mandibles and America with them will be forced to do something unthinkable: adapt to changing circumstances.
---
The 2017 Prometheus Award Finalists
Cloned Lives — Pamela Sargent
1976's Cloned Lives was Pamela Sargent's debut novel.
Paul Swenson and his friends see a brief window of opportunity for biomedical experimentation: technology has advanced, antique rules preventing certain lines of research have expired. Assuming that it is better to ask forgiveness than ask permission, they only reveal their project to the world once they have the first successful results to show. Who are:
Edward, James, Michael, Kira and Albert Swenson.
Paul's clones.
---
Because My Tears Are Delicious To You
The Homeward Bounders — Diana Wynne Jones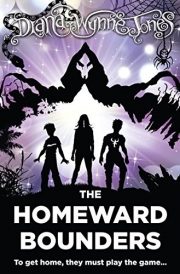 1981's The Homeward Bounders is a standalone science fantasy novel by Diana Wynne Jones.
Protagonist Jamie's unremarkable life ended the day he stumbled across Them playing games with human destiny. Luckily for Jamie, the rules of the game include provisions for pieces who know too much, as Jamie does. Jamie was discarded from the game, consigned to wander between realities as a Bounder until he could find his way back home.
---
Special Requests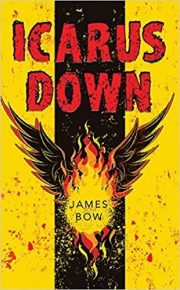 To quote James Bow's website:
I was born in downtown Toronto on April 19, 1972 and lived there until my folks moved up to Kitchener in 1991 so I could attend the University of Waterloo. I've lived in Kitchener ever since. I've been trained as an urban planner, and I've worked as a database manager, web designer, circulation manager, administrative assistant, layout designer, and office manager. The one consistent thing about my varied academic and professional career has been a love of writing.
Three generations ago, the colonists on the starship Icarus emerged from their final jump and found themselves plunged into disaster. The travellers had been promised a garden world. What they got was a hellworld whose electromagnetic environment killed electronics and where the sun was bright enough to burn unprotected skin. The fog-shielded lowlands seemed to offer a haven, … at least until the ticktock monsters attacked. The colonists were forced into refuges suspended between lethal sunlight and deadly monsters. Until now, they have survived.
Simon Daud wanted to be a pilot. Catastrophic equipment failure on his final test flight left Simon badly burned. His brother Isaac was killed outright.
---
A Year of Waterloo Region Speculative Fiction
Ambition — Yoshiki Tanaka
Legend of the Galactic Heroes, book 2
Ambition is the second volume in Yoshi Tanaka's Legends of the Galactic Heroes space opera series. It was translated into English by Daniel Huddleston.
Kaiser Friedrich IV is dead! Long live the new Kaiser! As soon as the warring factions within the Empire settle just who that new Kaiser will be!

---
Translation
Blade of p'Na — L. Neil Smith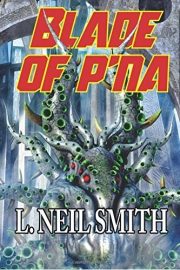 L. Neil Smith's 2016's Blade of p'Na is the next Prometheus Award finalist selected for review by my complex sorting algorithm (I threw dice).
Four hundred million years of civilization is long enough for a race like the Elders to have developed some very odd hobbies. Among the avocations the nautiloid Elders dabbled in was Appropriating doomed or interesting beings from neighbouring universes. This did not end so well for the Elders in question (who committed suicide once they noticed the inherent contradiction between their ethic of 'freedom for all!' and 'kidnapping' [1]) but it has worked out pretty well for the Appropriated and their descendants.
Take Eichra Oren, for example.

---
The 2017 Prometheus Award Finalists
A Spell for Chameleon — Piers Anthony
Xanth, book 1
1977's British Fantasy Award-winning A Spell for Chameleon is the first volume in Piers Anthony's seemingly endless Xanth series.

Spoiler warning.
Poor Bink! Each human Xanth has their own unique magical gift. Bink appears to be one of the few exceptions, with no discernible magical talent. Not only does this place him at a considerable disadvantage to his fellow humans but it will cost him his place in Xanth. Human law mandates exile for those without magic.
On the slim chance the Good Magician Humfrey's powers can uncover the talent all previous attempts to discover have failed to spot, Bink set out to offer a year of service to the Magician in exchange for Humfrey's help.
Humfrey may be Good but he is not Friendly or Easy to Reach.
---
Because My Tears Are Delicious To You
Note
The Author/Editor list will be back soon; we're having a minor technical difficulty!