Mira Grant's 2017 Final Girls is an upcoming standalone work.
Jennifer Webb has invented a new virtual-reality-based therapy and opened an institute to test and develop it. Seeking publicity and credibility, she offers Esther Hoffman, an investigative journalist, a chance to visit the institute and report on the new tech.
This would seem to have been a bad choice. Hoffman is a professional debunker with a strong personal grudge against pseudoscience therapies. But it is that very grudge that makes Hoffman a credible reporter. If Webb can convince Hoffman that the therapy has merit, Webb can convince everyone else.
The question that kickstarts many good plots: what could possibly go wrong?
---
Miscellaneous Reviews
Farthest Star — Frederik Pohl & Jack Williamson
Cuckoo, book 1
Frederik Pohl and Jack Williamson's 1975 Farthest Star is the first novel in the Cuckoo duology, which was a fixup of the 1973 novella Doomship (1973) and the 1974 serial The Org's Egg,
Farthest Star is an example of the Big Dumb Object school of science fiction. This makes it cousin to such classics as Ringworld, Rendezvous with Rama , and Orbitsville, as well as to books like The Wanderer .
By the late 21 st century, humans have made contact with a loose association of alien civilizations. These civilizations are linked, not by physical spacecraft, but by near-instantaneous tachyon communication. Tachyon beams carry information; they cannot transmit matter, but material objects can be scanned., That information can then be transmitted by the tachyon transporter, to be duplicated at a distant location 1. This tech has allowed humans to join the association and travel, as copies, to other worlds.
What if the traveller dies? Run off another copy. Or another dozen copies. Just ask the ill-fated Ben Pertin.
---
Because My Tears Are Delicious To You
Shadowlands — Violette Malan
Mirror Prince, book 2
To quote Malan's on-line biography:


Violette Malan has a PhD from York University in 18th-Century English Literature, but reports that most people don't hold it against her. She started reading fantasy and science fiction at the age of eight, and was writing stories not long after. Violette has been a book reviewer, and has written feature articles on genre writing and literature for the Kingston Whig Standard. She has taught creative writing, English as a second language, Spanish, beginner's French, and choreography for strippers. On occasion she's worked as an administrative assistant, and a carpenter's helper. Her most unusual job was translating letters between lovers, one of whom spoke only English, the other only Spanish.

Violette is co-founder of the Scene of the Crime Festival on Wolfe Island, a single-day event focusing on Canadian crime writing, and celebrating the birthplace of Grant Allen, Canada's first crime writer. Violette is currently the president of the festival board, but in the past she's given writing workshops, and was the original organizer and co-judge of The Wolfe Island Prize for first crime fiction, which is sponsored by the festival.
Violette Malan's 2012 Shadowlands is the second in her Mirror Prince series.
Wars' consequences don't vanish when the war ends. The leaders of one side may be vanquished or dead but their followers may not be. As well, the consequences of actions taken for what seemed like good reasons at the time can reverberate for a very long time.
Particularly when quasi-immortal faerie are involved.
---
A Year of Waterloo Region Speculative Fiction
Kings of Petaling Street — William Tham Wai Liang
William Tham Wai Liang's Kings of Petaling Street is a standalone crime thriller.
Wong Kah Lok Syndicate's power is waning, but it is still one of the most powerful gangs in Kuala Lumpur.
Gangster Wong has slowed of late. The heart went out of the aging criminal when his wife and oldest son died in an assassination attempt. Wong's primary goal is now to see his remaining son, Gavin, settled in a respectable, safe occupation.
He shows poor judgment, then, in allowing the heir apparent to his gang, Crazy Foo, to mentor the impressionable Gavin.
---
Miscellaneous Reviews
Hunger Makes the Wolf — Alex Wells
Hunger Makes the Wolf is the first volume in Alex Wells' as yet unnamed series.
Tanegawa's World is one vast desert; it has very little to offer the other worlds of the Federal Union Moreover, the harsh natural conditions tend to wreck delicate advanced technology far in advance of its expected MTBF. How fortunate for the world's inhabitants that TransRift, Inc, has taken the planet and its human inhabitants under its wing, providing the able-bodied with full time employment in the mines Without the distractions of decent pay, unions and law beyond that supplied by TransRift's private army.
All of which will go part way to explain why Hob, Coyote, and Dambala find a dead man desiccating in the desert.
---
Miscellaneous Reviews
To steal a description I posted on actor Amal Al's Facebook wall a few days ago, Fritz Leiber's 1964 The Wanderer is about "hollow planets filled with catgirls who want to steal the moon." Many of you may think that sounds awesome or at least intriguing. Certainly a sufficient number of fans [1] thought so; the novel won a Best Novel Hugo in 1965.

The reality of the novel falls well short of its potential.
Yesterday's Tomorrow AD: the Americans have a moon base, and the Soviets have a manned Mars expedition. The Cold War simmers, threatening to go Hot. That would be the only threat to the planet as a whole … or so they thought.
Four photographs of distorted star-fields foreshadow a grim reality. There are aliens and they are on their way to Earth. What do they have planned for us?
---
Because My Tears Are Delicious To You
All Systems Red — Martha Wells
The Murderbot Diaries, book 1
2017's All Systems Red is the first instalment in Martha Well's The Murderbot Diaries.
The Company cares (<3 <3 <3), which is why every one of their survey teams is required to have at least one Sec Unit. This is a construct: part machine, part organic, a guardian bound by programs stored in supposedly unhackable governor units. Its duty: to protect its squishy human charges. Of course, the Company is also profit-oriented, which means that the Sec Unit has been assembled from the cheapest components available, which in turn means that those governor units are, in fact, easily hacked.
Dr. Mensah's team is small and it has just the one Sec Unit. That seems sufficient for a world without any significant known hazards. But appearances can be misleading. There is an undocumented giant predator in the team's assigned territory. And the team's Sec Unit is a Murderbot. Its governor has been hacked and disabled. Murderbot refrains from murdering its humans mainly because it can see no good reason to kill them. Not as long as it has new entertainment material to amuse it.
There is another, far greater, threat to the team than a soap-opera-obsessed Murderbot in the offing.
---
Miscellaneous Reviews
Ultraviolet — R. J. Anderson
Ultraviolet, book 1
To quote R. J. Anderson's biography:

Born in Kampala, Uganda, and raised in various parts of Ontario, Rebecca has spent much of her life dreaming of other worlds entirely. As a child she immersed herself in fairy tales, mythology, and the works of

C.S.

Lewis ,

J.R.R.

Tolkien and E. Nesbit ; later she found inspiration in books by Ursula LeGuin , Patricia A. McKillip and Robin McKinley , and learned to take as much pleasure from the authors' lyrical style as the stories they told.
Now married and a mother of three, Rebecca reads to her sons the classic works of fantasy and science fiction that enlivened her own childhood, and tries to bring a similar excitement and timeless wonder to the novels she writes for children and teens. She lives in the beautiful theatre town of Stratford,Ontario1.
2011's Ultraviolet is the first book in R. J. Anderson's Ultraviolet series.
Sixteen-year-old Alison Jeffries wakes up with no idea where she is or how she got there. She soon learns she is immured in the Pine Hills Psychiatric Treatment Centre. Her mother has finally succeeded in having Alison committed.
Perhaps it is for the best. Alison does recall disintegrating Victoria Beaugrand. While that may be the delusion of a madwoman, the fact that nobody has seen Tori since the day Alison turned up raving and covered in blood suggests it is not.
---
A Year of Waterloo Region Speculative Fiction
Revenger — Alastair Reynolds
Alastair Reynold's 2016 Revenger is a standalone SF novel.
Eager to escape her foolish father and his incredibly creepy associate Doctor Morcenx, teenaged Adrana Ness talks her way onto Captain Rackamore's light-sail spacecraft. Rather than abandon her younger sister Fura to Morcenx, Adrana convinces her sister to accompany her into deepest space in search of freedom and fortune.
What they get is death and corruption but hey, A for effort.
---
Space Opera That Doesn't Suck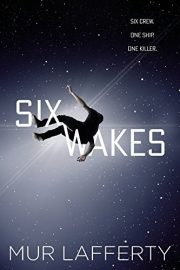 Mur Lafferty's 2017 Six Wakes is a standalone science fiction mystery novel.
To have one crew-member murdered may be regarded as a misfortune; to have the entire crew murdered looks like carelessness.
Happily for Maria Arena and the rest of the crew of the interstellar ship Dormire, death is a temporary condition. Maria wakes in a cloning pod, as expected. What is not expected: she is still in the pod. Someone should have released her. Oh, and she can see globules of blood floating in freefall outside her container.
It only gets worse.
---
Miscellaneous Reviews
The Phantom Tollbooth — Norton Juster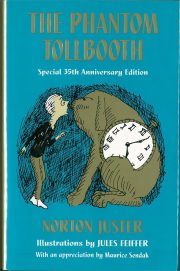 Norton Juster's 1961 The Phantom Tollbooth is a widely loved whimsical children's book that, as it happens, I've not read until now.
There was once a boy named Milo who didn't know what to do with himself—not just sometimes, but always. When he was in school he longed to be out, and when he was out he longed to be in. On the way he thought about coming home, and coming home he thought about going. Wherever he was he wished he were somewhere else, and when he got there he wondered why he'd bothered. Nothing really interested him—least of all the things that should have.
When Milo comes home to find a mysterious package awaiting him, he sees no point to assembling the contents … but he does so anyway. Not assembling them would have been just as pointless and at least putting the strange present together was something to do.
His gift is a tollbooth. A very special tollbooth.
---
Special Requests
Shon'jir — C. J. Cherryh
Faded Sun, book 2
1978's Shon'jir is the middle volume in SF Grandmaster C. J. Cherryh's Faded Sun trilogy.
The Regul attempted to exterminate the mri, in order to prevent the alien mercenaries from selling their services to the human Alliance. Perhaps a prudent action, but ultimately unsuccessful. Two mri survive, prisoners of the Alliance forces occupying Kesrith. Only two, but Niun and Melein alone are sufficient to threaten the delicate peace between Regul and the humans.
---
Because My Tears Are Delicious To You
The Last Rite — Jen Frankel
Blood & Magic, book 1
2012's1 The Last Rite is the first volume in Jen Frankel's Blood & Magic series.
Thirteen-year-old Maggie Stuart is an unwilling loner, unable to make friends at her Toronto school and unsure why that is so. Even the boy on whom she has a painful crush is barely aware of her. If he notices her at all, it's to ask for academic help.
No worries, though, because the Burnt Man has taken a keen interest in young Maggie. He wants to be with her for ever and ever. Or until Maggie dies. Whichever comes first.
---
A Year of Waterloo Region Speculative Fiction
The Crimson Labyrinth — Yusuke Kishi
2006's The Crimson Labyrinth is a stand-alone thriller by Yusuke Kishi. The English-language edition was translated by Camellia Nieh.
Yoshihiko Fujiki had it all: a high-status job, a wife who adored his salary and company housing. Japan's economic woes stripped all that from Fujiki: first the job, then the wife and finally his home. Only after he loses everything does Fujiki grasp the transience of success.
Living hand-to-mouth in a squalid apartment, it might not seem that Fujiki has much to lose. He knows better. As far as he has fallen, he can still far farther. Fujiki has seen his future and it's bleak.
Waking up stripped of his recent memories in an alien labyrinth still comes as a rude surprise.
---
Translation
Parable of the Sower — Octavia E. Butler
Parable of the Sower, book 1
1993's Parable of the Sower is the first volume in Octavia E. Butler's Parable of the Sower duology. Here Butler explores a very American theme. From Huck Finn to the Joads ,from the Mormon pioneers to the Donners, from On the Road to The Road, nothing expresses the boundless possibilities of America like the road trip.
Lauren Olamina's 2020s America is one that makes road trips challenging and eventful.
---
Miscellaneous Reviews
Samuel R. Delany's 1968 Nova is a standalone science fiction novel.
Draco, an Earth-led alliance, and its youthful rival, the Pleiades Federation, dominate the human portion of the galaxy. Both powers dabble in the affairs of the recently settled Outer Colonies. Those hostile young planets harbor traces of the ultra-heavy element illyrion, an element essential to tech as diverse as faster-than-light drives and terraforming.
Until the Outer Colonies were settled, no natural sources of illyrion were known. Illyrion could only be produced by an expensive transmutation process. Cheaper illyrion has shifted the balance of power.
Lorq Von Ray has a bold scheme to alter the galactic political landscape yet again. He will double the aggregate stores of Illyrion in one daring voyage! All he and his crew need do is race into the heart of a star. An exploding star.
---
Because My Tears Are Delicious To You
The Chaos — Nalo Hopkinson
2012's The Chaos is a standalone young adult urban fantasy novel by Nalo Hopkinson.
Sixteen-year-old Sojourner Smith leads a far–from- perfect life; she knows it and she knows why. She's too white to be black, too black to be white, and subject to her parents' draconian discipline (the same inflexible standards that consigned her older brother to prison). School is something of a refuge: there, she is nicknamed Scotch and admired because she is pretty, flirtatious, and a star performer of the Raw Gyals dance troupe.
Of course, nothing is perfect, and there are a few problems even there. She's fallen out with Raw Gyals troupe leader and former best friend Gloria. Scotch is convinced that Gloria has her eye on Scotch's ex-boyfriend Tafari. Not what a real BFF would do.
Oh, and there's Scotch's new skin condition and the fact that she's been seeing floating heads lately….
A night out with her older brother Rich sounds like a welcome respite from parents and school. Pity the Smith siblings picked the night all hell broke loose in Toronto 1 Welcome to the Chaos!
---
Miscellaneous Reviews
Ward Against Death — Melanie Card
Chronicles of a Reluctant Necromancer, book 1
2011's Ward Against Death is the first volume in Melanie Card's Chronicles of a Reluctant Necromancer.
The meet-cute between Ward De'Ath and Celia Carlyle is an unpromising one. He is a branded criminal (thanks to his interest in the unsavoury surgical arts1); she is the daughter of a lord. Not only that, but when they first meet, Celia is quite dead.
Still, love will find a way. And if love doesn't, necromancy definitely can.
---
A Year of Waterloo Region Speculative Fiction
Devil's Wake — Steven Barnes & Tananarive Due
Devil's Wake, book 1
2012's Devil's Wake is the first volume in Steven Barnes and Tananarive Due's Devil's Wake series.
It didn't take long for the plague of angry ghouls to sweep across America, because to be bitten by one of the infected is to become one of the infected. There is no cure and there is no vaccine. The only reliable prophylaxis is preparedness or simple dumb luck.
Given enough time, even the prepared run into something unexpected. Given time, the best luck in the world runs out.
---
Miscellaneous Reviews
The Broken Kingdoms — N. K. Jemisin
The Inheritance Trilogy, book 2
2010's The Broken Kingdoms is the second volume in N. K. Jemisin's The Inheritance Trilogy.
Ten years after the world changed, blind artist Oree makes a living in the city of Shadow, once called Sky. Although enforcement of the god Intempas' laws is far laxer for reasons those in charge decline to explain in detail, it would be very bad for Oree Shoth if she were to come to the attention of the Order-Keepers.
Bad enough she found a murdered godling. Much worse that the Order-Keepers know she found Role's corpse.
---
Miscellaneous Reviews
Batman: Blink — Dwayne McDuffie

Dwayne McDuffie's 2015 volume, Batman: Blink, collects Legends of the Dark Knight issues #156-158 and #164-167, which were first published in 2002–2003. To put it another way, he has put together two related story lines: Blink and its sequel, Don't Blink.
Blink
Women are being killed in horrific ways. But aside from the ugly nature of their deaths, there seems to be nothing that explains why these women were targeted or who has been targeting them. At least nothing that the police or Batman can see. Lee Hyland is the only surviving witness and the cops don't expect he will be a useful one. Not because Lee is a career criminal—he has been careful to keep that a secret—but because Lee is blind.
---
Miscellaneous Reviews
Leo and Diane Dillon's art — Leo Dillon & Diane Dillon
I would love to review "the complete collection of book covers illustrated by Leo and Diane Dillon" but as far as I can tell, such a volume does not exist. What do exist: The Art of Leo & Diane Dillon (1981) and To Every Thing There Is a Season: Verses from Ecclesiastes (1998). Collections I cannot review because 1) I don't own either and 2) I've never seen either. I do not mind all that much, because the first collection does not seem to have been well-received and the second looks too, um, religious for my taste.

But the Dillons do have a special place in my heart and I would love to direct some attention their way. So I am going to talk about my favourite Dillon covers.
My enjoyment of their work began with this specific set of covers.
---
Because My Tears Are Delicious To You
In the Company of Others — Julie E. Czerneda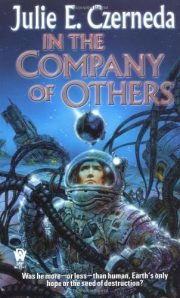 To quote Julie E. Czerneda's online bio:

Julie Czerneda is a Canadian author and editor whose first novel, A Thousand Words for Stranger, was published in 1997 by

DAW

Books. Since then, Julie has produced over a dozen more novels, edited fifteen anthologies, and written numerous short stories. Her work has won awards, consistently made bestseller lists, and garnered praise from readers and reviewers around the world.
As noted that same bio, Czerneda was a student at the University of Waterloo and thus she is fodder for A Year of Waterloo Region Speculative Fiction.
Czerneda's 2001 Aurora Award-winner In the Company of Others is a stand-alone science fiction novel.
Interstellar exploration turned up dozens of worlds suitable for human occupation, given some well-thought-out terraforming. All that stands between humanity and endless frontiers is a bit of time, some ingenuity, will, and applied technology.
And the Quill. But the Quill on their own are enough to bring the space colonization effort to a sudden halt.
---
A Year of Waterloo Region Speculative Fiction
Dark Matter — Sheree R. Thomas
Dark Matter, book 1
Sheree R. Thomas' 2000 anthology Dark Matter: A Century of Speculative Fiction from the African Diaspora delivers what it promises. One clarification, however: it is not a Resnickian collection of works about members of the African Diaspora but works by members of the African Diaspora.
---
Miscellaneous Reviews
Binti: Home — Nnedi Okorafor
Binti, book 2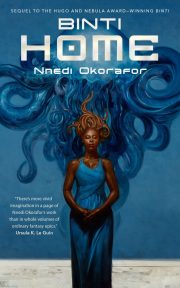 2017's Binti: Home is the sequel to Nnedi Okorafor's Nebula and Hugo-winning Binti.
Binti has been a student at Oomza University for a year. It's a year that has transformed her, both physically and mentally. Some of those changes were beneficial. Others, like her post-traumatic stress disorder, are not. Seeking an end to the nightmares, Binti returns to her home on Earth, in Africa, to participate in a healing pilgrimage.
---
Note
The Author/Editor list will be back soon; we're having a minor technical difficulty!