The Forgotten Tale — J. M. Frey
Accidental Turn, book 2
The Forgotten Tale is the second volume in J. M. Frey's Accidental Turn series.
Once a supporting character in Elgar Reed's deplorably written but popular fantasy series, spymaster Forsyth Turn escaped with his beloved Pip to Pip's native Canada (which, as we all know, is nearly as happy as Denmark). Content in his new life, husband to Pip, father to Alis, Forsyth has no intention of returning to his native Hain or even of maintaining contact with Reed.
Alas, just because he is done with fantastic adventures in Reed's poorly–thought-out land does not mean that Hain is done with Forsyth. Or with Forsyth's family.

---
A Year of Waterloo Region Speculative Fiction
The City of Woven Streets — Emmi Itäranta
Emmi Itäranta's 2015 standalone secondary world fantasy Kudottujen kujien kaupunki was published in 2016 as The City of Woven Streets. And also as The Weaver (for some reason I cannot comprehend).
The island on which Eliana lives is controlled by a Council much concerned with contamination by uncanny dreams and other such temptations to … well, if I told you more that would be a spoiler. Those deemed Tainted are isolated, a precaution to prevent the spread of Taint. This has not been working well. The island's rulers do the only sensible thing: double down on enforcement. It's a small, harsh world.

---
Translation
Places in the Darkness — Chris Brookmyre
2017's Places in the Darkness is a standalone near-future police procedural thriller by Chris Brookmyre.
230,000 kilometres above the Earth's surface, Ciudad de Cielo is supposed to be the shining city on the hill, a utopia where the technology needed to reach the stars will be developed. It should be filled with pristine rooms and corridors filled with hard-working, well behaved idealists, a glorious celebration of humanity's loftiest goals.
In actual fact, some fool staffed CdC with actual humans, not flawless paragons. Almost every vice known to humanity exists and is catered to by someone within the great space city. Not murder, however. That's one failing not found in space.
Until now.

---
Miscellaneous Reviews
Artificial Condition — Martha Wells
The Murderbot Diaries, book 2
2018's Artificial Condition is the second volume in Martha Wells' Murderbot Diaries. A review of the first volume, All Systems Red, is here.
Rather than trust its fate to humans, no matter how well intentioned, the freethinking construct calling itself Murderbot decides to evade its protectors and find freedom. But first, a few loose ends to be cleared. Such as what role Murderbot might have played in the deaths of dozens of people on planet RaviHyral.
Step one is getting to aforesaid obscure world without being exposed as a rogue SecUnit and forcibly returned to factory settings.
Bored AIs piloting interstellar transport ships turn out to be very observant.

---
Miscellaneous Reviews
Watchtower — Elizabeth A. Lynn
Chronicles of Tornor, book 1
1979's Watchtower is the first volume in Elizabeth A. Lynn's Chronicles of Tornor.
Most of Tornor Keep's defenders died in a futile attempt to bar invaders led by Col Istor. Knocked out cold early in the battle, the armsman Ryke was spared. Not out of charity. Istor respected Ryke's abilities and preferred to keep him alive and useful. Not that Istor wholly trusts Ryke, but he does have leverage.
That leverage is Errel, heir to the late lord of Tornor Keep. Errel lives only as long as Ryke serves Istor. At that, Errel survives only as a "cheari" or jester.

---
Because My Tears Are Delicious To You
The Starving Queen — Dean Italiano
To quote Dean Italiano's bio:
Dean Italiano lives with G and their twin boys in Waterloo,

ON

. Author of Pain Machine, Spirits and Death in Niagara, and Katrina and the Frenchman: A Journal from the Street, Dean also works with G musically to produce CDs Johnny Gruesome and From Skull Tavern, and occasionally does some artwork as well. By day, Dean works in a wonderfully busy elementary school Library. You can find more information at picpublishing.ca.
2017's The Starving Queen is a stand-alone urban fantasy.
Bev managed to escape the Starving Queen. Her daughter Jasmine won't be so lucky.

---
A Year of Waterloo Region Speculative Fiction
Hiromu Arakawa
Fullmetal Alchemist, book 9

Viz' Fullmetal Alchemist (3-in-1 Edition), Volumes 25–27 includes Volumes 25, 26, and 27 of the original Japanese manga1. Story and art are by Hiromu Arakawa; English translation by Akira Watanabe; English adaptation by Jake Forbes; touch-up art and lettering by Wayne Truman. The original manga appeared in 2010.
The nice thing about series whose author has a destination in mind is the comparative absence of supporting characters who don't actually support anything and subplots that don't go anywhere. The less nice thing is that eventually the story reaches that destination. End of the line.
Which gets me to Fullmetal Alchemist (3-in-1 Edition), Volumes 25–27.

---
Translation
An Oath of Dogs — Wendy N. Wagner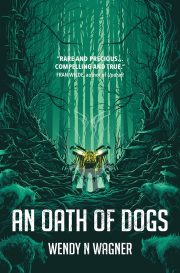 2017's An Oath of Dogs is a standalone SF novel by Wendy N. Wagner.
A near-fatal accident has left Kate Standish traumatized, paralyzed by acrophobia. Thanks to her therapeutic dog Hattie, Standish is able to function well enough to work again. Thanks to the selfless benevolence of the Songheuser company, she has a job wherein she can demonstrate her hard-won stability.
Poor Standish.

---
Miscellaneous Reviews
Four Roads Cross — Max Gladstone
Craft Sequence, book 5
Four Roads Cross is the fifth book published in Max Gladstone's Craft sequence. It is the fourth book by internal chronology.
Many in Alt Coulumb believe that Seril the Moon Goddess betrayed them when she left the city to fight and die in the God Wars. Seril has revived and returned, sans publicity. She helps her people where she can do so without revealing herself. The city's priests know, but are still considering how best to handle Seril's reappearance.
When Seril dispatches one of her gargoyles to save a woman from muggers, the victim turns out to be one of Alt Coulumb's Criers, the local equivalent of a plucky reporter. Being saved from a brutal death is one thing, but a story is a story. The world will learn the goddess walks again.
Journalistic diligence may have doomed a city.

---
Miscellaneous Reviews
A Fond Farewell to Dying — Syd Logsdon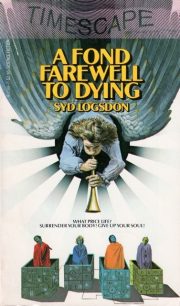 1981's A Fond Farewell to Dying is a novel-length expansion of Syd Logsdon's 1978 novella To Go Not Gently.
Of all the nations of Earth, India has been least affected by the Cataclysm that ended Euro-American domination of the world. Though even India was changed: sea level rise has cut it off from mainland Asia and the fallout that made it over the Himalayas has forced birth rates below replacement levels. Two centuries after the nuclear conflict, India is a much emptier place.
Scientist David Singer has abandoned the North America of his birth for India, the most advanced nation on the planet. Now calling himself Ram David Singh, he is researching what he conceives as immortality tech. The odds of an American hick garnering the required resources from the Indian state may seen poor, but geopolitics is his friend.

---
Because My Tears Are Delicious To You
The Red Ring — Jen Frankel
Blood & Magic, book 2
2014's The Red Ring is the second volume in Jen Frankel's Blood & Magic series. My review of book one, The Last Rite, is here.

In the previous volume, in order defeat a vicious warlock, almost-sixteen year old Maggie Stuart gave up her magic and now must live as a muggle. None of her former friends remember that she saved them from the warlock (or even that they had been her friends). Her loathsome mentor is pressuring her for sex. If she had any friends, she might cry on their shoulders … but the last three years has sent her decidedly into social reject territory.
Magic is about to come back into her life in a big way.

---
A Year of Waterloo Region Speculative Fiction
Hiromu Arakawa
Fullmetal Alchemist, book 8
Viz' Fullmetal Alchemist (3-in-1 Edition), Volumes 22–24 includes Volumes 22, 23, and 24 of the original Japanese manga1. Story and art are by Hiromu Arakawa; English translation by Akira Watanabe; English adaptation by Jake Forbes; touch-up art and lettering by Wayne Truman. The original manga appeared in 2009.
Adults are offered many opportunities to defer gratification, such as spacing out the last few volumes of a limited series instead of hoovering them up all at once. Adults can also say "screw delayed gratification; finish the series!" and get away with it. Guess which kind of adult I am.
Which brings us to the eighth, second-to-last, 3-in-1 omnibus of Fullmetal Alchemist. In this volume, plans come together. Sorta kinda.

---
Translation
Jade City — Fonda Lee
Green Bone Saga, book 1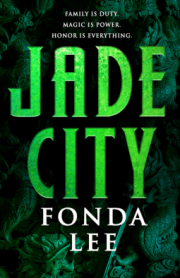 2017's Jade City is the first installment in Fonda Lee's Green Bone Saga secondary-world kung-fu gangster saga. At 512 pages, it's significantly longer than either Exo's 369 pages or Zeroboxer's 351. It's also significantly more ambitious.
The island of Kekon is the only known source of jade, which in this world is a miraculous substance that can grant enhanced abilities to those few whom it does not drive mad or kill. The minority who can use it safely are known as Green Bones. Custom grants the Green Bones a role as protectors of Kekon and its merchants (whether the merchants want protection or not). Since the Green Bone clans are constantly feuding, the island is far from peaceful.
Ayt Mada plans to transform a divided island into a unified whole.

---
Miscellaneous Reviews
Exo — Steven Gould
Jumper, book 4
2015's Exo is the fourth book in Steven Gould's long-running Jumper series.
Cent is one of just three humans able to teleport; the other two are her mother Millie and her father Davy. The ability allows the family to treat the entire planet as their home. It has also led to decades of persecution (stalking, abduction, imprisonment) by those determined to control and exploit the trio.
So far, they have survived by hiding. Only a handful of people know what the three can do. Thanks to Cent's current hobby, that's going to change.

---
Special Requests
The Exiles Trilogy — Ben Bova
1971's Exiled From Earth, 1972's Flight of Exiles, and 1975's End of Exile form Ben Bova's Exile Trilogy.
Cast out from overcrowded Earth, will our heroes be able to maintain a stable culture for the decades or centuries it will take to find a new Earth … or will they, like pretty much every other generation ship in the genre — last week's excepted — end up recapitulating Robert Heinlein's Orphans of the Sky?

---
Because My Tears Are Delicious To You
Ward Against Darkness — Melanie Card
Chronicles of a Reluctant Necromancer, book 2
2013's Ward Against Darkness is the second volume in Melanie Card's Chronicles of a Reluctant Necromancer series.
The good news is that Ward De'Ath is spending less time worrying about being outed as a practitioner of the forbidden surgical arts. That's because he is facing a far more immediate problem: a band of highly motivated assassins want to kill Ward and his dead…ish companion Celia.
Ward and Celia manage to elude their hunters and head for a wilderness that might just be wild enough to hide them. There's just one catch.

---
A Year of Waterloo Region Speculative Fiction
Hiromu Arakawa
Fullmetal Alchemist, book 7
Viz' Fullmetal Alchemist (3-in-1 Edition), Volumes 19–21 includes Volumes 19, 20, and 21 of the original Japanese manga [1]. Story and art are by Hiromu Arakawa; English translation by Akira Watanabe; English adaptation by Jake Forbes; touch-up art and lettering by Wayne Truman. The original manga appeared in 2008.
All seems lost!
Roy Mustang's trusted subordinates have been scattered across Amestris;

Major General Olivier Mira Armstrong (formerly of Briggs Fortress) appears to have gone over to Team Evil, leaving her beloved Fortress in the hands of officers very definitely loyal to the malevolent Father;

the great transmutation circle needed for the sacrifice of an entire nation is almost finished;
and worst of all, Alphonse Elric's soul is beginning to reject the armour that houses it.

---
Translation
Emissaries From The Dead — Adam-Troy Castro
Andrea Cort, book 1
2008's Emissaries from the Dead is the second story and first novel in Adam-Troy Castro's Andrea Cort series.
When she was eight, Andrea Cort's home community on Bocai descended into violent mass insanity. Cort succumbed to the madness but emerged one of the few survivors. Cort still thinks of herself as a Monster-with-a-capital-M but her trauma makes her valuable to the Homo Sapiens Confederacy Diplomatic Corps. The Corps stands between Cort and the aliens who would like her tried for her past. If Cort is to stay within the Corps' safe harbour, she must accept every crappy assignment they hand her.
Which is how Associate Legal Counsel for the Homo Sapiens Confederacy Diplomatic Corps Judge Advocate Andrea Cort finds herself headed to One One One, with strict orders to find a politically acceptable person to blame for a brutal murder, regardless of who the actual killer might be.

---
Special Requests
Fuzzy Sapiens — H. Beam Piper
Little Fuzzy, book 2
1964's Fuzzy Sapiens, first published under the title The Other Human Race, is the sequel1 to H. Beam Piper's Little Fuzzy.

Previously: old Jack Holloway, Ben Rainsford, Ruth Otheris, and their allies triumphed over the forces of pure capitalist evil, as represented by Victor Grego and his Chartered Zarathustra Company. Zarathustra was reclassified from Class-III to Class-IV and its native Fuzzies legally accepted as people.
Now Jack and his friends get to grapple with the consequences of winning.

---
Because My Tears Are Delicious To You
Noumenon — Marina J. Lostetter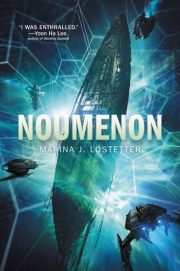 2017's Noumenon is a standalone generation-ship epic from Marina J. Lostetter.
Reggie Straifer is twice lucky. First, he has boosted his career with his discovery of an enigmatic stellar object, one that is quite possibly artificial. Second, he has made his discovery at a time when humanity has both the means and the will to travel to that distant object.
There's just one catch: the round trip will take two thousand years by Earth's clocks and over two centuries by any traveller's clock. Happily, the means and the will to deal with that issue also exist. Less happily, the means turns out to be inhumane.

---
Special Requests
All Those Explosions Were Someone Else's Fault — James Alan Gardner
Dark Versus Spark, book 1
According to James Alan Gardner's website:
I'm an award-winning writer, editor and teacher of science fiction and fantasy. I've published nine novels and a host of short stories in leading

SF

&F outlets. In addition to writing, I'm strongly interested in math and geology. In my spare time, I teach kung fu to kids and (unsuccessfully) to my rabbit.
2017's All Those Explosions Were Someone Else's Fault is the first novel in James Alan Gardner's new Dark versus Spark series.
Kim Lam came to the University of Waterloo to reinvent themself, to go from gender to assertiveness. Thanks to some Mad Science, they will succeed beyond their wildest dreams.

---
13
Oct
2017
/ 10 Comments
A Year of Waterloo Region Speculative Fiction
The Kubishime Romanticist — NisiOisiN
Zaregoto, book 2
2002's The Kubishime Romanticist is the second in NisiOisiN's Zaregoto series.
Gloomy Ii-Chan has put crime-solving behind him and focused on being a jaded, unenthusiastic college student. Despite Ii-Chan's best efforts to remain disconnected, he finds himself sparring with serial killer Zerozaki Hitoshiki. Worse yet, fellow student Aoii Mikoko insists on befriending him.

---
Translation
An Unkindness of Magicians — Kat Howard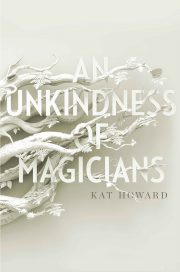 Kat Howard's 2017 An Unkindness of Magicians is a standalone urban fantasy.
Every twenty years, the magical houses of New York City's Unseen World struggle for dominance in a series of increasingly dangerous contests known as the Turning. This time, the Turning is seven years early. The premature Turning is just one of the disquieting anomalies plaguing the Unseen World. Which may hint that magic itself may be dying.

---
Special Requests
The Makeshift Rocket — Poul Anderson
1962's standalone comic SF novel The Makeshift Rocket is an expansion of Poul Anderson's 1958 A Bicycle Built for Brew.
The gyrogravitic generator gave humans and Martians cheap space flight and the ability to transform any dead rock in space into an acceptable facsimile of a habitable world, one with Earth-like gravity and an atmosphere. Any gang of idiots with enough money could create their own pocket nation out in the Asteroid belt. Many idiots did.
Captain Dhan Gopal Radhakrishnan and Engineer Knud Axel Syrup of Mercury Girl sense that something is wrong on the worldlette Lois. Clue: the flags.

---
Because My Tears Are Delicious To You
Binti: The Night Masquerade — Nnedi Okorafor
Binti, book 3
2018's Binti: The Night Masquerade is the third and possibly final instalment in Nnedi Okorafor's Binti series.
Still digesting the lessons learned in Binti: Home, young Binti is woken by a dreadful vision: her family trapped in the basement of their burning dwelling. She rushes home. She finds charred ruins and no visible survivors.

---