All Those Explosions Were Someone Else's Fault — James Alan Gardner
Dark Versus Spark, book 1
According to James Alan Gardner's website:
I'm an award-winning writer, editor and teacher of science fiction and fantasy. I've published nine novels and a host of short stories in leading

SF

&F outlets. In addition to writing, I'm strongly interested in math and geology. In my spare time, I teach kung fu to kids and (unsuccessfully) to my rabbit.
2017's All Those Explosions Were Someone Else's Fault is the first novel in James Alan Gardner's new Dark versus Spark series.
Kim Lam came to the University of Waterloo to reinvent themself, to go from gender to assertiveness. Thanks to some Mad Science, they will succeed beyond their wildest dreams.

---
A Year of Waterloo Region Speculative Fiction
Back From Chaos — Yvonne Hertzberger
Earth's Pendulum, book 1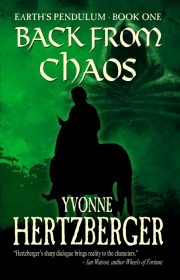 To paraphrase her website:
Yvonne Hertzberger has been a Jill of all Trades; actor, singer, gardener, hairstylist, and decorator. This long-time student of human nature, empty nester, retiree and late bloomer, finally found her calling writing epic fantasy. She lives with her spouse, Mark, in Stratford, Ontario.
2011's Back from Chaos is the first volume in Hertzberger's Earth's Pendulum series.
Catania has fallen! Supine beneath the forces of neighboring Bargia, the Catanians expect the worst: looting, rape, arson, and mass executions.
What the Catanians get — much to the surprise of Marja, sole remaining member of Catania's royal family — are reason and conciliation. The conquerors attempt to find a solution that will prevent future wars.

---
A Year of Waterloo Region Speculative Fiction
The Last Namsara — Kristen Ciccarelli
Kristen Ciccarelli hails from Ontario's Niagara Peninsula where she grew up on her grandfather's grape farm. She spent her childhood running wild with her cousins, adventuring in the woods, building forts in the barn, and obsessing over books, dragons, and girls wielding really cool weapons.
2017's The Last Namsara is Kristen Ciccarelli's debut novel.
Asha, daughter of the king of Firgaard, hunts dragons. She has devoted her life to this quest, to the point that dragons have become an endangered species.
Her father the king has one final task for Asha. Kill Kozu, the First Dragon. One last death and the king's rule will be secure against any revival of the old faith (and its dragons).

---
A Year of Waterloo Region Speculative Fiction
Beasts of New York — Jon Evans
To quote his Wikipedia entry, Arthur Ellis award-winner Jon Evans was

(b)orn to an expatriate Rhodesian father and Canadian mother. Evans grew up in Waterloo, Ontario and graduated from the University of Waterloo. He has a degree in electrical engineering and over 10 years of experience working as a software engineer.
He's also a former customer of mine, from the days when I owned a game store. Small world!
2011's Beasts of New York won the Foreword Medal of the Year Award.
Patch son of Silver, of the Seeker clan, of the Treetops tribe, of the Center Kingdom, faces calamity, as do all his compatriots. Long winter means food stores are pressed to their limits and beyond. Instead of a meagre supply barely able to see Patch and his kin to spring, there is nothing. Starvation looms.
Patch discovers that his clan and kind face an existential threat that is far greater than a lean winter. The fate of the beasts of New York rests on the shoulders of Patch the squirrel.

---
A Year of Waterloo Region Speculative Fiction
The Riverbed of the World — B. C. Holmes
an

IT

consultant, a social justice activist (especially in regards to Haiti), a trans person, a writer and cartoonist, an sf fan, a pinko-commie feminist, a film-lover and a Canadian (eh?).
To date they have produced a small but diverse body of work. It includes non-fiction and fiction, graphic (in the sense of comic books) fiction, and spec-fic stories such as "Ghosts in the Machine," "Glamour," and the short work I'm reviewing, "The Riverbed of the World."

---
A Year of Waterloo Region Speculative Fiction
Flesh Failure — Sèphera Girón
Sèphera Girón's 2014's Flesh Failure is a standalone horror story.
Agatha is a patchwork woman, covered in stitches and scars, smelling of death. She has been buried and left for dead, but claws her way out of the grave. She has only spotty memories of the people, and the process, that animated her.
It is London in 1888. Employment opportunities for women are few, and even fewer for scarred women who reek of the grave. It's even hard to make friends, as few people can tolerate her smell … especially in the small, poorly ventilated rooms that are the lot of the poor. But Agatha persists, and eventually finds work as a fortune teller and freak. She even discovers that the occasional dose of electricity will temporarily reverse some of her more alarming symptoms.
Except for her tendency to ambush and consume the unwary. Ah well, nobody is perfect.

---
A Year of Waterloo Region Speculative Fiction
A Pocket Full of Murder — R. J. Anderson
Uncommon Magic, book 1
2015's A Pocket Full of Murder is the first volume in R. J. Anderson's Uncommon Magic series. Pocket is a young adult fantasy-mystery.
Despite the sober foresight that placed most political power in the Tarreton City Council in the hands of the local aristocracy, Tarreton has not prospered. In large part this is because the local Sagelord Lord Arvis is a fool whose decrees have consistently undermined the local economy.
It is fortunate for the aristocracy that they are sufficiently buffered by personal wealth that they can maintain a proper lifestyle despite economic downturn. It's a very different story for such plebeians as widower Urias Breck and his family. Not only is he unemployed (thanks to Arvis' whimsical kneecapping of the local economy), but as a Moshite dissenter he is at the bottom of the list for most employers (who prefers their employees to belong to the Unifying Church). His affiliation with the Workers' Club (wild-eyed extremists who want fair pay and responsible government) would further diminish his chances of being hired if anyone were to find out this last disreputable, disqualifying fact.
Or it would, if Urias had not just been arrested for murdering Governor Orien. Unemployment would be preferable to hanging.
---
A Year of Waterloo Region Speculative Fiction
The Cannibal's Handbook & Spider Spun — Kit Daven
2015's "Spider Spun" and "The Cannibal's Handbook" are two short stories by Kitchener-Waterloo author Kit Daven. I bought them because they were only 99 cents (less than a coffee and a doughnut) and because for some reason (even though the word counts are clearly indicated) I thought they were novellas. Both are from the upcoming collection, She's No Good (upcoming, but no release date given).
---
A Year of Waterloo Region Speculative Fiction
9 Tales of Raffalon — Matthew Hughes

Matthew Hughes' 9 Tales of Raffalon is a collection of short stories, all featuring professional thief Raffalon. Raffalon lives in a time and place not unlike Jack Vance's Dying Earth . Magic is commonplace, as are ways for a man of flexible ethics to enrich himself. Or, as Raffalon so often discovers, ways to get himself into trouble.
---
A Year of Waterloo Region Speculative Fiction
(Sarah Tolmie) is a medievalist trained at the University of Toronto and Cambridge and is an Associate Professor of English at the University of Waterloo.
Her website can be found here.
Tolmie's 2015 NoFood is a collection of linked satirical tales. It was published in the Aqueduct Press' Conversation Pieces series.
---
A Year of Waterloo Region Speculative Fiction
This Gulf of Time and Stars — Julie Czerneda
Reunification, book 1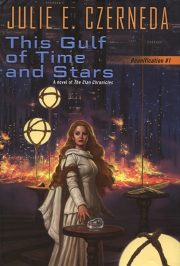 2015's This Gulf of Time and Stars is the first book in Julie E. Czerneda's Reunification series. It is set in her Clan Chronicles setting (first visited in her 1997 debut novel, A Thousand Words for Stranger).
Refugees without history, the surprisingly humanoid Clan live unseen amongst humans, who in turn live in the vast multi-species galactic confederation, the Trade Pact. The Clan's psychic assassins eliminate any person unlucky enough to discover the Clan's existence. Or rather, the Clan once lived unseen amongst humans. Now they live out in the open, outed by a biological trap of their own creation.
The Clan breeding program was so successful at creating females of unparalleled psychic power that no male can survive breeding with them. Hoping that the Trade Pact's vast R&D resources can overcome the reproductive bottleneck, the Clan revealed themselves and joined the Trade Pact.
The Clan may have traded gradual extinction for swift extermination.
---
A Year of Waterloo Region Speculative Fiction
Cosplay in KW — Ryan Consell
[Please enjoy a guest post by Ryan Consell on a subject about which I know little -james davis nicoll-]


Ryan Consell is a costumer, author, blogger, and educator. He is best known for his metalwork, genderbend cosplays, and opinions on armour. He can be found posing on Instagram as @studentofwhim, hitting things with hammers on YouTube, and writing at madartlab.com
I'm a cosplayer and have been my whole adult life. I make costumes and dress up at comic, gaming, sci-fi conventions. A lot of people who share my hobby do so in relative isolation. I had the good fortune, though, to land in a region that is rife with people like me.
---
A Year of Waterloo Region Speculative Fiction
The Occasional Diamond Thief — J. A. McLachlan
The Unintentional Adventures of Kia and Agatha, book 1
From her Goodreads entry:
J. A. McLachlan is the author of a short story collection, C

ONNECTIONS

(Pandora Press) and two College texts on Professional Ethics (Pearson-Prentice Hall). But science fiction is her first love, a genre she's been reading all her life. Walls of Wind was her first published

SF

novel. She has two young adult science fiction novels, The Occasional Diamond Thief and The Salarian Desert Game (

EDGE

SF

&F Publishing).
2015's The Occasional Diamond Thief is the first book in J. A. McLachlan's The Unintentional Adventures of Kia and Agatha series.
Her father's death after a long illness gives Akhié Ugiagbe the chance to escape her hostile family. Adopting a new name—Kia—she reinvents herself as a linguistics student far from home.
Of course, her family didn't see fit to provide for her continuing education. Kia has to do that herself, with one little jewel theft that she assumes will have no repercussions for her future. Ha!
---
A Year of Waterloo Region Speculative Fiction
The Scorpion Rules — Erin Bow
Prisoners of Peace, book 1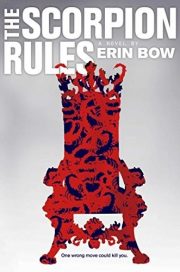 The Scorpion Rules is the first volume in Erin Bow's Prisoners of Peace series.
The children of the Precepture school live under the gaze of watchful cameras monitored by a powerful AI (Artificial Intelligence). The students are there to make their own small contributions to world peace. Each child at the school is the child of a national ruler. Each is hostage for their parent's good behaviour. Nations can choose to go to war if they feel the national interest demands it, but if they do … the child hostages of all warring states involved will be immediately removed from class and killed. It's a harsh system but it has worked as planned. Wars have been short and total casualties limited to a few thousand per year, despite the immense challenges encountered during four centuries of catastrophic climate change.
Greta Gustafsen Stuart, Duchess of Halifax and Crown Princes of the Pan-Polar Confederation, is one of the hostages. She hopes to live until she reaches the ripe old age of eighteen, at which point she will be released from the school. Failing that, she hopes to die with dignity. She does not consider escape. The AI will surely prevent that.
Then the teenage boy with bound hands arrives at school.
---
A Year of Waterloo Region Speculative Fiction
Storm of Dust — Neil Randall
Crossroads Adventures, book 2
Neil Randall is an associate professor at the University of Waterloo, perhaps the finest university in Waterloo west of Philip Street1. To quote his UW bio:
I am a long-time faculty member in the English department at the University of Waterloo, Canada, and the director of the Games Institute (uwaterloo.ca/games-institute).
I confess I did not look closely at Randall's 1987 book Storm of Dust when I bought it last year, except to note that:
it was by a local author whom I knew back in the 1980s and 1990s;
it was related to one of my favourite David Drake books.
What I was to discover is that Storm of Dust is an interesting artifact of ancient times, an artifact based on effectively obsolete tech. Who would have thought that interactive game books would ever die?
If you are younger than twenty or so, you may be wondering: what the heck are those?
---
A Year of Waterloo Region Speculative Fiction
The Ruined Empire — Anna Kreider
To quote the bio from Anna Krieder's Go Make Me a Sandwich:
In addition to being a cranky feminist blogger, I am an artist, photographer, and somewhat half-assed writer living in the wilds of Canada with a wonderful spouse and two slightly broken cats.
Anna Kreider's 2014's The Ruined Empire answers a question many game designers must ponder: what does a designer do when due to nobody's fault the product they worked on is no longer slated for release?
In many cases, the work is work-for-hire, the publisher owns it outright, and the work vanishes, never to be seen again.
In the case of The Ruined Empire…
---
A Year of Waterloo Region Speculative Fiction
Waterloo Region has had a gaming community for as long as I've been aware of gaming and probably longer. Unsurprisingly, this extends to the creative side of things as well. Local gaming companies have included firms like RAFM and Guardians of Order. Waterloo Region adjacent creators have included Jose Garcia, Dave Okum, and Ed Greenwood (if memory series). There are many others. I've been out of the field for 16 years, so I didn't feel comfortable writing up the local gaming scene. Instead I turned to Anna Kreider of Peach Pants Press to write a piece about her work and the work of others in the region.
By complete coincidence (I first spoke to Anna about the possibility of her writing an essay for me months ago), two of her games are featured in this week's Bundle of Holding!

Game Design in Kitchener-Waterloo
When I first moved to Kitchener-Waterloo, I had trouble connecting with the local tabletop gaming scene and felt very disconnected from the hobby. It wasn't until several years later that I was connected by chance to a thriving local gaming scene, which has only grown more vibrant since the opening of local board game cafes like The Adventurers' Guild, Crossroads, and Games On Tap. And while designing games isn't quite as popular a hobby as playing them is, Kitchener has several local game designers doing interesting work.
---
A Year of Waterloo Region Speculative Fiction
Shadow of a Musical — Armon Kishen Kohli & The UW Cabaret Club
Weather prevented me from seeing Armon Kishen Kohli's Winter 2016 UW Cabaret Club's production Shadow of a Musical, which features an original script and re-purposed songs1.
Providentially, not only is Shadow suitable for this series of reviews, it turns out that UW Cabaret Club puts its productions online .
The small town's motto isn't "Come for the suspiciously low rent! Stay because the cultists have taken you prisoner!" But it should be.
---
A Year of Waterloo Region Speculative Fiction
The Song of Hadariah — Alisse Lee Goldenberg
Dybbuk Scrolls Trilogy, book 1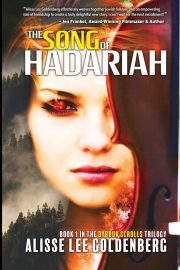 Alisse Lee Goldenberg is an award-winning author of Horror, Young Adult Paranormal Romance, and Young Adult Fantasy fiction. She is currently working on three series: The Sitnalta Series, The Dybbuk Scrolls, and The Bath Salts Journals (co-authored with An Tran). She has her Bachelors of Education and a Fine Arts degree, and has studied fantasy and folklore since she was a child. Alisse is also a voice actress living in Toronto with her husband Brian, and their triplets Joseph, Phillip, and Hailey.
2017's The Song of Hadariah is the first volume in Alisse Lee Goldenberg's Dybbuk Scrolls Trilogy: Book 1
Seventeen-year-old Carrie has a lot of important decisions to make; her choices could shape her entire adult life. When she saves a beleaguered fox from her dog, she does not think that she is making one of those Big Decisions. Yet her impulsive act of kindness turns out to be not just Big, but the Biggest.
---
A Year of Waterloo Region Speculative Fiction
A Place So Foreign and Eight More — Cory Doctorow
Cory Doctorow probably requires no introduction, but a link to his Wikipedia entry seems prudent. Doctorow's connection to Waterloo Region is, as is so often the case, via education. He attended the University of Waterloo in the 1990s and again in the 2000s.
2003's A Place So Foreign and Eight More is a collection of Doctorow stories. I seem to have misfiled my copy of this but no worry: large portions of it are available online1.
---
A Year of Waterloo Region Speculative Fiction
2011's Triptych is a standalone science fiction novel by J. M. Frey.
Forced to flee their dying homeworld [1], the aliens found new homes on Earth. In stark contrast to the experiences of pretty every previous wave of refugees in the history of our planet, the governments of Earth, working through the UN, organized a sensible, effective effort to integrate the aliens into human society. Key to this effort are the Specialists who act as cultural ambassadors to the aliens.
Now the effort has gone horribly wrong.
---
A Year of Waterloo Region Speculative Fiction
Far-Seer — Robert J. Sawyer
Quintaglio Ascension Trilogy, book 1
Many science fiction writers (Canadians in particular, because Canada) are not especially outgoing and thus not inclined to actively promote themselves (one reason why I try do that for them.. With one noteworthy exception: a former Waterloo resident and past Edna-Staebler-Writer-in-Residence [1] named Robert J. Sawyer, who, if he ever suffered from this common debility, managed to overcome it. As a result, his online bio is sufficiently voluminous that I find myself paralyzed by choice. What, if anything, to quote? So I will just link to the ten-thousand-word Sawyer version. Enjoy!
1992's Far-Seer is the first volume in Robert J. Sawyer's Quintaglio Ascension Trilogy.
The dinosaurs may have perished on Earth, but their descendants live on, on the habitable moon of a distant gas giant [2]. The intelligent carnosaurs known as Quintaglios have no inkling of their past. Indeed, their grasp of the present is shaky. As far as they are concerned, they live on a vast island floating down a vaster river. They do not know that their world is a sphere or that the body their religion worships is the greater world around which theirs orbits.
Apprentice astrologer Afsan will change all that.
---
A Year of Waterloo Region Speculative Fiction
Gehenna: Death Valley — Becka Kinzie

To quote Becka Kinzie's website:
I'm a freelance artist from the K-W Region. I've also been working as a colour flatter and colouring assistant since the early 2010s. In my spare time, I create my own macabre series of comics, which are posted online. The pages are eventually made into comic book issues, and so far I have self-published 15 of them (for sale at events/conventions).
Kinzie's on-going horror webcomic Gehenna: Death Valley is one of several to be found on her website.
Teenagers! Just how blatant do warnings have to be before teens will actually pay heed? In the case of Lauren, Max, Sean, Max and Anika, more blatant than this.
Hilarity can only ensue.
---
A Year of Waterloo Region Speculative Fiction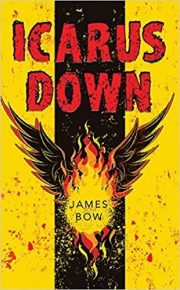 To quote James Bow's website:
I was born in downtown Toronto on April 19, 1972 and lived there until my folks moved up to Kitchener in 1991 so I could attend the University of Waterloo. I've lived in Kitchener ever since. I've been trained as an urban planner, and I've worked as a database manager, web designer, circulation manager, administrative assistant, layout designer, and office manager. The one consistent thing about my varied academic and professional career has been a love of writing.
Three generations ago, the colonists on the starship Icarus emerged from their final jump and found themselves plunged into disaster. The travellers had been promised a garden world. What they got was a hellworld whose electromagnetic environment killed electronics and where the sun was bright enough to burn unprotected skin. The fog-shielded lowlands seemed to offer a haven, … at least until the ticktock monsters attacked. The colonists were forced into refuges suspended between lethal sunlight and deadly monsters. Until now, they have survived.
Simon Daud wanted to be a pilot. Catastrophic equipment failure on his final test flight left Simon badly burned. His brother Isaac was killed outright.
---
A Year of Waterloo Region Speculative Fiction
Hellmaw: Soul Larcenist — Suzanne Church
Dagger of Sacrados, book 1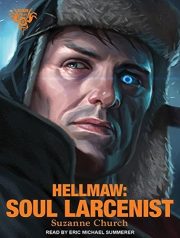 Suzanne Church's 2016 supernatural thriller Hellmaw: Soul Larcenist is book one in the Dagger of Sacrados Trilogy. It is set in Ed Greenwood's shared universe, Hellmaw.
Called to the scene of a spectacularly brutal double homicide, protagonist Detective Sergeant Windsor Kane has no idea that she and her husband Davian are being stalked by the killer. By the time she does figure that out, she and Davian have been overpowered, kidnapped, and prepared for a slow, painful death.
---
A Year of Waterloo Region Speculative Fiction