Hellmaw: Soul Larcenist — Suzanne Church
Dagger of Sacrados, book 1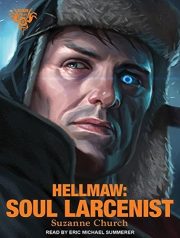 Suzanne Church's 2016 supernatural thriller Hellmaw: Soul Larcenist is book one in the Dagger of Sacrados Trilogy. It is set in Ed Greenwood's shared universe, Hellmaw.
Called to the scene of a spectacularly brutal double homicide, protagonist Detective Sergeant Windsor Kane has no idea that she and her husband Davian are being stalked by the killer. By the time she does figure that out, she and Davian have been overpowered, kidnapped, and prepared for a slow, painful death.
---
A Year of Waterloo Region Speculative Fiction
Ascending — James Alan Gardner
League of Peoples, book 5
To quote Wikipedia (because if Jim's site has a bio section, I am missing it):
James Alan Gardner (born January 10, 1955) is a Canadian science fiction author. Raised in Simcoe and Bradford, Ontario, he earned bachelor's and master's degrees in applied mathematics from the University of Waterloo.

Gardner has published science fiction short stories in a range of periodicals, including The Magazine of Fantasy and Science Fiction and Amazing Stories. In 1989, his short story "The Children of Creche" was awarded the Grand Prize in the Writers of the Future contest. Two years later his story "Muffin Explains Teleology to the World at Large" won a Prix Aurora Award; another story, "Three Hearings on the Existence of Snakes in the Human Bloodstream," won an Aurora and was nominated for both the Nebula and Hugo Awards.
Ascending is the fifth book in James Alan Gardner's League of Peoples series.
To quote its protagonist, the transparent glass woman Oar:
This is my story, the story of Oar. It is a wonderful story. I was in another story once, but it was not so wonderful, as I died in the end. That was very most sad indeed. But it turns out I am not such a one as stays dead forever, especially when I only fell eighty floors to the pavement.
Oar's people are physically immortal, but their minds, sadly, are not. Given time, they lapse into catatonia, living but inert. There is no way to cure the condition nor is there any way to avoid it except dying.
---
A Year of Waterloo Region Speculative Fiction
Dragon Whisperer — Vanessa Ricci-Thode
To quote the biography at the end of the novel:
Vanessa has always been a bookaholic, even as a young child—making picture books before she learned to read and write. She has been writing for most of her life, completing her first novel when she was eighteen, handwriting it on a thick notepad on the floor of her bedroom. This is Vanessa's first foray into the world of publishing, and she's so excited that she hasn't slept since her book was accepted.
2013's Dragon Whisperer is a secondary world fantasy by Vanessa Ricci-Thode.
The Ovailens and Joaseras have planned an arranged marriage between their two scions, Reiser Ovailen and Vyranna Joasara. This scheme may have seemed reasonable when the two children were young, but ran aground when it became clear that Vyranna was a spiteful bully. Reiser opts out and marries another Joasara, Vyranna's younger sister Dionelle.
Vyranna is outraged. She may despise Reiser, but he was hers. She never liked her sister anyway! She flounces out of their village and out of the plot … temporarily. Dionelle and Reiser know that she will take revenge when she can.
For now, Dionelle and her new husband have some more immediate challenges.
---
A Year of Waterloo Region Speculative Fiction
The Forgotten Gemstone — Kit Daven
Xiinisi, book 1
To quote Kit Daven's online biography:
Kit Daven was born in Toronto, Ontario, the only child in a military family. Writing since the age of seven, she has a continued fascination with stories, writing, and making books. After spending many years producing literary zines in her youth, Kit was published in Ryerson University's White Wall Review under a different pen-name in the mid 1990's. In 2009, she decided to begin writing a serial to publish online. […] Kit currently lives in Cambridge, Ontario, with her husband, surrealist artist Sean Chappell, and two Siamese cats.
The Forgotten Gemstone is the first volume in Kit Daven's Xiinisi trilogy.
The Xiinisi are gods (or as good as gods), creating and shaping whole universes as whim dictates. Within the limits of certain guidelines, of course. Gods are as vulnerable to personal setback as puny mortals, but at least gods rule tangible worlds of the imagination, pocket paradises, where they can retreat when life becomes too much.
As Ule discovers when she returned to a world she last visited when she was an adolescent, what the Xiinisi expect to be true and what is true can be very different things.
---
A Year of Waterloo Region Speculative Fiction
Shadowlands — Violette Malan
Mirror Prince, book 2
To quote Malan's on-line biography:


Violette Malan has a PhD from York University in 18th-Century English Literature, but reports that most people don't hold it against her. She started reading fantasy and science fiction at the age of eight, and was writing stories not long after. Violette has been a book reviewer, and has written feature articles on genre writing and literature for the Kingston Whig Standard. She has taught creative writing, English as a second language, Spanish, beginner's French, and choreography for strippers. On occasion she's worked as an administrative assistant, and a carpenter's helper. Her most unusual job was translating letters between lovers, one of whom spoke only English, the other only Spanish.

Violette is co-founder of the Scene of the Crime Festival on Wolfe Island, a single-day event focusing on Canadian crime writing, and celebrating the birthplace of Grant Allen, Canada's first crime writer. Violette is currently the president of the festival board, but in the past she's given writing workshops, and was the original organizer and co-judge of The Wolfe Island Prize for first crime fiction, which is sponsored by the festival.
Violette Malan's 2012 Shadowlands is the second in her Mirror Prince series.
Wars' consequences don't vanish when the war ends. The leaders of one side may be vanquished or dead but their followers may not be. As well, the consequences of actions taken for what seemed like good reasons at the time can reverberate for a very long time.
Particularly when quasi-immortal faerie are involved.
---
A Year of Waterloo Region Speculative Fiction
Ultraviolet — R. J. Anderson
Ultraviolet, book 1
To quote R. J. Anderson's biography:

Born in Kampala, Uganda, and raised in various parts of Ontario, Rebecca has spent much of her life dreaming of other worlds entirely. As a child she immersed herself in fairy tales, mythology, and the works of

C.S.

Lewis ,

J.R.R.

Tolkien and E. Nesbit ; later she found inspiration in books by Ursula LeGuin , Patricia A. McKillip and Robin McKinley , and learned to take as much pleasure from the authors' lyrical style as the stories they told.
Now married and a mother of three, Rebecca reads to her sons the classic works of fantasy and science fiction that enlivened her own childhood, and tries to bring a similar excitement and timeless wonder to the novels she writes for children and teens. She lives in the beautiful theatre town of Stratford,Ontario1.
2011's Ultraviolet is the first book in R. J. Anderson's Ultraviolet series.
Sixteen-year-old Alison Jeffries wakes up with no idea where she is or how she got there. She soon learns she is immured in the Pine Hills Psychiatric Treatment Centre. Her mother has finally succeeded in having Alison committed.
Perhaps it is for the best. Alison does recall disintegrating Victoria Beaugrand. While that may be the delusion of a madwoman, the fact that nobody has seen Tori since the day Alison turned up raving and covered in blood suggests it is not.
---
A Year of Waterloo Region Speculative Fiction
The Last Rite — Jen Frankel
Blood & Magic, book 1
2012's1 The Last Rite is the first volume in Jen Frankel's Blood & Magic series.
Thirteen-year-old Maggie Stuart is an unwilling loner, unable to make friends at her Toronto school and unsure why that is so. Even the boy on whom she has a painful crush is barely aware of her. If he notices her at all, it's to ask for academic help.
No worries, though, because the Burnt Man has taken a keen interest in young Maggie. He wants to be with her for ever and ever. Or until Maggie dies. Whichever comes first.
---
A Year of Waterloo Region Speculative Fiction
Ward Against Death — Melanie Card
Chronicles of a Reluctant Necromancer, book 1
2011's Ward Against Death is the first volume in Melanie Card's Chronicles of a Reluctant Necromancer.
The meet-cute between Ward De'Ath and Celia Carlyle is an unpromising one. He is a branded criminal (thanks to his interest in the unsavoury surgical arts1); she is the daughter of a lord. Not only that, but when they first meet, Celia is quite dead.
Still, love will find a way. And if love doesn't, necromancy definitely can.
---
A Year of Waterloo Region Speculative Fiction
In the Company of Others — Julie E. Czerneda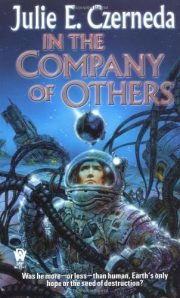 To quote Julie E. Czerneda's online bio:

Julie Czerneda is a Canadian author and editor whose first novel, A Thousand Words for Stranger, was published in 1997 by

DAW

Books. Since then, Julie has produced over a dozen more novels, edited fifteen anthologies, and written numerous short stories. Her work has won awards, consistently made bestseller lists, and garnered praise from readers and reviewers around the world.
As noted that same bio, Czerneda was a student at the University of Waterloo and thus she is fodder for A Year of Waterloo Region Speculative Fiction.
Czerneda's 2001 Aurora Award-winner In the Company of Others is a stand-alone science fiction novel.
Interstellar exploration turned up dozens of worlds suitable for human occupation, given some well-thought-out terraforming. All that stands between humanity and endless frontiers is a bit of time, some ingenuity, will, and applied technology.
And the Quill. But the Quill on their own are enough to bring the space colonization effort to a sudden halt.
---
A Year of Waterloo Region Speculative Fiction
Salvage and Destroy — Edward Llewellyn
Douglas Convolution, book 4
Edward Llewellyn-Thomas (1917- 1984) had a long and interesting career. Two elements of that career warrant inclusion here. The first is that towards the end of his life, he began writing and publishing science fiction under the pen-name Edward Llewellyn. The second is that he was a Professor in the University of Waterloo's Psychology Department, something I only discovered while reading his obituary in 19841.
1984's Salvage and Destroy is the fourth book in his Douglas Convolution sequence.
The Ult have ruled the Cluster for millennia, ever since the Drin, former masters of the Cluster, made the terrible mistake of contacting the then-barbaric Ult. Extermination denied the Drin the chance to learn from their error; the Ult, now the most civilized of civilized races, remember how they came to power. They will never make the mistake of handing a youthful barbarian race the keys to the stars.
Their compulsively altruistic Ara cousins, on the other hand, could not leave well enough alone. Which gets us to the matter of the humans.
---
A Year of Waterloo Region Speculative Fiction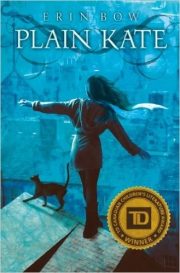 American-born Canadian by choice Erin Bow is a physicist turned novelist, whose work has won the TD Canadian Children's Literature Award, the CBC Canadian Literary Award, for the poems that became Ghost Maps, the Monica Hughes Award twice, once for The Scorpion Rules and once for Sorrow's Knot, the CLA Book of The Year for Young Adults for The Scorpion Rules. Shortlists include the Pat Lowther (for Ghost Maps), the Amy Mathers Award (for The Scorpion Rules) and currently the White Pine (for The Scorpion Rules) and the Sunburst (once for Plain Kate and once for Sorrow's Knot). More details on Bow can be found at her website.

2012's secondary world fantasy Plain Kate is a stand-alone young adult novel. Young adult fiction is a lot like juvenile science fiction, except that teens actually buy and read young adult fiction.

Plain Kate to her neighbours in the village of Samilae, Katerina Carver is beautiful to her doting father. She demonstrates a talent for wood-working as a toddler; in a better world she would have become her father's apprentice as soon as she came of age. In the rather dismal world in which she lives, disease takes Kate's father from her before he has a chance to give her the legal status of apprentice. The carver's guild then steps in to take from Plain Kate virtually everything else her father owned.
Bereft of everything save her father's tiny market stall, the clothes on her back, some tools and her skills, Plain Kate is forced into a hand-to-mouth existence.
The mysterious stranger will cost Plain Kate even that.
---
A Year of Waterloo Region Speculative Fiction
A Wizard's Henchman — Matthew Hughes
Kaslo Chronicles, book 1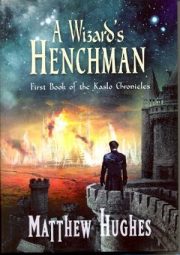 British-born Canadian Matthew Hughes has lived in many places. One of them was Kitchener-Waterloo, which earns him a spot in A Year of Waterloo Region Speculative Fiction. Hughes writes in a wide range of genres, both non-fiction and fiction. To quote from his site, he has been employed as
a journalist, then as a staff speechwriter to the Canadian Ministers of Justice and Environment, and — from 1979 until a few years back — as a freelance corporate and political speechwriter in British Columbia.
He also writes science fiction and fantasy, as well as mystery. He has won the

Crime Writers of Canada's Arthur Ellis Award and has been shortlisted for the Aurora, Nebula, Philip K. Dick, Endeavour,

A. E.

Van Vogt, and Derringer Awards.
Despite these accolades, Hughes is often overlooked. It's inexplicable, although his tendency towards humour may explain some of it. Humorous F&SF, save of the broadest, least subtle sort, is generally not popular in North America. Perhaps this work, which is more apocalyptic than funny, will appeal to a broader range of readers.
2016's A Wizard's Henchman is the first volume in Matthew Hughes' Kaslo Chronicles.
There are ten thousand inhabited worlds in the Spray and none of them are utopias. Problems abound. Erm Kaslo has made a very nice living for himself as an all-round troubleshooter for rich men who are able to pay well for services rendered. The rich and powerful don't get that way by being ethical or trustworthy—but even the most ruthless learn that it's never a good idea to disappoint Erm Kaslo.
---
A Year of Waterloo Region Speculative Fiction
The Untold Tale — J. M. Frey
Accidental Turn, book 1
To quote the bio in her novel:
(

J. M.

Frey) is a voice actor,

SF

/F author, professionally trained music theatre performer, not-so-trained but nonetheless enthusiastic screenwriter and webseries-ist, and a fanthropologist and pop culture scholar. She's appeared in podcasts, documentaries, radio programs, and on television to discuss all things geeky through the lens of academia.
Frey has been nominated for both the Aurora and the Lambda Awards.
2015's The Untold Tale is the first volume in The Accidental Turn series.
Kintyre Turn is a bona fide hero, complete with the magic sword Foesmiter and his very own loyal sidekick, Sir Bevel. Most damsels in distress, at least the ones from Hain, would be relieved to get Kintyre's help. Lucy "Pip" Piper isn't from Hain and she's not at all relieved to be rescued by Kintyre. That's because she has to make do with Kintyre's much less impressive stuttering brother Forsyth.
---
A Year of Waterloo Region Speculative Fiction
Two Travelers — Sarah Tolmie
---
A Year of Waterloo Region Speculative Fiction
The Adolescence of P-1 — Thomas J. Ryan
The Adolescence of P-1 is the first and (so far as I know) only work of science fiction by Thomas J. Ryan. Ryan is an enigmatic author about whom little is known. His middle name was Joseph and he was born in 1942; if he has died, that fact is not known to my sources. There is one other fact about Ryan that one can easily deduce from this novel: he was very familiar with the University of Waterloo as it existed in the early 1970s. His book was the first SF novel I had ever read that drew on places and institutions I found cosily familiar.
Our protagonist is Gregory Burgess, a student at the University of Waterloo, majoring in Honours Getting Laid, with a minor in Keeping His Marks Just High Enough to Avoid Expulsion. His indifference to hard study vanished when he first encountered a book on computer programming. Girls were forgotten as Burgess honed his hacking skills and began to amass files and resources to which he was not remotely entitled. He was talented, but not quite talented enough: UW spotted and expelled him.
---
A Year of Waterloo Region Speculative Fiction