The Witches of Karres — James H. Schmitz
1966's The Witches of Karres is James H. Schmitz's novel-length expansion of his 1949 novelette of the same name. It is a standalone space opera.
Given an aged starship and a cargo of dubious value, naive Captain Pausert headed out into space in search of a fortune and his prospective father-in-law's respect. If he had not also been hobbled by his own essential decency, he might have realized his dreams.

---
Because My Tears Are Delicious To You
Close to Critical — Hal Clement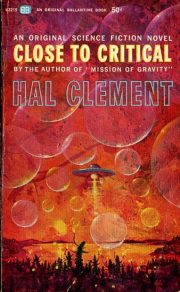 Hal Clement's 1958 young-adult adventure novel Close to Critical is apparently set in the same universe as his far more famous Mission of Gravity, but it can be read as a standalone work.
No human could walk unprotected on Tenebra's surface: if the 8100 kilo-pascal air pressure didn't crush them, the 374o C mixture of dissolved oxygen and sulphur oxides surely would dissolve them. But as hostile as Tenebra might seem to a terrestrial, it's a life-bearing planet. Tenebra doesn't just have life. It has intelligent life and that offers a unique opportunity to researchers up in orbit.
A human-Drommian team has established an orbital observation station circling Tenebra. A telefactored robot serves as their optical receptors and manipulative organs down on the ground.

---
Because My Tears Are Delicious To You
Time Travelers Strictly Cash — Spider Robinson
Callahan's Crosstime Saloon, book 2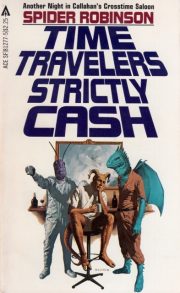 1981's Time Travelers Strictly Cash is Spider Robinson's second Callahan's Crosstime Saloon collection. Sort of. More on that after the break.
Bar stories are a recurring motif in science fiction. See also Tales From the White Hart and the somewhat less classic Tales from Gavagan's Bar, as well as the Draco Tavern sequence. The conceit is simple: people gather to consume alcohol and share stories or experience events not necessarily inhibited by plausibility. It's a variation on the club stories genre, which itself is a riff on the general trope of people telling stories to each other in some plausible setting. Decameron (people tell stories in a villa); Canterbury Tales (people tell stories on pilgrimage); people telling stories by the comfy fireside, or on a dark and stormy night, or around a campfire … Authors have come up with a multitude of settings in which people might be telling stories to each other.
In the case of the Callahan's tales, all of the stories are told by habitual barfly Jake. Everyone at the bar has some traumatic backstory which they are trying to blot out by consuming excessive amounts of a toxic depressant in the company of like-minded friends. Jake, for example, invested years killing brain cells and slowing dissolving his liver in his effort to forget how his efforts at car maintenance killed his wife and child. So far, the Callahan cure does not appear to have worked, but hey, it's drink to excess or take a course in auto mechanics.
Anyone is welcome at Callahan's, from aliens to talking dogs to time travelers1.
As is generally the case with bar stories, these are (supposedly) comic. Some of you may remember that I have a barely discernible sense of humour and may therefore wonder if I am the best choice to review this venerable collection. Let's find out together.
There will be some spoilers.

---
Because My Tears Are Delicious To You
Titan — John Varley
Gaea, book 1
1979's Titan is the first novel in John Varley's Gaea trilogy.
Ringmaster is the first crewed spacecraft to visit distant Saturn. The crew discovers a twelfth moon of Saturn, the first discovered in the six decades since Janus and Epimethius were detected in the 1960s1. What at first appears to be a small object turns out to be huge, over 1300 kilometres in diameter2. By rights, any moon that large should be spherical and comparable in mass to our Moon. This object, which the astronauts initially call Themis, is a torus of low mass which is spinning rapidly enough that any object on its surface would be flicked off into space. The obvious conclusion is that the object is artificial, possibly an alien generation ship.
When Ringmaster approaches the object, they discover something else about Themis. It knows that Ringmaster is nearby and is able to reach out and tear the spacecraft apart. The crew — Cirocco Jones, Bill NLN, April and August Polo, Gaby Plauget, Calvin Greene, and Gene Springfield — are grabbed by immense tentacles and borne off into the depths of the vast moon.

---
Because My Tears Are Delicious To You
Worlds — Joe Haldeman
Worlds, book 1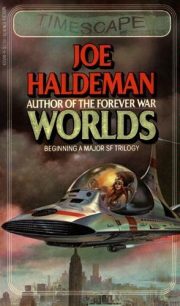 1981's Worlds is the first volume in Joe Haldeman's Worlds trilogy.
By 2084, half a million people live in forty-one orbital habitats circling the Earth; they are the so-called Worlds. New New York is largest of the Worlds. It is the only home our protagonist Marianne O'Hara has ever known. University in Old New York will be an entirely new experience for her. If she plays her cards wrong, possibly her last experience ever.

---
Because My Tears Are Delicious To You
Orbitsville — Bob Shaw
Orbitsville, book 1
1975's Orbitsville is the first volume in Bob Shaw's Orbitsville trilogy.
Vance Garamond is a competent starship pilot but a terrible babysitter. He fails to prevent his boss's son from falling to his death. His boss, Elizabeth Lindstrom, the autocratic president of the company that controls interstellar flight, is notoriously vindictive. Rather than wait to see what form her vengeance will take, Garamond collects his wife Aileen and son Christopher and flees to the stars in a commandeered flickerwing starship, the Bissendorf.
If only there were somewhere beyond Lindstrom's reach Garamond and his family could flee …

---
Because My Tears Are Delicious To You
Watchtower — Elizabeth A. Lynn
Chronicles of Tornor, book 1
1979's Watchtower is the first volume in Elizabeth A. Lynn's Chronicles of Tornor.
Most of Tornor Keep's defenders died in a futile attempt to bar invaders led by Col Istor. Knocked out cold early in the battle, the armsman Ryke was spared. Not out of charity. Istor respected Ryke's abilities and preferred to keep him alive and useful. Not that Istor wholly trusts Ryke, but he does have leverage.
That leverage is Errel, heir to the late lord of Tornor Keep. Errel lives only as long as Ryke serves Istor. At that, Errel survives only as a "cheari" or jester.

---
Because My Tears Are Delicious To You
A Fond Farewell to Dying — Syd Logsdon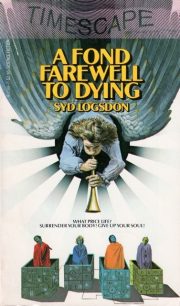 1981's A Fond Farewell to Dying is a novel-length expansion of Syd Logsdon's 1978 novella To Go Not Gently.
Of all the nations of Earth, India has been least affected by the Cataclysm that ended Euro-American domination of the world. Though even India was changed: sea level rise has cut it off from mainland Asia and the fallout that made it over the Himalayas has forced birth rates below replacement levels. Two centuries after the nuclear conflict, India is a much emptier place.
Scientist David Singer has abandoned the North America of his birth for India, the most advanced nation on the planet. Now calling himself Ram David Singh, he is researching what he conceives as immortality tech. The odds of an American hick garnering the required resources from the Indian state may seen poor, but geopolitics is his friend.

---
Because My Tears Are Delicious To You
The Exiles Trilogy — Ben Bova
1971's Exiled From Earth, 1972's Flight of Exiles, and 1975's End of Exile form Ben Bova's Exile Trilogy.
Cast out from overcrowded Earth, will our heroes be able to maintain a stable culture for the decades or centuries it will take to find a new Earth … or will they, like pretty much every other generation ship in the genre — last week's excepted — end up recapitulating Robert Heinlein's Orphans of the Sky?

---
Because My Tears Are Delicious To You
Fuzzy Sapiens — H. Beam Piper
Little Fuzzy, book 2
1964's Fuzzy Sapiens, first published under the title The Other Human Race, is the sequel1 to H. Beam Piper's Little Fuzzy.

Previously: old Jack Holloway, Ben Rainsford, Ruth Otheris, and their allies triumphed over the forces of pure capitalist evil, as represented by Victor Grego and his Chartered Zarathustra Company. Zarathustra was reclassified from Class-III to Class-IV and its native Fuzzies legally accepted as people.
Now Jack and his friends get to grapple with the consequences of winning.

---
Because My Tears Are Delicious To You
The Makeshift Rocket — Poul Anderson
1962's standalone comic SF novel The Makeshift Rocket is an expansion of Poul Anderson's 1958 A Bicycle Built for Brew.
The gyrogravitic generator gave humans and Martians cheap space flight and the ability to transform any dead rock in space into an acceptable facsimile of a habitable world, one with Earth-like gravity and an atmosphere. Any gang of idiots with enough money could create their own pocket nation out in the Asteroid belt. Many idiots did.
Captain Dhan Gopal Radhakrishnan and Engineer Knud Axel Syrup of Mercury Girl sense that something is wrong on the worldlette Lois. Clue: the flags.

---
Because My Tears Are Delicious To You
A World Out of Time — Larry Niven

ISFDB lists 1976's A World Out of Time as one of Larry Niven's State novels1, which it is. I liked to think of it as the last fun Niven novel. Having reread it, I am not so sure that's right.
Jerome Branch Corbell had himself frozen in 1970 in a desperate bid to escape terminal cancer. In 2190, a man with Corbell's memories woke up to discover a world unlike any Corbell had expected back in 1970, a world that expected him to expiate a crime he had no memory of committing … with a mission that would consume three centuries.
---
Because My Tears Are Delicious To You
The Tripods Trilogy — John Christopher
1967's The White Mountains, 1968's The City of Gold and Lead, and 1968's The Pool of Fire constitute John Christopher's Tripods trilogy.
A century after the coming of the Tripods, humans are few, backward, and well-behaved. It has been decades since any human posed a serious threat to Tripod rule.
That's about to change.
(spoilers)

---
Because My Tears Are Delicious To You
Whipping Star — Frank Herbert
ConSentiency, book 1
1970's Whipping Star is the third piece and first novel-length work in Frank Herbert's ConSentiency series. I hope I've worked out how I am going to number Whipping Star by the time I post this review.
The ConSentiency spans the Milky Way. While faster than light drives exist, all are too slow for galactic travel. What made the ConSentiency practical was the jumpdoor. Jumpdoors allow people to step from the surface of one planet to the surface of another. Jumpdoors were so clearly useful that nobody questioned their enigmatic Caleban creators too closely about how exactly they worked.
Jumpdoors have some interesting undocumented features. For example, someone who knows their jumpdoors can use them to kill an astonishing fraction of the population of the ConSentiency in one go.

---
Because My Tears Are Delicious To You
Restoree — Anne McCaffrey
Anne McCaffrey's standalone SF novel Restoree was her debut novel.
Snatched by monstrous aliens, embittered spinster Sara wakes from nightmares to find herself transformed from an all-too-Semitic-looking woman whom nobody could possibly love to a beauty. Her current captors are using her as grunt labor in a mental institution. They regard her as semi-intelligent and unthreatening.
Her masters' underestimation of Sara's cognitive abilities will prove their undoing.
---
Because My Tears Are Delicious To You
The Forgotten Beasts of Eld — Patricia A. McKillip
1974's standalone secondary world fantasy The Forgotten Beasts of Eld was Patricia A. McKillip's second fantasy novel. It won the World Fantasy Award and was nominated for the Mythopoeic Fantasy Award1.
Raised in isolation by her mage father, the ice-white lady Sybel is content to live with her menagerie of fantastic beasts. She knows nothing of the company of humans and cares naught for the lack.
This does not prevent a stranger from arriving on her doorstep, bearing a child whom he means to foist on her.

---
Because My Tears Are Delicious To You
1962's Hugo-winning Hothouse is a standalone SF novel by Brian Aldiss.
In a distant future, the Earth is tide-locked to the Sun, while the Moon has retreated to one of the Earth-Sun Lagrange points. On the illuminated side of Earth, a vast banyan tree dominates the land. In this overheated world, voracious plants dominate. Only four groups of insects still exist on the banyan-dominated land: wasps, bees, ants and termites. All other animals are extinct.
All, save for the stunted, degenerate descendants of humanity.

---
Because My Tears Are Delicious To You
Cadaverific — Becka Kinzie
To quote Becka Kinzie's site:
Hello, I'm a freelance artist from the K-W Region. I've also been working as a colour flatter and colouring assistant since the early 2010s. In my spare time, I create my own macabre series of comics, which are posted online. The pages are eventually made into comic book issues, and so far I have self-published 15 of them (for sale at events/conventions).
Kenzie's first webcomic, Cadaverific, ran from 2008 to 2014.
Corey Bowman's story should have ended the night the night he died. A minor altercation between Corey and a low-rent acquaintance ended in Corey's accidental death. Yes, the story should have ended there, but it didn't. Corey's cousin J. P. just happened to have come into possession of a monkey's paw — sorry, the Monkey's Paw — and in an idle moment of grief, wished Corey was back among his friends.
J. P. was nowhere near specific enough about his wish.

---
Because My Tears Are Delicious To You
The Keeper of the Isis Light — Monica Hughes
Isis, book 1
1980's The Keeper of the Isis Light is the first volume in Monica Hughes' Isis Trilogy.
Olwen Pendennis has been the keeper of the Isis FTL beacon ever since she was an infant, an infant orphaned by calamity on distant Isis. For her, life with no human companions is perfectly normal. After all, she has her wise robot Guardian to advise and keep watch over her, her amiable but formidable-looking Hairy Dragon Hobbit for company, and an entire planet to call her own.
On her tenth birthday — sixteenth by Earth years — her life changes forever.

---
Because My Tears Are Delicious To You
Projections — Stephen Robinett
Stephen Robinett's1 science fiction career2 ran from 1969 to 1983. In that time he produced five novels and twenty-one short stories. He appears to have disappeared from the science fiction world after 1983. Robinett died from complications of Hodgkin's Disease in 2004, but it took a further five years for that news to filter back to SFdom.
A 1979 collection, Projections, contains nine Robinett stories, stories of which he was particular fond.

---
Because My Tears Are Delicious To You
Adam Link, Robot — Eando Binder
Eando Binder's i 1965 Adam Link, Robot is a fix-up of stories first published in the late 1930s and early 1940s.
Adam Link is the product of years of work by kindly Dr. Charles Link. 500 pounds of unstoppable metal guided by an iridium-sponge brain, the robot is the first of its kind. Thanks to Dr. Link's careful training, it is not in any way a ravening, unstoppable killbot.
Unfortunately for Adam, Dr. Link is one of the very few people willing to give the robot the benefit of the doubt. When Dr. Link is killed in a household mishap, Adam is immediately accused of killing the old man. With public opinion against him, Adam has little chance of winning a trial. Indeed, the odds of him surviving long enough to get a trial are poor. He is, after all, only a machine.
---
Because My Tears Are Delicious To You
The Starmen of Llyrdis — Leigh Brackett
Leigh Brackett's standalone space adventure The Starmen of Llyrdis was first published in 1952, under the title The Starmen.
Perpetually out of step with the world, Michael Trehearne has travelled to Brittany in search of his family roots. When he glimpses a face much like his own, he is convinced he has come to the right place. He is both right and wrong: some of his kin are at hand but they are only visiting Brittany. Their true home is far from France.
Light years away, in fact.
Spoiler warnings, for this and for the unrelated The Long Tomorrow.
---
Because My Tears Are Delicious To You
Death Comes as the End — Agatha Christie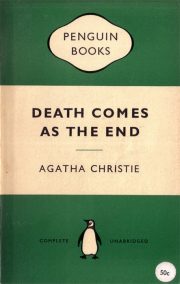 1944's Death Comes as the End was Agatha Christie's sole foray into historical mystery. In it, she abandoned her familiar 20 th century England for Egypt at the very end of the First Intermediate Period. I seem to have a weakness? superpower? for discovering authors through their most atypical work, so it should come as no surprise that this was the very first Agatha Christie I ever read.
Recently widowed, young Renisenb returns to her family home in Thebes. Although she has been gone for eight years, little of significance seems to have changed. Her mortuary-priest father Imhotep still micromanages the household (through letters if he is away on business); her older brothers Yamose and Sobek still squabble with each other, and the youngest brother Ipy is still spoiled. The older brothers are married, but their wives have little influence over the household.
Imhotep's scribe Hori could tell her this stability is an illusion. All it takes to destroy it is an old man's foolish infatuation with a beautiful young girl.
---
Because My Tears Are Delicious To You
The World at Bay — Paul Capon
Winston Science Fiction, book 26
Paul Capon's 1954 standalone The World at Bay was the 26th juvenile science fiction novel published by the John C. Winston company.
Professor Elrick has long suspected that Poppea, the third world of the dark star Nero, is inhabited. The Professor also believes an invasion from that doomed world is imminent. Alas, aside from his loyal teenaged assistant Jim Shannon, few believe Elrick. Instead, skeptics insist that the objects flying in formation from the Nero system toward Earth are only meteors of some sort.
Once the objects arrive at Earth, a wave of radio silence begins to spread along the terminator. Elrick was right, but the price of his vindication may be humanity's doom.
---
Because My Tears Are Delicious To You
In the Ocean of Night — Gregory Benford
Galactic Centre, book 1
The 1978 fix-up In the Ocean of Night is the first volume in Gregory Benford's Galactic Centre series1.
In the far-off year of 1999, British-American astronaut Nigel Walmsley is part of a two-man team sent by NASA to the asteroid Icarus. Unexplained out-gassing has transformed a body remarkable only for its eccentric orbit into an impending Earth-impacter. Nigel and Len's mission is to determine how much, if any, of Icarus remains. If enough material is left to present a significant risk to the Earth, they are to destroy or divert Icarus with the Egg, a fifty-megaton fusion bomb.
The hope was that nothing would remain after the Egg had been used. The expectation was that a chunk of rock and iron might head for Bengal. The reality was a surprise: the large mass that had survived the out-gassing was an alien spaceship.
---
Because My Tears Are Delicious To You