There Will Be Time — Poul Anderson

Today's Because My Tears Are Delicious to You Review is a very special double review! And not because I want to bump up my stats. The two books I have selected are a pair of thematically related but very different novels that I will re-read back to back. Because There Will Be Time was on the top of the stack "Anderson" comes before "Silverberg," I will start the re-read with Mr. Anderson's novel.
1972's Hugo-nominated There Will Be Time is the book that convinced teenage me that I liked his fiction. It is part of Poul Anderson's Maurai series, which included three novelettes (1959's The Sky People , 1962's Progress and 1973's Windmill) as well as a second novel, 1983's Orion Shall Rise.
Centuries after the Judgment War, the Maurai dominated the Earth, guiding other nations away from destructive machine culture and towards more sustainable ways of life. There Will Be Time begins some time before this golden age, in 1933, with the birth of Jack Havig, an American who will play a very curious role in the history of the Maurai.
---
Because My Tears Are Delicious To You
When I was a high school student (back in the 1970s) high schoolers were not known for keeping up on the latest Governor General's Literary Award winners. There was one notable exception, a winner that got an enthusiastic reception from teens. I speak of Marian Engel's CanLit classic Bear, or as it was better known to kids in the Disco Era, that one where the lady fucks a bear.
---
Because My Tears Are Delicious To You
Memoirs of a Spacewoman — Naomi Mitchison
Assessing Naomi Mitchison by her science fiction is a bit like assessing Charles Darwin by his golf game. But her 1962 standalone Memoirs of a Spacewoman is the only work of hers I have read, so … here we are.
The humans who set out to explore the rest of universe are a far more mature lot than the explorers who landed on Mars and Venus. In its youth, humanity was aggressive and expansionist. Now humans and their Martian partners take a more enlightened and dispassionate view of the universe.
That's the theory, anyway.
---
Because My Tears Are Delicious To You
The Spinner — Doris Piserchia
Whenever people mention Doris Piserchia to me, I admit that I am aware of her but add that somehow I never got around to reading anything she published during her all-too-brief but prolific career . Had I but looked more closely at the "P" section of my library, I would have seen that this was not true. I've had a copy of Piserchia's 1980 The Spinner ever since I didn't get around to sending back the Science Fiction Book Club's monthly order card [1]. And I must have read it, because there was a bookmark tucked in the back. Too bad I remember nothing about this book.
Reread time.
---
Because My Tears Are Delicious To You
Millennial Women — Virginia Kidd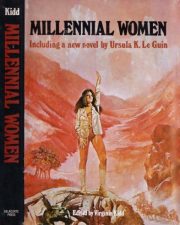 Virginia Kidd is best known as an influential agent; she also edited a small number of anthologies. 1978's Millennial Women (also published under the title The Eye of Heron and Other Stories ) is perhaps the best known. It contains six science fiction stories of widely varying length, all by women, all original to this anthology.
---
Because My Tears Are Delicious To You
As I Please, 1943-45 Volume Three — George Orwell
The Collected Essays, Journalism and Letters of George Orwell, book 3
Readers may be most familiar with Orwell as the author of that delightful children's novel Animal Farm … but he was not merely a novelist. He was also a prolific non-fiction writer. 1968's The Collected Essays, Journalism and Letters of George Orwell: As I Please, 1943-45 Volume Three is the third (of course) in a four-volume work collecting the essays, the journalism, and the letters of George Orwell. It was edited posthumously by Sonia Orwell and Ian Angus in lieu of a biography 1 .
---
Because My Tears Are Delicious To You
Unpopular Planet — Evelyn E. Smith
I freely admit that I picked up Evelyn E. Smith's 1975 Fortean satire Unpopular Planet for a fairly stupid reason: her initials amused me. If only she had had a doctorate!
A prolific author, Smith was best known for her crossword puzzles, Gothic romances, and the Miss Melville series (about a middle-aged socialite turned professional assassin). Although some of her work is still in print , this particular novel is not. Having reread it, I think I know why.
Nicholas Piggot is both a physical throwback—tall, blond, and sturdy, in a world of short, swarthy nebbishes —and a social maladept. He makes a sketchy living as a disreputable musician catering to the lowest sorts of people. It's probably for the best that no one know he is haunted by Blue Dragons that only he can see. As it is, only the fact that the extremely well-born Bernardine has set her cap for him has saved him from being classified as unfit to reproduce.
Enraged that he has been replaced in Bernardine's heart, Hubert Carmichael vows revenge. Bad news for poor Nicholas. Hubert is one of the bluest-blooded members of America's officially classless society; he has the money and influence to make Nicholas' life as unpleasant as it will be short.
That's the plan, anyway.
---
Because My Tears Are Delicious To You
Fireflood and Other Stories — Vonda N. McIntyre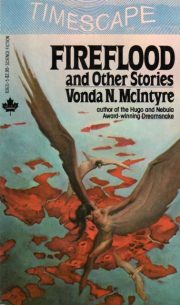 1979's Fireflood and Other Stories was Vonda N. McIntyre's first and (as far as I know) only collection 1. It contains most of her early works, excepting only six pieces. It is one of the reliable comfort reads to which I return every decade or so.
Well, "comfort" is the wrong word. Don't look to early McIntyre for warm, happy feels.
---
Because My Tears Are Delicious To You
The Ophiuchi Hotline — John Varley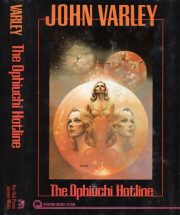 1977's The Ophiuchi Hotline was John Varley's first novel.
Convicted of crimes against humanity, Lilo's fate is set. She will be executed as thoroughly as the state can arrange: her genetic samples will be destroyed, her brain records erased, and her body will be dropped into one of the small black holes 1 that power the Eight Worlds.
All this will come to pass, but it won't be the end of Lilo's story.
---
Because My Tears Are Delicious To You
The Prometheus Crisis — Thomas N. Scortia & Frank M. Robinson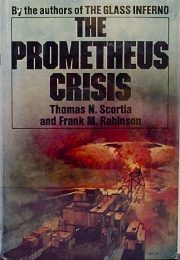 Chemist Thomas N. Scortia (1926–1986) published science fiction from the 1950s to his death from leukemia; he was nominated for the Nebula in 1966. His frequent writing partner, Frank M. Robinson (1926–2014), was active in SF from the 1950s to his death. His awards and nominations range from the Hugo to the BFA, from the Lambda to the Locus. Robinson was also a well known activist.
Together the pair were masters of the disaster thriller. Their 1975 standalone The Prometheus Crisis is a fine example of their work in this genre.
---
Because My Tears Are Delicious To You
The Trouble With Tribbles — David Gerrold
David Gerrold's 1973 non-fiction book The Trouble with Tribbles may be the only SF-related biography I own whose subject is not a person but a story. By 1973, Star Trek novelizations and tie-ins were nothing new. Blish was credited with seven eight collections of Trek adaptations1, as well as the tie-in Spock Must Die! And then there was Mack Reynolds' obscure Mission to Horatius. Gerrold's book was something else. Let the subtitle speak for itself:
The Birth, Sale, and Final Production of One Episode.
---
Because My Tears Are Delicious To You
The Drawing of the Dark — Tim Powers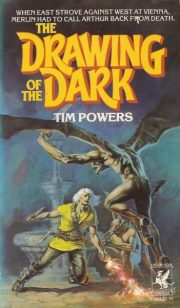 Every year, Kitchener descends into the beer-fueled riot that is Oktoberfest. Usually I kvetch at the multitude of inconvenient incidents precipitated by one million drunken tourists. (Kitchenerites, of course, can handle their beer.) This year I decided to embrace the abyss. I will review a book about beer. Which one? Tim Power's 1979 standalone fantasy, The Drawing of the Dark.
Things are looking grim for the West. One by one, Christendom's strongholds have fallen to S uleiman the Magnificent's armies. Irish mercenary Brian Duffy, having narrowly surviving the Battle of Mohács, has turned his back on war and settled in Venice. Years later, it seems that Venice too is threatened. When Duffy is offered a job as bouncer in distant Vienna, he is quick to accept.
Duffy's timing is a bit off. The year is 1529. Vienna is the next stop on Suleiman's European tour. Even as Duffy makes his way across the Alps, Suleiman and Grand Vizier Ibrahim are even now considering how to conquer the city of Vienna.
---
Because My Tears Are Delicious To You
In Len Deighton's 1976 novel SS-GB, Britain has fallen. King George VI is a prisoner in the Tower, and Churchill has been executed. German troops occupy the cities. It is surely only a matter of time before the last partisans holding out in the countryside are rounded up and shot.
Detective Superintendent Douglas Archer's world is bizarrely normal. He answers to Gruppenführer Fritz Kellerman now, but his job is essentially the same as it was before the invasion: investigate and solve murders.
At first glance, there's nothing about the dead man in the shabby apartment over the antique shop to suggest that the fate of nations depends on Archer's decisions over the next few days.
---
Because My Tears Are Delicious To You
Colonies in Space — T.A.Heppenheimer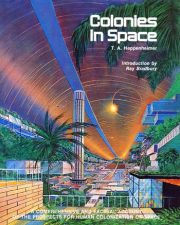 T. A. Heppenheimer's Colonies in Space is just one of the many Disco Era books and articles published proposing that the Next Big Step for humans in space would not be settlements on Mars or the Moon, but rather grand space stations. The idea was very popular, at least until reality ensued.
These days, Heppenheimer may be remembered as the spoilsport who pointed out that Bussard ramjets are far more effective at dissipating energy than they are at generating it (which is to say, they're not propulsion systems but brakes). Yet he too was a space colony enthusiast. I remember his book fondly. What I cannot do is resolve the teeny-tiny font in the paperback edition,
So it was with great glee that I discovered that the National Space Society has made the work available online for free. I like free! It's even better than cheap!
---
Because My Tears Are Delicious To You
The Mercenary — Jerry Pournelle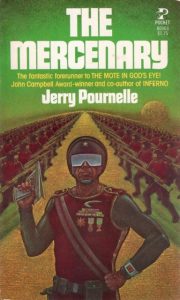 1977's The Mercenary is a fix-up. It comprises three Jerry Pournelle stories: Peace with Honor (1971), The Mercenary (1972), and Sword and Scepter (1973). These are among the earliest of Pournelle's stories1. They must have impressed readers because The Mercenary was nominated for Best Novella (losing to Le Guin's The Word for World is Forest ) while Pournelle himself won the very first John W. Campbell Award for Best New Writer.
The Second Cold War ended with the formation of the CoDominium in the 1990s. The Soviet and American forces dominate the Earth. Thanks to the timely development of the Alderson Drive, those who object too loudly or who are simply surplus to needs can be shipped out to the interstellar colonies.
It's not a just system but it works. Or rather, it worked. Now nationalists across the planet want to bring it down and with it, civilization on Earth.
---
Because My Tears Are Delicious To You
Dying of the Light — George R.R. Martin

1977's Dying of the Light was George R. R. Martin's first novel. While this novel is set in the same Manrealm as a number of Martin's other stories1, this is a standalone. You don't need to have read the other works to understand this one. This isn't volume five of some interminable fantasy series.
Centuries after the collapse of the Federal Empire, the human worlds are still recovering. Fourteen of the more isolated, backward worlds collaborated on an ambitious project: terraforming the rogue world Worlorn as it passes by the giant star Fat Satan.
By the time Dirk t'Larien arrives on Worlorn, hoping to help a former lover, Gwen Delvano, Worlorn's Festival is over. Its path will take it past Fat Satan and back into the lightless interstellar depths. All life on the world is doomed.
As is Dirk, if he sticks around.
---
Because My Tears Are Delicious To You
The Universe Between — Alan E. Nourse
Alan E. Nourse's 1965 The Universe Between is a fix-up of two novelettes published in 1951: High Threshold and The Universe Between.
Ambitious cryogenics research has created an incomprehensible thing in the middle of the lab. Attempts to understand it have killed three men and put two more in the madhouse. Determined to unravel the mystery, Dr. John McEvoy has turned to the Hoffman Center. Perhaps the Center can provide a volunteer resilient enough to survive the thing (which may be a hypercube).
Much to McEvoy's surprise, the best man for the job is a girl.
---
Because My Tears Are Delicious To You
Macroscope — Piers Anthony
By the time 1970's Macroscope came out, Piers Anthony was no stranger to Hugo nominations. In 1968, his Chthon was nominated for Best Novel; in 1969, Getting Through University was nominated for Best Novelette. Indeed, 1970 was a banner year for Anthony. Not only did Macroscope get a Best Novel nod (losing to Left Hand of Darkness), he himself was nominated for Best Fan Writer, which presumably ended forever the argument over whether someone can be both a pro and a fan.
How does Macroscope read forty-six years later?

Ivo is the product of a bold experiment, one that tests the limits of directed breeding and specialized upbringing. Poor Ivo seems to be an outlier. Everyone else in his cohort is a genius. Ivo is smart (IQ 125) but apparently not a genius. His only talent seems to be playing games.
Well, except for one other thing.

---
Because My Tears Are Delicious To You
Time Enough For Love — Robert A. Heinlein
Lazarus Long, book 2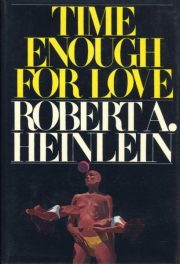 I no longer remember why I thought it would be a good idea to review 1973's Time Enough For Love. It is by no means the worst of Heinlein's books—that's probably Number of the Beast, although I am told that The Cat Who Walks Through Walls, which I have not read, gives NotB a run for its money—but considered as a whole, TEFL is not very good. It is, however, very long. As is this review.
And yes, I am aware this book was nominated for a Nebula 1, a Hugo2, and a Locus 3.
Lazarus Long was a mere 213 years old when he first appeared in Methuselah's Children . By the beginning of TEFL, he is an impressive two millennia old. Time weighs heavily on the ancient grognard. All he wants to do die.
His descendants are not done with him and while dying may be every person's right, it is not one Lazarus will get to enjoy. Chairman pro tem of the planet Secundus, Ira Weatherall, tempts the Methuselah with the one thing he cannot resist: an audience.
---
Because My Tears Are Delicious To You
Inherit the Stars — James P. Hogan
Giants, book 1
James P. Hogan's 1977 debut Inherit the Stars, first in the Giants series, makes me sad. It is not so much that it has aged badly—some parts of it have withstood the suck fairy—but because of what happened to its once-promising author. Of that, anon.
Almost thirty years after man's triumphant return to the Moon, explorers stumble across a tragic relic: a corpse. It proves oddly difficult to identify "Charlie," as the corpse is nicknamed; he matches no missing spaceman and his spacesuit is of no known make.
The mystery only deepens when it becomes clear that his body has been lying on the Moon for the last fifty thousand years.
---
Because My Tears Are Delicious To You
A Wizard of Earthsea — Ursula K. Le Guin
Earthsea, book 1
Tell me if you've heard this before: a young man with a talent for magic leaves his home village (where he was always something of a misfit) to attend a school for wizards, where he finds himself confronting a disembodied evil. Anyone? Anyone?
This is, of course, Ursula K. Le Guin's 1968 award-winning classic A Wizard of Earthsea, first volume in the Earthsea Cycle.
Sparrowhawk knows just enough magic to save his village from Kargish invaders. He knows so little that his ignorance has nearly killed him. He is saved by Ogion the Silent, who then takes him as an apprentice. Ogion tries to teach him patience, humility, and mystical Balance; spells will come later.
That's not enough for the ambitious young magician.
---
Because My Tears Are Delicious To You
Elric of Melniboné — Michael Moorcock
Elric Saga, book 1
As a teen, I was shallow enough that a silly surname like "Moorcock" was enough to steer me away from reading any Michael Moorcock novels. Pity, because whoever stocked the University of Waterloo's bookstore's F&SF section in the 1970s really loved Moorcock. My chronic search for reading material would have been greatly aided had I taken advantage of the opportunity. Ah well.
I did read some Moorcock. Some of those I read were Moorcock's tales about that pallid emo wally, Elric of Melniboné. And where best to start with Elric but at the beginning of his reign, as portrayed in 1972's Elric of Melniboné?
---
Because My Tears Are Delicious To You
Cities in Flight — James Blish
1970's Cities in Flight collects revised editions of James Blish's four Cities in Flight novels, They Shall Have Stars (1956), A Life for the Stars (1962), Earthman, Come Home (1955), and The Triumph of Time (1958), along with Richard D. Mullen's essay, The Earthmanist Culture. The four novels document the Decline of the West, followed by the eventual rise and inevitable fall of its successor, the Earthmanists.
It all begins on Jupiter in the far-off year 2013.
---
Because My Tears Are Delicious To You
Lord Kalvan of Otherwhen — H. Beam Piper
Paratime, book 1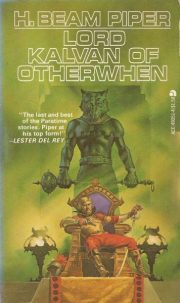 Before I delve into H. Beam Piper's 1965 alternate history novel Lord Kalvan of Otherwhen, I would like to thank John F. Carr and his biography of Piper for providing a context for the novel. Context (for me at least) transformed what I once read as a somewhat problematic but engaging power fantasy into something much more tragic.
One moment, Pennsylvania cop Calvin Morrison was poised to arrest a fugitive. The next moment he was in a weird, high-tech vehicle, whose pilot seems very upset to see Calvin, judging by the pilot's response: he tries to shoot Calvin with a ray gun. Moments after that unsettling confrontation, Calvin finds himself alone in a virgin-growth forest.
It does not take long for Calvin to suspect that he has moved in time rather than space: he recognizes the contours of the land as the familiar hills he knows from his own Pennsylvania. He at first believes that he might have been shifted to a time before the coming of the white men. Then he happens upon an isolated steading inhabited by whites; Calvin begins to suspect that he has been sent to a distant future in which humanity is still crawling out of some post-Atomigeddon dark age.
Wrong again.
---
Because My Tears Are Delicious To You
R is for Rocket — Ray Bradbury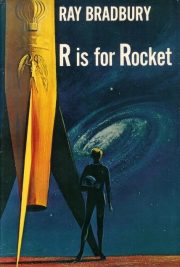 If I were to make a list of the science fiction authors that the teenage me resentfully read out of a desperate longing for SF, any SF, Ray Bradbury would be near the top. I didn't care for his fiction … but he was considered a respectable author, despite all the rocket stuff. That respectability, plus his slipshod approach to science, made him suspiciously literary to my eye. But it did mean that libraries, even libraries in small rural schools, could be counted on to have at least a few of his books.
Take 1962's R is for Rocket….
---
Because My Tears Are Delicious To You
Note
The Author/Editor list will be back soon; we're having a minor technical difficulty!