In Len Deighton's 1976 novel SS-GB, Britain has fallen. King George VI is a prisoner in the Tower, and Churchill has been executed. German troops occupy the cities. It is surely only a matter of time before the last partisans holding out in the countryside are rounded up and shot.
Detective Superintendent Douglas Archer's world is bizarrely normal. He answers to Gruppenführer Fritz Kellerman now, but his job is essentially the same as it was before the invasion: investigate and solve murders.
At first glance, there's nothing about the dead man in the shabby apartment over the antique shop to suggest that the fate of nations depends on Archer's decisions over the next few days.
---
Because My Tears Are Delicious To You
Colonies in Space — T.A.Heppenheimer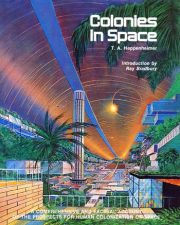 T. A. Heppenheimer's Colonies in Space is just one of the many Disco Era books and articles published proposing that the Next Big Step for humans in space would not be settlements on Mars or the Moon, but rather grand space stations. The idea was very popular, at least until reality ensued.
These days, Heppenheimer may be remembered as the spoilsport who pointed out that Bussard ramjets are far more effective at dissipating energy than they are at generating it (which is to say, they're not propulsion systems but brakes). Yet he too was a space colony enthusiast. I remember his book fondly. What I cannot do is resolve the teeny-tiny font in the paperback edition,
So it was with great glee that I discovered that the National Space Society has made the work available online for free. I like free! It's even better than cheap!
---
Because My Tears Are Delicious To You
The Mercenary — Jerry Pournelle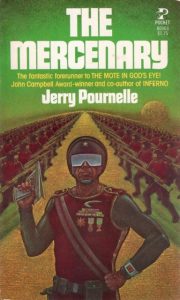 1977's The Mercenary is a fix-up. It comprises three Jerry Pournelle stories: Peace with Honor (1971), The Mercenary (1972), and Sword and Scepter (1973). These are among the earliest of Pournelle's stories1. They must have impressed readers because The Mercenary was nominated for Best Novella (losing to Le Guin's The Word for World is Forest ) while Pournelle himself won the very first John W. Campbell Award for Best New Writer.
The Second Cold War ended with the formation of the CoDominium in the 1990s. The Soviet and American forces dominate the Earth. Thanks to the timely development of the Alderson Drive, those who object too loudly or who are simply surplus to needs can be shipped out to the interstellar colonies.
It's not a just system but it works. Or rather, it worked. Now nationalists across the planet want to bring it down and with it, civilization on Earth.
---
Because My Tears Are Delicious To You
Dying of the Light — George R.R. Martin

1977's Dying of the Light was George R. R. Martin's first novel. While this novel is set in the same Manrealm as a number of Martin's other stories1, this is a standalone. You don't need to have read the other works to understand this one. This isn't volume five of some interminable fantasy series.
Centuries after the collapse of the Federal Empire, the human worlds are still recovering. Fourteen of the more isolated, backward worlds collaborated on an ambitious project: terraforming the rogue world Worlorn as it passes by the giant star Fat Satan.
By the time Dirk t'Larien arrives on Worlorn, hoping to help a former lover, Gwen Delvano, Worlorn's Festival is over. Its path will take it past Fat Satan and back into the lightless interstellar depths. All life on the world is doomed.
As is Dirk, if he sticks around.
---
Because My Tears Are Delicious To You
The Universe Between — Alan E. Nourse
Alan E. Nourse's 1965 The Universe Between is a fix-up of two novelettes published in 1951: High Threshold and The Universe Between.
Ambitious cryogenics research has created an incomprehensible thing in the middle of the lab. Attempts to understand it have killed three men and put two more in the madhouse. Determined to unravel the mystery, Dr. John McEvoy has turned to the Hoffman Center. Perhaps the Center can provide a volunteer resilient enough to survive the thing (which may be a hypercube).
Much to McEvoy's surprise, the best man for the job is a girl.
---
Because My Tears Are Delicious To You
Macroscope — Piers Anthony
By the time 1970's Macroscope came out, Piers Anthony was no stranger to Hugo nominations. In 1968, his Chthon was nominated for Best Novel; in 1969, Getting Through University was nominated for Best Novelette. Indeed, 1970 was a banner year for Anthony. Not only did Macroscope get a Best Novel nod (losing to Left Hand of Darkness), he himself was nominated for Best Fan Writer, which presumably ended forever the argument over whether someone can be both a pro and a fan.
How does Macroscope read forty-six years later?

Ivo is the product of a bold experiment, one that tests the limits of directed breeding and specialized upbringing. Poor Ivo seems to be an outlier. Everyone else in his cohort is a genius. Ivo is smart (IQ 125) but apparently not a genius. His only talent seems to be playing games.
Well, except for one other thing.

---
Because My Tears Are Delicious To You
Time Enough For Love — Robert A. Heinlein
Lazarus Long, book 2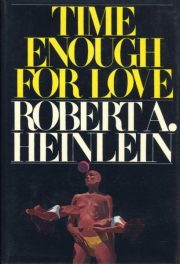 I no longer remember why I thought it would be a good idea to review 1973's Time Enough For Love. It is by no means the worst of Heinlein's books—that's probably Number of the Beast, although I am told that The Cat Who Walks Through Walls, which I have not read, gives NotB a run for its money—but considered as a whole, TEFL is not very good. It is, however, very long. As is this review.
And yes, I am aware this book was nominated for a Nebula 1, a Hugo2, and a Locus 3.
Lazarus Long was a mere 213 years old when he first appeared in Methuselah's Children . By the beginning of TEFL, he is an impressive two millennia old. Time weighs heavily on the ancient grognard. All he wants to do die.
His descendants are not done with him and while dying may be every person's right, it is not one Lazarus will get to enjoy. Chairman pro tem of the planet Secundus, Ira Weatherall, tempts the Methuselah with the one thing he cannot resist: an audience.
---
Because My Tears Are Delicious To You
Inherit the Stars — James P. Hogan
Giants, book 1
James P. Hogan's 1977 debut Inherit the Stars, first in the Giants series, makes me sad. It is not so much that it has aged badly—some parts of it have withstood the suck fairy—but because of what happened to its once-promising author. Of that, anon.
Almost thirty years after man's triumphant return to the Moon, explorers stumble across a tragic relic: a corpse. It proves oddly difficult to identify "Charlie," as the corpse is nicknamed; he matches no missing spaceman and his spacesuit is of no known make.
The mystery only deepens when it becomes clear that his body has been lying on the Moon for the last fifty thousand years.
---
Because My Tears Are Delicious To You
A Wizard of Earthsea — Ursula K. Le Guin
Earthsea, book 1
Tell me if you've heard this before: a young man with a talent for magic leaves his home village (where he was always something of a misfit) to attend a school for wizards, where he finds himself confronting a disembodied evil. Anyone? Anyone?
This is, of course, Ursula K. Le Guin's 1968 award-winning classic A Wizard of Earthsea, first volume in the Earthsea Cycle.
Sparrowhawk knows just enough magic to save his village from Kargish invaders. He knows so little that his ignorance has nearly killed him. He is saved by Ogion the Silent, who then takes him as an apprentice. Ogion tries to teach him patience, humility, and mystical Balance; spells will come later.
That's not enough for the ambitious young magician.
---
Because My Tears Are Delicious To You
Elric of Melniboné — Michael Moorcock
Elric Saga, book 1
As a teen, I was shallow enough that a silly surname like "Moorcock" was enough to steer me away from reading any Michael Moorcock novels. Pity, because whoever stocked the University of Waterloo's bookstore's F&SF section in the 1970s really loved Moorcock. My chronic search for reading material would have been greatly aided had I taken advantage of the opportunity. Ah well.
I did read some Moorcock. Some of those I read were Moorcock's tales about that pallid emo wally, Elric of Melniboné. And where best to start with Elric but at the beginning of his reign, as portrayed in 1972's Elric of Melniboné?
---
Because My Tears Are Delicious To You
Cities in Flight — James Blish
1970's Cities in Flight collects revised editions of James Blish's four Cities in Flight novels, They Shall Have Stars (1956), A Life for the Stars (1962), Earthman, Come Home (1955), and The Triumph of Time (1958), along with Richard D. Mullen's essay, The Earthmanist Culture. The four novels document the Decline of the West, followed by the eventual rise and inevitable fall of its successor, the Earthmanists.
It all begins on Jupiter in the far-off year 2013.
---
Because My Tears Are Delicious To You
Lord Kalvan of Otherwhen — H. Beam Piper
Paratime, book 1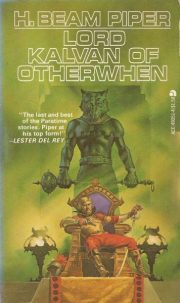 Before I delve into H. Beam Piper's 1965 alternate history novel Lord Kalvan of Otherwhen, I would like to thank John F. Carr and his biography of Piper for providing a context for the novel. Context (for me at least) transformed what I once read as a somewhat problematic but engaging power fantasy into something much more tragic.
One moment, Pennsylvania cop Calvin Morrison was poised to arrest a fugitive. The next moment he was in a weird, high-tech vehicle, whose pilot seems very upset to see Calvin, judging by the pilot's response: he tries to shoot Calvin with a ray gun. Moments after that unsettling confrontation, Calvin finds himself alone in a virgin-growth forest.
It does not take long for Calvin to suspect that he has moved in time rather than space: he recognizes the contours of the land as the familiar hills he knows from his own Pennsylvania. He at first believes that he might have been shifted to a time before the coming of the white men. Then he happens upon an isolated steading inhabited by whites; Calvin begins to suspect that he has been sent to a distant future in which humanity is still crawling out of some post-Atomigeddon dark age.
Wrong again.
---
Because My Tears Are Delicious To You
R is for Rocket — Ray Bradbury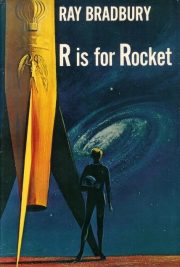 If I were to make a list of the science fiction authors that the teenage me resentfully read out of a desperate longing for SF, any SF, Ray Bradbury would be near the top. I didn't care for his fiction … but he was considered a respectable author, despite all the rocket stuff. That respectability, plus his slipshod approach to science, made him suspiciously literary to my eye. But it did mean that libraries, even libraries in small rural schools, could be counted on to have at least a few of his books.
Take 1962's R is for Rocket….
---
Because My Tears Are Delicious To You
On The Beach — Nevil Shute
What better work to celebrate Brexit's victory than Nevil Shute's 1957 ode to the power of collective determination, On the Beach?
In 1963, the world is at peace. No wars, no riots, no arguments mar the calm in the Northern Hemisphere. This is because many of the 4700 nuclear weapons detonated during the thirty-seven day war that broke out in 1962 were cobalt-clad. Bathed in lethal radioisotopes, the Northern Hemisphere is innocent of life and all its complications.
In Australian and the other nations of the Southern Hemisphere, life continues. But only for the moment: lethal fallout is slowly but inexorably spreading on the winds. Even as the book opens, northern Australia has been cleansed of life. By September 1963, everyone—everything—in southern Australia will as dead as the unfortunates in the north.
This is the way the world ends
Not with a bang but a whimper.
---
Because My Tears Are Delicious To You
Decision at Doona — Anne McCaffrey
Doona, book 1
On the one hand, I am not a fan of Anne McCaffrey's fiction. On the other, she was a significant figure in the field, one of just five women named Grand Master of Science Fiction; at some point I need to acknowledge her. I find that I do have some of her books1. One of those books is the initially standalone2 1969 novel Decision at Doona.
---
Because My Tears Are Delicious To You
The Jagged Orbit — John Brunner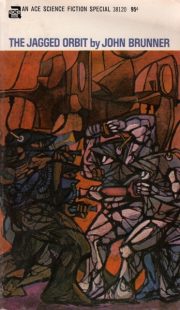 1969's The Jagged Orbit is the second novel in John Brunner's dystopian quartet. This is not my favourite of the four books, but (when I chose it) it seemed thematically appropriate for this ugly week. Where Stand on Zanzibar was about the consequences of population growth, The Sheep Look Up about unchecked pollution, and The Shockwave Rider about Future Shock, The Jagged Orbit concerns itself with racial divisions, paranoia, and violence dialed up to eleven.
---
Because My Tears Are Delicious To You
The Worlds of Poul Anderson — Poul Anderson
Poul Anderson's 1974 omnibus The Worlds of Poul Anderson collects three short novels: 1954's Planet of No Return (also published as Question and Answer ), 1959's The War of Two Worlds, and 1966's World Without Stars.
I could have reviewed any one of the three novels, or written three reviews … but I think that these novels belong together (for reasons I will discuss later). There's more to this than "the rights were available."
There will be spoilers.
---
Because My Tears Are Delicious To You
The Flying Sorcerers — David Gerrold & Larry Niven
David Gerrold and Larry Niven's 1971 standalone novel, The Flying Sorcerers, was Gerrold's first published novel and Niven's fourth. Even though this book uses the vernacular of fantasy, it is a science fiction comedy. More on that last bit later.
---
Because My Tears Are Delicious To You
Options — Robert Sheckley
1975's Options ended an eight-year drought in Robert Sheckley novels.
Forced by equipment breakdown to set down on an alien world, Tom Mishkin is at first optimistic. There should be a convenient cache of spare parts nearby. He discovers, to his great distress, that the cache had been cannily dispersed. If an ailing space craft crash lands, only a small fraction of the cache will be lost. The part he needs is only a few miles away; however it is a few miles through an alien realm for which Tom's terrestrial senses are poorly suited.
This is an entirely predictable problem and one for which a known fix exists. Tom will be accompanied by a helpful Special Purpose Environmental Response robot, an intelligent machine programmed to understand and deal with the challenges of Darbis IV. Which would be great if the robot and Tom were on Darbis IV and not where they actually are, that is, the planet Harmonium.
---
Because My Tears Are Delicious To You
Dune — Frank Herbert
Dune, book 1
Frank Herbert's 1965 fix-up novel Dune is the first novel in his ongoing (and thanks to necrolaboration, undead) Dune series. While the original novel may be overshadowed by the feculent dribblings of Brian Herbert and pen-for-hire Kevin J. Anderson, in its day Dune was pretty highly regarded. Awards include
| Place | Year and Award | Category |
| --- | --- | --- |
| | | |
| | | |
| | | |
| | | |
| | | |
| | | |
Not bad. So how does it stand up more than a half century later?
The planet Arrakis! Also known as Dune! Sole source of Spice, the mysterious substance that grants longer life and enhances awareness, even allowing a lucky few to see into the future itself! Life extension alone would make it valuable, but its role as psychic steroids makes it a necessity for interstellar trade. Without spice, ships would be lost to unforeseeable dangers in the interstellar deeps.
Whoever controls Arrakis control the Spice. Whoever controls Spice controls trade. Whoever controls trade controls the Empire itself.
That's the theory, anyway. As the Atreides family is about to find out, theory and practice often differ.
---
Because My Tears Are Delicious To You
Orphans of the Sky — Robert A. Heinlein

Robert A. Heinlein's 1963 fix-up novel, Orphans of the Sky, was originally published in two parts, Universe and Common Sense, in 1941. I have chosen it for my 100th Because My Tears are Delicious to You review both because it was extraordinarily influential on a very specific subgenre, but also because it happens to be an important book to me. More on both later.
Hugh Hoyland has lived his entire life in the Ship. Indeed, he cannot imagine a life elsewhere, because as far as he and his people are concerned, the Ship is the whole of the universe. An inquisitive young man, his curiosity and native intelligence win him a place as a Scientist, one of the aristocrats of the Ship. Lucky for him, because the alternative destination for inconveniently curious young men is the converter, where their dissolution will provide power to the Ship.
Hugh's curiosity proves his undoing; his exploration party is ambushed by Mutes and he is left for dead.
His story does not end there.
---
Because My Tears Are Delicious To You
Flowers for Algernon — Daniel Keyes
Daniel Keyes (1927–2014) had a long career as a writer … but he is best remembered for one piece, his story "Flowers For Algernon." First published in short story form in the April 1959 issue of The Magazine of Fantasy & Science Fiction, it won a Hugo in 1960. Following a television adaptation, the original story was expanded into a Nebula-winning novel, then turned into a film. A partial list of the other adaptations may be found at the bottom of this review.
Charlie Gordon, IQ 68, strove his whole life to be a productive member of society. Frustrated with his illiteracy, he signed up for an adult education class, where he struggled to master (in his thirties) skills others had mastered as children. Impressed by Gordon's determination, his teacher Alice Kinnion recommended Gordon as an experimental subject to Drs. Strauss and Professor Nemur.
It was a fateful decision.
---
Because My Tears Are Delicious To You
We All Died at Breakaway Station — Richard C. Meredith
I could have reviewed Richard C. Meredith's 1969 novel We All Died at Breakaway Station in my Military Speculative Fiction That Doesn't Suck review series but … to be honest, I am not 100% sure that it's all that good. It is, however, extremely energetic and it delivers exactly what it promises in the title. Everyone dies.
Humans and the alien Jillies have never truly understood each other. What is clear, following the unprovoked Jillie attacks on humans (which range from garden variety atrocities to full scale nuclear holocausts), is that the aliens do not like us.
Breakaway is twenty-seven light years from Earth. It is an unremarkable but important link in the FTL communications network that connects the Solar System with the Paladine region of the galaxy. It is also a convenient place for Absalom Bracer's convoy—the hospital ship Rudolph Cragstone and its escorts Iwo Jima and Pharsalus—to pause while on route to the advanced medical resources of Earth. It's a good place to die.
---
Because My Tears Are Delicious To You
The Unicorn Girl — Michael Kurland
Greenwich Village Trilogy, book 2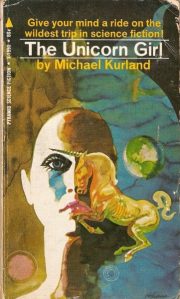 1969's The Unicorn Girl is the second book in what the ISFDB calls the Greenwich Village series; it's a sequel to Chester Anderson's 1967 The Butterfly Kid. Rather oddly, it was written by Michael Kurland, not Anderson. One of the defining characteristics of this series is that no two books in it were written by the same author1.
What they do share is a cast made up of the authors' friends, and a plot centering on the endless struggle of futuristic hippies to protect the world.
A year after dealing with the butterflies, the panicked teenyboppers, and the blue lobsters from space, Michael Kurland and friends have relocated to the West Coast. There Michael meets Sylvia, who is distraught over the loss of her unicorn Adolphus. Unicorns may be mythical, but anyone who ever lived in the Village is used to encountering odder things twice before breakfast. Rather than leave Sylvia to search on her own, Michael offers to help her.
Pausing only to draft close friend Chester Anderson into the search, the group sets off in quest of the missing Adolphus. What could go wrong?
BLIP!
---
Because My Tears Are Delicious To You
Tar-Aiym Krang — Alan Dean Foster
Pip & Flinx, book 2
1972's The Tar-Aiym Krang was the first in the seventeen to date1 volumes of the Pip & Flinx series, the first book in the more than thirty to date Humanx Commonwealth Universe volumes and as far as I can tell, the very first book Alan Dean Foster ever wrote. That is a lot of firsts for one little book. How does it stand up forty-four years later?
Purchased on a whim by Mother Mastiff, Flinx is, by age sixteen, a talented thief and an experienced street performer. He has no idea that one seemingly minor encounter is going to catapult him from the only home he has ever known into a life of interstellar adventure.
---
Because My Tears Are Delicious To You
Note
The Author/Editor list will be back soon; we're having a minor technical difficulty!