Leo and Diane Dillon's art — Leo Dillon & Diane Dillon
I would love to review "the complete collection of book covers illustrated by Leo and Diane Dillon" but as far as I can tell, such a volume does not exist. What do exist: The Art of Leo & Diane Dillon (1981) and To Every Thing There Is a Season: Verses from Ecclesiastes (1998). Collections I cannot review because 1) I don't own either and 2) I've never seen either. I do not mind all that much, because the first collection does not seem to have been well-received and the second looks too, um, religious for my taste.

But the Dillons do have a special place in my heart and I would love to direct some attention their way. So I am going to talk about my favourite Dillon covers.
My enjoyment of their work began with this specific set of covers.
---
Because My Tears Are Delicious To You
Blacula — William Crain
Blacula, book 1
Director William Crain's 1972's Blaxploitation horror film Blacula was the first (and most successful) of the two Blacula films. To quote Wikipedia, Blaxploitation
or blacksploitation is an ethnic subgenre of the exploitation film, emerging in the United States during the early 1970s. Blaxploitation films were originally made specifically for an urban black audience, but the genre's audience appeal soon broadened across racial and ethnic lines.
Of course, films aimed at black audiences appeared almost immediately after the invention of film. What made Blaxploitation different is it was also marketed to white people. That meant Canadian television stations desperate for content bought the rights. Which in turn means I got to see an edited for TV in grainy black-and-white broadcast version of Blacula.
Determined to end the scourge of slavery, Prince Mamuwalde (William Marshall) appeals to a European aristocrat in the hopes the aristocrat will use his influence in the cause of anti-slavery. The African Prince is apparently quite poorly informed about European politics in the year 1780 because he has pinned his hopes on the benevolence of Count Dracula.
Dracula amuses himself by turning Mamuwalde into a vampire before sealing him in a coffin to starve undying for centuries. Mamuwalde's unfortunate wife Luva is sealed in the same locked room with Mamuwalde's locked coffin, starving to death as her helpless husband listens.
By 1972, Dracula is only a legend and nobody has any idea what's in that sealed coffin.
---
Because My Tears Are Delicious To You
The Three Musketeers — Alexandre Dumas
D'Artagnan Romances, book 1
Alexandre Dumas' 1844 The Three Musketeers, originally published in French as Les Trois Mousquetaires, is the first of three D'Artagnan Romances.
The young Gascon aristocrat D'Artagnan sets out to find his fortune, armed with an elderly horse, his sword, a small sum of money, a letter of introduction to the Musketeers and some comprehensively bad advice from his father.
---
Because My Tears Are Delicious To You
The Gods of Xuma or Barsoom Revisited — David J. Lake
Breakout, book 4
[due to a technical issue, this is unedited]

1978's The Gods of Xuma or Barsoom Revisited is the fourth book in David J. Lake's Breakout series1. Readers intrigued by my review need not worry if they have not read the first three books; not only does Gods function as a standalone, good luck finding a copy. Many authors benefited from the golden age of ebook reprints but the late Mr. Lake does not appear to have been one of them.
The stars are ours! Well, the Moon is ours (albeit at the cost of World Wars Three and Four largely depopulating the Earth but eggs and omelettes), not that the Russians, Americans and Chinese like sharing that world with each other. The stalwarts of the Euro-American moon base have every hope Operation Breakout will plant Euro-Americans on the worlds of 82 Eridani, Epsilon Eridani and Delta Pavonis.
The unfortunates sent to Epsilon Eridani found only airless rocks and the Delta Pavonis ship has yet to report its findings but in 2143, starship Riverhorse hits the jackpot. 82 Eridani 3 is small but habitable, the Mars ours solar system never had. Linguist Tom Carson favours the name "Barsoom", after Edgar Rice Burroughs but humourless Captain Mannheim insists on Ares. Whatever the planet is called, it is clearly life-bearing, a potential home for humanity.

Pity about the natives.
---
Because My Tears Are Delicious To You
Judgment Night — C.L. Moore
C. L. Moore's short novel Judgment Night was serialized in two issues of John W. Campbell's Astounding back in 1943. Judgment Night is also the title of a collection published by Dell back in the Disco Era (which is how I encountered the story) .. but the edition I have in hand is Diversion Books' 2015 ebook. They've presented the novel as a standalone—which it is. Not only are there no sequels of which I am aware, it's not clear to me how there could be.
The race that holds Ericon holds the galaxy, because the race that holds Ericon can draw on the wisdom of the Ancients. Access to the Ancients does not mean that one will be able to put their wisdom to effective use. In fact, dynasty after dynasty have interpreted the advice they were given in ways that led to their doom. All human governments are as mortal (if not so short-lived) as their members.
Our protagonist, Juille, believes that she can defy fate.
---
Because My Tears Are Delicious To You
The Tombs of Atuan — Ursula K. Le Guin
Earthsea, book 2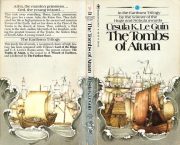 1970's The Tombs of Atuan is the second volume in Ursula K. Le Guin's Earthsea Cycle.
The influence of the Nameless Ones has dwindled over the long ages, but they still have power in the Tombs of Atuan. There they still are worshipped. There they are served by their immortal Priestess.
The little girl once named Tenar is the latest incarnation of the Priestess. The bodies of the One Priestess of the Tombs of Atuan die, but the Priestess lives on, reborn in a newborn body at the time of the Priestess' death. Stripped of her birth family and her name, the girl who was Tenar becomes Arha, "the eaten one," paramount human servant of the ancient and fearsome Nameless Ones.
---
Because My Tears Are Delicious To You
Mindbridge — Joe Haldeman
Haldeman's first novel under his own name1, a fix-up titled The Forever War, won a Hugo, a Nebula, a Ditmar, and a Locus. There's something to said for not winning that many awards the first time out, because it's hard to go anywhere but down from such initial success. After that, a single Hugo nomination (something that would normally seem a boast-worthy success—assuming, of course, that this did not result from inclusion on a Puppy slate) will seem like a comparative failure.
Which brings us to Joe Haldeman's 1976 standalone Mindbridge, his second novel as Haldeman.
By the mid-21 century, Earth is a garden world, an artificial Eden for eleven billion humans. This idyll is dependent on complex technology, and on the solar power that drives that technology. If anything were to disrupt the system, billions would die.
The Levant-Meyer Translation (LMT) providentially offers humanity an off-site back-up. But there's a catch. Several catches, in fact.
---
Because My Tears Are Delicious To You
Up The Line — Robert Silverberg
Robert Silverberg is a fascinating figure. His career as a science fiction writer spans over six decades and comprises at least three distinct periods:
his early, prolific pulp phase, during which he put more emphasis on speed1 than polish;
a middle period, when he reinvented himself as an ambitious literary

SF

author;
the most recent period, more polished than the first and more commercial than the second.
I discovered him while he was writing classics like Dying Inside, To Live Again, and Downward to Earth. To me, it's the serious, ambitious work from the mid-1960s to the mid-1970s that is ineluctably Silverberg.
Of course the first book of his I am going to review is his 1969 time-travel sex comedy, Up the Line. That's because if There Will Be Time wasn't the SF novel that revealed to me that Byzantium existed, Up The Line very definitely was. Paired review, remember?
---
Because My Tears Are Delicious To You
There Will Be Time — Poul Anderson

Today's Because My Tears Are Delicious to You Review is a very special double review! And not because I want to bump up my stats. The two books I have selected are a pair of thematically related but very different novels that I will re-read back to back. Because There Will Be Time was on the top of the stack "Anderson" comes before "Silverberg," I will start the re-read with Mr. Anderson's novel.
1972's Hugo-nominated There Will Be Time is the book that convinced teenage me that I liked his fiction. It is part of Poul Anderson's Maurai series, which included three novelettes (1959's The Sky People , 1962's Progress and 1973's Windmill) as well as a second novel, 1983's Orion Shall Rise.
Centuries after the Judgment War, the Maurai dominated the Earth, guiding other nations away from destructive machine culture and towards more sustainable ways of life. There Will Be Time begins some time before this golden age, in 1933, with the birth of Jack Havig, an American who will play a very curious role in the history of the Maurai.
---
Because My Tears Are Delicious To You
When I was a high school student (back in the 1970s) high schoolers were not known for keeping up on the latest Governor General's Literary Award winners. There was one notable exception, a winner that got an enthusiastic reception from teens. I speak of Marian Engel's CanLit classic Bear, or as it was better known to kids in the Disco Era, that one where the lady fucks a bear.
---
Because My Tears Are Delicious To You
Memoirs of a Spacewoman — Naomi Mitchison
Assessing Naomi Mitchison by her science fiction is a bit like assessing Charles Darwin by his golf game. But her 1962 standalone Memoirs of a Spacewoman is the only work of hers I have read, so … here we are.
The humans who set out to explore the rest of universe are a far more mature lot than the explorers who landed on Mars and Venus. In its youth, humanity was aggressive and expansionist. Now humans and their Martian partners take a more enlightened and dispassionate view of the universe.
That's the theory, anyway.
---
Because My Tears Are Delicious To You
The Spinner — Doris Piserchia
Whenever people mention Doris Piserchia to me, I admit that I am aware of her but add that somehow I never got around to reading anything she published during her all-too-brief but prolific career . Had I but looked more closely at the "P" section of my library, I would have seen that this was not true. I've had a copy of Piserchia's 1980 The Spinner ever since I didn't get around to sending back the Science Fiction Book Club's monthly order card [1]. And I must have read it, because there was a bookmark tucked in the back. Too bad I remember nothing about this book.
Reread time.
---
Because My Tears Are Delicious To You
Millennial Women — Virginia Kidd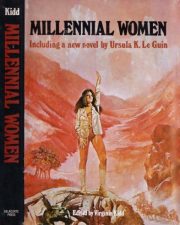 Virginia Kidd is best known as an influential agent; she also edited a small number of anthologies. 1978's Millennial Women (also published under the title The Eye of Heron and Other Stories ) is perhaps the best known. It contains six science fiction stories of widely varying length, all by women, all original to this anthology.
---
Because My Tears Are Delicious To You
As I Please, 1943-45 Volume Three — George Orwell
The Collected Essays, Journalism and Letters of George Orwell, book 3
Readers may be most familiar with Orwell as the author of that delightful children's novel Animal Farm … but he was not merely a novelist. He was also a prolific non-fiction writer. 1968's The Collected Essays, Journalism and Letters of George Orwell: As I Please, 1943-45 Volume Three is the third (of course) in a four-volume work collecting the essays, the journalism, and the letters of George Orwell. It was edited posthumously by Sonia Orwell and Ian Angus in lieu of a biography 1 .
---
Because My Tears Are Delicious To You
Unpopular Planet — Evelyn E. Smith
I freely admit that I picked up Evelyn E. Smith's 1975 Fortean satire Unpopular Planet for a fairly stupid reason: her initials amused me. If only she had had a doctorate!
A prolific author, Smith was best known for her crossword puzzles, Gothic romances, and the Miss Melville series (about a middle-aged socialite turned professional assassin). Although some of her work is still in print , this particular novel is not. Having reread it, I think I know why.
Nicholas Piggot is both a physical throwback—tall, blond, and sturdy, in a world of short, swarthy nebbishes —and a social maladept. He makes a sketchy living as a disreputable musician catering to the lowest sorts of people. It's probably for the best that no one know he is haunted by Blue Dragons that only he can see. As it is, only the fact that the extremely well-born Bernardine has set her cap for him has saved him from being classified as unfit to reproduce.
Enraged that he has been replaced in Bernardine's heart, Hubert Carmichael vows revenge. Bad news for poor Nicholas. Hubert is one of the bluest-blooded members of America's officially classless society; he has the money and influence to make Nicholas' life as unpleasant as it will be short.
That's the plan, anyway.
---
Because My Tears Are Delicious To You
Fireflood and Other Stories — Vonda N. McIntyre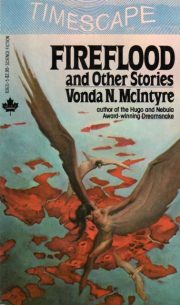 1979's Fireflood and Other Stories was Vonda N. McIntyre's first and (as far as I know) only collection 1. It contains most of her early works, excepting only six pieces. It is one of the reliable comfort reads to which I return every decade or so.
Well, "comfort" is the wrong word. Don't look to early McIntyre for warm, happy feels.
---
Because My Tears Are Delicious To You
The Ophiuchi Hotline — John Varley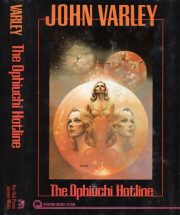 1977's The Ophiuchi Hotline was John Varley's first novel.
Convicted of crimes against humanity, Lilo's fate is set. She will be executed as thoroughly as the state can arrange: her genetic samples will be destroyed, her brain records erased, and her body will be dropped into one of the small black holes 1 that power the Eight Worlds.
All this will come to pass, but it won't be the end of Lilo's story.
---
Because My Tears Are Delicious To You
The Prometheus Crisis — Thomas N. Scortia & Frank M. Robinson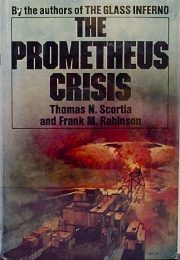 Chemist Thomas N. Scortia (1926–1986) published science fiction from the 1950s to his death from leukemia; he was nominated for the Nebula in 1966. His frequent writing partner, Frank M. Robinson (1926–2014), was active in SF from the 1950s to his death. His awards and nominations range from the Hugo to the BFA, from the Lambda to the Locus. Robinson was also a well known activist.
Together the pair were masters of the disaster thriller. Their 1975 standalone The Prometheus Crisis is a fine example of their work in this genre.
---
Because My Tears Are Delicious To You
The Trouble With Tribbles — David Gerrold
David Gerrold's 1973 non-fiction book The Trouble with Tribbles may be the only SF-related biography I own whose subject is not a person but a story. By 1973, Star Trek novelizations and tie-ins were nothing new. Blish was credited with seven eight collections of Trek adaptations1, as well as the tie-in Spock Must Die! And then there was Mack Reynolds' obscure Mission to Horatius. Gerrold's book was something else. Let the subtitle speak for itself:
The Birth, Sale, and Final Production of One Episode.
---
Because My Tears Are Delicious To You
The Drawing of the Dark — Tim Powers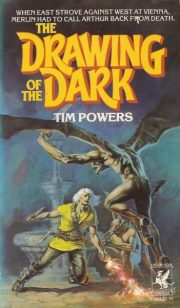 Every year, Kitchener descends into the beer-fueled riot that is Oktoberfest. Usually I kvetch at the multitude of inconvenient incidents precipitated by one million drunken tourists. (Kitchenerites, of course, can handle their beer.) This year I decided to embrace the abyss. I will review a book about beer. Which one? Tim Power's 1979 standalone fantasy, The Drawing of the Dark.
Things are looking grim for the West. One by one, Christendom's strongholds have fallen to S uleiman the Magnificent's armies. Irish mercenary Brian Duffy, having narrowly surviving the Battle of Mohács, has turned his back on war and settled in Venice. Years later, it seems that Venice too is threatened. When Duffy is offered a job as bouncer in distant Vienna, he is quick to accept.
Duffy's timing is a bit off. The year is 1529. Vienna is the next stop on Suleiman's European tour. Even as Duffy makes his way across the Alps, Suleiman and Grand Vizier Ibrahim are even now considering how to conquer the city of Vienna.
---
Because My Tears Are Delicious To You
In Len Deighton's 1976 novel SS-GB, Britain has fallen. King George VI is a prisoner in the Tower, and Churchill has been executed. German troops occupy the cities. It is surely only a matter of time before the last partisans holding out in the countryside are rounded up and shot.
Detective Superintendent Douglas Archer's world is bizarrely normal. He answers to Gruppenführer Fritz Kellerman now, but his job is essentially the same as it was before the invasion: investigate and solve murders.
At first glance, there's nothing about the dead man in the shabby apartment over the antique shop to suggest that the fate of nations depends on Archer's decisions over the next few days.
---
Because My Tears Are Delicious To You
Colonies in Space — T.A.Heppenheimer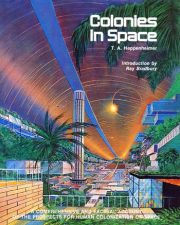 T. A. Heppenheimer's Colonies in Space is just one of the many Disco Era books and articles published proposing that the Next Big Step for humans in space would not be settlements on Mars or the Moon, but rather grand space stations. The idea was very popular, at least until reality ensued.
These days, Heppenheimer may be remembered as the spoilsport who pointed out that Bussard ramjets are far more effective at dissipating energy than they are at generating it (which is to say, they're not propulsion systems but brakes). Yet he too was a space colony enthusiast. I remember his book fondly. What I cannot do is resolve the teeny-tiny font in the paperback edition,
So it was with great glee that I discovered that the National Space Society has made the work available online for free. I like free! It's even better than cheap!
---
Because My Tears Are Delicious To You
The Mercenary — Jerry Pournelle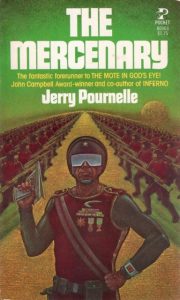 1977's The Mercenary is a fix-up. It comprises three Jerry Pournelle stories: Peace with Honor (1971), The Mercenary (1972), and Sword and Scepter (1973). These are among the earliest of Pournelle's stories1. They must have impressed readers because The Mercenary was nominated for Best Novella (losing to Le Guin's The Word for World is Forest ) while Pournelle himself won the very first John W. Campbell Award for Best New Writer.
The Second Cold War ended with the formation of the CoDominium in the 1990s. The Soviet and American forces dominate the Earth. Thanks to the timely development of the Alderson Drive, those who object too loudly or who are simply surplus to needs can be shipped out to the interstellar colonies.
It's not a just system but it works. Or rather, it worked. Now nationalists across the planet want to bring it down and with it, civilization on Earth.
---
Because My Tears Are Delicious To You
Dying of the Light — George R.R. Martin

1977's Dying of the Light was George R. R. Martin's first novel. While this novel is set in the same Manrealm as a number of Martin's other stories1, this is a standalone. You don't need to have read the other works to understand this one. This isn't volume five of some interminable fantasy series.
Centuries after the collapse of the Federal Empire, the human worlds are still recovering. Fourteen of the more isolated, backward worlds collaborated on an ambitious project: terraforming the rogue world Worlorn as it passes by the giant star Fat Satan.
By the time Dirk t'Larien arrives on Worlorn, hoping to help a former lover, Gwen Delvano, Worlorn's Festival is over. Its path will take it past Fat Satan and back into the lightless interstellar depths. All life on the world is doomed.
As is Dirk, if he sticks around.
---
Because My Tears Are Delicious To You
The Universe Between — Alan E. Nourse
Alan E. Nourse's 1965 The Universe Between is a fix-up of two novelettes published in 1951: High Threshold and The Universe Between.
Ambitious cryogenics research has created an incomprehensible thing in the middle of the lab. Attempts to understand it have killed three men and put two more in the madhouse. Determined to unravel the mystery, Dr. John McEvoy has turned to the Hoffman Center. Perhaps the Center can provide a volunteer resilient enough to survive the thing (which may be a hypercube).
Much to McEvoy's surprise, the best man for the job is a girl.
---
Because My Tears Are Delicious To You
Note
The Author/Editor list will be back soon; we're having a minor technical difficulty!