Binti: The Night Masquerade — Nnedi Okorafor
Binti, book 3
2018's Binti: The Night Masquerade is the third and possibly final instalment in Nnedi Okorafor's Binti series.
Still digesting the lessons learned in Binti: Home, young Binti is woken by a dreadful vision: her family trapped in the basement of their burning dwelling. She rushes home. She finds charred ruins and no visible survivors.

---
Miscellaneous Reviews
The Prey of Gods — Nicky Drayden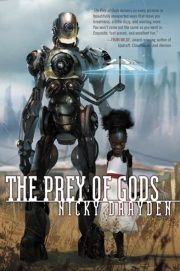 2017's The Prey of Gods is Nicky Drayden's debut novel.
Sydney Mazwai may be passing as a simple beautician now, but she has big plans. She appears to be just another human … but she is a being of power, a being who is scheming to unleash a new age of gods on humanity. The chaos will be delightful! And Sydney intends to be the greatest, meanest god of all.
Mr. Tau's protégée Nomvula could just possibly derail her plans, but Sydney isn't worried. Nomvula is, after all, only one little girl. How much trouble could one little girl cause? Even if that little girl is a godling herself?

---
Miscellaneous Reviews
Power Ballad — Molly Brooks
Molly Brooks' 2017 Power Ballad is, in the words of its creator, a "lesbian superhero romcom" webcomic.
Meera Verma is the perfect personal assistant, so keen that it has taken her only two days to realize that her boss, talented musician Carina Peterson, is also Los Angeles' two-fisted costumed vigilante, the Skeleton. As any respectable personal assistant would, Meera immediately extends her services to the Skeleton as well.
Meera has only one defect as an employee. She's made the terrible error of falling hard for her boss.

---
Miscellaneous Reviews
Lightning in the Blood — Marie Brennan
Books of the Varekai, book 2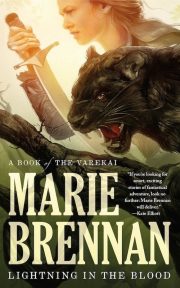 2017's Lightning in the Blood is the second in Marie Brennan's Books of the Varekai series.
At the end of Cold-Forged Flame, Ree set out to help her new friend Aadet overthrow the tyrant of Solaine. With the tyrant deposed and rightful heir Enkettsivaane in power, that leaves the question of what to do with Ree, who is an archon, a being of great power. A useful ally, yes, but a dangerous next-door neighbour.
Every archon must follow its nature. Providentially for Enkettsivaane, Ree's nature provides a solution that will keep his hands clean. Ree's wanderlust compels her towards Solaine's border, towards new lands and new adventures.
She very nearly makes it out of Solaine.
---
Miscellaneous Reviews
The Murders of Molly Southbourne — Tade Thompson
Tade Thompson's 2017 The Murders Of Molly Southbourne is a standalone novel of SF horror.
Molly's parents taught her four simple rules:
If you see a girl who looks like you, run and fight.
Don't bleed.
If you bleed, blot, burn, and bleach.
If you find a hole, find your parents.
Failure to follow any one of these rules could mean death. For Molly, for her parents, for anyone involved.
---
Miscellaneous Reviews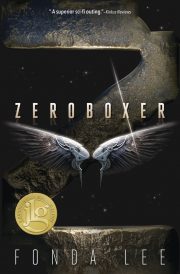 2015's standalone futuristic sports story Zeroboxer was Fonda Lee's debut novel.
Zero gravity boxing — zeroboxing — provided Carr "the Raptor" Luka with his ticket out of Toronto and up into orbit, where the best people live. It's a brutal sport — but for the handful who claw their way to the top, it can be lucrative. Despite his youth, Carr is a promising boxer, promising enough that respected impresario Gant offers Carr a contract. With luck and the right handler, Carr could become one of the luminaries of the Zero Gravity Fighting Association.
Pity that Carr's success is based on a lie.

---
Miscellaneous Reviews
White Trash Zombie Unchained — Diana Rowland
White Trash Zombie, book 6
2017's White Trash Zombie Unchained is the sixth volume in Diana Rowland's White Trash Zombie series.
After taking a few months off to collect herself after the events of White Trash Zombie Gone Wild, Angel Crawford is very nearly her old brain-eating self. Dividing her time between work at the Saint Edwards Parish Coroner's Office and college bio classes, she studiously avoids alone time with her ex, Nick, for whom she still carries a torch.
In this instalment, Angel is given an excellent distraction from hunky Nick. Too bad that the distraction is an apocalypse.

---
Miscellaneous Reviews
The Stone Sky — N. K. Jemisin
The Broken Earth, book 3
2017's The Stone Sky is the third and final volume in N. K. Jemisin's The Broken Earth trilogy.
The Moon, long ago torn from its orbit around the Earth, is returning. Two women, Essun and her daughter Nassun, have the power to determine its course: a) past the Earth and back into interplanetary space, b) back into orbit around the Earth, or c) directly into the planet itself.
Nassun, having had a good look at the evil humans do, is firmly convinced the third option is the correct one.

---
Miscellaneous Reviews
The Beautiful Ones — Silvia Moreno-Garcia
Silvia Moreno-Garcia's soon-to-be-released The Beautiful Ones is a standalone SF novel. (SF in my estimation; see the discussion below.)
Hector Auvray rose from humble origins because he is an extremely powerful, skilled, and artistic telekinetic. He may not be an aristocrat but at least he is famous and rich.
Valérie Beaulieu is famous, rich, beautiful, and an aristocrat. None of this truly makes her happy, since women of her class have nothing they can really call their own. Her background and beauty have only made her a valuable commodity on the marriage mart. She knows that her impoverished family's future depends on her. A dutiful daughter, she abandoned her one true love so that she could marry the wealthy Gaetan instead.
Hector was that one true love. Ten years after being spurned by Valérie, Hector has returned to the city of Loisail.
---
Miscellaneous Reviews
Five by JY Yang — JY Yang
I would love to review a single author collection of JY Yang's short stories, but as far as I can tell, no publisher has yet seen fit to publish one. Happily, the author has selected five short pieces they are particularly fond of and made them available on their site.
Each title is a link to the story in question.
---
Miscellaneous Reviews
Traveller Core Rulebook — Matthew Sprange
Just over forty years ago, Game Designer's Workshop released the first version of their SF roleplaying game, Traveller (reviewed here ). Over the years, there have been many editions of Traveller, released to varying degrees of enthusiasm.
In 2016, Mongoose Publishing released the second edition of their version of Traveller. How does author Matthew Sprange's version stand up?
---
Miscellaneous Reviews
Weaver's Lament — Emma Newman
Industrial Magic, book 2
2017's Weaver's Lament is the second volume in Emma Newman's Industrial Magic series. The first instalment, Brother's Ruin, was reviewed here.
Responding to a mysterious summons from her brother Ben, Charlotte Gunn ventures north to Manchester. Does he need magical assistance? After all, he passed the academy entrance exam with flying colours only because Charlotte used her considerably superior levels of magic to cheat for him. He made it through the course, but now he must be facing real life challenges.
Charlotte finds Ben wrestling with what he insists must be a den of trade unionists and socialists infesting the textile factory where he has been assigned to provide magical support. Unless Charlotte and Ben can expose the rascals, Ben's advancement up the ranks of the Royal Society of Esoteric Arts may come to an abrupt halt.
---
Miscellaneous Reviews
Heroine Worship — Sarah Kuhn
Heroine Complex, book 2
2017's Heroine Worship is the second instalment in Sarah Kuhn's comedic superhero Heroine Complex series.
In Heroine Complex ( reviewed here ) superheroes Annie "Aveda Jupiter" Chang and Evie "No Cool Superhero Name" Tanaka vanquished the Demon Queen and closed a gate to the Otherworld. Since the Demon Queen's shenanigans were the primary source of superhero-level threats to San Francisco, life has been pretty quiet since that battle.
That is a big problem for Aveda, because her self-image is tied up in being San Francisco's premier saviour. She cannot save that which is not being threatened. Even if a threat did materialize, she'd have to share the spotlight with Evie, and Evie's recently revealed pyrokinesis is much flashier than Aveda's acrobatic martial arts. Not that Aveda is jealous of Evie, exactly; she's just used to having the spotlight.
Many superheroes in Aveda's position would resort to creating a robotic villain only they can defeat 1. Happily for Aveda, fate is going to hand her a challenge worthy of her talents.
---
Miscellaneous Reviews
The Red Threads of Fortune — JY Yang
Tensorate, book 2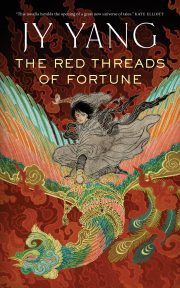 JY Yang's The Red Threads of Fortune is the second of two upcoming novellas set in Yang's Tensorate setting.
Four years ago, tragedy drove Mokoya away from friends and family and out into the Gusai Desert. Now she uses her Tensor skills to hunt rogue nagas. She has lost her ability to look into the future. She is depressed and often lashes out at those around her 1. She had hoped that time and distance would heal her wounds, but they still fester.
An emergency jolts her out of her wretched rut. There is something new and terrible out in the desert.
---
Miscellaneous Reviews
The Black Tides of Heaven — JY Yang
Tensorate, book 1
The Black Tides of Heaven is the first of two Tensorate novellas by JY Yang.
The Protectorate rules because it commands the magic of Slack1—or rather, the Tensors who can bend Slack to their will. Tensors are ruled in turn by the Protector, who in this generation is a woman of power, intellect, and ruthless determination. Previous generations lost much of their empire; this Protector, Sanao Hekate, has reconquered most of it.
Drought leads to civil disorder, disorder that the Protector's Tensors cannot put down unassisted. Sanao turns to the great monastery, where pugilists (read martial artists) train. She promises Head Abbot Sung one of her children in exchange for his help. The Abbot expects to get the youngest child, a promising daughter. The Protector, determined not to lose that child, finds a way out of the promise. A new pregnancy. Twins.
---
Miscellaneous Reviews
The Cordwainer Smith Rediscovery Award Anthology — A. N. Editor
The Cordwainer Smith Rediscovery Award

honors under-read science fiction and fantasy authors with the intention of drawing renewed attention to the winners. The award was initiated in 2001 by the Cordwainer Smith Foundation.
That's a fine goal. Yet, even though the award has been given every year since 2001, the award's website has not been updated since 2012. That's not the way to draw attention to the honoured works. At least the Wikipedia entry seems to be up-to-date.
Something else the Rediscovery Award people have never done, to my knowledge, is commission a Rediscovery-theme anthology. If they did, it might look something like this:

---
Miscellaneous Reviews
Miranda and Caliban — Jacqueline Carey
Jacqueline Carey's Miranda and Caliban is a standalone retelling of Shakespeare's novelization of Forbidden Planet, which for some reason he called The Tempest.
Determined to have revenge on his usurping brother Antonio and Antonio's ally, the King of Naples, Prospero has retreated to a deserted island to hone his magical skills. Usurping the witch Sycorax's legacy for his own, he is determined to use every resource at his disposal to punish his enemies.
This book does not tell Prospero's story. Shakespeare already did that. It focuses on his naïve daughter Miranda.
---
Miscellaneous Reviews
1981's Aventine is Lee Killough's sole short-story collection to date. The stories share a common setting: Aventine, an artists community on a distant world. At least, that is how the inhabitants like to see themselves. The truth is darker.
---
Miscellaneous Reviews
iD — Madeline Ashby
Machine Dynasty, book 2
Madeline Ashby's 2016 Company Town is a standalone science fiction novel that has received enough acclaim—in large part due to its position in Canada Reads—that I have as yet been unable to obtain a copy [1]. That is why this is a review of her 2013 novel, iD.
iD is the second instalment in Madeline Ashby's Machine Dynasty series.
Every von Neumann robot that has ever been built comes with an infallible fail-safe that will kill the robot deader than the dodo if the robot fails to protect and serve their humans. Every robot save Amy, that is. Amy's failsafe does not work. What's worse from the human point of view is that vN robots spawn copies unless actively prevented; all of Amy's iterations will have similarly defective failsafes.
There is an easy solution: simply kill Amy. Or rather, use her lover Javier's failsafe to compel him to do it for the humans.
This simple plan has only one flaw.
---
Miscellaneous Reviews
The House of Binding Thorns — Aliette de Bodard
Dominion of the Fallen, book 2
The House of Binding Thorns is the second volume in Aliette de Bodard's Dominion of the Fallen series.
The dragon realm hidden under the Seine has until now held itself aloof. Their kingdom has been known only to a very few in ruined Paris. Now something has changed. An ongoing crisis in their realm gives Asmodeus, head of House Hawthorn, a chance to open diplomatic exchange with the hermit domain. More than exchange: dynastic merger.
Of course, the dragon kingdom has its own agenda, not to mention long experience of cunning plans aimed its way. The diplomatic mission may well be one from which none will return. It is a risk Asmodeus is willing to accept. That's why he is sending trusted or expendable (such as returned exile and angel-essence-addict Madeleine) subordinates to conduct the negotiations.
---
Miscellaneous Reviews
Brother's Ruin — Emma Newman
Industrial Magic, book 1
Emma Newman's Brother's Ruin is an amiable introduction to her Industrial Magic gas-lamp fantasyseries.
Great Britain's power and prosperity rests on the talents of the Society for Esoteric Arts. Accordingly, the Society has been granted the legal powers it needs to ensure its continued existence. This includes the right to impress any person with magical talents into the Society, even if the candidate, or the candidate's family, object to the conscription.
Losing a family member to the Society is not necessarily bad. The Society compensates the candidate's family. This compensation would be a godsend to the Gunn family, which is struggling with mounting debts. Benjamin Gunn, aspiring mage, might be able to save his family. There is one problem: the Society pays in proportion to the prospective mage's talents. Although he has some magical ability, Benjamin is a comparative lightweight. It's his sister Charlotte who has the stupendous talent … and she is determined not to be conscripted. It would be much more convenient if Benjamin were the one to be press-ganged. Now, if there were only a way that Benjamin's talents could be augmented to increase his compensation …
Charlotte has a cunning plan.
---
Miscellaneous Reviews
Mira Grant's 2017 Final Girls is an upcoming standalone work.
Jennifer Webb has invented a new virtual-reality-based therapy and opened an institute to test and develop it. Seeking publicity and credibility, she offers Esther Hoffman, an investigative journalist, a chance to visit the institute and report on the new tech.
This would seem to have been a bad choice. Hoffman is a professional debunker with a strong personal grudge against pseudoscience therapies. But it is that very grudge that makes Hoffman a credible reporter. If Webb can convince Hoffman that the therapy has merit, Webb can convince everyone else.
The question that kickstarts many good plots: what could possibly go wrong?
---
Miscellaneous Reviews
Kings of Petaling Street — William Tham Wai Liang
William Tham Wai Liang's Kings of Petaling Street is a standalone crime thriller.
Wong Kah Lok Syndicate's power is waning, but it is still one of the most powerful gangs in Kuala Lumpur.
Gangster Wong has slowed of late. The heart went out of the aging criminal when his wife and oldest son died in an assassination attempt. Wong's primary goal is now to see his remaining son, Gavin, settled in a respectable, safe occupation.
He shows poor judgment, then, in allowing the heir apparent to his gang, Crazy Foo, to mentor the impressionable Gavin.
---
Miscellaneous Reviews
Hunger Makes the Wolf — Alex Wells
Hunger Makes the Wolf is the first volume in Alex Wells' as yet unnamed series.
Tanegawa's World is one vast desert; it has very little to offer the other worlds of the Federal Union Moreover, the harsh natural conditions tend to wreck delicate advanced technology far in advance of its expected MTBF. How fortunate for the world's inhabitants that TransRift, Inc, has taken the planet and its human inhabitants under its wing, providing the able-bodied with full time employment in the mines Without the distractions of decent pay, unions and law beyond that supplied by TransRift's private army.
All of which will go part way to explain why Hob, Coyote, and Dambala find a dead man desiccating in the desert.
---
Miscellaneous Reviews
All Systems Red — Martha Wells
The Murderbot Diaries, book 1
2017's All Systems Red is the first instalment in Martha Well's The Murderbot Diaries.
The Company cares (<3 <3 <3), which is why every one of their survey teams is required to have at least one Sec Unit. This is a construct: part machine, part organic, a guardian bound by programs stored in supposedly unhackable governor units. Its duty: to protect its squishy human charges. Of course, the Company is also profit-oriented, which means that the Sec Unit has been assembled from the cheapest components available, which in turn means that those governor units are, in fact, easily hacked.
Dr. Mensah's team is small and it has just the one Sec Unit. That seems sufficient for a world without any significant known hazards. But appearances can be misleading. There is an undocumented giant predator in the team's assigned territory. And the team's Sec Unit is a Murderbot. Its governor has been hacked and disabled. Murderbot refrains from murdering its humans mainly because it can see no good reason to kill them. Not as long as it has new entertainment material to amuse it.
There is another, far greater, threat to the team than a soap-opera-obsessed Murderbot in the offing.
---