A Taste of Honey — Kai Ashante Wilson
Kai Ashante Wilson's 2016 A Taste of Honey is a stand-alone story set in the same universe as Wilson's The Sorcerer of the Wildeeps.
Aqib's life has been charted out for him. For his family to regain the status they lost when Aqib's father was tempted by love to marry far beneath him, Aqib must marry well. This is a sacrifice his family is more than willing for Aqib to make.
Man plans, gods laugh.
---
Miscellaneous Reviews
Dustland — Virginia Hamilton
Justice Cycle, book 2
1980's Dustland is the second book in Virginia Hamilton's Justice Trilogy.
Tom, Levi and Dorian's psionic abilities are impressive but it took Justice to weld them together into the Unit, able to span time and space at will. There are limits.Although they can project their minds out of their home space-time, the Unit aways manifests in the same distant location. And what an odd location it is.
---
Miscellaneous Reviews
The Lottery and Other Stories — Shirley Jackson
1949's The Lottery and Other Stories is a collection of short pieces by Shirley Jackson. Aside from The Haunting of Hill House, there's a giant Jackson-sized hole in my reading. When I saw how inexpensive The Lottery ebook was, I snapped it up. Time spent in various waiting rooms allowed me the leisure to actually read it.
There are twenty-five pieces in this book. I am not going to do my usual story by story approach; cue sighs of relief all round.
---
Miscellaneous Reviews
Hammers on Bone — Cassandra Khaw
Persons Non Grata, book 1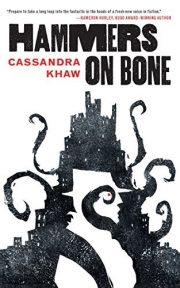 2016's Hammers on Bone is the first work in Cassandra Khaw's Persons Non Grata series.
The sign on his door says "John Persons, PI". It doesn't say "John Persons, Killer for Hire." Abel, the kid currently on the other side of Persons desk, wants a killer, someone who will deal with his stepdad McKinsey before the stepdad can kill Abel and his brother James.
Persons has killed, but only in self-defence. Just like any other completely normal person. Persons is trying very hard to be a normal person. Abel is convinced that there's more to Persons than meets the eye and he's a very persuasive kid. Persons agrees to take a look at the stepdad and proceed as seems … ethical.
A faint mewling voice in the back of Persons' head thinks that this is the right choice.
---
Miscellaneous Reviews
Crosstalk — Connie Willis
Connie Willis' 2016 Crosstalk is a standalone near-future SF novel. I regret to inform my readers that this review may not be as enjoyably vitriolic as previous Willis reviews. (I may revisit that decision once Crosstalk gets its inevitable, inexplicable Hugo nomination.) As Willis novels go, I didn't hate it all that much.
In the exciting world of Tomorrow CE, couples are not limited to intrusive social media and ever-present electronic communications. Now there's the option of the EED, a device that creates an empathic link between lovebirds. Or at least, it's supposed to.
Pressured into submitting to elective brain surgery by her loving fiancé Trent, Briddey Flannigan gets an EED. Alas! there is no sign of the empathic link that should have formed between Briddey and Trent. What Briddey got was…
---
Miscellaneous Reviews
Fractured: Tales of the Canadian Post-Apocalypse — Silvia Moreno-Garcia
Silvia Moreno-Garcia's 2014 anthology Fractured: Tales of the Canadian Post-Apocalypse delivers exactly what it promises: post-apocalyptic tales told from Canadian perspectives.
The moral here seems to be that it's going to get worse before it gets better.
Also, it's not going to get better.
---
Miscellaneous Reviews
Martians Abroad — Carrie Vaughn
Carrie Vaughn's 2017 Martians Abroad is a standalone young-adult SF novel, written in the manner of a very famous series of juvenile SF novels. In fact, it seems to be a response to a specific juvenile SF novel, about which more anon.
Young Polly Newton has a bold plan for her life, one that involves pilot school and helming humanity's first starship. Polly's mother also has bold plans for Polly and her brother Charles. Those plans involve an unwanted sojourn at the prestigious Galileo Academy on Earth. Polly's plans are irrelevant. Mother knows best.
Martha Newton didn't become Director of the Mars Colony by being easy to out-manoeuvre. By the time Polly learns what her mother has planned, it is too late for either Polly or her brother to do anything about it except pack their bags and give in to the inevitable.
---
Miscellaneous Reviews
Ninefox Gambit — Yoon Ha Lee
The Machineries of Empire, book 1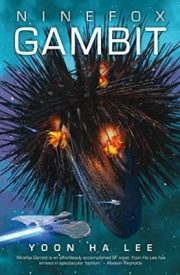 2016's Ninefox Gambit is the first volume in Yoon Ha Lee's projected trilogy, The Machineries of Empire.
Success is often punished harshly. Consider the case of Captain Kel Cheris of Heron Company, 109-229th Battalion. She has excelled on the battlefield due to her skill and ingenuity. Those are exactly the qualities her superiors need if they are to retake the Fortress of Scattered Needles from the rebels who currently hold it.
Well, skill, ingenuity, and expendability.
---
Miscellaneous Reviews
Survival Rout — Ana Mardoll
Earthside, book 2
2016's Survival Rout is the second book in Ana Mardoll's Earthside series.
College roommates Aniyah and Miyuki expect a summer vacation rich in opportunities for hanging out and having intense discussions about gender and orientation. Thanks to their ever-so-helpful chums Timothy and Craig, what they actually get is kidnapped, mindwiped, and sold to the faerie lord Master of Masques.
Keoki is in the wrong place at the wrong time; his good Samaritan instincts get him abducted and sold as well.
---
Miscellaneous Reviews
After Atlas — Emma Newman
Planetfall, book 2
Emma Newman's 2016 After Atlas is a sequel to her 2015 novel Planetfall.

The Pathfinder, Lee Suh-Mi, led her people to a glorious destiny among the stars. The Pathfinder's starship only had room for the chosen few. Carlos Moreno's mother made the cut, but Carlos and his father did not. His father then joined a community of starship rejectees, one led by a Lee deputy named Alejandro Casales, dragging an unhappy young Carlos in his wake. It took years for Carlos to escape.
Decades later, Carlos is a prized asset of the Noropean Ministry of Justice. He is a talented investigator whose indentured status ensures that his efforts on the MOJ's behalf will not be sabotaged by nonsense like so-called human rights.
---
Miscellaneous Reviews
The Stars Are Legion — Kameron Hurley
Kameron Hurley's 2017's The Star Are Legion is a standalone space opera.
In a distant future, a flock of huge world-ships orbit an unnamed star. Within the ships, there are life forms of all kinds, including humans. But every living thing has its allotted span and the world-ships are no exception. They are dying and when they do die, so too will all the humans who live within them.
Zan and Jayd have a cunning plan to escape the coming mass extinction. The cost of the plan will be much greater than they expect.
---
Miscellaneous Reviews
Light and Shadow: Eight Short Stories by Linda Nagata — Linda Nagata
2016's Light and Shadow: Eight Short Stories by Linda Nagata collects eight of Linda Nagata's short pieces. Straightforward, that.
Nagata's career began in 19871, but the focus of this collection is on recent work, published after the years-long hiatus that divides her career in two.
---
Miscellaneous Reviews
The Mystic Marriage — Heather Rose Jones
Alpennia, book 2
2015's The Mystic Marriage is the second volume in Heather Rose Jones' Alpennia series.
Antuniet Chazillen has lost everything: her foolish brother has been executed for treason and her mother is dead by her own hand. Antuniet has been stripped of her aristocratic rank. Determined to restore the family honour, Antuniet flees Alpennia for Austria, there to use her alchemical skills to win back for her family the respect and position her brother cost it.
In Austria she finds a treasure of rare value, a treasure others are determined to wrest from her. She escapes from Vienna to Heidelberg, but her enemies are still close on her heels. She sees no choice but to trade her virtue for transportation to safety.
Which means returning to Alpennia…
---
Miscellaneous Reviews
She Walks in Shadows — Silvia Moreno-Garcia & Paula R. Stiles
2015's She Walks in Shadows (published by Prime under the less evocative but also less ambiguous title Cthulhu's Daughters: Stories of Lovecraftian Horror ) was compiled by editors Silvia Moreno-Garcia and Paula R. Stiles. The theme of the collection:
The present volume assembles stories about women, by women. Why an all-woman volume? The first spark was the notion, among some fans of the Lovecraft Mythos, that women do not like to write in this category, that they can't write in this category. […] We hope this anthology will help to dispel such notions.
It's always a mistake to think that the mere existence of an anthology filled with cosmic horror stories will dispel delusions rooted in knuckle-dragging prejudice. Still, despite the generally troglodytic nature of the Lovecraft community, this anthology won a World Fantasy Award in 2015.
---
Miscellaneous Reviews
Rosewater — Tade Thompson
2016's Rosewater is Tade Thompson's second novel; it follows 2015's (unrelated) mystery Making Wolf.
Kaaro was once a talented thief. Now he's a very reluctant member of Nigeria's Section Forty-five, an obscure branch of the Ministry of Agriculture. S45 specializes in the odd and weird, the occult phenomena that have become all too real in the world created by the alien incursion of 2015.Nowhere on the world is the strange as present as it is in Kaaro's hometown of Rosewater, which formed around an alien dome (known as Utopicity) in the 2050s.
Utopicity seems happy to remain sealed and indifferent to humanity but the lifeforms it released have spread quietly across the world. A lucky few have been transformed. Kaaro is one of those changed ; that's why he has ESP. Which in turn makes him valuable to S45.
Kaaro is a reluctant draftee, but he's also too lazy to do anything strenuous to escape his bureaucratic servitude. He limits his protest to habitual insubordination. Happily for Kaaro, adventure is coming for him.
---
Miscellaneous Reviews
Brute Force — K. B. Spangler
Rachel Peng, book 4
2016's Brute Force is the fourth instalment in K. B. Spangler's Rachel Peng series.
Hope Blackwell can handle herself, but the child with her cannot. Ambushed, Blackwell has no choice but to go peacefully with her kidnappers for the sake of young Avery.
Taking Blackwell is a bold move for the kidnappers. Not only will Blackwell be a very … uh, challenging prisoner to contain, but by kidnapping her, they've made themselves targets for her husband, Patrick Mulcahy, head of the Office of Adaptive and Complementary Enhancement Technologies. Behind OACET's harmless name is a tight-knit community of cyborgs.
---
Miscellaneous Reviews
Penric's Mission — Lois McMaster Bujold
Penric and Desdemona, book 3
Penric's Mission is the third instalment in Lois McMaster Bujold's Penric and Desdemona series.
Following an ill-fated foray into medicine, demon-haunted, all-round-nice-guy Penric takes up a new occupation: covert agent for the Duke of Adria. As the novel opens, he is travelling into Cedonia, there to contact to recruit a Cedonian general who is believed to be disaffected.
No sooner does he step off the boat than Penric is arrested, beaten, and thrown into prison. Not an auspicious beginning, particularly since his cell is designed to fill with water once his captors have no further use for him. Eventually, they do not.
---
Miscellaneous Reviews
Waypoint Kangaroo — Curtis C. Chen
2016's Waypoint Kangaroo is Curtis C. Chen's debut SF adventure novel.
The agent code-named Kangaroo may not be the most skilled agent in the agency, but he is their only super-powered agent. Too useful to fire, too hard to explain, a looming audit convinces Kangaroo's bosses that this is the perfect time to send Kangaroo off Earth on an all expenses paid holiday to Mars. Independent Mars may be the player on the other side of the cold war gripping the Solar System, but it is also safely distant from the prying eyes of unsympathetic federal bureaucrats.
The bosses should have known: when you send an agent off on holiday, you can expect unforeseen complications.
---
Miscellaneous Reviews
Although Nisi Shawl has been publishing short-form spec fic and related non-fiction since 1989, 2016's steampunk novel Everfair is her debut novel.
Confronted with ultimatums from Leopold's heavily armed Force Publique , King Mwenda's least bad choice is to buy time with apparent concessions. He and his Queen Josina hope to use this respite to out-think the Europeans while searching for new weapons in the struggle against the invaders.
Enter the idealist colonists of Everfair.
---
Miscellaneous Reviews
Breaking the Chains of Gravity: The Story of Space Flight before NASA — Amy Shira Teitel
For all my twitterings about books by women, my library has some major gaps. For example, almost of all of my books on spaceflight are by men. Almost all. I was delighted to find that my library had a copy of Amy Shira Teitel's Breaking the Chains of Gravity: The Story of Space Flight before NASA , a copythat I had not even read .
Before I launch (heh!) into the review proper, I should point out that the subtitle is a misnomer. This is not the story of space flight before NASA but (as the author acknowledges) a story of space flight before NASA. Whose story? Here's a hint.
---
Miscellaneous Reviews
2016's Transferral is a debut novel from Canadian-by-choice author Kate Blair. It is not listed as such on her ISFDB entry because she does not have an ISFDB entry—someone should get on that—but her website confirms the info.
The weed of crime may bear bitter fruit in our world but in sixteen-year-old Talia's world, crime produces endless snotty hankies. Once science provided the means to move diseases from one human to another, it didn't take long for lawmakers to see that this could be a perfect tool to reward decent citizens while punishing lawbreakers. Break a minor law and receive some law-abiding citizen's cold. Break a major crime and say hello to necrotising fasciitis.
Talia, herself a survivor of a brutal crime that left her sister and mother dead, has no doubts about the morality of the transferral system of punishment. What could possibly be wrong with making sure good things happen to good people by ensuring that bad things happen to bad people?
---
Miscellaneous Reviews
Project Orion: The True Story of the Atomic Spaceship — George Dyson
George Dyson's 2003 Project Orion: The True Story of the Atomic Spaceship is the biography of an atomic rocket that never was. Strike that, the atomic rocket that never was. Atomic rockets like NERVA or DUMBO may have used the power of the atom, but their approach was not so very different from conventional chemical rockets and their performance not so much better. Orion promised delta vees more than an order of magnitude better than NERVA at its best.
All it asked in return for its astounding performance was a studied tolerance for proximity to nuclear explosions. Repeated explosions.
---
Miscellaneous Reviews
Certain Dark Things — Silvia Moreno-Garcia
2016's Certain Dark Things is Canadian SF author Silvia Moreno-Garcia's second novel.
World reaction to the revelation that vampires really do exist has varied. Some nations opted for cautious, monitored co-existence. Others simply drove the vampires out. Twenty-first century Mexico did both: Mexico was for many years a haven for vampires fleeing their former home nations, but Mexico City was declared a no-go zone for the blood drinkers.
Declaring it was one thing; enforcing it another.
---
Miscellaneous Reviews
A Paradise Built in Hell: The Extraordinary Communities That Arise in Disaster — Rebecca Solnit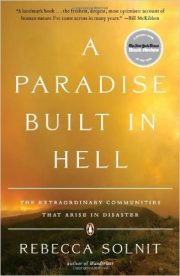 Rebecca Solnit's A Paradise Built in Hell: The Extraordinary Communities That Arise in Disaster is an unmitigated attack on niceness, kittens, and chocolate … or at least on one of the essential assumptions of modern society. Waterboard an author and the odds are they will eventually confess they believe society is perpetually poised on the brink of collapse, requiring only the impetus of some calamity, natural or otherwise, for that collapse to be realized. This is a widespread belief: it informs our entertainment and it shapes public policy.
There is just one problem. It's not actually true. Not the way its believers believe it to be true.
---
Miscellaneous Reviews
Alice Grove — Jeph Jacques
You may know Jeph Jacques as the writer/artist behind the post-singularity slice-of-life webcomic Questionable Content1. He is also the writer/artist behind the post-singularity, post-apocalyptic webcomic Alice Grove. It was an interesting webcomic on which to archive-binge immediately after finishing Hitoshi Ashinano's Yokohama Kaidashi Kikō.
Alice lives out in the country, where nobody will bother her. The townsfolk are fine with this because they are convinced Alice is a witch. A witch who serves and protects the town as best she grumpily can, but still a witch. Alice does her thing and the townies do theirs. It has been that way for a long, long time.
And then the blue-skinned extraterrestrial arrives. The worst kind of extraterrestrial: a tourist. And the worst kind of tourist: an idiot.
---
Note
The Author/Editor list will be back soon; we're having a minor technical difficulty!