Flex — Ferrett Steinmetz
'Mancer, book 1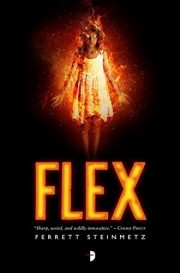 Ferrett Steinmetz' debut novel Flex is the first volume in his 'Mancer trilogy.
The good news is that magic is so easy any idiot can try their hand at it. The bad news is that a lot of idiots do, which is why Europe is a howling wasteland of reality holes and why the authorities react to magical outbreaks with overwhelming force.
Rewriting reality always comes at a cost … but it's not just the 'Mancers who have to pay. Former cop turned investigator Paul Tsabo and his daughter Aliya survived a magically triggered gas-main explosion that left young Aliya horribly burned. Reconstructive surgery will cost a half million dollars 1, which insurance company Samaritan Mutual is loath to pay.
Lucky for Aliya, her father is a bureaucrat par excellence. In fact, he is one of Samaritan's own, using his obsession with paperwork to track down rogue 'Mancers. Less luckily for Aliya, obsession is the stuff of magic. Paul isn't just a bureaucrat. He is a full-fledged bureaucromancer. Paul is afraid it might have been the backlash from his own magic that set off the gas main.
---
Special Requests
The Rook — Daniel O'Malley
The Checquy Files, book 1
Daniel O'Malley's 2012 debut novel The Rook is the first book in the Checquy Files series.
Myfanwy Thomas' memories go back only hours, to the moment when she found herself surrounded by dead assailants. Before that, another Myfanway occupied her body, a Myfanwy whose personality (and more importantly, limitations) were quite unlike the woman who formed from the remnants of that Myfanwy's mind.
If only Myfanwy knew who mind-wiped her. If only the list of suspects were not so long. Or the suspects so powerful.
---
Special Requests
Hospital Station — James White
Sector General, book 1
First published as short stories in New Worlds Magazine , James White's Sector General was by far his most successful series. Of the twenty-one novels and nine collections White published, twelve were Sector General books. 1962's Hospital Station was the very first Sector General fix-up, gathering short works first published in New Worlds.
Strategically located midway between the rim of the parent galaxy and the densely populated systems of the Greater Magellanic Cloud, Sector 12 General Hospital took the resources of hundreds of civilized worlds to create. Not a surprise, since its mission is to provide health care to all beings of all kinds. Even the radioactive ones. Even the ones unfamiliar to the Galactic Federation, races about which nothing is known.
---
Special Requests
Thomas the Rhymer — Ellen Kushner
Ellen Kushner's 1990 Thomas the Rhymer is a standalone reinterpretation of the traditional ballad. It won both the World Fantasy Award and the Mythopoeic Award.
Gavin and wife Meg are odd friends for someone like Thomas. Gavin and Meg live quiet lives on their farm, while Thomas is a wandering minstrel who has, or so he claims, played at court. At first, Gavin and Meg offered the stranger shelter, as good people would. Later, he becomes something of an adopted son to the childless couple.
There are many reasons why the farm holds such an attraction for Thomas, not least of which is young Elspeth, who lives on a nearby farm.
---
Special Requests
Cyteen — C. J. Cherryh
Cyteen, book 1
Grandmaster C. J. Cherryh's 1988 Cyteen is arguably the magnum opus of her Alliance-Union novels. Together with its 2009 sequel Regenesis, Cyteen gives fans their most detailed look at Union, the first system-spanning nation independent of Earth.
Ariane Emory is a Special, one of a handful of geniuses who stand out even in a polity established by the brightest of Earth's star-faring bright. She is one of the people who have made Union what it is: a dystopic state run by interlocking self-selected oligarchies to whom the phrase "checks and balances" is a joke. It is a galactic power utterly dependent on mass-produced, mind-controlled slaves. For Emory, secure in her power as head of the research facility Reseune, life is sweet.
As her frozen corpse proves, even a sweet life can come to an unexpected, abrupt end.
---
Special Requests
No Rest for the Wicked — Kate Ashwin
Widdershins, book 2
Widdershins: No Rest for the Wicked is the second arc in Kate Ashwin's ongoing webcomic. No Rest for the Wicked was published in 82 installments from March 12, 2012 to October 5, 2012.
Detained by police after a friendly altercation at a local pub, Jack O'Malley and his amiable German chum Wolfe face either prison term or—this being a fantasy England with its own Bloody Code—execution. Jack has a very special talent and that makes him potentially valuable to Councilwoman Fairbairn. Valuable enough to buy both Jack and Wolfe out of prison.
Of course, a contract with the councilwoman is involved but if contracts ever said anything important, O'Malley would have learned to read.
---
Special Requests
Oath Bound — Melissa Scott & Jo Graham
Order of the Air, book 5
2016's Oath Bound is the fifth installment in Melissa Scott and Jo Graham's ongoing series, Order of the Air .
History books may later claim World War Two did not properly begin until 1939, but the opening shots are already being exchanged in 1935. Germany is busy re-arming. Italy has revealed the essential meaninglessness of League of Nation ideas as its invasion of Ethiopia continues, unopposed by any save the Ethiopians and a handful of volunteers.
Some volunteers join the struggle of their own choice. Others, like Jerry Ballard and his friends, are recruited.
---
Special Requests
Sleight of Hand — Kate Ashwin
Widdershins, book 1
Kate Ashwin's Widdershins is an ongoing webcomic. It debuted October 2011; Chapter One, Sleight of Hand, covers the first 59 updates.
Sidney Malik has an inexplicable, involuntary magical talent: pickpocketing. This results in his expulsion from Widdershins University. He had not quite completed his magical studies degree before the ignominious boot, hence he is uncredentialed—which limits his career options. He is adept in the mundane sort of stage magic (slight of hand, illusions, and what have you) but the demand for stage magicians is too limited to pay his rent. As he faces eviction, he realizes that the logical thing to do is to confess all to his parents … but he cannot bring himself to admit his failure.
Then he encounters the self-styled Prince of Thieves, Thomas Macavity.
---
Special Requests
Alien Taste — Wen Spencer
Ukiah Oregon, book 1
2001's Alien Taste is the first volume in Wen Spencer's Ukiah Oregon series.

It has been just six years after Ukiah Oregon was found, alone and feral, in the Oregon forest. Once a speechless wolf-child, he has grown into a seemingly normal young man, albeit one with a peculiar gift for tracking. It is a skill his mentor, PI Max Bennet, puts to good use
Tasked with a search for Doctor Janet Haze, an apparent kidnapping victim whose three roommates have been brutally murdered, Ukiah finds himself face to face with the woman he set out to rescue. She has not been kidnapped; in fact, she is the one who hacked her roommates to pieces. Ukiah barely survives his confrontation with Haze. She does not.
Haze was definitely a murderer … but it seems that she was also a victim, driven mad by an insidious attack. An attack, Ukiah will discover, that is intimately connected to the mystery of his own origin.
---
Special Requests
King of Attolia — Megan Whalen Turner
Queen's Thief, book 3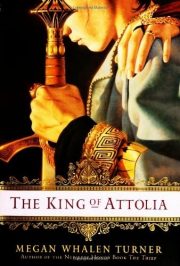 2006's The King of Attolia is the third novel in Megan Whalen Turner's Queen's Thief series.
Marry the queen, become king! Sounds like a great career path. Except it turns out that kings have responsibilities and that their subjects have Expectations with a capital E. And there are enemies eager to take advantage of the King's failure to perform as expected.
---
Special Requests
A Passage of Stars — Alis A. Rasmussen
Highroad Trilogy, book 1
1990's A Passage of Stars is the first volume in Alis A. Rasmussen's Highroad Trilogy. A Passage of Stars was her second published work after The Labyrinth Gate . It is therefore a very early work in a career that has thus far spanned four decades and at least twenty-five novels. Many of you may be familiar with Rasmussen's work under the pen name Kate Elliott.
Lilyaka Hae Ransome is one of the Reft's lucky few, born into comparative wealth rather than poverty. She doesn't see it that way. From her perspective, she's very hard done by indeed. People of her class are expected to put their personal interests aside in the interests of the family and there will be no exception for Lily. So, no more martial arts from a teacher her family is convinced is not the right sort. Instead, she can look forward to an unrewarding career.
That's the plan, anyway. The plan gets tossed out the window when Lily sees her martial arts teacher kidnapped by aliens.
---
Special Requests
The Far Side of Evil — Sylvia Louise Engdahl
Elana, book 2
Sylvia Louise Engdahl's 1971 The Far Side of Evil is a sequel to 1970's Enchantress from the Stars . It is set in the same Anthropology Service Universe as Engdahl's Star trilogy: This Star Shall Abide (1972), Beyond the Tomorrow Mountains (1973), and The Doors of the Universe (1981).
The Academy Director was afraid that Elana would find her first post-graduation assignment an anticlimax after the events of Enchantress from the Stars . Their fears could not have been more misplaced. For Elana, there's nothing anticlimactic about waiting in a tiny cell for an interrogator determined to break her.
---
Special Requests
Borderline — Mishell Baker
Arcadia, book 1
Mishell Baker's 2016 debut novel Borderline is the first in her Arcadia series.
Six months after a failed suicide bid cost her both legs and her film career, embittered auteur and long-term Leishman Psychiatric Center resident Millie Roper receives an unexpected visitor and a more unexpected offer: Caryl Varro wants Millie to work for the Arcadia Project.
Millie does not know Caryl from Adam and she's never heard of the Arcadia Project. Millie's doctor has; her reaction is intriguing enough for Millie to venture outside the safe confines of the Institute and back out into the real world.
Perhaps real world isn't quite the right term.
---
Special Requests
A Brother's Price — Wen Spencer
In the world of Wen Spencer's 2006 A Brother's Price, a world where male babies rarely survive to term, young men of breeding age are a valuable commodity. Jerin Whistler is more valuable than most; he comes from gentry and is good-looking as well. That's lucky for his sisters, who can trade him off to buy a husband of their own!
The body in the creek complicates their plans immensely.
---
Special Requests
Naomi Novik's 2015 novel Uprooted earned her a second Hugo nomination and her first Nebula Award. It has also been nominated for the Mythopoeic Award and the British Fantasy Award. Obviously this is my chance to be the lone voice of reason and taste, disappointed in a popular choice.
The only problem with that strategy is that I enjoyed Uprooted.
---
Special Requests
Grass — Sheri S. Tepper
Arbai, book 1
I'm not a huge fan of Sheri S. Tepper, which is why I've only now read her 1990 novel, Grass. Not even the 1991 Hugo nomination was enough to tempt me. Why read it now? Someone commissioned this review. I apologize if the result isn't quite what they expected.
Grass is the first volume in Tepper's Arbai trilogy; it is set on the planet after which the novel is named. Comparatively few humans call Grass home. There are the bons, self-styled aristocrats, obsessed with hunting and indifferent to the outside world; there are the port city Commoner Town and the friary of Green Brothers. Not much to attract off-world visitors, particularly in an era when the dominant Great Power, Earth-based Sanctity, sees colonies as hotbeds of apostasy and chaos.
But it is of some interest that Grass seems to be the only world where people do not die of a mysterious plague. This not-officially-acknowledged disease seems likely to wipe out the entire human race1. While the theocrats of Sanctity are comfortable with the idea of a mass cull, particularly of heretics, heathens, and non-believers, they would just as soon not see humanity, including themselves, go extinct.
---
Special Requests
The Geek Feminist Revolution — Kameron Hurley
---
Special Requests
On the Edge of Gone — Corinne Duyvis
Corinne Duyvis' 2016 young adult novel On the Edge of Gone is the first of the author's novels that I have encountered. It will not be the last.
There will be spoilers….
Life in mid-21st Century Netherlands with her drug-addicted mother is already challenging enough for autistic teen Denise. She really didn't need to deal with the end of the world as we know it, courtesy of an impending cometary impact1. The Netherlands is a civilized nation and they have not simply abandoned their population to survive or die as change determines. Instead, the government built a network of shelters2.
If only Denise and her mother were in a shelter. If only her mother had not insisted on waiting for Denise's sister Iris to join them before setting out. Now there is no time to make it to their designated shelter.
---
Special Requests
Hello Summer, Goodbye — Michael G. Coney
Pallahaxi, book 1
British by birth, Canadian by choice, Michael Greatrex Coney seems to be comparatively obscure now, a decade after his death. A shame, because he wrote some interesting, unusual books over the course of his career. Perhaps his finest was the coming-of-age novel Hello Summer, Goodbye.
Alika-Drove, native to a world with both extreme obliquity and orbital eccentricity, accepts as normal its annual extremes. It is, after all, the only world he and his people have ever experienced. For Drove, chaffing at the childish restrictions he feels old enough to flout, his odd little world is a mundane backdrop to what will probably be just another boring summer in the isolated fishing community of Pallahaxi.
Pallahaxi is not entirely without promise. It is the home of Pallahaxi-Browneyes, a young woman Drove's age with whom Drove is smitten, a young woman Drove could not work up the courage to address until the previous summer was almost over. But this summer will be completely different!
In fact, if Drove plays his cards right, he may spend the rest of his life with Browneyes.
---
Special Requests
Safely You Deliver — Graydon Saunders
Commonweal, book 3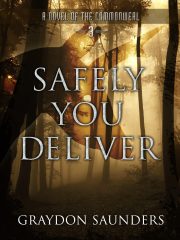 Graydon Saunder's 2016 Safely You Deliver continues the Commonweal series that began with The March North. It is a direct sequel to the second book in the series, A Succession of Bad Days.In fact, a reader could treat both of the later books as two halves of the same story. I generally don't suggest back to back reading for series novels, but in this case it may be necessary.
The Commonweal's experiment turning Edgar, Chloris, Dove, and Zora, a collection of humanoid potential existential threats—what superhero comics and movies might call "persons of mass destruction"—is still on-going. As the book opens, the end point of the experiment is still unclear.
What is clear is that Reems, one of the Commonweal's neighbours, takes the Commonweal's school for PMDs seriously enough to see it as a threat. They are worried enough to launch a pre-emptive attack, in the hopes of killing a potential dragon before it hatches out of the egg.
---
Special Requests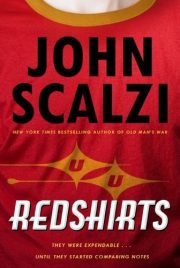 I'm about to review John Scalzi's 2012 standalone Hugo-winner Redshirts and I have a problem. I do not have much of a sense of humour, which makes me a bad fit for a book widely known to be funny. You may therefore expect a review that concentrates on the metaphysical underpinnings of the book than on the jokes. Incidentally, you can also look forward to the first ever James Nicoll review cliff-hanger!
The Intrepid is the Universal Union's flagship, a mighty vessel to which only the most important missions are given, a ship whose command crew have earned the highest accolades. Kudos to seminary-student-turned-ensign Andrew Dahl for warranting such a plum assignment.
There's just one catch.
---
Special Requests
Daughter of Mystery — Heather Rose Jones
Alpennia, book 1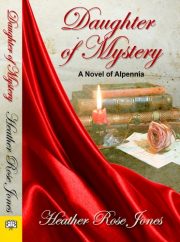 I have known Heather Rose Jones on Livejournal for some years, but only now have I read one of her novels: the 2014 Daughter of Mystery: a Novel of Alpennia. Review tout court: I enjoyed it.
Dutiful relatives took the orphaned Margerit Sovitre into their household, offering her the very best bourgeois upbringing. Despite this, her prospects are not especially golden, save for one thing: the wealthy Baron Saveze is her godfather. Her bourgeois kin have great hopes that he will do something for her; she herself is not inclined to place too much dependence on the Baron's future largesse. He is in delicate health and may not have much of a future in which to bestow largesse.
It comes as a tremendous surprise when the Baron dies and leaves his vast fortune to Margerit. It is even more of a surprise to discover that the Baron has also willed Margerit his armin. An armin is not a what but a who, a personal bodyguard. In the Baron's case, his armin was a young woman named Barbara.
These revelations are not greeted with universal joy by all involved.
---
Special Requests
Archer's Goon — Diana Wynne Jones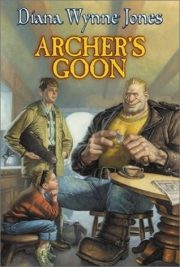 In Diana Wynne Jones' 1984 standalone novel Archer's Goon, thirteen-year-old Howard Sykes returns home to discover a stranger in his home. Rather alarmingly, it's a very large stranger, the very goon of the title, and he's not going anywhere until Howard's father Quentin delivers the two thousand he owes someone named Archer.
---
Special Requests
Forgotten Suns — Judith Tarr
The people who chose my reading for me between 2001 and 2014 only ever sent me Judith Tarr's historical fantasies, so that's the genre I associate with her. 2015's standalone novel, Forgotten Suns, isn't a historical fantasy at all. Instead it's a science fantasy that could almost have been written by middle-period Andre Norton1.
Nevermore used to be home to a civilization. Now only nomads call the world home. Five thousand years earlier, something brought Nevermore's civilization to an abrupt end. Much to the frustration of Aisha's archaeologist parents, on Nevermore for the first real scientific study of the catastrophe, whatever that something was left no hint as to its nature. It is almost as though the inhabitants of the entire planet packed their bags and left … which would seem to be impossible, because the locals had not yet achieved conventional spaceflight.
Results so far: lots of questions and no answers. Consequence: funding for the expedition will probably dry up. Aisha is faced with leaving Nevermore, the only world she has ever called home. Her solution: borrow a small quantity of explosives and carry out her own one-woman exploration.
Of course, it helps if, unlike Aisha, one reads the instructions on the explosives first. One might avoid discovering the hard way that what seemed like a small amount of explosives was in fact gross overkill.
---
Special Requests
The Queen of Attolia — Megan Whalen Turner
Queen's Thief, book 2
I last read Megan Whalen Turner's 2001 novel The Queen of Attolia on January 1st, 2003. I know because I still have the report I wrote for the SFBC. I also know—now—how grateful I should be to Andrew Wheeler for not making my reports generally available1. "Unduly harsh" is the kindest thing I can say about my thirteen-year-old review of The Queen of Attolia.
An explanation but not an excuse: I read Queen without reading The Thief, the book to which it is a sequel. This is fine for some series books (I cannot say my (non)enjoyment of whichever Time of Wheel book I read or that Throne of Games book where people did nasty stuff was in any way affected by not having read the preceding books) but not for this one.
How often can one talented thief, even one as talented as Eugenides, the Queen's Thief of Eddis, sneak into the Queen of Attolia's heavily guarded buildings?
One time more than he can successfully sneak back out.
---
Note
The Author/Editor list will be back soon; we're having a minor technical difficulty!