The Phantom Tollbooth — Norton Juster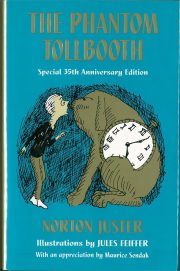 Norton Juster's 1961 The Phantom Tollbooth is a widely loved whimsical children's book that, as it happens, I've not read until now.
There was once a boy named Milo who didn't know what to do with himself—not just sometimes, but always. When he was in school he longed to be out, and when he was out he longed to be in. On the way he thought about coming home, and coming home he thought about going. Wherever he was he wished he were somewhere else, and when he got there he wondered why he'd bothered. Nothing really interested him—least of all the things that should have.
When Milo comes home to find a mysterious package awaiting him, he sees no point to assembling the contents … but he does so anyway. Not assembling them would have been just as pointless and at least putting the strange present together was something to do.
His gift is a tollbooth. A very special tollbooth.
---
Special Requests
Tomoe's Story — Stan Sakai
Usagi Yojimbo, book 22
Tomoe's Story is the 22nd volume in Stan Sakai's long-running Usagi Yojimbo anthropomorphic comic series. It collects six stories featuring Tomoe, a feline woman samurai, who keeps crossing paths with Miyamoto Usagi. Unlike other friends/allies, such as morally unencumbered Gen and ostentatious jerk Inukai, Usagi and Tomoe share many moral perspectives, but their friendship is not without its complications.
---
Special Requests
The Easy Expedition — Moira J. Moore
The Aldench Team, book 1
2016's The Easy Expedition is the first volume in Moira J. Moore's The Aldench Team series.
The kingdom of Amnisa—so far from the gods, so close to the mighty empire of Aldance—is uncultured, weak, undisciplined, beneath contempt. Just ask anyone from Aldance. Amnisan provocation has earned a firm response from Aldance. Given the imbalance in power, the war of just retribution should have lasted weeks.
Three years later, the war is still dragging on. Not to worry; Aldance's High Grade Fourteen Bevlo has a cunning plan.
---
Special Requests
Scout's Progress — Sharon Lee & Steve Miller
Liaden, book 6
2001's Scout's Progress is the sixth book in Sharon Lee and Steve Miller's Liaden science fiction adventure series.
Aelliana Caylon has endured a short but miserable arranged marriage. Now single again, she is promised by her clan head, the Delm, that she will not be forced into another such marriage. Unfortunately, the Delm's word is binding only while she remains in power. Her successor can ignore the promise. And it seems that Aelliana's malevolent brother Ran Eld, will ensure this happens. The Liaden social structure is such that Aelliana has little hope of escape.
But little is not none. Aelliana wields a weapon her corrupt, spiteful brother cannot match: applied mathematics!
---
Special Requests
The Edge of Worlds — Martha Wells
Books of the Raksura, book 4
Although her publisher is presenting it as the first volume of a new two-book arc, 2016's The Edge of Worlds is also the fourth volume in Martha Wells Books of the Raksura series. It takes place in the same Three Worlds setting as her previous Raksura books.
Consort Moon and the other members of the Indigo Cloud court waken simultaneously, disturbed by a shared dream. The meaning of the dream is unclear. Is it merely a rare side effect of the Raksura mental gifts … or is it a portent of doom to come? The court does not have long to ponder this before groundling strangers appear, led by a someone they know: Gold Islander Delin.
---
Special Requests
A Conspiracy of Kings — Megan Whalen Turner
Queen's Thief, book 4
2010's A Conspiracy of Kings is the fourth and most recent (but not final!) volume in Megan Whalen Turner's Queen's Thief series.
The new alliance between Attolia and Eddis, sanctified by marriage between the Queen of Eddis' Thief and the Queen of Attolia, put the neighbouring kingdom of Sounis in a very awkward position. Divided, Attolia and Eddis seemed no match for Sounis. United, they force the King of Sounis and his barons to choose between several unpalatable options: make peace with Eddis and Attolia or ally with the expansionist Mede Empire. One option is humiliating but the other may be national suicide.
There is a third option: civil war.
---
Special Requests
Stay Crazy — Erika L. Satifka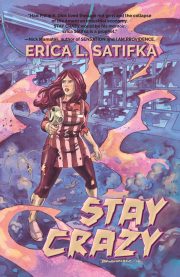 2016's urban fantasy Stay Crazy is Erika L. Satifka's debut novel.
Emmeline "Em" Kalberg has experienced a college-ending mental breakdown. She returns home to Clear Falls, Pennsylvania, where she struggles with what is diagnosed as paranoid schizophrenia. She must also deal with her disappointed mother and her newly devout, very judgmental sister Jackie.
Clear Falls is the quintessential Rust Belt community: independent businesses a fading memory, giant soulless big-box stores offering shabby goods and shabbier jobs to the defeated inhabitants of a once-prosperous town. No big-box store is more soulless than Savertown USA. Of course, it's at Savertown USA that Em's mother finds the reluctant Em a job.
It's a crappy job that pays poorly, but at least Em has voices in her head to keep her company. Well, at least one voice.
---
Special Requests
Fix — Ferrett Steinmetz
'Mancer, book 3
2016's Fix is the third and final (?) volume in Ferrett Steinmetz' 'Mancer series.
Paul Tsabo did his best to talk America into abandoning its draconian anti-'Mancer ways. Alas, Paul is a bureaucratomancer, not a oratoromancer, and his pleas fell on deaf ears. Persuasion having failed, Paul, his family, his friends and their allies dug in for a long campaign aimed at changing America's mind.
What Paul's efforts do succeed at is convincing SMASH (the organization charged with protecting America from the 'Mancer menace) that their conventional methods for dealing with domestic threats isn't going to work with Paul. SMASH is the sort of organization whose answer, when a hammer fails, is to get a much larger hammer.
---
Special Requests
The Witch Family — Eleanor Estes
Eleanor Estes' 1960 The Witch Family is a standalone children's fantasy.
Poor Old Witch! Banished by two interfering seven-year-old girls to the peak of a bleak glass mountain, there to languish for the rest of her days. Why? Because Old Witch is exceptionally wicked,.
There is a ray of hope. Amy and Clarissa left a loophole.
---
Special Requests
The Tree of Souls — Katrina Archer
Katrina Archer's standalone dark fantasy The Tree of Souls is the author's second novel to date 1.
The naked woman has no idea who or even what she is, but the brand on her skin marks her as significant. Adopting the name Umbra, she is offered refuge by a local lord. Umbra may have no memories but she certainly has an enemy, in the form of the necromancer Iril. Her quest to find out why he seeks to harm her draws Umbra into a story centuries old.
---
Special Requests
Flux — Ferrett Steinmetz
'Mancer, book 2
2015's The Flux is the second volume in Ferrett Steinmetz's 'Mancer trilogy.
Paul Tsabo has a remarkable talent for tracking down 'Mancers, the magic users whose talents make them Public Enemy Number One. That's why he's serving on New York City's anti-'Mancer task force. True, lately his hit rate has been off a little, but that is not because he has lost his edge. It's because he lost his enthusiasm for hunting 'Mancers when he realized that he himself is a 'Mancer.
As is his beloved daughter Aliyah.
---
Special Requests
The Motion of Light in Water: Sex and Science Fiction Writing in the East Village, 1957–1965 — Samuel R. Delany
Samuel R. Delany's 1988 The Motion of Light in Water: Sex and Science Fiction Writing in the East Village, 1957–1965 is a Hugo-winning autobiography. The narrative covers the period from the death of his father (when Delany was still a young man) to the point when his career was just starting to take off. He had not yet written the majority of the works for which he is best known.
One might ask why I, a humble middle-brow reviewer, was tapped to review this. I am wondering that myself.
---
Special Requests
Flex — Ferrett Steinmetz
'Mancer, book 1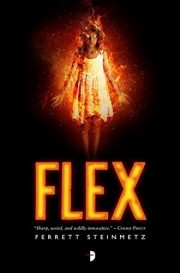 Ferrett Steinmetz' debut novel Flex is the first volume in his 'Mancer trilogy.
The good news is that magic is so easy any idiot can try their hand at it. The bad news is that a lot of idiots do, which is why Europe is a howling wasteland of reality holes and why the authorities react to magical outbreaks with overwhelming force.
Rewriting reality always comes at a cost … but it's not just the 'Mancers who have to pay. Former cop turned investigator Paul Tsabo and his daughter Aliya survived a magically triggered gas-main explosion that left young Aliya horribly burned. Reconstructive surgery will cost a half million dollars 1, which insurance company Samaritan Mutual is loath to pay.
Lucky for Aliya, her father is a bureaucrat par excellence. In fact, he is one of Samaritan's own, using his obsession with paperwork to track down rogue 'Mancers. Less luckily for Aliya, obsession is the stuff of magic. Paul isn't just a bureaucrat. He is a full-fledged bureaucromancer. Paul is afraid it might have been the backlash from his own magic that set off the gas main.
---
Special Requests
The Rook — Daniel O'Malley
The Checquy Files, book 1
Daniel O'Malley's 2012 debut novel The Rook is the first book in the Checquy Files series.
Myfanwy Thomas' memories go back only hours, to the moment when she found herself surrounded by dead assailants. Before that, another Myfanway occupied her body, a Myfanwy whose personality (and more importantly, limitations) were quite unlike the woman who formed from the remnants of that Myfanwy's mind.
If only Myfanwy knew who mind-wiped her. If only the list of suspects were not so long. Or the suspects so powerful.
---
Special Requests
Hospital Station — James White
Sector General, book 1
First published as short stories in New Worlds Magazine , James White's Sector General was by far his most successful series. Of the twenty-one novels and nine collections White published, twelve were Sector General books. 1962's Hospital Station was the very first Sector General fix-up, gathering short works first published in New Worlds.
Strategically located midway between the rim of the parent galaxy and the densely populated systems of the Greater Magellanic Cloud, Sector 12 General Hospital took the resources of hundreds of civilized worlds to create. Not a surprise, since its mission is to provide health care to all beings of all kinds. Even the radioactive ones. Even the ones unfamiliar to the Galactic Federation, races about which nothing is known.
---
Special Requests
Thomas the Rhymer — Ellen Kushner
Ellen Kushner's 1990 Thomas the Rhymer is a standalone reinterpretation of the traditional ballad. It won both the World Fantasy Award and the Mythopoeic Award.
Gavin and wife Meg are odd friends for someone like Thomas. Gavin and Meg live quiet lives on their farm, while Thomas is a wandering minstrel who has, or so he claims, played at court. At first, Gavin and Meg offered the stranger shelter, as good people would. Later, he becomes something of an adopted son to the childless couple.
There are many reasons why the farm holds such an attraction for Thomas, not least of which is young Elspeth, who lives on a nearby farm.
---
Special Requests
Cyteen — C. J. Cherryh
Cyteen, book 1
Grandmaster C. J. Cherryh's 1988 Cyteen is arguably the magnum opus of her Alliance-Union novels. Together with its 2009 sequel Regenesis, Cyteen gives fans their most detailed look at Union, the first system-spanning nation independent of Earth.
Ariane Emory is a Special, one of a handful of geniuses who stand out even in a polity established by the brightest of Earth's star-faring bright. She is one of the people who have made Union what it is: a dystopic state run by interlocking self-selected oligarchies to whom the phrase "checks and balances" is a joke. It is a galactic power utterly dependent on mass-produced, mind-controlled slaves. For Emory, secure in her power as head of the research facility Reseune, life is sweet.
As her frozen corpse proves, even a sweet life can come to an unexpected, abrupt end.
---
Special Requests
No Rest for the Wicked — Kate Ashwin
Widdershins, book 2
Widdershins: No Rest for the Wicked is the second arc in Kate Ashwin's ongoing webcomic. No Rest for the Wicked was published in 82 installments from March 12, 2012 to October 5, 2012.
Detained by police after a friendly altercation at a local pub, Jack O'Malley and his amiable German chum Wolfe face either prison term or—this being a fantasy England with its own Bloody Code—execution. Jack has a very special talent and that makes him potentially valuable to Councilwoman Fairbairn. Valuable enough to buy both Jack and Wolfe out of prison.
Of course, a contract with the councilwoman is involved but if contracts ever said anything important, O'Malley would have learned to read.
---
Special Requests
Oath Bound — Melissa Scott & Jo Graham
Order of the Air, book 5
2016's Oath Bound is the fifth installment in Melissa Scott and Jo Graham's ongoing series, Order of the Air .
History books may later claim World War Two did not properly begin until 1939, but the opening shots are already being exchanged in 1935. Germany is busy re-arming. Italy has revealed the essential meaninglessness of League of Nation ideas as its invasion of Ethiopia continues, unopposed by any save the Ethiopians and a handful of volunteers.
Some volunteers join the struggle of their own choice. Others, like Jerry Ballard and his friends, are recruited.
---
Special Requests
Sleight of Hand — Kate Ashwin
Widdershins, book 1
Kate Ashwin's Widdershins is an ongoing webcomic. It debuted October 2011; Chapter One, Sleight of Hand, covers the first 59 updates.
Sidney Malik has an inexplicable, involuntary magical talent: pickpocketing. This results in his expulsion from Widdershins University. He had not quite completed his magical studies degree before the ignominious boot, hence he is uncredentialed—which limits his career options. He is adept in the mundane sort of stage magic (slight of hand, illusions, and what have you) but the demand for stage magicians is too limited to pay his rent. As he faces eviction, he realizes that the logical thing to do is to confess all to his parents … but he cannot bring himself to admit his failure.
Then he encounters the self-styled Prince of Thieves, Thomas Macavity.
---
Special Requests
Alien Taste — Wen Spencer
Ukiah Oregon, book 1
2001's Alien Taste is the first volume in Wen Spencer's Ukiah Oregon series.

It has been just six years after Ukiah Oregon was found, alone and feral, in the Oregon forest. Once a speechless wolf-child, he has grown into a seemingly normal young man, albeit one with a peculiar gift for tracking. It is a skill his mentor, PI Max Bennet, puts to good use
Tasked with a search for Doctor Janet Haze, an apparent kidnapping victim whose three roommates have been brutally murdered, Ukiah finds himself face to face with the woman he set out to rescue. She has not been kidnapped; in fact, she is the one who hacked her roommates to pieces. Ukiah barely survives his confrontation with Haze. She does not.
Haze was definitely a murderer … but it seems that she was also a victim, driven mad by an insidious attack. An attack, Ukiah will discover, that is intimately connected to the mystery of his own origin.
---
Special Requests
King of Attolia — Megan Whalen Turner
Queen's Thief, book 3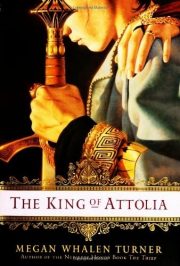 2006's The King of Attolia is the third novel in Megan Whalen Turner's Queen's Thief series.
Marry the queen, become king! Sounds like a great career path. Except it turns out that kings have responsibilities and that their subjects have Expectations with a capital E. And there are enemies eager to take advantage of the King's failure to perform as expected.
---
Special Requests
A Passage of Stars — Alis A. Rasmussen
Highroad Trilogy, book 1
1990's A Passage of Stars is the first volume in Alis A. Rasmussen's Highroad Trilogy. A Passage of Stars was her second published work after The Labyrinth Gate . It is therefore a very early work in a career that has thus far spanned four decades and at least twenty-five novels. Many of you may be familiar with Rasmussen's work under the pen name Kate Elliott.
Lilyaka Hae Ransome is one of the Reft's lucky few, born into comparative wealth rather than poverty. She doesn't see it that way. From her perspective, she's very hard done by indeed. People of her class are expected to put their personal interests aside in the interests of the family and there will be no exception for Lily. So, no more martial arts from a teacher her family is convinced is not the right sort. Instead, she can look forward to an unrewarding career.
That's the plan, anyway. The plan gets tossed out the window when Lily sees her martial arts teacher kidnapped by aliens.
---
Special Requests
The Far Side of Evil — Sylvia Louise Engdahl
Elana, book 2
Sylvia Louise Engdahl's 1971 The Far Side of Evil is a sequel to 1970's Enchantress from the Stars . It is set in the same Anthropology Service Universe as Engdahl's Star trilogy: This Star Shall Abide (1972), Beyond the Tomorrow Mountains (1973), and The Doors of the Universe (1981).
The Academy Director was afraid that Elana would find her first post-graduation assignment an anticlimax after the events of Enchantress from the Stars . Their fears could not have been more misplaced. For Elana, there's nothing anticlimactic about waiting in a tiny cell for an interrogator determined to break her.
---
Special Requests
Borderline — Mishell Baker
Arcadia, book 1
Mishell Baker's 2016 debut novel Borderline is the first in her Arcadia series.
Six months after a failed suicide bid cost her both legs and her film career, embittered auteur and long-term Leishman Psychiatric Center resident Millie Roper receives an unexpected visitor and a more unexpected offer: Caryl Varro wants Millie to work for the Arcadia Project.
Millie does not know Caryl from Adam and she's never heard of the Arcadia Project. Millie's doctor has; her reaction is intriguing enough for Millie to venture outside the safe confines of the Institute and back out into the real world.
Perhaps real world isn't quite the right term.
---