Hiromu Arakawa
Fullmetal Alchemist, book 2
Viz' Fullmetal Alchemist (3-in-1 Edition), Volume 2 includes Volumes 4, 5, 6 of the original Japanese manga [1]. Story and art are by Hiromu Arakawa; English translation by Akira Watanabe; English adaptation, by Jake Forbes and Egan Loo; touch-up art & lettering by Wayne Truman.
The first thing a stranger might notice about Edward Elric is his prosthetic arm and leg. The first thing they might notice about Edward's younger brother Al is his huge metal body. More on those detail later. Both are skilled alchemists. Both are not yet teenagers. Both are members of a military organization, trading service for training.
As Volume 2 of the omnibus edition opens, Al and Ed have gotten their asses soundly kicked by a stabby, shape-shifting woman named Envy and her minions [2]. Death is a distinct possibility.
---
Translation
Orbital Cloud — Taiyo Fujii
Taiyo Fujii's Orbital Cloud is a standalone science fiction thriller. Originally published in 2014 under the title Ōbitaru Kuraudo, Orbital Cloud was translated into English by Timothy Silver. The Haikasoru edition was published in March 2017.
Even in 2020, putting objects into orbit is still the domain of national governments and billionaires. Observation of objects in orbit, on the other hand, is something well within the grasp of the motivated amateurs like Kazumi Kimura's website Meteor News. Meteor News, focused on shooting star prediction, is among the first to notice SAFIR 3's bizarre behaviour.
---
Translation
Dawn — Yoshiki Tanaka
Legend of the Galactic Heroes, book 1
1982's Dawn is the first volume in Yoshiki Tanaka's ten-volume Legend of the Galactic Heroes, a series of space-opera novels . It was translated into English by Daniel Huddleston.
The Milky Way is divided between two great powers. On one side, the autocratic Galactic Empire, with twenty-five billion subjects. On the other, the democratic Free Planets Alliance, with thirteen billion citizens. The Empire refuses to admit the right of people to live outside the Empire and has sought to conquer the Free Planets ever since they discovered the existence of the Alliance. The Free Planets, founded by escaped serfs, are determined to remain free. The balance of power is such that neither side has been able to win a decisive victory. The war has lasted over a century.
Two military geniuses enter the arena.
---
Translation
The Crimson Labyrinth — Yusuke Kishi
2006's The Crimson Labyrinth is a stand-alone thriller by Yusuke Kishi. The English-language edition was translated by Camellia Nieh.
Yoshihiko Fujiki had it all: a high-status job, a wife who adored his salary and company housing. Japan's economic woes stripped all that from Fujiki: first the job, then the wife and finally his home. Only after he loses everything does Fujiki grasp the transience of success.
Living hand-to-mouth in a squalid apartment, it might not seem that Fujiki has much to lose. He knows better. As far as he has fallen, he can still far farther. Fujiki has seen his future and it's bleak.
Waking up stripped of his recent memories in an alien labyrinth still comes as a rude surprise.
---
Translation
Shin Sekai Yori — Yusuke Kishi
I was so annoyed by last week's Translation Review selection (the Shin Sekai Yori manga) that I hunted down a fan translation of the novel on which the manga was based. Should a North American publisher ever print this or another translation, I will review that as well, with an appropriate link. Hint, hint.
Yusuke Kishi's 2008 Nihon SF Taisho Award-winning Shin Sekai Yori is a standalone SF novel.
A thousand years from now, Saki Watanabe and her schoolmates, Satoru Asahina, Maria Akizuki, Mamoru Itou, Shun Aonuma, and Reiko Amano think that they live in a kindly world, one in which they are protected from danger. Fiends and karma demons cannot be current dangers; they are merely the stuff of summertime ghost stories.
Poor coddled teens! They are not safe. Fiends and demons are very real. However, the biggest dangers the children will face will be those created by their own society and their own choices.
---
Translation
Kozue Amano
Aria, book 12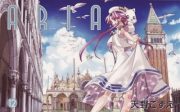 Finally we reach volume twelve of Kozue Amano's Utopian manga Aria. The end.
---
Translation
Kozue Amano
Aria, book 11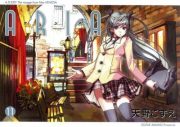 [Due to a technical problem, this is an early draft only]
Volume 11 of Kozue Amano's Utopian manga Aria! The penultimate volume! Will Akari graduate? I cannot say. But someone will….
---
Translation
Kozue Amano
Aria, book 10
Volume 10 of Kozue Amano's manga Aria is very nearly the final volume of the series. With only a handful of volumes to go, will Akari ever graduate? And will she be upset if she does not?

Not graduating is, it seems, a very real possibility.
---
Translation
Once more into the Aria archive. This time is volume 9 of Kozue Amano's utopia: melancholy, longing and deathtraps await!
---
Translation
Invisible Planets: An Anthology of Contemporary Chinese SF in Translation — Ken Liu
Ken Liu's 2016 anthology Invisible Planets: An Anthology of Contemporary Chinese SF in Translation is exactly what it says on the tin: an anthology of contemporary Chinese SF in translation.
---
Translation
Volume 8 of Kozue Amano's Aria brings us back to summer, the season of hidden passions, ghost stories, and death.
---
Translation
Volume seven of Kozue Amano's Aria brings the calendar around to spring once more. With warm weather come unexpected revelations, not least of which is that a surprising number of Aquans struggle with doubt and paranoia.
---
Translation
Another volume of Kozue Amano's Aria; another season of the year. By book six, Akari is passing her second winter on Aqua (formerly Mars), but she is no closer to becoming a full Undine.
---
Translation
Volume 5 of Kozue Amano's Utopian manga Aria sees Akari into her second autumn on Aqua, the water-covered world once known as Mars. She seems no closer to graduating from apprentice Undine to full Undine than she was in the last few volumes; the delay has consequences in this volume.
---
Translation
Volume 4 of Kozue Amano's Aria continues the series' steady progression through the years. It is summer once again in the city of Neo-Venezia. Aria's training will lead her to unexpected destinations and she will discover an elemental acquaintance she had heretofore overlooked.
---
Translation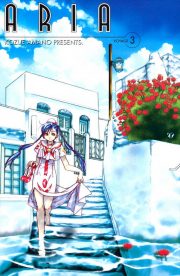 Aria does not speed through the years as quickly as did YKK. Still, by the time volume three of Kozue Amano's Aria opens, a full (Martian) year has passed since Akari first arrived on the no-longer-Red Planet. It is Aquan spring once more. What grim sights and anguished travails await our unfortunate heroine?
---
Translation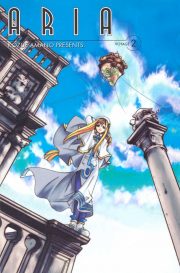 Aqua's year is twice as long as Earth's, but it too has its seasons. In the previous volume, winter was looming. In this one, it arrives. What grim fate awaits poor Akari in this, the second volume of Kozue Amano's Aria?
---
Translation
2002's Volume One of Kozue Amano's Aria picks up where Volume Two of her Aqua left off. Akari Mizunashi is still a would-be Undine on Aqua (a renamed Mars, after human terraforming efforts tapped unsuspected reserves of water). She is still recounting her adventures in a series of letters sent back to a friend on distant Earth.
---
Translation
The second collected volume of Kozue Amano's Aqua was also the second and final volume under that title. In 2002, the series moved from Monthly Stencil to Comic Blade and the title became Aria.
Unfortunately, the only versions of volume two I can access leave out two of the six chapters. James has a sad.
---
Translation
Now for a change of pace from scenery-porn science fiction manga about airplanes. Time for Kozue Amano's scenery-porn science fiction manga about gondolas: Aqua! Specifically, 2001's Volume One.
By the opening years of the 24 th century, humans had terraformed Mars. Owing to a slight miscalculation re the amount of ice present, 90% of Mars is ocean-covered. The colonists have renamed Mars "Aqua" and embraced the possibilities of a largely ocean-covered world.
---
Translation
Hitoshi Ashinano
Kabu no Isaki, book 2
Onwards to volume two of Hitoshi Ashinano's Kabu no Isaki , first published in 2009. The world is big, the planes are small, and Kajika may have lost her shot at Isaki.
---
Translation
Patema Inverted — Yasuhiro Yoshiura
I stumbled across Yasuhiro Yoshiura 2013's animated film Patema Inverted by accident. An image search for something else turned up Patema Inverted 's eyecatching cover. As has been well-established, I am a sucker for a pretty cover.
Patema yearns to find a world beyond the tunnels and corridors she grew up in. One careless step later, and she plummets down into an endless abyss. Luckily for Patema, high school student Age is in the right place at the right time to prevent Patema from falling up into the endless sky.
---
Translation
Children Who Chase Lost Voices — Makoto Shinkai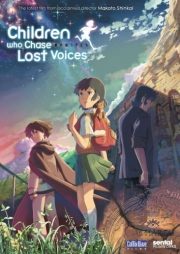 I decided to review Makoto Shinkai's 2011 fantasy film The Children Who Chase Lost Voices for two reasons: the first was that I had just tried and failed to watch Age of Ultron. This DVD's bright cover made me hope that Shinkai's animated work was not filmed in what I have come to think of as Macular Degeneration-Vision (unlike Age of Ultron) . The second reason: the last few pieces I have reviewed have been pretty death-heavy (as has real life, for that matter). Since I had heard this was a particularly Studio Ghibli-esque work, I was hoping for something upbeat.
I was snookered. Sure the film was Studio Ghibli-esque, in the same way that Grave of the Fireflies is Ghibli-esque.
While still a girl, Asuna had to learn how to take care of herself. Her father is dead and her mother works long shifts to support the two of them. Asuna spends hours in the countryside by herself, listening to an archaic radio set, one of the few mementos left by her late father.
One day, she is attacked by a monster.
---
Translation
Yokohama Kaidashi Kikō — Hitoshi Ashinano
Yokohama Kaidashi Kikō, book 14
It has taken me four months, but I have finally arrived at the 14 th (final) volume in Hitoshi Ashinano's Yokohama Kaidashi Kikō. Like the golden age of humans, the series has come to an end.
Cherry blossoms fall
A YKKless night looms
Weasels rip my flesh
---
Translation
Yokohama Kaidashi Kikō — Hitoshi Ashinano
Yokohama Kaidashi Kikō, book 13
Welcome to the thirteenth review of Hitoshi Ashinano's Yokohama Kaidashi Kikō. How happy I am to have read thirteen volumes of this manga! And how sad, because that means after this one there is only one left.
---