Summer in Orcus — T. Kingfisher
T. Kingfisher's 2017's Summer in Orcus is a standalone young-adult portal fantasy.
Determined to keep Summer safe, Summer's mother has spent years protecting the girl from every possible danger, no matter how small. No matter how ludicrous. The weight of her mother's love is a heavy burden.
Perhaps another girl would have turned down the Baba Yaga's offer to give her her heart's desire. Summer accepts and is immediately dispatched to a new, unfamiliar world. One that comes with a quest.

---
Miscellaneous Reviews
DragonQuest — Eric Goldberg, Gerard C. Klug, David James Ritchie, Edward J. Woods, Redmond A. Simonsen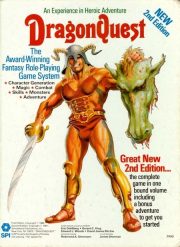 Simulation Publications, Inc.'s 1980 roleplaying game DragonQuest (DQ for short) is the third game in the trifecta of RPGs on which I imprinted some thirty-eight years ago. Principle designers were Eric Goldberg, Gerard C. Klug, David James Ritchie, Edward J. Woods, and Redmond A. Simonsen.
Nota bene: I am cheating a bit because I've long since lost my original box with its three stapled booklets. Instead I wrote this review based on my second edition hardcover, which I acquired after I turned twenty.
My other RPG faves were Runequest and Traveller. DragonQuest was a fantasy RPG, as was Runequest. Traveller was SF. But RQ and Traveller were alike in that they both had extensively developed campaign settings1. DQ, on the other hand, assumed a bog-standard medieval fantasy Europe but failed to flesh it out. This is because DQ was published by a company that was doomed. Doomed, I tell you, doomed.

---
Because My Tears Are Delicious To You
The Warrior's Apprentice — Lois McMaster Bujold
Miles Vorkosigan, book 1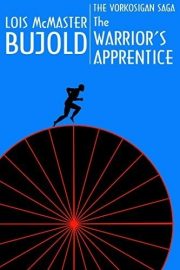 1986's The Warrior's Apprentice was Lois McMaster Bujold's first Miles Vorkosigan novel.
Miles was exposed to a lethal gas while still in the womb and his bones did not develop properly. They are short and brittle. He looks odd; he looks like a mutant, which is a bad thing to be on his native world of Barrayar. During Barrayar's time of isolation from other human-settled worlds, mutants were killed at birth. Modern medicine has better answers, but hatred of muties (and of people who are visibly deformed or disabled) is still ingrained in Barrayaran custom.
Mile must deal with daunting physical limitations. What may be worse is the disdain and even hatred of his fellow Barrayarans, who see his very existence as an affront to all that is right and good.
Miles is an aristocrat; a period (or a lifetime) of military service is customary for Barrayaran aristocrats. Miles wants to be a soldier like his peers. He may lack physical prowess, but he has charm, brains, and cunning. Those sterling qualities are enough to take him to the top in the academic courses at the military academy … but don't help him pass the final physical test. He breaks both legs on an obstacle course. There will be no Vor military career for Miles. What to do with the rest of his life?
---
A Bunch of Bujolds
Tsukumizu
Girls' Last Tour, book 4
2016's Girls' Last Tour Book 4 is yet another instalment of Tsukumizu's post-apocalyptic wanderjahr. Amanda Hayley translated this volume.
It's not at all clear where the automated train buried deep beneath the dying city will take Chito and Yuuri, but at least they will get there quickly.

---
Translation
Under The Pendulum Sun — Jeannette Ng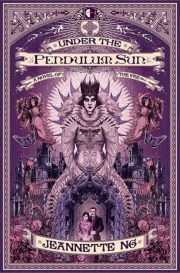 Jeannette Ng's 2017 Under the Pendulum Sun: A Novel of the Fae is a standalone Gothic fantasy novel.
In this world, Captain Cook's explorations found a route to the Faelands. Just as India, China, and other far off lands were eventually forced to grant Englishmen access, so too has Arcadia been opened to traders, diplomats, and others. Change has come into the world beneath the Pendulum Sun.
The Reverend Laon Helstone has travelled to Arcadia hoping to convert the heathen to the one true, Anglican, faith. Was he successful? Impossible to say, as no word has returned from this visitor to the Faerie realm. The silence is ominous, given the fate of his predecessor.
Concerned for his well-being, his sister Catherine Helstone follows in Laon's footsteps.

---
Miscellaneous Reviews
The Tea Master and the Detective — Aliette de Bodard
Aliette de Bodard's 2018 mystery The Tea Master and the Detective takes place in her Xuya universe.
Cashiered following a deep-space calamity, shipmind The Shadow's Child now makes a meagre living brewing medicinal infusions. It claims that these infusions will alleviate the stresses of other-dimensional travel.
Long Chau seems to be just another human client. She is in fact something unusual.

---
Miscellaneous Reviews
Floating Worlds — Cecelia Holland
Cecilia Holland's 1976 Floating Worlds is a standalone SF novel.
Thousands of years in the future, Earth is a polluted wasteland where to venture outside unprotected is to commit suicide. This is a lamentable state of affairs but not one that the anarchists running Earth, for very loose values of running, seem interested in fixing … or able to fix. The Moon, Mars, Venus, the Asteroids, and the Outer Planets, however, are all home to thriving human communities. All of which seem to be managing their affairs, and their environments, more successfully than is Earth.
Paula Mendoza is a doctrinaire anarchist, the last person one would expect to get drawn into government work. She has a rare skill, however, one that is of unique value to Earth's Committee for the Revolution. Paula is multilingual.

---
Because My Tears Are Delicious To You
Blood of the Mantis — Adrian Tchaikovsky
Shadows of the Apt, book 3
2009's Blood of the Mantis is the third volume in Adrian Tchaikovsky's Shadows of the Apt series.
Spymaster Stenwald Maker is tasked with the surveillance of two other city states … but he has only a few trusted agents. He decides to split his forces.
This may or may not be a bad decision. Dividing one's forces often is.

---
A Dozen by Tchaikovsky
Sisyphean — Dempow Torishima
2018's Sisyphean is a standalone work of SF that hovers between a short story collection and a novel. The stories are connected by their setting. It was translated by Daniel Huddleston, written and illustrated by Dempow Torishima.
Welcome to the exciting world of tomorrow, where many of society's institutions appear not to have changed, even if the beings that inhabit them are unfamiliar in form.
---
Translation
Always Human — Walkingnorth
Walkingnorth's Always Human is a hard-SF-romance webtoon.
Intrigued by the oddly modless woman whose path she keeps crossing at the local transport station, VR environment designer Sunati sees the stranger's hayfever attack as a chance to introduce herself. The offer of an appropriate mod (biomanipulating nanotech) does not go as Sunati envisioned. Instead of gratitude, the offer provokes tears.

---
Special Requests
S. J. Morden's 2018 One Way is an SF murder mystery.
Franklin Kittridge accepted that the cost of killing his son's pusher would be a life spent in prison. He expects to die in prison. Imagine his surprise when Xenosystems Operations, the parent company of the corporation that owns Frank's prison, offers him an alternative:
Die on Mars instead.
---
Miscellaneous Reviews
Virgin Planet — Poul Anderson

1959's Virgin Planet is a novel-length expansion of Poul Anderson's 1957 novella of the same name. It takes place in Anderson's Psychotechnic League, a future history he developed from the 1940s to the late 1950s (it is in fact very nearly the final work in that setting.).
Davis Bertram, the young, proud owner of a splendid starship, is determined to make a name for himself. He sets out on a voyage of exploration to the Delta Capitis Lupi system. The system has only recently emerged from a fifty light-year-wide trepidation vortex; the system may or may not be home to an Earth-like world. What is certain is that Davis will be the first man to visit the system.
But not, as he discovers, the first human.

---
Because My Tears Are Delicious To You
Cart and Cwidder — Diana Wynne Jones
Dalemark Quartet, book 1
1975's Cart and Cwidder is the first book in Diana Wynne Jones' Dalemark Quartet.
Osfameron Tanamoril Clennenson — Moril for short — has spent his life travelling from town to town with his father Clennan, mother Lenina, and siblings Dagner and Brid. The family troupe makes a living as travelling entertainers, messengers, and occasional escort for travellers in strife-torn Dalemark. In the course of their travels, they frequently cross from North Dalemark to South Dalemark and back.
A brutal encounter at a lakeside campsite ends their travels.

---
Twelve by Diana Wynne Jones
Will Do Magic For Small Change — Andrea Hairston
Andrea Hairston's 2016's Will Do Magic for Small Change is a historical fantasy. It is set in the same world as Redwood and Wildfire. It won a spot on the 2016 Tiptree Honor List.
Pittsburgh teen Cinnamon Jones deeply mourns her deceased brother Sekou. She treasures a book he once owned, an old leather-bound chronicle. But the book is more than a keepsake: it is magic.

---
James Tiptree, Jr. Award
The Awakened Kingdom — N. K. Jemisin

2014's The Awakened Kingdom is a sequel to N. K. Jemisin's Inheritance Trilogy.
Years after the events of the trilogy, the Gods Itempas and Yeinne make a godling, one who might fit the place left empty by the late Sieh. Being gods, they raise their child Shill in the manner befitting gods, which is essentially to kick the kid out the door and hope for the best.
---
Miscellaneous Reviews
The Gathering — Virginia Hamilton
Justice Trilogy, book 3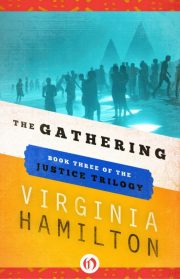 1981's The Gathering is the third book in Virginia Hamilton's Justice Trilogy.
Justice, Levi, Thomas, and Dorian each have their own special power. Apart, they are impressive (even if some of them do not think so), but together they can step through time itself.
That's good, because they have unfinished business in the future.

---
Miscellaneous Reviews
Scream Blacula Scream — Bob Kelljan
Blacula, book 2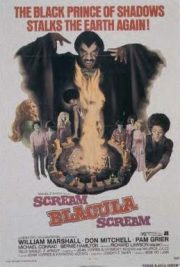 1973's Scream Blacula Scream is a sequel to 1972's cult-classic Blaxploitation horror film Blacula.
Outraged that his voodoo-queen mother has selected talented and powerful Lisa Fortier (played by Pam Grier) as her successor, Willis (Richard Lawson) seeks out a disgraced voodoo master, from whom he purchases the bones of the late Prince Mamuwalde (William H. Marshall). Armed with a modicum of magic, Willis plans to resurrect the vampire and then compel Mamuwalde to take vengeance on Lisa.
Mamuwalde's first act is to drain Willis dry.

---
Because My Tears Are Delicious To You
Kitty Takes a Holiday — Carrie Vaughn
Kitty Norville, book 3
2007's Kitty Takes a Holiday is the third volume in Carrie Vaughn's Kitty Norville series.
Determined to discover her inner writer, werewolf Kitty Norville put her radio show on hiatus and rented an isolated house. Thus far all she has discovered is her inner writer's block.
Fate is kind to Kitty. Kitty will have distractions galore from her writing issues.
---
A Variety of Vaughns
Red Rider's Hood — Neal Shusterman
Dark Fusion, book 2
2005's Red Rider's Hood is the second volume in Neal Shusterman's Dark Fusion series. It is a modern-day retelling of Little Red Riding Hood.
Sixteen-year-old Red allows himself to be distracted by the revelation that classmate Marissa Flowers might have a bit of a crush on him. His befuddlement allows Cedric Soames' Wolf gang to ambush, overpower, and rob Red and his beloved Grandma. Worse, the gang steals Red's beloved Mustang.
Of course, this means war.

---
Miscellaneous Reviews
Bloodchild and Other Stories — Octavia E. Butler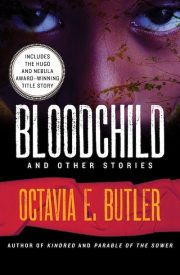 Octavia E. Butler's 1995 Bloodchild and Other Stories is a collection. The particular edition I have is the Open Road Media edition; I know there's an updated version, but I do not know if that edition is different from the one I have in hand.

---
Miscellaneous Reviews
Domino Falls — Steven Barnes & Tananarive Due
Devil's Wake, book 2
2013's Domino Falls is a sequel to Stephen Barnes and Tananarive Due's 2012 novel, Devil's Wake.
Freak Day, when the infected turned on their former friends, neighbours, and family members, ended the comfortable old world. Mere weeks after Freak Day, most humans are either dead or infected. The few untainted survivors struggle to survive and to avoid the infection even one bite can transmit.
Kendra lost her family to Freak Day and its aftermath. No person can survive alone for long; luckily for Kendra, she has five reliable allies in Terry, Piranha, Sonia, Dean, and Darius. Even better, the six teens may have found the refuge they need in Domino Falls, one of the few towns to survive Freak Day.
Or they may not.

---
Miscellaneous Reviews
Black No More: Being an Account of the Strange and Wonderful Workings of Science in the Land of the Free, AD 1933–1940 — George S. Schuyler
George S. Schuyler's 1931 Black No More: Being an Account of the Strange and Wonderful Workings of Science in the Land of the Free, AD 1933–1940 is a satire.
Where other inventors have offered temporary hair straightening and skin-lightening methods, Dr. Crookman provides a service that is both thorough and permanent: any American Negro with fifty dollars can walk into one of Crookman's sanatoria and emerge indistinguishable from the white majority.
The consequences are not long delayed.

---
Because My Tears Are Delicious To You
Barrayar — Lois McMaster Bujold
Cordelia Vorkosigan, book 2
Lois McMaster Bujold's 1991 Barrayar is the second Cordelia Vorkosigan novel. I am going to put off working out how to number it in the grander Vorkosigan Saga and Vorkosigan Universe sequences in the hope that nobody will notice if I am inconsistent1.
The plan: Barrayaran Aral marries Betan Cordelia; Aral retires from active duty and the couple lives on their country estate, there to enjoy long, happy lives.
The outcome: Emperor Ezar Vorbarra is dying and has one last task for Aral. It is a weighty task that will burden Aral and Cordelia for years to come.

---
A Bunch of Bujolds
To Raise a Clenched Fist to the Sky — T. Thorn Coyle
The Panther Chronicles, book 1
To Raise a Clenched Fist to the Sky is the first volume in T. Thorn Coyle's Panther Chronicles.
By 1968 the Summer of Love is a fading memory. Activism has taken centre stage. Nowhere is that more true than in Oakland, where the Black Panthers are working hard to set up community kitchens and raise political consciousness. It's a heady time for Berkeley freshman Jasmine, who is new to the Bay Area.
Jasmine has a lot to offer the Panthers, not least of which is magic.

---
Miscellaneous Reviews
Redemption in Indigo — Karen Lord
Karen Lord's 2010 debut Redemption in Indigo is a standalone fantasy novel.
Paama finally has had it with her gluttonous fool of a husband, Ansige, and leaves. Ansige is unwilling to let her go, and hires master tracker Kwame to find her. Kwame cannot convince Paama to return to Ansige. What he does do is draw the attention of the Djombi to Paama.
These great spirits have vast powers, but they still have need of someone like Paama.

---