Dancers of Arun — Elizabeth A. Lynn
Chronicles of Tornor, book 2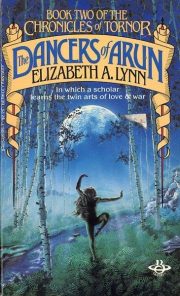 1979's The Dancers of Arun is the second volume in Elizabeth A. Lynn's Chronicles of Tornor.
Morven, Lord of Tornor, was obliged by custom to give his orphaned nephew Kerris a place within his household. Thanks to Kerris' missing right arm, lopped off by a raider when Kerris was a child, that place can never be that of a proper warrior. But the otherwise useless young man does have a talent for letters. The Keep needs its scribes, even if it does not think much of them.
Orphan he may be, but Kerris is not utterly lacking in immediate family members. After years of silence, Kerris' older brother Kel arrives to take Kerris south with him — that is, if that's what Kerris would like. Having little to tie him to rustic Tornor, Kerris chooses to go south.

---
Because My Tears Are Delicious To You
The Scarab Path — Adrian Tchaikovsky
Shadows of the Apt, book 5
2010's The Scarab Path is the fifth volume in Adrian Tchaikovsky's Shadows of the Apt series.
To Collegium's scholars, Khanaphes is a distant enigma. Like Collegium, Khanaphes is a Beetle city. Unlike Collegium and the other Beetle communities of the Lowlands, Khanaphes is oddly backward. It seems to be an ancient city immune to historical processes.
Cheerwell "Che" Maker has a hypothesis. Perhaps Khanaphes' Beetles are Inapts, magical adepts blind to machinery. Cheerwell knows from bitter experience that this is possible, because she is just such an Inapt Beetle. Opening her mind to dangerous dark forces came at a cost: her ability to comprehend even simple mechanical devices.
Still, a chance to improve her magical skills cannot be passed up. She decides to join Collegium's expedition to Khanaphes.
Collegium's second expedition, that is.

---
A Dozen by Tchaikovsky
Rogue Protocol — Martha Wells
Murderbot Diaries, book 3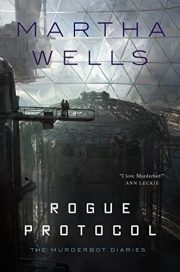 2018's Rogue Protocol is the third book in Martha Wells' Murderbot Diaries series.
Frustrated with the progress of the case against the GrayCris Corporation (more exactly, the lack thereof), rogue SecUnit (self-designated Murderbot) reluctantly heads off to find damning evidence on GrayCris.
Which brings us to certain events in the Milu System.

---
Miscellaneous Reviews
The Thousand Year Beach — Tobi Hirotaka
2002's The Thousand Year Beach is a standalone SF novel by Tobi Hirotaka. The 2018 Anglophone edition was translated by Matt Treyvaud.
The Realm of Summer is a pleasing simulation of perfect summer in a Southern European seaside town, an idealization of something that would no doubt prove sadly flawed in real life. This perfection has been unsullied by human tourists for a thousand years (at least by the inhabitants' virtual clocks), leaving them free to enjoy their lives without the complications humans would inflict.
All things end.

---
Translation
Free Chocolate — Amber Royer
2018's Free Chocolate is an interstellar adventure by Amber Royer.
Humans were surprised and alarmed to discover that alien Krom had infiltrated the Earth, passing themselves off as Homo sapiens. Humans were surprised and enraged to discover that their Krom visitors had used their time on Earth to purchase samples of particularly enticing Terrestrial products: coffee, sugar, tea, vanilla.
By the time technologically backward Earth had adjusted to the new state of affairs and was finally able to market their unique biological materials to the galaxy … earthlings found that the Krom already controlled the market for the sampled goods. In doing so, the Krom had violated no galactic regulations. Just business. Nothing to see here. Humanity could only react with impotent fury and close off Earth to other aliens.
But the Krom overlooked one potential export:

---
Miscellaneous Reviews
Outlaws of the Moon — Edmond Hamilton
Captain Future, book 10
Edmond Hamilton's 1942 Outlaws of the Moon is the tenth volume in the Captain Future series.
Curt "Captain Future" Newton, android Otho, robot Grag, and living-brain-in-a-box Simon "The Brain" Wright ventured into deepest space in quest of a secret that could save dying Mercury. For fear of raising false hopes, Newton kept the mission secret. Enough time has elapsed since anyone has seen Newton and his Futuremen1 that the Solar System has concluded that Newton and his chums must be dead.
On the plus side, this means that the secrets of Newton's hidden lunar laboratory are open to anyone who can find it. Corrupt scientist Wissler is certain he knows how to do so. The Moon is notoriously deficient in useful minerals, including radium. All Wissler needs to do is look for concentrations of radium. Radium in sufficient amounts to show up on a detector must be Captain Future's private radium stock.
Well, no. Wissler does find radium but not where he expects to find it. Captain Future, it seems, lied about the Moon's mineral resources.
[spoiler warning]
---
Because My Tears Are Delicious To You
Charmed Life — Diana Wynne Jones
Chrestomanci, book 1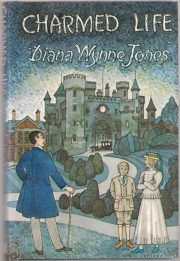 1977's Charmed Life is the first novel in Diana Wynne Jones' Chrestomanci series.
Gwendolen and Eric "Cat" Chant were orphaned by a boating disaster; their survival wasn't due to luck, but to Gwendolen's witchy gifts. Their new guardian, Mrs. Sharp, is a Certified Witch. She does her best to mentor Gwendolen, but her best is not enough for ambitious Gwendolen.
Gwedolen exploits a family connection to senior mage Christopher Chant — better known as Chrestomanci — and cajoles him into inviting her into the Chrestomanci household. Her totally insignificant (in her eyes) brother, Cat, comes as part of the package. No matter. The fame and power to which she is entitled will soon be hers! Or so she thinks.

---
Twelve by Diana Wynne Jones
Voices of a Distant Star — Makoto Shinkai & Sumomo Yumeka
2002's Voices of a Distant Star is a standalone original video animation by Makoto Shinkai. It was later the basis of a 2004 manga by Sumomo Yumeka.
Noboru Terao, obviously (although inarticulately) smitten with fellow student Mikako Nagamine, expects to spend his years in high school mooning after Mikako. Unbeknownst to Noboru, Mikako has volunteered to join the UN Space Army. Mikako will not be attending high school. She will be travelling across the solar system and beyond.
They are determined to remain in contact. Physics will not be their friend in this matter.

---
Translation
The Human Dress — Graydon Saunders
Graydon Saunders's 2018 The Human Dress is a standalone secondary-world fantasy novel.
Braemor lies just south of lands still claimed by the Walking Ice. It's a challenging place for humans. It is barely post-glacial and home to humongous beasts that we might call "dinosaurs." Misfortune or a bad winter could send the community into a death spiral.
So could a deliberate campaign of sabotage.

---
Special Requests
FutureWorld — Steve Perrin & Gordon Momson
Worlds of Wonder, book 3
Steve Perrin and Gordon Monson's FutureWorld was included in Chaosium's 1982 Worlds of Wonder box set. The set also included the 1980 Basic Roleplaying Game rules, SuperWorld (an early superhero RPG), andMagicWorld (rules for fantasy roleplaying, not tied to any specific setting). Here I am reviewing only FutureWorld. The other parts of the box set fall outside the purview of the BRP review series.

---
BRP
The City Under Ground — Suzanne Martel
Suzanne Martel's 1963 The City Under Ground is the Anglophone version of Quatre Montréalais en l'an 3000, also published as Surréal 3000.
The underground city of Surréal1 was founded by survivors of the Great Destruction, survivors who had escaped the disaster by taking refuge in a geothermally powered facility under Montreal's Mount Royal. As far as the founders knew they were the only humans left on Earth. By the year 3000, no visitor from outside Surréal has appeared to contradict this belief. Indeed, so convinced are the inhabitants that the surface of Earth is still uninhabitable that nobody has checked conditions outside for centuries.
A small earthquake changes everything.

---
Because My Tears Are Delicious To You
Kitty and the Dead Man's Hand — Carrie Vaughn
Kitty Norville, book 5
2009's Kitty and the Dead Man's Hand is the fifth volume in Carrie Vaughn's Kitty Norville series.
Faced with conflicting family-and-friend expectations for their impending nuptials, werewolves Kitty Norville and Ben O'Farrell decide to evade the whole brouhaha by fleeing to Las Vegas for a small, private wedding. What could possibly go wrong?

---
A Variety of Vaughns
Noriko Ogiwara & Haruhiko Momokawa
Good Witch of the West, book 1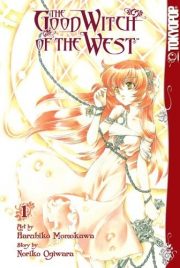 The Good Witch of the West, Volume 1, is the first installment of a manga adaptation of Noriko Ogiwara's eponymous light novel series. Art is by Haruhiko Momokawa. translation is by Barbara Randall Kessell.
Firiel Dee was raised in rustic isolation by her widower father and his elderly retainers, with surly apprentice Rune as her main companion. Accompanied by a more outgoing friend, Firiel decides to attend a ball given by a local count. Just like Cinderella in the fairy tale. Matters develop in a non-Cinderella direction.
---
Translation
Arkfall — Carolyn Ives Gilman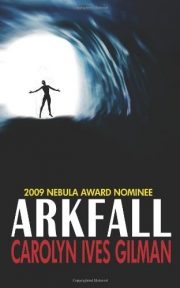 Carolyn Ives Gilman's 2008 Arkfall takes place in her Twenty Planets setting.
An ice-covered ocean world like a scaled-up Europa, Ben has no known native life. Centuries ago, humans settled inside the ice-enclosed Saltese Sea and began their long effort to transform Ben's oceans into living seas. The Saltese Sea, which is surrounded by mountains high enough to reach the icy surface of the world, is small enough that \their Great Work will have a measurable effect within a few generations. The volcanic Cleft of Golconda =provides the energy that will maintain the new ecosystem.
It's a hard and demanding life for the human settlers. They cope by cooperating. Courtesy and non-confrontation are the rule. Loud and self-centred people are judged very harshly by their neighbours.
Osaji's sister Kitani married, leaving Osaji to care for their grandmother Mota. Frail and struggling with dementia, Mota is unable to care for herself. Osaji finds herself resenting Mota (much to her dismay, but there it is) and briefly considers leaving Ben for some other world. But a momentary encounter with a brash off-worlder named Scrappin' Jack brings Osaji back to her senses. Imagine living with a whole world of such rude barbarians!

---
Special Requests
Lamb Will Slaughter the Lion — Margaret Killjoy
Danielle Cain, book 1
2017's The Lamb Will Slaughter the Lion is the first story in Margaret Killjoy's
Danielle Cain series.
Determined to find out why her friend Clay killed himself, Danielle Cain travels to Freedom City. Once a ghost town, the community has been commandeered by idealistic anarchists determined to create a living utopia. Aside from one small detail, they appear to have succeeded.

---
Miscellaneous Reviews
Hour of the Horde — Gordon R. Dickson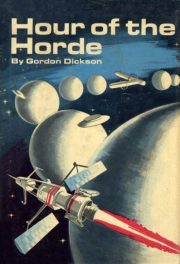 1969's Hour of the Horde is a standalone science fiction novel by Gordon R. Dickson.
Polio cost Miles Vander the use of an arm but did not dent his determination. He insists on recreating himself as an artist. So far, his efforts have come to naught. His doting girlfriend suspects that his surly isolation is to blame. Miles disagrees.
The looming alien invasion may make these differences of opinion moot.
---
Because My Tears Are Delicious To You
The Vor Game — Lois McMaster Bujold
Miles Vorkosigan, book 2
1990's The Vor Game is the second of Lois McMaster Bujold's Miles Vorkosigan novels.
Four years after the events of The Warrior's Apprentice, Miles graduates from the Academy. Given his personal history and family connections, one might expect him to be given some cushy assignment. Instead he is dispatched to serve as weatherman on Kyril Island, whose isolation is matched only by the region's unfitness for human habitation.
Still, how much trouble could one fresh graduate get into a place so sparsely peopled as Kyril Island?

---
A Bunch of Bujolds
Cho Seok's Moon You is a post-apocalyptic webtoon.
An optimist would say the mission to save the Earth was 10/11th successful. A cynic would say that 1/11th failure was enough to doom civilization as we know it. Moon Yoo would say that he got left behind when the other stalwarts returned from the Moon to the Earth and so the whole end of the world thing is pretty academic from his perspective.

---
Miscellaneous Reviews
Feather Bound — Sarah Raughley
Sarah Raughley's 2014 debut novel, Feather Bound, is a standalone young-adult urban fantasy.
The Davis sisters have survived a difficult childhood (no thanks to their alcoholic father). Each sister has reacted in different fashion. Ericka marries for money; Adriana works to earn enough money that she need not depend on her dad; Deanna is left behind, stuck with the responsibility for the feckless father.
It's Deanna who attends the funeral of their father's estranged best friend, magazine magnate Ralph Hedley. She is present when Swan-activist Shannon Dalhousey accuses Hedley of being a feather-stealer. She is also there to witness the surprising appearance of Hyde Hedley, Ralph's son (he was believed to be dead).

---
Miscellaneous Reviews
Space Opera — Catherynne M. Valente
Catherynne M. Valente's 2018 Space Opera is a standalone space opera.
In the not too distant future, humanity finds itself invited into the Warm Fuzzy Galactic Family, an interstellar community of beings who agree to recognize each others' personhood. There are a couple of tiny catches: membership is not automatic and failing the test will result in the total extermination of the human race. Also, the test is mandatory.
The good news is that the test is fairly straightforward: participate in the Metagalactic Grand Prix, a galaxy-wide musical contest. Humanity's champions don't even have to win, just avoid coming in dead last. The aliens are even kind enough to provide a list of musicians they feel have a chance of not abjectly losing. It's too bad that everyone on that list is dead.
Well, not quite everyone.

---
Space Opera That Doesn't Suck
Topper — Thorne Smith
Topper, book 1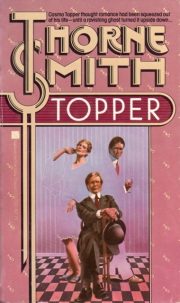 Thorne Smith's 1926 supernatural farce Topper is the first (and best) of two Topper novels.
Many would say that middle-aged Cosmo Topper has a perfect life. Marriage, job, life in the suburbs, pet cat: Cosmo has it all. If he were not far too repressed to be honest, Cosmo would explain that he feels crushed under the weighty bricks of conformity. Even the simple pleasures he might otherwise enjoy are robbed of their joy by the context in which he experiences them.
Cosmo does what so many middle-aged men have done in his position: he buys a flashy car. The car used to belong to George and Marion Kerby, who lived the scandalous life Cosmo might have lived had he not feared the disapproval of society and his long-suffering wife. Cosmo can at least have their car, rebuilt after the wreck that ended the Kerbys' lives.
To Cosmo's tremendous surprises, he gets the Kerbys as well. Or at least their ghosts.

---
Because My Tears Are Delicious To You
Salute the Dark — Adrian Tchaikovsky
Shadow of the Apt, book 4
2010's Salute the Dark is the fourth book in Adrian Tchaikovsky's Shadows of the Apt series.
Despite the efforts of Stenwald Maker, niece Cheerwell, ward Tynisa, and the rest of Stenwald's agents, the war against the Wasp Empire is not going well for the city-state of Collegium and its allies.

---
A Dozen by Tchaikovsky
Samurai Gourmet — Michihito Fujii, Mamoru Hoshi, Masayuki Kusumi, Yoshihiro Taguchi, Kiyoto Wada
In Netflix's 2017 Samurai Gourmet, Takeshi Kasumi faces a challenge for which he has no easy answer. Having retired at age sixty, what is he to do with all his time?

---
Translation
The Black Gods Drums — P. Djeli Clark
P. Djeli Clark's 2018 The Black God's Drums is a steampunk fantasy novella.
Orphaned at ten, Jacqueline renamed herself "Creeper" and embraced life on the streets of the free city of New Orleans. An independent city state since the British, French, and Haitian airships forced peace on the Union and Confederacy, the city is neutral ground where all nationalities can mix … and conspire against each other.
Little noted by adults, thirteen-year-old Creeper believes what she has overheard will earn her a place on Ann-Marie St. Augustine's airship Midnight Robber.

---
Miscellaneous Reviews
I, Martha Adams — Pauline Glen Winslow
1984's I, Martha Adams is a standalone Cold War thriller by Pauline Glen Winslow.
Former president Ronald Reagan is dead, as is George H. W. Bush; they have been slain by a terrorist bomb. The current President Carmody has allowed Reagan's visionary defence programs to languish. Now America will pay the price.
Carmody's 7:30 AM broadcast informs Americans that while they slept, America was defeated. Two and a half hours earlier, Soviet missiles based in Panama and Cuba annihilated America's nuclear defenses. The attack was followed with an ultimatum: total surrender of the United States to the New Order or total annihilation of the civil population with dirty nuclear bombs. One half hour before his broadcast, the US surrenders.
The immediate consequence for Martha is widowhood. Her husband Josh was incinerated (along with the rest of Grand Forks) when Russian warheads destroyed the nearby ICBM silos. Worse is to come.

---