The Changeover — Margaret Mahy
Margaret Mahy's 1984 The Changeover is a standalone YA fantasy novel.
Schoolgirl Laura Chant lives with her divorced mother Kate and her younger brother Jacko. One morning she wakes with a premonition that life in the quiet Christchurch suburb of Gardendale is about to change for the worse. She knows from past experience that her premonitions are trustworthy. However, there seems to be nothing she can do to prevent whatever fate is looming. She must carry on as normal and hope for the best.
She does not get the best.
---
Special Requests
The Caves of Steel — Isaac Asimov
1954's The Caves of Steel is the first of Isaac Asimov's novels that feature Elijah Bailey and R. Daneel Olivaw.
Elijah is a human. R. Daneel is a robot. They fight crime!
---
Because My Tears Are Delicious To You
The Girl From Everywhere — Heidi Heilig
The Girl From Everywhere, book 1
2016's The Girl From Everywhere is the first volume in Heidi Heilig's YA time-travel series, The Girl From Everywhere.
Sixteen-year-old Nix Song has seen more of the world than most people. She has spent most of her life on her father's ship, the Temptation, sailing the seven seas … and the timestream. Her father, Slate, is a Navigator. His special powers mean that all of recorded history is within reach.
There is of course a catch.
---
Doing What the WFC Cannot Do
Velocity Weapon — Megan E. O'Keefe
Protectorate, book 1
Megan E. O'Keefe's upcoming 2019 Velocity Weapon is the first volume in her projected Protectorate series.
In the 22nd century, Alexandra Halston's invention of Prime gave humanity the Casimir Gates and access to the stars. By the 36th century, Prime spans many systems. Prime's Keepers carefully maintain the network and all that is necessary to create more gates, in return for which they impose tariffs on the goods shipped from system to system. Everyone who matters agrees that this is a just arrangement — save for the planet of Icarion.
---
Space Opera That Doesn't Suck
The Wandering Earth — Frant Gwo
2019's The Wandering Earth (Chinese: 流浪地球) is a 2019 Chinese film adaptation of Liu Cixin's novella of the same name (which I have not read). It is directed by Frant Gwo and stars Qu Chuxiao, Li Guangjie, Ng Man-tat, Zhao Jinmai, Wu Jing, and Qu Jingjing. A major hit in China, it was stealth-released on Netflix on May 6, 2019.
Bad news for Earth! The Sun is transitioning from a main sequence star to a red giant five billion years ahead of schedule. Life within the Solar System will soon become impossible.
There's an alternative to extinction, at least for humanity. Simply move the Earth to the Alpha Centauri system.
---
Translation
Wild Cards — George R. R. Martin
Wild Cards, book 1
1987's Wild Cards is the first volume in George R. R. Martin's ongoing superhero shared-universe project of the same name.
Here's a bird's-eye view of the anthology (i.e. the table of contents).
---
Big Hair, Big Guns!
Mindswap — Robert Sheckley
Robert Sheckley's 1966 Mindswap is a standalone SF comedy.
Interplanetary travel is prohibitively expensive. Interstellar travel even more-so. Bad news for Marvin Flynn, a small town young man with the travel bug.
Even though travelling in person is far too expensive for Marvin, there exists an affordable alternative. Simply dispatch his mind to some waiting body on a far-off world. What could go wrong?
---
Because My Tears Are Delicious To You
Natural Selection — Malinda Lo

2013's Natural Selection is an ancillary work to Malinda Lo's Adaptation1.
Amber was born on distant Kurra before moving with her parents to Earth. She looks human enough to pass without notice. None of Amber's schoolmates know that an alien is among them2.
This piece describes two rites of passage: one on Kurra (obligatory for Imrians like Amber) and one on Earth (not a formal rite of passage, but nonetheless a formative experience for Amber). Amber's Earth experience takes place two years before her Kurra rite.
---
Doing What the WFC Cannot Do
Kim Eun-hee & Kim Seong-hun
Kingdom, book 3
Kingdom is a 2019 South Korean television series. It was written by Kim Eun-hee and directed by Kim Seong-hun. There are six episodes in season one, of which this is the third. The primary cast are (from Wikipedia):
Prince Yi Chang, crown prince of Great Joseon, is trying to discover just what is going on with his father, the king, who is secluded in his palace. The prince is opposed by his stepmother and her Haewon Cho clan. As a result, the prince is now a wanted man. Oh, and the kingdom is threatened with zombie apocalypse.
---
Translation
The Barrow Will Send What It May — Margaret Killjoy
Danielle Cain, book 2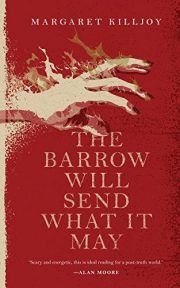 2018's The Barrow Will Send What It May is the second entry in Margaret Killjoy's Danielle Cain series.
Danielle and her new chums Brynne, Doomsday, Vulture, and Thursday survived the events in The Lamb Will Slaughter the Lion, the previous book in the series. However, they find themselves suspected of causing (rather than surviving) the pile of dead police in the town of Lamb. Rather than try to convince skeptical detectives that the dead cops were slain by a demon, the quintet have hit the road. Perhaps they can become itinerant demon-hunters?
America's great highway network will whisk them away from suspicion. It's a fine plan. Too bad Danielle manages to total the car near Pendleton, Montana.
---
Miscellaneous Reviews
Beyond This Horizon — Robert A. Heinlein
1948's Beyond This Horizon1 is a standalone novel by Robert A. Heinlein.
The development of workable methods for genetic selection sparked two genocidal wars. But all that's in the past. The world has recovered. The Americas are practically a utopia. A long-running program aimed at creating the perfect human is close to completion. The latest iteration is Hamilton Felix. He would be the perfect man save for two flaws:
He could have a perfect memory (or so think the program planners2).

He refuses to marry and produce the child who would be the perfect human.
Oh, and his pal Monroe-Alpha has committed a spot of treason. We'll get to that later.
---
Because My Tears Are Delicious To You
Schismatrix — Bruce Sterling

Bruce Sterling's 1985 hard SF novel Schismatrix is the sole novel set in his Shaper/Mechanist universe, a setting also featured in handful of short pieces1.
The human colonies of the Solar System are divided into two factions: the Shapers, who want to enlist biology in reshaping humanity, and the Mechanists, who rely on technology. The two sides loath each other and are engaged in an increasingly tense cold war. It isn't clear which camp will shape humanity's future.
Abelard Lyndsay, born to a high-ranked family in the Mare Serenitatis Circumlunar Corporate Republic, was sent as envoy to the Shaper city-states in the Rings of Saturn. This was during a brief period when the Republic was flirting with a Shaper alliance. Once the lunar aristocrats allied with the Mechanists, Abelard found himself an embarrassing relic of a failed policy.
Already radicalized by the Shapers, Abelard turned to extreme political gestures. Upshot: Abelard's lover Vera dead, and Abelard an exile from his former home.
---
Big Hair, Big Guns!
The River Twice — Brenda W. Clough
Edge to Center, book 1
2019's The River Twice is the first volume in Brenda W. Clough's Edge to Center series.
It's good to be the king! And if one lives in a purported republic with a dubious record of democratic transfer of power, it's good to be the grand-daughter of the President. Calla Ang's grandmother is Madame President of Jalanesia and (save for the tragic deaths of Calla's parents when she was but a child) Calla's life has so far been prosperous. Her future as the likely inheritor of her grand-mother's position seems secure.
Her comfortable life is disrupted by the sudden appearance of a bewhiskered Englishman.
---
Doing What the WFC Cannot Do
Gangsta, Volume 1 collects the first five issues of Kohske's eponymous SF crime manga. First published in 2011, the English language edition came out in 2014.
Ergastulum is a hive of scum and villainy, populated by monsters and victims. The cops are crooked, the criminals are in charge, and life is for the most part unpleasant.
Worick Arcangelo and Nicolas Brown are handymen. They handle problems the other people of Ergastulum are unwilling or unable to face.
---
Translation
Atlas Alone — Emma Newman
Planetfall, book 4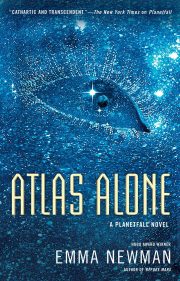 2019's Atlas Alone is the fourth installment in Emma Newman's Planetfall series.
Humanity's second crewed starship is on its way to the distant star system pioneered by the Pathfinder. The 10,400 people on board Atlas 2 have a twenty-year voyage ahead of them1, which raises the question of how they are to fill their time. Dee knows exactly how she will spend it.
(spoilers for After Atlas)
---
Miscellaneous Reviews
Katsuhiro Otomo's manga Akira was serialized in Young Magazine from 1982 to 1990. The first English translation was published by Marvel Comics' Epic line from 1988 to 19951. The US edition pioneered the use of computer colourization, courtesy Steve Oliff. For many North Americans this was their introduction to manga.
Viktor Haag was kind enough to lend me his Epic collection.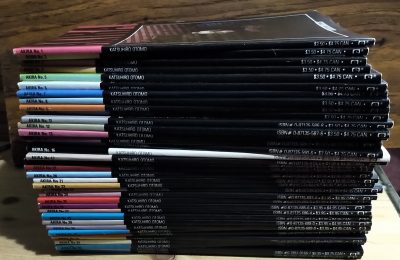 Since I am not sure how the Epic volumes map onto the current version from Dark Horse, I decided to review the entire, 2000+ page work as a whole.
All together now:
"
TETSUOOOO

!"



---
Big Hair, Big Guns!
Identified — Gerry Anderson, Sylvia Anderson, Tony Barwick
UFO, book 1
1970's "Identified" was the first episode of the TV series UFO. The series was helmed by Gerry and Sylvia Anderson, with Reg Hill. The episode was written by the Andersons and Tony Barwick and directed by Gerry Anderson. Unlike previous Anderson efforts, characters were portrayed not by puppets, but by live actors.
Humanity has incontrovertible proof that aliens have discovered Earth and are taking a close interest in humans. This interest outs itself whenever the aliens notice humans noticing them; the luckless humans are killed. One such attack on a highly placed colonel (played by Ed Bishop) moves the top powers of the day (US, USSR, etc.) to adopt a new strategy: secrecy. They'll form a task force that will covertly investigate the aliens.
Ten years later…

---
Because My Tears Are Delicious To You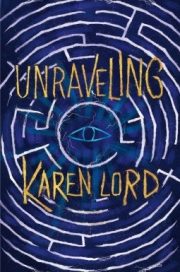 Karen Lord's 2019 Unraveling is a standalone fantasy.
Forensic therapist Dr. Miranda Ecouvo put detectives on the trail of a serial killer. He's caught and convicted. But it's not clear why the killer killed or who put him up to it. Human justice cannot solve this. But someone else can.
---
Doing What the WFC Cannot Do
The Undefeated — Una McCormack
Una McCormack's 2019's The Undefeated is a science fiction novella.
After a long and successful career, famed journalist Monica Greatorex returns to Sienna, the backwater world from whence she came. She chooses an interesting time for her return. There have been great changes on Sienna. She observes and reflects.
---
Miscellaneous Reviews
Voyage From Yesteryear — James P. Hogan
James P. Hogan's 1982 Voyage from Yesteryear is a standalone science fiction novel.
Faced with seemingly inevitable nuclear war in the near future, the North American Space Development Organization and its Asian partners decided to take the bold step of re-purposing the SP3 interstellar probe. Five years before its 2020 launch, the probe was redesigned to deliver human life to Chiron, the habitable world in the Alpha Centauri system. But there's a catch.

---
Big Hair, Big Guns!
New Suns: Original Speculative Fiction by People of Color — Nisi Shawl
Nisi Shawl's 2019 New Suns: Original Speculative Fiction by People of Color is, unsurprisingly, an anthology of original speculative fiction by people of color. It takes its title from an Octavia E. Butler quotation:
"There's nothing new under the sun, but there are new suns."
The anthology includes seventeen stories plus ancillary material. As a whole it is worth tracking down and reading, but the following are of particular note.
---
Doing What the WFC Cannot Do
Wasp — Eric Frank Russell
Eric Frank Russell's 1957 Wasp is a standalone science fiction novel.
Terra and the Sirian Combine have been at war for a year. Humanity enjoys a significant technological edge, but the Sirians outnumber the Terrans ten-to-one. The solution, as far as Terra's High Command is concerned, is to adopt tactics in which the weight of numbers cannot come into play.
James Mowry is given an offer he cannot refuse. He is to become a wasp.
---
Because My Tears Are Delicious To You
Yusuke Murata & ONE
One-Punch Man, book 3
Yes, this is very late. I keep over-scheduling myself. I have only myself to blame.

One-Punch Man Volume Three collects Punches (issues) 16 through 20 (plus some bonus material) of ONE and Yusuke Murata's ongoing manga.
Saitama is super-fast, super-strong, and super-invulnerable. He is also super-obscure because neither Saitama nor Saitama's acolyte Genos have ever bothered to register with the Hero Association. Time to fix that.
---
Translation
The Wizard Children of Finn — Mary Tannen
Finn, book 1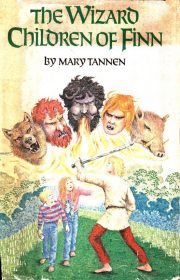 Mary Tannen's 1981 time-travel juvenile fantasy The Wizard Children of Finn is the first of her Finn novels.
Sent off by their actress mother for a summer stay at their uncle Rupert's estate, eleven-year-old Fiona and eight-year-old Bran McCool foresee a summer of boredom. They'll miss their mother; their uncle will not be in residence. The children have only the company of two eccentric old women whom they barely know, Lia and Bovmall.

---
Special Requests
Starfarers — Vonda N. McIntyre
Starfarers, book 1
1989's Starfarers is the first volume in Vonda N. McIntyre's Starfarers Quartet.
The near approach of a cosmic string1 offers humanity superluminal access to Tau Ceti. A light-sail spaceship can hitchhike on the string to explore the nearest star system. A consortium of nations builds the Starfarer as a traveling university, one that will send back dividends of new knowledge that will more than pay for its creation.
That is, if it is allowed to do what it is designed to do. Some of its government supporters have other notions of best use.
---