Spanish Mission — K. B. Spangler
Hope Blackwell, book 2
2018's Spanish Mission is the second volume in K. B. Spangler's Hope Blackwell series of novels1.
Seeking to distract her cyborg friend Mary "Mare" O'Murphy from the disquieting revelation that ghosts exist and are quite visible to Enhanced Americans, Hope Blackwell takes Mare and their talking koala pal Speedy on a road trip to Vegas.
This bold gambit sets Hope and Mare up for an encounter with paranormal impresario Eli Tellerman of the reality show Spooky Solutions [2]. Tellerman knows Hope for the psychic that she is. In short order he manages to strong-arm her into joining his latest venture.
It's an exciting foray into the desert in search of ancient treasure, pirate ships lost in an arid wasteland, and (of course) ghosts.

---
Miscellaneous Reviews
Adachitoka
Noragami, book 7

Adachitoka's Noragami Volume 7 collects issues 24 to 27 of the adventures of the stray god Yato. The manga was first published in 2013; the English translation dates from 2015. Included are:
24. "Always" (ずっと一 "Zuttou")

25. "When Sleeping Gods Are Provoked" (触った神の祟り "Sawatta Kami no Tatari")

26. "How to Worship a God" (神様の祀リ方 "Kamisama no Matsuri Kata")

27. "Do and Due" (業と業 "Gyō to Gō")
Yato is a god, but even a god suffers when snubbed by a friend.
---
Translation
No Man of Woman Born (Rewoven Tales) — Ana Mardoll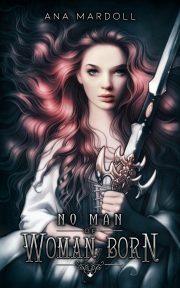 2018's No Man of Woman Born (Rewoven Tales) is a single-author collection by Ana Mardoll.
Thanks to the place Tanith Lee's Red as Blood has in my heart, I am always up for fairy tales re-imagined in a new light. Of course, this is sometimes not fair to new collections; I tend to measure them against a collection I like very much. Mardoll's collection passes the test.

---
Miscellaneous Reviews
The War in the Air — H. G. Wells
H. G. Wells' 1908's The War in the Air is a standalone near-future (from the perspective of 1908) military thriller.
The inevitable march of progress has transformed bucolic Bun Hill into a thriving London suburb. Greengrocer Tom Smallways views this change (and change in general) with the deepest suspicion. His brother Bert, on the other hand, is eager to embrace change, particularly of the sort that involves Bert becoming wealthy.
Middling bright and uninhibited by any particular sense of ethics, Bert has thus far been denied the riches to which he is so clearly entitled, riches that would enable him to marry the charming Edna. When fate drops into Bert's lap the chance to make a fortune by selling stolen military information to the Germans, patriotism inhibits Bert not at all.

---
Because My Tears Are Delicious To You
The Lives of Christopher Chant — Diana Wynne Jones
Chrestomanci, book 2
1988's The Lives of Christopher Chant is the fourth book published in Diana Wynne Jones' Chrestomanci series. It is set some decades before Charmed Life.

Christopher Chant was unlucky when issued a family. His father is a well-meaning upper-class bumbler, and his mother is a grasping social climber who is gravely disappointed in her husband. Although they cohabit, Mr. and Mrs. Chant aren't on speaking terms. Since raising Christopher is Mrs. Chant's domain, Christopher barely knows his father.
Two developments reshape Christopher's life. One is that his father manages to lose the family fortune. The second …

---
Twelve by Diana Wynne Jones
They Promised Me The Gun Wasn't Loaded — James Alan Gardner
The Dark and the Spark, book 2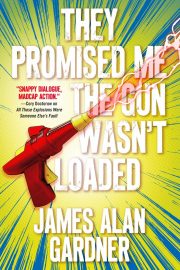 2018's They Promised Me The Gun Wasn't Loaded is the second novel in James Alan Gardner's The Dark and the Spark1 series. It is a sequel to 2017's All Those Explosions Were Someone Else's Fault.
University of Waterloo students Jools, K2, Miranda, and Shar were victims of a classic Mad Scientist's lab accident, which, far from killing them, imbued them all with Light-derived superhuman abilities. Each so-called Spark gained a different set of powers; each adopted a different code-name to reflect their new identities (Ninety-Nine, Zircon, Aria, and Dakini). All of them were drafted into the on-going struggle between the Darklings (the one percent who control society) and the Light.
The Light opposes the vampires, demons, wraiths, and other Darklings. That doesn't mean the Light is good, as Jools/Ninety-Nine is painfully aware.

---
KW Science Fiction and Fantasy
Krrish — Rakesh Roshan
Krrish, book 2
2006's Krrish is the second film in the Krrish franchise (which includes at least five films, a television show, television movies, a comic, and a computer game, and probably more tie-ins I've missed). It was written, directed, and produced by Rakesh Roshan. It stars the producer's son Hrithik Roshan1 as the title character, as well as Priyanka Chopra, Rekha, and Naseeruddin Shah.
As soon as orphan Krishna Mehra's super-intelligence begins to show itself, his doting grandmother Sonia (Rekha) whisks him away to a remote village in northern India. Krishna's father Rohit had similar abilities, which led to tragedy when an evil man tried to exploit him. Sonia is determined not to lose her grandson as she lost her son and daughter-in-law.
Sonia can flee the world but that won't keep the world from coming to that remote village.

---
Miscellaneous Reviews
Vicious — V. E. Schwab
Villains, book 1
2013's Vicious is the first volume in V. E. Schwab's Villains series.
ExtraOrdinary (EO) people are the stuff of rumours. That doesn't stop ambitious college students Eli and Victor from trying their hand at artificially inducing EOs. The key seems to be near-death experiences, which are easy enough to orchestrate provided one has no professional ethics and less caution.
EOs do exist and Eli and Victor's method does work. Which is how Eli and Victor got their powers, why Victor spent a decade in prison, and why as the book opens Victor and his new friend Sydney are digging up a dead body.

---
Miscellaneous Reviews
The Man of Bronze — Lester Dent
Doc Savage, book 1
Lester Dent's 1933 The Man of Bronze is the first volume in the Doc Savage series. It was published under the house name Kenneth Robeson and was followed by 180 further adventures (penned mostly by Dent) until the title was cancelled in 1949. There have been further sequels and adaptations, as detailed here.
Trained from birth to be a paragon of human achievement, Clark "Doc" Savage is the Man of Bronze: a gigantic, extraordinarily talented genius who is monumentally wealthy as well. He uses his abilities to better the world.
Clark "Doc" Savage returns from a sojourn in his arctic Fortress of Solitude to face a tragedy. In his absence, his father, Clark Savage senior, has died of a mysterious illness. No sooner does Doc convene with his five chums on the 86th floor of a skyscraper to discuss the matter than a mysterious red-fingered sniper tries to murder Doc. Something is up!
---
Because My Tears Are Delicious To You
Dreams of the Golden Age — Carrie Vaughn
After the Golden Age, book 2
2014's Dreams of the Golden Age is the second volume in Carrie Vaughn's After the Golden Age series.
Anna West is the grand-daughter of two of Commerce City's greatest superheroes (Spark and the late Captain Olympus) and the daughter of Dr. Mentis (telepath). Anna's mother Celia and Anna's sister Bethy dodged the superpower bullet, but Anna was not so lucky. She has a bona fide extraordinary ability. Like her four friends (Teddy, Sam, and twins Teia and Lew) she has the makings of a genuine superhero.
If only her power didn't seem to be useless.

---
A Variety of Vaughns
A Real Sky — tori_siikanen
tori_siikanen's A Real Sky is an unfinished novel, readable at Archive of Our Own. It attempts to give Tanith Lee's Don't Bite the Sun and Drinking Sapphire Wine duology a concluding volume.
Tomorrow, and tomorrow, and tomorrow,
Creeps in this petty pace from day to day,
To the last syllable of recorded time;
And all our yesterdays have lighted fools
The way to dusty death.
But not in Four-BEE, Four-BOO, and Four-BAA, where, for humans, there is no death and no escape from the carefully orchestrated existence permitted by their quasi-robot (Q-R) tenders. Attempts to step outside carefully defined borders spark the close attention of the Q-Rs.
Case in point: a nameless protagonist plagued with unexplained dreams of a past of which they should have no knowledge. Also, unfashionable interests.
---
Miscellaneous Reviews
NieR: Automata: Long Story Short — Jun Eishima & Yoko Taro
2017's NieR: Automata: Long Story Short is Jun Eishima's novelization of Square Enix's computer game of the same name. The original story is by Yoko Taro. Translation is by Shota Okui.
Seven thousand years ago, aliens conquered the Earth, or rather, their Machines conquered the Earth. Humanity's last refuge is the Moon. Just as the aliens act through their artificial servants, so too has humanity left the war for Earth to their creations, the YoHRa androids. Between android and Machine, there can be no peace.

---
Translation
Mirage — Somaiya Daud
Mirage, book 1
2018's Mirage is the first novel in Somaiya Daud's Mirage series. It is her debut novel.
When environmental collapse forced the Vathek from their homeworld, they conquered new worlds. Amani's world Cadiz was one of the Vathek's victims. Her world was invaded, defeated, then ruled with ruthless brutality.
As long as she keeps her head down, the worst Amani has to fear is death by starvation or random mass execution. Terrible fates but nothing personal. Amani is not so lucky: she has one remarkable quality that will mark her out for an extremely odd yet dangerous role in the Vathek state.
She looks just like a certain Vathek princess.

---
Earthwreck! — Thomas N. Scortia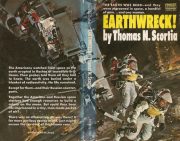 Thomas N. Scortia's 1974 Earthwreck! is a standalone near-future SF novel.
Captain Quintus Longo leaves his wife and children for what he believes will be a routine tour of duty on the American space station1. Thanks to a bold gambit by Japanese and Palestinian terrorists, it is the last time Longo sees his family alive.
The first hint the world gets that terrorists have seized control of the Arab Republic nuclear weapons comes in the form of three kiloton-range nuclear explosions in Tel Aviv. The Israelis respond with a megaton-range strike on the Aswan Dam. Millions die in Israel and Egypt; tragic but not world-ending. Russia and China back opposing sides in the conflict, but the Soviet-Chinese clash that follows isn't necessarily the apocalypse, since both sides initially limit themselves to battlefield nukes. The United States issues an ultimatum to China and Russia: negotiate or face American fury. Rather than forcing the Russians and Chinese to stand down, the result is a full scale global thermonuclear war.

---
Because My Tears Are Delicious To You
Penric's Fox — Lois McMaster Bujold
Penric & Desdemona, book 3
2017's Penric's Fox is the fifth piece published and the third piece by internal chronology in Lois McMaster's Penric & Desdemona series. The series is set in Bujold's Five Gods setting.
What should have been a quiet afternoon of fishing and amiable conversation takes an unexpected turn. Penric and his shaman companion Inglis are conscripted to assist an inquirer in a murder investigation.
Murder is always a grave matter. This particular murder is even more disquieting: the dead person is Learned Magal, a sorcerer.

---
A Bunch of Bujolds
We Have Always Lived in the Castle — Shirley Jackson
Shirley Jackson's 1962 We Have Always Lived in the Castle was published three years before her death. It was the last novel she published.
Mary Katherine "Merricat" Blackwood lives on the vast Blackwood estate with her older sister Constance, her ailing uncle Julian, and Jonas the cat. She seldom sees other people, but that doesn't bother her. Her periodic encounters with the people of the nearby village have convinced her that people are for the most part unpleasant, troublesome, and best avoided.
The villagers would claim they have good reason to distrust and dislike the Blackwoods. Not only is the family standoffish, and not only did the late Mr. Blackwood fence off the estate to keep lesser people from using it as a short-cut, the townsfolk are utterly convinced that Constance got away with murder.
---
Graveyard Orbits
City of Ash and Red — Hye-Young Pyun
Hye-Young Pyun's 2010 City of Ash and Red is a standalone horror novel. The 2018 translation is by Sora Kim-Russell.
Although in no way a remarkable worker, the unnamed protagonist is promoted to a post in the head office of his pest extermination company. The office is located in an unfamiliar city, Y, in even more unfamiliar country, C.
He finds himself a figure of envy for his co-workers. But the loss of his friends (if grudgingly tolerant co-workers can be considered friends) is just another blow, following upon a nasty divorce. He can only hope that the transfer will let him rebuild his life.
Or perhaps not. Perhaps the transfer is merely the first step in another, even more epic catastrophe.

---
Translation
Otherbound — Corrine Duyvis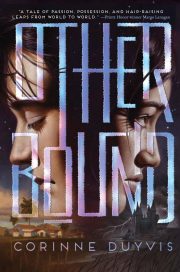 Corrine Duyvis' 2014 Otherbound is a standalone fantasy.
Arizona teen Nolan is a visionary. He doesn't imagine things: he sees things. Whenever he closes his eyes — when he blinks, for example — he sees whatever Amara sees.
Amara lives in another realm where magic is real. She has a talent, healing, which makes her nigh unkillable. You'd think this would make her a power in the world in which she lives. It doesn't. She's a slave. She's a slave on the run, following her mistress.
---
Miscellaneous Reviews
Passenger to Frankfurt — Agatha Christie

Agatha Christie's 1970 Passenger to Frankfurt is a standalone thriller and dystopian novel.
Sir Stafford Nye's diplomatic career is less due to any aptitude for the job and more because in the gently declining post-Empire world, no better candidate presented themself for the job. On his way back from another fairly pointless summit in Malaya, Nye's one noteworthy characteristic catches the eye of a desperate spy.
His bold fashion sense.
Spoilers follow.
---
Because My Tears Are Delicious To You
Seal of the Worm — Adrian Tchaikovsky
Shadows of the Apt, book 10
2014's Seal of the Worm is the tenth and final volume in Adrian Tchaikovsky's Shadow of the Apt series.
Good news for Wasp Empress Seda: its old enemy Collegium has fallen and occupied by Wasp forces. Stenwold Maker has vanished and is presumed dead (at least by some). Seda's mystic rival Cheerwell Maker has been consigned to the lightless realm of the Worm, which is as close to hell as this world offers.
There are just a few minor hitches. The Wasp Empire's alliance with the Spiderlands proved all too brief. Imperial forces need guard their flank from their former ally. What seemed an unstoppable advance has stalled.
More importantly, when Seda tipped Cheerwell and her friends into the Worm's realm, Seda released something terrible.
---
A Dozen by Tchaikovsky
The Fated Sky — Mary Robinette Kowal
Lady Astronaut, book 2
2018's The Fated Sky is the second volume in Mary Robinette Kowal's Lady Astronaut series.
Earth is doomed … but not immediately. There is enough time to try to establish colonies on the other worlds of the Solar System, for a chosen few to survive catastrophe. But who, exactly, will qualify to be among the lucky handful to have a future?
---
Miscellaneous Reviews
In the Vanisher's Palace — Aliette de Bodard
Aliette de Bodard's 2018 novel In the Vanishers' Palace is a standalone secondary world fantasy (unless it's SF; see comments).
The Vanishers used the world as their toy until they broke it. Having ruined the world, they absconded, leaving their former slaves and playthings behind to scrabble for life in the poisoned wreckage.
Yên's village has no room for the useless or the weak. Her mother's knack for healing magic pays her own way, but it's not enough to support Yên. She is only a mediocre scholar. She has failed to pass the metropolitan exam and escape to the comparative security of the imperial court. It's only a matter of time before Elder Tho finds a pretext to eject Yên from the village or feed her to the purifying artifact in the Plague Grove.
Giving Yên to a dragon to do with as the dragon wishes is also acceptable to Elder Tho.

---
Miscellaneous Reviews
Special Deliverance — Clifford D. Simak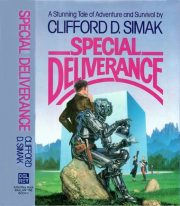 Clifford D. Simak's 1982 Special Deliverance is a standalone SF novel.
When a student hands in an atypically good paper with citations unfamiliar to Professor Edward Lansing, Lansing summons the student to his office for questioning. The student admits he did not write the paper. No surprise. What is a surprise is the source of the paper: a slot machine in the basement of the Student Union Building1.
Of course, Lansing has to see this paper-writing slot machine for himself.
The machine is terribly insistent that it has to provide everyone who activates it with a boon. When the machine's dirty joke fails to amuse, it provides Lansing with two keys and detailed instructions. Curiosity gets the better of Lansing. In short order he finds himself in very unfamiliar territory.
---
Special Requests
The Day After Tomorrow — Robert A. Heinlein

The Day After Tomorrow is an alternate title for Robert A. Heinlein's mercifully standalone Yellow Peril novel, Sixth Column.
Fifty years after the Noninterference Act ended contact between America and PanAsia, PanAsia launches a sudden and overwhelming attack on the US. Armed with superior military intelligence and impressive weapons, the PanAsians crush the Americans. Having won the war, the PanAsians move onto the next phase of their plan: reducing white Americans to slaves in a land they once called their own.
All is not lost. The Citadel remains, an advanced military research facility overlooked by the PanAsians. It is America's last hope.
If only most of the personnel were not dead.

---
Because My Tears Are Delicious To You
A Study in Honor — Claire O'Dell
Claire O'Dell's 2018 A Study in Honor is a near-future Holmesian mystery.
Public spirit compelled Dr. Janet Watson to serve on the Federal side of the New Civil War1. After an enemy bullet cost her an arm, the government thanked her for her service by providing her with a second-hand, defective prosthetic limb and a medical discharge.
She has broken up with her girlfriend. She is having a hard time finding a job (not that many jobs for one-armed African-American surgeons). She is depressed and struggling with PTSD. Nevertheless, she persists. Watson settles for a position well below her skill level, as a medical technician whose tasks are limited to ticking boxes on a checklist. Now she has to find a place to live in the crowded capital (a quest complicated, of course, by the melanin content of her skin).

---