A Darker Shade of Magic — V. E. Schwab
Shades of Magic, book 1
A Darker Shade of Magic is the first volume in V. E. Schwab's Shades of Magic series.
Kell is an Antari, one of two known world-walkers, able to travel between the four known alternate Londons, White, Red, Gray, and forbidden Black. His is a gift rare enough to make him a treasured possession of Red London's Royal Family.
Officially, Kell uses his gift to serve as an ambassador between the three Londons — White, Red, and Gray — that are still in limited contact with each other. On his own time Kell likes to collect souvenirs. That's forbidden. But moving minor trinkets from one world to another seems a harmless hobby.
It isn't.

---
Special Requests
Anthonology — Piers Anthony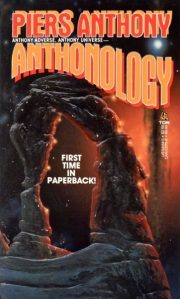 Piers Anthony's 1985 Anthonology is a collection of his short works, with added commentary by the author's foremost admirer, Piers Anthony. The stories are for the most part dreadful … but at least there are a lot of them.
---
Special Requests
Another Look at Atlantis and Fifteen Other Essays — Willy Ley
Willy Ley's 1969 Another Look at Atlantis and Fifteen Other Essays is a collection of non-fiction pieces. From 1952 to his death in 1969, Ley had a regular science column in Galaxy Magazine, For Your Information. As far as I can tell, none of these essays were drawn from that source.
This was my first exposure to Ley. If I am reading the bibliographic information correctly, it was the final Ley book published while Ley was alive.

---
Because My Tears Are Delicious To You
Howl's Moving Castle — Diana Wynne Jones
Howl, book 1
1986's Howl's Moving Castle is the first book in Diana Wynne Jones' Howl series.
Life in Ingary is a faerie tale affair, as its inhabitants well know. How wonderful for Martha Hatter! As the youngest of three sisters, she is surely destined for fame, wealth, and a perfect marriage.
It is considerably less wonderful for Sophie Hatter, the oldest of the three sisters. Everyone knows the oldest child will have at best an unremarkable life — if they are lucky. The oldest might be more likely to suffer a grim fate, which will serve to cast the youngest's destiny in a brighter light. They might even, as Sophie does, find themselves the target of a curse that by rights should have been cast on a younger sister.
---
Twelve by Diana Wynne Jones
Tsukumizu
Girls' Last Tour, book 2
Girls' Last Tour, Volume 2 is the second collection of Tsukumizu's Girls' Last Tour manga.
Just because the world has ended doesn't mean the struggle to stay alive one more day is over. Just ask Yuuri and Chito. Driving through a vast, unnamed city after some event removed or killed most of the population, they live hand-to-mouth, salvaging supplies in an empty world.
Chito is the dark haired smart one. Yuuri is blonde and rarely burdened by excessive introspection.
---
Translation
A is for Alibi — Sue Grafton
Alphabet, book 1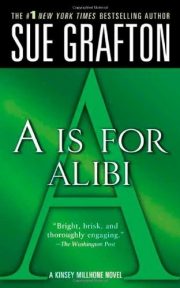 1982's Shamus Award nominee A is for Alibi is the first volume in Sue Grafton's Alphabet series. Grafton died in late 2017, twenty five books into a twenty six book series.
After serving eight years for murdering her husband, socialite turned reluctant ex-con Nikki Fife hires private investigator Kinsey Millhone to clear her name. Five thousand dollars1 is enough to get Millhone's attention, although not, as she warns her client, her exclusive attention.
The first step is to figure out who wanted Laurence Fife dead. Millhone very quickly discovers that the list of suspects is a long one.

---
Miscellaneous Reviews
The Lilies of Dawn — Vanessa Fogg
Vanessa Fogg's 2016 The Lilies of Dawn is a standalone fantasy.
Kai's mother and foremothers have served as the Dawn Mother's priestesses for many generations. They live next to the sacred lake and never marry. Nonetheless, they have daughters. Each priestess chooses her successor from among her daughters. Traditionally the successor is the older daughter. But Kai's mother chose Kai, the younger daughter, over her older sister Suna. Kai cannot understand the why of the odd choice; unlike Suna or their mother, Kai has never heard the Dawn Mother's voice.
Not that it matters, since their ancient way of life is doomed.

---
Miscellaneous Reviews
Joan D. Vinge's 1978 Fireship was her first collection. It collects two novellas, the eponymous Fireship and 1975's Mother and Child.

---
Because My Tears Are Delicious To You
To quote the FASS webpage:
What is

FASS

?
FASS

(short for Faculty, Alumni, Staff, and Students) is an amateur theatre company at the University of Waterloo. Originally started as a variety show in 1962,

FASS

predates many of the modern organizations on campus, including the Federation of Students. In its current form, every year

FASS

produces an original script for its annual show in February. At the height of its existence in the 1980s,

FASS

was a major aspect of campus life, and tickets were hard to come by.
The

FASS

show is written every year from May through December, and then production kicks off in January with auditions held in the first week of classes. Throughout January and into February, the actors rehearse, the techies tech, and the production crew pulls their hair until, finally, everything is ready five weeks later. The shows are put on, many parties are held, and then everyone goes and collapses from exhaustion. It's good fun.
---
A Year of Waterloo Region Speculative Fiction
The Green Glass Sea — Ellen Klages
Ellen Klages' 2006 Scott O'Dell Award winner The Green Glass Sea is a young-adult historical fiction novel.
Having been abandoned by her mother and left to the care of her aged grandmother by her hard-working father, Dewey Kerrigan's life has achieved some stability and comfort. But this too ends. Her grandmother suffers a stroke and there's no other choice for her but to leave her familiar surroundings for life with her father. In an obscure New Mexican town called Los Alamos. It's 1943.

---
Special Requests
Yoshiki Tanaka & Hiromu Arakawa
Heroic Legend of Arslan, book 1
Heroic Legend of Arslan, Volume 1 collects the first four issues of Yoshiki Tanaka and Hiromu Arakawa's 2013 manga adaptation of Yoshi Tanaka's light-novel series, The Heroic Legend of Arslan.
When we first meet young Arslan, he seems unlikely to figure in any legend, much less a heroic legend. Though he is the crown prince of Pars, he is timid and unsure of himself. He's certainly not a self-assured, bold figure like his father, Andragoras III. As confident off the battlefield as he is on it, Andragoras III is the embodiment of Parsian virtue.

---
Translation
Twenty Palaces — Harry Connolly

2013's Twenty Palaces is a prequel to Harry Connolly's Twenty Palaces series.
Fresh out of prison, all Ray Lilly wants to do is find a legitimate job and rebuild his life. His uncle Karl, a cop, warns Ray that his future won't be as straightforward as Ray hopes. Ray may think he's paid his debt to society but society doesn't agree.
As it turns out, American unfamiliarity with mercy is the least of Ray's problems. Some of Ray's old friends have picked up a very interesting hobby: magic.

---
Special Requests
The Man Who Folded Himself — David Gerrold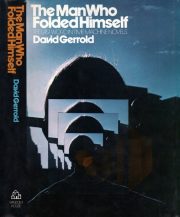 David Gerrold's 1973 The Man Who Folded Himself is a standalone time-travel story.
Assured by his Uncle Jim that he will inherit a vast estate, Daniel Eakins is unpleasantly surprised to discover (after his uncle's demise) that his legacy is not the hundred-million-plus dollars Daniel had expected. What he gets: the far smaller sum of six thousand dollars … and a belt.
It is a particularly fine belt. In fact, closer examination reveals that it is a fully functional time machine.
---
Because My Tears Are Delicious To You
Life and the Art of Lying — Emily Schooley
To quote her online bio:
Emily Schooley is a multi-passionate filmmaker who enjoys blending genres and pushing boundaries in her work.
After graduating from the University of Waterloo with an Honours

BA

in Dramatic Arts, she quickly found herself immersed in the world of film alongside her work in theatre, first as an actor and then evolving to directing, writing, and producing. Now, she continues to work as an actor while simultaneously building her body of work and developing her voice as an emerging filmmaker.
Her previous short film, Psyche, won Audience Choice at Festigious International Film Festival. Emily is a proud associate member of Film Fatales, and will be appearing in

MJI

Studios' upcoming documentary about women in the film industry.
But I am not reviewing Psyche1. I am reviewing Life and the Art of Lying.
Ah, true love. The greatest impediment to true love: the people involved.

---
A Year of Waterloo Region Speculative Fiction
Blue Exorcist — Kazue Kato
Kazue Kato's Blue Exorcist (Ao no Ekusoshisuto) is an on-going supernatural manga series.
Father Fugimoto does his best to keep his adoptive son Rin Okumura on the straight and narrow. Alas, Rin has a talent for self-sabotage. He is a stark contrast with his fraternal twin Yukio, who exemplifies self-control and diligence. If they are twins, how is that they are so different?
A supernatural encounter forces Father Fugimoto tell Rin what makes him special. Rin is the literal Son of Satan1, a potential gateway through which the evil lord could enter our world. Any other mortal host, even the purest of souls, would quickly be destroyed if Satan possessed them. Only Rin can provide a long-term home.

---
Translation
The Little Homo Sapiens Scientist — S. L. Huang
S. L. Huang's 2017 The Little Homo Sapiens Scientist is a standalone SF retelling of Hans Christian Andersen's The Little Mermaid.
Dr. Cadence Mbella specializes in piscianthropology, the study of atargati culture and society. Not much is known about the atargati, the so-called mermaids, except that they live in the abyssal depths of the world's ocean and they are as intelligent as humans.
As Mbella warns anyone reading her ongoing account, it is a mistake to allow the arbitrary terms that humans apply to the abyssals to shape human perceptions. The atargati are quite unlike humans or their myths. Exactly how unlike, Mbella is going to learn first-hand.

---
Miscellaneous Reviews
A Matter of Oaths — Helen S. Wright
Helen S. Wright's 1988 A Matter of Oaths is a standalone (thus far) space opera.
Desperate for crew but short on qualified candidates, Commander Rallya of the patrolship Bhattya grudgingly hires Rafe. His service record is glowing, his professional qualifications are exemplary, but … Rafe has been mind-wiped, for reasons about which Rallya can only speculate.
Not having a choice really speeds up the decision making process. At least Commander Rallya can be sure that whatever Rafe's past, identity erasure has made it completely irrelevant to his present.
Right?

---
Space Opera That Doesn't Suck
The Witches of Karres — James H. Schmitz
1966's The Witches of Karres is James H. Schmitz's novel-length expansion of his 1949 novelette of the same name. It is a standalone space opera.
Given an aged starship and a cargo of dubious value, naive Captain Pausert headed out into space in search of a fortune and his prospective father-in-law's respect. If he had not also been hobbled by his own essential decency, he might have realized his dreams.

---
Because My Tears Are Delicious To You
Spindle — E. K. Johnston
A Thousand Nights, book 2
To quote E. K. Johnston's website
E. K.

Johnston had several jobs and one vocation before she became a published writer. If she's learned anything, it's that things turn out weird sometimes, and there's not a lot you can do about it. Well, that and how to muscle through awkward fanfic because it's about a pairing she likes.
Her books range from contemporary fantasy (The Story of Owen, Prairie Fire), to fairy-tale re-imaginings (A Thousand Nights, Spindle), and from small town Ontario (Exit, Pursued By A Bear), to a galaxy far, far away (Star Wars: Ahsoka). She has no plans to rein anything in.
2016's Spindle is a companion novel to E. K. Johnston's A Thousand Nights.
The spinners of Kharuf fled a demon's curse, seeking escape in foreign lands that were little interested in helping strangers. Even this was not enough to save all of them; many died of a slow, lingering malady. Yashaa's dying mother sends Yashaa and his friends on a desperate quest, one that she hopes will allow some of her people to return to their homeland.

---
A Year of Waterloo Region Speculative Fiction
Train to Busan — Yeon Sang-ho
Yeon Sang-ho's 2016's Train to Busan is a horror film1 starring Gong Yoo, Jung Yu-mi, and Ma Dong-seok.
Fund manager Seok-woo's laudable work ethic has driven his wife away and alienated his young daughter Soo-an. No worries! It's nothing that lavishing expensive presents on his daughter cannot fix. Except when he spaces out and buys her two identical presents. Seeing her hopeless expression as she receives his clumsy gifts, he begins to understand his neglect may have driven a wedge between them that no amount of last-minute, distracted gift-buying can fix.
He can at least give Soo-an the one gift she does want, which is to send her home to her mother on the other side of Korea. Although she would prefer to make the trip alone, he insists on accompanying the ten year old on the KTX [2]. It won't be a happy trip but at least it should be a placid respite from his usual frantic, workaholic life.

---
Translation
Waiting on a Bright Moon — JY Yang
JY Yang's Waiting on a Bright Moon is a standalone space opera.
In another life, Ansible Xin might have been a starmage. In this one, her sexual orientation was the pretext used to strip her of her birth name and consign her to endless drudgery as a living communications device on Eighth Colony.
The appearance of a mysterious corpse on the threshold of an interstellar portal sets in motion events that will transform Xin's life.

---
Space Opera That Doesn't Suck
Barbary Station — R. E. Stearns
Shieldrunner Pirates, book 1
2017's Barbary Station is the first book in R. E. Stearns' Shieldrunner Pirates series.
Faced with crushing debt and poor employment prospects, two women in love plan to hijack a large, expensive space ship and use it to buy their way into the pirate gang currently in possession of the so-called Barbary Station. Thelma and Louise, in SPAAACE.
Adda and Iridian's scheme is such a simple, straight forward plan it's hard to see how it could possibly go wrong. Indeed, it works almost perfectly until the pair and their hapless, expendable ally arrive at the station, whereupon their helper is shot dead and the two women learn they have made a slight miscalculation.

---
Space Opera That Doesn't Suck
Close to Critical — Hal Clement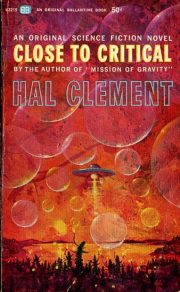 Hal Clement's 1958 young-adult adventure novel Close to Critical is apparently set in the same universe as his far more famous Mission of Gravity, but it can be read as a standalone work.
No human could walk unprotected on Tenebra's surface: if the 8100 kilo-pascal air pressure didn't crush them, the 374o C mixture of dissolved oxygen and sulphur oxides surely would dissolve them. But as hostile as Tenebra might seem to a terrestrial, it's a life-bearing planet. Tenebra doesn't just have life. It has intelligent life and that offers a unique opportunity to researchers up in orbit.
A human-Drommian team has established an orbital observation station circling Tenebra. A telefactored robot serves as their optical receptors and manipulative organs down on the ground.

---
Because My Tears Are Delicious To You
Bitten — Kelley Armstrong
Otherworld, book 1
To quote Kelley Armstrong's website:
I've been telling stories since before I could write. My earliest written efforts were disastrous. If asked for a story about girls and dolls, mine would invariably feature undead girls and evil dolls, much to my teachers' dismay. All efforts to make me produce "normal" stories failed. Today I continue to spin tales of ghosts and demons and werewolves while safely locked away in my basement writing dungeon.
She has published in excess of thirty novels since 2001.
2001's Bitten is the first novel in Armstrong's Otherworld series.
Determined to live her perfectly normal life with her perfectly adorable boyfriend Philip, Elena Michaels carefully withholds one or two facts about herself from Philip. Chief among these is the fact that she is, occasionally, a wolf. Not only are werewolves uncommon in Toronto, but Elena is the only known female werewolf on the planet.
Just one part of a colourful past she is determined to leave behind her.
---
A Year of Waterloo Region Speculative Fiction
Saiensu Fikushon 2016 — Nick Mamatas & Masumi Washington
Nick Mamatas and Masumi Washington's Saiensu Fikushon 2016 is a science fiction anthology that collects three short pieces by TOBI Hirotaka, Toh Enjoe, and Taiyo Fujii respectively.

---