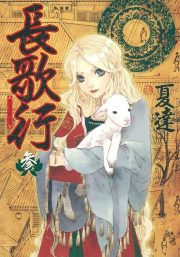 Choukakou, which is also known as Chang Ge Xing, Chang Ge's Journey, or Song of the Long March, is an ongoing manhua (Chinese comic) series by Xia Da. Volume Three collects issues twelve through eighteen.
Princess Li Chang Ge survived the Turkish conquest of Shuo by transferring her allegiance from the doomed governor of Shuo to General Sun of the Turks. Sun accepted Li Chang Ge as a subordinate. Sun is unaware that:
Li Chang Ge is a woman;

she is the niece of the Chinese emperor Taizong;

Taizong ordered Li Chang Ge's father and his entire family executed;

Li Chang Ge is a wanted fugitive.
Sun habitually distrusts women and he certainly does not need to be drawn into Chinese dynastic disputes. He has Turkish dynastic disputes to concern him.
---
Translation
The Afterward — E. K. Johnston
E. K. Johnston's 2019 The Afterward is a standalone secondary-universe fantasy.
Summoned out of oblivion by power-hungry fools, the Old God raised an army of mind-controlled slaves and marched to retake the world it once owned. As so often happens to world-conquering villains, the God was vanquished by seven adventurers led by Sir Erris Quicksword.
The world saved, the adventurers were each rewarded (although not too lavishly) and were free to return to their old lives. Or so some might have thought.
---
Special Requests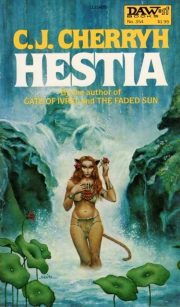 C. J. Cherryh's 1979 Hestia is a standalone science fiction novel.
The colonists who settled Hestia were warned that the valley on which they had set their hopes was not suitable. The settlers ignored the warnings and founded a community in the valley. In the century since settlement, the community has endured disaster after disaster. Each year the community is worse off.
The colonists now believe that they have a solution: a dam to control the river. Only problem: they lack dam-building know-how. That's where Sam Merritt, our protagonist, enters the narrative.
---
Because My Tears Are Delicious To You
The Gollancz Book of South Asian Science Fiction — Tarun K. Saint
Tarun K. Saint's 2019 The Gollancz Book of South Asian Science Fiction delivers precisely what it promises on the cover1.
---
Kim Eun-hee & Kim Seong-hun
Kingdom, book 2
Kingdom is a 2019 South Korean television series. It was written by Kim Eun-hee and directed by Kim Seong-hun. There are six episodes in season one, of which this is the second.
Primary cast:
Supporting cast:
The Haewon Cho clan has unjustly framed Crown Prince Yi Chang. They accuse him — correctly, as it happens, although innocence would not have stopped the clan from trying to remove the Prince — of conspiring against his own father, the King of Great Joseon. The Crown Prince has serendipitously left the capital before he could be arrested.
Great Joseon has problems much larger than mere dynastic conflicts.
---
Translation
Burning Bright — Melissa McShane
Extraordinaries, book 1
2016's Burning Bright is the first volume of Melissa McShane's Extraordinaries series.
Elinor Pembroke discovers she has extraordinary powers when she wakes to discover her bedchamber is on fire. She extinguishes the flames with a thought. This marks her not just as a so-called scorcher, a pyrokinetic, but as the very special sort of scorcher who can control and dismiss the flames she creates.
Since the year is 1812, this means that Elinor is no longer an unremarkable middle sister well on her way towards spinsterhood. She's now a valuable commodity on the marriage mart. Her father is eager to hawk her to the first sufficiently well-born prospect.
---
Special Requests
A House in Space — Henry S. F. Cooper, Jr.
Henry S. F. Cooper, Jr's 1976 A House in Space is a short account of Skylab, America's first manned space station.
---
Because My Tears Are Delicious To You
Startide Rising — David Brin

1983's Startide Rising is the second novel set in David Brin's Uplift universe. It is also a standalone.
---
Big Hair, Big Guns!
Storm of Locusts — Rebecca Roanhorse
Sixth World, book 2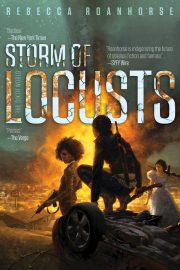 2019's Storm of Locusts is the second volume in Rebecca Roanhorse's Sixth World series1.
The oceans rose, civilization fell, and the gods returned. Possibly not in that order. The Walls of Dinétah keep the worst of the chaos outside Diné lands. Yet life inside the Walls can still be challenging, thanks to a plague of wandering monsters. Against the monsters stand a chosen few, the beneficiaries of what are called clan gifts. Superpowers. The chosen ones may lead lives that are all too often pitiably short, but it's worth it to protect friends and families from the stalking horrors.
Maggie Hoskie's gifts — speed, bloodlust — make her a superb monster-hunter. The events of the earlier volume, Trail of Lightning, left her in possession of a magic sword. She will need it soon. Too bad she has no idea how to wield it.
---
Doing What the WFC Cannot Do
Tsukumizu
Girls' Last Tour, book 6
Tsukumizu's Girl's Last Tour, volume six was first published in 2017. The Yen Press translation into English was published in 2019. It collects chapters 41 to 47 of Tsukumizu's ongoing tale of two girls, Yuuri and Chito, wandering a desolate, doomed Earth. It is the final volume.
---
Translation
The Element of Fire — Martha Wells
Martha Wells' 1993 debut novel The Element of Fire is a standalone secondary-universe fantasy. It is the first of Wells' Ile-Rien books. It was followed by The Death of the Necromancer, The Fall of Ile-Rien trilogy (The Wizard Hunters, The Ships of Air, and The Gate of Gods) and various short pieces.
A daring night-time raid on a sorcerer's lair, a victim recovered, a mansion left aflame: enough of an adventure in itself. For Captain Thomas Boniface, this was just the beginning of a longer, more perilous campaign.
---
Special Requests
The Stars My Destination — Alfred Bester
Alfred Bester's 1956 The Stars My Destination is a standalone tale of REVENGE! And a change of heart.
Psychic teleportation transformed society. The economic effects triggered war between the Inner Planets and the Outer Satellites.
Gulliver Foyle survived the destruction of the interplanetary space craft Nomad only to spend six months trapped on the hulk. When finally another ship, the Vorga, came within rescue range, Foyle was quick to fire off distress signals. Inexplicably, the Vorga ignored the flares and continued on its way.
Until this moment, Foyle had been an entirely unremarkable prole, uneducated, unmotivated, and destined to live and die in obscurity. Vorga's act gave Foyle the motivation he had previously lacked. Now he has goals: survive and make the crew of Vorga pay for leaving him in deep space.
---
Because My Tears Are Delicious To You
The Smoke-Scented Girl — Melissa McShane
Dalanine, book 1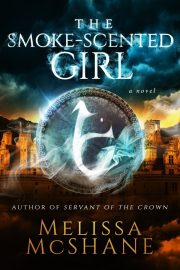 2015's The Smoke-Scented Girl is the first volume in Melissa McShane's Dalanine secondary-universe fantasy series.
The kingdom of Dalanine is under attack. The Despot is marching steadily, unstoppably, towards the capital. Dalanine is also dealing with a rash of deadly arson attacks.
Research magician Evon Lorantis is working desperately to work out who or what agency is causing the fires.
What he discovers: a young woman who can't control her new powers.
---
Special Requests
Marjorie Liu & Sana Takeda
Monstress, book 1
Monstress, Book One1 collects the first eighteen issues of Marjorie Liu and Sana Takeda's epic secondary-universe fantasy manga.
The semi-magical Arcanics are descended from godlike beings. When properly processed, their body parts can be transformed into the extremely useful substance Lilium. The humans, in particular the witches of the Cumaea, see the Arcanics as beasts fit only for slavery or for slow, painful conversion into Lilium. The Arcanics disagree. Hence the seemingly endless wars between the Arcanics and the Federation of Man.
The most recent war ended when the entire city of Constantine and all within it were burned from the face of the planet. Believing this was a work of a new Arcanic weapon, the Federation agreed to peace … for the moment.
Which gets us to one-armed Maika, an Arcanic who when we first meet her is about to sold into slavery or worse.
---
Doing What the WFC Cannot Do
Adachitoka
Noragami, book 11
Adachitoka's Noragami Volume 11 collects issues 40 to 43 of the adventures of the stray god Yato. The manga was first published in 2014; the English translation was published in 2016. Included in the volume are
40. "We Not-So-Humbly Pray" (恐み恐みも白さず "Kashikomi mo Mōsazu")

41. "A Picture Together" (一緒に写真を "Issho ni Shashin wo")

42. "Causes Nothing but Disaster" (厄災しか起こせない "Yakusai Shika Okosenai")

43. "Secrets" (秘め事 "Himegoto")
---
Translation
Carpe Diem — Sharon Lee & Steve Miller
Liaden, book 3
Sharon Lee and Steve Miller's 1989 Carpe Diem is the third novel published in their long-running Liaden series.
Set upon by the predatory Yxtrang, Val Con yos'Phelium makes a desperate bid to escape into faster-than-light drive. It's successful in the sense that Val Con and his companion Miri Robertson escape horrific deaths at the hands of the Yxtrang. It's unsuccessful in that their badly damaged ship ends up in the back of beyond, orbiting the interdicted world of Vandar.
Briefly orbiting. A forced descent follows.
---
Special Requests
Trouble on Titan — Alan E. Nourse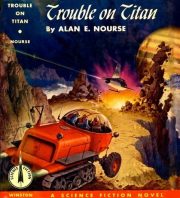 1954's Trouble on Titan was Alan E. Nourse's debut novel1. It is standalone juvenile SF. It has recently been reprinted and issued in e-book form by Prologue Books.
Tuck Benedict is disappointed to learn that his hoped-for reunion with his father must be postponed. Colonel Benedict has spent years troubleshooting on Mars and Venus for the Security Commission. His leave has been cancelled. He's been dispatched to Titan, home to unruly rubidium miners.
The colonel invites Tuck to join him on his mission to Titan, but Tuck fears delay in reporting to college could cost him his scholarship. Then … luck puts Tuck in a position to save his father from a mail bomb. Afraid that the assassin might succeed if Tuck is not there to protect his father, Tuck changes his mind. School must wait until Tuck returns from the mining colony.

---
Because My Tears Are Delicious To You
This Alien Shore — C. S. Friedman
C. S. Friedman's This Alien Shore is a standalone space-opera/cyberpunk novel.
The Hausman drive gave humanity the stars. It also induced mutations in crew, passengers, and colonists. The mutations thrived in the new colonies, which became known as Variants. A bigoted, xenophobic Earth abandoned its colonies. Two centuries later, the Guerans developed an entirely new method of faster-than-light travel, via ainniq, points that give access to an alien realm governed by unfamiliar laws. The Gueran Guild reached out to all of humanity's worlds, including standoffish Earth, and rebuilt the interstellar community Earth had cast aside.
Now someone is trying to destroy that community.
---
Special Requests
The Haunting of Tram Car 015 — P. Djèlí Clark
P. Djèlí Clark's 2019 novella, The Haunting of Tram Car 015, is a supernatural police procedural. It shares its setting with A Dead Djinn in Cairo.
Agent Hamed Nasr of Egypt's Ministry of Alchemy, Enchantments, and Supernatural Entities has learned many odd things over the course of his career, but he's never learned to lay ghosts. Nevertheless, Nasr and new partner Onsi Youssef are summoned to Ramses Station to deal with what's said to be a haunted tram car. Could this finally be a true haunting?
No. Whatever the entity is, it is not a ghost. It is, however, real. It is definitely hostile.
---
Doing What the WFC Cannot Do
Mi-kyung Yun
Bride of the Water God, book 1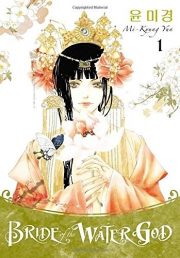 Bride of the Water God, Volume One collects the first seven issues of Mi-kyung Yun's manhwa (manga, comic).
Faced with a long, punishing drought, Soah's fellow villagers do the only thing they think will work. They send a bride to Habaek the Water God in the hope that the god will be pleased and send rain again.
By "bride", they mean "human sacrifice." Soah is cast adrift in a small boat to face a watery doom.
---
Translation
City of Bones — Martha Wells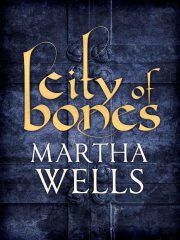 Martha Wells' 1995 City of Bones is a standalone secondary-world fantasy.
The relic trade is chancy enough, but for krismen like Khat in a city like Charisat, it is especially risky. Even if Khat can avoid violating Charisat's trade laws, he could still be murdered by greedy criminals … or off-handedly killed by the city guard or their masters. He is, after all, a despised non-human.
Too bad that there are so few jobs open to Khat. This is the best of the few; as a krisman, he has some advantages.
---
Special Requests
Destinies, November–December 1978 — Jim Baen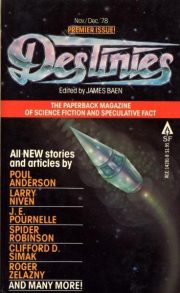 Destinies, November–December 1978 was the debut issue of Jim Baen's bookazine Destinies. Destinies ran from late 1978 to summer of 1981. There were eleven issues, each the size of a mass market paperback; there was a Best-of anthology as well1. Back in the day, I was an avid magazine reader and this was one of my favourite magazines.
Odd that until I reread this volume I did not remember it at all.
---
Because My Tears Are Delicious To You
Shadow Magic — Patricia C. Wrede
Lyra, book 1
Patricia C. Wrede's 1982 debut novel Shadow Magic was the first novel published in what became her Lyra series. ISFDB lists it as the third Lyra novel, presumably on the basis of internal chronology. But the omnibus on my Kobo lists Shadow Magic as first book in the series. Lyra book order may be a problem like Narnia book order; one can wile away many a pleasant afternoon discussing which is the correct way to order the books and which way is obviously incorrect. (I vote for the correct way, as I am sure you do too.)
Merchant Maurin Atuval has just been invited into the home of his new chum, aristocrat Har of the Noble House of Brenn, when he makes a sudden discovery. He is not the protagonist of this story. Har's sister Alethia is.
This becomes apparent as soon as Alethia is kidnapped by Lithmern.

---
23
Feb
2019
/ 10 Comments
Big Hair, Big Guns!
Stan Sakai
Usagi Yojimbo Saga, book 8
The Usagi Yojimbo Saga, Volume Eight is an omnibus that collects books 29 through 31 of Stan Sakai's eponymous series. At its centre is the masterless lapin samurai Miyamoto Usagi, who wanders through a slightly skewed version of Edo-era Japan.
Because I got this as an e-arc, I failed to grasp how much of a tome Volume Eight is. On paper, it's probably weighty enough to cause serious back pain when lifting the volume.
---
Doing What the WFC Cannot Do
Suzanne Palmer's 2019 Finder is a science fiction novel.
Humanity has escaped the Earth and the Solar System and has spread across the Milky Way. It's a grand, romantic era … in the midst of which Fergus Ferguson has an unromantic job. He is a modern-day repo man, tracking down and recovering items that have not been paid for.
The quest for a starship misappropriated by Arum Gilger leads Fergus to Cernekan, a meh system midway between nowhere remarkable and no place special. Cernekan is about to become an interesting place, and the unfortunate Fergus will play a central role in that transformation.
---