The Fog Maiden — Jane Toombs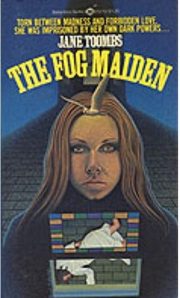 Jane Toombs' 1976 The Fog Maiden is a standalone fantasy novel. If it were published today, I suspect it would be classified as urban fantasy/paranormal romance.

After the death of her father, Janella Maki was raised by her well-meaning but distant stepmother. Janella has no memories of her early past and knows even less about her biological parents. It's a surprise when an uncle shows up to renew family ties.

---
Because My Tears Are Delicious To You
Black Star Rising — Frederik Pohl
Frederik Pohl's 1985 Black Star Rising is a standalone science fiction novel.
The world is divided into two spheres, one dominated by India, one by China, These two powers were the only slightly damaged by an apocalyptic nuclear war that ravaged the United States and the Soviet Union. North America falls under China's benevolent umbrella. Its aboriginal population is monitored by Chinese supervisors.
Castor is an Anglo farmer with pretensions above his class. Denied entry into university, he is an autodidact, hoovering up knowledge of no relevance to his duties to the Heavenly Grain Rice Collective. Elevation from this humble but necessary role comes courtesy of two unrelated events: a brutal murder and what seems to be a First Contact event.
---
Big Hair, Big Guns!
Dragon Pearl — Yoon Ha Lee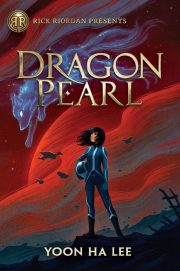 Yoon Ha Lee's 2019 Dragon Pearl is a standalone science fantasy novel.
Thirteen-year-old Min is a magical fox girl. Other supernatural races may be respected throughout the Thousand Worlds, but not foxes. Foxes are seen as untrustworthy and murderous. Min is brought up to conceal her fox nature from neighbours on Jinju.
Min is biding her time, waiting to turn fifteen, when she will be eligible to join the Thousand Worlds' space force. That's one way off backwater Jinju. She knows even a fox can do this, because her older brother Jun managed it.
One day an investigator appears, with bad news about Jun.
---
Doing What the WFC Cannot Do
The Raven Tower — Ann Leckie
Ann Leckie's The Raven Tower is a standalone secondary-world fantasy.
Mawat's story may sound familiar: a northern kingdom; an heir who learns that his father has disappeared and that his uncle has seized power.
---
Miscellaneous Reviews
ONE & Yusuke Murata
One-Punch Man, book 2
One-Punch Man Volume Two collects Punches (issues) 9 through 15 (plus some bonus material) of ONE and Yusuke Murata's ongoing manga.
Determined to deal with an annoying campaign of harassment, nigh-indestructible powerhouse Saitama and his earnest cyborg acolyte Genos set out to confront the mysterious House of Evolution.
---
Translation
World's Fair 1992 — Robert Silverberg
Regan, book 2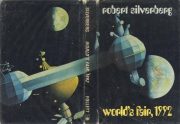 1970's World's Fair 1992 is the second in Robert Silverberg's Regan series.
Would-be xenologist Bill Hasting's essay on the possibility of life on distant Pluto was far-out stuff, but intriguing enough to win the teen a year's stay on the 1992 World's Fair Satellite. It's not a vacation: he will have to work. Still, he's enjoying a trip that others must pay $$$ to experience.
Life on the station is less exotic than one might expect.
---
Because My Tears Are Delicious To You
2018's Temper is a standalone secondary world fantasy novel by Nicky Drayden.
A few pitiful singletons aside, every person has their twin. When one of the pair has a virtue, their twin will have the corresponding vice. There are seven virtues and seven vices; hence it is inevitable that one of the pair will have more virtues, one will have more vices.
Auben is remarkably vice-ridden; he has six of the possible seven vices. His twin Kasim has six virtues. Not that this bothers Auben; he enjoys his vices and is certain that he is smart enough to avoid their consequences.
Then Auben engages with Icy Blue.

---
Doing What the WFC Cannot Do
Voice of the Whirlwind — Walter Jon Williams
Hardwired, book 2
1987's Voice of the Whirlwind is the second volume in Walter Jon Williams' Hardwired series. It can be read as a standalone novel1.
Etienne Steward wakes to discover that he is a clone, the Beta, of the man with whose memories he was imbued. More revelations follow, none good:

---
Big Hair, Big Guns!
Adachitoka
Noragami, book 9
Adachitoka's Noragami Volume 9 collects issues 32 to 35 of the adventures of the stray god Yato. The manga was first published in 2013; the English translation was published in 2015. Included in the volume are
32. "She Who Invites" (誘な女 "Izanami")

33. "Wielder of an Iron Will" (イシ椎い持ち "Ishi Tsutsui Mochi")

34. "Such Were Their Desires" (斯く在りし望み "Kaku Arishi Nozomi")

35. "Death" (死 "Shi")
Things are not going well for Yato and his former shinki Nora. In fact, the two find themselves in hell.

---
Translation
Ninth Step Station — Malka Older, Fran Wilde, Jacqueline Koyanagi, Curtis C. Chen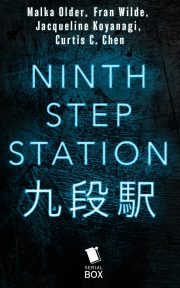 Malka Older, Fran Wilde, Jacqueline Koyanagi, and Curtis C. Chen's 2018 Ninth Step Station is an anthology of serial shared-world cyberpunk fiction. It is published by Serial Box, who (to quote their site):

Serial Box is a publishing company and mobile app that produces and delivers team-written serialized fiction. We blend story production and distribution practices from television, book publishing and narrative podcasting to create professionally crafted serials that fit your life.
Following earthquake and Chinese invasion, Tokyo is divided between Chinese occupation forces, American forces, and of course the Japanese themselves. Crime is still a fact of life. It is up to Tokyo Metropolitan Police officers like Miyako Korida to deal with it. Because there is no job that cannot be made more complicated, Miyako has the privilege of partnering with Peacekeeper Lieutenant Emma Higashi of the US Navy.

---
Miscellaneous Reviews
The Day of the Triffids — John Wyndham
Although 1951's The Day of the Triffids was not John Wyndham Parkes Lucas Beynon Harris' first novel, it was the first that he published under the name John Wyndham. It established him as the master of the Cozy Catastrophe.
His eyes bandaged thanks to an injury, Bill Masen cannot see the wondrous meteor shower that lights up Earth's sky. As a consequence, he is spared the side-effect that manifests the following day: total blindness. As most of the human population had ooh'd and ah'd at the sight, most of them are blind.
It gets worse.

---
Because My Tears Are Delicious To You
Hidden Sun — Jaine Fenn
Shadowlands, book 1
2018's Hidden Sun is the first volume in Jaine Fenn's Shadowlands series.
Disfigured in a mishap, aristocratic shadowkin Rhia disregards convention and indulges her scholarly interests.
Dej is also unconventional, but she's not as lucky. She's a skykin and so a lesser being in the eyes of the shadowkin who run the creche that raised her. Rhia can flout rules; Dej cannot. She is punished for disobedience and eventually sent back to her people, the skykins, who lead hard lives under the bright sun of the skylands.
Who would expect that these two women, of such different backgrounds and tastes, would ever meet?

---
Miscellaneous Reviews
How Long 'til Black Future Month? — N. K. Jemisin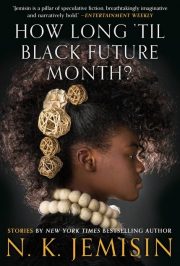 N. K. Jemisin's 2018 How Long 'til Black Future Month? is a collection of short stories. It is her first collection of stories. Nota bene: it's only been out for a month, but that still makes it a 2018 publication and thus eligible for a 2019 Hugo. Just saying.

---
Doing What the WFC Cannot Do
Psychokinesis — Yeon Sang-Ho
Yeon Sang-Ho's 2018 Psychokinesis is a superhero movie. It stars Ryu Seung-ryong, Shim Eun-kyung, Park Jung-min, Kim Min-jae and Jung Yu-mi.
Shin Seok-heon (Ryu Seung-ryong) is a bank security guard. He's content to waste his life filching supplies from the bank and drinking himself into a stupor every night.
Then:
His estranged daughter Shin Roo-mi (Shim Eun-kyung) contacts Seok-heon with the news that his ex-wife is dead, killed in an altercation with thugs.

A sip of meteor-tainted water imbues Seok-heon with psychic powers.
---
Translation
Halting State — Charles Stross
Halting State, book 1
The opening paragraph informs you that the book featured in today's review is Halting State. This novel was written by Charles Stross and was published in 2007. You muse on how long ago that was.
The book opens with protagonist one, Sergeant Sue Smith. She is summoned to Hayek Associates, who are victims of a robbery that proves much less straightforward than expected.

---
Special Requests
The Ship Who Sang — Anne McCaffrey
Brainships, book 1
Anne McCaffrey's 1969's The Ship Who Sang is a fix-up of SF stories published 1961–1969.
Hideously disfigured Helva might have been humanely euthanized, as was routinely done to those outside the norm for her time and place. But she had a brain worth salvaging. Helva survived the conversion process and was reborn as … the brain of interstellar ship XH 834.
---
Because My Tears Are Delicious To You
Miranda in Milan — Katharine Duckett
Katharine Duckett's Miranda in Milan is a standalone historical fantasy novella. It is Duckett's book debut1.
Restored to his dukedom, Prospero returns to Milan, bringing with him his daughter Miranda. Miranda was raised on Prospero's uncharted island and finds Milan a bewildering, alien city.
A bewildering, alien, and hostile city.
---
Miscellaneous Reviews
Carrie Vaughn's 2012 Steel is a standalone young-adult time travel story.
Jill Archer comes in fourth in her fencing tournament. Third would have earned her a bronze medal and a place in the Junior World Fencing Championships. Fourth gets her nothing.
A family vacation near Nassau should help her get over the setback. But a chance discovery of the broken tip of a rapier, lost to the sea centuries ago, gives her a ticket to an entirely different sort of vacation. Clutching the fragment she has rescued from the water, she falls overboard in the 21st century. She is hauled out of the water in the golden age of piracy.

---
A Variety of Vaughns
Kore Yamazaki
The Ancient Magus' Bride, book 1
The Ancient Magus' Bride, volume 1 collects the first five issues of Kore Yamazaki's ongoing manga Mahō Tsukai no Yome.
Abandoned by her parents, despised by her peers, and plagued by visions she does not understand, high school student Chise Hitori decides to sell herself into slavery. That way, at least, she will have a place in the world.
The bidding is heated. At the end of it, Chise is the property of mage Elias Ainsworth, a British person of sufficient means to pay five million pounds sterling for Chise. Well dressed and unflappably polite, Elias is a striking figure.
---
Translation
The Dragon — Jane Gaskell
Atlan, book 2
The Dragon is the second half of the original 1963 hardcover edition of Jane Gaskell's The Serpent, which in turn is the first part of the Atlan series. Publishers, am I right? Let's call it book two of the Atlan series and move on.
Thanks to the tumultuous events towards the end of the previous instalment, Cija is on the run. She manages to hide in plain sight, as her friend Smahil's lover. Smahil insists on making this pretense real. It's probably for the best that Cija does not know that Smahil is her half-brother.

---
Because My Tears Are Delicious To You
Finders — Melissa Scott
Firstborn, Lastborn, book 1
2018's Finders is the first volume in Melissa Scott's Firstborn, Lastborn series.
The Ancestors disappeared millennia ago, leaving behind some garbled myths and the scattered relics of their nigh-godlike technology. Cassilde Sam and her partner Dai Winter make their meagre living tracking down and salvaging Ancestor relics. It's a hard life, but not one that Cassilde will have to endure much longer. Third-stage Lightman's will soon end her life. There is no treatment for Lightman's.
Cassilde is desperate to secure financial security for Dai before she dies. An opportunity presents itself, but it comes at a high price: accepting scholar Summerlad Ashe as a partner once more.

---
Space Opera That Doesn't Suck
The Prisoner of Limnos — Lois McMaster Bujold
Penric & Desdemona, book 6
2017's Prisoner of Limnos is the sixth novella in Lois McMaster Bujold's Penric & Desdemona series. It follows directly on the events of Mira's Last Dance, which in turn followed directly on the events of Penric's Mission.
The sorcerer Penric successfully smuggled General Adelis Arisaydia and the general's half-sister Nikys out of Cedonia to Orbas. Events occurring during this smuggle have upset Nikys, with whom Penric is smitten. Then letters from his superiors arrive, demanding Penric return from his foreign adventures. Penric does what any reasonable person would do in his place: hare off on a side-quest.

---
A Bunch of Bujolds
Choukakou, which is also known as Chang Ge Xing, Chang Ge's Journey or Song of the Long March, is an ongoing manhua (Chinese comic) series by Xia Da. Volume one collects the first four issues.
Seeking to succeed to the throne in the newly born Tang Dynasty, Li Shimin murders his brothers Crown Prince Li Jiancheng and Prince Li. To prevent future unpleasantness, Li Shimin has his brothers' families massacred as well.
Later centuries will remember Li Shimin as Emperor Taizong of Tang, one of China's most capable emperors. Mission accomplished! Save for one small detail.
---
Translation
The Way Back — Michael E. Briant
Blake's 7, book 1
Terry Nation's Blake's 7 is a dystopian SF television series. It originally aired between 1978 and 1981. "The Way Back," written by Michael E. Briant, aired on January 2nd, 1978.
Roj Blake is a seemingly unremarkable member of society. Blake's friend Ravella is determined to convince Blake otherwise.

---
Special Requests
Shakespeare's Planet — Clifford D. Simak
Clifford D. Simak's 1976 Shakespeare's Planet is a standalone SF novel.
Carter Horton wakes from hibernation to the news that his starship's long voyage in search of an Earthlike world has finally succeeded. Unfortunately, this quest took a thousand years in the ship's frame of reference and even more in Earth's frame of reference. All of his human companions died in a mishap centuries ago. His only remaining companions are his Ship's mind and an obsequious robot named Nicodemus.
Oh, and Ship refuses to head back to Earth on the grounds that enough time has passed to make their quest utterly pointless.

---
Because My Tears Are Delicious To You