Tuf Voyaging — George R. R. Martin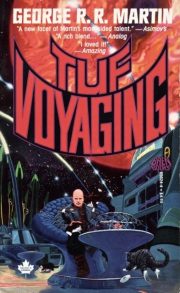 George R. R. Martin's 1986 Tuf Voyaging is, I believe, intended to be a fix-up of shorter pieces. It reads like a collection of stories, so that's how I will review it. The central figure is Haviland Tuf, a minor trader to whom fate grants great power. With great power, as they say, comes even greater megalomania.
Animal harm warning.
---
Big Hair, Big Guns!
Wild Cards — George R. R. Martin
Wild Cards, book 1
1987's Wild Cards is the first volume in George R. R. Martin's ongoing superhero shared-universe project of the same name.
Here's a bird's-eye view of the anthology (i.e. the table of contents).
---
Big Hair, Big Guns!
Dying of the Light — George R.R. Martin

1977's Dying of the Light was George R. R. Martin's first novel. While this novel is set in the same Manrealm as a number of Martin's other stories1, this is a standalone. You don't need to have read the other works to understand this one. This isn't volume five of some interminable fantasy series.
Centuries after the collapse of the Federal Empire, the human worlds are still recovering. Fourteen of the more isolated, backward worlds collaborated on an ambitious project: terraforming the rogue world Worlorn as it passes by the giant star Fat Satan.
By the time Dirk t'Larien arrives on Worlorn, hoping to help a former lover, Gwen Delvano, Worlorn's Festival is over. Its path will take it past Fat Satan and back into the lightless interstellar depths. All life on the world is doomed.
As is Dirk, if he sticks around.
---
Because My Tears Are Delicious To You