World's Fair 1992 — Robert Silverberg
Regan, book 2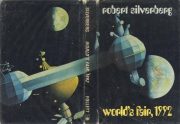 1970's World's Fair 1992 is the second in Robert Silverberg's Regan series.
Would-be xenologist Bill Hasting's essay on the possibility of life on distant Pluto was far-out stuff, but intriguing enough to win the teen a year's stay on the 1992 World's Fair Satellite. It's not a vacation: he will have to work. Still, he's enjoying a trip that others must pay $$$ to experience.
Life on the station is less exotic than one might expect.
---
Because My Tears Are Delicious To You
Up The Line — Robert Silverberg
Robert Silverberg is a fascinating figure. His career as a science fiction writer spans over six decades and comprises at least three distinct periods:
his early, prolific pulp phase, during which he put more emphasis on speed1 than polish;
a middle period, when he reinvented himself as an ambitious literary

SF

author;
the most recent period, more polished than the first and more commercial than the second.
I discovered him while he was writing classics like Dying Inside, To Live Again, and Downward to Earth. To me, it's the serious, ambitious work from the mid-1960s to the mid-1970s that is ineluctably Silverberg.
Of course the first book of his I am going to review is his 1969 time-travel sex comedy, Up the Line. That's because if There Will Be Time wasn't the SF novel that revealed to me that Byzantium existed, Up The Line very definitely was. Paired review, remember?
---
Because My Tears Are Delicious To You