The Ballad of Black Tom — Victor Lavalle
Victor Lavalle's 2016 novella The Ballad of Black Tom is a standalone tale of cosmic horror. It is a retelling of Lovecraft's "The Horror at Red Hook" told from a perspective Lovecraft would never have considered.
Charles Thomas Tester, black and forever denied full membership in American society, supports his aged father by serving as middleman between rich New York clients and the occult community. They want artefacts of power; he can provide. But Tester is careful. He does his best to limit his exposure to dread powers. Let rich white fools dabble in the forbidden; Tester is a sensible man who plans to remain alive and sane.
Tester makes just two mistakes.

---
Miscellaneous Reviews
The Count of Monte Cristo — Alexandre Dumas
1844's The Count of Monte Cristo is a standalone novel of revenge written by Alexandre Dumas. While it is not my usual SF, it has certainly influenced SF. As well, there were (to my surprise) not one but two SFnal moments in the book.
Young Edmond Dantès has it all, from a solid career to a loving fiancée. Alas for Dantès, success engenders jealousy. In short order he is framed for Bonapartist subversion and secretly consigned to life imprisonment in the forbidding Château d'If. His friends and loved ones will never know why he vanished.
At least, that's the plan.

---
Because My Tears Are Delicious To You
Dragonfly Falling — Adrian Tchaikovsky
Shadows of the Apt, book 2
2009's Dragonfly Falling is the second volume in Adrian Tchaikovsky's Shadows of the Apt decology.
The city-state of Collegium is the keystone of Lowland resistance to the coming Wasp Empire conquest of the lowlands. The Empire tried — and failed — to remove Collegium from the board with a swift, bold gambit. No matter. When cunning fails, there is always brute force.
---
A Dozen by Tchaikovsky
So I Might Be a Vampire — Rodney V. Smith
Chasing the Sun, book 1
2017's So I Might Be a Vampire is the first volume in Rodney V. Smith's Chasing the Sun series.
Vampires! Irresistible and sexy, self-confident aristocrats of the night!
Bob the vampire isn't any of those things.

---
Miscellaneous Reviews
Report from Planet Midnight — Nalo Hopkinson
Nalo Hopkinson's 2012 Report from Planet Midnight is a collection. It is the ninth volume in PM Press's Outspoken Authors series.

---
Miscellaneous Reviews
Binti — Nnedi Okorafor
Binti, book 1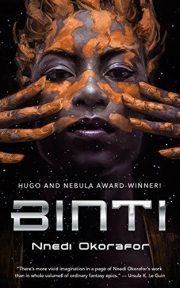 2016's Binti is the first volume in Nnedi Okorafor's Binti series.
Early one morning, young Binti Ekeopara Zuzu Dambu Kaipka packs her things and leaves her home. None of her family is awake. None of them would approve if they knew she was leaving. And why she was leaving. Binti is abandoning her Himba community to accept a scholarship at university.
And not just any university. Oomza Uni is on another world. Binti is not just leaving her homeland of Namib behind. She is leaving Earth.

---
Miscellaneous Reviews
Babel-17 — Samuel R. Delany
1966's Babel-17 is an SF novel by Samuel R. Delany. Not his first (he had already published a number of Ace Doubles and one standalone), but the one that made his name. It shared the Nebula with Flowers for Algernon and was nominated for the Hugo as well, losing to The Moon is a Harsh Mistress. It shares some elements of its setting with an earlier Delany novel, Empire Star.
Victory over the Invaders may depend on understanding a series of indecipherable messages broadcast in an odd code? cipher? language? that the authorities label Babel-17. The Alliance turns to noted linguist Rydra Wong. "Tell us what this is and tell us what it means!"

---
Because My Tears Are Delicious To You
Deep Secret — Diana Wynne Jones
Magid, book 1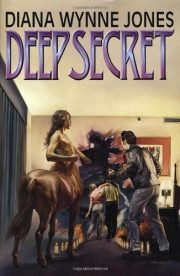 1997's Deep Secret is the first of two novels in Diana Wynne Jones' Magid series.
Through no fault of his own, magid Rupert Venables is drawn into two pressing succession problems. The first problem is to find a magid trainee. The former head magid has died (well, he's dead but not exactly gone; such is the nature of magids). Rupert is now the senior magid and needs an apprentice and future successor. The second problem is finding the true heir to the Koryfonic Empire, hidden away by the previous, rather paranoid, emperor.
It's no use asking the emperor himself: Timos IX is very sincerely, very thoroughly dead. So are Timos' friends and confidants, who might have known where the heir had been stashed. The bomb that reduced Timos IX to vapour was very large.
Rupert decides backburner the question of the missing heir and focus on the quest to find an apprentice and head-magid-to-be. That should at least be straightforward.

---
Twelve by Diana Wynne Jones
Tsukumizu
Girl's Last Tour, book 3
Onward to the third volume of stories in Tsukumizu's Girl's Last Tour series.
---
Translation
Gods, Monsters, and the Lucky Peach — Kelly Robson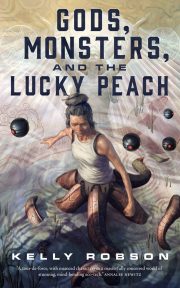 Kelly Robson's 2018 Gods, Monsters, and the Lucky Peach is a time-travel story.
Large-scale ecological remediation used to be a booming field. Then TERN developed time travel and remediation faltered. Bankers were convinced that access to the past would allow immediate remediation of past insults to the environment. Funds for the slow, laborious process of rebuilding the Earth's ravaged surface have dried up. Like too many rivers.
Minh, one of the ecological remediators whose projects have been sidelined, must face the inevitable: survival means joining the enemy.

---
Miscellaneous Reviews
Blood Binds The Pack — Alex Wells
Hob Raveni, book 2
Blood Binds the Pack is the second volume in Alex Wells' Hob Raveni series.
In the previous volume, Hob Raveni and the Ghost Wolves achieved the near-impossible: they assassinated Mr. Green, one of TransRift's psionic-adept Weathermen. But that was not the end of the story. TransRift is determined to crush the resistance and take total control of Tanegawa's World. They have sent a new enforcer: Mr. Yellow. Hob and the Wolves were lucky to kill one Weatherman. Can they kill two?

---
Miscellaneous Reviews
Winds of Gath — E. C. Tubb
Dumarest Saga, book 1
1967's The Winds of Gath is the first novel of thirty-three in E. C. Tubb's Dumarest Saga.
The life of an itinerant stellar traveler is hard and dangerous. Earl Dumarest accepts the hazards; traveling is his only hope of finding his lost homeworld, Earth. He does try to minimize risk with due diligence and planning. His latest trip, for example, involves the usual 15% chance he won't wake from cold sleep (or Low, as it is called in the argot of the starfarer) but if he does wake up, it will be on Broome. He should easily find employment there.
The best-laid plans, etc. Gloria, the Matriarch of Kund, hires the starship on which he was traveling, already in cold sleep. He cannot object when the ship is diverted to the planet Gath. Dumarest's contract with the ship specified that he was to debark at the next world it touched. Was Broome, now Gath.
Gath has no economy to speak off. No jobs. But unless Dumarest can somehow accumulate enough cash for a trip out, he is trapped on the planet.

---
Because My Tears Are Delicious To You
Kitty Goes to Washington — Carrie Vaughn
Kitty Norville, book 2
2006's Kitty Goes to Washington is the second volume in Carrie Vaughn's Kitty Norville series.
DJ Kitty Norville receives a subpoena to appear in front of the American senate. The government has taken note of the supernatural. Lucky Kitty wins a starring role in the hearings to come. She is, after all, the best-known werewolf in America.

---
A Variety of Vaughns
Hiromu Arakawa & Yoshiki Tanaka
The Heroic Legend of Arslan, book 3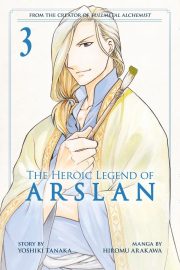 The Heroic Legend of Arslan book 3 collects issues 11 to 19 of Hiromu Arakawa's manga adaptation of Yoshiki Tanaka's Heroic Legend of Arslan light novel series.
Pars has fallen and its king has been imprisoned, but Prince Arslan is still free. Traitor Kharlan is determined to prove his worth by capturing Arslan. Kharlan has a small army at his command, whereas Arslan counts but four people in his force — and that only if he counts himself.

---
Translation
Every Heart a Doorway — Seanan McGuire
Wayward Children, book 1
2016's Nebula and Hugo-winning Every Heart a Doorway is the first volume in Seanan McGuire's Wayward Children series.
Children through the ages have stepped through doors to other lands. Some, like Nancy, return — only to find themselves rejected by families unable to accept what their children have become. A lucky few, like Nancy, find their way to Eleanor West's Home for Wayward Children.

---
Miscellaneous Reviews
The Poppy War — R. F. Kuang
Poppy Wars, book 1
R. F. Kuang's 2018 debut The Poppy War is the first volume in her secondary world Poppy Wars fantasy trilogy.
Faced with an arranged marriage to an odious merchant (plan A), Fang "Rin" Runin opts for plan B: pass the arduous Keju test, which will give her a place at the prestigious academy in Sinegard. The odds that a war orphan fostered to a family of no particular rank will pass the exam are poor, but nevertheless, she persists. The highly motivated Rin places first for the entire Rooster province.
She soon discovers that winning entrance at Sinegard is not at all the same thing being accepted there.
Spoilers.

---
Miscellaneous Reviews
Hammer's Slammers — David Drake
1979's Hammer's Slammers was the first collection of David Drake's long-running Hammer's Slammers stories. The Slammers are a mercenary company formed by Alois Hammer.

---
Because My Tears Are Delicious To You
Shards of Honor — Lois McMaster Bujold
Cordelia Vorkosigan, book 1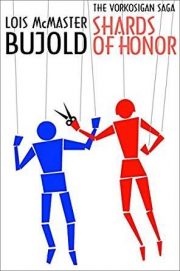 Lois McMaster Bujold's 1986 debut novel Shards of Honor is the first Cordelia Vorkosigan book, as well as the first novel set in Bujold's Vorkosiverse.
A Betan exploratory mission has been sent through a newly discovered wormhole; they have discovered a terrestrial world suitable for colonization. Unfortunately for the Betans, they are the second group to discover Sergyar. The Barrayaran militarists were there first and they don't want company.

---
19
Jan
2018
/ 11 Comments
A Bunch of Bujolds
Tsukumizu
Girl's Last Tour, book 1
Girls' Last Tour, Volume 1, is the first instalment in Tsukumizu's Girls' Last Tour series.
Lost in a vast, empty, decaying city complex, Chito (the smart one) and Yuuri (the other one) wander in search of supplies. Failure may be inevitable; if so, their ultimate fate will be to starve. But at least they will starve together.

---
Translation
The Citadel of Weeping Pearls — Aliette de Bodard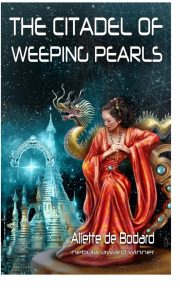 Aliette de Bodard's 2015 space-opera The Citadel of Weeping Pearls is an instalment in her Universe of Xuya, an alternate history/future in which the West never dominated the world. The galaxy is ruled by Confucian powers.
Suu Nuoc is woken from a sound sleep by his alarmed shipmind, The Turtle's Golden Claw. The artificial intelligence reports that Grand Master of Design Harmony Bach Cuc has seemingly vanished, in a manner the shipmind cannot comprehend. As far as The Turtle's Golden Claw is concerned, it is up to Suu Nuoc — an Official of the First Order despite his low birth — to work out what happened to the missing scientist.

---
Space Opera That Doesn't Suck
Winterlong — Elizabeth Hand
Winterlong Trilogy, book 1
Elizabeth Hand's 1990 debut novel Winterlong is the first volume in her Winterlong Trilogy.
Nuclear war and germ warfare have left Washington a shadow of its once glorious past. A handful of administrators, descended from self-appointed curators, control the relics of America's lost past, defending the remnants from the diseased, mutated, and simply unlucky inhabitants of the surrounding sea of ruins.
A desperate woman appealed to House Miramar for refuge. Too damaged to be of use to Miramar, the woman was cast out to die at the hands of the lazars. But Miramar did keep her two beautiful children, as new Paphians for Miramar's bordellos. Only Raphael proved suitable. Autistic Wendy Wanders was consigned to HEL.

---
Special Requests
Shadow of a Broken Man — George C. Chesbro
Mongo, book 1
1977's Shadow of a Broken Man is the first volume in George C. Chesbro's long-running Mongo series. The Mongo series lives in the intersection of mundane detective fiction and outright science fiction. Or at least I think it does.
Former circus tumbler turned black belt martial artist turned academic, criminology professor Dr. Robert "Mongo the Magnificent" Fredrickson has a minor side-line as a private detective. His cases are often peculiar, as if people with normal cases don't seek out New York's only dwarf detective. Lookism, I suppose.
His new case seems pretty straightforward: find out how a dead man managed to design a new building.

---
Because My Tears Are Delicious To You
Empire in Black and Gold — Adrian Tchaikovsky
Shadows of the Apt, book 1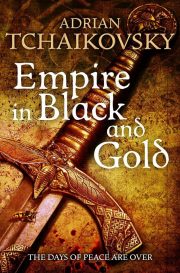 2008's Empire in Black and Gold is the first volume in Adrian Tchaikovsky's Shadows of the Apt decalogy. I should note that he completed the whole ten-book series in eight years. Completed, I say, completed. This may be of interest to certain other authors whom I will not name.
In the seventeen years since the Empire of the Wasps conquered the Commonweal city of Myna, Stenwald has been unable to convince his fellow citizens that Collegium (as well as the other city-states of the Lowlands) are on the Wasps' to-conquer list. Most Lowlanders find it comforting to believe that the Wasps are sated with conquest. Stenwald knows that the Empire was merely taking its time to recover from its long war with the Commonweal.
Now there are hints that the Empire has recovered.

---
A Dozen by Tchaikovsky
Hiromu Arakawa & Yoshiki Tanaka
The Heroic Legend of Arslan, book 2
The Heroic Legend of Arslan, Volume 2 is the second collection of Hiromu Arakawa's manga adaptation of Yoshiki Tanaka's light novel series.
In volume one, overconfidence and arrogance led King Andragoras and his vast Parsian army into ambush and defeat at the hands of the Lusitanian invaders. The King's fate is unknown. Prince Arslan escaped, but it is unclear how long he can remain free.

---
Translation
A Darker Shade of Magic — V. E. Schwab
Shades of Magic, book 1
A Darker Shade of Magic is the first volume in V. E. Schwab's Shades of Magic series.
Kell is an Antari, one of two known world-walkers, able to travel between the four known alternate Londons, White, Red, Gray, and forbidden Black. His is a gift rare enough to make him a treasured possession of Red London's Royal Family.
Officially, Kell uses his gift to serve as an ambassador between the three Londons — White, Red, and Gray — that are still in limited contact with each other. On his own time Kell likes to collect souvenirs. That's forbidden. But moving minor trinkets from one world to another seems a harmless hobby.
It isn't.

---