A Matter of Oaths — Helen S. Wright
Helen S. Wright's 1988 A Matter of Oaths is a standalone (thus far) space opera.
Desperate for crew but short on qualified candidates, Commander Rallya of the patrolship Bhattya grudgingly hires Rafe. His service record is glowing, his professional qualifications are exemplary, but … Rafe has been mind-wiped, for reasons about which Rallya can only speculate.
Not having a choice really speeds up the decision making process. At least Commander Rallya can be sure that whatever Rafe's past, identity erasure has made it completely irrelevant to his present.
Right?

---
Space Opera That Doesn't Suck
The Witches of Karres — James H. Schmitz
1966's The Witches of Karres is James H. Schmitz's novel-length expansion of his 1949 novelette of the same name. It is a standalone space opera.
Given an aged starship and a cargo of dubious value, naive Captain Pausert headed out into space in search of a fortune and his prospective father-in-law's respect. If he had not also been hobbled by his own essential decency, he might have realized his dreams.

---
Because My Tears Are Delicious To You
Spindle — E. K. Johnston
A Thousand Nights, book 2
To quote E. K. Johnston's website
E. K.

Johnston had several jobs and one vocation before she became a published writer. If she's learned anything, it's that things turn out weird sometimes, and there's not a lot you can do about it. Well, that and how to muscle through awkward fanfic because it's about a pairing she likes.
Her books range from contemporary fantasy (The Story of Owen, Prairie Fire), to fairy-tale re-imaginings (A Thousand Nights, Spindle), and from small town Ontario (Exit, Pursued By A Bear), to a galaxy far, far away (Star Wars: Ahsoka). She has no plans to rein anything in.
2016's Spindle is a companion novel to E. K. Johnston's A Thousand Nights.
The spinners of Kharuf fled a demon's curse, seeking escape in foreign lands that were little interested in helping strangers. Even this was not enough to save all of them; many died of a slow, lingering malady. Yashaa's dying mother sends Yashaa and his friends on a desperate quest, one that she hopes will allow some of her people to return to their homeland.

---
A Year of Waterloo Region Speculative Fiction
Train to Busan — Yeon Sang-ho
Yeon Sang-ho's 2016's Train to Busan is a horror film1 starring Gong Yoo, Jung Yu-mi, and Ma Dong-seok.
Fund manager Seok-woo's laudable work ethic has driven his wife away and alienated his young daughter Soo-an. No worries! It's nothing that lavishing expensive presents on his daughter cannot fix. Except when he spaces out and buys her two identical presents. Seeing her hopeless expression as she receives his clumsy gifts, he begins to understand his neglect may have driven a wedge between them that no amount of last-minute, distracted gift-buying can fix.
He can at least give Soo-an the one gift she does want, which is to send her home to her mother on the other side of Korea. Although she would prefer to make the trip alone, he insists on accompanying the ten year old on the KTX [2]. It won't be a happy trip but at least it should be a placid respite from his usual frantic, workaholic life.

---
Translation
Waiting on a Bright Moon — JY Yang
JY Yang's Waiting on a Bright Moon is a standalone space opera.
In another life, Ansible Xin might have been a starmage. In this one, her sexual orientation was the pretext used to strip her of her birth name and consign her to endless drudgery as a living communications device on Eighth Colony.
The appearance of a mysterious corpse on the threshold of an interstellar portal sets in motion events that will transform Xin's life.

---
Space Opera That Doesn't Suck
Barbary Station — R. E. Stearns
Shieldrunner Pirates, book 1
2017's Barbary Station is the first book in R. E. Stearns' Shieldrunner Pirates series.
Faced with crushing debt and poor employment prospects, two women in love plan to hijack a large, expensive space ship and use it to buy their way into the pirate gang currently in possession of the so-called Barbary Station. Thelma and Louise, in SPAAACE.
Adda and Iridian's scheme is such a simple, straight forward plan it's hard to see how it could possibly go wrong. Indeed, it works almost perfectly until the pair and their hapless, expendable ally arrive at the station, whereupon their helper is shot dead and the two women learn they have made a slight miscalculation.

---
Space Opera That Doesn't Suck
Close to Critical — Hal Clement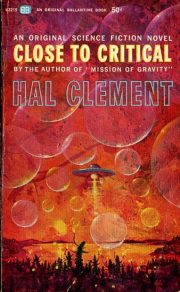 Hal Clement's 1958 young-adult adventure novel Close to Critical is apparently set in the same universe as his far more famous Mission of Gravity, but it can be read as a standalone work.
No human could walk unprotected on Tenebra's surface: if the 8100 kilo-pascal air pressure didn't crush them, the 374o C mixture of dissolved oxygen and sulphur oxides surely would dissolve them. But as hostile as Tenebra might seem to a terrestrial, it's a life-bearing planet. Tenebra doesn't just have life. It has intelligent life and that offers a unique opportunity to researchers up in orbit.
A human-Drommian team has established an orbital observation station circling Tenebra. A telefactored robot serves as their optical receptors and manipulative organs down on the ground.

---
Because My Tears Are Delicious To You
Bitten — Kelley Armstrong
Otherworld, book 1
To quote Kelley Armstrong's website:
I've been telling stories since before I could write. My earliest written efforts were disastrous. If asked for a story about girls and dolls, mine would invariably feature undead girls and evil dolls, much to my teachers' dismay. All efforts to make me produce "normal" stories failed. Today I continue to spin tales of ghosts and demons and werewolves while safely locked away in my basement writing dungeon.
She has published in excess of thirty novels since 2001.
2001's Bitten is the first novel in Armstrong's Otherworld series.
Determined to live her perfectly normal life with her perfectly adorable boyfriend Philip, Elena Michaels carefully withholds one or two facts about herself from Philip. Chief among these is the fact that she is, occasionally, a wolf. Not only are werewolves uncommon in Toronto, but Elena is the only known female werewolf on the planet.
Just one part of a colourful past she is determined to leave behind her.
---
A Year of Waterloo Region Speculative Fiction
Saiensu Fikushon 2016 — Nick Mamatas & Masumi Washington
Nick Mamatas and Masumi Washington's Saiensu Fikushon 2016 is a science fiction anthology that collects three short pieces by TOBI Hirotaka, Toh Enjoe, and Taiyo Fujii respectively.

---
Translation
Caliban's War — James S. A. Corey
Expanse, book 2
2012's Caliban's War is the second book in James S. A. Corey's ongoing Expanse series.
Fresh off playing a central role in the intensification of the ongoing Earth-Mars rivalry (from cold war to the brink of the real thing), James Holden and the crew of the Rocinante now work for the Outer Planets Alliance. Their job: tracking down and dealing with pirates eager to take advantage of the current chaos. It's a grim job but at least Holden and his people can be sure the alien protomolecule — a super-powerful nanotech able to reshape living things according to inscrutable and ancient protocols — is safely confined on Venus and will never bother humanity again.
It bothers humanity again.

---
Space Opera That Doesn't Suck
The Dark Intercept — Julia Keller
Julia Keller's 2017 The Dark Intercept is a standalone young-adult SF dystopia.
High above the Earth's surface, the six floating cities that comprise New Earth offer everything that the war-torn ground level cannot: prosperity, security, and peace. The Intercept is the primary weapon used to keep the chaos of the old world at bay. It reduces any miscreant to a whimpering heap, using the miscreant's own weaponized emotions.
Sixteen year old Violet Crowley accepts the new world order without question. After all, her father Ogden created it.
Her world is about to fall apart.

---
Miscellaneous Reviews
Time Travelers Strictly Cash — Spider Robinson
Callahan's Crosstime Saloon, book 2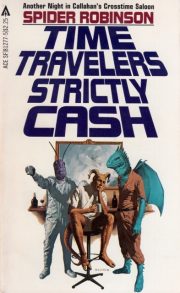 1981's Time Travelers Strictly Cash is Spider Robinson's second Callahan's Crosstime Saloon collection. Sort of. More on that after the break.
Bar stories are a recurring motif in science fiction. See also Tales From the White Hart and the somewhat less classic Tales from Gavagan's Bar, as well as the Draco Tavern sequence. The conceit is simple: people gather to consume alcohol and share stories or experience events not necessarily inhibited by plausibility. It's a variation on the club stories genre, which itself is a riff on the general trope of people telling stories to each other in some plausible setting. Decameron (people tell stories in a villa); Canterbury Tales (people tell stories on pilgrimage); people telling stories by the comfy fireside, or on a dark and stormy night, or around a campfire … Authors have come up with a multitude of settings in which people might be telling stories to each other.
In the case of the Callahan's tales, all of the stories are told by habitual barfly Jake. Everyone at the bar has some traumatic backstory which they are trying to blot out by consuming excessive amounts of a toxic depressant in the company of like-minded friends. Jake, for example, invested years killing brain cells and slowing dissolving his liver in his effort to forget how his efforts at car maintenance killed his wife and child. So far, the Callahan cure does not appear to have worked, but hey, it's drink to excess or take a course in auto mechanics.
Anyone is welcome at Callahan's, from aliens to talking dogs to time travelers1.
As is generally the case with bar stories, these are (supposedly) comic. Some of you may remember that I have a barely discernible sense of humour and may therefore wonder if I am the best choice to review this venerable collection. Let's find out together.
There will be some spoilers.

---
Because My Tears Are Delicious To You
The City of Brass — S.A. Chakraborty
Daevabad Trilogy, book 1
2017's historical fantasy The City of Brass is S.A. Chakraborty's debut novel, the first in the Daevabad Trilogy.
Napoleon's French and the Turks agree on one thing; Cairo cannot rule itself. Their only disagreement is over which of them is best suited to own Egypt. Nahri sees little distinction between the foreign occupiers, although the "Franks" are less likely to kill her for being a witch.
Not that Nahri admits to being an actual witch. As far as she is concerned, magic and religion are con games designed to separate gullible marks from their money. Her ability to heal with a touch is merely a minor quirk, one she accepts without wanting to explain it. She is greatly surprised, and therefore, when her improvised flourish during an exorcism summons Dara, an actual djinn.

A very angry, extraordinarily powerful djinn who takes being summoned by a mere human as a personal affront.
---
Where The Stars Rise: Asian Science Fiction & Fantasy — Lucas K. Law & Derwin Mak
2017's Where The Stars Rise: Asian Science Fiction & Fantasy is an anthology edited by Lucas K. Law and Derwin Mak1.

---
Miscellaneous Reviews
Patsy Walker A.K.A. Hellcat! — Kate Leth & Brittney Williams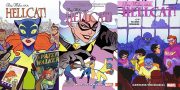 Hooked on a Feline, Don't Stop Me-ow, and Careless Whisker(s) collect all seventeen issues of Kate Leth and Brittney Williams' comic Patsy Walker A.K.A. Hellcat!
Granted an open-ended, unpaid leave from her duties as an investigator, unwilling to go back to life as a costumed adventurer, Patsy "Hellcat" Walker boldly embraces a new career:
Temping!
With a side-order of retail.
---
Miscellaneous Reviews
Children of the Divide — Patrick S. Tomlinson
Children of a Dead Earth, book 3
2017's Children of the Divide is the third but probably not final volume in Patrick S. Tomlinson's Children of a Dead Earth series.
A generation after their ark parked in orbit around Gaea (one of Tau Ceti's life-bearing worlds), the refugees are well on their way to building a new civilization to replace the one they lost. There are just two problems:
Tensions between humans and Gaean natives could result in civil war.

The aliens who destroyed Earth may have once lived in the Tau Ceti system — and may return.
---
Miscellaneous Reviews
Titan — John Varley
Gaea, book 1
1979's Titan is the first novel in John Varley's Gaea trilogy.
Ringmaster is the first crewed spacecraft to visit distant Saturn. The crew discovers a twelfth moon of Saturn, the first discovered in the six decades since Janus and Epimethius were detected in the 1960s1. What at first appears to be a small object turns out to be huge, over 1300 kilometres in diameter2. By rights, any moon that large should be spherical and comparable in mass to our Moon. This object, which the astronauts initially call Themis, is a torus of low mass which is spinning rapidly enough that any object on its surface would be flicked off into space. The obvious conclusion is that the object is artificial, possibly an alien generation ship.
When Ringmaster approaches the object, they discover something else about Themis. It knows that Ringmaster is nearby and is able to reach out and tear the spacecraft apart. The crew — Cirocco Jones, Bill NLN, April and August Polo, Gaby Plauget, Calvin Greene, and Gene Springfield — are grabbed by immense tentacles and borne off into the depths of the vast moon.

---
Because My Tears Are Delicious To You
Radiant — James Alan Gardner
League of Peoples, book 7
To quote Wikipedia:
James Alan Gardner (born January 10, 1955) is a Canadian science fiction author. Raised in Simcoe and Bradford, Ontario, he earned bachelor's and master's degrees in applied mathematics from the University of Waterloo.
Gardner has published science fiction short stories in a range of periodicals, including The Magazine of Fantasy and Science Fiction and Amazing Stories. In 1989, his short story "The Children of Creche" was awarded the Grand Prize in the Writers of the Future contest. Two years later his story "Muffin Explains Teleology to the World at Large" won a Prix Aurora Award; another story, "Three Hearings on the Existence of Snakes in the Human Bloodstream," won an Aurora and was nominated for both the Nebula and Hugo Awards.
Radiant is the seventh and thus far final volume in James Alan Gardner's League of People's series. Readers who want more books should make that known to publishers.
Youn Suu's mother wanted the genetic engineers to ensure that her daughter would be a beauty who would satisfy her mother's very demanding standards. Instead, Youn was born with a face that was, shall we say, less than conventionally beautiful. How inconsiderate of her!
The Technocracy has a use for people like Youn. The Explorer Corps is always looking for new recruits, particularly unsightly or unpopular people whose demise will be regretted by nobody. That's because the hazards of exploration are matched only by the brevity of Explorer lifespans. Youn was fated from birth to become an Explorer or as they are better known, an Expendable.

---
A Year of Waterloo Region Speculative Fiction
Bodacious Space Pirates: Abyss of Hyperspace — Saito Tatsuo

2014's Mōretsu uchū kaizoku - Akū no shin'en (Bodacious Space Pirates: Abyss of Hyperspace) is the feature-length animated movie follow-up to the anime television adaptation of Saito Tatsuo's Mōretsu Pairētsu (Bodacious Space Pirates) light novel series. Saito Tatsuo was the film's writer/director.
Sole heir of the notorious space pirate Gonzaemon Kato, Marika Kato assumed her father's role as captain of the Bentenmaru upon Gonzaemon's death. The Bentenmaru isn't the only pirate vessel in the Tau Ceti system, but it may be the only one whose captain has a curfew. Marika is, after all, only seventeen, still in high school, and she needs to maintain her grade point average.

---
Translation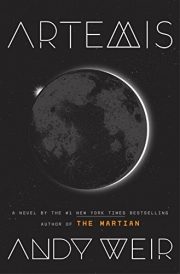 2017's Artemis is a standalone hard-SF novel by Andy Weir.
A century after the first Moon landings, Jasmine "Jazz" Bashara is living proof to the other residents in the lunar city, Artemis, that sufficiently poor judgment can lead to many exciting adventures. There may, however, be a hard limit to how long one such miscreant can survive on the unforgiving Moon.

---
Special Requests
Prime Meridian — Silvia Moreno-Garcia
2017's Prime Meridian is a standalone science fiction novella by Silvia Moreno-Garcia.
In the glorious world of tomorrow, anyone with enough money can buy a ticket to the Martian settlements. Anyone with the right credentials can indenture themself to buy that precious ticket.
Thanks to her decision to drop out of college to care for her dying mother, Amelia doesn't have money or credentials. Instead, she is one of Mexico City's precariate. A new life on Mars can only be a dream.

---
Miscellaneous Reviews
Worlds — Joe Haldeman
Worlds, book 1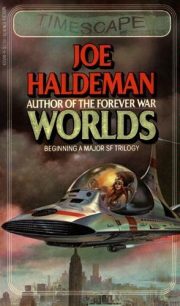 1981's Worlds is the first volume in Joe Haldeman's Worlds trilogy.
By 2084, half a million people live in forty-one orbital habitats circling the Earth; they are the so-called Worlds. New New York is largest of the Worlds. It is the only home our protagonist Marianne O'Hara has ever known. University in Old New York will be an entirely new experience for her. If she plays her cards wrong, possibly her last experience ever.

---
Because My Tears Are Delicious To You
The Sleeping God — Violette Malan
Dhulyn and Parno, book 1
To quote Violette Malan's bio,
Violette Malan has a PhD from York University in 18th-Century English Literature, but reports that most people don't hold it against her. She started reading fantasy and science fiction at the age of eight, and was writing stories not long after. Violette has been a book reviewer, and has written feature articles on genre writing and literature for the Kingston Whig Standard. She has taught creative writing, English as a second language, Spanish, beginner's French, and choreography for strippers. On occasion she's worked as an administrative assistant, and a carpenter's helper. Her most unusual job was translating letters between lovers, one of whom spoke only English, the other only Spanish.
Violette is co-founder of the Scene of the Crime Festival on Wolfe Island, a single-day event focusing on Canadian crime writing, and celebrating the birthplace of Grant Allen, Canada's first crime writer. Violette is currently the president of the festival board, but in the past she's given writing workshops, and was the original organizer and co-judge of The Wolfe Island Prize for first crime fiction, which is sponsored by the festival.
2007's The Sleeping God is the first volume in Violette Malan's Dhulyn and Parno series.
The contract seemed so straightforward. Escort a young woman to her nation's capital. Unfortunately for Dhulyn and Parno, they're heading for the capital of Imrion and disquieting events are underway.

---
A Year of Waterloo Region Speculative Fiction
Fumi Yoshinaga
Ôoku: The Inner Chambers, book 1
2009's Ôoku: The Inner Chambers, Vol. 1 is the first tankōbon in Fumi Yoshinaga's long-running alternate history manga series. Volumes 1 and 2 shared the 2009 Tiptree Award with Greer Gilman's Cloud & Ashes.
Eighty years ago, the Red Pox swept across Japan. Men were peculiarly vulnerable to the disease; even now, there are four women for every man. Too precious to risk, men are kept safely sequestered from danger. Occupations once the monopoly of men are now the realm of women.
Good looking Yunoshin shares his seed generously with the poor women of his town, but social barriers prevent him from marrying O-Nobu, the one woman he loves. Rather than spend his life living near the beloved he cannot have, he applies for a position in the Ôoku, the Shogun's harem.
Yunoshin vanishes into the inner chambers, never to walk the streets of his hometown again.
---
James Tiptree, Jr. Award
Northern Tier — David Axel Kurtz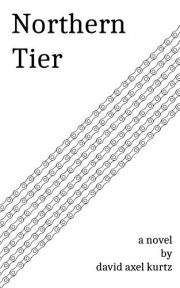 2017's Northern Tier is a standalone post-apocalyptic novel by David Axel Kurtz.
Two centuries after nuclear war and the collapse of petroleum-based civilization, North America is divided between several nations: Nova Scotia et Hibernia, Minnetonka, Central, Two Crowns, and others. Trade between nations has become slow and difficult, creating a niche for couriers who are willing to brave the dangers of the open road to deliver small, valuable packages quickly. The cycers, bicycle couriers like Slip, fill this niche.
Slip is a survivor, smart and cautious enough to survive a lifestyle that kills most cycers young. But this time, one moment of bad judgment on her part may doom not just Slip, but the entire cycer way of life.

---