The Tripods Trilogy — John Christopher
1967's The White Mountains, 1968's The City of Gold and Lead, and 1968's The Pool of Fire constitute John Christopher's Tripods trilogy.
A century after the coming of the Tripods, humans are few, backward, and well-behaved. It has been decades since any human posed a serious threat to Tripod rule.
That's about to change.
(spoilers)

---
Because My Tears Are Delicious To You
Whipping Star — Frank Herbert
ConSentiency, book 1
1970's Whipping Star is the third piece and first novel-length work in Frank Herbert's ConSentiency series. I hope I've worked out how I am going to number Whipping Star by the time I post this review.
The ConSentiency spans the Milky Way. While faster than light drives exist, all are too slow for galactic travel. What made the ConSentiency practical was the jumpdoor. Jumpdoors allow people to step from the surface of one planet to the surface of another. Jumpdoors were so clearly useful that nobody questioned their enigmatic Caleban creators too closely about how exactly they worked.
Jumpdoors have some interesting undocumented features. For example, someone who knows their jumpdoors can use them to kill an astonishing fraction of the population of the ConSentiency in one go.

---
Because My Tears Are Delicious To You
Restoree — Anne McCaffrey
Anne McCaffrey's standalone SF novel Restoree was her debut novel.
Snatched by monstrous aliens, embittered spinster Sara wakes from nightmares to find herself transformed from an all-too-Semitic-looking woman whom nobody could possibly love to a beauty. Her current captors are using her as grunt labor in a mental institution. They regard her as semi-intelligent and unthreatening.
Her masters' underestimation of Sara's cognitive abilities will prove their undoing.
---
Because My Tears Are Delicious To You
The Forgotten Beasts of Eld — Patricia A. McKillip
1974's standalone secondary world fantasy The Forgotten Beasts of Eld was Patricia A. McKillip's second fantasy novel. It won the World Fantasy Award and was nominated for the Mythopoeic Fantasy Award1.
Raised in isolation by her mage father, the ice-white lady Sybel is content to live with her menagerie of fantastic beasts. She knows nothing of the company of humans and cares naught for the lack.
This does not prevent a stranger from arriving on her doorstep, bearing a child whom he means to foist on her.

---
Because My Tears Are Delicious To You
1962's Hugo-winning Hothouse is a standalone SF novel by Brian Aldiss.
In a distant future, the Earth is tide-locked to the Sun, while the Moon has retreated to one of the Earth-Sun Lagrange points. On the illuminated side of Earth, a vast banyan tree dominates the land. In this overheated world, voracious plants dominate. Only four groups of insects still exist on the banyan-dominated land: wasps, bees, ants and termites. All other animals are extinct.
All, save for the stunted, degenerate descendants of humanity.

---
Because My Tears Are Delicious To You
Cadaverific — Becka Kinzie
To quote Becka Kinzie's site:
Hello, I'm a freelance artist from the K-W Region. I've also been working as a colour flatter and colouring assistant since the early 2010s. In my spare time, I create my own macabre series of comics, which are posted online. The pages are eventually made into comic book issues, and so far I have self-published 15 of them (for sale at events/conventions).
Kenzie's first webcomic, Cadaverific, ran from 2008 to 2014.
Corey Bowman's story should have ended the night the night he died. A minor altercation between Corey and a low-rent acquaintance ended in Corey's accidental death. Yes, the story should have ended there, but it didn't. Corey's cousin J. P. just happened to have come into possession of a monkey's paw — sorry, the Monkey's Paw — and in an idle moment of grief, wished Corey was back among his friends.
J. P. was nowhere near specific enough about his wish.

---
Because My Tears Are Delicious To You
The Keeper of the Isis Light — Monica Hughes
Isis, book 1
1980's The Keeper of the Isis Light is the first volume in Monica Hughes' Isis Trilogy.
Olwen Pendennis has been the keeper of the Isis FTL beacon ever since she was an infant, an infant orphaned by calamity on distant Isis. For her, life with no human companions is perfectly normal. After all, she has her wise robot Guardian to advise and keep watch over her, her amiable but formidable-looking Hairy Dragon Hobbit for company, and an entire planet to call her own.
On her tenth birthday — sixteenth by Earth years — her life changes forever.

---
Because My Tears Are Delicious To You
Projections — Stephen Robinett
Stephen Robinett's1 science fiction career2 ran from 1969 to 1983. In that time he produced five novels and twenty-one short stories. He appears to have disappeared from the science fiction world after 1983. Robinett died from complications of Hodgkin's Disease in 2004, but it took a further five years for that news to filter back to SFdom.
A 1979 collection, Projections, contains nine Robinett stories, stories of which he was particular fond.

---
Because My Tears Are Delicious To You
Adam Link, Robot — Eando Binder
Eando Binder's i 1965 Adam Link, Robot is a fix-up of stories first published in the late 1930s and early 1940s.
Adam Link is the product of years of work by kindly Dr. Charles Link. 500 pounds of unstoppable metal guided by an iridium-sponge brain, the robot is the first of its kind. Thanks to Dr. Link's careful training, it is not in any way a ravening, unstoppable killbot.
Unfortunately for Adam, Dr. Link is one of the very few people willing to give the robot the benefit of the doubt. When Dr. Link is killed in a household mishap, Adam is immediately accused of killing the old man. With public opinion against him, Adam has little chance of winning a trial. Indeed, the odds of him surviving long enough to get a trial are poor. He is, after all, only a machine.
---
Because My Tears Are Delicious To You
The Starmen of Llyrdis — Leigh Brackett
Leigh Brackett's standalone space adventure The Starmen of Llyrdis was first published in 1952, under the title The Starmen.
Perpetually out of step with the world, Michael Trehearne has travelled to Brittany in search of his family roots. When he glimpses a face much like his own, he is convinced he has come to the right place. He is both right and wrong: some of his kin are at hand but they are only visiting Brittany. Their true home is far from France.
Light years away, in fact.
Spoiler warnings, for this and for the unrelated The Long Tomorrow.
---
Because My Tears Are Delicious To You
Death Comes as the End — Agatha Christie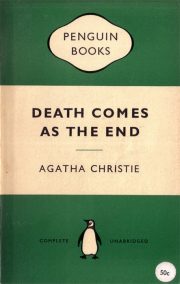 1944's Death Comes as the End was Agatha Christie's sole foray into historical mystery. In it, she abandoned her familiar 20 th century England for Egypt at the very end of the First Intermediate Period. I seem to have a weakness? superpower? for discovering authors through their most atypical work, so it should come as no surprise that this was the very first Agatha Christie I ever read.
Recently widowed, young Renisenb returns to her family home in Thebes. Although she has been gone for eight years, little of significance seems to have changed. Her mortuary-priest father Imhotep still micromanages the household (through letters if he is away on business); her older brothers Yamose and Sobek still squabble with each other, and the youngest brother Ipy is still spoiled. The older brothers are married, but their wives have little influence over the household.
Imhotep's scribe Hori could tell her this stability is an illusion. All it takes to destroy it is an old man's foolish infatuation with a beautiful young girl.
---
Because My Tears Are Delicious To You
The World at Bay — Paul Capon
Winston Science Fiction, book 26
Paul Capon's 1954 standalone The World at Bay was the 26th juvenile science fiction novel published by the John C. Winston company.
Professor Elrick has long suspected that Poppea, the third world of the dark star Nero, is inhabited. The Professor also believes an invasion from that doomed world is imminent. Alas, aside from his loyal teenaged assistant Jim Shannon, few believe Elrick. Instead, skeptics insist that the objects flying in formation from the Nero system toward Earth are only meteors of some sort.
Once the objects arrive at Earth, a wave of radio silence begins to spread along the terminator. Elrick was right, but the price of his vindication may be humanity's doom.
---
Because My Tears Are Delicious To You
In the Ocean of Night — Gregory Benford
Galactic Centre, book 1
The 1978 fix-up In the Ocean of Night is the first volume in Gregory Benford's Galactic Centre series1.
In the far-off year of 1999, British-American astronaut Nigel Walmsley is part of a two-man team sent by NASA to the asteroid Icarus. Unexplained out-gassing has transformed a body remarkable only for its eccentric orbit into an impending Earth-impacter. Nigel and Len's mission is to determine how much, if any, of Icarus remains. If enough material is left to present a significant risk to the Earth, they are to destroy or divert Icarus with the Egg, a fifty-megaton fusion bomb.
The hope was that nothing would remain after the Egg had been used. The expectation was that a chunk of rock and iron might head for Bengal. The reality was a surprise: the large mass that had survived the out-gassing was an alien spaceship.
---
Because My Tears Are Delicious To You
Justice, Inc. — Paul Ernst
Avenger, book 1
Justice, Inc. is the first volume of Paul Ernst's The Avenger pulp series, which was published in 1939 by Smith and Street under the Kenneth Robeson house name.
Desperate to reach Montreal before his mother-in-law dies, millionaire Richard Benson forces a plane leaving Buffalo to allow Benson, Alicia and their daughter Alice to occupy three empty seats. Once the plane is in the air, fastidiousness sends Benson to the lavatory to wash his almost clean hands. When he emerges, Alicia and Alice are nowhere to be seen. The flight crew and passengers all agree that Benson boarded the plane alone.
The altercation that follows ends when someone knocks Benson cold with a fire extinguisher. He languishes unconscious for three weeks. When he awakes, he is a man transformed.
---
Because My Tears Are Delicious To You
Rogue Queen — L. Sprague de Camp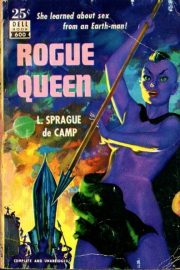 L. Sprague de Camp's 1951 standalone Rogue Queen takes place in de Camp's Viagens Interplanetarias setting.
Our protagonist, Iroedh, is a member of the worker-caste in the Avtiny community. Her group faces an existential threat: invasion and enslavement by its more aggressive and larger Arsuuni neighbours. Iroedh, as a scholar and antiquarian, seems to be of no use in the struggle. She is looked down on by her fellow Avtiny.
Then comes word of the visitors from the stars.
---
Because My Tears Are Delicious To You
The Black Cloud — Fred Hoyle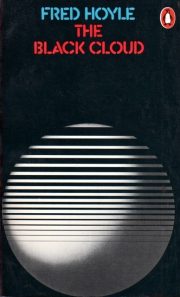 1957's The Black Cloud was Sir Fred Hoyle's first novel.
A young astronomer working a blink comparator gets a career-making break when he notices that a small black region on two photographic plates grew measurably in the month between exposures. After a hurried consultation, the discoverer and his colleagues conclude:
The dark spot is an interstellar cloud.
Its apparent growth is because it is headed towards the Solar System.
The lack of transverse motion means that it is headed directly at the Solar System.
It will arrive in about two years.
Exciting times to be an astronomer! Very exciting, because if the cloud passes between the Earth and the Sun it is dense enough to blot out sunlight entirely 1, dooming us all to a slow lingering death.
Well, the discoverer can enjoy his enhanced career for the two years he has left.
---
Because My Tears Are Delicious To You
A Different Light — Elizabeth A. Lynn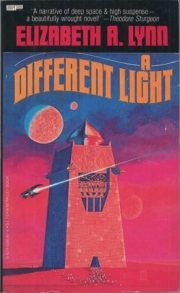 1978's standalone novel A Different Light was written by Elizabeth A. Lynn. She is an author I enjoy..
Jimson Alleca has the bad luck (a one in a billion chance) to be an adult cancer patient in a galaxy where cancer is unknown. Modern medicine may have failed him, but it can at least offer him good odds of surviving until his fifties. Provided he is lucky. Provided his doctors can keep finding new treatments faster than the cancer can kill him. Provided he never, ever tries to leave his homeworld; the stress of travel through hyperspace would reduce his remaining years from twenty to one.
Living to be safe may be extending his life but it's killing his soul. Others may still applaud his art, but he can tell his development has stalled. When Russell, a former lover who left Jimson years ago, sends an enigmatic message, Jimson cannot resist the lure of mystery and escape. Better one year of glory than decades of stagnation.
---
Because My Tears Are Delicious To You
Reviewing reviews is a bit meta, but … if I were going to review another reviewer in this series, the reviewer would be Spider Robinson, whose columns I devoured as a teenager. His review in the December 1976 issue of the late, lamented Galaxy Magazine (RIP) had an enormous effect on me, because in it he revealed a previously unknown fact: Toronto, then Canada's second largest city, had a bookstore specializing in science fiction and fantasy. A bookstore called Bakka Books.
There was just one problem. I didn't live in Toronto. In fact, I didn't even live in Kitchener-Waterloo. I lived adjacent to KW, on a farm well away from any intercity bus routes. Then as now, I did not drive. While I am an avid walker, 100 km to Toronto and 100 km back seemed a bit far. What to do?
Misappropriate school resources, of course.
---
Because My Tears Are Delicious To You
Star Songs of an Old Primate — James Tiptree, Jr.
1978's Star Songs of an Old Primate was James Tiptree, Jr's third collection. Three years separated it from Warm Worlds and Otherwise —three years and a significant revelation.
---
Because My Tears Are Delicious To You
Seven Days in May — Fletcher Knebel & Charles W. Bailey II
Fletcher Knebel and Charles W. Bailey's 1962's Seven Days in May is a best-selling political thriller set in the early 1970s.
The struggle over Iran brought the Americans and Soviets to the brink of all-out war. Republican President Edgar Frazier's decision to accept a divided Iran was reasonable under the circumstances (it averted nuclear war) but it was political suicide for him1.
As his Democratic Party replacement Jordan Lyman discovers, sometimes success is just the opportunity to fail on a more epic scale.
---
Because My Tears Are Delicious To You
Change the Sky and Other Stories — Margaret St. Clair
1974's Change the Sky and Other Stories is a collection by the prolific Margaret St. Clair.
---
Because My Tears Are Delicious To You
Rocket to the Morgue — Anthony Boucher
Sister Ursula Mysteries, book 2
H. H. Holmes' 1942 mystery Rocket to the Morgue is a sequel to 1940's Nine Times Nine . In Nine Times Nine , Detective Inspector Terry Marshall, assisted by Sister Ursula of the Sisters of Martha of Bethany, solved a locked-room mystery. In Rocket, the intrepid duo will confront something far more vexing:
Science fiction authors.
---
Because My Tears Are Delicious To You
RuneQuest, Second Edition — Steve Perrin & Ray Turney
My first year at university, I encountered my first roleplaying games; two of those games I still remember fondly. Well, perhaps three, but I'll explain that in a footnote [1]. The first game was Traveller, which I reviewed here. The second was Chaosium's RuneQuest, 2nd Edition. Which is now in print again, thank Ghu.
Like Traveller, RuneQuest is a skill-based system. Like Traveller, the skills that count are somewhat mundane. However, unlike Traveller, whose basic rule set was quite unspecific about the setting, RuneQuest was explicitly set in Greg Stafford's Glorantha.
I should perhaps add that both games, unlike a lot of role-playing games then and now, are designed to put wandering murder hobos at a considerable disadvantage. Just in case you wondered.
---
Because My Tears Are Delicious To You
Cloned Lives — Pamela Sargent
1976's Cloned Lives was Pamela Sargent's debut novel.
Paul Swenson and his friends see a brief window of opportunity for biomedical experimentation: technology has advanced, antique rules preventing certain lines of research have expired. Assuming that it is better to ask forgiveness than ask permission, they only reveal their project to the world once they have the first successful results to show. Who are:
Edward, James, Michael, Kira and Albert Swenson.
Paul's clones.
---
Because My Tears Are Delicious To You
A Spell for Chameleon — Piers Anthony
Xanth, book 1
1977's British Fantasy Award-winning A Spell for Chameleon is the first volume in Piers Anthony's seemingly endless Xanth series.

Spoiler warning.
Poor Bink! Each human Xanth has their own unique magical gift. Bink appears to be one of the few exceptions, with no discernible magical talent. Not only does this place him at a considerable disadvantage to his fellow humans but it will cost him his place in Xanth. Human law mandates exile for those without magic.
On the slim chance the Good Magician Humfrey's powers can uncover the talent all previous attempts to discover have failed to spot, Bink set out to offer a year of service to the Magician in exchange for Humfrey's help.
Humfrey may be Good but he is not Friendly or Easy to Reach.
---
Because My Tears Are Delicious To You