Startide Rising — David Brin

1983's Startide Rising is the second novel set in David Brin's Uplift universe. It is also a standalone.
---
Big Hair, Big Guns!
Shadow Magic — Patricia C. Wrede
Lyra, book 1
Patricia C. Wrede's 1982 debut novel Shadow Magic was the first novel published in what became her Lyra series. ISFDB lists it as the third Lyra novel, presumably on the basis of internal chronology. But the omnibus on my Kobo lists Shadow Magic as first book in the series. Lyra book order may be a problem like Narnia book order; one can wile away many a pleasant afternoon discussing which is the correct way to order the books and which way is obviously incorrect. (I vote for the correct way, as I am sure you do too.)
Merchant Maurin Atuval has just been invited into the home of his new chum, aristocrat Har of the Noble House of Brenn, when he makes a sudden discovery. He is not the protagonist of this story. Har's sister Alethia is.
This becomes apparent as soon as Alethia is kidnapped by Lithmern.

---
23
Feb
2019
/ 10 Comments
Big Hair, Big Guns!
In Conquest Born — C. S. Friedman
Azean Empire, book 1
1987's In Conquest Born is the first volume in C. S. Friedman's Azean Empire series. It was the author's debut novel.
The Azean Empire has the misfortune to border territory claimed by Braxi. Braxi lives for war and conquest. If it concludes a peace treaty, that's a temporary measure; they're preparing for the next attack. There have been many comprehensive peace treaties between Azea and Braxi, each as short-lived as the one before.
The latest treaty collapses when Vinir and K'Siva, high-born Braxin, birth a son. The Braxana feel strongly that it would be inauspicious to name the child in peacetime. Braxin forces descend on an Azean colony world to celebrate Zatar's birth.
Zatar grows into an ambitious and talented warlord. This would not bode well for Azea were it not that one well-placed family has also produced a capable child. But there is a slight problem.

---
Big Hair, Big Guns!
Four Hundred Billion Stars — Paul McAuley
Four Hundred Billion Stars, book 1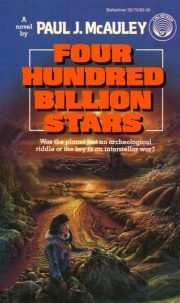 1988's Four Hundred Billion Stars was Paul J. McAuley's debut novel. It was followed by 1989's Of the Fall (US title: Secret Harmonies), a prequel set some centuries earlier than Four Hundred Billion Stars. In 1991 McAuley published Eternal Light, a direct sequel to this novel.
The invention of the phase graffle re-opened contact between the Earth and its abandoned colonies. A few decades later, the Federation for Co-Prosperity of Worlds stumbled across an alien civilization living on and among the asteroids orbiting the red dwarf BD+20o 2465. The aliens are unrelentingly hostile; they are known as the enemy. Ever since contact was made, the Federation and the enemy have been locked in war.
Astronomer Dorthy Yoshida has no interest in matters military, but her telepathic gift makes her an intelligence asset too precious to the Navy to squander on pure research. The asocial scientist is drafted into the war effort.
---
Big Hair, Big Guns!
Dreamrider — Sandra Miesel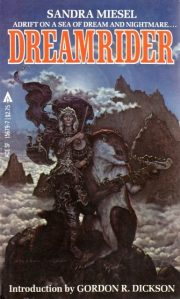 Sandra Miesel's 1982 Dreamrider is a standalone science fiction novel.
Ria Legarde lives in a world shaped by a great disaster in 1985 and the anti-tech backlash that followed. After years of chaos, Earth was unified under the Federation, an oppressive nanny state that subjects its citizens to peace, happiness, and art by people who aren't white. Worst of all, the mental health authority PSI has sweeping powers to detect, detain, and treat the unhappy, perplexed, and nonconformist.
Ria is all three, thanks to her bizarre dreams.

---
Big Hair, Big Guns!
Breaking Strain — Paul Preuss
Arthur C. Clarke's Venus Prime, book 1
Paul Preuss' 1987's Breaking Strain is the first volume of six in the Arthur C. Clark's Venus Prime series.
Taking pity on the amnesiac woman in his care, a guilt-ridden doctor restores her memories. This act costs the doctor his life, but allows the young cyborg, code-named Sparta, to escape the secret medical facility in which she is being held prisoner.
Reinventing herself as Ellen Troy, Sparta joins the Space Board as an investigator. Her cutting-edge education and advanced implants make her an exemplary recruit. First assignment: Port Hesperus, Venus!
---
Big Hair, Big Guns!
Black Star Rising — Frederik Pohl
Frederik Pohl's 1985 Black Star Rising is a standalone science fiction novel.
The world is divided into two spheres, one dominated by India, one by China, These two powers were the only slightly damaged by an apocalyptic nuclear war that ravaged the United States and the Soviet Union. North America falls under China's benevolent umbrella. Its aboriginal population is monitored by Chinese supervisors.
Castor is an Anglo farmer with pretensions above his class. Denied entry into university, he is an autodidact, hoovering up knowledge of no relevance to his duties to the Heavenly Grain Rice Collective. Elevation from this humble but necessary role comes courtesy of two unrelated events: a brutal murder and what seems to be a First Contact event.
---
Big Hair, Big Guns!
Voice of the Whirlwind — Walter Jon Williams
Hardwired, book 2
1987's Voice of the Whirlwind is the second volume in Walter Jon Williams' Hardwired series. It can be read as a standalone novel1.
Etienne Steward wakes to discover that he is a clone, the Beta, of the man with whose memories he was imbued. More revelations follow, none good:

---