Tuf Voyaging — George R. R. Martin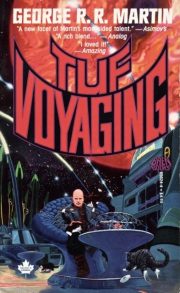 George R. R. Martin's 1986 Tuf Voyaging is, I believe, intended to be a fix-up of shorter pieces. It reads like a collection of stories, so that's how I will review it. The central figure is Haviland Tuf, a minor trader to whom fate grants great power. With great power, as they say, comes even greater megalomania.
Animal harm warning.
---
Big Hair, Big Guns!
The Shattered Stars — Richard S. McEnroe

Richard S. McEnroe's 1984 The Shattered Stars is a standalone (ish) SF novel which takes place in McEnroe's Far Stars and Future Times setting.
Moses Callahan is the proud owner of the independent trader Wild Goose, which is another way of saying he is a cash-short, desperate man pushed into an economic corner by larger, richer concerns who can afford ships with up-to-date tech. Just the sort of captain who might be greedy enough that he wouldn't examine closely a chance to earn some quick cash.
Might.
---
Big Hair, Big Guns!
Pennterra — Judith Moffett
Judith Moffett's 1987 debut Pennterra is a standalone science fiction novel.
The world of Pennterra might have been the safe haven humanity will need once the destruction of Earth is complete, all but for one problem: it has natives.
---
Big Hair, Big Guns!
The Quiet Earth — Geoff Murphy, Bill Baer, Bruno Lawrence, Sam Pillsbury
1985's The Quiet Earth was written by Bill Baer, Bruno Lawrence, and Sam Pillsbury; it was directed by Geoff Murphy. It is (loosely) based on the novel of the same name by Craig Harrison. It stars Bruno Lawrence, Alison Routledge, and Peter Smith.
Zac Hobson (Bruno Lawrence), a scientist working on Project Flashlight, isn't there at the New Zealand Flashlight facility on the morning of July 5th. That's when the project will be tested. The effects of the test are obvious. To quote Zac:
[quote] "Zac Hobson, July 5th. One: there has been a malfunction in Project Flashlight with devastating results. Two: it seems I am the only person left on Earth." [quote]
---
Big Hair, Big Guns!
The Falling Woman — Pat Murphy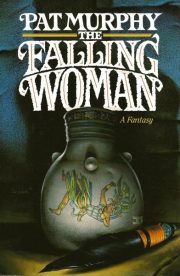 1986's The Falling Woman is a standalone Nebula-Award-winning fantasy by Pat Murphy.
Elizabeth Waters has escaped unwanted motherhood and a stultifying marriage at great cost to herself. Her reward: a career as a field archaeologist. Elizabeth is a valuable colleague at any dig because she seems to have a sixth sense for promising sites.
This is because she has a literal sixth sense. She sees the shades of the dead. The ghosts of the past guide her.
---
Big Hair, Big Guns!
Crisis on Infinite Earths — Marv Wolfman & George Pérez
Crisis on Infinite Earths was a twelve-issue miniseries from DC Comics1 published from 1985 to 1986. It was written by Marv Wolfman, and pencilled by George Pérez2.

There are many versions of the Earth, each with their own histories. The superheroes of Earth One made contact with their counterparts on Earth Two an indeterminate time ago. In what almost seemed to have become an annual tradition, Earth One's Justice League periodically teamed up with Earth Two's Justice Society to deal with crises affecting both worlds.

Now there is a crisis affecting not just Earth One, and Earth Two, but all the worlds.


---
Big Hair, Big Guns!
Wild Cards — George R. R. Martin
Wild Cards, book 1
1987's Wild Cards is the first volume in George R. R. Martin's ongoing superhero shared-universe project of the same name.
Here's a bird's-eye view of the anthology (i.e. the table of contents).
---
Big Hair, Big Guns!
Schismatrix — Bruce Sterling

Bruce Sterling's 1985 hard SF novel Schismatrix is the sole novel set in his Shaper/Mechanist universe, a setting also featured in handful of short pieces1.
The human colonies of the Solar System are divided into two factions: the Shapers, who want to enlist biology in reshaping humanity, and the Mechanists, who rely on technology. The two sides loath each other and are engaged in an increasingly tense cold war. It isn't clear which camp will shape humanity's future.
Abelard Lyndsay, born to a high-ranked family in the Mare Serenitatis Circumlunar Corporate Republic, was sent as envoy to the Shaper city-states in the Rings of Saturn. This was during a brief period when the Republic was flirting with a Shaper alliance. Once the lunar aristocrats allied with the Mechanists, Abelard found himself an embarrassing relic of a failed policy.
Already radicalized by the Shapers, Abelard turned to extreme political gestures. Upshot: Abelard's lover Vera dead, and Abelard an exile from his former home.
---
Big Hair, Big Guns!
Katsuhiro Otomo's manga Akira was serialized in Young Magazine from 1982 to 1990. The first English translation was published by Marvel Comics' Epic line from 1988 to 19951. The US edition pioneered the use of computer colourization, courtesy Steve Oliff. For many North Americans this was their introduction to manga.
Viktor Haag was kind enough to lend me his Epic collection.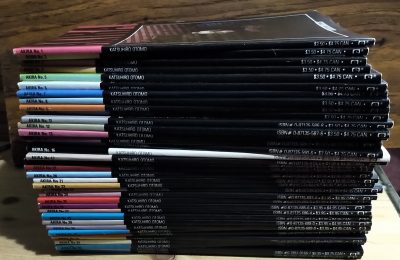 Since I am not sure how the Epic volumes map onto the current version from Dark Horse, I decided to review the entire, 2000+ page work as a whole.
All together now:
"
TETSUOOOO

!"



---
Big Hair, Big Guns!
Voyage From Yesteryear — James P. Hogan
James P. Hogan's 1982 Voyage from Yesteryear is a standalone science fiction novel.
Faced with seemingly inevitable nuclear war in the near future, the North American Space Development Organization and its Asian partners decided to take the bold step of re-purposing the SP3 interstellar probe. Five years before its 2020 launch, the probe was redesigned to deliver human life to Chiron, the habitable world in the Alpha Centauri system. But there's a catch.

---
Big Hair, Big Guns!
Starfarers — Vonda N. McIntyre
Starfarers, book 1
1989's Starfarers is the first volume in Vonda N. McIntyre's Starfarers Quartet.
The near approach of a cosmic string1 offers humanity superluminal access to Tau Ceti. A light-sail spaceship can hitchhike on the string to explore the nearest star system. A consortium of nations builds the Starfarer as a traveling university, one that will send back dividends of new knowledge that will more than pay for its creation.
That is, if it is allowed to do what it is designed to do. Some of its government supporters have other notions of best use.
---
Big Hair, Big Guns!
Champions, 4th Edition — George MacDonald, Steve Peterson, Rob Bell
Hero Games' Champions wasn't the first superhero roleplaying game1 or even the first SHRPG I played2. It was, however, the SHRPG I played the most often.
Originally published in 1981, the system was initially developed in a rather haphazard way; rules accreted across several editions of rule books. Efforts to correct this lack of organization began in the mid-1980s. 1989's 4th Edition Champions, written by George MacDonald, Steve Peterson, and Rob Bell was arguable the culmination of this process. Known as the Big Blue Book, it was a fan favorite that shaped many games that came after it.

How does the rulebook stand up after OH GOD HOW IT IS 30 YEARS ALREADY?
---
Big Hair, Big Guns!
Startide Rising — David Brin

1983's Startide Rising is the second novel set in David Brin's Uplift universe. It is also a standalone.
---
Big Hair, Big Guns!
Shadow Magic — Patricia C. Wrede
Lyra, book 1
Patricia C. Wrede's 1982 debut novel Shadow Magic was the first novel published in what became her Lyra series. ISFDB lists it as the third Lyra novel, presumably on the basis of internal chronology. But the omnibus on my Kobo lists Shadow Magic as first book in the series. Lyra book order may be a problem like Narnia book order; one can wile away many a pleasant afternoon discussing which is the correct way to order the books and which way is obviously incorrect. (I vote for the correct way, as I am sure you do too.)
Merchant Maurin Atuval has just been invited into the home of his new chum, aristocrat Har of the Noble House of Brenn, when he makes a sudden discovery. He is not the protagonist of this story. Har's sister Alethia is.
This becomes apparent as soon as Alethia is kidnapped by Lithmern.

---
23
Feb
2019
/ 10 Comments
Big Hair, Big Guns!
In Conquest Born — C. S. Friedman
Azean Empire, book 1
1987's In Conquest Born is the first volume in C. S. Friedman's Azean Empire series. It was the author's debut novel.
The Azean Empire has the misfortune to border territory claimed by Braxi. Braxi lives for war and conquest. If it concludes a peace treaty, that's a temporary measure; they're preparing for the next attack. There have been many comprehensive peace treaties between Azea and Braxi, each as short-lived as the one before.
The latest treaty collapses when Vinir and K'Siva, high-born Braxin, birth a son. The Braxana feel strongly that it would be inauspicious to name the child in peacetime. Braxin forces descend on an Azean colony world to celebrate Zatar's birth.
Zatar grows into an ambitious and talented warlord. This would not bode well for Azea were it not that one well-placed family has also produced a capable child. But there is a slight problem.

---
Big Hair, Big Guns!
Four Hundred Billion Stars — Paul McAuley
Four Hundred Billion Stars, book 1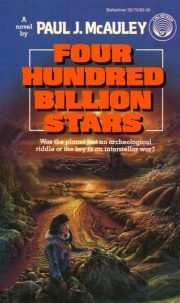 1988's Four Hundred Billion Stars was Paul J. McAuley's debut novel. It was followed by 1989's Of the Fall (US title: Secret Harmonies), a prequel set some centuries earlier than Four Hundred Billion Stars. In 1991 McAuley published Eternal Light, a direct sequel to this novel.
The invention of the phase graffle re-opened contact between the Earth and its abandoned colonies. A few decades later, the Federation for Co-Prosperity of Worlds stumbled across an alien civilization living on and among the asteroids orbiting the red dwarf BD+20o 2465. The aliens are unrelentingly hostile; they are known as the enemy. Ever since contact was made, the Federation and the enemy have been locked in war.
Astronomer Dorthy Yoshida has no interest in matters military, but her telepathic gift makes her an intelligence asset too precious to the Navy to squander on pure research. The asocial scientist is drafted into the war effort.
---
Big Hair, Big Guns!
Dreamrider — Sandra Miesel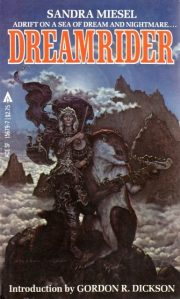 Sandra Miesel's 1982 Dreamrider is a standalone science fiction novel.
Ria Legarde lives in a world shaped by a great disaster in 1985 and the anti-tech backlash that followed. After years of chaos, Earth was unified under the Federation, an oppressive nanny state that subjects its citizens to peace, happiness, and art by people who aren't white. Worst of all, the mental health authority PSI has sweeping powers to detect, detain, and treat the unhappy, perplexed, and nonconformist.
Ria is all three, thanks to her bizarre dreams.

---
Big Hair, Big Guns!
Breaking Strain — Paul Preuss
Arthur C. Clarke's Venus Prime, book 1
Paul Preuss' 1987's Breaking Strain is the first volume of six in the Arthur C. Clark's Venus Prime series.
Taking pity on the amnesiac woman in his care, a guilt-ridden doctor restores her memories. This act costs the doctor his life, but allows the young cyborg, code-named Sparta, to escape the secret medical facility in which she is being held prisoner.
Reinventing herself as Ellen Troy, Sparta joins the Space Board as an investigator. Her cutting-edge education and advanced implants make her an exemplary recruit. First assignment: Port Hesperus, Venus!
---
Big Hair, Big Guns!
Black Star Rising — Frederik Pohl
Frederik Pohl's 1985 Black Star Rising is a standalone science fiction novel.
The world is divided into two spheres, one dominated by India, one by China, These two powers were the only slightly damaged by an apocalyptic nuclear war that ravaged the United States and the Soviet Union. North America falls under China's benevolent umbrella. Its aboriginal population is monitored by Chinese supervisors.
Castor is an Anglo farmer with pretensions above his class. Denied entry into university, he is an autodidact, hoovering up knowledge of no relevance to his duties to the Heavenly Grain Rice Collective. Elevation from this humble but necessary role comes courtesy of two unrelated events: a brutal murder and what seems to be a First Contact event.
---
Big Hair, Big Guns!
Voice of the Whirlwind — Walter Jon Williams
Hardwired, book 2
1987's Voice of the Whirlwind is the second volume in Walter Jon Williams' Hardwired series. It can be read as a standalone novel1.
Etienne Steward wakes to discover that he is a clone, the Beta, of the man with whose memories he was imbued. More revelations follow, none good:

---