Forest of a Thousand Lanterns — Julie C. Dao
Rise of the Empress , book 1
2017's Forest of a Thousand Lanterns is the first volume in Julie C. Dao's Rise of the Empress series.
Xifeng has been raised from birth to marry Emperor Jun. It is a lofty ambition (very much so given that Xifeng is a poor orphan) but it is not entirely unreasonable. Xifeng's abusive aunt Guma claims to possess magical powers; she insists that one day Xifeng will be great and powerful. Also, Xifeng is an unparalleled beauty, which should smooth her rise to empress .
Tired of Guma's beatings, Xifeng flees with Wei, a young soldier who is utterly besotted with Xifeng. Alas for Wei, she is not besotted with Wei. Xifeng has a plan. A plan that involves the emperor.
---
Doing What the WFC Cannot Do
The Girl From Everywhere — Heidi Heilig
The Girl From Everywhere, book 1
2016's The Girl From Everywhere is the first volume in Heidi Heilig's YA time-travel series, The Girl From Everywhere.
Sixteen-year-old Nix Song has seen more of the world than most people. She has spent most of her life on her father's ship, the Temptation, sailing the seven seas … and the timestream. Her father, Slate, is a Navigator. His special powers mean that all of recorded history is within reach.
There is of course a catch.
---
Doing What the WFC Cannot Do
Natural Selection — Malinda Lo

2013's Natural Selection is an ancillary work to Malinda Lo's Adaptation1.
Amber was born on distant Kurra before moving with her parents to Earth. She looks human enough to pass without notice. None of Amber's schoolmates know that an alien is among them2.
This piece describes two rites of passage: one on Kurra (obligatory for Imrians like Amber) and one on Earth (not a formal rite of passage, but nonetheless a formative experience for Amber). Amber's Earth experience takes place two years before her Kurra rite.
---
Doing What the WFC Cannot Do
The River Twice — Brenda W. Clough
Edge to Center, book 1
2019's The River Twice is the first volume in Brenda W. Clough's Edge to Center series.
It's good to be the king! And if one lives in a purported republic with a dubious record of democratic transfer of power, it's good to be the grand-daughter of the President. Calla Ang's grandmother is Madame President of Jalanesia and (save for the tragic deaths of Calla's parents when she was but a child) Calla's life has so far been prosperous. Her future as the likely inheritor of her grand-mother's position seems secure.
Her comfortable life is disrupted by the sudden appearance of a bewhiskered Englishman.
---
Doing What the WFC Cannot Do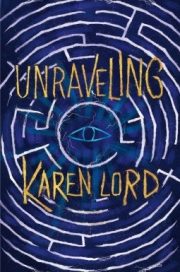 Karen Lord's 2019 Unraveling is a standalone fantasy.
Forensic therapist Dr. Miranda Ecouvo put detectives on the trail of a serial killer. He's caught and convicted. But it's not clear why the killer killed or who put him up to it. Human justice cannot solve this. But someone else can.
---
Doing What the WFC Cannot Do
New Suns: Original Speculative Fiction by People of Color — Nisi Shawl
Nisi Shawl's 2019 New Suns: Original Speculative Fiction by People of Color is, unsurprisingly, an anthology of original speculative fiction by people of color. It takes its title from an Octavia E. Butler quotation:
"There's nothing new under the sun, but there are new suns."
The anthology includes seventeen stories plus ancillary material. As a whole it is worth tracking down and reading, but the following are of particular note.
---
Doing What the WFC Cannot Do
The True Queen — Zen Cho
Sorcerer to the Crown, book 2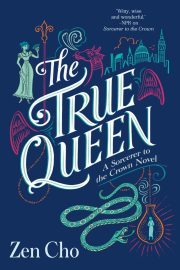 2019's The True Queen is the second volume in Zen Cho's Sorcerer to the Crown series.
Amnesiacs Sakti and Muna arrive on the island of Janda Baik, preceded by a great storm. They know their own names, but nothing else of their past. They look much like each other, so it is supposed that they are sisters. They are offered a home by the formidable witch Mak Genggang and begin to make new lives for themselves.
Complications ensue.
---
Doing What the WFC Cannot Do
Storm of Locusts — Rebecca Roanhorse
Sixth World, book 2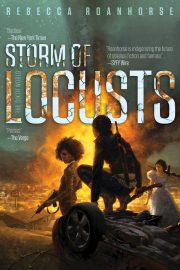 2019's Storm of Locusts is the second volume in Rebecca Roanhorse's Sixth World series1.
The oceans rose, civilization fell, and the gods returned. Possibly not in that order. The Walls of Dinétah keep the worst of the chaos outside Diné lands. Yet life inside the Walls can still be challenging, thanks to a plague of wandering monsters. Against the monsters stand a chosen few, the beneficiaries of what are called clan gifts. Superpowers. The chosen ones may lead lives that are all too often pitiably short, but it's worth it to protect friends and families from the stalking horrors.
Maggie Hoskie's gifts — speed, bloodlust — make her a superb monster-hunter. The events of the earlier volume, Trail of Lightning, left her in possession of a magic sword. She will need it soon. Too bad she has no idea how to wield it.
---
Doing What the WFC Cannot Do
Marjorie Liu & Sana Takeda
Monstress, book 1
Monstress, Book One1 collects the first eighteen issues of Marjorie Liu and Sana Takeda's epic secondary-universe fantasy manga.
The semi-magical Arcanics are descended from godlike beings. When properly processed, their body parts can be transformed into the extremely useful substance Lilium. The humans, in particular the witches of the Cumaea, see the Arcanics as beasts fit only for slavery or for slow, painful conversion into Lilium. The Arcanics disagree. Hence the seemingly endless wars between the Arcanics and the Federation of Man.
The most recent war ended when the entire city of Constantine and all within it were burned from the face of the planet. Believing this was a work of a new Arcanic weapon, the Federation agreed to peace … for the moment.
Which gets us to one-armed Maika, an Arcanic who when we first meet her is about to sold into slavery or worse.
---
Doing What the WFC Cannot Do
The Haunting of Tram Car 015 — P. Djèlí Clark
P. Djèlí Clark's 2019 novella, The Haunting of Tram Car 015, is a supernatural police procedural. It shares its setting with A Dead Djinn in Cairo.
Agent Hamed Nasr of Egypt's Ministry of Alchemy, Enchantments, and Supernatural Entities has learned many odd things over the course of his career, but he's never learned to lay ghosts. Nevertheless, Nasr and new partner Onsi Youssef are summoned to Ramses Station to deal with what's said to be a haunted tram car. Could this finally be a true haunting?
No. Whatever the entity is, it is not a ghost. It is, however, real. It is definitely hostile.
---
Doing What the WFC Cannot Do
Stan Sakai
Usagi Yojimbo Saga, book 8
The Usagi Yojimbo Saga, Volume Eight is an omnibus that collects books 29 through 31 of Stan Sakai's eponymous series. At its centre is the masterless lapin samurai Miyamoto Usagi, who wanders through a slightly skewed version of Edo-era Japan.
Because I got this as an e-arc, I failed to grasp how much of a tome Volume Eight is. On paper, it's probably weighty enough to cause serious back pain when lifting the volume.
---
Doing What the WFC Cannot Do
Infomocracy — Malka Older
Centenal Cycle, book 1
Malka Older's Infomocracy is the first volume in her Centenal Cycle.
Twenty years ago, the people of the world came together in an unprecedented step to form a new international order. Since the first global election, war among participating jurisdictions has been eradicated, and prosperity and trade have spread.
Key to the new status quo: Information, the organization that ensures everyone's access to reliable information.
---
Doing What the WFC Cannot Do
Fate of Flames — Sarah Raughley
Effigies, book 1
2016's Fate of Flames is the first volume in Sarah Raughley's Effigies series.
Maia is an Effigy, imbued with powers beyond mortal ken. On the plus side, awesome powers yay. On the minus side, Maia only gained her new fire-based powers because the previous fire Effigy, Natalya, died. The lifespan of an Effigy is measured in years … if they are lucky.
Maia can expect to spend the rest of her short life fighting monsters.
---
Doing What the WFC Cannot Do
The Rosewater Insurrection — Tade Thompson
Wormwood Trilogy, book 2
Tade Thompson's 2019 The Rosewater Insurrection is the second volume in his Wormwood trilogy.
Researcher Aminat Arigbede and her psychic husband Kaaro have a happy marriage. Their domestic bliss is ephemeral … they live on a planet that is slowly but inexorably being taken from the human species by alien invaders.

---
Doing What the WFC Cannot Do
An Excess Male — Maggie Shen King
Maggie Shen King's 2017's An Excess Male is a standalone near-future SF novel.
Lee Wei-guo is one of forty million men who make up China's so-called Bounty, the number of men in excess of the number of women. It's a legacy of China's one child policy that has been complicated by misogynistic choices to favor male children and abort or abandon females. Managing the Bounty is a pressing public policy challenge. Responses have included legalizing polyandry and assigning sex workers to the superfluous men.
Wei-guo is forty; his chances of finding a bride are waning. But there's a glimmer of hope. He has enough money saved for a dowry1; he and his fathers can afford to pay a matchmaker for a few lunch meetings with prospective brides. One such has agreed to meet with Wei-guo and his fathers.

---
Doing What the WFC Cannot Do
Dragon Pearl — Yoon Ha Lee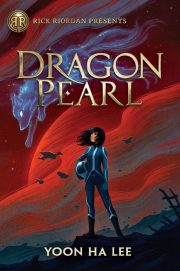 Yoon Ha Lee's 2019 Dragon Pearl is a standalone science fantasy novel.
Thirteen-year-old Min is a magical fox girl. Other supernatural races may be respected throughout the Thousand Worlds, but not foxes. Foxes are seen as untrustworthy and murderous. Min is brought up to conceal her fox nature from neighbours on Jinju.
Min is biding her time, waiting to turn fifteen, when she will be eligible to join the Thousand Worlds' space force. That's one way off backwater Jinju. She knows even a fox can do this, because her older brother Jun managed it.
One day an investigator appears, with bad news about Jun.
---
Doing What the WFC Cannot Do
2018's Temper is a standalone secondary world fantasy novel by Nicky Drayden.
A few pitiful singletons aside, every person has their twin. When one of the pair has a virtue, their twin will have the corresponding vice. There are seven virtues and seven vices; hence it is inevitable that one of the pair will have more virtues, one will have more vices.
Auben is remarkably vice-ridden; he has six of the possible seven vices. His twin Kasim has six virtues. Not that this bothers Auben; he enjoys his vices and is certain that he is smart enough to avoid their consequences.
Then Auben engages with Icy Blue.

---
Doing What the WFC Cannot Do
How Long 'til Black Future Month? — N. K. Jemisin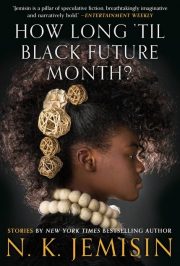 N. K. Jemisin's 2018 How Long 'til Black Future Month? is a collection of short stories. It is her first collection of stories. Nota bene: it's only been out for a month, but that still makes it a 2018 publication and thus eligible for a 2019 Hugo. Just saying.

---
Doing What the WFC Cannot Do