Slow Bullets — Alastair Reynolds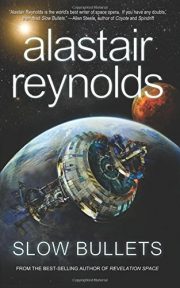 Alastair Reynolds may be best known for his series, such as the Revelation Space novels or the Poseidon's Children books. However, he can also work in less expansive formats. 2015's Slow Bullets is a standalone novella, one that fits nicely into my MilSF review series.
---
Military Speculative Fiction That Doesn't Suck
The Big Black Mark — A. Bertram Chandler
John Grimes, book 10
John Grimes, star of a long-running series of novels and shorter works by A. Bertram Chandler (1912–1984), has worked his way up through the ranks of the Federation Survey Service despite the enmity of various senior officers. He has a quality few others can match: he has been extraordinarily lucky. Every error in judgment or failure to follow the precise wording of regulations has been balanced by successes so noteworthy that his superiors have had no choice but to (grudgingly) promote him.
Eventually every run of luck ends. Which gets us to 1975's Big Black Mark.
---
Military Speculative Fiction That Doesn't Suck
The Ship That Sailed the Time Stream — G.C. Edmondson
The Ship That Sailed the Time Stream, book 1
I expect that WWII-era Marine José Mario Garry Ordoñez Edmondson y Cotton (1922–1995), who published under the name G. C. Edmondson, is filed under obscure by this point. Twenty years after his death, the only book he wrote that may still have some currency is The Ship That Sailed the Time Stream, first published in 1965. Even this book has been out of print since 1981. Sic transit gloria mundi.
~oOo~
The Alice, based in San Diego, is one of the odder ships in the United States Navy. She's a small sailing ship better suited to the USN of the pre-Civil War era than to the atomic age USN. What the Alice offers the USN is the proper test bed for Professor Krom's experimental hydrophone array [1]. What the Alice offers its captain, Ensign Joseph Rate, is a chance to earn some points with senior staff by catching its crew using the ship as a party boat. The Navy is certain something hinky is happening, but, to its utter frustration, cannot prove it. It's almost as if the ship manages to be in two places—out at sea, filled with naked women, and back in its slip where it is supposed to be—at the same time.
There is a logical explanation but the senior staff won't like it.
---
Military Speculative Fiction That Doesn't Suck
A Deeper Sea — Alexander Jablokov
Between 1991 and 1998, Alexander Jablokov published five noteworthy novels, then vanished from the face of science fiction for an uncomfortably long time. It seems that, as has happened to other authors, he was distracted by real life. Happily, this is not another P. J. Plauger affair: Jablokov did return in 2006, in short form, and in 2010 at novel length.
1992's A Deeper Sea sets out, yet again, a lesson empires have learned and learned and learned … and forgotten every time. Lesson: the enemy of my enemy is not necessarily my long-term ally. Once the current conflict is over, the empire may find that the weapons it so considerately handed to its foreign cat's paws are being turned on the empire itself.
---
Military Speculative Fiction That Doesn't Suck
The Forlorn Hope — David Drake
In any discussion of MilSFF, David Drake's name is likely to come up earlier rather than later. Partly this is because he is seen as one of the founding figures of military SF (at least as it developed in the US). Partly it's because, the occasional off-note aside [1], his work is generally never less than competent and sometimes very good [2]. Against the backdrop of the dismal swamp that is the majority of commercial MilSFF, even his merely competent material stands out.
A lot of people—me, mostly—hold a grudge against Drake for his part in establishing the Heroic Mercenary trope in MilSFF, which is a bit unfair. Firstly, Jerry Pournelle and his literary spawn are far, far more responsible for the figure of the noble mercenary bravely gunning down dissidents in sports arenas [3]. Drake's mercenaries are often not good people—some of them are very bad indeed—but they look good because the people around them are even worse.
Which gets us to 1984's The Forlorn Hope.
---
Military Speculative Fiction That Doesn't Suck
The Forever War — Joe Haldeman
Forever War, book 1
This is a case of a commission dovetailing nicely with my themed reviews. For the most part I would prefer to stick to military speculative fiction that I think readers may have overlooked. There are a few classics, generally early ones, that I believe it would be illuminating to review [1]. One of those is Joe Haldeman's classic 1975 novel, The Forever War.
When I reread this book, I remembered a more obscure work by the same author, an early short story called "Time Piece", which was published in 1970. I don't know of any other review that has compared the two. This may be because "Time Piece" didn't win the Nebula, the Hugo, the Ditmar, and place first in the Locus, which The Forever War did. Something told me that it would be interesting to compare the two works; I'm glad I did.
The edition of The Forever War I am reading is the 1976 mass market paperback, first printing. I understand there is a later, somewhat different edition; I don't own that one. The edition of "Time Piece" I am reading is the one in Reginald Bretnor's 1980 collection The Future at War: Orion's Sword.
---
Military Speculative Fiction That Doesn't Suck
The Great Explosion — Eric Frank Russell
Military speculative fiction doesn't have to be all pew-pew-pew and Stern People Who Do What's Necessary. There's lots of room for other approaches, including satire. The (or at least a) master of military satire was, of course, Eric Frank Russell, a British SF writer active mainly in the 1940s to the 1960s. His milSF story "Allamagoosa" won the very first Hugo Award for Best Short Story, in 1955.
Inaugurating my series of reviews of MilSFF That Does Not Suck with a classic like "Allamagoosa" strikes me as a necessary antidote to the blind military-worship that all too-often characterizes the genre. There are two catches: I actually inaugurated the series last week with Cook's The Dragon Never Sleeps and I have already reviewed "Allamagoosa." Here, have another worthy Russell work: 1962's The Great Explosion.
---
Military Speculative Fiction That Doesn't Suck
The Dragon Never Sleeps — Glen Cook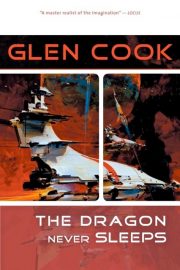 The odds are fairly good that if you're aware of Glen Cook, you know him for series like Garrett and Black Company; if you're of a certain vintage, you might have read his early Dread Empire books, or perhaps the Starfishers space operas. The Black Company (novel, not series) would have made a fine inaugural book for my new review series, Military Speculative Fiction That Doesn't Suck. However, it happens that I prefer SF to fantasy [1], so I will review something that (thanks to Stupid Publisher Tricks back in the Late Reagan) was unjustly obscure: 1988's The Dragon Never Sleeps.
---
Military Speculative Fiction That Doesn't Suck