A Cathedral of Myth and Bone — Kat Howard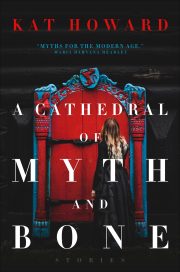 ---
Special Requests
Halting State — Charles Stross
Halting State, book 1
The opening paragraph informs you that the book featured in today's review is Halting State. This novel was written by Charles Stross and was published in 2007. You muse on how long ago that was.
The book opens with protagonist one, Sergeant Sue Smith. She is summoned to Hayek Associates, who are victims of a robbery that proves much less straightforward than expected.

---
Special Requests
The Way Back — Michael E. Briant
Blake's 7, book 1
Terry Nation's Blake's 7 is a dystopian SF television series. It originally aired between 1978 and 1981. "The Way Back," written by Michael E. Briant, aired on January 2nd, 1978.
Roj Blake is a seemingly unremarkable member of society. Blake's friend Ravella is determined to convince Blake otherwise.

---
Special Requests
Rat's Maze — M. E. S. Gibson
Avalon City Vice, book 1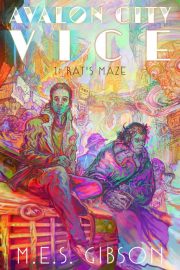 2018's Rat's Maze is the first volume in M. E. S. Gibson's Avalon City Vice fantasy-noir series.
Humans come to Avalon City in search of magical wonders. They bring with them human vices like drugs. Confronted with unfamiliar challenges, the ferals native to Avalon City have responded by copying human solutions. Thus the Avalon City Police Department. Thus ACPD Vice, charged with containing the city's drug trade.
Detective Reis "Rat" Attalus is a vice cop. His partner just died and the week looks like it is only going to get worse.

---
Special Requests
Stand Still, Stay Silent — Minna Sundberg
Minna Sundberg's Stand Still, Stay Silent is an on-going fantasy webcomic.
Ninety years ago, a mysterious contagion known as the Rash swept across the Earth, infecting almost every mammalian species. Those not lucky enough to die were transformed into hideous monsters. Inside the Known World — Iceland, Norway, Denmark, Finland and Sweden — a quarter of a million humans survive. The rest of the planet is deemed the Silent World and sensible humans, particularly those without inborn immunity to the Rash, avoid it.
The Nordic Council of History and Rediscovery approves a bold proposal to explore some of the nearer regions of the Silent World. (A mistake, really; at least one of the Council members didn't understand what they were approving.)
The Council-provided budget is smaller than the backers of the proposal had hoped. The backers set out to recruit affordably priced volunteers from the ranks of the foolish, the desperate, the poorly informed, and the expendable.
Enter Tuuri Hotakainen (driver/mechanic), Lalli Hotakainen (scout/mage), Emil Västerström (cleanser/pyromaniac), Sigrun Eide (commander), and Mikkel Madsen (medic/cook/voice of reason).

---
Special Requests
Special Deliverance — Clifford D. Simak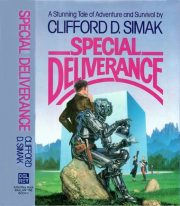 Clifford D. Simak's 1982 Special Deliverance is a standalone SF novel.
When a student hands in an atypically good paper with citations unfamiliar to Professor Edward Lansing, Lansing summons the student to his office for questioning. The student admits he did not write the paper. No surprise. What is a surprise is the source of the paper: a slot machine in the basement of the Student Union Building1.
Of course, Lansing has to see this paper-writing slot machine for himself.
The machine is terribly insistent that it has to provide everyone who activates it with a boon. When the machine's dirty joke fails to amuse, it provides Lansing with two keys and detailed instructions. Curiosity gets the better of Lansing. In short order he finds himself in very unfamiliar territory.
---
Special Requests
Growing Up Weightless — John M. Ford
John M. Ford's Growing Up Weightless is a standalone coming-of-age novel.
If Luna had an Age of Heroes, that era is long over by Matt Roney's time. Independence from Earth was won decades ago. Geniuses gave humans starflight; by Matt's era, interstellar travel is mundane. All of the interesting things have been done by previous generations. What is a teenager to do with himself?
To be honest, Matt does have a wealth of opportunities. So many that he cannot decide. Nor is it clear that any of them will offer him the independence and self-esteem he craves.
---
Special Requests
Quillifer — Walter Jon Williams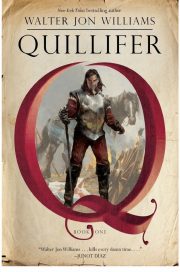 Walter Jon Williams' 2017 Quillifer is a standalone secondary-world fantasy.
Amiable womanizer Quillifer is dispatched to serve a summons on river-stealing aristocrat Sir Stanley. Quillifer is enthusiastic about the mission; it lets him skip boring apprentice-lawyer duties. He is less enthusiastic about the prospect of a confrontation with a notoriously violent land-owner.
The mission has an unexpected benefit. Quillifer returns home to Ethlebight to find the seaport town in flames. A vast pirate fleet has invested the town and is in the process of carrying off much of its population for ransom or slavery. Quillifer is safe, albeit bereaved. His entire family chose to die rather than submit to the pirates. His master, Lawyer Dacket, is also lost.
Quillifer could choose to stay in Ethlebight and help rebuild. He chooses otherwise.

---
Special Requests
The Disappeared — Kristine Kathryn Rusch
Retrieval Artist, book 1
2002's The Disappeared is the first volume in Kristine Kathryn Rusch's Retrieval Artist series.
Faster-than-light travel gave humans the stars and contact with other intelligent species. Each alien civilization has its own set of laws. The question of whose laws apply when and to whom is the subject of carefully negotiated treaties. Those treaties complicate the lives of hard-working space cops.
Miles Flint and Noelle DeRicci enforce the law in the Moon's Armstrong Dome. Armstrong has a starport, which means that alien entanglements are always a possibility. Still, treaty complications aren't exactly common, which is why it is so odd when Flint and DeRicci are faced with three such cases at the same time.

---
Special Requests
The Invisible Library — Genevieve Cogman
The Invisible Library, book 1
2014's The Invisible Library is the first volume in Genevieve Cogman's Invisible Library series.
The Invisible Library exists outside time itself. It is a repository of books gathered from many timestreams: worlds where science, reason, and logic reign supreme, worlds of fantasy, worlds tainted by chaos. Irene, child of two Librarians, was born to her role. She is a book scrounger supreme, adept at infiltrating alternate worlds, locating specific rare books, and stealing them for the Library.
Ideally, she does this without leaving any trace of her involvement. As the opening scene of the novel establishes, sometimes she has to settle for legging it with the goods while pursued by gargoyles. It's a living.

---
Special Requests
Star Girl — Henry Winterfeld
Star Girl is the title given to the English-language translation of Henry Winterfeld's 1956 novel, the children's science fantasy Kommt ein Mädchen geflogen.
While wandering in the woods, Otto, Walker, Gretel, and little Lottie encounter a stranger, a well-dressed blonde girl with an enormous bruise on her forehead. The girl, whose name is Mo, explains that she got the bruise when she climbed down out of a tree. How did she end up at the top of a tree in the first place? She fell out of her father's damaged spaceship.

---
Special Requests
Fairy Tales from South Africa — Mrs. E. J. Bourhill & Mrs. J. B. Drake
Mrs. E. J. Bourhill and Mrs. J. B. Drake's 1908 Fairy Tales From South Africa is exactly what the title says: a collection of fairy tales from the peoples of South Africa. It is illustrated by W. Herbert Holloway.
---
Special Requests
Mare Internum — Der-shing Helmer
Der-shing Helmer's Mare Internum is an ongoing hard-SF webcomic.
Doctor Mike Fisher is one of the elite few chosen to explore Mars, now in the initial stages of colonization. Or rather, he was. Bitter, alarmingly hostile, and socially isolated, he was fired after the loss of his artificially intelligent LEVi robot in the mysterious catacombs under the Martian surface. As soon as transportation is available, he will be sent back to Earth.
Before he goes, however, newly arrived Doctor Rebekah "Bex" Egunsola would like to take advantage of Mike's EVA skills. Initially reluctant to venture back into the Martian caves, Mike allows himself to be talked around. It's just one quick foray into the labyrinth. What could go wrong?

---
Special Requests
I am Princess X — Cherie Priest
2016's I Am Princess X is a standalone young-adult thriller by Cherie Priest. It features illustrations by Kali Ciesemier.
Once upon a time there were two schoolgirls, artist Libby and writer May. Together, they created a shared fantasy world, ruled over by Princess X. Their partnership came to an abrupt, violent end when the car containing Libby and her mother went through a bridge guard rail and into the waters below.
May did her best to convince herself that Libby somehow survived. By the time May was sixteen, she had to accept what everyone around her believed to be true: Libby was dead.
Then the stickers start appearing in Seattle windows.

---
Special Requests
The Other Side of the Moon — Meriol Trevor
Meriol Trevor's 1957 The Other Side of the Moon is a standalone juvenile SF novel.
The Kingville Lunar Expedition did not intend to take an untrained boy on their mission to the Moon. Nor did Gil Pentfoyle intend to stow away. Having snuck on board to play spaceman, Gil fell asleep. The busy crew overlooked the boy until the expedition was well on its way to Earth's satellite.
Although displeased to discover the stowaway, Captain Raider doesn't airlock Gil. Perhaps this is because Gil's brother, the expedition botanist1, might object. Perhaps this is because the captain is decent guy. Besides … the expedition already has a useless member, the expedition sponsor's son Tracy. Gil makes two of them. (Perhaps three; see1.)
Turns out that the Moon is a surprising place.

---
Special Requests
The Other Side of Tomorrow — Roger Elwood
1973's The Other Side of Tomorrow is a theme anthology edited by Roger Elwood. It's a reasonable example of Elwood's efforts at this point in his career.
In what sort of world will the young people of tomorrow live? Nine authors imagine futures.

---
Special Requests
Return of the Breakneck Boys — Geary Gravel
The Fading Worlds, book 2
1991's Return Of The Breakneck Boys is the second (and most recent) instalment in Geary Gravel's Fading Worlds series.
Former fix-it man Howard Bell went looking for a washroom and found a pathway to another world. It's a dangerous world, but he has survived, even thriven. He has attracted followers, warriors of many species. Together, they form a band known as the Breakneck Boys.
The Breakneck Boys are not just warriors. They are rebels against their former masters, the mysterious Keyholders.

---
Special Requests
Cat in the Mirror — Mary Stolz
Mary Stolz's 1975 Cat in the Mirror is a standalone young-adult novel.
Erin Gandy is a grave disappointment to her mother Belle; she is deficient in the feminine virtues appropriate for women of her class. Neither pretty nor popular, Erin might well one day end up an academic or worse yet, a feminist. At least Erin can turn to her schoolmates for solace. Or she could if they did not despise Erin even more than her mother does.
Spoilers for a book more than forty years out of print.

---
Special Requests
A Key For The Nonesuch — Geary Gravel
Fading Worlds, book 1
1990's A Key for the Nonesuch is the first book in Geary Gravel's Fading Worlds duology.
A small inheritance has allowed Howard Bell to leave his unrewarding job for the life of a novelist. Years later, he has produced an unfinished novel and used up his funds. Nothing left but to parley his handyman skills into a job with Foster's Fix-It.
Determined to find a working bathroom in the unfinished building he's been assigned to repair, Howard appropriates a set of keys. The doorway he enters takes him to a different world.

---
Special Requests
Changer's Moon — Jo Clayton
Duel of Sorcery, book 3
1985's Changer's Moon is the third and final novel in Jo Clayton's Duel of Sorcery trilogy.
Ser Noris, bored and powerful beyond reason, is nearing the end of his game with the Goddess. At stake is an entire world. Noris has succeeded in bending all but a few of the world's mages to his will, and subjecting most of the world to his cruel, misogynistic theocracy. True, the Biserica Valley (refuge of the Goddess followers) is still holding out … but surely its fall is only a matter of time.
Standing between the Goddess and the jaded wizard is a mortal woman, a green-skinned mutant sorceress named Serroi.

---
Special Requests
The Armageddon Crazy — Mick Farren
1989's The Armageddon Crazy is a standalone near-future novel by Mick Farren.
The Crash of 1998 was deliberately engineered by banks who hoped to unseat the Democrats. The Panic of 1999 was an unintended consequence. A surprisingly fragile economy imploded. The consequence of that: President Faithful's victory in 2000. No longer do Americans have to languish under a two party system! Now they can enjoy living under a brutal theocracy.
A brutal, incompetent theocracy.
Spoilers for a book well out of print.
---
Special Requests
Neoreaction a Basilisk: Essays on and Around the Alt-Right — Elizabeth Sandifer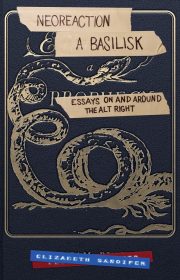 Elizabeth Sandifer's 2017 Neoreaction a Basilisk: Essays on and Around the Alt-Right is a discursive ramble through the brambles of modern day fascism. Not an enjoyable ramble; it's more like a tour of the Cairo garbage dumps. But it's informative.

---
Special Requests
Before Mars — Emma Newman
Planetfall, book 3
2018's Before Mars is the third book in Emma Newman's Planetfall series.
Anna Kubrin is offered a chance too good to refuse: a chance to go to GaborCorps' Mars base as the resident geologist/artist. This is her only chance: GaborCorps has a monopoly on Mars exploration. But … if she accepts the post, Anna will spend two years away from her husband George and child Mia.
This weighs on Anna — as does her awareness that two years away from her family does not bother her nearly as much as convention demands. Despite this, there was never any doubt that she would accept; by the time the novel begins she has made the journey.

---
Special Requests
Record of a Spaceborn Few — Becky Chambers
Galactic Commons, book 3
2018's Record of a Spaceborn Few is the third volume in Becky Chambers' Galactic Commons series.
Having ruined the Earth, humans mined the Earth's cities and turned them into a vast interstellar fleet. The Exodus Fleet's design proved surprisingly robust; not only did the fleet survive centuries and light-years, the people riding the ships neither went mad nor devolved into cannibalistic barbarians. The Exodus Fleet was an impressive achievement. Even if the technology involved was hilariously backward by galactic standards.
If only humans had encountered the galaxy-spanning Galactic Commons (GC) before the Fleet set out, the whole endeavour might have been unnecessary. As it is, the human race was allowed to join the GC as a very junior member, while the aging Fleet was graciously permitted to park itself in an otherwise useless stellar system.
Where it still orbits.

---
Special Requests
The Gate of Gods — Martha Wells
The Fall of Ile-Rien, book 3
2005's The Gate of Gods is the third book in Martha Wells' Fall of Ile-Rien trilogy.
Ile-Rien has fallen to the mysterious, implacable Gardier. Tremaine Valiarde managed to escape. She and her handful of allies — some from Ile-Rien, some from another timeline, and one ambiguously alive sorcerer — have taken refuge in allied Capidara. There they hope come up with a plan for defeating the invaders.
But it turns out that the Gardier have infiltrated Capidara. The supposed refuge is in no way safe.

---