The High Couch of Silistra — Janet E. Morris
Silistra Quartet, book 1
1977's The High Couch of Silistra is the first volume in Janet Morris' Silistra Quartet. It's also proof that not every reviewer should review every book, because the market it caters to, the BDSM crowd, is not one to which I belong. I'm mostly blind to whatever strengths this work may have.
The ancient Silistrans used their impressive technology to scour their own homeworld. A handful survived in underground refuges. When the surface of Silistra recovered and the descendants of the survivors emerged from their warrens, they vowed to never again become dependent on technology.
Silistrans are hardy, long-lived, and thanks to that ancient war, infertile. High technology might have dealt with the fertility issue. The Silistrans chose an entirely different solution.

---
Special Requests
Cold-Forged Flame — Marie Brennan
Varekai, book 1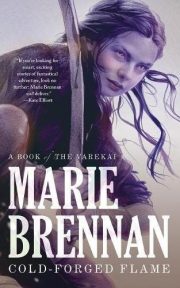 2016's Cold-Forged Flame is the first story in Marie Brennan's Varekai series.
Called up out of shadows, without memory or even a remembered name, the swordswoman is magically bound to carry out a quest using methods that are unclear, for a purpose that is not explained. All she knows is that she must somehow collect blood from the cauldron of the Lhian. Whoever or whatever the Lhian might be.
One final detail she learns: most of the people who try to win a prize from the Lhian never return.

---
Special Requests
In Other Lands — Sarah Rees Brennan
2017's In Other Lands is a standalone young adult novel by Sarah Rees Brennan.
Abandoned by his birth mother, raised by his emotionally detached dad, and subjected to incessant bullying at school, thirteen-year-old Elliott does not have much to tie him to the mundane world. When he is offered a spot at school in the until-now-unknown-to-Elliott magical realm known as the Borderlands, he has no reason to say no.
Elliott may expect Hogwarts. What he gets is a place where modern conveniences do not work and nobody is taught interesting spells. This school is a boot camp designed to transform the naïve youths of today into the Border Guard of tomorrow. One consolation: Elliott now has ample excuse to display his skills at bitter sarcasm and complaint.

---
Special Requests
The Thing Itself — Adam Roberts
2015's The Thing Itself is a standalone novel by Adam Roberts.
Perhaps in another trouser-leg of time, Charles Gardner's Antarctic sojourn with fellow researcher Roy Curtius ended with professional accolades all round. In the timeline related in this novel, Gardner and Curtius not only failed to provide the world with tangible evidence of SETI, but Curtius went mad and Gardner only narrowly survived the murder attempt that followed.
A traumatized and scarred Gardner spent the next few decades tumbling down the ladder of British society, only coming to rest when there was nowhere else to fall. Obscurity and an unremarked death seemed all that was left to the alcoholic, abrasive former scientist.
The researchers at an obscure Institute are convinced that Curtius holds the key to their ambitious research. They believe that Gardner can provide them with the leverage to render Curtius, long consigned to an institution for the criminally insane, tractable. Why bother? They are sure that Curtius holds the key to understanding the true reality behind the reality we perceive.

---
Special Requests
The Maze Stone — Eileen Dunlop
Eileen Dunlop's 1982 The Maze Stone is a standalone juvenile fantasy.
Fanny Mowbray's reunion with her birth father Dr. Mowbray might have been cause for celebration, if the reason for the reunion had not been the sudden death of Fanny's grandmother (the woman who had raised her). Fanny is too grief-stricken to have any energy, or will, to revive her ties with her father or build new ones with her stepmother Mrs. Mowbray or her stepsister Hester.
An old mystery will bring the two teens together.

---
Special Requests
The Danger Quotient — Annabel Johnson & Edgar Johnson
Annabel and Edgar Johnson's 1984 The Danger Quotient is a standalone time travel novel.
130 years after World War III turned the surface of the Earth into a lifeless, UV-soaked hellscape, things are not going well for the descendants who took refuge in a vast network of tunnels under Colorado. For reasons unexplained, lifespans keep dropping.
K/C — 4(SCI) (or Casey, for short) is a gene-engineered genius, one whom his designers hope will be smart enough to solve the problem of the shrinking lifespans. Too bad that he probably won't live long enough. He suffers from congenital defects that will kill him all too soon.
He has a cunning plan to put the little time remaining to him to good use. It's a plan dependent on his homemade time-machine.
---
Special Requests
The Princes of the Air — John M. Ford
1982's The Princes of the Air was John M. Ford's second novel. His first novel, 1980's Web of Angels (which I wish I had reviewed, because then I could link to the review) was a cyberpunk novel. The Princes of the Air was a space opera of manners. Ford's reluctance to stick to a specific genre is only one of the reasons he is not better known.
Orden, David, and Theo had sufficient talents to have spent their lives working up to ever more complicated con games … that is, until the forces of the law fell on them and consigned them to whatever fate waits the criminal classes in a star-spanning empire. Orden evaded this fate by entering the diplomatic service, an alternative career path for those blessed with a gift of gab and an eye for a good con. His friends David and Theo parlayed practice on simulated, video-game starships into crewing the real thing.
Any prudent person in Orden's position would have maintained a low profile in a minor position. Ambitious Orden brought himself and his friends to the attention of the Queen.
---
Special Requests
The Kobo ereader has been available in various models since 2010. I was an early adopter of ebooks for professional reasons (ebooks can be delivered as fast as email and nobody steals them from my mailbox) but until I got a Kobo for my [mumble] birthday, I used a laptop instead of a dedicated ereader. My Kobo Aura is the second Kobo I've owned. While I have one or two reservations about the device, I would recommend it.
Mind you, how I use it may be different from the sanctioned uses the manufacturer envisioned.
---
Special Requests
The Harbors of the Sun — Martha Wells
Books of the Raksura, book 5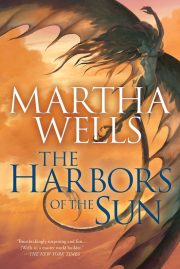 Martha Wells' 2017 The Harbors of the Sun is the fifth volume in the Books of the Raksura series and the second half of the story begun in 2016's The Edge of Worlds.
The quest that drove The Edge of Worlds succeeded beyond the wildest dreams of the Raksura, in large part because they had no idea what it was they were searching for. Betrayed by Vendoin and the Hians, Moon and his friends were poisoned, the forerunner artifact the party found was stolen, and Bramble, Merit and Delin kidnapped 1.
The good news is, the Raksura have a potential ally. The bad news is, it's not an ally any sensible person would trust.
---
Special Requests
Spells of Blood and Kin — Claire Humphrey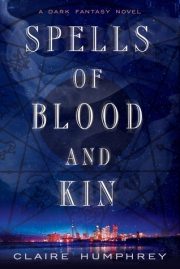 2016's standalone urban fantasy Spells of Blood and Kin is Claire Humphrey's debut novel.
Lissa Nevsky's grandmother dies and leaves her three legacies: intense grief, a large and mostly empty house, and a clientele that expects her to assume her grandmother's role as koldun'ia (witch). Lissa is one of the few (perhaps the only) Russian-style witches in all Toronto.
One of grandmother's spells stopped working when she died. This has some severe consequences for the beneficiary, Maksim Volkov. And incidentally for a student named Nick.
---
Special Requests
The Ships of Air — Martha Wells
The Fall of Ile-Rien, book 2
2004's The Ships of Air is the second volume in Martha Wells' The Fall of Ile-Rien trilogy. It follows immediately on The Wizard Hunters, which I reviewed here.
The book begins on a high note (the same one on which the previous volume ended): Tremaine and her friends have captured a Gardier outpost! Victory is surely theirs, because that is how it works at the beginning of the second book in a trilogy.
There are just two small problems: Firstly, Tremaine and her friends are in a parallel universe. Secondly, they have no means to get home.
---
Special Requests
Point of Hopes — Melissa Scott & Lisa A. Barnett
Astreiant, book 1
1995's Point of Hopes is the first novel in Melissa Scott and Lisa A. Barnett's Astreiant series.
The great and powerful of Chenedolle are distracted by matters of state: the childless queen has yet to settle on a designated heir. The people of the great city of Astreiant have a far more down-to-Earth concern.
Someone is stealing their children.
---
Special Requests
Roses and Rot — Kat Howard
2016's Roses and Rot is Kat Howard's debut novel.
Imogen and Marin have a nasty mother, an insidiously spiteful mother, a mother worse than an evil step-mom. Imogen escapes domestic torture by enrolling at a distant school that is so prestigious that her status-conscious mother cannot bring herself to cut off that escape. But Marin does not have the option (much to Imogen's distress; she does not want to abandon her sister). Marin has to escape on her own, which she does indeed manage. She becomes a dancer.
Years later, both sisters win fellowships to an artists' colony, Melete. It's a chance to reconnect. It also turns out to be an encounter with fairy danger.
---
Special Requests
Thick as Thieves — Megan Whalen Turner
Queen's Thief, book 5
2017's Thick as Thieves is the fifth volume in Megan Whalen Turner's Queen's Thief series. Previous books in the series were reviewed here, here, here, and here.
Kamet's fate is tied to that of his owner, Nahuseresh. For much of his life, his owner's power and prosperity have served Kamet well. He is educated, owns a handful of possessions, and enjoys considerable power as his owner's public voice. Of late, however, Nahuseresh has suffered setback after setback. All thanks to Eugenides, former Thief of Eddis turned King of Attolia. Nahuseresh's setbacks are Kamet's as well.
Even so, Eugenides' offer, relayed by his intermediary Costis, of sanctuary and freedom from his master is laughable. Why would Kamet give up all he has for life in a backward, foreign land filled with illiterate barbarians?
Escaping death is a good reason.
---
Special Requests
Dreadnought — April Daniels
Nemesis, book 1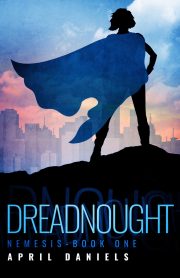 2017's Dreadnought is the first novel in April Daniels' Nemesis series. It's the first book I have read by this author and it will not be the last.
Fifteen-year-old Danny went shopping. Buying nail polish, which was their coping mechanism for life with a domineering father who would react with rage and abuse if he were to discover that his son Danny is actually his daughter Danny. What Danny got out of the shopping trip was a starring role as "vulnerable bystander in a battle between two superhumans," a bystander cowering as the mighty Dreadnought fights to the death with villain Utopia.
Danny was lucky not to be reduced to a sooty outline on a wall. Their luck does not stop there.
---
Special Requests
The Homeward Bounders — Diana Wynne Jones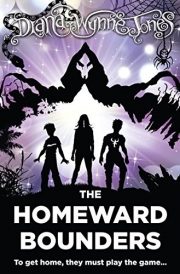 1981's The Homeward Bounders is a standalone science fantasy novel by Diana Wynne Jones.
Protagonist Jamie's unremarkable life ended the day he stumbled across Them playing games with human destiny. Luckily for Jamie, the rules of the game include provisions for pieces who know too much, as Jamie does. Jamie was discarded from the game, consigned to wander between realities as a Bounder until he could find his way back home.
---
Special Requests
A Closed and Common Orbit — Becky Chambers
Wayfarers, book 2
2016's Hugo nominee A Closed and Common Orbit is the second novel in Becky Chambers' Wayfarers series.
Forced by circumstance to abandon her life as the mind of a starship, artificial intelligence Lovelace is re-homed in an android body. She adopts a new identity as Sidra. Life in a humanoid shell, tottering precariously on two legs and dealing with complex, unfamiliar social protocols, is challenging.
She meets Pepper, who is eager to help Sidra learn to cope. Unlike many others, Pepper believes that artificial intelligences are people. Why does Pepper have this peculiar and economically inconvenient belief?
The answer to that lies twenty years in the past.
---
Special Requests
The Library at Mount Char — Scott Hawkins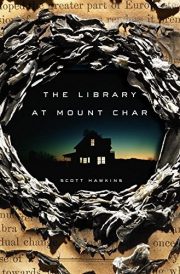 Scott Hawkins' 2015 The Library at Mount Char is a standalone contemporary fantasy.
Retrieved from certain doom by neighbor Adam Black (or as he prefers to be called, "Father"), Caroline and her young companions—David, Margaret, Michael and Richard, Jacob, Felicia, Jennifer, Lisa, Peter, Alicia, and Rachel—are taken on as apprentices. Father's methods are brutal but effective. Each child is forced to master one of Father's twelve catalogues of skills. As wielders of the uncanny, they are outmatched only by the omnicompetent Father himself.
Now Father has vanished. And someone has cast a magical barrier around the dimensional intrusion that is the library; none of the twelve can cross the barrier. They are marooned outside the library.
Someone who was not one of the targeted twelve might be able to simply ignore the barrier.
---
Special Requests
The Phantom Tollbooth — Norton Juster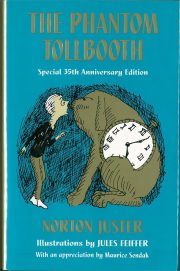 Norton Juster's 1961 The Phantom Tollbooth is a widely loved whimsical children's book that, as it happens, I've not read until now.
There was once a boy named Milo who didn't know what to do with himself—not just sometimes, but always. When he was in school he longed to be out, and when he was out he longed to be in. On the way he thought about coming home, and coming home he thought about going. Wherever he was he wished he were somewhere else, and when he got there he wondered why he'd bothered. Nothing really interested him—least of all the things that should have.
When Milo comes home to find a mysterious package awaiting him, he sees no point to assembling the contents … but he does so anyway. Not assembling them would have been just as pointless and at least putting the strange present together was something to do.
His gift is a tollbooth. A very special tollbooth.
---
Special Requests
Tomoe's Story — Stan Sakai
Usagi Yojimbo, book 22
Tomoe's Story is the 22nd volume in Stan Sakai's long-running Usagi Yojimbo anthropomorphic comic series. It collects six stories featuring Tomoe, a feline woman samurai, who keeps crossing paths with Miyamoto Usagi. Unlike other friends/allies, such as morally unencumbered Gen and ostentatious jerk Inukai, Usagi and Tomoe share many moral perspectives, but their friendship is not without its complications.
---
Special Requests
The Easy Expedition — Moira J. Moore
The Aldench Team, book 1
2016's The Easy Expedition is the first volume in Moira J. Moore's The Aldench Team series.
The kingdom of Amnisa—so far from the gods, so close to the mighty empire of Aldance—is uncultured, weak, undisciplined, beneath contempt. Just ask anyone from Aldance. Amnisan provocation has earned a firm response from Aldance. Given the imbalance in power, the war of just retribution should have lasted weeks.
Three years later, the war is still dragging on. Not to worry; Aldance's High Grade Fourteen Bevlo has a cunning plan.
---
Special Requests
Scout's Progress — Sharon Lee & Steve Miller
Liaden, book 6
2001's Scout's Progress is the sixth book in Sharon Lee and Steve Miller's Liaden science fiction adventure series.
Aelliana Caylon has endured a short but miserable arranged marriage. Now single again, she is promised by her clan head, the Delm, that she will not be forced into another such marriage. Unfortunately, the Delm's word is binding only while she remains in power. Her successor can ignore the promise. And it seems that Aelliana's malevolent brother Ran Eld, will ensure this happens. The Liaden social structure is such that Aelliana has little hope of escape.
But little is not none. Aelliana wields a weapon her corrupt, spiteful brother cannot match: applied mathematics!
---
Special Requests
The Edge of Worlds — Martha Wells
Books of the Raksura, book 4
Although her publisher is presenting it as the first volume of a new two-book arc, 2016's The Edge of Worlds is also the fourth volume in Martha Wells Books of the Raksura series. It takes place in the same Three Worlds setting as her previous Raksura books.
Consort Moon and the other members of the Indigo Cloud court waken simultaneously, disturbed by a shared dream. The meaning of the dream is unclear. Is it merely a rare side effect of the Raksura mental gifts … or is it a portent of doom to come? The court does not have long to ponder this before groundling strangers appear, led by a someone they know: Gold Islander Delin.
---
Special Requests
A Conspiracy of Kings — Megan Whalen Turner
Queen's Thief, book 4
2010's A Conspiracy of Kings is the fourth and most recent (but not final!) volume in Megan Whalen Turner's Queen's Thief series.
The new alliance between Attolia and Eddis, sanctified by marriage between the Queen of Eddis' Thief and the Queen of Attolia, put the neighbouring kingdom of Sounis in a very awkward position. Divided, Attolia and Eddis seemed no match for Sounis. United, they force the King of Sounis and his barons to choose between several unpalatable options: make peace with Eddis and Attolia or ally with the expansionist Mede Empire. One option is humiliating but the other may be national suicide.
There is a third option: civil war.
---
Special Requests
Stay Crazy — Erika L. Satifka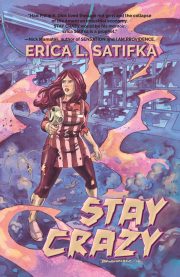 2016's urban fantasy Stay Crazy is Erika L. Satifka's debut novel.
Emmeline "Em" Kalberg has experienced a college-ending mental breakdown. She returns home to Clear Falls, Pennsylvania, where she struggles with what is diagnosed as paranoid schizophrenia. She must also deal with her disappointed mother and her newly devout, very judgmental sister Jackie.
Clear Falls is the quintessential Rust Belt community: independent businesses a fading memory, giant soulless big-box stores offering shabby goods and shabbier jobs to the defeated inhabitants of a once-prosperous town. No big-box store is more soulless than Savertown USA. Of course, it's at Savertown USA that Em's mother finds the reluctant Em a job.
It's a crappy job that pays poorly, but at least Em has voices in her head to keep her company. Well, at least one voice.
---