Judgment Night — C.L. Moore
C. L. Moore's short novel Judgment Night was serialized in two issues of John W. Campbell's Astounding back in 1943. Judgment Night is also the title of a collection published by Dell back in the Disco Era (which is how I encountered the story) .. but the edition I have in hand is Diversion Books' 2015 ebook. They've presented the novel as a standalone—which it is. Not only are there no sequels of which I am aware, it's not clear to me how there could be.
The race that holds Ericon holds the galaxy, because the race that holds Ericon can draw on the wisdom of the Ancients. Access to the Ancients does not mean that one will be able to put their wisdom to effective use. In fact, dynasty after dynasty have interpreted the advice they were given in ways that led to their doom. All human governments are as mortal (if not so short-lived) as their members.
Our protagonist, Juille, believes that she can defy fate.
---
Because My Tears Are Delicious To You
Fractured: Tales of the Canadian Post-Apocalypse — Silvia Moreno-Garcia
Silvia Moreno-Garcia's 2014 anthology Fractured: Tales of the Canadian Post-Apocalypse delivers exactly what it promises: post-apocalyptic tales told from Canadian perspectives.
The moral here seems to be that it's going to get worse before it gets better.
Also, it's not going to get better.
---
Miscellaneous Reviews
The Untold Tale — J. M. Frey
Accidental Turn, book 1
To quote the bio in her novel:
(

J. M.

Frey) is a voice actor,

SF

/F author, professionally trained music theatre performer, not-so-trained but nonetheless enthusiastic screenwriter and webseries-ist, and a fanthropologist and pop culture scholar. She's appeared in podcasts, documentaries, radio programs, and on television to discuss all things geeky through the lens of academia.
Frey has been nominated for both the Aurora and the Lambda Awards.
2015's The Untold Tale is the first volume in The Accidental Turn series.
Kintyre Turn is a bona fide hero, complete with the magic sword Foesmiter and his very own loyal sidekick, Sir Bevel. Most damsels in distress, at least the ones from Hain, would be relieved to get Kintyre's help. Lucy "Pip" Piper isn't from Hain and she's not at all relieved to be rescued by Kintyre. That's because she has to make do with Kintyre's much less impressive stuttering brother Forsyth.
---
A Year of Waterloo Region Speculative Fiction
The Dream-Quest of Vellitt Boe — Kij Johnson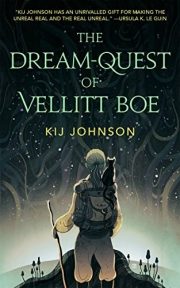 Although modern discussion of Howard Phillips Lovecraft's fiction often focuses on his virulent racism, he was also something of a misogynist. His female characters tended to be absent or objectionable. Is it possible to write in the Lovecraftian vein without racism and misogyny? Or is Lovecraft's world of eldritch horrors dependent on rampant hatred of the Other?
Kij Johnson's 2016's The Dream-Quest of Vellitt Boe is something of a test for the hypothesis "I can write Lovecraftian fiction that does not reek of hatred and disgust." It is also a test of my recent suggestion that the most flawed originals can inspire the best modern interpretations.
Professor Boe is woken from a sound sleep to deal with a crisis. One of her most promising students, Jurat, has eloped with a lover, Heller. Heller is objectionable because he is a dreamer from the waking world and it is to the waking world Jurat and Heller are fleeing. The university's toleration of Ulthar Women's College is grudging at best. If news gets out that the daughter of a trustee has been … misplaced, the hard-won women's college might be shut down entirely.
Someone must retrieve Jurat. Retired adventurer Boe is the logical choice.
---
Martians Abroad — Carrie Vaughn
Carrie Vaughn's 2017 Martians Abroad is a standalone young-adult SF novel, written in the manner of a very famous series of juvenile SF novels. In fact, it seems to be a response to a specific juvenile SF novel, about which more anon.
Young Polly Newton has a bold plan for her life, one that involves pilot school and helming humanity's first starship. Polly's mother also has bold plans for Polly and her brother Charles. Those plans involve an unwanted sojourn at the prestigious Galileo Academy on Earth. Polly's plans are irrelevant. Mother knows best.
Martha Newton didn't become Director of the Mars Colony by being easy to out-manoeuvre. By the time Polly learns what her mother has planned, it is too late for either Polly or her brother to do anything about it except pack their bags and give in to the inevitable.
---
Miscellaneous Reviews
The Tombs of Atuan — Ursula K. Le Guin
Earthsea, book 2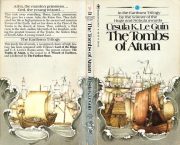 1970's The Tombs of Atuan is the second volume in Ursula K. Le Guin's Earthsea Cycle.
The influence of the Nameless Ones has dwindled over the long ages, but they still have power in the Tombs of Atuan. There they still are worshipped. There they are served by their immortal Priestess.
The little girl once named Tenar is the latest incarnation of the Priestess. The bodies of the One Priestess of the Tombs of Atuan die, but the Priestess lives on, reborn in a newborn body at the time of the Priestess' death. Stripped of her birth family and her name, the girl who was Tenar becomes Arha, "the eaten one," paramount human servant of the ancient and fearsome Nameless Ones.
---
Because My Tears Are Delicious To You
Two Travelers — Sarah Tolmie
---
A Year of Waterloo Region Speculative Fiction
Shin Sekai Yori — Yusuke Kishi
I was so annoyed by last week's Translation Review selection (the Shin Sekai Yori manga) that I hunted down a fan translation of the novel on which the manga was based. Should a North American publisher ever print this or another translation, I will review that as well, with an appropriate link. Hint, hint.
Yusuke Kishi's 2008 Nihon SF Taisho Award-winning Shin Sekai Yori is a standalone SF novel.
A thousand years from now, Saki Watanabe and her schoolmates, Satoru Asahina, Maria Akizuki, Mamoru Itou, Shun Aonuma, and Reiko Amano think that they live in a kindly world, one in which they are protected from danger. Fiends and karma demons cannot be current dangers; they are merely the stuff of summertime ghost stories.
Poor coddled teens! They are not safe. Fiends and demons are very real. However, the biggest dangers the children will face will be those created by their own society and their own choices.
---
Translation
Ninefox Gambit — Yoon Ha Lee
The Machineries of Empire, book 1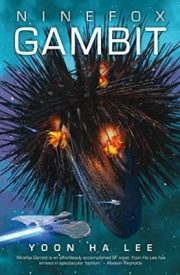 2016's Ninefox Gambit is the first volume in Yoon Ha Lee's projected trilogy, The Machineries of Empire.
Success is often punished harshly. Consider the case of Captain Kel Cheris of Heron Company, 109-229th Battalion. She has excelled on the battlefield due to her skill and ingenuity. Those are exactly the qualities her superiors need if they are to retake the Fortress of Scattered Needles from the rebels who currently hold it.
Well, skill, ingenuity, and expendability.
---
Miscellaneous Reviews
Survival Rout — Ana Mardoll
Earthside, book 2
2016's Survival Rout is the second book in Ana Mardoll's Earthside series.
College roommates Aniyah and Miyuki expect a summer vacation rich in opportunities for hanging out and having intense discussions about gender and orientation. Thanks to their ever-so-helpful chums Timothy and Craig, what they actually get is kidnapped, mindwiped, and sold to the faerie lord Master of Masques.
Keoki is in the wrong place at the wrong time; his good Samaritan instincts get him abducted and sold as well.
---
Miscellaneous Reviews
Mindbridge — Joe Haldeman
Haldeman's first novel under his own name1, a fix-up titled The Forever War, won a Hugo, a Nebula, a Ditmar, and a Locus. There's something to said for not winning that many awards the first time out, because it's hard to go anywhere but down from such initial success. After that, a single Hugo nomination (something that would normally seem a boast-worthy success—assuming, of course, that this did not result from inclusion on a Puppy slate) will seem like a comparative failure.
Which brings us to Joe Haldeman's 1976 standalone Mindbridge, his second novel as Haldeman.
By the mid-21 century, Earth is a garden world, an artificial Eden for eleven billion humans. This idyll is dependent on complex technology, and on the solar power that drives that technology. If anything were to disrupt the system, billions would die.
The Levant-Meyer Translation (LMT) providentially offers humanity an off-site back-up. But there's a catch. Several catches, in fact.
---
Because My Tears Are Delicious To You
After Atlas — Emma Newman
Planetfall, book 2
Emma Newman's 2016 After Atlas is a sequel to her 2015 novel Planetfall.

The Pathfinder, Lee Suh-Mi, led her people to a glorious destiny among the stars. The Pathfinder's starship only had room for the chosen few. Carlos Moreno's mother made the cut, but Carlos and his father did not. His father then joined a community of starship rejectees, one led by a Lee deputy named Alejandro Casales, dragging an unhappy young Carlos in his wake. It took years for Carlos to escape.
Decades later, Carlos is a prized asset of the Noropean Ministry of Justice. He is a talented investigator whose indentured status ensures that his efforts on the MOJ's behalf will not be sabotaged by nonsense like so-called human rights.
---
Miscellaneous Reviews
The Adolescence of P-1 — Thomas J. Ryan
The Adolescence of P-1 is the first and (so far as I know) only work of science fiction by Thomas J. Ryan. Ryan is an enigmatic author about whom little is known. His middle name was Joseph and he was born in 1942; if he has died, that fact is not known to my sources. There is one other fact about Ryan that one can easily deduce from this novel: he was very familiar with the University of Waterloo as it existed in the early 1970s. His book was the first SF novel I had ever read that drew on places and institutions I found cosily familiar.
Our protagonist is Gregory Burgess, a student at the University of Waterloo, majoring in Honours Getting Laid, with a minor in Keeping His Marks Just High Enough to Avoid Expulsion. His indifference to hard study vanished when he first encountered a book on computer programming. Girls were forgotten as Burgess honed his hacking skills and began to amass files and resources to which he was not remotely entitled. He was talented, but not quite talented enough: UW spotted and expelled him.
---
A Year of Waterloo Region Speculative Fiction
Yusuke Kishi
Shin Sekai Yori, book 1
I had no idea what to review this week … so I left it to chance. Manga Fox's surprise me option handed me the manga adaptation of Yusuke Kishi 's 2008 Nihon SF Taisho Award-winning novel Shin Sekai Yori (From the New World ). If there exists a translation of the novel, I am unaware of it. That's too bad, because the sense I get from the manga is that the novel is an interesting work poorly served by its adaptation into a new medium.
---
Rediscovery Tuesday
The Stars Are Legion — Kameron Hurley
Kameron Hurley's 2017's The Star Are Legion is a standalone space opera.
In a distant future, a flock of huge world-ships orbit an unnamed star. Within the ships, there are life forms of all kinds, including humans. But every living thing has its allotted span and the world-ships are no exception. They are dying and when they do die, so too will all the humans who live within them.
Zan and Jayd have a cunning plan to escape the coming mass extinction. The cost of the plan will be much greater than they expect.
---
Miscellaneous Reviews
Up The Line — Robert Silverberg
Robert Silverberg is a fascinating figure. His career as a science fiction writer spans over six decades and comprises at least three distinct periods:
his early, prolific pulp phase, during which he put more emphasis on speed1 than polish;
a middle period, when he reinvented himself as an ambitious literary

SF

author;
the most recent period, more polished than the first and more commercial than the second.
I discovered him while he was writing classics like Dying Inside, To Live Again, and Downward to Earth. To me, it's the serious, ambitious work from the mid-1960s to the mid-1970s that is ineluctably Silverberg.
Of course the first book of his I am going to review is his 1969 time-travel sex comedy, Up the Line. That's because if There Will Be Time wasn't the SF novel that revealed to me that Byzantium existed, Up The Line very definitely was. Paired review, remember?
---
Because My Tears Are Delicious To You
There Will Be Time — Poul Anderson

Today's Because My Tears Are Delicious to You Review is a very special double review! And not because I want to bump up my stats. The two books I have selected are a pair of thematically related but very different novels that I will re-read back to back. Because There Will Be Time was on the top of the stack "Anderson" comes before "Silverberg," I will start the re-read with Mr. Anderson's novel.
1972's Hugo-nominated There Will Be Time is the book that convinced teenage me that I liked his fiction. It is part of Poul Anderson's Maurai series, which included three novelettes (1959's The Sky People , 1962's Progress and 1973's Windmill) as well as a second novel, 1983's Orion Shall Rise.
Centuries after the Judgment War, the Maurai dominated the Earth, guiding other nations away from destructive machine culture and towards more sustainable ways of life. There Will Be Time begins some time before this golden age, in 1933, with the birth of Jack Havig, an American who will play a very curious role in the history of the Maurai.
---
Because My Tears Are Delicious To You
The Easy Expedition — Moira J. Moore
The Aldench Team, book 1
2016's The Easy Expedition is the first volume in Moira J. Moore's The Aldench Team series.
The kingdom of Amnisa—so far from the gods, so close to the mighty empire of Aldance—is uncultured, weak, undisciplined, beneath contempt. Just ask anyone from Aldance. Amnisan provocation has earned a firm response from Aldance. Given the imbalance in power, the war of just retribution should have lasted weeks.
Three years later, the war is still dragging on. Not to worry; Aldance's High Grade Fourteen Bevlo has a cunning plan.
---
Special Requests
Cruel Pink — Tanith Lee
Colouring Book, book 6
2013's Cruel Pink was not Tanith Lee's last novel (I believe last week's Zircons May Be Mistaken was her final book) but it is the last Tanith Lee novel I will review in the series A Year of Tanith Lee. I hope the series has been an enjoyable diversion in what has been otherwise a festering bubo of a year.
Five people. One house in old London.
---
A Year of Tanith Lee
Kozue Amano
Aria, book 12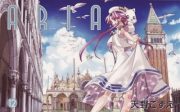 Finally we reach volume twelve of Kozue Amano's Utopian manga Aria. The end.
---
Translation
Light and Shadow: Eight Short Stories by Linda Nagata — Linda Nagata
2016's Light and Shadow: Eight Short Stories by Linda Nagata collects eight of Linda Nagata's short pieces. Straightforward, that.
Nagata's career began in 19871, but the focus of this collection is on recent work, published after the years-long hiatus that divides her career in two.
---
Miscellaneous Reviews
Warm Worlds and Otherwise — James Tiptree, Jr.
U Waterloo's Dana Porter Arts Library is home to the B. P. Nichol Library of Science Fiction; that's something I have known for years and something I keep meaning to exploit. The Nichol library is part of their rare book collection; in order to use it I would have to spend a day reading and writing in the rare book room (which I knew well when I worked there). OK, but which book to sample first?
James Tiptree, Jr.'s 1975 Warm Worlds and Otherwise collects some of Tiptree's earlier works (although not as many as another collection, Ten Thousand Light Years from Home, which is also discussed in this collection's extraordinary introduction). My copy of Warm Worlds vanished decades ago, but I remember it fondly.
I also remember its introduction, one that should be a lesson to us all.
---
Zircons May Be Mistaken — Tanith Lee
Ghosteria, book 2
[Due to a technical issue, this is unedited]

2014's short novel Ghosteria II: Zircons May Be Mistaken is the second and final volume in Tanith Lee's Ghosteria duology.
The decaying stately home has stood for centuries. No living person has entered it in years, not since the Terror of 2020 dragged civilization down into the dark. Living people may never walk the corridors again. Indeed, it is not at all clear humans survived the Terror.
The absence of living people does not mean the mansion is unoccupied. There are still the ghosts.
---
A Year of Tanith Lee
Kozue Amano
Aria, book 11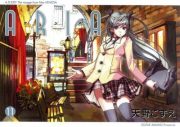 [Due to a technical problem, this is an early draft only]
Volume 11 of Kozue Amano's Utopian manga Aria! The penultimate volume! Will Akari graduate? I cannot say. But someone will….
---
Translation
The Mystic Marriage — Heather Rose Jones
Alpennia, book 2
2015's The Mystic Marriage is the second volume in Heather Rose Jones' Alpennia series.
Antuniet Chazillen has lost everything: her foolish brother has been executed for treason and her mother is dead by her own hand. Antuniet has been stripped of her aristocratic rank. Determined to restore the family honour, Antuniet flees Alpennia for Austria, there to use her alchemical skills to win back for her family the respect and position her brother cost it.
In Austria she finds a treasure of rare value, a treasure others are determined to wrest from her. She escapes from Vienna to Heidelberg, but her enemies are still close on her heels. She sees no choice but to trade her virtue for transportation to safety.
Which means returning to Alpennia…
---
Note
The Author/Editor list will be back soon; we're having a minor technical difficulty!