Death Comes as the End — Agatha Christie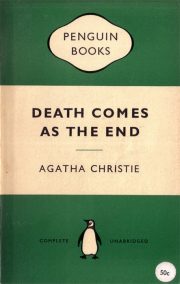 1944's Death Comes as the End was Agatha Christie's sole foray into historical mystery. In it, she abandoned her familiar 20 th century England for Egypt at the very end of the First Intermediate Period. I seem to have a weakness? superpower? for discovering authors through their most atypical work, so it should come as no surprise that this was the very first Agatha Christie I ever read.
Recently widowed, young Renisenb returns to her family home in Thebes. Although she has been gone for eight years, little of significance seems to have changed. Her mortuary-priest father Imhotep still micromanages the household (through letters if he is away on business); her older brothers Yamose and Sobek still squabble with each other, and the youngest brother Ipy is still spoiled. The older brothers are married, but their wives have little influence over the household.
Imhotep's scribe Hori could tell her this stability is an illusion. All it takes to destroy it is an old man's foolish infatuation with a beautiful young girl.
---
Because My Tears Are Delicious To You
The Last Good Man — Linda Nagata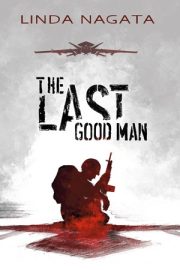 Linda Nagata's 2017 The Last Good Man is a standalone milSF novel.
Four months after Fatima Atwan was kidnapped by El-Hashem's Al-Furat Coalition, the US State Department has done nothing to rescue her. Fatima's desperate father turns to military contractor Requisite Operations to do what the State Department either can not or will not do: save the young woman.
By law, Requisite Operations (RO) cannot deliver a ransom. What the law will let them do is attempt a foray into the chaos left after Daesh's collapse, a foray to retrieve Fatima. Hussam El-Hashem1 may be a mere bandit using religion as justification for robbery and slavery, but he's no idiot. Not only is his location secret, it changes on a weekly basis.
It would take extraordinary resources to find him. Luckily for Fatima, RO has those resources.
---
Military Speculative Fiction That Doesn't Suck
This Gulf of Time and Stars — Julie Czerneda
Reunification, book 1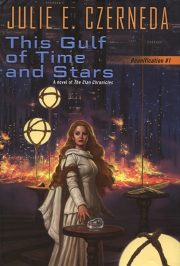 2015's This Gulf of Time and Stars is the first book in Julie E. Czerneda's Reunification series. It is set in her Clan Chronicles setting (first visited in her 1997 debut novel, A Thousand Words for Stranger).
Refugees without history, the surprisingly humanoid Clan live unseen amongst humans, who in turn live in the vast multi-species galactic confederation, the Trade Pact. The Clan's psychic assassins eliminate any person unlucky enough to discover the Clan's existence. Or rather, the Clan once lived unseen amongst humans. Now they live out in the open, outed by a biological trap of their own creation.
The Clan breeding program was so successful at creating females of unparalleled psychic power that no male can survive breeding with them. Hoping that the Trade Pact's vast R&D resources can overcome the reproductive bottleneck, the Clan revealed themselves and joined the Trade Pact.
The Clan may have traded gradual extinction for swift extermination.
---
A Year of Waterloo Region Speculative Fiction
Hitoshi Ashinano
Kabu no Isaki, book 6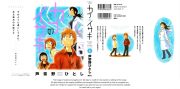 The sixth and final volume of Hitoshi Ashinano's Kabu no Isaki was published in 2013. Much to my surprise, this volume contains answers to a few of the nagging questions unanswered in earlier volumes—just not the answers I expected.
Spoilers ahoy!
---
Translation
Raven Stratagem — Yoon Ha Lee
Machineries of Empire, book 2
2017's Raven Stratagem is the second novel in Yoon Ha Lee's Machineries of Empire series. The first novel in the series, Ninefox Gambit, was reviewed here. Readers are well advised to read Ninefox Gambit before reading Raven Stratagem.
The Hexarchate is far too sensible to rely on the obedience of soldiers with free will. Instead, every soldier of the Kel has no choice in the matter, thanks to formation instinct conditioning. To see a superior officer is to be compelled to obey them. It's a system designed to make mutiny impossible. For the person wearing senior officer Cheris' body, it means that taking control of the Swanknot shipswarm is merely a matter of establishing that they are the undead General Shuos Jedao. Once they believe they are confronted with a general with three centuries of seniority, the hapless soldiers have no choice but to obey.
By the time the Hexarchate's rulers discover what Jedao has done, he and his little fleet are long gone.
---
Military Speculative Fiction That Doesn't Suck
The World at Bay — Paul Capon
Winston Science Fiction, book 26
Paul Capon's 1954 standalone The World at Bay was the 26th juvenile science fiction novel published by the John C. Winston company.
Professor Elrick has long suspected that Poppea, the third world of the dark star Nero, is inhabited. The Professor also believes an invasion from that doomed world is imminent. Alas, aside from his loyal teenaged assistant Jim Shannon, few believe Elrick. Instead, skeptics insist that the objects flying in formation from the Nero system toward Earth are only meteors of some sort.
Once the objects arrive at Earth, a wave of radio silence begins to spread along the terminator. Elrick was right, but the price of his vindication may be humanity's doom.
---
Because My Tears Are Delicious To You
The Harbors of the Sun — Martha Wells
Books of the Raksura, book 5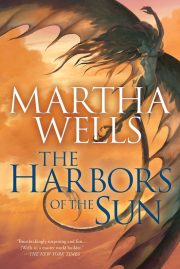 Martha Wells' 2017 The Harbors of the Sun is the fifth volume in the Books of the Raksura series and the second half of the story begun in 2016's The Edge of Worlds.
The quest that drove The Edge of Worlds succeeded beyond the wildest dreams of the Raksura, in large part because they had no idea what it was they were searching for. Betrayed by Vendoin and the Hians, Moon and his friends were poisoned, the forerunner artifact the party found was stolen, and Bramble, Merit and Delin kidnapped 1.
The good news is, the Raksura have a potential ally. The bad news is, it's not an ally any sensible person would trust.
---
Special Requests
Cosplay in KW — Ryan Consell
[Please enjoy a guest post by Ryan Consell on a subject about which I know little -james davis nicoll-]


Ryan Consell is a costumer, author, blogger, and educator. He is best known for his metalwork, genderbend cosplays, and opinions on armour. He can be found posing on Instagram as @studentofwhim, hitting things with hammers on YouTube, and writing at madartlab.com
I'm a cosplayer and have been my whole adult life. I make costumes and dress up at comic, gaming, sci-fi conventions. A lot of people who share my hobby do so in relative isolation. I had the good fortune, though, to land in a region that is rife with people like me.
---
A Year of Waterloo Region Speculative Fiction
Weaver's Lament — Emma Newman
Industrial Magic, book 2
2017's Weaver's Lament is the second volume in Emma Newman's Industrial Magic series. The first instalment, Brother's Ruin, was reviewed here.
Responding to a mysterious summons from her brother Ben, Charlotte Gunn ventures north to Manchester. Does he need magical assistance? After all, he passed the academy entrance exam with flying colours only because Charlotte used her considerably superior levels of magic to cheat for him. He made it through the course, but now he must be facing real life challenges.
Charlotte finds Ben wrestling with what he insists must be a den of trade unionists and socialists infesting the textile factory where he has been assigned to provide magical support. Unless Charlotte and Ben can expose the rascals, Ben's advancement up the ranks of the Royal Society of Esoteric Arts may come to an abrupt halt.
---
Miscellaneous Reviews
Hitoshi Ashinano
Kabu no Isaki, book 5
The fifth volume of Hitoshi Ashinano's Kabu no Isaki was published in 2012.
In volume four, Isaki, Kajika, and Sayori braved the Tate Road to get a better look at Mount Fuji. Having arrived at their destination, they discovered that proximity does not guarantee a good view of the thirty-eight-kilometre-tall mountain. What next?
---
Translation
In the Ocean of Night — Gregory Benford
Galactic Centre, book 1
The 1978 fix-up In the Ocean of Night is the first volume in Gregory Benford's Galactic Centre series1.
In the far-off year of 1999, British-American astronaut Nigel Walmsley is part of a two-man team sent by NASA to the asteroid Icarus. Unexplained out-gassing has transformed a body remarkable only for its eccentric orbit into an impending Earth-impacter. Nigel and Len's mission is to determine how much, if any, of Icarus remains. If enough material is left to present a significant risk to the Earth, they are to destroy or divert Icarus with the Egg, a fifty-megaton fusion bomb.
The hope was that nothing would remain after the Egg had been used. The expectation was that a chunk of rock and iron might head for Bengal. The reality was a surprise: the large mass that had survived the out-gassing was an alien spaceship.
---
Because My Tears Are Delicious To You
Heroine Worship — Sarah Kuhn
Heroine Complex, book 2
2017's Heroine Worship is the second instalment in Sarah Kuhn's comedic superhero Heroine Complex series.
In Heroine Complex ( reviewed here ) superheroes Annie "Aveda Jupiter" Chang and Evie "No Cool Superhero Name" Tanaka vanquished the Demon Queen and closed a gate to the Otherworld. Since the Demon Queen's shenanigans were the primary source of superhero-level threats to San Francisco, life has been pretty quiet since that battle.
That is a big problem for Aveda, because her self-image is tied up in being San Francisco's premier saviour. She cannot save that which is not being threatened. Even if a threat did materialize, she'd have to share the spotlight with Evie, and Evie's recently revealed pyrokinesis is much flashier than Aveda's acrobatic martial arts. Not that Aveda is jealous of Evie, exactly; she's just used to having the spotlight.
Many superheroes in Aveda's position would resort to creating a robotic villain only they can defeat 1. Happily for Aveda, fate is going to hand her a challenge worthy of her talents.
---
Miscellaneous Reviews
The Occasional Diamond Thief — J. A. McLachlan
The Unintentional Adventures of Kia and Agatha, book 1
From her Goodreads entry:
J. A. McLachlan is the author of a short story collection, C

ONNECTIONS

(Pandora Press) and two College texts on Professional Ethics (Pearson-Prentice Hall). But science fiction is her first love, a genre she's been reading all her life. Walls of Wind was her first published

SF

novel. She has two young adult science fiction novels, The Occasional Diamond Thief and The Salarian Desert Game (

EDGE

SF

&F Publishing).
2015's The Occasional Diamond Thief is the first book in J. A. McLachlan's The Unintentional Adventures of Kia and Agatha series.
Her father's death after a long illness gives Akhié Ugiagbe the chance to escape her hostile family. Adopting a new name—Kia—she reinvents herself as a linguistics student far from home.
Of course, her family didn't see fit to provide for her continuing education. Kia has to do that herself, with one little jewel theft that she assumes will have no repercussions for her future. Ha!
---
A Year of Waterloo Region Speculative Fiction
Hitoshi Ashinano
Kabu no Isaki, book 4
The fourth volume of Hitoshi Ashinano's Kabu no Isaki was published in 2011. There has been no officially sanctioned English edition so far as I know.
When last we saw our characters, Isaki was on his way towards Mt. Fuji, with the package he is delivering for boss Shiro. The package is a mere pretext for the trip. Kajika and Sayori are using the fact that Shiro mistakenly gave Isaki the wrong package as yet another pretext, for following Isaki.
In a world mysteriously ten times larger than in our time, what could go wrong?

---
Translation
Spells of Blood and Kin — Claire Humphrey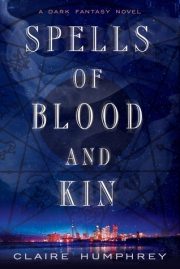 2016's standalone urban fantasy Spells of Blood and Kin is Claire Humphrey's debut novel.
Lissa Nevsky's grandmother dies and leaves her three legacies: intense grief, a large and mostly empty house, and a clientele that expects her to assume her grandmother's role as koldun'ia (witch). Lissa is one of the few (perhaps the only) Russian-style witches in all Toronto.
One of grandmother's spells stopped working when she died. This has some severe consequences for the beneficiary, Maksim Volkov. And incidentally for a student named Nick.
---
Special Requests
Justice, Inc. — Paul Ernst
Avenger, book 1
Justice, Inc. is the first volume of Paul Ernst's The Avenger pulp series, which was published in 1939 by Smith and Street under the Kenneth Robeson house name.
Desperate to reach Montreal before his mother-in-law dies, millionaire Richard Benson forces a plane leaving Buffalo to allow Benson, Alicia and their daughter Alice to occupy three empty seats. Once the plane is in the air, fastidiousness sends Benson to the lavatory to wash his almost clean hands. When he emerges, Alicia and Alice are nowhere to be seen. The flight crew and passengers all agree that Benson boarded the plane alone.
The altercation that follows ends when someone knocks Benson cold with a fire extinguisher. He languishes unconscious for three weeks. When he awakes, he is a man transformed.
---
Because My Tears Are Delicious To You
The Scorpion Rules — Erin Bow
Prisoners of Peace, book 1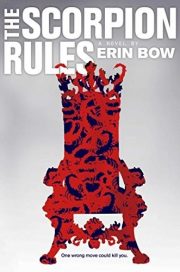 The Scorpion Rules is the first volume in Erin Bow's Prisoners of Peace series.
The children of the Precepture school live under the gaze of watchful cameras monitored by a powerful AI (Artificial Intelligence). The students are there to make their own small contributions to world peace. Each child at the school is the child of a national ruler. Each is hostage for their parent's good behaviour. Nations can choose to go to war if they feel the national interest demands it, but if they do … the child hostages of all warring states involved will be immediately removed from class and killed. It's a harsh system but it has worked as planned. Wars have been short and total casualties limited to a few thousand per year, despite the immense challenges encountered during four centuries of catastrophic climate change.
Greta Gustafsen Stuart, Duchess of Halifax and Crown Princes of the Pan-Polar Confederation, is one of the hostages. She hopes to live until she reaches the ripe old age of eighteen, at which point she will be released from the school. Failing that, she hopes to die with dignity. She does not consider escape. The AI will surely prevent that.
Then the teenage boy with bound hands arrives at school.
---
A Year of Waterloo Region Speculative Fiction
The Ships of Air — Martha Wells
The Fall of Ile-Rien, book 2
2004's The Ships of Air is the second volume in Martha Wells' The Fall of Ile-Rien trilogy. It follows immediately on The Wizard Hunters, which I reviewed here.
The book begins on a high note (the same one on which the previous volume ended): Tremaine and her friends have captured a Gardier outpost! Victory is surely theirs, because that is how it works at the beginning of the second book in a trilogy.
There are just two small problems: Firstly, Tremaine and her friends are in a parallel universe. Secondly, they have no means to get home.
---
Special Requests
Hitoshi Ashinano
Kabu no Isaki, book 3
The third volume of Hitoshi Ashinano's Kabu no Isaki was published in 2010. There has been no officially sanctioned English edition of which I am aware.
Just as in volumes one and two, the world is filled with marvelous things, many of them everyday items magnified tenfold. Isaki is still trying to make a living flying a Piper Cub that belongs to semi-retired celebrity pilot Shiro. The world may be transformed into something rich and strange, but planes are still cool.
People familiar with volumes one and two may be thinking "Finally! Answers to all the mysteries!" Hahahaha! Dream on.
---
Translation
Rogue Queen — L. Sprague de Camp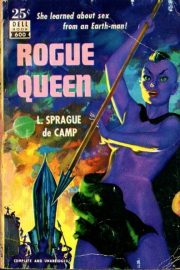 L. Sprague de Camp's 1951 standalone Rogue Queen takes place in de Camp's Viagens Interplanetarias setting.
Our protagonist, Iroedh, is a member of the worker-caste in the Avtiny community. Her group faces an existential threat: invasion and enslavement by its more aggressive and larger Arsuuni neighbours. Iroedh, as a scholar and antiquarian, seems to be of no use in the struggle. She is looked down on by her fellow Avtiny.
Then comes word of the visitors from the stars.
---
Because My Tears Are Delicious To You
Storm of Dust — Neil Randall
Crossroads Adventures, book 2
Neil Randall is an associate professor at the University of Waterloo, perhaps the finest university in Waterloo west of Philip Street1. To quote his UW bio:
I am a long-time faculty member in the English department at the University of Waterloo, Canada, and the director of the Games Institute (uwaterloo.ca/games-institute).
I confess I did not look closely at Randall's 1987 book Storm of Dust when I bought it last year, except to note that:
it was by a local author whom I knew back in the 1980s and 1990s;
it was related to one of my favourite David Drake books.
What I was to discover is that Storm of Dust is an interesting artifact of ancient times, an artifact based on effectively obsolete tech. Who would have thought that interactive game books would ever die?
If you are younger than twenty or so, you may be wondering: what the heck are those?
---
A Year of Waterloo Region Speculative Fiction
A Small Charred Face — Kazuki Sakuraba
2017's A Small Charred Face is the American edition of Kazuki Sakuraba's 2014 book Honto no Hana Wo Mise Ni Kita.
The English-language translation is by Jocelyn Allen. A Small Charred Face contains three novellas about the Bamboo, or as others call them, vampires.
---
Translation
Paranoia — James Wallis, Grant Howe, Paul Dean
Greg Costikyan, Dan Gelber, and Eric Goldberg's dark-comedy roleplaying game Paranoia was first published in 1984. The most recent edition, by James Wallis, Grant Howe, and Paul Dean, was released in March 2017, just in time for the Reds Under the Bed review series. How providential!
Life in Alpha Complex is pretty sweet. Most citizens (the NPCs) have all the mood-numbing drugs and meaningless drudgery they want, as well as enough carefully vetted entertainment to fill any empty hours. Their every need is fulfilled by the all-wise, all-seeing Computer. Indeed, it is against the rules for them to notice anything that might disturb them.
Player characters are not as lucky.
---
Reds Under The Bed
The Black Cloud — Fred Hoyle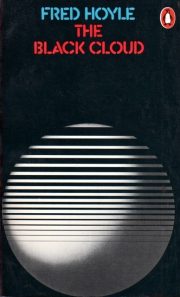 1957's The Black Cloud was Sir Fred Hoyle's first novel.
A young astronomer working a blink comparator gets a career-making break when he notices that a small black region on two photographic plates grew measurably in the month between exposures. After a hurried consultation, the discoverer and his colleagues conclude:
The dark spot is an interstellar cloud.
Its apparent growth is because it is headed towards the Solar System.
The lack of transverse motion means that it is headed directly at the Solar System.
It will arrive in about two years.
Exciting times to be an astronomer! Very exciting, because if the cloud passes between the Earth and the Sun it is dense enough to blot out sunlight entirely 1, dooming us all to a slow lingering death.
Well, the discoverer can enjoy his enhanced career for the two years he has left.
---
Because My Tears Are Delicious To You
Point of Hopes — Melissa Scott & Lisa A. Barnett
Astreiant, book 1
1995's Point of Hopes is the first novel in Melissa Scott and Lisa A. Barnett's Astreiant series.
The great and powerful of Chenedolle are distracted by matters of state: the childless queen has yet to settle on a designated heir. The people of the great city of Astreiant have a far more down-to-Earth concern.
Someone is stealing their children.
---
Note
The Author/Editor list will be back soon; we're having a minor technical difficulty!