As with the previous core lists, here are twenty Speculative Fiction Works about Science and Scientists chosen entirely on the basis of merit and significance to the field [1]. No implication is intended that these are the only twenty books you should consider.
Persons unfamiliar with one or two of the works, congratulations! You're one of today's Ten Thousand!
1: There are two filtering rules:
Only one work per author per list
Any given work can appear on only one list
---

Each category header is a link.

You can buy a review for a book for $100. Various guidelines pertain, which can be found at the other end of the link.
Subversives! They lurk everywhere! They could be anyone, from the kindly couple next door to the innocent seeming nuclear researcher mailing thick bundles to Moscow every week, from your child's teacher to the President himself! Even you could be an unsuspecting brainwashed puppet of the enemy!

There have been many noteworthy works about the hidden enemy. Some were even readable. Many will be reviewed.


A Year of Waterloo Region Speculative Fiction
The Waterloo region (and neighboring areas) are not generally known as hotbeds of spec-fic writing. If you've heard of us at all, it's most likely thanks to the University of Waterloo or the annual Oktoberfest. Kitchener's Public Library does not even bother to keep track of which SF authors come from the surrounding region.
But I do.
In 2017 I will be reviewing fifty-two works of speculative fiction by as broad a cross-section of the names above as I can manage. Please join me.
Military Speculative Fiction That Doesn't Suck

There are lots of books that fall under either military science fiction or military fantasy; the first is generally shortened to MilSF and the second runs into very similar nannyware issues as the original series title. Most published MilSF and MilF embodies Sturgeon's Law: 90% of everything is crud (1). I will be reviewing military speculative fiction I believe falls into that last 10%, MilSpecFic that isn't an egregious insult to the reader's sensibilities.
Similar to the MilSF series but specifically for Space Opera.
James Tiptree, Jr. Award Reviews
The James Tiptree, Jr. Award is an "annual literary prize for science fiction or fantasy that expands or explores our understanding of gender." Details on its history and why it has the name it does, as well as a list of winners, the honor lists and other notable works can be found here.I had the privilege to be a jurist in 2011. For that and other reasons, this is an award for which I have a personal interest, as should you all. Accordingly, over the next year or so, I will be reviewing the Tiptree winners in the chronological order in which they won, more or less, as copies fall into my hand.

Graveyard Orbits is a very irregular series of reviews of noteworthy books that were also their author's final books due to Author Existence Failure.



Because My Tears Are Delicious to You

In which I revisit books that I loved when I was a teenager, back in the 1970s. Some of these have aged well. Others …. not so well. Come for my delighted surprise at discovering new depths in old friends, stay for my writhing agony as old favourites betray me.

Success for authors is often a matter of luck and there are many exemplary books that were overlooked when they were first published. The rise of ebooks allows authors to reissue their own books when traditional publishers have dropped them. I select the best of the re-issued books to bring to your attention.

The world of science fiction extends far outside the borders of l'anglosphere. In this series I review translated works of speculative fiction.


KW Science Fiction and Fantasy

F & SF by authors from Kitchener-Waterloo, the region in Ontario in which I live, which I began because I was MCing a night of readings by local authors.

Completed Series

The Great Heinlein Juveniles (Plus The Other Two) Reread

In which I reread all of Heinlein's classic juveniles plus Starship Troopers and Podkayne of Mars because I was curious to see how they stood up and also someone paid me.


Fifty Nortons in Fifty Weeks

Andre Norton was an important and prolific SF author and many of the Ace MMPK editions of the Heinlein Juveniles had an ad for 50 of her titles. I decided it would be fun to track down and read (or reread) all fifty.

The Women of Wonder anthology series was an important part of my reading experience as a teen and rather than lump it in with the Because My Tears Are Delicious to You series, I decided to give Women of Wonder its own series.

Brackett was one of the few women who were high-profile science fiction writers back in the 1940s. She started writing for the detective pulps before turning to the sort of planetary romance seen in Planet Stories. In this series, I looked at her planetary romances.

Tanith Lee died in 2015. She was extraordinarily prolific, writing more than ninety novels in a career that spanned six decades. Too many of her books to list here were nominated for awards but her wins include Death's Master (BFA), The Gorgon (WFA), Elle Est Trois, and (La Mort) (WFA); in 2013, she was presented by a Life Achievement WFA. Clearly she was a writer of significance but in recent years she had not received the attention her talent deserved.

When I heard the news of her death, I decided to commemorate her career in this very small way, by reviewing a wide selection of her published works.
The 2017 Prometheus Award Finalists
The Libertarian Futurist Society awards the Prometheus Award to the best libertarian novel of the year. They take a very broad view of what qualifies, which is why some years conventional American libertarian works win and other years books by Scottish socialists win. I thought it would be interesting to review the 2017 nominees.
---
Subversives! They lurk everywhere! They could be anyone, from the kindly couple next door to the innocent seeming nuclear researcher mailing thick bundles to Moscow every week, from your child's teacher to the President himself! Even you could be an unsuspecting brainwashed puppet of the enemy!

There have been many noteworthy works about the hidden enemy. Some were even readable. Many will be reviewed.

STAY ALERT TRUST NO ONE KEEP YOUR LASER HANDY 1!

Feel free to comment (and make suggestions!) here.

1: Foreshadowing: the mark of quality literature.



---
Reds Under The Bed
New Arcadia is a city-sized oil rig off the coast of the Canadian Maritimes, now owned by one very wealthy, powerful, byzantine family: Lynch Ltd.

Hwa is of the few people in her community (which constitutes the whole rig) to forgo bio-engineered enhancements. As such, she's the last truly organic person left on the rig — making her doubly an outsider, as well as a neglected daughter and bodyguard extraordinaire. Still, her expertise in the arts of self-defense and her record as a fighter mean that her services are yet in high demand. When the youngest Lynch needs training and protection, the family turns to Hwa. But can even she protect against increasingly intense death threats seemingly coming from another timeline? Meanwhile, a series of interconnected murders threatens the city's stability and heightens the unease of a rig turning over. All signs point to a nearly invisible serial killer, but all of the murders seem to lead right back to Hwa's front door. Company Town has never been the safest place to be — but now, the danger is personal.

A brilliant, twisted mystery, as one woman must evaluate saving the people of a town that can't be saved, or saving herself.
Only nine months after her debut as the superhero Dreadnought, Danny Tozer is already a scarred veteran. Protecting a city the size of New Port is a team-sized job and she's doing it alone. Between her newfound celebrity and her demanding cape duties, Dreadnought is stretched thin, and it's only going to get worse.

When she crosses a newly discovered billionaire supervillain, Dreadnought comes under attack from all quarters. From her troubled family life to her disintegrating friendship with Calamity, there's no lever too cruel for this villain to use against her.

She might be hard to kill, but there's more than one way to destroy a hero. Before the war is over, Dreadnought will be forced to confront parts of herself she never wanted to acknowledge.

And behind it all, an old enemy waits in the wings, ready to unleash a plot that will scar the world forever.
The rule is simple: don't bleed.

For as long as Molly Southbourne can remember, she's been watching herself die. Whenever she bleeds, another molly is born, identical to her in every way and intent on her destruction.

Molly knows every way to kill herself, but she also knows that as long as she survives she'll be hunted. No matter how well she follows the rules, eventually the mollys will find her. Can Molly find a way to stop the tide of blood, or will she meet her end at the hand of a girl who looks just like her?
---
The Worldcon Hugo voters package is out. It contains a bewildering list of items, enough that I am not going to bother tracking down the cover art for everything with cover art. File770's overview of the package lists the contents as follows:


Novel: 5 full novels and 1 excerpt
Novella: 6 full novellas
Novelette: 6 full novelettes
Short Story: 6 full short stories
Related Work: 4 full long works, 1 full short work, and 1 excerpt
Graphic Story: 6 full works in

PDF

form only
Dramatic Presentation (Long Form): a

PDF

document summarizing the Finalists, with hyperlinks to each work's video trailer, official website, IMdb entry, and Wikipedia entry.
Dramatic Presentation (Short Form): a

PDF

document summarizing the Finalists, with hyperlinks to each work's video trailer, official website, IMdb entry, and Wikipedia entry. In the case of the Clipping musical work, links are included to listen for free on YouTube, Spotify, iTunes and Bandcamp.
Editor – Short Form: submissions from 6 editors
Editor – Long Form: submissions from 6 editors
Professional Artist: image galleries for 6 artists, with citations of where and when each work was published, and a

PDF

document with links to all the artists' websites
Semiprozine: submissions from 6 semiprozines
Fanzine: submissions from 6 fanzines
Fancast:

PDF

submissions for 6 fancasts with episode summaries and links to online podcasts
Fan Writer: submissions from 5 fan writers and 1

PDF

document with a link to an online submission from a 6th fan writer
Fan Artist: image galleries for 6 artists, and a

PDF

document with links to all the artists' websites
Series: 2 full series, 1 novel for each of 2 series, 1 excerpt for each of 2 series, and a

PDF

document for each series which lists all the works in the series and includes some hyperlinks to bonus related online content.
John W. Campbell Award for Best New Writer: 3 novels, 2 novellas, and 9 short stories for 6 authors
Memberships are available here.


Mark at File 770's detailed list of the contents is as follows:
---
Danny Tozer has a problem: she just inherited the powers of Dreadnought, the world's greatest superhero. Until Dreadnought fell out of the sky and died right in front of her, Danny was trying to keep people from finding out she's transgender. But before he expired, Dreadnought passed his mantle to her, and those secondhand superpowers transformed Danny's body into what she's always thought it should be. Now there's no hiding that she's a girl.

It should be the happiest time of her life, but Danny's first weeks finally living in a body that fits her are more difficult and complicated than she could have imagined. Between her father's dangerous obsession with "curing" her girlhood, her best friend suddenly acting like he's entitled to date her, and her fellow superheroes arguing over her place in their ranks, Danny feels like she's in over her head.

She doesn't have time to adjust. Dreadnought's murderer—a cyborg named Utopia—still haunts the streets of New Port City, threatening destruction. If Danny can't sort through the confusion of coming out, master her powers, and stop Utopia in time, humanity faces extinction.
The future of democracy is about to implode.

After the last controversial global election, the global infomocracy that has ensured thirty years of world peace is fraying at the edges. As the new Supermajority government struggles to establish its legitimacy, agents of Information across the globe strive to keep the peace and maintain the flows of data that feed the new world order.

In the newly-incorporated DarFur, a governor dies in a fiery explosion. In Geneva, a superpower hatches plans to bring microdemocracy to its knees. In Central Asia, a sprawling war among archaic states threatens to explode into a global crisis. And across the world, a shadowy plot is growing, threatening to strangle Information with the reins of power.
In Science Fiction and the Mass Cultural Genre System, John Rieder asks literary scholars to consider what shape literary history takes when based on a historical, rather than formalist, genre theory. Rieder starts from the premise that science fiction and the other genres usually associated with so-called genre fiction comprise a system of genres entirely distinct from the pre-existing classical and academic genre system that includes the epic, tragedy, comedy, satire, romance, the lyric, and so on. He proposes that the field of literary production and the project of literary studies cannot be adequately conceptualized without taking into account the tensions between these two genre systems that arise from their different modes of production, distribution, and reception. Although the careful reading of individual texts forms an important part of this study, the systemic approach offered by Science Fiction and the Mass Cultural Genre System provides a fundamental challenge to literary methodologies that foreground individual innovation.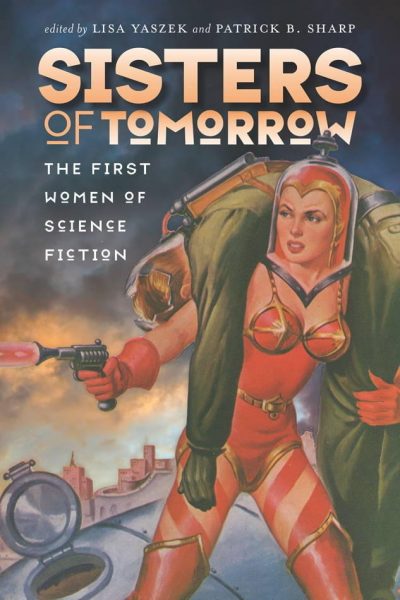 For nearly half a century, feminist scholars, writers, and fans have successfully challenged the notion that science fiction is all about "boys and their toys," pointing to authors such as Mary Shelley, Clare Winger Harris, and Judith Merril as proof that women have always been part of the genre. Continuing this tradition, Sisters of Tomorrow: The First Women of Science Fiction offers readers a comprehensive selection of works by genre luminaries, including author

C. L.

Moore, artist Margaret Brundage, and others who were well known in their day, including poet Julia Boynton Green, science journalist L. Taylor Hansen, and editor Mary Gnaedinger. Providing insightful commentary and context, this anthology documents how women in the early twentieth century contributed to the pulp-magazine community and showcases the content they produced, including short stories, editorial work, illustrations, poetry, and science journalism. Yaszek and Sharp's critical annotation and author biographies link women's work in the early science fiction community to larger patterns of feminine literary and cultural production in turn-of-the-twentieth-century America. In a concluding essay, the award-winning author Kathleen Ann Goonan considers such work in relation to the history of women in science and engineering and to the contemporary science fiction community itself.
Deacon James is a rambling bluesman straight from Georgia, a black man with troubles that he can't escape, and music that won't let him go. On a train to Arkham, he meets trouble ― visions of nightmares, gaping mouths and grasping tendrils, and a madman who calls himself John Persons. According to the stranger, Deacon is carrying a seed in his head, a thing that will destroy the world if he lets it hatch.

The mad ravings chase Deacon to his next gig. His saxophone doesn't call up his audience from their seats, it calls up monstrosities from across dimensions. As Deacon flees, chased by horrors and cultists, he stumbles upon a runaway girl, who is trying to escape the destiny awaiting her. Like Deacon, she carries something deep inside her, something twisted and dangerous. Together, they seek to leave Arkham, only to find the Thousand Young lurking in the woods.

The song in Deacon's head is growing stronger, and soon he won't be able to ignore it any more.
---
As with the four previous core lists, here are twenty Speculative Fiction works featuring traders chosen entirely on the basis of merit and significance to the field [1]. No implication is intended that these are the only twenty works you should consider.

The Dragon's Path by Daniel Abraham
The Trouble Twisters by Poul Anderson
The Anvil of the World by Kage Baker
"The Space Traders" by Derrick Bell
The Long Way to a Small, Angry Planet by Becky Chambers
The Pride of Chanur by C. J. Cherryh
A Thousand Words for Stranger by Julie Czerneda
Trafalgar: A Novel by Angélica Gorodischer
Spice and Wolf by Isuna Hasekura
Ship of Magic by Robin Hobb
The Dream Merchant by Isabel Hoving
Hellspark by Janet Kagan
Traveller: Science Fiction Adventure in the Far Future by Mark W. Miller
There and Back Again by Pat Murphy
Sargasso of Space by Andre Norton
"Goblin Market" by Christina Rossetti
Storyteller by Amy Thomson
The Heaven Chronicles by Joan D. Vinge
Signs of Life by Cherry Wilder
Fool's War by Sarah Zettel
Persons unfamiliar with one or two of the works, congratulations! You're one of today's Ten Thousand!

1: There are two filtering rules:
Only one work per author per list
No given work appears on more than one list.
---
---
Breaking the laws of nature is a serious crime!

In an alchemical ritual gone wrong, Edward Elric lost his arm and his leg, and his brother Alphonse became nothing but a soul in a suit of armor. Equipped with mechanical ""auto-mail"" limbs, Edward becomes a state alchemist, seeking the one thing that can restore his and his brother's bodies…the legendary Philosopher's Stone.

Alchemy: the mystical power to alter the natural world, somewhere between magic art, and science. When two brothers, Edward and Alphonse Elric, dabbled in these powers to grant their dearest wish, one of them lost an arm and leg…and the other became nothing but a soul locked into a body ofliving iron. Now they are agents of the government, slaves of the military-alchemical complex, using their unique powers to obey their orders…even to kill. But their powers aren't unique. The world crawls with evil alchemists. And in pursuit of the ultimate alchemical treasure, the Philsopher's Stone, their enemies are even more ruthless.
than they are…
Scarred by war. In pursuit of truth.

Army veteran True Brighton left the service when the development of robotic helicopters made her training as a pilot obsolete. Now she works at Requisite Operations, a private military company established by friend and former Special Ops soldier Lincoln Han. ReqOp has embraced the new technologies. Robotics, big data, and artificial intelligence are all tools used to augment the skills of veteran warfighters-for-hire. But the tragedy of war is still measured in human casualties, and when True makes a chance discovery during a rescue mission, old wounds are ripped open. She's left questioning what she knows of the past, and resolves to pursue the truth, whatever the cost.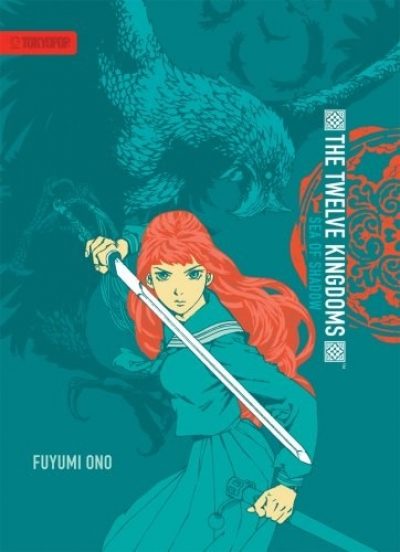 For high-schooler Yoko Nakajima, life has been fairly ordinary — that is until Keiki, a young man with golden hair, tells Yoko they must return to their kingdom. Once confronted by this mysterious being and whisked away to an unearthly realm, Yoko is left with only a magical sword; a gem; and a million questions about her destiny, the world she's trapped in, and the world she desperately wants to return to.More than just a fantasy story filled with horrific monsters, half-beasts, and magicians, The Twelve Kingdoms centers around a world reminiscent of Chinese mythology and rife with civil and political upheaval. Sea of Shadow, the first volume of this ongoing seven-volume epic, takes you on a wild ride that leaves you questioning the bounds of reality and fantasy.
---
Long after the Towers left the world but before the dragons came to Daluça, the emperor brought his delegation of gods and diplomats to Olorum. As the royalty negotiates over trade routes and public services, the divinity seeks arcane assistance among the local gods.

Aqib bgm Sadiqi, fourth-cousin to the royal family and son of the Master of Beasts, has more mortal and pressing concerns. His heart has been captured for the first time by a handsome Daluçan soldier named Lucrio. In defiance of Saintly Canon, gossiping servants, and the furious disapproval of his father and brother, Aqib finds himself swept up in a whirlwind gay romance. But neither Aqib nor Lucrio know whether their love can survive all the hardships the world has to throw at them.


(I have already reviewed A Taste of Honey but from a DRMed ebook long since expired. Now I have a personal copy.)
Since leaving his homeland, the earthbound demigod Demane has been labeled a sorcerer. With his ancestors' artifacts in hand, the Sorcerer follows the Captain, a beautiful man with song for a voice and hair that drinks the sunlight.

The two of them are the descendants of the gods who abandoned the Earth for Heaven, and they will need all the gifts those divine ancestors left to them to keep their caravan brothers alive.

The one safe road between the northern oasis and southern kingdom is stalked by a necromantic terror. Demane may have to master his wild powers and trade humanity for godhood if he is to keep his brothers and his beloved captain alive.
---
April
21 books read. 11.5 by women (55%), 9.5 by men (45%).

Works by POC: 4 (19%)

Year to Date

84 works reviewed. 46 by women (55%). 37 by men (44%). 1 by a non-binary author (1%).
Works by POC: 28.5 (34%)
I am not making the progress on non-binary and genderqueer authors I had hoped to make.

And now for my favourite part: the meaningless table!
---


As with the three previous core lists, here are twenty Military Speculative Fiction Books chosen entirely on the basis of merit and significance to the field [1]. No implication is intended that these are the only twenty books you should consider.

Persons unfamiliar with one or two of the works, congratulations! You're one of today's Ten Thousand!

1: There are two filtering rules: only one work per author per list, and no repeats list to list
---
When the outlanders abandoned a baby girl on the outskirts of a village, few imagined that she would grow up to marry into the illustrious Akakuchiba family, much less that she would develop clairvoyant abilities and become matriarch of the illustrious ironworking clan. Her daughter shocks the village further by joining a motorcycle gang and becoming a famous manga artist. The outlanders' granddaughter Toko—well, she's nobody at all. A nobody worth entrusting with the secret that her grandmother was a murderer.
This is Toko's story.
---
9 Tales of Raffalon by Matthew Hughes (Cover to come)


A

THIEF

IN

THE

DYING

EARTH



In an age of wizards and walled cities, Raffalon is a journeyman member of the Ancient and Honorable Guild of Purloiners and Purveyors. In other words, a thief.

His skills allow him to scale walls, tickle locks, defeat magical wards. He lifts treasures and trinkets, spends the proceeds on ale and sausages in taverns where a wise thief sits with his back to the wall.

But somehow things often go the way they shouldn't and then Raffalon has to rely upon his wits and a well calibrated sense of daring.

Here are nine tales that take our enterprising thief into the Underworld and Overworld, and pit him against self-serving thaumaturges, grasping magnates, crooked Guild Masters, ghosts, spies, ogres, and a talented amateur assassin.

Includes "Inn of the Seven Blessings," from the bestselling anthology,

ROGUES

.
Seventeen-year-old Aiko lives a life of casual sex and casual violence, though at heart she remains a schoolgirl with an unrequited crush on her old classmate Yoji Kaneda. Life is about to get harder for Aiko, as a recent fling, Sano, has been kidnapped, and the serial killer Round-and-Round Devil has begun slaughtering children. The youth are rioting in the streets, egged on by the underground Internet bulletin board known as the Voice from Heaven. Expecting that Yoji will come and save her from the madness, Aiko posts a demand for her own murder on the V of H, but will she be left waiting…or worse?
When Kayu Saitoh wakes up, she is in an unfamiliar place. Taken to a snowy mountainside, she was left there by her family and her village according to the tradition of sacrificing the lives of the elderly for the benefit of the young. Kayu was supposed to have passed quickly into the afterlife. Instead, she finds herself in Dendera, a utopian community built over decades by old women who, like her, were abandoned. Together, they must now face a new threat: a hungry mother bear.
In a future where reality has been augmented and biology itself has been hacked, the world's food supply is genetically modified, superior, and vulnerable. When gene mapper Hayashida discovers that his custom rice plant has experienced a dysgenic collapse, he suspects sabotage. Hayashida travels across Asia to find himself in Ho Chi Minh City with hired-gun hacker Yagodo at his side—and in mortal danger—as he pushes ever nearer to the heart of the mystery.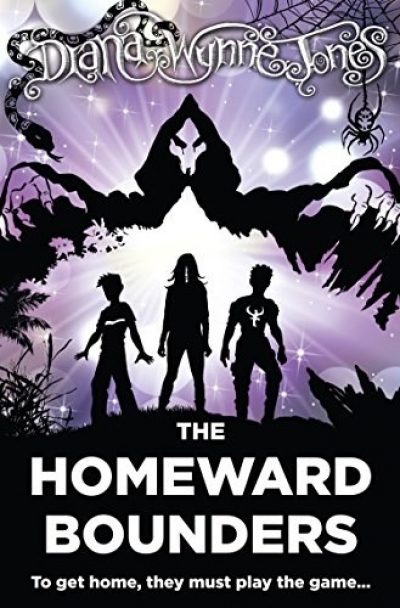 "You are now a discard. We have no further use for you in play. You are free to walk the Bounds, but it will be against the rules for you to enter play in any world. If you succeed in returning Home, then you may enter play again in the normal manner." When Jamie unwittingly discovers the scary, dark-cloaked Them playing games with human's lives, he is cast out to the boundaries of the worlds. Only then does he discover that there are a vast number of parallel worlds, all linked by the bounds, and these sinister creatures are using them all as a massive gamesboard. Clinging to Their promise that if he can get Home he is free, he becomes the unwilling Random Factor in an endless game of chance. Irresistible Diana Wynne Jones fantasy adventure, featuring an insect-loving shapeshifter, an apprentice demon hunter and a whole host of exotic characters clinging to the hope that one day they will return Home.
A Dragon is dead.

Corta Helio, one of the five family corporations that rule the Moon, has fallen. Its riches are divided up among its many enemies, its survivors scattered. Eighteen months have passed.

The remaining Helio children, Lucasinho and Luna, are under the protection of the powerful Asamoahs, while Robson, still reeling from witnessing his parent's violent deaths, is now a ward — virtually a hostage — of Mackenzie Metals. And the last appointed heir, Lucas, has vanished of the surface of the moon.

Only Lady Sun, dowager of Taiyang, suspects that Lucas Corta is not dead, and more to the point — that he is still a major player in the game. After all, Lucas always was the Schemer, and even in death, he would go to any lengths to take back everything and build a new Corta Helio, more powerful than before. But Corta Helio needs allies, and to find them, the fleeing son undertakes an audacious, impossible journey — to Earth.

In an unstable lunar environment, the shifting loyalties and political machinations of each family reach the zenith of their most fertile plots as outright war erupts.

Luna: Wolf Moon continues Ian McDonald's saga of the Five Dragons.


Three new stories from three of the best science fiction writers in Japan:

"Overdrive" by Toe EnJoe — How fast is the speed of thought?

"Sea Fingers" by

TOBI

Hirotaka — A small enclave survives after the Deep has consumed the world, but what does the Deep hunger for now?

"A Fair War" by Taiyo Fujii — The future of war, the age of drones, but what comes next?

Saiensu Fikushon is Haikasoru's new e-first mini anthology series, dedicated to bringing you the narrative software of tomorrow, today. Now more than ever, the future is Japanese!
Once upon a time, a little girl was rescued by a prince.

That girl then grows up to be strong and courageous as she awaits his return.

To defend a friend's honor, she challenges a brute to a duel and wins.

She is entrusted with the

SWORD

OF

DIOS

and the Rose Bride, who is the key to finding her elusive prince.

But this won't end like a fairy tale.

Because Utena has the power to

REVOLUTIONIZE

the world.
---
To paraphrase the Libertarian Futurist Society:

In 1979, science fiction writer L. Neil Smith created the Prometheus Awards, intended to honor libertarian fiction. A panel selected F. Paul Wilson's Wheels Within Wheels as the best novel, and a gold coin then worth $2,500 was presented to Wilson. Due to the cost of the award, and lack of a formal organization, the Prometheus Awards fell into limbo the following year.
The Libertarian Futurist Society (founded in 1982 to provide encouragement to science fiction writers whose books examine the meaning of freedom) revived the Prometheus Award soon after its founding. In 1983 it added a second annual award, the Prometheus Hall of Fame Award, designed to honor classic libertarian fiction.
Libertarians are an easy target for cheap shots and an award granted by them might seem doubly so. For example, how many of you are surprised that gun-waving anarchists lacked sufficient organization to ensure the continuation of the awards after the first given? Hands up in the audience? No one?
You might think that the awards would have soon become a ping-pong match, with a few people of very similar views batting the Prometheus Award back and forth between them.
You'd be wrong. For example, look at the list of authors who have won the award three times:
Koman and Smith fall within the American libertarian mainstream but look at the other two triple winners. Doctorow isn't just a leftie. He's a Canadian leftie. MacLeod is a recovering Trotskyite. A Scottish Trot at that. Somewhere along the line, the Prometheus Award began to take the mandate for their award at face value, casting its net well outside what I assume is the comfort zone for American libertarians.
This year's finalists are:
Five books, four authors, two women, two men. How politically diverse are they? Well, let's find out together over the next month.
---
The 2017 Prometheus Award Finalists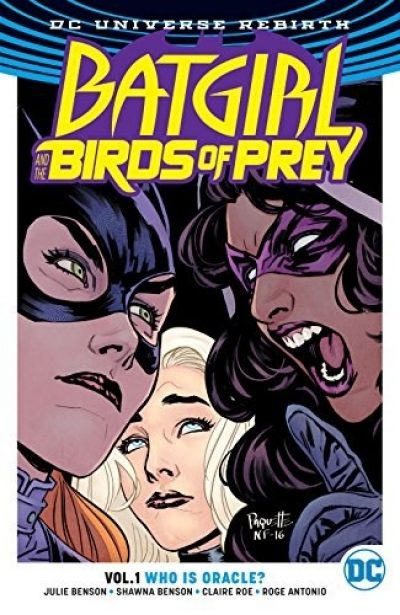 Barbara Gordon is no stranger to secrets. She's the daughter of

GCPD

Jim Gordon, the vigilante known as Batgirl and was once Oracle, the most powerful hacker on the planet.

Someone new has resurrected the Oracle mantle that Babs once controlled, and whoever is behind it is sending Batgirl on a wild chase all across Gotham City. By her side are two equally dangerous vigilantes — Dinah Lance, the rock star-turned-hero known as Black Canary, and Helena Bertinelli, the lethal spy code-named the Huntress.

Can this mismatched trio come together in time to solve the mystery of the new Oracle and defeat the villainous forces arrayed against them? Or will these Birds of Prey have their wings clipped before they can even get off the ground?
Danielle Cain is a queer punk rock traveler, jaded from a decade on the road. Searching for clues about her best friend's mysterious and sudden suicide, she ventures to the squatter, utopian town of Freedom, Iowa. All is not well in Freedom, however: things went awry after the town's residents summoned a protector spirit to serve as their judge and executioner.

Danielle shows up in time to witness the spirit — a blood-red, three-antlered deer — begin to turn on its summoners. Danielle and her new friends have to act fast if they're going to save the town — or get out alive.

A story of ancient witchcraft among modern-day vagabonds, and about the hope we find in the strangest of places.
Gunnery Sergeant Torin Kerr had been the very model of a Confederation Marine. No one who'd ever served with her could imagine any circumstance that would see her walking away from the Corps.

But that was before Torin learned the truth about the war the Confederation was fighting…before she'd been declared dead and had spent time in a prison that shouldn't exist…before she'd learned about the "plastic" beings who were really behind the war between the Confederation and the Others. That was when Torin left the military for good.

Yet she couldn't walk away from preserving and protecting everything the Confederation represented. Instead, ex-Gunnery Sergeant Torin Kerr drew together an elite corps of friends and allies—some ex-Marines, some civilians with unique skills—and together they prepared to take on covert missions that the Justice Department and the Corps could not—or would not—officially touch. But after their first major mission, it became obvious that covert operations were not going to be enough.

Although the war is over, the fight goes on and the Justice Department finds its regular Wardens unable to deal with violence and the people trained to use it. Ex-Gunnery Sergeant Torin Kerr has a solution: Strike Teams made up of ex-military personnel, small enough to maneuver quickly, able to work together if necessary. Justice has no choice but to implement her idea and Torin puts her team of independent contractors back into uniform. It isn't war, it is policing, but it often looks much the same.
When the scientists doing a preliminary archaeological dig on a Class Two planet are taken hostage, Torin's team is sent to free them. The problem of innocents in the line of fire is further complicated by the fact that the mercenaries holding them are a mix of Confederation and Primacy forces, and are looking for a weapon able to destroy the plastic aliens who'd started and maintained the war.

If Torin weren't already torn by wanting that weapon in play, she also has to contend with the politics of peace that have added members of the Primacy—former enemies—to her team. Before they confront the mercenaries, Torin will have to sift through shifting loyalties as she discovers that the line between"us" and "them" is anything but straight.
---
As with the two previous core lists, here are twenty epic fantasies chosen entirely on the basis of merit and significance to the field. No implication is intended that these are the only twenty books you should consider.

---
Embark on an exciting, adventurous, and dangerous journey through the galaxy with the motley crew of the spaceship Wayfarer in this fun and heart-warming space opera—the sequel to the acclaimed The Long Way to a Small, Angry Planet.

Lovelace was once merely a ship's artificial intelligence. When she wakes up in a new body, following a total system shut-down and reboot, she has no memory of what came before. As Lovelace learns to negotiate the universe and discover who she is, she makes friends with Pepper, an excitable engineer, who's determined to help her learn and grow.

Together, Pepper and Lovey will discover that no matter how vast space is, two people can fill it together.
The Long Way to a Small, Angry Planet introduced readers to the incredible world of Rosemary Harper, a young woman with a restless soul and secrets to keep. When she joined the crew of the Wayfarer, an intergalactic ship, she got more than she bargained for—and learned to live with, and love, her rag-tag collection of crewmates.

A Closed and Common Orbit is the stand-alone sequel to that beloved debut novel, and is perfect for fans of Firefly, Joss Whedon, Mass Effect, and Star Wars.
The Crescent Empire teeters on the edge of a revolution, and the Five Daughters of the Moon are the ones to determine its future.

Alina, six, fears Gagargi Prataslav and his Great Thinking Machine. The gagargi claims that the machine can predict the future, but at a cost that no one seems to want to know.

Merile, eleven, cares only for her dogs, but she smells that something is afoul with the gagargi. By chance, she learns that the machine devours human souls for fuel, and yet no one believes her claim.

Sibilia, fifteen, has fallen in love for the first time in her life. She couldn't care less about the unrests spreading through the countryside. Or the rumors about the gagargi and his machine.

Elise, sixteen, follows the captain of her heart to orphanages and workhouses. But soon she realizes that the unhappiness amongst her people runs much deeper that anyone could have ever predicted.

And Celestia, twenty-two, who will be the empress one day. Lately, she's been drawn to the gagargi. But which one of them was the first to mention the idea of a coup?

Inspired by the 1917 Russian revolution and the last months of the Romanov sisters, The Five Daughters of the Moon is a beautifully crafted historical fantasy with elements of technology fuelled by evil magic.
At the end of the day, Death visits everyone. Right before that, Charlie does.

You might meet him in a hospital, in a warzone, or at the scene of a traffic accident.

Then again, you might meet him at the North Pole - he gets everywhere, our Charlie.

Would you shake him by the hand, take the gift he offers, or would you pay no attention to the words he says?

Sometimes he is sent as a courtesy, sometimes as a warning. He never knows which.

The End of the Day is the stunning new novel by Claire North, author of word-of-mouth bestseller The First Fifteen Lives of Harry August.
---
March

21 books read. 11.5 by women (55%), 9.5 by men (45%).

Works by POC: 4 (19%)

Year to Date

63 works reviewed. 34.5 by women (55%). 27.5 by men (44%). 1 by a non-binary author (2%). Note that there is a rounding error.
Works by POC: 24.5 (39%)
I am not making the progress on non-binary and genderqueer authors I had hoped to make.

And now for my favourite part: the meaningless table!
---
As with the first core list, here are twenty space operas chosen entirely on the basis of merit and significance to the field [1]. No implication is intended that these are the only twenty works you should consider.

Dust by Elizabeth Bear

Shards of Honor by Lois McMaster Bujold
Downbelow Station by C.J. Cherryh
The Price of the Stars by Debra Doyle and James D. Macdonald
Hellflower by Rosemary Edghill
City of Diamond by Doris Egan
Valor's Choice by Tanya Huff
The Starmen of Llyrdis by Leigh Brackett

The Myriad by R. M. Meluch
Agent of Change by Sharon Lee and Steve Miller
Marque and Reprisal by Elizabeth Moon
Judgment Night by C.L. Moore
Vast by Linda Nagata
Dark Piper by Andre Norton
Becoming Alien by Rebecca Ore
Five-Twelfths of Heaven by Melissa Scott
Phoenix in Flight by Sherwood Smith and Dave Trowbridge
Up the Walls of the World by James Tiptree, Jr.
House of the Wolf by M.K. Wren
1: There are two filtering rules:
Only one work per author per list
No given work appears on more than one list.
---
Everyone loves recommendation lists. Judging by how many of them I see, people enjoy making them, too. I love to embrace new experiences so early in March I tried my hand at make a list of core SF books, chosen purely on the basis of merit and without regard for any other parameter. It was fun enough I think I will do one of these core lists, each with a different theme, every second Thursday. Except for this one, which I post out of schedule for reasons.
Note that the entire set of core books is much, much larger than any 20 book list posted on the web.

A Door Into Ocean by Joan Slonczewski
A Voice Out of Ramah by Lee Killough
A Wrinkle in Time by Madeleine L'Engle
Ancillary Justice by Ann Leckie
China Mountain Zhang by Maureen McHugh
Don't Bite the Sun by Tanith Lee
Dreamsnake by Vonda N. McIntyre
Frankenstein by Mary Shelley
Galactic Derelict by Andre Norton
Gate of Ivrel by C.J. Cherryh
Golden Witchbreed by Mary Gentle
Jirel of Joiry by C.L. Moore
Kindred by Octavia E. Butler
Ninefox Gambit by Yoon Ha Lee
The Dispossessed by Ursula K. Le Guin
The Female Man by Joanna Russ
The Many Colored Land by Julian May
The Next Continent by Issui Ogawa
The Snow Queen by Joan D. Vinge
Warm Worlds and Otherwise by James Tiptree, Jr.
---
The "golden brat" Reinhard von Lohengramm, a military prodigy and admiral of the Galactic Empire, has ambitions beyond protecting the borders or even defeating the empire's enemies. He seeks to overthrow the old order and become a truly absolute—yet benevolent—dictator. His rival, the humble Yang Wen-li of the Free Planets Alliance, wishes to preserve democracy even if he must sacrifice his political ideals to defeat the empire. Their political and military battles play out over a galactic chessboard in an epic saga fifteen centuries in the making!


After a coup d'état erupts in the Free Planets Alliance, military strategist Yang Wen-li is ordered to use his tactical wizardry to put down the rebellion, but the ringleader holding the capital is someone he once trusted deeply. Meanwhile, in the Galactic Empire, Reinhard will soon face a new trial, as in the wake of the emperor's death he stands amidst an intensifying power struggle among the aristocracy. The unbeatable magician and the unstoppable genius: the battles these heroes wage will send shock waves across the galaxy!

A grand scheme for retaking Iserlohn is delivered to Reinhard, who with renewed determination seeks to become ruler of the galaxy and fulfill the oath he made with a dear departed friend. But what are the aims of Phezzan, the third force at work behind the scenes? Meanwhile, no sooner is Yang breathing a sigh of relief at Julian's safe return from his combat mission than Yang is summoned to an inquest and departs for the capital of the alliance. As if waiting for an opportunity to strike, however, the imperial military sends their secret weapon right to the gates of Iserlohn. The battle begins! Who will endure?

In the year 2020, Kazumi Kimura, proprietor of shooting star forecast website Meteor News, notices some suspicious orbiting space debris. Rumors spread online that the debris is actually an orbital weapon targeting the International Space Station. Halfway across the world, at

NORAD

, Staff Sergeant Daryl Freeman begins his own investigation of the threat. At the same time, billionaire entrepreneur Ronnie Smark and his journalist daughter prepare to check in to an orbital hotel as part of a stunt promoting private space tourism. Then Kazumi receives highly sensitive, and potentially explosive, information from a genius Iranian scientist. And so begins an unprecedented international battle against space-based terror that will soon involve the Japan Aerospace Exploration Agency,

NORAD

, and the

CIA

.

---
What if you could fix the worst parts of yourself by confronting your worst fears?

Dr. Jennifer Webb has invented proprietary virtual reality technology that purports to heal psychological wounds by running clients through scenarios straight out of horror movies and nightmares. In a carefully controlled environment, with a medical cocktail running through their veins, sisters might develop a bond they've been missing their whole lives—while running from the bogeyman through a simulated forest. But…can real change come so easily?

Esther Hoffman doubts it. Esther has spent her entire journalism career debunking pseudoscience, after phony regression therapy ruined her father's life. She's determined to unearth the truth about Dr. Webb's budding company. Dr. Webb's willing to let her, of course, for reasons of her own. What better advertisement could she get than that of a convinced skeptic? But Esther's not the only one curious about how this technology works. Enter real-world threats just as frightening as those created in the lab. Dr. Webb and Esther are at odds, but they may also be each other's only hope of survival.

With her new novella Final Girls, bestselling, award-winning author Mira Grant has conjured a heartstopping, gut-wrenching story filled with as many twists as it is versions of reality. Grant offers a chilling exploration of how surviving horrors might define us all.
As the city rebuilds from the onslaught of sorcery that nearly destroyed it, the great Houses of Paris, ruled by Fallen angels, still contest one another for control over the capital.

House Silverspires was once the most powerful, but just as it sought to rise again, an ancient evil brought it low. Phillippe, an immortal who escaped the carnage, has a singular goal—to resurrect someone he lost. But the cost of such magic might be more than he can bear.

In House Hawthorn, Madeleine the alchemist has had her addiction to angel essence savagely broken. Struggling to live on, she is forced on a perilous diplomatic mission to the underwater dragon kingdom—and finds herself in the midst of intrigues that have already caused one previous emissary to mysteriously disappear….

As the Houses seek a peace more devastating than war, those caught between new fears and old hatreds must find strength—or fall prey to a magic that seeks to bind all to its will.
To solve some mysteries, one must embrace the impossible.

Has there ever been a more unlikely pair of consulting detectives than Jesperson and Lane? They certainly make a striking duo: Mr. Jasper Jesperson, with his shock of red hair and seemingly encyclopedic knowledge of all subjects—save common sense—and Miss Lane, whose logical mind is matched only by her fascination with psychic phenomena.

Their talents are rare … as are their customers. So when Jesperson and Lane are hired to track the nocturnal wanderings of a sleepwalking London business owner, they're simply happy to be working again. The case begins as a window into the séances and other supernatural parlor games that are so popular these days, and takes a sinister turn as the intrepid investigators pull back the curtain on the cutthroat rivalries underpinning polite society.

But after several mediums go missing, it's clear that Jesperson and Lane are in over their heads. For they've uncovered a presence beyond their understanding—an evil force that won't hesitate to kill in order to achieve its nefarious ends.
---
A young man plagued by the ability to see ghosts races to save the mythological land of Tara from a terrible fate in Erika Lewis's stunning debut, Game of Shadows.

Thousands of years ago in Ireland, an ancient race fought a world-changing battle—and lost. Their land overrun, the Celtic gods and goddesses fled, while the mythical races and magical druids sailed to an uncharted continent, cloaked so mankind could never find it. This new homeland was named Tara.

In modern day Los Angeles, Ethan Makkai struggles with an overprotective mother who never lets him out of her sight, and a terrifying secret: he can see ghosts. Desperate for a taste of freedom, he leaves his apartment by himself for the first time—only to find his life changed forever. After being attacked by dive-bombing birds, he races home to find the place trashed and his mother gone.

With the help of a captain from Tara who has been secretly watching the Makkais for a long time, Ethan sets out to save his mother; a journey that leads him to the hidden lands, and straight into the arms of a vicious sorcerer who will stop at nothing until he controls Tara.With new-found allies including Christian, the cousin he never knew he had, and Lily, the sword-slinging healer who'd rather fight than mend bones, Ethan travels an arduous road—dodging imprisonment, battling beasts he thought only existed in nightmares, and accepting help from the beings he's always sought to avoid: ghosts. This

L.A.

teen must garner strength from his gift and embrace his destiny if he's going to save his mother, the fearless girl he's fallen for, and all the people of Tara.
---
Bob Howard's career in the Laundry, the secret British government agency
dedicated to protecting the world from unspeakable horrors from beyond
spacetime, has entailed high combat, brilliant hacking, ancient magic, and
combat with indescribably repellent creatures of pure evil. It has also
involved a wearying amount of paperwork and office politics, and his
expense reports are *still* a mess.

Now, following the invasion of Yorkshire by the Host of Air and Darkness,
the Laundry's existence has become public, and Bob is being trotted out on


TV

to answer pointed questions about elven asylum seekers. What neither Bob
nor his managers have foreseen is that their organization has earned the
attention of a horror far more terrifying than any demon: a British
government looking for public services to privatize. There's a lot of
potential shareholder value in the Laundry's "knowledge assets."

Inch by inch, Bob Howard and his managers are forced to consider the truly
unthinkable: a coup against the British government itself.
---
Note
The Author/Editor list will be back soon; we're having a minor technical difficulty!