Books Received, April
1

 — 

7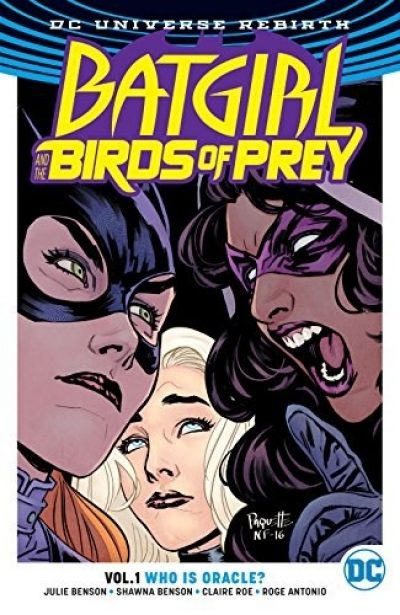 Barbara Gordon is no stranger to secrets. She's the daughter of GCPD Jim Gordon, the vigilante known as Batgirl and was once Oracle, the most powerful hacker on the planet.

Someone new has resurrected the Oracle mantle that Babs once controlled, and whoever is behind it is sending Batgirl on a wild chase all across Gotham City. By her side are two equally dangerous vigilantes – Dinah Lance, the rock star-turned-hero known as Black Canary, and Helena Bertinelli, the lethal spy code-named the Huntress.

Can this mismatched trio come together in time to solve the mystery of the new Oracle and defeat the villainous forces arrayed against them? Or will these Birds of Prey have their wings clipped before they can even get off the ground?
Danielle Cain is a queer punk rock traveler, jaded from a decade on the road. Searching for clues about her best friend's mysterious and sudden suicide, she ventures to the squatter, utopian town of Freedom, Iowa. All is not well in Freedom, however: things went awry after the town's residents summoned a protector spirit to serve as their judge and executioner.

Danielle shows up in time to witness the spirit — a blood-red, three-antlered deer — begin to turn on its summoners. Danielle and her new friends have to act fast if they're going to save the town — or get out alive.

A story of ancient witchcraft among modern-day vagabonds, and about the hope we find in the strangest of places.
Gunnery Sergeant Torin Kerr had been the very model of a Confederation Marine. No one who'd ever served with her could imagine any circumstance that would see her walking away from the Corps.

But that was before Torin learned the truth about the war the Confederation was fighting…before she'd been declared dead and had spent time in a prison that shouldn't exist…before she'd learned about the ​

"

plastic" beings who were really behind the war between the Confederation and the Others. That was when Torin left the military for good.

Yet she couldn't walk away from preserving and protecting everything the Confederation represented. Instead, ex-Gunnery Sergeant Torin Kerr drew together an elite corps of friends and allies — some ex-Marines, some civilians with unique skills — and together they prepared to take on covert missions that the Justice Department and the Corps could not — or would not — officially touch. But after their first major mission, it became obvious that covert operations were not going to be enough.

Although the war is over, the fight goes on and the Justice Department finds its regular Wardens unable to deal with violence and the people trained to use it. Ex-Gunnery Sergeant Torin Kerr has a solution: Strike Teams made up of ex-military personnel, small enough to maneuver quickly, able to work together if necessary. Justice has no choice but to implement her idea and Torin puts her team of independent contractors back into uniform. It isn't war, it is policing, but it often looks much the same.
When the scientists doing a preliminary archaeological dig on a Class Two planet are taken hostage, Torin's team is sent to free them. The problem of innocents in the line of fire is further complicated by the fact that the mercenaries holding them are a mix of Confederation and Primacy forces, and are looking for a weapon able to destroy the plastic aliens who'd started and maintained the war.

If Torin weren't already torn by wanting that weapon in play, she also has to contend with the politics of peace that have added members of the Primacy — former enemies — to her team. Before they confront the mercenaries, Torin will have to sift through shifting loyalties as she discovers that the line between"us" and ​

"

them" is anything but straight.