Quillifer — Walter Jon Williams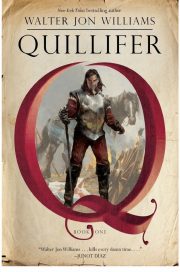 Walter Jon Williams' 2017 Quillifer is a standalone secondary-world fantasy.
Amiable womanizer Quillifer is dispatched to serve a summons on river-stealing aristocrat Sir Stanley. Quillifer is enthusiastic about the mission; it lets him skip boring apprentice-lawyer duties. He is less enthusiastic about the prospect of a confrontation with a notoriously violent land-owner.
The mission has an unexpected benefit. Quillifer returns home to Ethlebight to find the seaport town in flames. A vast pirate fleet has invested the town and is in the process of carrying off much of its population for ransom or slavery. Quillifer is safe, albeit bereaved. His entire family chose to die rather than submit to the pirates. His master, Lawyer Dacket, is also lost.
Quillifer could choose to stay in Ethlebight and help rebuild. He chooses otherwise.

---
Special Requests
A For Andromeda — Sir Fred Hoyle & John Elliot
Andromeda, book 1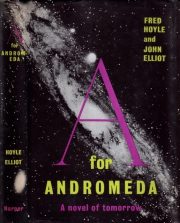 Sir Fred Hoyle and John Elliot's 1962 A For Andromeda is the first of two Andromeda novels. It is a novelization of Hoyle and Elliot's 1961 television SF serial drama of the same name.
In the distant future of 1970, Britain is increasingly under the sway of an America on whom the British are dependent for defense against the Warsaw Pact nations. Once a mighty imperial power, now it enjoys also-ran status. It does have one accomplishment of which it can be proud: the Bouldershaw Fell Radio Telescope, the most powerful radio telescope on Earth.
Almost immediately following Bouldershaw's activation, the grand device detects a signal coming from a star in the direction of the constellation Andromeda.

---
Because My Tears Are Delicious To You
A Civil Campaign — Lois McMaster Bujold
Miles Vorkosigan, book 10
A Civil Campaign is almost certainly the 10th volume in the Miles Vorkosigan series, unless you're one of those people who think that the Cordelia Naismith books are part of the series, in which case this book is the 12th. As far as I am concerned it's the 10th. It's reasonable to consider Cordelia's adventures as prequel, right? Like Ethan of Athos, related but independent?
I don't know why I get requests at work not to overthink things.
The affair of the Komarran mirror successfully concluded, Imperial Auditor Miles Vorkosigan is back on Barrayar. With no immediate Imperial business demanding his attention, Miles is free to invest all of his intellect and energy on one goal: winning the heart of the recently widowed Ekaterin Vorsoisson.
He has a cunning plan.

---
A Bunch of Bujolds
The Disappeared — Kristine Kathryn Rusch
Retrieval Artist, book 1
2002's The Disappeared is the first volume in Kristine Kathryn Rusch's Retrieval Artist series.
Faster-than-light travel gave humans the stars and contact with other intelligent species. Each alien civilization has its own set of laws. The question of whose laws apply when and to whom is the subject of carefully negotiated treaties. Those treaties complicate the lives of hard-working space cops.
Miles Flint and Noelle DeRicci enforce the law in the Moon's Armstrong Dome. Armstrong has a starport, which means that alien entanglements are always a possibility. Still, treaty complications aren't exactly common, which is why it is so odd when Flint and DeRicci are faced with three such cases at the same time.

---
Special Requests
Akihito Tsukushi
Made in Abyss, book 2
Made in Abyss Book 2 includes issues 9 to 16 of Akihito Tsukushi's archaeology adventure manga Meido in Abisu.
Riko is determined to find her long-lost mother Lyza, who disappeared into the kilometres-deep Abyss. Riko and her robot boyfriend Reg have sneaked out of the orphanage and headed into the Abyss. Foolish kids. There are many dangers in the depths; if they do manage to reach the bottom of the Abyss, they cannot return. Or so it is said.
Their journey has hardly begun when they realize that someone is pursuing them.

---
Translation
The Invisible Library — Genevieve Cogman
The Invisible Library, book 1
2014's The Invisible Library is the first volume in Genevieve Cogman's Invisible Library series.
The Invisible Library exists outside time itself. It is a repository of books gathered from many timestreams: worlds where science, reason, and logic reign supreme, worlds of fantasy, worlds tainted by chaos. Irene, child of two Librarians, was born to her role. She is a book scrounger supreme, adept at infiltrating alternate worlds, locating specific rare books, and stealing them for the Library.
Ideally, she does this without leaving any trace of her involvement. As the opening scene of the novel establishes, sometimes she has to settle for legging it with the goods while pursued by gargoyles. It's a living.

---
Special Requests
The Guardian of Isis — Monica Hughes
Isis, book 2
1981's The Guardian of Isis is the second volume in Monica Hughes' Isis trilogy.
Fifty-five years after Pegasus II delivered eighty-odd colonists to Isis, sole habitable world of the star Ra, the human numbers have swelled to about eight hundred. Only a few of the original colonists are still alive. David London is one of those few. When his father died, David grabbed the office of president for himself. He has never stepped down. David has spent his long decades in power enforcing his vision of the perfect community: advanced technology forbidden, strict taboos imposed, women reduced to the status of domestic animals. Above all: no exploration of the world outside their small valley.
Jody n'Komo, one of those eight hundred colonists, is the grandson of one of David's bitter (vanquished) rivals; he has the misfortune to look like his grandfather. David has transferred all the hate he felt for the grandfather to the grandson. Sooner or later, he will find some crime for which to punish young Jody.
Spoilers.

---
Because My Tears Are Delicious To You
War Master's Gate — Adrian Tchaikovsky
Shadows of the Apt, book 9
2013's War Master's Gate is the ninth and penultimate volume in the Shadows of the Apt decology.
The Wasp Empire may be short on kindness, egalitarianism, and respect for human rights, but it compensates with warlike resolve and deep reserves. It has failed many times to crush Collegium, but, undaunted, its forces are marching into the Lowlands yet again.

---
A Dozen by Tchaikovsky
Star Girl — Henry Winterfeld
Star Girl is the title given to the English-language translation of Henry Winterfeld's 1956 novel, the children's science fantasy Kommt ein Mädchen geflogen.
While wandering in the woods, Otto, Walker, Gretel, and little Lottie encounter a stranger, a well-dressed blonde girl with an enormous bruise on her forehead. The girl, whose name is Mo, explains that she got the bruise when she climbed down out of a tree. How did she end up at the top of a tree in the first place? She fell out of her father's damaged spaceship.

---
Special Requests
The Elder Sister-like One — Iida Pochi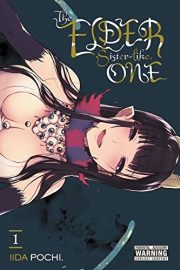 The Elder Sister-like One is the English translation of Iida Pochi's Ane Naru Mono.
Security, happiness, a loving family: Yuu has had none of these since a car crash left him an orphan at age five. Passed from one resentful relative to another, Yuu has finally landed in his uncle's household.
The uncle is too obsessed with Dark Knowledge Man Was Not Meant to Know to care much about Yuu. However. Yuu's uncle does provide him with shelter, clothes, and food. This benign neglect is more than Yuu's other relatives gave him.
When his uncle descends into madness, Yuu must find the uncle's health card in order to call in the health services. Failing to find it in the house, he ventures into the storehouse, the one part of the household his uncle had declared off limits. There the unprepared boy finds himself face to face with the sanity-shattering reality of Shub-Niggurath, the Black Goat of the Woods of a Thousand Young, who appears, possibly for marketing reasons, as an extremely buxom, scantily-clad, be-tentacled, obviously demonic woman.
Being somewhat naive, Yuu jumps to the conclusion that Shub-Niggurath must be an angel.
---
Translation
The Meek — Der-shing Helmer
The Meek is a webcomic by Der-shing Helmer (last seen here as the author of Mare Internum).
Fifteen year old Angora has been dispatched to save her world by the ancient and powerful giant salamander Mocheril, whom Angora calls Grandfather. Angora is energetic, determined, and able to command plants. She is also fearfully ignorant of the world and deficient in many attributes that would facilitate her quest.
Her utter lack of clothing proves unpleasantly attention-getting.
---
Miscellaneous Reviews
Cycle of Fire — Hal Clement
1957's Cycle of Fire is a young-adult novel by Hal Clement.
Marooned in a vast lava field by a glider crash, Dar Lang Ahn undertakes to march out on foot. It's only after he has set out that he realizes that the march will be much harder than he expected. He and his precious cargo of books might be lost forever.
An unexpected encounter saves Dar's life and his books. Immediate consequences: benign. Long-term consequences: wrenching transformation for Dar's people, the natives of the world Abyormen.

---
Because My Tears Are Delicious To You
Eight Days of Luke — Diana Wynne Jones
Diana Wynne Jones' 1975 Eight Days of Luke is a standalone young-adult fantasy.
Orphan David Allard is a lucky boy, or so his guardians — Uncle Bernard, and Aunt Dot — assure him. After all, they took him in when they could have dumped him in an orphanage. They'd let him live with their family (uncle, aunt, cousins Ronald and Astrid) … intermittently, that is. Most of the time he is packed off to one boarding school or another.
David returns from boarding school a week early, which throws the family's plans into chaos. The results are life-changing.
---
Twelve by Diana Wynne Jones
An Unkindness of Ghosts — Rivers Solomon
Rivers Solomon's 2017 An Unkindness of Ghosts is a generation-ship novel.
The generation ship Matilda set out lifetimes ago to convey a handful of people to a distant promised land1. It carries within it every flaw known to human society. Until the ship arrives at its destination, there is no escape, not for the ship's rulers (the Sovereignty) and not for the unfortunates relegated to the lower decks.
Aster is brilliant. Her intellectual gifts recommend her to the great surgeon Theo — not as a potential surgeon, but as a surgeon's assistant. That is all she can ever be, because her skin is brown. That marks her as one of the underclass, as someone who can be oppressed and victimized without consequence.

---
Miscellaneous Reviews
Adachitoka
Noragami, book 5
Adachitoka's Noragami Volume 5 collects issues 16 to 19 of the adventures of the stray god Yato.
16. "Hell" (地獄 "Jigoku")
17. "Yearning for Someone to Trust" (寄る辺を求めて "Yorube o Motomete")
18. "Naked Sword" (抜き身 "Nuki Mi")
19. "Prayer" (願 "Negai")
Of all those who despise Yato, none hate him more than the war god Bishamonten. Bishamonten's hatred blinds her. She is also blind to the dangers she incurs by her greed to recruit as many ghosts as she can, ghosts who will serve as her shinki, servants1. Both blindnesses are weapons that her enemy will use against her.
Unfortunately for Bishamonten, that enemy is not Yato, but someone she considers her closest ally.

---
Translation
Fairy Tales from South Africa — Mrs. E. J. Bourhill & Mrs. J. B. Drake
Mrs. E. J. Bourhill and Mrs. J. B. Drake's 1908 Fairy Tales From South Africa is exactly what the title says: a collection of fairy tales from the peoples of South Africa. It is illustrated by W. Herbert Holloway.
---
Special Requests
Exiles to Glory — Jerry Pournelle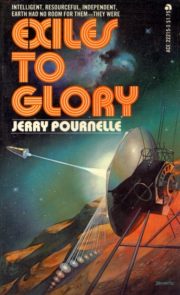 Jerry Pournelle's 1978 Exiles to Glory is a young-adult SF novel. It is set in the same universe as the Laurie Jo Hansen stories (after "Consort" but well before "Tinker").
Although born a welfare parasite, Kevin Senecal has resisted the call of drugs and welfare-state-subsidized indolence. His engineering degree is within grasp. With degree in hand, he can stride into the life of desperation that is every decent, clean American's birthright. That is, if he can convince the Umbridge-like bureaucrats who rule the university to let him graduate.
His academic status becomes… academic when Kevin is ambushed by filthy welfare barbarians determined to burn him alive. Kevin escapes with his life, badly injuring one gang member and killing another in the process. Now the gang is determined to kill Kevin. They do kill both of his cats.
A cop warns Kevin off; it's no use to appeal to the police. Kevin would only be charged and convicted of assaulting and killing minors. Too white and hard-working to expect a fair trial, Kevin takes the only other option open to him: he heads into space.

---
Because My Tears Are Delicious To You
Nemesis Games — James S. A. Corey
The Expanse, book 5
2015's Nemesis Games is the fifth volume in James S. A. Corey's Expanse series.
Back in the Solar System after dealing with an extrasolar diplomatic crisis, James Holden bows to the inevitable. His much battered ship Rocinante is in desperate need of repairs. With Rocinante in dry dock, what better time to give his loyal crew shore leave?
Holden is ignoring the first rule of adventuring: never split the party1.

---
Mare Internum — Der-shing Helmer
Der-shing Helmer's Mare Internum is an ongoing hard-SF webcomic.
Doctor Mike Fisher is one of the elite few chosen to explore Mars, now in the initial stages of colonization. Or rather, he was. Bitter, alarmingly hostile, and socially isolated, he was fired after the loss of his artificially intelligent LEVi robot in the mysterious catacombs under the Martian surface. As soon as transportation is available, he will be sent back to Earth.
Before he goes, however, newly arrived Doctor Rebekah "Bex" Egunsola would like to take advantage of Mike's EVA skills. Initially reluctant to venture back into the Martian caves, Mike allows himself to be talked around. It's just one quick foray into the labyrinth. What could go wrong?

---
Special Requests
Huang Jin Zhou & Hiromu Arakawa
Hero Tales, book 1
Hero Tales, volume 1 collects the first three issues of Huang Jin Zhou and Hiromu Arakawa's Jūshin Enbu.
Taitou hates the Empire. Reforming the corrupt state seems impossible. At least it is for a hot-headed young man living out in the sticks. He settles for beating up imperial functionaries whenever they pass by his home town.
Taitou has potential of which he is utterly unaware. His grandfather knows full well what power Taitou has within him and how to enable Taitou to draw on it. Step one: orchestrate Taitou's humiliating loss to another martial artist.

---
Translation
I am Princess X — Cherie Priest
2016's I Am Princess X is a standalone young-adult thriller by Cherie Priest. It features illustrations by Kali Ciesemier.
Once upon a time there were two schoolgirls, artist Libby and writer May. Together, they created a shared fantasy world, ruled over by Princess X. Their partnership came to an abrupt, violent end when the car containing Libby and her mother went through a bridge guard rail and into the waters below.
May did her best to convince herself that Libby somehow survived. By the time May was sixteen, she had to accept what everyone around her believed to be true: Libby was dead.
Then the stickers start appearing in Seattle windows.

---
Special Requests
The Other Side of the Sky — Arthur C. Clarke
1958's The Other Side of the Sky1 is a collection by Arthur C. Clarke. The Signet MMPB is only 160 pages long, but there are two dozen stories in this book. Most are rather short.

---
Because My Tears Are Delicious To You
Kitty Goes to War — Carrie Vaughn
Kitty Norville, book 8
2010's Kitty Goes to War is the eighth book in Carrie Vaughn's Kitty Norville series.
Having survived an amateur remake of The Most Dangerous Game1, Kitty returns to Denver. Because life is like that, she finds herself wrestling with not just one but two crises.
---
A Variety of Vaughns
The Other Side of the Moon — Meriol Trevor
Meriol Trevor's 1957 The Other Side of the Moon is a standalone juvenile SF novel.
The Kingville Lunar Expedition did not intend to take an untrained boy on their mission to the Moon. Nor did Gil Pentfoyle intend to stow away. Having snuck on board to play spaceman, Gil fell asleep. The busy crew overlooked the boy until the expedition was well on its way to Earth's satellite.
Although displeased to discover the stowaway, Captain Raider doesn't airlock Gil. Perhaps this is because Gil's brother, the expedition botanist1, might object. Perhaps this is because the captain is decent guy. Besides … the expedition already has a useless member, the expedition sponsor's son Tracy. Gil makes two of them. (Perhaps three; see1.)
Turns out that the Moon is a surprising place.

---
Special Requests
Adachitoka
Noragami, book 4
Noragami, Volume Four collects issues 12 to 15 of Adachitoka's on-going series about the stray god Yato and his peers:
"To Kill, or Not To Kill" (きる、きらない "Kiru, Kiranai"),

"Omen" (兆し "Kizashi"),

"Her Memories" (彼女の思い出 "Kanojo no Omoide"),

"That Which Withers" (枯れゆくもの "Kare Yuku Mono").
Having survived his servant Yukini's flirtation with corruption, Yato must now figure out how to help his human friend Hiyori.

---