Katsuhiro Otomo's manga Akira was serialized in Young Magazine from 1982 to 1990. The first English translation was published by Marvel Comics' Epic line from 1988 to 19951. The US edition pioneered the use of computer colourization, courtesy Steve Oliff. For many North Americans this was their introduction to manga.
Viktor Haag was kind enough to lend me his Epic collection.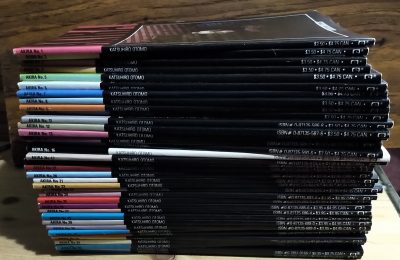 Since I am not sure how the Epic volumes map onto the current version from Dark Horse, I decided to review the entire, 2000+ page work as a whole.
All together now:
"
TETSUOOOO

!"



---
Big Hair, Big Guns!
Identified — Gerry Anderson, Sylvia Anderson, Tony Barwick
UFO, book 1
1970's "Identified" was the first episode of the TV series UFO. The series was helmed by Gerry and Sylvia Anderson, with Reg Hill. The episode was written by the Andersons and Tony Barwick and directed by Gerry Anderson. Unlike previous Anderson efforts, characters were portrayed not by puppets, but by live actors.
Humanity has incontrovertible proof that aliens have discovered Earth and are taking a close interest in humans. This interest outs itself whenever the aliens notice humans noticing them; the luckless humans are killed. One such attack on a highly placed colonel (played by Ed Bishop) moves the top powers of the day (US, USSR, etc.) to adopt a new strategy: secrecy. They'll form a task force that will covertly investigate the aliens.
Ten years later…

---
Because My Tears Are Delicious To You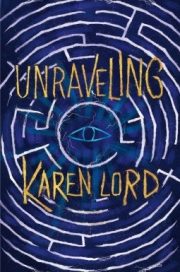 Karen Lord's 2019 Unraveling is a standalone fantasy.
Forensic therapist Dr. Miranda Ecouvo put detectives on the trail of a serial killer. He's caught and convicted. But it's not clear why the killer killed or who put him up to it. Human justice cannot solve this. But someone else can.
---
Doing What the WFC Cannot Do
The Undefeated — Una McCormack
Una McCormack's 2019's The Undefeated is a science fiction novella.
After a long and successful career, famed journalist Monica Greatorex returns to Sienna, the backwater world from whence she came. She chooses an interesting time for her return. There have been great changes on Sienna. She observes and reflects.
---
Miscellaneous Reviews
Voyage From Yesteryear — James P. Hogan
James P. Hogan's 1982 Voyage from Yesteryear is a standalone science fiction novel.
Faced with seemingly inevitable nuclear war in the near future, the North American Space Development Organization and its Asian partners decided to take the bold step of re-purposing the SP3 interstellar probe. Five years before its 2020 launch, the probe was redesigned to deliver human life to Chiron, the habitable world in the Alpha Centauri system. But there's a catch.

---
Big Hair, Big Guns!
New Suns: Original Speculative Fiction by People of Color — Nisi Shawl
Nisi Shawl's 2019 New Suns: Original Speculative Fiction by People of Color is, unsurprisingly, an anthology of original speculative fiction by people of color. It takes its title from an Octavia E. Butler quotation:
"There's nothing new under the sun, but there are new suns."
The anthology includes seventeen stories plus ancillary material. As a whole it is worth tracking down and reading, but the following are of particular note.
---
Doing What the WFC Cannot Do
Wasp — Eric Frank Russell
Eric Frank Russell's 1957 Wasp is a standalone science fiction novel.
Terra and the Sirian Combine have been at war for a year. Humanity enjoys a significant technological edge, but the Sirians outnumber the Terrans ten-to-one. The solution, as far as Terra's High Command is concerned, is to adopt tactics in which the weight of numbers cannot come into play.
James Mowry is given an offer he cannot refuse. He is to become a wasp.
---
Because My Tears Are Delicious To You
Yusuke Murata & ONE
One-Punch Man, book 3
Yes, this is very late. I keep over-scheduling myself. I have only myself to blame.

One-Punch Man Volume Three collects Punches (issues) 16 through 20 (plus some bonus material) of ONE and Yusuke Murata's ongoing manga.
Saitama is super-fast, super-strong, and super-invulnerable. He is also super-obscure because neither Saitama nor Saitama's acolyte Genos have ever bothered to register with the Hero Association. Time to fix that.
---
Translation
The Wizard Children of Finn — Mary Tannen
Finn, book 1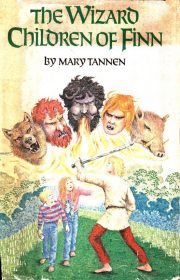 Mary Tannen's 1981 time-travel juvenile fantasy The Wizard Children of Finn is the first of her Finn novels.
Sent off by their actress mother for a summer stay at their uncle Rupert's estate, eleven-year-old Fiona and eight-year-old Bran McCool foresee a summer of boredom. They'll miss their mother; their uncle will not be in residence. The children have only the company of two eccentric old women whom they barely know, Lia and Bovmall.

---
Special Requests
Starfarers — Vonda N. McIntyre
Starfarers, book 1
1989's Starfarers is the first volume in Vonda N. McIntyre's Starfarers Quartet.
The near approach of a cosmic string1 offers humanity superluminal access to Tau Ceti. A light-sail spaceship can hitchhike on the string to explore the nearest star system. A consortium of nations builds the Starfarer as a traveling university, one that will send back dividends of new knowledge that will more than pay for its creation.
That is, if it is allowed to do what it is designed to do. Some of its government supporters have other notions of best use.
---
Big Hair, Big Guns!
The Cosmic Computer — H. Beam Piper
H. Beam Piper's 1963 The Cosmic Computer is a standalone science fiction novel. It's set in Piper's Terra-Human future history, in the last days of the Federation.
Conn Maxwell returns from Terra to his backwater homeworld, Poictesme, armed with hard-won knowledge. The family friends who pooled resources to pay for Conn's education did so in the hope that while on Earth, Conn would uncover the secret location of Merlin, the fabled supercomputer that many believe allowed the Federation to triumph over the secessionist System States Alliance. With Merlin's help, surely the investors could learn how to kickstart Poictesme's moribund economy.
What Conn learned was that Merlin was not just legendary. It was a myth. There would be no all-powerful supercomputer to guide Poictesme to prosperity.
When Conn returns to his homeworld, he lies to his friends and backers. He claims to know how to find Merlin. This isn't just an attempt to spare his friends or evade responsibility for the failure. He wants to use the belief in Merlin to inspire his world to take the steps that will rebuild its economy.
---
Because My Tears Are Delicious To You
The True Queen — Zen Cho
Sorcerer to the Crown, book 2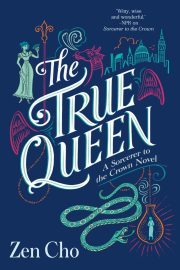 2019's The True Queen is the second volume in Zen Cho's Sorcerer to the Crown series.
Amnesiacs Sakti and Muna arrive on the island of Janda Baik, preceded by a great storm. They know their own names, but nothing else of their past. They look much like each other, so it is supposed that they are sisters. They are offered a home by the formidable witch Mak Genggang and begin to make new lives for themselves.
Complications ensue.
---
Doing What the WFC Cannot Do
FLCL — Yōji Enokido & Kazuya Tsurumaki
FLCL is a six-part anime series written by Yōji Enokido, and directed by Kazuya Tsurumaki. It was released in 2000 and 2001.
Twelve-year-old Naota Nandaba lives with his father and grandfather in backwater Mabase. He grudgingly tolerates the uninvited attentions of high-schooler Mamimi Samejima.
It's a humdrum life. To quote Naota,
"Nothing amazing happens here. Everything is ordinary."
Enter attractive maniac Haruko Haruhara, who
runs Naota down with her Vespa;

gives him CPR;

wallops him in the head with her guitar.
It's not madness, although Haruko is dubiously sane. She has a plan….
Soon after finding himself lip-locked with the madcap Haruko, Haoto finds himself struggling with ill-timed protrusions.
---
Translation
Servant of the Crown — Melissa McShane
Tremontane, book 1
Servant of the Crown is the first volume in Melissa McShane's Tremontane series.
Alison Quinn, Countess of Waxwold, distrusts men. Every man she has ever met has wanted her title, her money, and/or her body. She has turned her back on romance to focus on her father's publishing company. But rank comes with obligations. When Queen Zara North summons Alison to Aurilien to serve as a companion to Zara's mother, the Dowager Queen, Alison has no choice but to obey.
The Dowager Queen is friendly, if a bit naïve. Her son Anthony is also friendly. Too friendly. As the heir apparent to the unmarried and childless Zara, he is confident that he is irresistible.
Alison and Anthony's first meeting ends in a slap heard around the court.
---
Special Requests
Champions, 4th Edition — George MacDonald, Steve Peterson, Rob Bell
Hero Games' Champions wasn't the first superhero roleplaying game1 or even the first SHRPG I played2. It was, however, the SHRPG I played the most often.
Originally published in 1981, the system was initially developed in a rather haphazard way; rules accreted across several editions of rule books. Efforts to correct this lack of organization began in the mid-1980s. 1989's 4th Edition Champions, written by George MacDonald, Steve Peterson, and Rob Bell was arguable the culmination of this process. Known as the Big Blue Book, it was a fan favorite that shaped many games that came after it.

How does the rulebook stand up after OH GOD HOW IT IS 30 YEARS ALREADY?
---
Big Hair, Big Guns!
A Memory Called Empire — Arkady Martine
A Memory Called Empire is Arkady Martine's debut novel. It is a space opera.
Lsel Station has spent ages engaged in a careful dance with the Teixcalaanli Empire. It tries to maintain vital trade ties to the vast polity, but avoids becoming so essential as to invite annexation. The empire is a dangerous neighbour, but it protects Lsel from neighboring polities who are even worse. Hence the dance.
Mahit Dzmare is the latest ambassador to be dispatched by the Stationers to the empire. If she plays her cards badly, she may be the final ambassador to the empire.
---
Space Opera That Doesn't Suck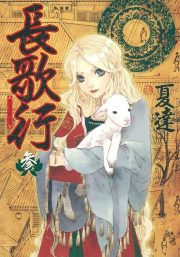 Choukakou, which is also known as Chang Ge Xing, Chang Ge's Journey, or Song of the Long March, is an ongoing manhua (Chinese comic) series by Xia Da. Volume Three collects issues twelve through eighteen.
Princess Li Chang Ge survived the Turkish conquest of Shuo by transferring her allegiance from the doomed governor of Shuo to General Sun of the Turks. Sun accepted Li Chang Ge as a subordinate. Sun is unaware that:
Li Chang Ge is a woman;

she is the niece of the Chinese emperor Taizong;

Taizong ordered Li Chang Ge's father and his entire family executed;

Li Chang Ge is a wanted fugitive.
Sun habitually distrusts women and he certainly does not need to be drawn into Chinese dynastic disputes. He has Turkish dynastic disputes to concern him.
---
Translation
The Afterward — E. K. Johnston
E. K. Johnston's 2019 The Afterward is a standalone secondary-universe fantasy.
Summoned out of oblivion by power-hungry fools, the Old God raised an army of mind-controlled slaves and marched to retake the world it once owned. As so often happens to world-conquering villains, the God was vanquished by seven adventurers led by Sir Erris Quicksword.
The world saved, the adventurers were each rewarded (although not too lavishly) and were free to return to their old lives. Or so some might have thought.
---
Special Requests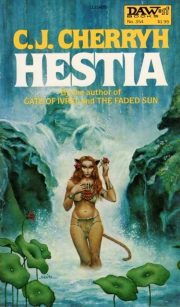 C. J. Cherryh's 1979 Hestia is a standalone science fiction novel.
The colonists who settled Hestia were warned that the valley on which they had set their hopes was not suitable. The settlers ignored the warnings and founded a community in the valley. In the century since settlement, the community has endured disaster after disaster. Each year the community is worse off.
The colonists now believe that they have a solution: a dam to control the river. Only problem: they lack dam-building know-how. That's where Sam Merritt, our protagonist, enters the narrative.
---
Because My Tears Are Delicious To You
The Gollancz Book of South Asian Science Fiction — Tarun K. Saint
Tarun K. Saint's 2019 The Gollancz Book of South Asian Science Fiction delivers precisely what it promises on the cover1.
---
Kim Eun-hee & Kim Seong-hun
Kingdom, book 2
Kingdom is a 2019 South Korean television series. It was written by Kim Eun-hee and directed by Kim Seong-hun. There are six episodes in season one, of which this is the second.
Primary cast:
Supporting cast:
The Haewon Cho clan has unjustly framed Crown Prince Yi Chang. They accuse him — correctly, as it happens, although innocence would not have stopped the clan from trying to remove the Prince — of conspiring against his own father, the King of Great Joseon. The Crown Prince has serendipitously left the capital before he could be arrested.
Great Joseon has problems much larger than mere dynastic conflicts.
---
Translation
Burning Bright — Melissa McShane
Extraordinaries, book 1
2016's Burning Bright is the first volume of Melissa McShane's Extraordinaries series.
Elinor Pembroke discovers she has extraordinary powers when she wakes to discover her bedchamber is on fire. She extinguishes the flames with a thought. This marks her not just as a so-called scorcher, a pyrokinetic, but as the very special sort of scorcher who can control and dismiss the flames she creates.
Since the year is 1812, this means that Elinor is no longer an unremarkable middle sister well on her way towards spinsterhood. She's now a valuable commodity on the marriage mart. Her father is eager to hawk her to the first sufficiently well-born prospect.
---
Special Requests
A House in Space — Henry S. F. Cooper, Jr.
Henry S. F. Cooper, Jr's 1976 A House in Space is a short account of Skylab, America's first manned space station.
---
Because My Tears Are Delicious To You
Startide Rising — David Brin

1983's Startide Rising is the second novel set in David Brin's Uplift universe. It is also a standalone.
---
Big Hair, Big Guns!
Storm of Locusts — Rebecca Roanhorse
Sixth World, book 2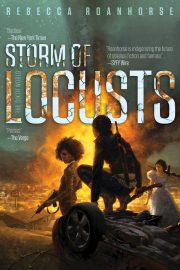 2019's Storm of Locusts is the second volume in Rebecca Roanhorse's Sixth World series1.
The oceans rose, civilization fell, and the gods returned. Possibly not in that order. The Walls of Dinétah keep the worst of the chaos outside Diné lands. Yet life inside the Walls can still be challenging, thanks to a plague of wandering monsters. Against the monsters stand a chosen few, the beneficiaries of what are called clan gifts. Superpowers. The chosen ones may lead lives that are all too often pitiably short, but it's worth it to protect friends and families from the stalking horrors.
Maggie Hoskie's gifts — speed, bloodlust — make her a superb monster-hunter. The events of the earlier volume, Trail of Lightning, left her in possession of a magic sword. She will need it soon. Too bad she has no idea how to wield it.
---
Doing What the WFC Cannot Do