Books Received, April
8

 — 

14
9 Tales of Raffalon by Matthew Hughes (Cover to come)


A THIEF IN THE DYING EARTH

In an age of wizards and walled cities, Raffalon is a journeyman member of the Ancient and Honorable Guild of Purloiners and Purveyors. In other words, a thief.

His skills allow him to scale walls, tickle locks, defeat magical wards. He lifts treasures and trinkets, spends the proceeds on ale and sausages in taverns where a wise thief sits with his back to the wall.

But somehow things often go the way they shouldn't and then Raffalon has to rely upon his wits and a well calibrated sense of daring.

Here are nine tales that take our enterprising thief into the Underworld and Overworld, and pit him against self-serving thaumaturges, grasping magnates, crooked Guild Masters, ghosts, spies, ogres, and a talented amateur assassin.

Includes ​

"

Inn of the Seven Blessings," from the bestselling anthology, ROGUES.
Seventeen-year-old Aiko lives a life of casual sex and casual violence, though at heart she remains a schoolgirl with an unrequited crush on her old classmate Yoji Kaneda. Life is about to get harder for Aiko, as a recent fling, Sano, has been kidnapped, and the serial killer Round-and-Round Devil has begun slaughtering children. The youth are rioting in the streets, egged on by the underground Internet bulletin board known as the Voice from Heaven. Expecting that Yoji will come and save her from the madness, Aiko posts a demand for her own murder on the V of H, but will she be left waiting…or worse?
When Kayu Saitoh wakes up, she is in an unfamiliar place. Taken to a snowy mountainside, she was left there by her family and her village according to the tradition of sacrificing the lives of the elderly for the benefit of the young. Kayu was supposed to have passed quickly into the afterlife. Instead, she finds herself in Dendera, a utopian community built over decades by old women who, like her, were abandoned. Together, they must now face a new threat: a hungry mother bear.
In a future where reality has been augmented and biology itself has been hacked, the world's food supply is genetically modified, superior, and vulnerable. When gene mapper Hayashida discovers that his custom rice plant has experienced a dysgenic collapse, he suspects sabotage. Hayashida travels across Asia to find himself in Ho Chi Minh City with hired-gun hacker Yagodo at his side — and in mortal danger — as he pushes ever nearer to the heart of the mystery.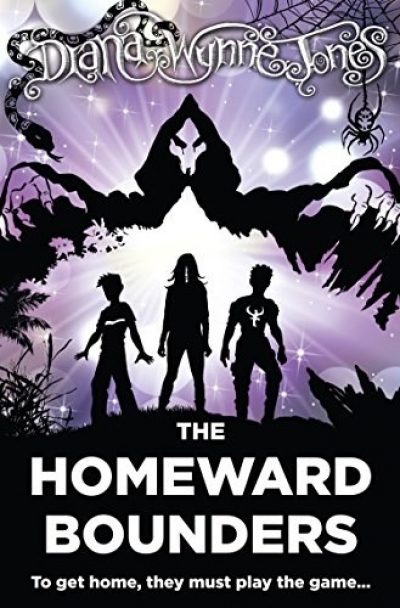 "

You are now a discard. We have no further use for you in play. You are free to walk the Bounds, but it will be against the rules for you to enter play in any world. If you succeed in returning Home, then you may enter play again in the normal manner." When Jamie unwittingly discovers the scary, dark-cloaked Them playing games with human's lives, he is cast out to the boundaries of the worlds. Only then does he discover that there are a vast number of parallel worlds, all linked by the bounds, and these sinister creatures are using them all as a massive gamesboard. Clinging to Their promise that if he can get Home he is free, he becomes the unwilling Random Factor in an endless game of chance. Irresistible Diana Wynne Jones fantasy adventure, featuring an insect-loving shapeshifter, an apprentice demon hunter and a whole host of exotic characters clinging to the hope that one day they will return Home.
A Dragon is dead.

Corta Helio, one of the five family corporations that rule the Moon, has fallen. Its riches are divided up among its many enemies, its survivors scattered. Eighteen months have passed.

The remaining Helio children, Lucasinho and Luna, are under the protection of the powerful Asamoahs, while Robson, still reeling from witnessing his parent's violent deaths, is now a ward – virtually a hostage– of Mackenzie Metals. And the last appointed heir, Lucas, has vanished of the surface of the moon.

Only Lady Sun, dowager of Taiyang, suspects that Lucas Corta is not dead, and more to the point – that he is still a major player in the game. After all, Lucas always was the Schemer, and even in death, he would go to any lengths to take back everything and build a new Corta Helio, more powerful than before. But Corta Helio needs allies, and to find them, the fleeing son undertakes an audacious, impossible journey – to Earth.

In an unstable lunar environment, the shifting loyalties and political machinations of each family reach the zenith of their most fertile plots as outright war erupts.

Luna: Wolf Moon continues Ian McDonald's saga of the Five Dragons.


Three new stories from three of the best science fiction writers in Japan:

​

"

Overdrive" by Toe EnJoe — How fast is the speed of thought?

​

"

Sea Fingers" by TOBI Hirotaka — A small enclave survives after the Deep has consumed the world, but what does the Deep hunger for now?

​

"

A Fair War" by Taiyo Fujii — The future of war, the age of drones, but what comes next?

Saiensu Fikushon is Haikasoru's new e‑first mini anthology series, dedicated to bringing you the narrative software of tomorrow, today. Now more than ever, the future is Japanese!
Once upon a time, a little girl was rescued by a prince.

That girl then grows up to be strong and courageous as she awaits his return.

To defend a friend's honor, she challenges a brute to a duel and wins.

She is entrusted with the SWORD OF DIOS and the Rose Bride, who is the key to finding her elusive prince.

But this won't end like a fairy tale.

Because Utena has the power to REVOLUTIONIZE the world.