Books Received, Dec
9

 — 

15
Set in a future Great Britain scarred by fracking and ecological collapse, The Race opens in the coastal town of Sapphire, dominated by the illegal sport of smartdog racing: greyhounds genetically modified with human DNA. For Jenna, the latest Cup meet bears a significance far beyond the simple hunger for victory. Christy's life is dominated by fear of her brother, a man she knows capable of monstrous acts and suspects of hiding even darker ones. Desperate to learn the truth she contacts Alex, a stranger she knows only by name. Together they must face their demons, wherever that may lead. Raised at the Croft, a secret government programme focusing on smartdogs, Maree has to undertake a journey through shipping lanes haunted by the enigmatic and dangerous Atlantic whale. What she discovers en route will change her world forever.
The story of four damaged people whose lives are inextricably linked, The Race is a novel of tender nuances, brutality, insight and great ambition, a narrative that lays bare the fears and joys of being human, and, ultimately, offers hope to us all.
A collection of stories and essays that imagine the near future of human activity in space, informed by the economic and social history of exploration, plus current technical and scientific research.
Unfortunately, I think the anthology above falls short of the minimum fraction of pieces by woman writers for a review. I require at least 40% and it's 30%.
I suppose if this is going to be recorded somewhere for posterity, I should set the record straight. The ghostwriter will probably cut it all, but hey, it's the principle of the thing.
Dr. Cadence Mbella is the world's most celebrated scholar of the atargati: sentient, intelligent deep-water beings who are most definitely not mermaids. When Cadence decides to release a captive atargati from scientific experimentation and interrogation, she knows her career and her life is forfeit. But she still yearns for the atargati – there is still so much to know about their physiology, their society, their culture. And Cadence would do anything to more fully understand the atargati… no matter what the cost.
A vampiric Snow White whose pious stepmother is her only salvation….
A supernatural Cinderella who strikes at midnight, leaving behind a prince mad with desire….
A sleeping beauty never meant to be woken…
In her World Fantasy Award-nominated short story collection, Red as Blood, Tanith Lee deconstructed familiar fairy tales, recapturing their original darkness and horror in haunting new interpretations. Behind gilded words and poised princesses, she exposed a sinister world of violence, madness, and dangerous enchantments. With Redder than Blood, Lee resumes the tradition of twisting tales. Among its nineteen tales, this volume explores unnerving variations of Beauty and the Beast, The Frog Prince, Snow White, and other classics, including three never-before-published stories. A recognized master fantasist, Tanith Lee has won multiple awards for her craft, including the British Fantasy Award, the World Fantasy Award for Life Achievement, and the Bram Stoker Award for Lifetime Achievement in Horror.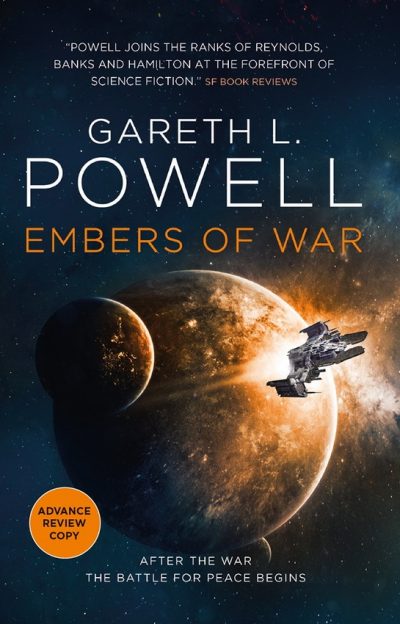 The sentient warship Trouble Dog was built for violence, yet following a brutal war, she is disgusted by her role in a genocide. Stripped of her weaponry and seeking to atone, she joins the House of Reclamation, an organisation dedicated to rescuing ships in distress. When a civilian ship goes missing in a disputed system, Trouble Dog and her new crew of loners, captained by Sal Konstanz, are sent on a rescue mission. Meanwhile, light years away, intelligence officer Ashton Childe is tasked with locating the poet, Ona Sudak, who was aboard the missing spaceship. What Childe doesn't know is that Sudak is not the person she appears to be. A straightforward rescue turns into something far more dangerous, as Trouble Dog, Konstanz and Childe find themselves at the centre of a conflict that could engulf the entire galaxy. If she is to save her crew, Trouble Dog is going to have to remember how to fight…
Emperor's daughter Mercedes is the first woman ever admitted to the High Ground, the elite training academy of the Solar League's Star Command, and she must graduate if she is to have any hope of taking the throne. Her classmate Tracy has more modest goals — to rise to the rank of captain, and win fame and honor. But a civil war is coming and the political machinations of those who yearn for power threaten the young cadets. In a time of intrigue and alien invasion, they will be tested as they never thought possible.