Thousands of years ago, the city of Athanor was set adrift in time and space by alchemists, called "the Curious Men". Ever since, it has accumulated cultures, citizens and species into a vast, unmappable metropolis.
Isten and her gang of half-starved political exiles live off petty crime and gangland warfare in Athanor's seediest alleys. Though they dream of returning home to lead a glorious revolution, Isten's downward spiral drags them into a mire of addiction and violence. Isten must find a way to save the exiles and herself if they are ever to build a better, fairer world for the people of their distant homeland.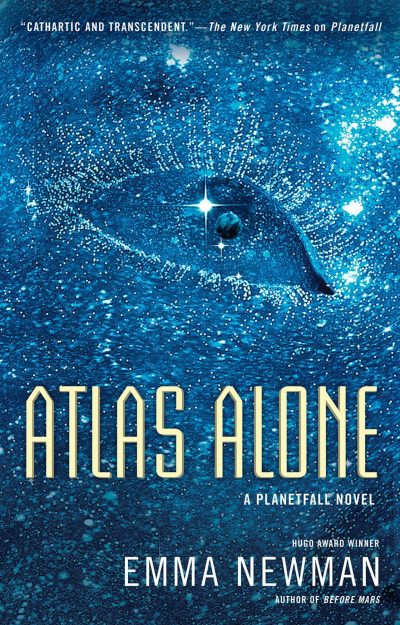 Six months after she left, Dee is struggling to manage her rage toward the people who ordered the nuclear strike that destroyed Earth. She's trying to find those responsible, but she's not getting very far alone.
A dedicated gamer, Dee is endeavoring to discover a mersive good enough to enable her to escape her trauma. When she is approached by a designer who asks her to play test his new game, she hopes it will be what she needs—but it isn't like any mersive she's played before. When a man suddenly dies in the real world, she realizes that at the same time in the game, she killed a character who bears a striking resemblance to the dead man—a man she discovers was one of those responsible for the death of millions on Earth.
Disturbed, but thinking it must be a coincidence, Dee continues the hunt for information. But when she finds out the plans for the future colony, she realizes that to save what is left of humanity, she might have to do something that risks what remains of her own.
Fergus Ferguson has been called a lot of names: thief, con artist, repo man. He prefers the termfinder. His latest job should be simple. Find the spacecraft Venetia's Sword and steal it back from Arum Gilger, ex-nobleman turned power-hungry trade boss. He'll slip in, decode the ship's compromised AI security, and get out of town,Sword in hand.
Fergus locates both Gilger and the ship in the farthest corner of human-inhabited space, a backwater deep space colony called Cernee. But Fergus' arrival at the colony is anything but simple. A cable car explosion launches Cernee into civil war, and Fergus must ally with Gilger's enemies to navigate a field of space mines and a small army of hostile mercenaries. What was supposed to be a routine job evolves into negotiating a power struggle between factions. Even worse, Fergus has become increasingly—and inconveniently—invested in the lives of the locals. It doesn't help that a dangerous alien species Fergus thought mythical prove unsettlingly real, and their ominous triangle ships keep following him around. Foolhardy. Eccentric. Reckless. Whatever he's called, Fergus will need all the help he can get to take back the Sword and maybe save Cernee from destruction in the process.
After the shocking events of last summer, the high society of Port Saint Frey has plenty to gossip about. Who was the Gentleman Bandit? Why hasn't he been captured? And what really happened that night when the Guildmaster disappeared? When the Guild hires Abel Fresnel, a detective with special powers of his own, to find the answers, Tesara and Yvienne Mederos have to avoid his probing questions and keep mum about their role in the events of that dark night. Everything's more or less under control until a dead man turns up in the dumbwaiter...
When Egyptologist Rom Hardy receives a strange letter from his old friend, the bounty-hunting sniper Rex McTroy, he finds himself drawn into a chilling mystery. In the mountains of New Mexico, a bloodthirsty creature is on the loose, leaving a trail of bodies in its wake. Now, a wealthy big game hunter has offered a staggering reward for its capture, and Rom's patron – the headstrong and brilliant Evangeline Waterston – has signed the team up for the challenge. Awaiting them are blizzards, cold-blooded trappers, remorseless hunters, a mad doctor, wild animals and a monster so fearsome and terrifying, it must be a legend come to life.
---