Books Received, Jan
20

 — 

26
Shaggy herds of mammoths still roam the Great Plains — to the delight of President Thomas Jefferson — in this imaginative alternative history in which the beasts thunder over the grasslands as living symbols of the oncoming struggle between the Native peoples and the European invaders. This unforgettable saga soars from the Badlands of the Dakota Territory to the icy wastes of Siberia, from the Russian Revolution to the American Indian Movement protests of the

1960

s and one woman's attempt to harness DNA science to fulfill the ancient promises of her Lakota heritage. In addition, this volume includes the essay ​

"

Writing During World War Three," a politically incorrect take on multiculturalism from a science fiction point of view and an outspoken interview with the writer of some of today's edgiest and most uncompromising speculative fiction.
Sardonic and merciless, this satire of the entire apocalyptic enterprise provides a humorous and timely interpretation of the bestselling Left Behind series — the adventures of those ​

"

left behind" to battle the Anti-Christ after all Born-Again Christians have ascended into heaven. From predatory preachers and goth lingerie to Indian casinos and ​

"

art cars" at Burning Man, this religious spoof deftly pairs the personal with the fictional. Featuring an extensive author interview and biography, this contemporary parody also includes the unique one-act drama, Special Relativity, which asks the question: When Paul Robeson, J. Edgar Hoover, and Albert Einstein are raised from the dead at an anti-Bush rally, which one wears the dress?
The classic science fiction trilogy in an omnibus edition. Back in print after two decades!
To the totalitarian state of Oerlikon, change is the most fearsome enemy. So a secret weapon was created to preserve the status quo-the Morphodite. A bioengineered and laboratory-raised super assassin, the Morphodite was designed to scent out and destroy subversive conspiracies. A unique being, it can change its sex, identity, and even its genetic code as a defense. But its creators did not foresee that this untraceable, powerful assassin would morph into a true revolutionary hero-that would turn against the police state that created it.
The title story, ​

"

Fire." written especially for this volume, is a harrowing postapocalyptic adventure in a world threated by global conflagration. Based on Hand's real-life experience as a participant in a governmental climate change think tank, it follows a ragtag cadre of scientists and artists racing to save both civilization and themselves from fast-moving global fires. ​

"

The Woman Men Couldn't See" is an expansion of Hand's acclaimed critical assessment of author Alice Sheldon, who wrote award-winning SF as ​

"

James Tiptree, Jr." in order to conceal identity from both the SF community and her CIA overlords. Another nonfiction piece, ​

"

Beyond Belief" recounts her difficult passage from alienated teen to serious artist. Also included are ​

"

Kronia," a poignant time-travel romance, and ​

"

The Saffron Gatherers," two of Hand's favorite and less familiar stories. Plus: a bibliography and our candid and illuminating Outspoken Interview with one of today's most inventive authors.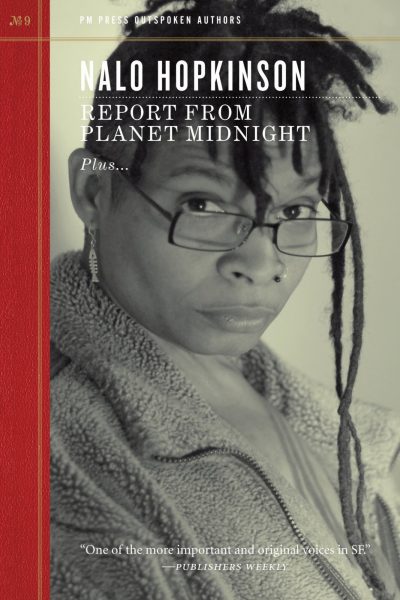 Infused with feminist, Afro-Caribbean views of the science fiction and fantasy genres, this collection of offbeat and highly original works takes aim at race and racism in literature. In ​

"

Report from Planet Midnight," at the International Association of the Fantastic in the Arts, an alien addresses the crowd, evaluating Earth's ​

"

strange" customs, including the marginalization of works by nonwhite and female writers. ​

"

Message in a Bottle" shows Greg, an American Indian artist, befriending a strange four-year-old who seems wise beyond her years. While preparing an exhibition, he discovers that the young girl is a traveler from the future sent to recover art from the distant past — which apparently includes his own work. Concluding the book with series editor Terry Bisson's Outspoken Interview, Nalo Hopkinson shares laughs, loves, and top-secret Caribbean spells.
By turns teasing and terrifying, laconic and luminous, the stories in this anthology are drawn from sources as diverse as Borges, Nabokov, Garcia-Marquez, and traditional Japanese folklore, and yet they ultimately reside in a slyly subversive literary world that is all their own. Blending an uncompromising ethical vision with exuberant, free-wheeling imagery and bracing formal experimentation, the five short stories and three novellas included in We, the Children of Cats show the full range and force of Hoshino's imagination. The stories include a man and woman who find their genders and sexualities brought radically into question when their bodies sprout new parts; a man who travels from Japan to Latin America in search of revolutionary purpose only to find much more than he bargained for; a journalist who investigates a poisoning at an elementary school and gets lost in an underworld of buried crimes, secret societies, and haunted forests; and two young killers, exiled from Japan, who find a new beginning as resistance fighters in Peru. An afterword by translator and editor Brian Bergstrom and a new preface by Hoshino himself is also included.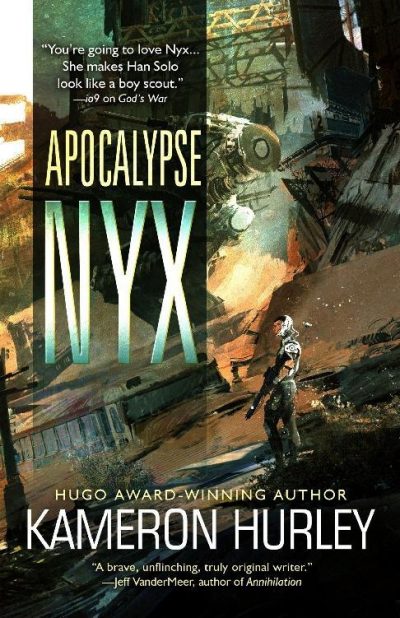 Move over Mad Max―here comes Nyx.
Ex-government assassin turned bounty-hunter, Nyx, is good at solving other people's problems. Her favorite problem-solving solution is punching people in the face. Then maybe chopping off some heads. Hey―it's a living.
Her disreputable reputation has been well earned. To Nyx's mind, it's also justified. After all, she's trying to navigate an apocalyptic world full of giant bugs, contaminated deserts, scheming magicians, and a centuries-long war that's consuming her future. Managing her ragtag squad of misfits has required a lot of morally-gray choices.
Every new job is another day alive. Every new mission is another step toward changing a hellish future―but only if she can survive.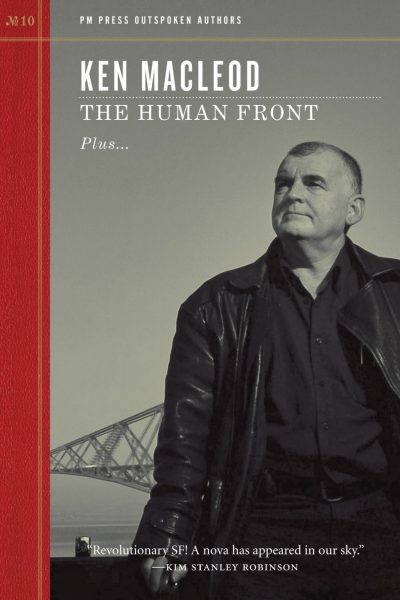 Winner of a Prometheus and Sidewise Award, this science fiction novella is a comedic and biting commentary on capitalism and an exploration of technological singularity in a posthuman civilization. As a world war rages on without an emerging victor, the story follows John Matheson, an idealistic teenage Scottish guerilla warrior who must change his tactics and alliances with the arrival of an alien species. This alternate history and poignant political satire flips hero types and expectations, delivering a lively tale of adventure — as dramatic and thought provoking as it is funny. Also included is an interview with the author and two essays that relate his poignant views on social philosophies.
Meet Maxim Arturovitch Pyatnitski, also known as Pyat. Tsarist rebel, Nazi thug, continental conman and reactionary counterspy: the dark and dangerous antihero of Michael Moorcock's most controversial work. Published in

1981

to great critical acclaim — then condemned to the shadows and unavailable in the United States for

30

years—Byzantium Endures, the first of the Pyat quartet, is not a book for the faint-hearted. It is the story of a cocaine addict, sexual adventurer, and obsessive anti-Semite whose epic journey from Leningrad to London connects him with scoundrels and heroes from Trotsky to Makhno and whose career echoes that of the

20

th century's descent into fascism and total war. This is Moorcock at his audacious, iconoclastic best: a grand sweeping overview of the events of the last century, as revealed in the secret journals of modern literature's most proudly unredeemable outlaw. This authoritative edition presents the author's final cut, restoring previously forbidden passages and deleted scenes.
Her name is Binti, and she is the first of the Himba people ever to be offered a place at Oomza University, the finest institution of higher learning in the galaxy. But to accept the offer will mean giving up her place in her family to travel between the stars among strangers who do not share her ways or respect her customs.
Knowledge comes at a cost, one that Binti is willing to pay, but her journey will not be easy. The world she seeks to enter has long warred with the Meduse, an alien race that has become the stuff of nightmares. Oomza University has wronged the Meduse, and Binti's stellar travel will bring her within their deadly reach.
If Binti hopes to survive the legacy of a war not of her making, she will need both the the gifts of her people and the wisdom enshrined within the University, itself — but first she has to make it there, alive.
When Isabella died, her parents were determined to ensure her education wouldn't suffer.
But Isabella's parents had not informed her new governess of Isabella's… condition, and when Ms Valdez arrives at the estate, having forced herself through a surreal nightmare maze of twisted human-like statues, she discovers that there is no girl to tutor.
Or is there…?
With seven books for seven sins, Taste of Wrath is the adrenaline-fuelled finalé to Matt Wallace's Sin du Jour series, which Chuck Wendig calls ​

"

a raucous, riotous tale of culinary madness"!Bronko and his team of crack chefs and kitchen staff have been serving the New York supernatural community for decades. But all that could be about to change.The entity formerly known as Allensworth has been manipulating Bronko and his team from Day One, and the gang at Sin du Jour have had enough.Old debts are called in, and an alliance is formed with the unlikeliest of comrades.Some will die. Some will descend. And some will rise
.