Books Received, May
6

 – 

12
Danny Tozer has a problem: she just inherited the powers of Dreadnought, the world's greatest superhero. Until Dreadnought fell out of the sky and died right in front of her, Danny was trying to keep people from finding out she's transgender. But before he expired, Dreadnought passed his mantle to her, and those secondhand superpowers transformed Danny's body into what she's always thought it should be. Now there's no hiding that she's a girl.

It should be the happiest time of her life, but Danny's first weeks finally living in a body that fits her are more difficult and complicated than she could have imagined. Between her father's dangerous obsession with ​

"

curing" her girlhood, her best friend suddenly acting like he's entitled to date her, and her fellow superheroes arguing over her place in their ranks, Danny feels like she's in over her head.

She doesn't have time to adjust. Dreadnought's murderer — a cyborg named Utopia — still haunts the streets of New Port City, threatening destruction. If Danny can't sort through the confusion of coming out, master her powers, and stop Utopia in time, humanity faces extinction.
The future of democracy is about to implode.

After the last controversial global election, the global infomocracy that has ensured thirty years of world peace is fraying at the edges. As the new Supermajority government struggles to establish its legitimacy, agents of Information across the globe strive to keep the peace and maintain the flows of data that feed the new world order.

In the newly-incorporated DarFur, a governor dies in a fiery explosion. In Geneva, a superpower hatches plans to bring microdemocracy to its knees. In Central Asia, a sprawling war among archaic states threatens to explode into a global crisis. And across the world, a shadowy plot is growing, threatening to strangle Information with the reins of power.
In Science Fiction and the Mass Cultural Genre System, John Rieder asks literary scholars to consider what shape literary history takes when based on a historical, rather than formalist, genre theory. Rieder starts from the premise that science fiction and the other genres usually associated with so-called genre fiction comprise a system of genres entirely distinct from the pre-existing classical and academic genre system that includes the epic, tragedy, comedy, satire, romance, the lyric, and so on. He proposes that the field of literary production and the project of literary studies cannot be adequately conceptualized without taking into account the tensions between these two genre systems that arise from their different modes of production, distribution, and reception. Although the careful reading of individual texts forms an important part of this study, the systemic approach offered by Science Fiction and the Mass Cultural Genre System provides a fundamental challenge to literary methodologies that foreground individual innovation.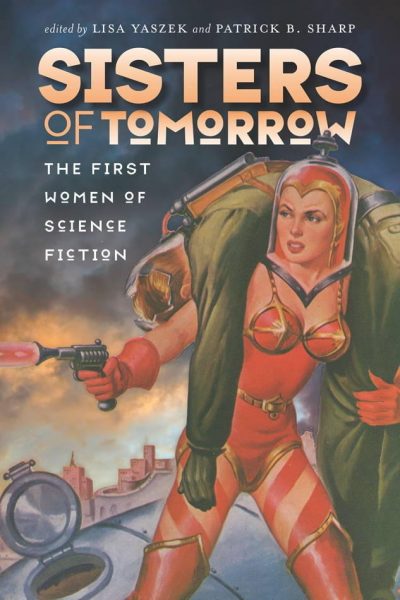 For nearly half a century, feminist scholars, writers, and fans have successfully challenged the notion that science fiction is all about ​

"

boys and their toys," pointing to authors such as Mary Shelley, Clare Winger Harris, and Judith Merril as proof that women have always been part of the genre. Continuing this tradition, Sisters of Tomorrow: The First Women of Science Fiction offers readers a comprehensive selection of works by genre luminaries, including author C. L. Moore, artist Margaret Brundage, and others who were well known in their day, including poet Julia Boynton Green, science journalist L. Taylor Hansen, and editor Mary Gnaedinger. Providing insightful commentary and context, this anthology documents how women in the early twentieth century contributed to the pulp-magazine community and showcases the content they produced, including short stories, editorial work, illustrations, poetry, and science journalism. Yaszek and Sharp's critical annotation and author biographies link women's work in the early science fiction community to larger patterns of feminine literary and cultural production in turn-of-the-twentieth-century America. In a concluding essay, the award-winning author Kathleen Ann Goonan considers such work in relation to the history of women in science and engineering and to the contemporary science fiction community itself.
Deacon James is a rambling bluesman straight from Georgia, a black man with troubles that he can't escape, and music that won't let him go. On a train to Arkham, he meets trouble ― visions of nightmares, gaping mouths and grasping tendrils, and a madman who calls himself John Persons. According to the stranger, Deacon is carrying a seed in his head, a thing that will destroy the world if he lets it hatch.

The mad ravings chase Deacon to his next gig. His saxophone doesn't call up his audience from their seats, it calls up monstrosities from across dimensions. As Deacon flees, chased by horrors and cultists, he stumbles upon a runaway girl, who is trying to escape the destiny awaiting her. Like Deacon, she carries something deep inside her, something twisted and dangerous. Together, they seek to leave Arkham, only to find the Thousand Young lurking in the woods.

The song in Deacon's head is growing stronger, and soon he won't be able to ignore it any more.