To quote the FASS webpage:
What is

FASS

?
FASS

(short for Faculty, Alumni, Staff, and Students) is an amateur theatre company at the University of Waterloo. Originally started as a variety show in 1962,

FASS

predates many of the modern organizations on campus, including the Federation of Students. In its current form, every year

FASS

produces an original script for its annual show in February. At the height of its existence in the 1980s,

FASS

was a major aspect of campus life, and tickets were hard to come by.
The

FASS

show is written every year from May through December, and then production kicks off in January with auditions held in the first week of classes. Throughout January and into February, the actors rehearse, the techies tech, and the production crew pulls their hair until, finally, everything is ready five weeks later. The shows are put on, many parties are held, and then everyone goes and collapses from exhaustion. It's good fun.
---
A Year of Waterloo Region Speculative Fiction
Life and the Art of Lying — Emily Schooley
To quote her online bio:
Emily Schooley is a multi-passionate filmmaker who enjoys blending genres and pushing boundaries in her work.
After graduating from the University of Waterloo with an Honours

BA

in Dramatic Arts, she quickly found herself immersed in the world of film alongside her work in theatre, first as an actor and then evolving to directing, writing, and producing. Now, she continues to work as an actor while simultaneously building her body of work and developing her voice as an emerging filmmaker.
Her previous short film, Psyche, won Audience Choice at Festigious International Film Festival. Emily is a proud associate member of Film Fatales, and will be appearing in

MJI

Studios' upcoming documentary about women in the film industry.
But I am not reviewing Psyche1. I am reviewing Life and the Art of Lying.
Ah, true love. The greatest impediment to true love: the people involved.

---
A Year of Waterloo Region Speculative Fiction
Spindle — E. K. Johnston
A Thousand Nights, book 2
To quote E. K. Johnston's website
E. K.

Johnston had several jobs and one vocation before she became a published writer. If she's learned anything, it's that things turn out weird sometimes, and there's not a lot you can do about it. Well, that and how to muscle through awkward fanfic because it's about a pairing she likes.
Her books range from contemporary fantasy (The Story of Owen, Prairie Fire), to fairy-tale re-imaginings (A Thousand Nights, Spindle), and from small town Ontario (Exit, Pursued By A Bear), to a galaxy far, far away (Star Wars: Ahsoka). She has no plans to rein anything in.
2016's Spindle is a companion novel to E. K. Johnston's A Thousand Nights.
The spinners of Kharuf fled a demon's curse, seeking escape in foreign lands that were little interested in helping strangers. Even this was not enough to save all of them; many died of a slow, lingering malady. Yashaa's dying mother sends Yashaa and his friends on a desperate quest, one that she hopes will allow some of her people to return to their homeland.

---
A Year of Waterloo Region Speculative Fiction
Bitten — Kelley Armstrong
Otherworld, book 1
To quote Kelley Armstrong's website:
I've been telling stories since before I could write. My earliest written efforts were disastrous. If asked for a story about girls and dolls, mine would invariably feature undead girls and evil dolls, much to my teachers' dismay. All efforts to make me produce "normal" stories failed. Today I continue to spin tales of ghosts and demons and werewolves while safely locked away in my basement writing dungeon.
She has published in excess of thirty novels since 2001.
2001's Bitten is the first novel in Armstrong's Otherworld series.
Determined to live her perfectly normal life with her perfectly adorable boyfriend Philip, Elena Michaels carefully withholds one or two facts about herself from Philip. Chief among these is the fact that she is, occasionally, a wolf. Not only are werewolves uncommon in Toronto, but Elena is the only known female werewolf on the planet.
Just one part of a colourful past she is determined to leave behind her.
---
A Year of Waterloo Region Speculative Fiction
Radiant — James Alan Gardner
League of Peoples, book 7
To quote Wikipedia:
James Alan Gardner (born January 10, 1955) is a Canadian science fiction author. Raised in Simcoe and Bradford, Ontario, he earned bachelor's and master's degrees in applied mathematics from the University of Waterloo.
Gardner has published science fiction short stories in a range of periodicals, including The Magazine of Fantasy and Science Fiction and Amazing Stories. In 1989, his short story "The Children of Creche" was awarded the Grand Prize in the Writers of the Future contest. Two years later his story "Muffin Explains Teleology to the World at Large" won a Prix Aurora Award; another story, "Three Hearings on the Existence of Snakes in the Human Bloodstream," won an Aurora and was nominated for both the Nebula and Hugo Awards.
Radiant is the seventh and thus far final volume in James Alan Gardner's League of People's series. Readers who want more books should make that known to publishers.
Youn Suu's mother wanted the genetic engineers to ensure that her daughter would be a beauty who would satisfy her mother's very demanding standards. Instead, Youn was born with a face that was, shall we say, less than conventionally beautiful. How inconsiderate of her!
The Technocracy has a use for people like Youn. The Explorer Corps is always looking for new recruits, particularly unsightly or unpopular people whose demise will be regretted by nobody. That's because the hazards of exploration are matched only by the brevity of Explorer lifespans. Youn was fated from birth to become an Explorer or as they are better known, an Expendable.

---
A Year of Waterloo Region Speculative Fiction
The Sleeping God — Violette Malan
Dhulyn and Parno, book 1
To quote Violette Malan's bio,
Violette Malan has a PhD from York University in 18th-Century English Literature, but reports that most people don't hold it against her. She started reading fantasy and science fiction at the age of eight, and was writing stories not long after. Violette has been a book reviewer, and has written feature articles on genre writing and literature for the Kingston Whig Standard. She has taught creative writing, English as a second language, Spanish, beginner's French, and choreography for strippers. On occasion she's worked as an administrative assistant, and a carpenter's helper. Her most unusual job was translating letters between lovers, one of whom spoke only English, the other only Spanish.
Violette is co-founder of the Scene of the Crime Festival on Wolfe Island, a single-day event focusing on Canadian crime writing, and celebrating the birthplace of Grant Allen, Canada's first crime writer. Violette is currently the president of the festival board, but in the past she's given writing workshops, and was the original organizer and co-judge of The Wolfe Island Prize for first crime fiction, which is sponsored by the festival.
2007's The Sleeping God is the first volume in Violette Malan's Dhulyn and Parno series.
The contract seemed so straightforward. Escort a young woman to her nation's capital. Unfortunately for Dhulyn and Parno, they're heading for the capital of Imrion and disquieting events are underway.

---
A Year of Waterloo Region Speculative Fiction
The Forgotten Tale — J. M. Frey
Accidental Turn, book 2
The Forgotten Tale is the second volume in J. M. Frey's Accidental Turn series.
Once a supporting character in Elgar Reed's deplorably written but popular fantasy series, spymaster Forsyth Turn escaped with his beloved Pip to Pip's native Canada (which, as we all know, is nearly as happy as Denmark). Content in his new life, husband to Pip, father to Alis, Forsyth has no intention of returning to his native Hain or even of maintaining contact with Reed.
Alas, just because he is done with fantastic adventures in Reed's poorly–thought-out land does not mean that Hain is done with Forsyth. Or with Forsyth's family.

---
A Year of Waterloo Region Speculative Fiction
The Starving Queen — Dean Italiano
To quote Dean Italiano's bio:
Dean Italiano lives with G and their twin boys in Waterloo,

ON

. Author of Pain Machine, Spirits and Death in Niagara, and Katrina and the Frenchman: A Journal from the Street, Dean also works with G musically to produce CDs Johnny Gruesome and From Skull Tavern, and occasionally does some artwork as well. By day, Dean works in a wonderfully busy elementary school Library. You can find more information at picpublishing.ca.
2017's The Starving Queen is a stand-alone urban fantasy.
Bev managed to escape the Starving Queen. Her daughter Jasmine won't be so lucky.

---
A Year of Waterloo Region Speculative Fiction
The Red Ring — Jen Frankel
Blood & Magic, book 2
2014's The Red Ring is the second volume in Jen Frankel's Blood & Magic series. My review of book one, The Last Rite, is here.

In the previous volume, in order defeat a vicious warlock, almost-sixteen year old Maggie Stuart gave up her magic and now must live as a muggle. None of her former friends remember that she saved them from the warlock (or even that they had been her friends). Her loathsome mentor is pressuring her for sex. If she had any friends, she might cry on their shoulders … but the last three years has sent her decidedly into social reject territory.
Magic is about to come back into her life in a big way.

---
A Year of Waterloo Region Speculative Fiction
Ward Against Darkness — Melanie Card
Chronicles of a Reluctant Necromancer, book 2
2013's Ward Against Darkness is the second volume in Melanie Card's Chronicles of a Reluctant Necromancer series.
The good news is that Ward De'Ath is spending less time worrying about being outed as a practitioner of the forbidden surgical arts. That's because he is facing a far more immediate problem: a band of highly motivated assassins want to kill Ward and his dead…ish companion Celia.
Ward and Celia manage to elude their hunters and head for a wilderness that might just be wild enough to hide them. There's just one catch.

---
A Year of Waterloo Region Speculative Fiction
All Those Explosions Were Someone Else's Fault — James Alan Gardner
Dark Versus Spark, book 1
According to James Alan Gardner's website:
I'm an award-winning writer, editor and teacher of science fiction and fantasy. I've published nine novels and a host of short stories in leading

SF

&F outlets. In addition to writing, I'm strongly interested in math and geology. In my spare time, I teach kung fu to kids and (unsuccessfully) to my rabbit.
2017's All Those Explosions Were Someone Else's Fault is the first novel in James Alan Gardner's new Dark versus Spark series.
Kim Lam came to the University of Waterloo to reinvent themself, to go from gender to assertiveness. Thanks to some Mad Science, they will succeed beyond their wildest dreams.

---
13
Oct
2017
/ 10 Comments
A Year of Waterloo Region Speculative Fiction
Back From Chaos — Yvonne Hertzberger
Earth's Pendulum, book 1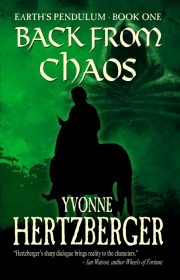 To paraphrase her website:
Yvonne Hertzberger has been a Jill of all Trades; actor, singer, gardener, hairstylist, and decorator. This long-time student of human nature, empty nester, retiree and late bloomer, finally found her calling writing epic fantasy. She lives with her spouse, Mark, in Stratford, Ontario.
2011's Back from Chaos is the first volume in Hertzberger's Earth's Pendulum series.
Catania has fallen! Supine beneath the forces of neighboring Bargia, the Catanians expect the worst: looting, rape, arson, and mass executions.
What the Catanians get — much to the surprise of Marja, sole remaining member of Catania's royal family — are reason and conciliation. The conquerors attempt to find a solution that will prevent future wars.

---
A Year of Waterloo Region Speculative Fiction
The Last Namsara — Kristen Ciccarelli
Kristen Ciccarelli hails from Ontario's Niagara Peninsula where she grew up on her grandfather's grape farm. She spent her childhood running wild with her cousins, adventuring in the woods, building forts in the barn, and obsessing over books, dragons, and girls wielding really cool weapons.
2017's The Last Namsara is Kristen Ciccarelli's debut novel.
Asha, daughter of the king of Firgaard, hunts dragons. She has devoted her life to this quest, to the point that dragons have become an endangered species.
Her father the king has one final task for Asha. Kill Kozu, the First Dragon. One last death and the king's rule will be secure against any revival of the old faith (and its dragons).

---
A Year of Waterloo Region Speculative Fiction
Beasts of New York — Jon Evans
To quote his Wikipedia entry, Arthur Ellis award-winner Jon Evans was

(b)orn to an expatriate Rhodesian father and Canadian mother. Evans grew up in Waterloo, Ontario and graduated from the University of Waterloo. He has a degree in electrical engineering and over 10 years of experience working as a software engineer.
He's also a former customer of mine, from the days when I owned a game store. Small world!
2011's Beasts of New York won the Foreword Medal of the Year Award.
Patch son of Silver, of the Seeker clan, of the Treetops tribe, of the Center Kingdom, faces calamity, as do all his compatriots. Long winter means food stores are pressed to their limits and beyond. Instead of a meagre supply barely able to see Patch and his kin to spring, there is nothing. Starvation looms.
Patch discovers that his clan and kind face an existential threat that is far greater than a lean winter. The fate of the beasts of New York rests on the shoulders of Patch the squirrel.

---
A Year of Waterloo Region Speculative Fiction
The Riverbed of the World — B. C. Holmes
an

IT

consultant, a social justice activist (especially in regards to Haiti), a trans person, a writer and cartoonist, an sf fan, a pinko-commie feminist, a film-lover and a Canadian (eh?).
To date they have produced a small but diverse body of work. It includes non-fiction and fiction, graphic (in the sense of comic books) fiction, and spec-fic stories such as "Ghosts in the Machine," "Glamour," and the short work I'm reviewing, "The Riverbed of the World."

---
A Year of Waterloo Region Speculative Fiction
Flesh Failure — Sèphera Girón
Sèphera Girón's 2014's Flesh Failure is a standalone horror story.
Agatha is a patchwork woman, covered in stitches and scars, smelling of death. She has been buried and left for dead, but claws her way out of the grave. She has only spotty memories of the people, and the process, that animated her.
It is London in 1888. Employment opportunities for women are few, and even fewer for scarred women who reek of the grave. It's even hard to make friends, as few people can tolerate her smell … especially in the small, poorly ventilated rooms that are the lot of the poor. But Agatha persists, and eventually finds work as a fortune teller and freak. She even discovers that the occasional dose of electricity will temporarily reverse some of her more alarming symptoms.
Except for her tendency to ambush and consume the unwary. Ah well, nobody is perfect.

---
A Year of Waterloo Region Speculative Fiction
A Pocket Full of Murder — R. J. Anderson
Uncommon Magic, book 1
2015's A Pocket Full of Murder is the first volume in R. J. Anderson's Uncommon Magic series. Pocket is a young adult fantasy-mystery.
Despite the sober foresight that placed most political power in the Tarreton City Council in the hands of the local aristocracy, Tarreton has not prospered. In large part this is because the local Sagelord Lord Arvis is a fool whose decrees have consistently undermined the local economy.
It is fortunate for the aristocracy that they are sufficiently buffered by personal wealth that they can maintain a proper lifestyle despite economic downturn. It's a very different story for such plebeians as widower Urias Breck and his family. Not only is he unemployed (thanks to Arvis' whimsical kneecapping of the local economy), but as a Moshite dissenter he is at the bottom of the list for most employers (who prefers their employees to belong to the Unifying Church). His affiliation with the Workers' Club (wild-eyed extremists who want fair pay and responsible government) would further diminish his chances of being hired if anyone were to find out this last disreputable, disqualifying fact.
Or it would, if Urias had not just been arrested for murdering Governor Orien. Unemployment would be preferable to hanging.
---
A Year of Waterloo Region Speculative Fiction
The Cannibal's Handbook & Spider Spun — Kit Daven
2015's "Spider Spun" and "The Cannibal's Handbook" are two short stories by Kitchener-Waterloo author Kit Daven. I bought them because they were only 99 cents (less than a coffee and a doughnut) and because for some reason (even though the word counts are clearly indicated) I thought they were novellas. Both are from the upcoming collection, She's No Good (upcoming, but no release date given).
---
A Year of Waterloo Region Speculative Fiction
9 Tales of Raffalon — Matthew Hughes

Matthew Hughes' 9 Tales of Raffalon is a collection of short stories, all featuring professional thief Raffalon. Raffalon lives in a time and place not unlike Jack Vance's Dying Earth . Magic is commonplace, as are ways for a man of flexible ethics to enrich himself. Or, as Raffalon so often discovers, ways to get himself into trouble.
---
A Year of Waterloo Region Speculative Fiction
(Sarah Tolmie) is a medievalist trained at the University of Toronto and Cambridge and is an Associate Professor of English at the University of Waterloo.
Her website can be found here.
Tolmie's 2015 NoFood is a collection of linked satirical tales. It was published in the Aqueduct Press' Conversation Pieces series.
---
A Year of Waterloo Region Speculative Fiction
This Gulf of Time and Stars — Julie Czerneda
Reunification, book 1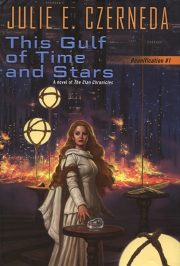 2015's This Gulf of Time and Stars is the first book in Julie E. Czerneda's Reunification series. It is set in her Clan Chronicles setting (first visited in her 1997 debut novel, A Thousand Words for Stranger).
Refugees without history, the surprisingly humanoid Clan live unseen amongst humans, who in turn live in the vast multi-species galactic confederation, the Trade Pact. The Clan's psychic assassins eliminate any person unlucky enough to discover the Clan's existence. Or rather, the Clan once lived unseen amongst humans. Now they live out in the open, outed by a biological trap of their own creation.
The Clan breeding program was so successful at creating females of unparalleled psychic power that no male can survive breeding with them. Hoping that the Trade Pact's vast R&D resources can overcome the reproductive bottleneck, the Clan revealed themselves and joined the Trade Pact.
The Clan may have traded gradual extinction for swift extermination.
---
A Year of Waterloo Region Speculative Fiction
Cosplay in KW — Ryan Consell
[Please enjoy a guest post by Ryan Consell on a subject about which I know little -james davis nicoll-]


Ryan Consell is a costumer, author, blogger, and educator. He is best known for his metalwork, genderbend cosplays, and opinions on armour. He can be found posing on Instagram as @studentofwhim, hitting things with hammers on YouTube, and writing at madartlab.com
I'm a cosplayer and have been my whole adult life. I make costumes and dress up at comic, gaming, sci-fi conventions. A lot of people who share my hobby do so in relative isolation. I had the good fortune, though, to land in a region that is rife with people like me.
---
A Year of Waterloo Region Speculative Fiction
The Occasional Diamond Thief — J. A. McLachlan
The Unintentional Adventures of Kia and Agatha, book 1
From her Goodreads entry:
J. A. McLachlan is the author of a short story collection, C

ONNECTIONS

(Pandora Press) and two College texts on Professional Ethics (Pearson-Prentice Hall). But science fiction is her first love, a genre she's been reading all her life. Walls of Wind was her first published

SF

novel. She has two young adult science fiction novels, The Occasional Diamond Thief and The Salarian Desert Game (

EDGE

SF

&F Publishing).
2015's The Occasional Diamond Thief is the first book in J. A. McLachlan's The Unintentional Adventures of Kia and Agatha series.
Her father's death after a long illness gives Akhié Ugiagbe the chance to escape her hostile family. Adopting a new name—Kia—she reinvents herself as a linguistics student far from home.
Of course, her family didn't see fit to provide for her continuing education. Kia has to do that herself, with one little jewel theft that she assumes will have no repercussions for her future. Ha!
---
A Year of Waterloo Region Speculative Fiction
The Scorpion Rules — Erin Bow
Prisoners of Peace, book 1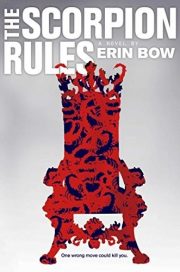 The Scorpion Rules is the first volume in Erin Bow's Prisoners of Peace series.
The children of the Precepture school live under the gaze of watchful cameras monitored by a powerful AI (Artificial Intelligence). The students are there to make their own small contributions to world peace. Each child at the school is the child of a national ruler. Each is hostage for their parent's good behaviour. Nations can choose to go to war if they feel the national interest demands it, but if they do … the child hostages of all warring states involved will be immediately removed from class and killed. It's a harsh system but it has worked as planned. Wars have been short and total casualties limited to a few thousand per year, despite the immense challenges encountered during four centuries of catastrophic climate change.
Greta Gustafsen Stuart, Duchess of Halifax and Crown Princes of the Pan-Polar Confederation, is one of the hostages. She hopes to live until she reaches the ripe old age of eighteen, at which point she will be released from the school. Failing that, she hopes to die with dignity. She does not consider escape. The AI will surely prevent that.
Then the teenage boy with bound hands arrives at school.
---
A Year of Waterloo Region Speculative Fiction
Storm of Dust — Neil Randall
Crossroads Adventures, book 2
Neil Randall is an associate professor at the University of Waterloo, perhaps the finest university in Waterloo west of Philip Street1. To quote his UW bio:
I am a long-time faculty member in the English department at the University of Waterloo, Canada, and the director of the Games Institute (uwaterloo.ca/games-institute).
I confess I did not look closely at Randall's 1987 book Storm of Dust when I bought it last year, except to note that:
it was by a local author whom I knew back in the 1980s and 1990s;
it was related to one of my favourite David Drake books.
What I was to discover is that Storm of Dust is an interesting artifact of ancient times, an artifact based on effectively obsolete tech. Who would have thought that interactive game books would ever die?
If you are younger than twenty or so, you may be wondering: what the heck are those?
---
A Year of Waterloo Region Speculative Fiction