Rite of Passage — Alexei Panshin

Alexei Panshin's 1968 Rite of Passage is a standalone SF novel. It won a Nebula Award and was nominated for a Hugo.
Mia Havero grew up on a great Ship, an asteroid-sized vessel that wanders from star to star. It's all she's ever known. Mia's Trial, a mandatory test that winnows the unfit from the fit, is approaching. If she passes, she will live out her life on her Ship. If she fails, she might be exiled. Or dead.
Mia Havero is twelve, going on thirteen.
---
Because My Tears Are Delicious To You
The Pollinators of Eden — John Boyd
John Boyd's 1969 The Pollinators of Eden is a standalone SF novel.
Doctor Freda Caron expects that when the starship Botany docks, her fiancé Paul Theaston will be on it. He isn't; all she gets is a message and a sample of alien life. Paul is doing research on the planet Flora, where he has encountered an intriguing scientific mystery. He wants to stay on-planet for one more duty cycle. Although mildly put out (this means she's saddled with planning their wedding all by herself, rather than allowing Paul to think he's helping), Freda also understands why he would stay. She too is a professional botanist; she understands the appeal of this tulip-appearing enigma.
The tulip has a flower much like flowers found on Earth. There are no known insects on planet Flora. Why produce a flower, and pollen, when there is nothing to spread the pollen. Or is there? Who or what does the pollinating?
---
Because My Tears Are Delicious To You
Earth's Last Citadel — C. L. Moore & Henry Kuttner

1943's Earth's Last Citadel is a standalone far-future adventure by C. L. Moore and Henry Kuttner.
Alan Drake's desperate bid to get genius Sir Colin out of a North African war-zone is stymied when the two are ambushed by Axis agents Karen Martin and Mike Smith. Karen and Mike catch up to Alan and Sir Colin just after the pair stumble across a mysterious object in the desert. The Nazis barely have time to gloat before they and their prey are bewitched into entering what appears to be an alien spacecraft.
The four do not emerge from their captor's craft for a very very very long time.
---
Because My Tears Are Delicious To You
The Borribles — Michael de Larrabeiti
Borribles, book 1
1976's The Borribles is the first volume in Michael de Larrabeiti's Borribles trilogy.
Their pointy ears betray Borribles as having become something more than hard-faced street children. They keep the ears hidden and avoid the attention of the police who would crop their ears and steal their independence. Each Borrible must earn their transformation from runaway child into Borrible by means of sharpness of wit and strength of will. They win their names with thrilling adventures.
Eight Borribles will be offered the chance to become legends.
---
Because My Tears Are Delicious To You
The Illuminatus Trilogy — Robert Shea & Robert Anton Wilson
Three 1975 novels (The Eye in the Pyramid, The Golden Apple, and Leviathan) together comprise Robert Shea and Robert Anton Wilson's Illuminatus Trilogy.
New York Detectives Saul Goodman and Barney Muldoon are assigned to investigate a bombing. Someone has attacked the office of a left-wing magazine, Confrontation. The detectives soon discover that their case may broaden to include tracing a missing person: editor Joe Malik.
Malik left notes that greatly confuse the two detectives. Malik's paranoid ramblings document a world secretly run by a cabal known as the Illuminati. The ramblings are self-contradictory. More importantly, they give no hint as to Malik's current location.
Meanwhile, in an entirely different part of the world….
---
Because My Tears Are Delicious To You
The Continuous Katherine Mortenhoe — D. G. Compton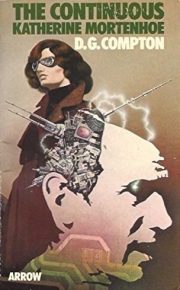 D. G. Compton's 1974 The Continuous Katherine Mortenhoe (also published as The Unsleeping Eye) is a near-future SF novel.
Katherine Mortenhoe is a forty-four-year-old woman whose computer skills have won her a minor niche in publishing. She's settled for a humdrum marriage that is only marginally superior to solitude. She has led an unremarkable life.
She learns that she has just four weeks to live. In the world of this novel, premature death is extremely rare, She has become a valuable media commodity.
---
Because My Tears Are Delicious To You
The Dramaturges of Yan — John Brunner
John Brunner's 1972 The Dramaturges of Yan is a standalone SF novel.
Humans have expanded throughout the galaxy like kudzu. What they find on Yan is … puzzling.
---
Because My Tears Are Delicious To You
The Voyage of the Space Beagle — A. E. Van Vogt
A. E. Van Vogt's 1950 The Voyage of the Space Beagle is a fix-up novel of deep-space exploration.
All but one person crewing the Space Beagle are experts, knowledgeable in their own field and ignorant of any other. The one exception is the Nexialist, Dr. Elliott Grosvenor. He is a generalist who can synthesize multiple fields. Nexialism is a new field with new methods. The experts on the Space Beagle view the new field with disdain.
Pity, as only Grosvenor can prevent the utter destruction of the mission.
---
Because My Tears Are Delicious To You
Shōgun — James Clavell
Asian Saga, book 1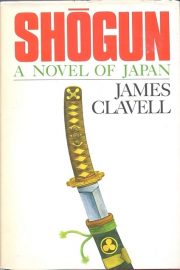 James Clavell's 1975 Shōgun is the first (by internal chronology) volume in his Asian saga.
English pilot John Blackthorne's foray into Asia (by papal decree the exclusive domain of Portugal) ends in disaster. The Dutch fleet in which Blackthorne serves is scattered by a storm and Blackthorne's ship Erasmus is driven ashore on the coast of Japan. The sickly sailors are immediately detained by local authorities.
Of course, Blackthorne is a white man in an exotic land. No doubt he will play the mighty whitey card, master every skill that matters to the Japanese in a few weeks, and then remake the nation in his image.
Perhaps not.
---
Because My Tears Are Delicious To You
Search the Sky — Frederik Pohl & Cyril M. Kornbluth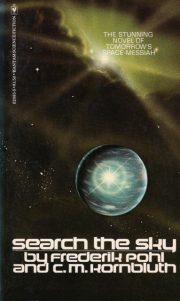 1954's Search the Sky is a standalone(ish) science fiction novel. It was the second novel-length collaboration between Frederik Pohl and Cyril M. Kornbluth,.
Ross has lived his whole life on Halsey's Planet. Somehow he senses what his fellows cannot or will not: population levels are slowly, inexorably declining. The future will be grim.
Halsey's Planet is just one of many worlds settled by humans. Contact with its sister worlds is intermittent, carried out by sublight longliners, smaller versions of the ships that delivered the original colonists to Halsey's Planet fourteen centuries earlier.
A longliner arrives with an inbred crew of happy idiots bearing an enigmatic message and doleful news about the other human worlds. Another Halsey merchant, Haarland, asks Ross to come meet with him. This is odd, as Ross works for a rival firm. It turns out that Haarland has some bad news to share.
Spoilers….
---
20
May
2019
/ 11 Comments
Because My Tears Are Delicious To You
The Caves of Steel — Isaac Asimov
1954's The Caves of Steel is the first of Isaac Asimov's novels that feature Elijah Bailey and R. Daneel Olivaw.
Elijah is a human. R. Daneel is a robot. They fight crime!
---
Because My Tears Are Delicious To You
Mindswap — Robert Sheckley
Robert Sheckley's 1966 Mindswap is a standalone SF comedy.
Interplanetary travel is prohibitively expensive. Interstellar travel even more-so. Bad news for Marvin Flynn, a small town young man with the travel bug.
Even though travelling in person is far too expensive for Marvin, there exists an affordable alternative. Simply dispatch his mind to some waiting body on a far-off world. What could go wrong?
---
Because My Tears Are Delicious To You
Beyond This Horizon — Robert A. Heinlein
1948's Beyond This Horizon1 is a standalone novel by Robert A. Heinlein.
The development of workable methods for genetic selection sparked two genocidal wars. But all that's in the past. The world has recovered. The Americas are practically a utopia. A long-running program aimed at creating the perfect human is close to completion. The latest iteration is Hamilton Felix. He would be the perfect man save for two flaws:
He could have a perfect memory (or so think the program planners2).

He refuses to marry and produce the child who would be the perfect human.
Oh, and his pal Monroe-Alpha has committed a spot of treason. We'll get to that later.
---
Because My Tears Are Delicious To You
Identified — Gerry Anderson, Sylvia Anderson, Tony Barwick
UFO, book 1
1970's "Identified" was the first episode of the TV series UFO. The series was helmed by Gerry and Sylvia Anderson, with Reg Hill. The episode was written by the Andersons and Tony Barwick and directed by Gerry Anderson. Unlike previous Anderson efforts, characters were portrayed not by puppets, but by live actors.
Humanity has incontrovertible proof that aliens have discovered Earth and are taking a close interest in humans. This interest outs itself whenever the aliens notice humans noticing them; the luckless humans are killed. One such attack on a highly placed colonel (played by Ed Bishop) moves the top powers of the day (US, USSR, etc.) to adopt a new strategy: secrecy. They'll form a task force that will covertly investigate the aliens.
Ten years later…

---
Because My Tears Are Delicious To You
Wasp — Eric Frank Russell
Eric Frank Russell's 1957 Wasp is a standalone science fiction novel.
Terra and the Sirian Combine have been at war for a year. Humanity enjoys a significant technological edge, but the Sirians outnumber the Terrans ten-to-one. The solution, as far as Terra's High Command is concerned, is to adopt tactics in which the weight of numbers cannot come into play.
James Mowry is given an offer he cannot refuse. He is to become a wasp.
---
Because My Tears Are Delicious To You
The Cosmic Computer — H. Beam Piper
H. Beam Piper's 1963 The Cosmic Computer is a standalone science fiction novel. It's set in Piper's Terra-Human future history, in the last days of the Federation.
Conn Maxwell returns from Terra to his backwater homeworld, Poictesme, armed with hard-won knowledge. The family friends who pooled resources to pay for Conn's education did so in the hope that while on Earth, Conn would uncover the secret location of Merlin, the fabled supercomputer that many believe allowed the Federation to triumph over the secessionist System States Alliance. With Merlin's help, surely the investors could learn how to kickstart Poictesme's moribund economy.
What Conn learned was that Merlin was not just legendary. It was a myth. There would be no all-powerful supercomputer to guide Poictesme to prosperity.
When Conn returns to his homeworld, he lies to his friends and backers. He claims to know how to find Merlin. This isn't just an attempt to spare his friends or evade responsibility for the failure. He wants to use the belief in Merlin to inspire his world to take the steps that will rebuild its economy.
---
Because My Tears Are Delicious To You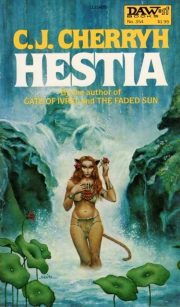 C. J. Cherryh's 1979 Hestia is a standalone science fiction novel.
The colonists who settled Hestia were warned that the valley on which they had set their hopes was not suitable. The settlers ignored the warnings and founded a community in the valley. In the century since settlement, the community has endured disaster after disaster. Each year the community is worse off.
The colonists now believe that they have a solution: a dam to control the river. Only problem: they lack dam-building know-how. That's where Sam Merritt, our protagonist, enters the narrative.
---
Because My Tears Are Delicious To You
A House in Space — Henry S. F. Cooper, Jr.
Henry S. F. Cooper, Jr's 1976 A House in Space is a short account of Skylab, America's first manned space station.
---
Because My Tears Are Delicious To You
The Stars My Destination — Alfred Bester
Alfred Bester's 1956 The Stars My Destination is a standalone tale of REVENGE! And a change of heart.
Psychic teleportation transformed society. The economic effects triggered war between the Inner Planets and the Outer Satellites.
Gulliver Foyle survived the destruction of the interplanetary space craft Nomad only to spend six months trapped on the hulk. When finally another ship, the Vorga, came within rescue range, Foyle was quick to fire off distress signals. Inexplicably, the Vorga ignored the flares and continued on its way.
Until this moment, Foyle had been an entirely unremarkable prole, uneducated, unmotivated, and destined to live and die in obscurity. Vorga's act gave Foyle the motivation he had previously lacked. Now he has goals: survive and make the crew of Vorga pay for leaving him in deep space.
---
Because My Tears Are Delicious To You
Trouble on Titan — Alan E. Nourse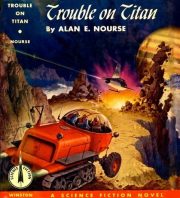 1954's Trouble on Titan was Alan E. Nourse's debut novel1. It is standalone juvenile SF. It has recently been reprinted and issued in e-book form by Prologue Books.
Tuck Benedict is disappointed to learn that his hoped-for reunion with his father must be postponed. Colonel Benedict has spent years troubleshooting on Mars and Venus for the Security Commission. His leave has been cancelled. He's been dispatched to Titan, home to unruly rubidium miners.
The colonel invites Tuck to join him on his mission to Titan, but Tuck fears delay in reporting to college could cost him his scholarship. Then … luck puts Tuck in a position to save his father from a mail bomb. Afraid that the assassin might succeed if Tuck is not there to protect his father, Tuck changes his mind. School must wait until Tuck returns from the mining colony.

---
Because My Tears Are Delicious To You
Destinies, November–December 1978 — Jim Baen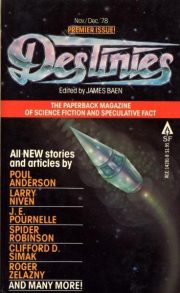 Destinies, November–December 1978 was the debut issue of Jim Baen's bookazine Destinies. Destinies ran from late 1978 to summer of 1981. There were eleven issues, each the size of a mass market paperback; there was a Best-of anthology as well1. Back in the day, I was an avid magazine reader and this was one of my favourite magazines.
Odd that until I reread this volume I did not remember it at all.
---
Because My Tears Are Delicious To You
Enchantress From the Stars — Sylvia Engdahl
Elana, book 1
Sylvia Engdahl's 1970 Enchantress From the Stars is the first of the two Elana novels, also the first of five Anthropology Service novels.
The Federation is vast and powerful; it is also a good neighbor. It is not inclined to try to fix other cultures (Special Circumstances, cough cough). The Federation takes non-interference seriously enough that its very existence is a secret from less developed star-faring powers. Protecting pre-industrial worlds like Andrecia from imperialists (like the Empire) would therefore seem to be impossible.
Seem.
---
Because My Tears Are Delicious To You
Operation Columbus — Hugh Walters
Chris Godfrey of U.N.E.X.A. series, book 3
1960's Operation Columbus (AKA First on the Moon) is the third volume in the Hugh Walters series ' Chris Godfrey of U.N.E.X.A.
The mysterious Domes of Pico have been smashed with atomic weapons, ending the immediate threat to the Earth. The next obvious step is to send a manned mission to the Moon to examine the remains and, it is hoped, determine what sort of being built the Domes.
The end of the lunar threat brought with it the end of human unity. Instead of cooperating on the mission, the West and the Soviets are in a race to the Moon. Chris Godfrey hopes to be the West's man on the moon. Who his Soviet rival be? Nobody in the West can say.

---
Because My Tears Are Delicious To You
After Doomsday — Poul Anderson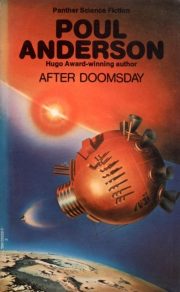 Poul Anderson's 1962 After Doomsday is a standalone science fiction novel.
Twenty years after first contact with galactic civilization, humanity has assimilated much off-world technology. The Americans send a mission of exploration, the USS Benjamin Franklin, to the core of the galaxy and back. The Franklin returns to an Earth scoured clean of life, orbited by alien missiles.
At least three hundred humans have survived the apocalypse: the three hundred on board the Franklin. Thanks to American views on staffing potentially dangerous missions, all three hundred are men.

---
Because My Tears Are Delicious To You
The Long ARM of Gil Hamilton — Larry Niven
Larry Niven's 1976 The Long ARM of Gil Hamilton collects the three then-extant Gil Hamilton stories1. All three are police procedurals and all three feature Gil Hamilton, a retired asteroid miner turned Amalgamated Regional Militia [ARM] officer.

---
Because My Tears Are Delicious To You