The City of the Sun — Brian M. Stableford
Daedalus Mission, book 4
1978's The City of the Sun is the fourth novel in Brian M. Stableford's Daedalus Mission series.
Earth's first expedition to recontact its abandoned colonies found only empty worlds, worlds where colonists had been overwhelmed by local conditions. The Daedalus Mission is the second expedition, sent out to assist colonies when possible and to determine the reason for the colony's demise if defunct. Thus far the crew of the Daedalus (Nathan, Linda, Conrad, Karen, Pete, Mariel and Alex) have found two surviving (if odd) colonies and one world where humans were horribly transformed by unforeseen local conditions.
As far as they can tell from orbit, Arcadia seems to have failed utterly. Then the expedition spots one lone city.

Here there be spoilers

---
Because My Tears Are Delicious To You
The War in the Air — H. G. Wells
H. G. Wells' 1908's The War in the Air is a standalone near-future (from the perspective of 1908) military thriller.
The inevitable march of progress has transformed bucolic Bun Hill into a thriving London suburb. Greengrocer Tom Smallways views this change (and change in general) with the deepest suspicion. His brother Bert, on the other hand, is eager to embrace change, particularly of the sort that involves Bert becoming wealthy.
Middling bright and uninhibited by any particular sense of ethics, Bert has thus far been denied the riches to which he is so clearly entitled, riches that would enable him to marry the charming Edna. When fate drops into Bert's lap the chance to make a fortune by selling stolen military information to the Germans, patriotism inhibits Bert not at all.

---
Because My Tears Are Delicious To You
The Man of Bronze — Lester Dent
Doc Savage, book 1
Lester Dent's 1933 The Man of Bronze is the first volume in the Doc Savage series. It was published under the house name Kenneth Robeson and was followed by 180 further adventures (penned mostly by Dent) until the title was cancelled in 1949. There have been further sequels and adaptations, as detailed here.
Trained from birth to be a paragon of human achievement, Clark "Doc" Savage is the Man of Bronze: a gigantic, extraordinarily talented genius who is monumentally wealthy as well. He uses his abilities to better the world.
Clark "Doc" Savage returns from a sojourn in his arctic Fortress of Solitude to face a tragedy. In his absence, his father, Clark Savage senior, has died of a mysterious illness. No sooner does Doc convene with his five chums on the 86th floor of a skyscraper to discuss the matter than a mysterious red-fingered sniper tries to murder Doc. Something is up!
---
Because My Tears Are Delicious To You
Earthwreck! — Thomas N. Scortia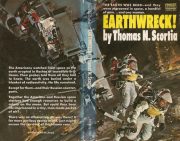 Thomas N. Scortia's 1974 Earthwreck! is a standalone near-future SF novel.
Captain Quintus Longo leaves his wife and children for what he believes will be a routine tour of duty on the American space station1. Thanks to a bold gambit by Japanese and Palestinian terrorists, it is the last time Longo sees his family alive.
The first hint the world gets that terrorists have seized control of the Arab Republic nuclear weapons comes in the form of three kiloton-range nuclear explosions in Tel Aviv. The Israelis respond with a megaton-range strike on the Aswan Dam. Millions die in Israel and Egypt; tragic but not world-ending. Russia and China back opposing sides in the conflict, but the Soviet-Chinese clash that follows isn't necessarily the apocalypse, since both sides initially limit themselves to battlefield nukes. The United States issues an ultimatum to China and Russia: negotiate or face American fury. Rather than forcing the Russians and Chinese to stand down, the result is a full scale global thermonuclear war.

---
Because My Tears Are Delicious To You
Passenger to Frankfurt — Agatha Christie

Agatha Christie's 1970 Passenger to Frankfurt is a standalone thriller and dystopian novel.
Sir Stafford Nye's diplomatic career is less due to any aptitude for the job and more because in the gently declining post-Empire world, no better candidate presented themself for the job. On his way back from another fairly pointless summit in Malaya, Nye's one noteworthy characteristic catches the eye of a desperate spy.
His bold fashion sense.
Spoilers follow.
---
Because My Tears Are Delicious To You
The Day After Tomorrow — Robert A. Heinlein

The Day After Tomorrow is an alternate title for Robert A. Heinlein's mercifully standalone Yellow Peril novel, Sixth Column.
Fifty years after the Noninterference Act ended contact between America and PanAsia, PanAsia launches a sudden and overwhelming attack on the US. Armed with superior military intelligence and impressive weapons, the PanAsians crush the Americans. Having won the war, the PanAsians move onto the next phase of their plan: reducing white Americans to slaves in a land they once called their own.
All is not lost. The Citadel remains, an advanced military research facility overlooked by the PanAsians. It is America's last hope.
If only most of the personnel were not dead.

---
Because My Tears Are Delicious To You
The Ginger Star — Leigh Brackett
Skaith, book 1
1974's The Ginger Star is the first volume in Leigh Brackett's extra-solar planetary adventure series set on the planet Skaith.
Eric John Stark was raised by savages on Mercury. Unforgiving Mars honed him into a man of action. A grim loner by nature and circumstance, he is fiercely loyal to a select few. Among those chosen few is Stark's human foster father, Simon Ashton.
When Ashton is reported to have been kidnapped on the dying world Skaith, Stark does not hesitate to race to Ashton's rescue.
---
Because My Tears Are Delicious To You
A For Andromeda — Sir Fred Hoyle & John Elliot
Andromeda, book 1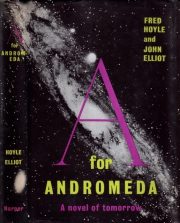 Sir Fred Hoyle and John Elliot's 1962 A For Andromeda is the first of two Andromeda novels. It is a novelization of Hoyle and Elliot's 1961 television SF serial drama of the same name.
In the distant future of 1970, Britain is increasingly under the sway of an America on whom the British are dependent for defense against the Warsaw Pact nations. Once a mighty imperial power, now it enjoys also-ran status. It does have one accomplishment of which it can be proud: the Bouldershaw Fell Radio Telescope, the most powerful radio telescope on Earth.
Almost immediately following Bouldershaw's activation, the grand device detects a signal coming from a star in the direction of the constellation Andromeda.

---
Because My Tears Are Delicious To You
The Guardian of Isis — Monica Hughes
Isis, book 2
1981's The Guardian of Isis is the second volume in Monica Hughes' Isis trilogy.
Fifty-five years after Pegasus II delivered eighty-odd colonists to Isis, sole habitable world of the star Ra, the human numbers have swelled to about eight hundred. Only a few of the original colonists are still alive. David London is one of those few. When his father died, David grabbed the office of president for himself. He has never stepped down. David has spent his long decades in power enforcing his vision of the perfect community: advanced technology forbidden, strict taboos imposed, women reduced to the status of domestic animals. Above all: no exploration of the world outside their small valley.
Jody n'Komo, one of those eight hundred colonists, is the grandson of one of David's bitter (vanquished) rivals; he has the misfortune to look like his grandfather. David has transferred all the hate he felt for the grandfather to the grandson. Sooner or later, he will find some crime for which to punish young Jody.
Spoilers.

---
Because My Tears Are Delicious To You
Cycle of Fire — Hal Clement
1957's Cycle of Fire is a young-adult novel by Hal Clement.
Marooned in a vast lava field by a glider crash, Dar Lang Ahn undertakes to march out on foot. It's only after he has set out that he realizes that the march will be much harder than he expected. He and his precious cargo of books might be lost forever.
An unexpected encounter saves Dar's life and his books. Immediate consequences: benign. Long-term consequences: wrenching transformation for Dar's people, the natives of the world Abyormen.

---
Because My Tears Are Delicious To You
Exiles to Glory — Jerry Pournelle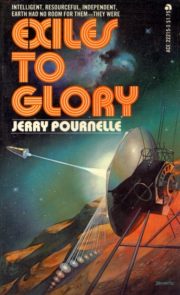 Jerry Pournelle's 1978 Exiles to Glory is a young-adult SF novel. It is set in the same universe as the Laurie Jo Hansen stories (after "Consort" but well before "Tinker").
Although born a welfare parasite, Kevin Senecal has resisted the call of drugs and welfare-state-subsidized indolence. His engineering degree is within grasp. With degree in hand, he can stride into the life of desperation that is every decent, clean American's birthright. That is, if he can convince the Umbridge-like bureaucrats who rule the university to let him graduate.
His academic status becomes… academic when Kevin is ambushed by filthy welfare barbarians determined to burn him alive. Kevin escapes with his life, badly injuring one gang member and killing another in the process. Now the gang is determined to kill Kevin. They do kill both of his cats.
A cop warns Kevin off; it's no use to appeal to the police. Kevin would only be charged and convicted of assaulting and killing minors. Too white and hard-working to expect a fair trial, Kevin takes the only other option open to him: he heads into space.

---
Because My Tears Are Delicious To You
The Other Side of the Sky — Arthur C. Clarke
1958's The Other Side of the Sky1 is a collection by Arthur C. Clarke. The Signet MMPB is only 160 pages long, but there are two dozen stories in this book. Most are rather short.

---
Because My Tears Are Delicious To You
The Flight of the Horse — Larry Niven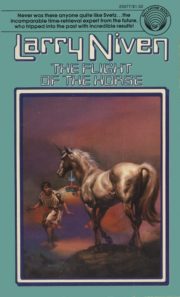 1973's The Flight of the Horse is a collection of Larry Niven stories. It is almost but not quite a collection of stories about hapless time-traveller Svetz, whose career is blighted by the fact that Niven thinks time travel, unlike FTL drives and telepathy, is ludicrous.

---
Because My Tears Are Delicious To You
Four-Day Planet — H. Beam Piper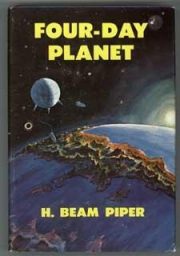 1961's Four-Day Planet is a standalone young-adult novel set in the Federation period of H. Beam Piper's Terra-Human future history.
Teen journalist Walt has lived his whole life on Fenris. He's one of the ten thousand people who call that odd world home. They are isolated and poor; they languish under a corrupt government. Life can only get worse … or so it seems.

---
Because My Tears Are Delicious To You
House of Stairs — William Sleator
1974's House of Stairs is a standalone young adult novel by William Sleator.
In a not-too-distant future, five children — timid Peter, unruly Lola, confident Oliver, accommodating Abigail, and cunning Blossom — are consigned by the authorities to the House of Stairs. Although they have very different backgrounds and personalities, all five of them share one characteristic: they are all wards of the state.
Make that two things: Nobody will ever miss any of them.

---
Because My Tears Are Delicious To You
Gateway — Frederik Pohl
Heechee, book 1
1977's Gateway is the first novel in Frederik Pohl's Heechee series.
Robinette Broadhead has wealth and status, so why is he so miserable? The answer lies in the past, in the source of Broadhead's money: the alien starport humans call Gateway.

---
Because My Tears Are Delicious To You
Five Against Venus — Philip Latham
Winston Science Fiction, book 3
Philip Latham's 1952 Five Against Venus was the third novel published in Winston's SF line.
Although a member of his high school's Space Club, sixteen-year-old Bruce Robinson has never been to space himself. His father, Mr. Robinson, is cheerful, endlessly optimistic, and consistently unsuccessful. His family lives in genteel poverty on Pico street. An expensive trip to the Moon … not gonna happen.
This changes when Mr. Robinson is hired as Tycho City's new public relations manager. Tycho City as in Tycho Crater as in ON THE MOON. The family will become comparatively well-to-do and they will get to live on the Moon!
That's the plan, anyway. The reality is different.
(spoilers)
---
Because My Tears Are Delicious To You
Armageddon—2419 A.D. — Philip Francis Nowlan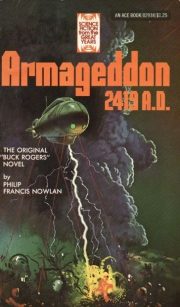 Philip Francis Nowlan's Armageddon — 2419 A.D. was first published in 1928. In 1929, it was followed by a sequel, The Airlords of Han. This background was reworked for the comic strip "Buck Rogers," which has been adopted into radio, movies, television and roleplaying games. The edition I first read (the cover featured here) was the combined edition Ace created in the 1960s. Since I no longer own that, I've resorted to reading the Project Gutenberg editions.
Anthony Rogers was just another radioactive-gas entrepreneur when a surveying foray into a promising mine ended in tragedy. Trapped by the tunnel collapse that killed his companions, Rogers was overcome by the very radioactive gases he hoped to mine. Death seemed certain.
Four hundred years later, Rogers wakes to find America transformed.

---
Because My Tears Are Delicious To You
One in Three Hundred — J. T. McIntosh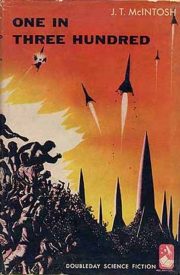 1953's One in Three Hundred is the first installment of a J. T. McIntosh trilogy (also called One in Three Hundred).
Nobody on Earth needs to worry about anything bad that might happen after September 18th, because on that date (as predicted by scientists) the Sun is going to become brighter. Not a lot, but enough to boil the Earth's oceans and kill every living thing on the planet.
Humanity does not intend to give up and accept inevitable death.
---
Because My Tears Are Delicious To You
The Bladerunner — Alan E. Nourse
Alan E. Nourse's 1974 The Bladerunner is a standalone near-future medical SF novel. It is not the novel on which the 1982 Ridley Scott film Blade Runner is based. It is the novel on which the title of the film Blade Runner is based. More on that later.
In this novel's 1994, America faced the perfect storm of population pressure, an aging population, soaring universal health care costs, and studies blaming the increased incidence of antibiotic-resistant diseases and the spread of genetic disorders like diabetes on modern medicine itself. Following the Health Riots the United States hastily adopted the Heinz-Lafferty Eugenics Control program.
Medical treatment is still available to all, but any individual who requires health care services for any reason is sterilized. Children under five are exempt, save for children who have known hereditary disease; the latter are routinely sterilized or euthanized.
Unsurprisingly, a considerable fraction of Americans want medical treatment without mandatory sterilization. Many physicians do not agree that the Heinz-Lafferty program is good public policy. The resistant Americans have provided demand, The resistant physicians have provided supply. The twenty years since the Riots have seen a black market in medical care firmly establish itself in the US. Such a vast black market needs its middlemen and that's where Billy Gimp comes in.

---
Because My Tears Are Delicious To You
The Rains of Eridan — H. M. Hoover
1977's The Rains of Eridan is a standalone young-adult hard SF novel by H. M. Hoover.
The Aurora Corporation thought the life-bearing world Eridan promising enough that it funded three bases:
Base One, the administration and living colony research centre;

Base Two, the agricultural research base;

Base Three, the science base.
The bases are separated by hundreds of kilometres, far enough that even if one base were to fall to calamity, the other two would be spared. It seems that the spread was not great enough; bizarre collective madness has attacked all three bases.
Theodora "Theo" Leslie, who has spent the last month out in the field gathering data on the Eridan lifeforms, has no idea how bad matters have become. Not until she witnesses a double murder.

---
Because My Tears Are Delicious To You
Study War No More — Joe Haldeman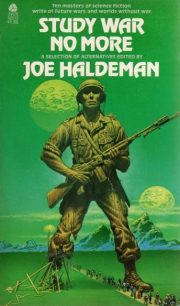 1977's Study War No More was edited by Joe Haldeman. It is what might be termed an anti-Military SF anthology, one that asks contributors "if not war, then what else?"

---
Because My Tears Are Delicious To You
Spartan Planet — A. Bertram Chandler
John Grimes, book 5
1968's Spartan Planet is the fifth book in A. Bertram Chandler's John Grimes series.
Policeman Brasidus and his fellow Spartans are quite familiar with human history. Men originated on Sparta. Like all the other animals on Sparta, men reproduce by budding, although medical technology has freed men from this unpleasant method of reproduction. Sparta's society has been strictly regimented since the earliest days, because that's the best way of doing things.
Although Sparta has very little use for advanced technology (which would only take jobs from the helots), there is a single extra-Spartan colony, Latterhaven. It was settled by rebels who maintain a monopoly on starflight. Not that it really matters, since the entirety of Sparta's annual trade fits into two cargo ships, Latterhaven Hera and Latterhaven Venus. Aside from Sparta and Latterhaven, there are no other inhabited worlds and no races aside from Man.
A lot of what Brasidus and his fellow Spartans know is untrue.
---
Because My Tears Are Delicious To You
Analog Science Fiction/Science Fact, June 1977 — Ben Bova
I have excoriated Ben Bova's fiction in the past, but I have nothing but admiration for his work as editor for Analog. While Disco-Era Analog might seem a bit stodgy to modern eyes, at the time Bova was a breath of fresh air. Rather than settle for being a second-rate Campbell, he did his best to be a first-rate Bova. He recruited new authors, many of whom differed (excitingly) from Analog's Old Guard. He also bought more stories by women than did his predecessor1. While some old guard objected to Bova's direction, enough readers enjoyed it to give him a remarkable six Best Editor Hugo Awards, as well as one nomination for the same category.
It seems unlikely Campbell would have had a Special Women's Issue. Bova did: Analog, June 1977.

---
Because My Tears Are Delicious To You
Galaxy Magazine, April 1977 —
When I first encountered Galaxy Magazine (I had picked up the April 1977 issue on a whim1) it was only three years away from its final issue2. Of course I had no idea that it was doomed, nor that the issue I selected was the product of something of a renaissance for the magazine, thanks to editor Jim Baen. That first encounter was satisfying enough that I bought newsstand copies until the demise of the magazine made that impossible.
How does the issue stand up two generations later?

---
Because My Tears Are Delicious To You