Armageddon—2419 A.D. — Philip Francis Nowlan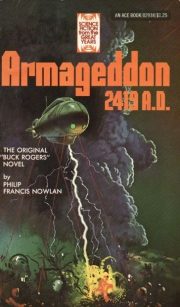 Philip Francis Nowlan's Armageddon — 2419 A.D. was first published in 1928. In 1929, it was followed by a sequel, The Airlords of Han. This background was reworked for the comic strip "Buck Rogers," which has been adopted into radio, movies, television and roleplaying games. The edition I first read (the cover featured here) was the combined edition Ace created in the 1960s. Since I no longer own that, I've resorted to reading the Project Gutenberg editions.
Anthony Rogers was just another radioactive-gas entrepreneur when a surveying foray into a promising mine ended in tragedy. Trapped by the tunnel collapse that killed his companions, Rogers was overcome by the very radioactive gases he hoped to mine. Death seemed certain.
Four hundred years later, Rogers wakes to find America transformed.

---
Because My Tears Are Delicious To You
One in Three Hundred — J. T. McIntosh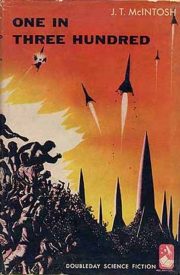 1953's One in Three Hundred is the first installment of a J. T. McIntosh trilogy (also called One in Three Hundred).
Nobody on Earth needs to worry about anything bad that might happen after September 18th, because on that date (as predicted by scientists) the Sun is going to become brighter. Not a lot, but enough to boil the Earth's oceans and kill every living thing on the planet.
Humanity does not intend to give up and accept inevitable death.
---
Because My Tears Are Delicious To You
The Bladerunner — Alan E. Nourse
Alan E. Nourse's 1974 The Bladerunner is a standalone near-future medical SF novel. It is not the novel on which the 1982 Ridley Scott film Blade Runner is based. It is the novel on which the title of the film Blade Runner is based. More on that later.
In this novel's 1994, America faced the perfect storm of population pressure, an aging population, soaring universal health care costs, and studies blaming the increased incidence of antibiotic-resistant diseases and the spread of genetic disorders like diabetes on modern medicine itself. Following the Health Riots the United States hastily adopted the Heinz-Lafferty Eugenics Control program.
Medical treatment is still available to all, but any individual who requires health care services for any reason is sterilized. Children under five are exempt, save for children who have known hereditary disease; the latter are routinely sterilized or euthanized.
Unsurprisingly, a considerable fraction of Americans want medical treatment without mandatory sterilization. Many physicians do not agree that the Heinz-Lafferty program is good public policy. The resistant Americans have provided demand, The resistant physicians have provided supply. The twenty years since the Riots have seen a black market in medical care firmly establish itself in the US. Such a vast black market needs its middlemen and that's where Billy Gimp comes in.

---
Because My Tears Are Delicious To You
The Rains of Eridan — H. M. Hoover
1977's The Rains of Eridan is a standalone young-adult hard SF novel by H. M. Hoover.
The Aurora Corporation thought the life-bearing world Eridan promising enough that it funded three bases:
Base One, the administration and living colony research centre;

Base Two, the agricultural research base;

Base Three, the science base.
The bases are separated by hundreds of kilometres, far enough that even if one base were to fall to calamity, the other two would be spared. It seems that the spread was not great enough; bizarre collective madness has attacked all three bases.
Theodora "Theo" Leslie, who has spent the last month out in the field gathering data on the Eridan lifeforms, has no idea how bad matters have become. Not until she witnesses a double murder.

---
Because My Tears Are Delicious To You
Study War No More — Joe Haldeman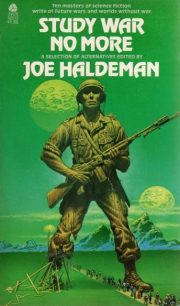 1977's Study War No More was edited by Joe Haldeman. It is what might be termed an anti-Military SF anthology, one that asks contributors "if not war, then what else?"

---
Because My Tears Are Delicious To You
Spartan Planet — A. Bertram Chandler
John Grimes, book 5
1968's Spartan Planet is the fifth book in A. Bertram Chandler's John Grimes series.
Policeman Brasidus and his fellow Spartans are quite familiar with human history. Men originated on Sparta. Like all the other animals on Sparta, men reproduce by budding, although medical technology has freed men from this unpleasant method of reproduction. Sparta's society has been strictly regimented since the earliest days, because that's the best way of doing things.
Although Sparta has very little use for advanced technology (which would only take jobs from the helots), there is a single extra-Spartan colony, Latterhaven. It was settled by rebels who maintain a monopoly on starflight. Not that it really matters, since the entirety of Sparta's annual trade fits into two cargo ships, Latterhaven Hera and Latterhaven Venus. Aside from Sparta and Latterhaven, there are no other inhabited worlds and no races aside from Man.
A lot of what Brasidus and his fellow Spartans know is untrue.
---
Because My Tears Are Delicious To You
Analog Science Fiction/Science Fact, June 1977 — Ben Bova
I have excoriated Ben Bova's fiction in the past, but I have nothing but admiration for his work as editor for Analog. While Disco-Era Analog might seem a bit stodgy to modern eyes, at the time Bova was a breath of fresh air. Rather than settle for being a second-rate Campbell, he did his best to be a first-rate Bova. He recruited new authors, many of whom differed (excitingly) from Analog's Old Guard. He also bought more stories by women than did his predecessor1. While some old guard objected to Bova's direction, enough readers enjoyed it to give him a remarkable six Best Editor Hugo Awards, as well as one nomination for the same category.
It seems unlikely Campbell would have had a Special Women's Issue. Bova did: Analog, June 1977.

---
Because My Tears Are Delicious To You
Galaxy Magazine, April 1977 —
When I first encountered Galaxy Magazine (I had picked up the April 1977 issue on a whim1) it was only three years away from its final issue2. Of course I had no idea that it was doomed, nor that the issue I selected was the product of something of a renaissance for the magazine, thanks to editor Jim Baen. That first encounter was satisfying enough that I bought newsstand copies until the demise of the magazine made that impossible.
How does the issue stand up two generations later?

---
Because My Tears Are Delicious To You
Star Wars: From the Adventures of Luke Skywalker — Alan Dean Foster & George Lucas
1976's Star Wars: From the Adventures of Luke Skywalker is Alan Dean Foster's (uncredited) novelization of the initial script for George Lucas' Star Wars: A New Hope. (Not called that at the time of first release, as y'all no doubt know.)
Former Senator Palpatine's quest to make the galaxy great again has transformed a troubled republic into a brutal autocracy. Here and there, out-numbered rebels are trying to resist oppression. All very sad, but what does it have to do with farmboy Luke Skywalker, stuck on backward desert world Tatooine?

---
Because My Tears Are Delicious To You
Dancers of Arun — Elizabeth A. Lynn
Chronicles of Tornor, book 2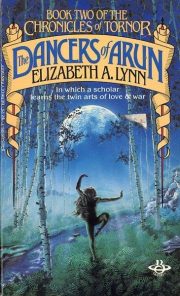 1979's The Dancers of Arun is the second volume in Elizabeth A. Lynn's Chronicles of Tornor.
Morven, Lord of Tornor, was obliged by custom to give his orphaned nephew Kerris a place within his household. Thanks to Kerris' missing right arm, lopped off by a raider when Kerris was a child, that place can never be that of a proper warrior. But the otherwise useless young man does have a talent for letters. The Keep needs its scribes, even if it does not think much of them.
Orphan he may be, but Kerris is not utterly lacking in immediate family members. After years of silence, Kerris' older brother Kel arrives to take Kerris south with him — that is, if that's what Kerris would like. Having little to tie him to rustic Tornor, Kerris chooses to go south.

---
Because My Tears Are Delicious To You
Outlaws of the Moon — Edmond Hamilton
Captain Future, book 10
Edmond Hamilton's 1942 Outlaws of the Moon is the tenth volume in the Captain Future series.
Curt "Captain Future" Newton, android Otho, robot Grag, and living-brain-in-a-box Simon "The Brain" Wright ventured into deepest space in quest of a secret that could save dying Mercury. For fear of raising false hopes, Newton kept the mission secret. Enough time has elapsed since anyone has seen Newton and his Futuremen1 that the Solar System has concluded that Newton and his chums must be dead.
On the plus side, this means that the secrets of Newton's hidden lunar laboratory are open to anyone who can find it. Corrupt scientist Wissler is certain he knows how to do so. The Moon is notoriously deficient in useful minerals, including radium. All Wissler needs to do is look for concentrations of radium. Radium in sufficient amounts to show up on a detector must be Captain Future's private radium stock.
Well, no. Wissler does find radium but not where he expects to find it. Captain Future, it seems, lied about the Moon's mineral resources.
[spoiler warning]
---
Because My Tears Are Delicious To You
The City Under Ground — Suzanne Martel
Suzanne Martel's 1963 The City Under Ground is the Anglophone version of Quatre Montréalais en l'an 3000, also published as Surréal 3000.
The underground city of Surréal1 was founded by survivors of the Great Destruction, survivors who had escaped the disaster by taking refuge in a geothermally powered facility under Montreal's Mount Royal. As far as the founders knew they were the only humans left on Earth. By the year 3000, no visitor from outside Surréal has appeared to contradict this belief. Indeed, so convinced are the inhabitants that the surface of Earth is still uninhabitable that nobody has checked conditions outside for centuries.
A small earthquake changes everything.

---
Because My Tears Are Delicious To You
Hour of the Horde — Gordon R. Dickson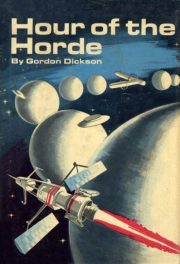 1969's Hour of the Horde is a standalone science fiction novel by Gordon R. Dickson.
Polio cost Miles Vander the use of an arm but did not dent his determination. He insists on recreating himself as an artist. So far, his efforts have come to naught. His doting girlfriend suspects that his surly isolation is to blame. Miles disagrees.
The looming alien invasion may make these differences of opinion moot.
---
Because My Tears Are Delicious To You
Topper — Thorne Smith
Topper, book 1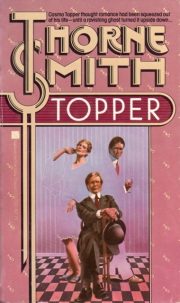 Thorne Smith's 1926 supernatural farce Topper is the first (and best) of two Topper novels.
Many would say that middle-aged Cosmo Topper has a perfect life. Marriage, job, life in the suburbs, pet cat: Cosmo has it all. If he were not far too repressed to be honest, Cosmo would explain that he feels crushed under the weighty bricks of conformity. Even the simple pleasures he might otherwise enjoy are robbed of their joy by the context in which he experiences them.
Cosmo does what so many middle-aged men have done in his position: he buys a flashy car. The car used to belong to George and Marion Kerby, who lived the scandalous life Cosmo might have lived had he not feared the disapproval of society and his long-suffering wife. Cosmo can at least have their car, rebuilt after the wreck that ended the Kerbys' lives.
To Cosmo's tremendous surprises, he gets the Kerbys as well. Or at least their ghosts.

---
Because My Tears Are Delicious To You
Blast Off at Woomera — Hugh Walters
Chris Godfrey of U.N.E.X.A, book 1
This week's Tears review is of an old classic I never planned to review because I never expected to find a copy. When I stumbled across one, how could I resist?
1957's Blast Off at Woomera (also known as Blast Off at 0300) is the first novel in Hugh Walter's Chris Godfrey of U.N.E.X.A.1 juvenile SF series.
A chance encounter between seventeen-year-old Chris Godfrey and Sir George Benson convinces Sir George that the college hopeful has just the qualifications required for a joint British-Australian space program.
Chris is bright, educated, and interested in rockets. Of greatest importance, Chris is only four foot, ten inches tall.
[spoiler alert]
---
Because My Tears Are Delicious To You
Thrice Upon a Time — James P. Hogan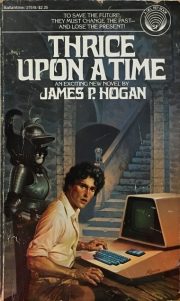 James P. Hogan's 1980 Thrice Upon a Time is a standalone time travel novel. Of a sort.
American-born Murdock is summoned to the ancestral castle in Scotland by his grandfather Sir Charles. Sir Charles wishes to demonstrate a scientific breakthrough: discovery of radiation that propagates back through time. What's more, he has devised a means to use this tau radiation to send messages as well.
How prudent that might be depends on which model of time is correct.
(spoilers for a 37-year-old book that seems to have been out of print for over a decade)
---
Because My Tears Are Delicious To You
The Luck of Brin's Five — Cherry Wilder
Torin, book 1
1977's The Luck of Brin's Five is the first volume in Cherry Wilder's hard-SF Torin trilogy.
Hard times have come to the family of weavers known as Brin's Five. Death by starvation is a distinct possibility. Salvation comes in the form of a flaming object that crashes down into a nearby lake. Or rather, it comes in the form of the alien from deepest space who escapes from the plummeting space-plane.

---
Because My Tears Are Delicious To You
DragonQuest — Eric Goldberg, Gerard C. Klug, David James Ritchie, Edward J. Woods, Redmond A. Simonsen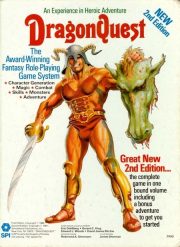 Simulation Publications, Inc.'s 1980 roleplaying game DragonQuest (DQ for short) is the third game in the trifecta of RPGs on which I imprinted some thirty-eight years ago. Principle designers were Eric Goldberg, Gerard C. Klug, David James Ritchie, Edward J. Woods, and Redmond A. Simonsen.
Nota bene: I am cheating a bit because I've long since lost my original box with its three stapled booklets. Instead I wrote this review based on my second edition hardcover, which I acquired after I turned twenty.
My other RPG faves were Runequest and Traveller. DragonQuest was a fantasy RPG, as was Runequest. Traveller was SF. But RQ and Traveller were alike in that they both had extensively developed campaign settings1. DQ, on the other hand, assumed a bog-standard medieval fantasy Europe but failed to flesh it out. This is because DQ was published by a company that was doomed. Doomed, I tell you, doomed.

---
Because My Tears Are Delicious To You
Floating Worlds — Cecelia Holland
Cecilia Holland's 1976 Floating Worlds is a standalone SF novel.
Thousands of years in the future, Earth is a polluted wasteland where to venture outside unprotected is to commit suicide. This is a lamentable state of affairs but not one that the anarchists running Earth, for very loose values of running, seem interested in fixing … or able to fix. The Moon, Mars, Venus, the Asteroids, and the Outer Planets, however, are all home to thriving human communities. All of which seem to be managing their affairs, and their environments, more successfully than is Earth.
Paula Mendoza is a doctrinaire anarchist, the last person one would expect to get drawn into government work. She has a rare skill, however, one that is of unique value to Earth's Committee for the Revolution. Paula is multilingual.

---
Because My Tears Are Delicious To You
Virgin Planet — Poul Anderson

1959's Virgin Planet is a novel-length expansion of Poul Anderson's 1957 novella of the same name. It takes place in Anderson's Psychotechnic League, a future history he developed from the 1940s to the late 1950s (it is in fact very nearly the final work in that setting.).
Davis Bertram, the young, proud owner of a splendid starship, is determined to make a name for himself. He sets out on a voyage of exploration to the Delta Capitis Lupi system. The system has only recently emerged from a fifty light-year-wide trepidation vortex; the system may or may not be home to an Earth-like world. What is certain is that Davis will be the first man to visit the system.
But not, as he discovers, the first human.

---
Because My Tears Are Delicious To You
Scream Blacula Scream — Bob Kelljan
Blacula, book 2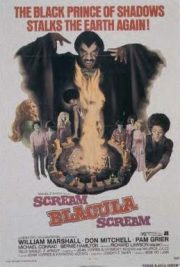 1973's Scream Blacula Scream is a sequel to 1972's cult-classic Blaxploitation horror film Blacula.
Outraged that his voodoo-queen mother has selected talented and powerful Lisa Fortier (played by Pam Grier) as her successor, Willis (Richard Lawson) seeks out a disgraced voodoo master, from whom he purchases the bones of the late Prince Mamuwalde (William H. Marshall). Armed with a modicum of magic, Willis plans to resurrect the vampire and then compel Mamuwalde to take vengeance on Lisa.
Mamuwalde's first act is to drain Willis dry.

---
Because My Tears Are Delicious To You
Black No More: Being an Account of the Strange and Wonderful Workings of Science in the Land of the Free, AD 1933–1940 — George S. Schuyler
George S. Schuyler's 1931 Black No More: Being an Account of the Strange and Wonderful Workings of Science in the Land of the Free, AD 1933–1940 is a satire.
Where other inventors have offered temporary hair straightening and skin-lightening methods, Dr. Crookman provides a service that is both thorough and permanent: any American Negro with fifty dollars can walk into one of Crookman's sanatoria and emerge indistinguishable from the white majority.
The consequences are not long delayed.

---
Because My Tears Are Delicious To You
The Count of Monte Cristo — Alexandre Dumas
1844's The Count of Monte Cristo is a standalone novel of revenge written by Alexandre Dumas. While it is not my usual SF, it has certainly influenced SF. As well, there were (to my surprise) not one but two SFnal moments in the book.
Young Edmond Dantès has it all, from a solid career to a loving fiancée. Alas for Dantès, success engenders jealousy. In short order he is framed for Bonapartist subversion and secretly consigned to life imprisonment in the forbidding Château d'If. His friends and loved ones will never know why he vanished.
At least, that's the plan.

---
Because My Tears Are Delicious To You
Babel-17 — Samuel R. Delany
1966's Babel-17 is an SF novel by Samuel R. Delany. Not his first (he had already published a number of Ace Doubles and one standalone), but the one that made his name. It shared the Nebula with Flowers for Algernon and was nominated for the Hugo as well, losing to The Moon is a Harsh Mistress. It shares some elements of its setting with an earlier Delany novel, Empire Star.
Victory over the Invaders may depend on understanding a series of indecipherable messages broadcast in an odd code? cipher? language? that the authorities label Babel-17. The Alliance turns to noted linguist Rydra Wong. "Tell us what this is and tell us what it means!"

---
Because My Tears Are Delicious To You
Winds of Gath — E. C. Tubb
Dumarest Saga, book 1
1967's The Winds of Gath is the first novel of thirty-three in E. C. Tubb's Dumarest Saga.
The life of an itinerant stellar traveler is hard and dangerous. Earl Dumarest accepts the hazards; traveling is his only hope of finding his lost homeworld, Earth. He does try to minimize risk with due diligence and planning. His latest trip, for example, involves the usual 15% chance he won't wake from cold sleep (or Low, as it is called in the argot of the starfarer) but if he does wake up, it will be on Broome. He should easily find employment there.
The best-laid plans, etc. Gloria, the Matriarch of Kund, hires the starship on which he was traveling, already in cold sleep. He cannot object when the ship is diverted to the planet Gath. Dumarest's contract with the ship specified that he was to debark at the next world it touched. Was Broome, now Gath.
Gath has no economy to speak off. No jobs. But unless Dumarest can somehow accumulate enough cash for a trip out, he is trapped on the planet.

---
Because My Tears Are Delicious To You