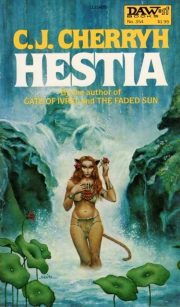 C. J. Cherryh's 1979 Hestia is a standalone science fiction novel.
The colonists who settled Hestia were warned that the valley on which they had set their hopes was not suitable. The settlers ignored the warnings and founded a community in the valley. In the century since settlement, the community has endured disaster after disaster. Each year the community is worse off.
The colonists now believe that they have a solution: a dam to control the river. Only problem: they lack dam-building know-how. That's where Sam Merritt, our protagonist, enters the narrative.
---
Because My Tears Are Delicious To You
A House in Space — Henry S. F. Cooper, Jr.
Henry S. F. Cooper, Jr's 1976 A House in Space is a short account of Skylab, America's first manned space station.
---
Because My Tears Are Delicious To You
The Stars My Destination — Alfred Bester
Alfred Bester's 1956 The Stars My Destination is a standalone tale of REVENGE! And a change of heart.
Psychic teleportation transformed society. The economic effects triggered war between the Inner Planets and the Outer Satellites.
Gulliver Foyle survived the destruction of the interplanetary space craft Nomad only to spend six months trapped on the hulk. When finally another ship, the Vorga, came within rescue range, Foyle was quick to fire off distress signals. Inexplicably, the Vorga ignored the flares and continued on its way.
Until this moment, Foyle had been an entirely unremarkable prole, uneducated, unmotivated, and destined to live and die in obscurity. Vorga's act gave Foyle the motivation he had previously lacked. Now he has goals: survive and make the crew of Vorga pay for leaving him in deep space.
---
Because My Tears Are Delicious To You
Trouble on Titan — Alan E. Nourse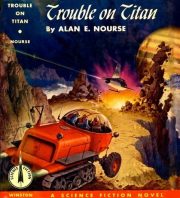 1954's Trouble on Titan was Alan E. Nourse's debut novel1. It is standalone juvenile SF. It has recently been reprinted and issued in e-book form by Prologue Books.
Tuck Benedict is disappointed to learn that his hoped-for reunion with his father must be postponed. Colonel Benedict has spent years troubleshooting on Mars and Venus for the Security Commission. His leave has been cancelled. He's been dispatched to Titan, home to unruly rubidium miners.
The colonel invites Tuck to join him on his mission to Titan, but Tuck fears delay in reporting to college could cost him his scholarship. Then … luck puts Tuck in a position to save his father from a mail bomb. Afraid that the assassin might succeed if Tuck is not there to protect his father, Tuck changes his mind. School must wait until Tuck returns from the mining colony.

---
Because My Tears Are Delicious To You
Destinies, November–December 1978 — Jim Baen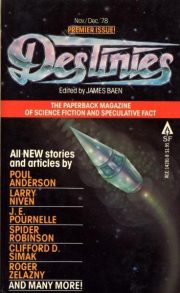 Destinies, November–December 1978 was the debut issue of Jim Baen's bookazine Destinies. Destinies ran from late 1978 to summer of 1981. There were eleven issues, each the size of a mass market paperback; there was a Best-of anthology as well1. Back in the day, I was an avid magazine reader and this was one of my favourite magazines.
Odd that until I reread this volume I did not remember it at all.
---
Because My Tears Are Delicious To You
Enchantress From the Stars — Sylvia Engdahl
Elana, book 1
Sylvia Engdahl's 1970 Enchantress From the Stars is the first of the two Elana novels, also the first of five Anthropology Service novels.
The Federation is vast and powerful; it is also a good neighbor. It is not inclined to try to fix other cultures (Special Circumstances, cough cough). The Federation takes non-interference seriously enough that its very existence is a secret from less developed star-faring powers. Protecting pre-industrial worlds like Andrecia from imperialists (like the Empire) would therefore seem to be impossible.
Seem.
---
Because My Tears Are Delicious To You
Operation Columbus — Hugh Walters
Chris Godfrey of U.N.E.X.A. series, book 3
1960's Operation Columbus (AKA First on the Moon) is the third volume in the Hugh Walters series ' Chris Godfrey of U.N.E.X.A.
The mysterious Domes of Pico have been smashed with atomic weapons, ending the immediate threat to the Earth. The next obvious step is to send a manned mission to the Moon to examine the remains and, it is hoped, determine what sort of being built the Domes.
The end of the lunar threat brought with it the end of human unity. Instead of cooperating on the mission, the West and the Soviets are in a race to the Moon. Chris Godfrey hopes to be the West's man on the moon. Who his Soviet rival be? Nobody in the West can say.

---
Because My Tears Are Delicious To You
After Doomsday — Poul Anderson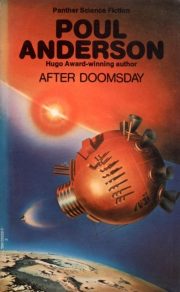 Poul Anderson's 1962 After Doomsday is a standalone science fiction novel.
Twenty years after first contact with galactic civilization, humanity has assimilated much off-world technology. The Americans send a mission of exploration, the USS Benjamin Franklin, to the core of the galaxy and back. The Franklin returns to an Earth scoured clean of life, orbited by alien missiles.
At least three hundred humans have survived the apocalypse: the three hundred on board the Franklin. Thanks to American views on staffing potentially dangerous missions, all three hundred are men.

---
Because My Tears Are Delicious To You
The Long ARM of Gil Hamilton — Larry Niven
Larry Niven's 1976 The Long ARM of Gil Hamilton collects the three then-extant Gil Hamilton stories1. All three are police procedurals and all three feature Gil Hamilton, a retired asteroid miner turned Amalgamated Regional Militia [ARM] officer.

---
Because My Tears Are Delicious To You
The Fog Maiden — Jane Toombs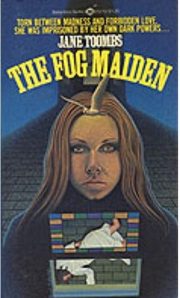 Jane Toombs' 1976 The Fog Maiden is a standalone fantasy novel. If it were published today, I suspect it would be classified as urban fantasy/paranormal romance.

After the death of her father, Janella Maki was raised by her well-meaning but distant stepmother. Janella has no memories of her early past and knows even less about her biological parents. It's a surprise when an uncle shows up to renew family ties.

---
Because My Tears Are Delicious To You
World's Fair 1992 — Robert Silverberg
Regan, book 2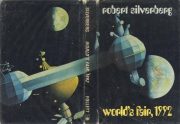 1970's World's Fair 1992 is the second in Robert Silverberg's Regan series.
Would-be xenologist Bill Hasting's essay on the possibility of life on distant Pluto was far-out stuff, but intriguing enough to win the teen a year's stay on the 1992 World's Fair Satellite. It's not a vacation: he will have to work. Still, he's enjoying a trip that others must pay $$$ to experience.
Life on the station is less exotic than one might expect.
---
Because My Tears Are Delicious To You
The Day of the Triffids — John Wyndham
Although 1951's The Day of the Triffids was not John Wyndham Parkes Lucas Beynon Harris' first novel, it was the first that he published under the name John Wyndham. It established him as the master of the Cozy Catastrophe.
His eyes bandaged thanks to an injury, Bill Masen cannot see the wondrous meteor shower that lights up Earth's sky. As a consequence, he is spared the side-effect that manifests the following day: total blindness. As most of the human population had ooh'd and ah'd at the sight, most of them are blind.
It gets worse.

---
Because My Tears Are Delicious To You
The Ship Who Sang — Anne McCaffrey
Brainships, book 1
Anne McCaffrey's 1969's The Ship Who Sang is a fix-up of SF stories published 1961–1969.
Hideously disfigured Helva might have been humanely euthanized, as was routinely done to those outside the norm for her time and place. But she had a brain worth salvaging. Helva survived the conversion process and was reborn as … the brain of interstellar ship XH 834.
---
Because My Tears Are Delicious To You
The Dragon — Jane Gaskell
Atlan, book 2
The Dragon is the second half of the original 1963 hardcover edition of Jane Gaskell's The Serpent, which in turn is the first part of the Atlan series. Publishers, am I right? Let's call it book two of the Atlan series and move on.
Thanks to the tumultuous events towards the end of the previous instalment, Cija is on the run. She manages to hide in plain sight, as her friend Smahil's lover. Smahil insists on making this pretense real. It's probably for the best that Cija does not know that Smahil is her half-brother.

---
Because My Tears Are Delicious To You
Shakespeare's Planet — Clifford D. Simak
Clifford D. Simak's 1976 Shakespeare's Planet is a standalone SF novel.
Carter Horton wakes from hibernation to the news that his starship's long voyage in search of an Earthlike world has finally succeeded. Unfortunately, this quest took a thousand years in the ship's frame of reference and even more in Earth's frame of reference. All of his human companions died in a mishap centuries ago. His only remaining companions are his Ship's mind and an obsequious robot named Nicodemus.
Oh, and Ship refuses to head back to Earth on the grounds that enough time has passed to make their quest utterly pointless.

---
Because My Tears Are Delicious To You
A Princess of Mars — Edgar Rice Burroughs
Barsoom, book 1
1912's A Princess of Mars is the first book in Edgar Rice Burroughs' interminable Barsoom series.
Having fought on the losing side of the Slavers' Uprising, Captain John Carter heads west to see what he can steal from North America's indigenous population. Cornered by a Native American warband, death seems inevitable … but as is the way of portal series, Carter finds himself transported to an entirely unfamiliar world.
Carter is on dying Mars, or as its inhabitants call it, Barsoom.

---
Because My Tears Are Delicious To You
Panic in the Year Zero! — Ray Milland
Ray Milland's 1962's Panic in Year Zero! is a film about surviving an atomic war. John Morton and Jay Simms' script was based (without credit) on Ward Moore's "Lot" (1953) and "Lot's Daughter" (1954).
Los Angelinos Harry Baldwin (Ray Milland), wife Ann Baldwin (Jean Hagen), son Rick Baldwin (Frankie Avalon), and daughter Karen Baldwin (Mary Mitchell) set out early one morning for a camping trip at rustic Shibes Meadow, a trip for which Harry seems the main enthusiast. Their timing proves fortunate. Soon after they reach country roads, mysterious bright flashes signal the end of the Baldwin's comfortable middle-class life.
The mushroom clouds growing over Los Angeles confirm what the bright flashes suggested. America's enemies have struck with atomic force on Los Angeles. Although Ann's mother may still be alive in flaming LA, Harry soon gives up any hope of rescuing the superfluous old lady (played by nobody, as she never appears on screen). Instead, he focuses on saving his family from the chaos to come.

---
Because My Tears Are Delicious To You
The Serpent — Jane Gaskell
Atlan, book 1
1963's The Serpent is the first volume in Jane Gaskell's Atlan series.
Long, long ago, before Atlan and Mu sank, when humanity still lived alongside the brontosaurus, Cija was raised in an isolated palace by servants of her Dictatress mother. Now seventeen, Cija chafes at the restrictions under which she must live.
The Dictatress descends upon the palace and Cija's life changes in an instant.

---
Because My Tears Are Delicious To You
Riding the Torch — Norman Spinrad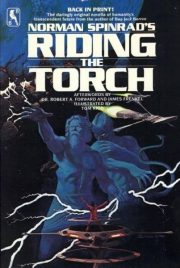 Norman Spinrad's 1974 Riding the Torch is a standalone science fiction novella.
Mistakes were made. Earth is a lifeless cinder. Before the planet was seared, a small fleet of interstellar ships managed to escape. Surely somewhere in the sky, there must be a second Earth.
A thousand years later, the torchships are still looking. On and on they travel, harvesting the materials they need to survive and prosper from the interstellar void.

---
Because My Tears Are Delicious To You
The City of the Sun — Brian M. Stableford
Daedalus Mission, book 4
1978's The City of the Sun is the fourth novel in Brian M. Stableford's Daedalus Mission series.
Earth's first expedition to recontact its abandoned colonies found only empty worlds, worlds where colonists had been overwhelmed by local conditions. The Daedalus Mission is the second expedition, sent out to assist colonies when possible and to determine the reason for the colony's demise if defunct. Thus far the crew of the Daedalus (Nathan, Linda, Conrad, Karen, Pete, Mariel and Alex) have found two surviving (if odd) colonies and one world where humans were horribly transformed by unforeseen local conditions.
As far as they can tell from orbit, Arcadia seems to have failed utterly. Then the expedition spots one lone city.

Here there be spoilers

---
Because My Tears Are Delicious To You
The War in the Air — H. G. Wells
H. G. Wells' 1908's The War in the Air is a standalone near-future (from the perspective of 1908) military thriller.
The inevitable march of progress has transformed bucolic Bun Hill into a thriving London suburb. Greengrocer Tom Smallways views this change (and change in general) with the deepest suspicion. His brother Bert, on the other hand, is eager to embrace change, particularly of the sort that involves Bert becoming wealthy.
Middling bright and uninhibited by any particular sense of ethics, Bert has thus far been denied the riches to which he is so clearly entitled, riches that would enable him to marry the charming Edna. When fate drops into Bert's lap the chance to make a fortune by selling stolen military information to the Germans, patriotism inhibits Bert not at all.

---
Because My Tears Are Delicious To You
The Man of Bronze — Lester Dent
Doc Savage, book 1
Lester Dent's 1933 The Man of Bronze is the first volume in the Doc Savage series. It was published under the house name Kenneth Robeson and was followed by 180 further adventures (penned mostly by Dent) until the title was cancelled in 1949. There have been further sequels and adaptations, as detailed here.
Trained from birth to be a paragon of human achievement, Clark "Doc" Savage is the Man of Bronze: a gigantic, extraordinarily talented genius who is monumentally wealthy as well. He uses his abilities to better the world.
Clark "Doc" Savage returns from a sojourn in his arctic Fortress of Solitude to face a tragedy. In his absence, his father, Clark Savage senior, has died of a mysterious illness. No sooner does Doc convene with his five chums on the 86th floor of a skyscraper to discuss the matter than a mysterious red-fingered sniper tries to murder Doc. Something is up!
---
Because My Tears Are Delicious To You
Earthwreck! — Thomas N. Scortia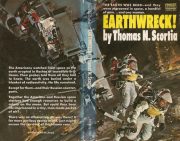 Thomas N. Scortia's 1974 Earthwreck! is a standalone near-future SF novel.
Captain Quintus Longo leaves his wife and children for what he believes will be a routine tour of duty on the American space station1. Thanks to a bold gambit by Japanese and Palestinian terrorists, it is the last time Longo sees his family alive.
The first hint the world gets that terrorists have seized control of the Arab Republic nuclear weapons comes in the form of three kiloton-range nuclear explosions in Tel Aviv. The Israelis respond with a megaton-range strike on the Aswan Dam. Millions die in Israel and Egypt; tragic but not world-ending. Russia and China back opposing sides in the conflict, but the Soviet-Chinese clash that follows isn't necessarily the apocalypse, since both sides initially limit themselves to battlefield nukes. The United States issues an ultimatum to China and Russia: negotiate or face American fury. Rather than forcing the Russians and Chinese to stand down, the result is a full scale global thermonuclear war.

---
Because My Tears Are Delicious To You
Passenger to Frankfurt — Agatha Christie

Agatha Christie's 1970 Passenger to Frankfurt is a standalone thriller and dystopian novel.
Sir Stafford Nye's diplomatic career is less due to any aptitude for the job and more because in the gently declining post-Empire world, no better candidate presented themself for the job. On his way back from another fairly pointless summit in Malaya, Nye's one noteworthy characteristic catches the eye of a desperate spy.
His bold fashion sense.
Spoilers follow.
---
Because My Tears Are Delicious To You
The Day After Tomorrow — Robert A. Heinlein

The Day After Tomorrow is an alternate title for Robert A. Heinlein's mercifully standalone Yellow Peril novel, Sixth Column.
Fifty years after the Noninterference Act ended contact between America and PanAsia, PanAsia launches a sudden and overwhelming attack on the US. Armed with superior military intelligence and impressive weapons, the PanAsians crush the Americans. Having won the war, the PanAsians move onto the next phase of their plan: reducing white Americans to slaves in a land they once called their own.
All is not lost. The Citadel remains, an advanced military research facility overlooked by the PanAsians. It is America's last hope.
If only most of the personnel were not dead.

---
Because My Tears Are Delicious To You