The Guardian of Isis — Monica Hughes
Isis, book 2
1981's The Guardian of Isis is the second volume in Monica Hughes' Isis trilogy.
Fifty-five years after Pegasus II delivered eighty-odd colonists to Isis, sole habitable world of the star Ra, the human numbers have swelled to about eight hundred. Only a few of the original colonists are still alive. David London is one of those few. When his father died, David grabbed the office of president for himself. He has never stepped down. David has spent his long decades in power enforcing his vision of the perfect community: advanced technology forbidden, strict taboos imposed, women reduced to the status of domestic animals. Above all: no exploration of the world outside their small valley.
Jody n'Komo, one of those eight hundred colonists, is the grandson of one of David's bitter (vanquished) rivals; he has the misfortune to look like his grandfather. David has transferred all the hate he felt for the grandfather to the grandson. Sooner or later, he will find some crime for which to punish young Jody.
Spoilers.

---
Because My Tears Are Delicious To You
Cycle of Fire — Hal Clement
1957's Cycle of Fire is a young-adult novel by Hal Clement.
Marooned in a vast lava field by a glider crash, Dar Lang Ahn undertakes to march out on foot. It's only after he has set out that he realizes that the march will be much harder than he expected. He and his precious cargo of books might be lost forever.
An unexpected encounter saves Dar's life and his books. Immediate consequences: benign. Long-term consequences: wrenching transformation for Dar's people, the natives of the world Abyormen.

---
Because My Tears Are Delicious To You
Exiles to Glory — Jerry Pournelle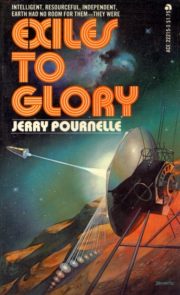 Jerry Pournelle's 1978 Exiles to Glory is a young-adult SF novel. It is set in the same universe as the Laurie Jo Hansen stories (after "Consort" but well before "Tinker").
Although born a welfare parasite, Kevin Senecal has resisted the call of drugs and welfare-state-subsidized indolence. His engineering degree is within grasp. With degree in hand, he can stride into the life of desperation that is every decent, clean American's birthright. That is, if he can convince the Umbridge-like bureaucrats who rule the university to let him graduate.
His academic status becomes… academic when Kevin is ambushed by filthy welfare barbarians determined to burn him alive. Kevin escapes with his life, badly injuring one gang member and killing another in the process. Now the gang is determined to kill Kevin. They do kill both of his cats.
A cop warns Kevin off; it's no use to appeal to the police. Kevin would only be charged and convicted of assaulting and killing minors. Too white and hard-working to expect a fair trial, Kevin takes the only other option open to him: he heads into space.

---
Because My Tears Are Delicious To You
The Other Side of the Sky — Arthur C. Clarke
1958's The Other Side of the Sky1 is a collection by Arthur C. Clarke. The Signet MMPB is only 160 pages long, but there are two dozen stories in this book. Most are rather short.

---
Because My Tears Are Delicious To You
The Flight of the Horse — Larry Niven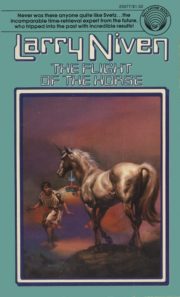 1973's The Flight of the Horse is a collection of Larry Niven stories. It is almost but not quite a collection of stories about hapless time-traveller Svetz, whose career is blighted by the fact that Niven thinks time travel, unlike FTL drives and telepathy, is ludicrous.

---
Because My Tears Are Delicious To You
Four-Day Planet — H. Beam Piper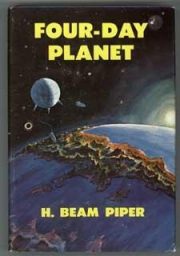 1961's Four-Day Planet is a standalone young-adult novel set in the Federation period of H. Beam Piper's Terra-Human future history.
Teen journalist Walt has lived his whole life on Fenris. He's one of the ten thousand people who call that odd world home. They are isolated and poor; they languish under a corrupt government. Life can only get worse … or so it seems.

---
Because My Tears Are Delicious To You
House of Stairs — William Sleator
1974's House of Stairs is a standalone young adult novel by William Sleator.
In a not-too-distant future, five children — timid Peter, unruly Lola, confident Oliver, accommodating Abigail, and cunning Blossom — are consigned by the authorities to the House of Stairs. Although they have very different backgrounds and personalities, all five of them share one characteristic: they are all wards of the state.
Make that two things: Nobody will ever miss any of them.

---
Because My Tears Are Delicious To You
Gateway — Frederik Pohl
Heechee, book 1
1977's Gateway is the first novel in Frederik Pohl's Heechee series.
Robinette Broadhead has wealth and status, so why is he so miserable? The answer lies in the past, in the source of Broadhead's money: the alien starport humans call Gateway.

---
Because My Tears Are Delicious To You
Five Against Venus — Philip Latham
Winston Science Fiction, book 3
Philip Latham's 1952 Five Against Venus was the third novel published in Winston's SF line.
Although a member of his high school's Space Club, sixteen-year-old Bruce Robinson has never been to space himself. His father, Mr. Robinson, is cheerful, endlessly optimistic, and consistently unsuccessful. His family lives in genteel poverty on Pico street. An expensive trip to the Moon … not gonna happen.
This changes when Mr. Robinson is hired as Tycho City's new public relations manager. Tycho City as in Tycho Crater as in ON THE MOON. The family will become comparatively well-to-do and they will get to live on the Moon!
That's the plan, anyway. The reality is different.
(spoilers)
---
Because My Tears Are Delicious To You
Armageddon—2419 A.D. — Philip Francis Nowlan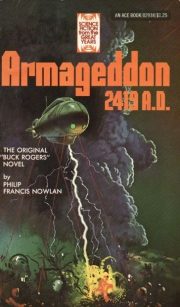 Philip Francis Nowlan's Armageddon — 2419 A.D. was first published in 1928. In 1929, it was followed by a sequel, The Airlords of Han. This background was reworked for the comic strip "Buck Rogers," which has been adopted into radio, movies, television and roleplaying games. The edition I first read (the cover featured here) was the combined edition Ace created in the 1960s. Since I no longer own that, I've resorted to reading the Project Gutenberg editions.
Anthony Rogers was just another radioactive-gas entrepreneur when a surveying foray into a promising mine ended in tragedy. Trapped by the tunnel collapse that killed his companions, Rogers was overcome by the very radioactive gases he hoped to mine. Death seemed certain.
Four hundred years later, Rogers wakes to find America transformed.

---
Because My Tears Are Delicious To You
One in Three Hundred — J. T. McIntosh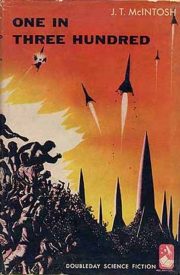 1953's One in Three Hundred is the first installment of a J. T. McIntosh trilogy (also called One in Three Hundred).
Nobody on Earth needs to worry about anything bad that might happen after September 18th, because on that date (as predicted by scientists) the Sun is going to become brighter. Not a lot, but enough to boil the Earth's oceans and kill every living thing on the planet.
Humanity does not intend to give up and accept inevitable death.
---
Because My Tears Are Delicious To You
The Bladerunner — Alan E. Nourse
Alan E. Nourse's 1974 The Bladerunner is a standalone near-future medical SF novel. It is not the novel on which the 1982 Ridley Scott film Blade Runner is based. It is the novel on which the title of the film Blade Runner is based. More on that later.
In this novel's 1994, America faced the perfect storm of population pressure, an aging population, soaring universal health care costs, and studies blaming the increased incidence of antibiotic-resistant diseases and the spread of genetic disorders like diabetes on modern medicine itself. Following the Health Riots the United States hastily adopted the Heinz-Lafferty Eugenics Control program.
Medical treatment is still available to all, but any individual who requires health care services for any reason is sterilized. Children under five are exempt, save for children who have known hereditary disease; the latter are routinely sterilized or euthanized.
Unsurprisingly, a considerable fraction of Americans want medical treatment without mandatory sterilization. Many physicians do not agree that the Heinz-Lafferty program is good public policy. The resistant Americans have provided demand, The resistant physicians have provided supply. The twenty years since the Riots have seen a black market in medical care firmly establish itself in the US. Such a vast black market needs its middlemen and that's where Billy Gimp comes in.

---
Because My Tears Are Delicious To You
The Rains of Eridan — H. M. Hoover
1977's The Rains of Eridan is a standalone young-adult hard SF novel by H. M. Hoover.
The Aurora Corporation thought the life-bearing world Eridan promising enough that it funded three bases:
Base One, the administration and living colony research centre;

Base Two, the agricultural research base;

Base Three, the science base.
The bases are separated by hundreds of kilometres, far enough that even if one base were to fall to calamity, the other two would be spared. It seems that the spread was not great enough; bizarre collective madness has attacked all three bases.
Theodora "Theo" Leslie, who has spent the last month out in the field gathering data on the Eridan lifeforms, has no idea how bad matters have become. Not until she witnesses a double murder.

---
Because My Tears Are Delicious To You
Study War No More — Joe Haldeman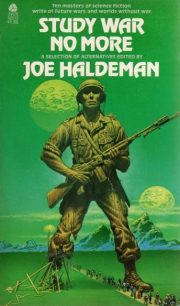 1977's Study War No More was edited by Joe Haldeman. It is what might be termed an anti-Military SF anthology, one that asks contributors "if not war, then what else?"

---
Because My Tears Are Delicious To You
Spartan Planet — A. Bertram Chandler
John Grimes, book 5
1968's Spartan Planet is the fifth book in A. Bertram Chandler's John Grimes series.
Policeman Brasidus and his fellow Spartans are quite familiar with human history. Men originated on Sparta. Like all the other animals on Sparta, men reproduce by budding, although medical technology has freed men from this unpleasant method of reproduction. Sparta's society has been strictly regimented since the earliest days, because that's the best way of doing things.
Although Sparta has very little use for advanced technology (which would only take jobs from the helots), there is a single extra-Spartan colony, Latterhaven. It was settled by rebels who maintain a monopoly on starflight. Not that it really matters, since the entirety of Sparta's annual trade fits into two cargo ships, Latterhaven Hera and Latterhaven Venus. Aside from Sparta and Latterhaven, there are no other inhabited worlds and no races aside from Man.
A lot of what Brasidus and his fellow Spartans know is untrue.
---
Because My Tears Are Delicious To You
Analog Science Fiction/Science Fact, June 1977 — Ben Bova
I have excoriated Ben Bova's fiction in the past, but I have nothing but admiration for his work as editor for Analog. While Disco-Era Analog might seem a bit stodgy to modern eyes, at the time Bova was a breath of fresh air. Rather than settle for being a second-rate Campbell, he did his best to be a first-rate Bova. He recruited new authors, many of whom differed (excitingly) from Analog's Old Guard. He also bought more stories by women than did his predecessor1. While some old guard objected to Bova's direction, enough readers enjoyed it to give him a remarkable six Best Editor Hugo Awards, as well as one nomination for the same category.
It seems unlikely Campbell would have had a Special Women's Issue. Bova did: Analog, June 1977.

---
Because My Tears Are Delicious To You
Galaxy Magazine, April 1977 —
When I first encountered Galaxy Magazine (I had picked up the April 1977 issue on a whim1) it was only three years away from its final issue2. Of course I had no idea that it was doomed, nor that the issue I selected was the product of something of a renaissance for the magazine, thanks to editor Jim Baen. That first encounter was satisfying enough that I bought newsstand copies until the demise of the magazine made that impossible.
How does the issue stand up two generations later?

---
Because My Tears Are Delicious To You
Star Wars: From the Adventures of Luke Skywalker — Alan Dean Foster & George Lucas
1976's Star Wars: From the Adventures of Luke Skywalker is Alan Dean Foster's (uncredited) novelization of the initial script for George Lucas' Star Wars: A New Hope. (Not called that at the time of first release, as y'all no doubt know.)
Former Senator Palpatine's quest to make the galaxy great again has transformed a troubled republic into a brutal autocracy. Here and there, out-numbered rebels are trying to resist oppression. All very sad, but what does it have to do with farmboy Luke Skywalker, stuck on backward desert world Tatooine?

---
Because My Tears Are Delicious To You
Dancers of Arun — Elizabeth A. Lynn
Chronicles of Tornor, book 2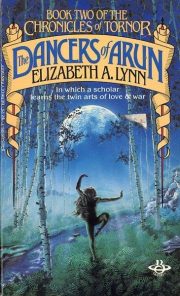 1979's The Dancers of Arun is the second volume in Elizabeth A. Lynn's Chronicles of Tornor.
Morven, Lord of Tornor, was obliged by custom to give his orphaned nephew Kerris a place within his household. Thanks to Kerris' missing right arm, lopped off by a raider when Kerris was a child, that place can never be that of a proper warrior. But the otherwise useless young man does have a talent for letters. The Keep needs its scribes, even if it does not think much of them.
Orphan he may be, but Kerris is not utterly lacking in immediate family members. After years of silence, Kerris' older brother Kel arrives to take Kerris south with him — that is, if that's what Kerris would like. Having little to tie him to rustic Tornor, Kerris chooses to go south.

---
Because My Tears Are Delicious To You
Outlaws of the Moon — Edmond Hamilton
Captain Future, book 10
Edmond Hamilton's 1942 Outlaws of the Moon is the tenth volume in the Captain Future series.
Curt "Captain Future" Newton, android Otho, robot Grag, and living-brain-in-a-box Simon "The Brain" Wright ventured into deepest space in quest of a secret that could save dying Mercury. For fear of raising false hopes, Newton kept the mission secret. Enough time has elapsed since anyone has seen Newton and his Futuremen1 that the Solar System has concluded that Newton and his chums must be dead.
On the plus side, this means that the secrets of Newton's hidden lunar laboratory are open to anyone who can find it. Corrupt scientist Wissler is certain he knows how to do so. The Moon is notoriously deficient in useful minerals, including radium. All Wissler needs to do is look for concentrations of radium. Radium in sufficient amounts to show up on a detector must be Captain Future's private radium stock.
Well, no. Wissler does find radium but not where he expects to find it. Captain Future, it seems, lied about the Moon's mineral resources.
[spoiler warning]
---
Because My Tears Are Delicious To You
The City Under Ground — Suzanne Martel
Suzanne Martel's 1963 The City Under Ground is the Anglophone version of Quatre Montréalais en l'an 3000, also published as Surréal 3000.
The underground city of Surréal1 was founded by survivors of the Great Destruction, survivors who had escaped the disaster by taking refuge in a geothermally powered facility under Montreal's Mount Royal. As far as the founders knew they were the only humans left on Earth. By the year 3000, no visitor from outside Surréal has appeared to contradict this belief. Indeed, so convinced are the inhabitants that the surface of Earth is still uninhabitable that nobody has checked conditions outside for centuries.
A small earthquake changes everything.

---
Because My Tears Are Delicious To You
Hour of the Horde — Gordon R. Dickson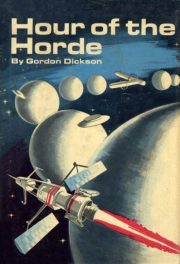 1969's Hour of the Horde is a standalone science fiction novel by Gordon R. Dickson.
Polio cost Miles Vander the use of an arm but did not dent his determination. He insists on recreating himself as an artist. So far, his efforts have come to naught. His doting girlfriend suspects that his surly isolation is to blame. Miles disagrees.
The looming alien invasion may make these differences of opinion moot.
---
Because My Tears Are Delicious To You
Topper — Thorne Smith
Topper, book 1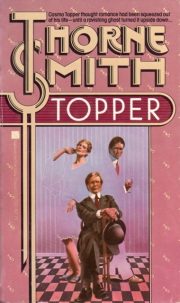 Thorne Smith's 1926 supernatural farce Topper is the first (and best) of two Topper novels.
Many would say that middle-aged Cosmo Topper has a perfect life. Marriage, job, life in the suburbs, pet cat: Cosmo has it all. If he were not far too repressed to be honest, Cosmo would explain that he feels crushed under the weighty bricks of conformity. Even the simple pleasures he might otherwise enjoy are robbed of their joy by the context in which he experiences them.
Cosmo does what so many middle-aged men have done in his position: he buys a flashy car. The car used to belong to George and Marion Kerby, who lived the scandalous life Cosmo might have lived had he not feared the disapproval of society and his long-suffering wife. Cosmo can at least have their car, rebuilt after the wreck that ended the Kerbys' lives.
To Cosmo's tremendous surprises, he gets the Kerbys as well. Or at least their ghosts.

---
Because My Tears Are Delicious To You
Blast Off at Woomera — Hugh Walters
Chris Godfrey of U.N.E.X.A, book 1
This week's Tears review is of an old classic I never planned to review because I never expected to find a copy. When I stumbled across one, how could I resist?
1957's Blast Off at Woomera (also known as Blast Off at 0300) is the first novel in Hugh Walter's Chris Godfrey of U.N.E.X.A.1 juvenile SF series.
A chance encounter between seventeen-year-old Chris Godfrey and Sir George Benson convinces Sir George that the college hopeful has just the qualifications required for a joint British-Australian space program.
Chris is bright, educated, and interested in rockets. Of greatest importance, Chris is only four foot, ten inches tall.
[spoiler alert]
---
Because My Tears Are Delicious To You
Thrice Upon a Time — James P. Hogan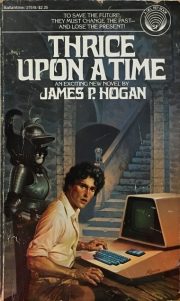 James P. Hogan's 1980 Thrice Upon a Time is a standalone time travel novel. Of a sort.
American-born Murdock is summoned to the ancestral castle in Scotland by his grandfather Sir Charles. Sir Charles wishes to demonstrate a scientific breakthrough: discovery of radiation that propagates back through time. What's more, he has devised a means to use this tau radiation to send messages as well.
How prudent that might be depends on which model of time is correct.
(spoilers for a 37-year-old book that seems to have been out of print for over a decade)
---
Because My Tears Are Delicious To You