DragonQuest — Eric Goldberg, Gerard C. Klug, David James Ritchie, Edward J. Woods, Redmond A. Simonsen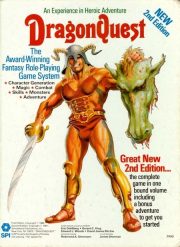 Simulation Publications, Inc.'s 1980 roleplaying game DragonQuest (DQ for short) is the third game in the trifecta of RPGs on which I imprinted some thirty-eight years ago. Principle designers were Eric Goldberg, Gerard C. Klug, David James Ritchie, Edward J. Woods, and Redmond A. Simonsen.
Nota bene: I am cheating a bit because I've long since lost my original box with its three stapled booklets. Instead I wrote this review based on my second edition hardcover, which I acquired after I turned twenty.
My other RPG faves were Runequest and Traveller. DragonQuest was a fantasy RPG, as was Runequest. Traveller was SF. But RQ and Traveller were alike in that they both had extensively developed campaign settings1. DQ, on the other hand, assumed a bog-standard medieval fantasy Europe but failed to flesh it out. This is because DQ was published by a company that was doomed. Doomed, I tell you, doomed.

---
Because My Tears Are Delicious To You
Floating Worlds — Cecelia Holland
Cecilia Holland's 1976 Floating Worlds is a standalone SF novel.
Thousands of years in the future, Earth is a polluted wasteland where to venture outside unprotected is to commit suicide. This is a lamentable state of affairs but not one that the anarchists running Earth, for very loose values of running, seem interested in fixing … or able to fix. The Moon, Mars, Venus, the Asteroids, and the Outer Planets, however, are all home to thriving human communities. All of which seem to be managing their affairs, and their environments, more successfully than is Earth.
Paula Mendoza is a doctrinaire anarchist, the last person one would expect to get drawn into government work. She has a rare skill, however, one that is of unique value to Earth's Committee for the Revolution. Paula is multilingual.

---
Because My Tears Are Delicious To You
Virgin Planet — Poul Anderson

1959's Virgin Planet is a novel-length expansion of Poul Anderson's 1957 novella of the same name. It takes place in Anderson's Psychotechnic League, a future history he developed from the 1940s to the late 1950s (it is in fact very nearly the final work in that setting.).
Davis Bertram, the young, proud owner of a splendid starship, is determined to make a name for himself. He sets out on a voyage of exploration to the Delta Capitis Lupi system. The system has only recently emerged from a fifty light-year-wide trepidation vortex; the system may or may not be home to an Earth-like world. What is certain is that Davis will be the first man to visit the system.
But not, as he discovers, the first human.

---
Because My Tears Are Delicious To You
Scream Blacula Scream — Bob Kelljan
Blacula, book 2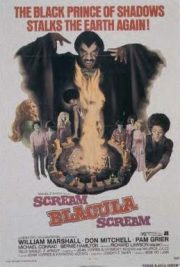 1973's Scream Blacula Scream is a sequel to 1972's cult-classic Blaxploitation horror film Blacula.
Outraged that his voodoo-queen mother has selected talented and powerful Lisa Fortier (played by Pam Grier) as her successor, Willis (Richard Lawson) seeks out a disgraced voodoo master, from whom he purchases the bones of the late Prince Mamuwalde (William H. Marshall). Armed with a modicum of magic, Willis plans to resurrect the vampire and then compel Mamuwalde to take vengeance on Lisa.
Mamuwalde's first act is to drain Willis dry.

---
Because My Tears Are Delicious To You
Black No More: Being an Account of the Strange and Wonderful Workings of Science in the Land of the Free, AD 1933–1940 — George S. Schuyler
George S. Schuyler's 1931 Black No More: Being an Account of the Strange and Wonderful Workings of Science in the Land of the Free, AD 1933–1940 is a satire.
Where other inventors have offered temporary hair straightening and skin-lightening methods, Dr. Crookman provides a service that is both thorough and permanent: any American Negro with fifty dollars can walk into one of Crookman's sanatoria and emerge indistinguishable from the white majority.
The consequences are not long delayed.

---
Because My Tears Are Delicious To You
The Count of Monte Cristo — Alexandre Dumas
1844's The Count of Monte Cristo is a standalone novel of revenge written by Alexandre Dumas. While it is not my usual SF, it has certainly influenced SF. As well, there were (to my surprise) not one but two SFnal moments in the book.
Young Edmond Dantès has it all, from a solid career to a loving fiancée. Alas for Dantès, success engenders jealousy. In short order he is framed for Bonapartist subversion and secretly consigned to life imprisonment in the forbidding Château d'If. His friends and loved ones will never know why he vanished.
At least, that's the plan.

---
Because My Tears Are Delicious To You
Babel-17 — Samuel R. Delany
1966's Babel-17 is an SF novel by Samuel R. Delany. Not his first (he had already published a number of Ace Doubles and one standalone), but the one that made his name. It shared the Nebula with Flowers for Algernon and was nominated for the Hugo as well, losing to The Moon is a Harsh Mistress. It shares some elements of its setting with an earlier Delany novel, Empire Star.
Victory over the Invaders may depend on understanding a series of indecipherable messages broadcast in an odd code? cipher? language? that the authorities label Babel-17. The Alliance turns to noted linguist Rydra Wong. "Tell us what this is and tell us what it means!"

---
Because My Tears Are Delicious To You
Winds of Gath — E. C. Tubb
Dumarest Saga, book 1
1967's The Winds of Gath is the first novel of thirty-three in E. C. Tubb's Dumarest Saga.
The life of an itinerant stellar traveler is hard and dangerous. Earl Dumarest accepts the hazards; traveling is his only hope of finding his lost homeworld, Earth. He does try to minimize risk with due diligence and planning. His latest trip, for example, involves the usual 15% chance he won't wake from cold sleep (or Low, as it is called in the argot of the starfarer) but if he does wake up, it will be on Broome. He should easily find employment there.
The best-laid plans, etc. Gloria, the Matriarch of Kund, hires the starship on which he was traveling, already in cold sleep. He cannot object when the ship is diverted to the planet Gath. Dumarest's contract with the ship specified that he was to debark at the next world it touched. Was Broome, now Gath.
Gath has no economy to speak off. No jobs. But unless Dumarest can somehow accumulate enough cash for a trip out, he is trapped on the planet.

---
Because My Tears Are Delicious To You
Hammer's Slammers — David Drake
1979's Hammer's Slammers was the first collection of David Drake's long-running Hammer's Slammers stories. The Slammers are a mercenary company formed by Alois Hammer.

---
Because My Tears Are Delicious To You
Shadow of a Broken Man — George C. Chesbro
Mongo, book 1
1977's Shadow of a Broken Man is the first volume in George C. Chesbro's long-running Mongo series. The Mongo series lives in the intersection of mundane detective fiction and outright science fiction. Or at least I think it does.
Former circus tumbler turned black belt martial artist turned academic, criminology professor Dr. Robert "Mongo the Magnificent" Fredrickson has a minor side-line as a private detective. His cases are often peculiar, as if people with normal cases don't seek out New York's only dwarf detective. Lookism, I suppose.
His new case seems pretty straightforward: find out how a dead man managed to design a new building.

---
Because My Tears Are Delicious To You
Another Look at Atlantis and Fifteen Other Essays — Willy Ley
Willy Ley's 1969 Another Look at Atlantis and Fifteen Other Essays is a collection of non-fiction pieces. From 1952 to his death in 1969, Ley had a regular science column in Galaxy Magazine, For Your Information. As far as I can tell, none of these essays were drawn from that source.
This was my first exposure to Ley. If I am reading the bibliographic information correctly, it was the final Ley book published while Ley was alive.

---
Because My Tears Are Delicious To You
Joan D. Vinge's 1978 Fireship was her first collection. It collects two novellas, the eponymous Fireship and 1975's Mother and Child.

---
Because My Tears Are Delicious To You
The Man Who Folded Himself — David Gerrold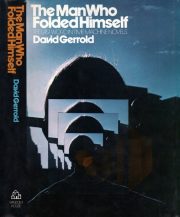 David Gerrold's 1973 The Man Who Folded Himself is a standalone time-travel story.
Assured by his Uncle Jim that he will inherit a vast estate, Daniel Eakins is unpleasantly surprised to discover (after his uncle's demise) that his legacy is not the hundred-million-plus dollars Daniel had expected. What he gets: the far smaller sum of six thousand dollars … and a belt.
It is a particularly fine belt. In fact, closer examination reveals that it is a fully functional time machine.
---
Because My Tears Are Delicious To You
The Witches of Karres — James H. Schmitz
1966's The Witches of Karres is James H. Schmitz's novel-length expansion of his 1949 novelette of the same name. It is a standalone space opera.
Given an aged starship and a cargo of dubious value, naive Captain Pausert headed out into space in search of a fortune and his prospective father-in-law's respect. If he had not also been hobbled by his own essential decency, he might have realized his dreams.

---
Because My Tears Are Delicious To You
Close to Critical — Hal Clement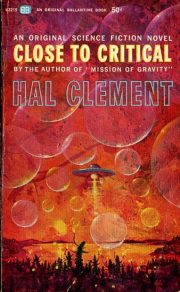 Hal Clement's 1958 young-adult adventure novel Close to Critical is apparently set in the same universe as his far more famous Mission of Gravity, but it can be read as a standalone work.
No human could walk unprotected on Tenebra's surface: if the 8100 kilo-pascal air pressure didn't crush them, the 374o C mixture of dissolved oxygen and sulphur oxides surely would dissolve them. But as hostile as Tenebra might seem to a terrestrial, it's a life-bearing planet. Tenebra doesn't just have life. It has intelligent life and that offers a unique opportunity to researchers up in orbit.
A human-Drommian team has established an orbital observation station circling Tenebra. A telefactored robot serves as their optical receptors and manipulative organs down on the ground.

---
Because My Tears Are Delicious To You
Time Travelers Strictly Cash — Spider Robinson
Callahan's Crosstime Saloon, book 2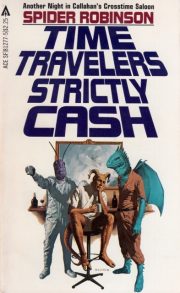 1981's Time Travelers Strictly Cash is Spider Robinson's second Callahan's Crosstime Saloon collection. Sort of. More on that after the break.
Bar stories are a recurring motif in science fiction. See also Tales From the White Hart and the somewhat less classic Tales from Gavagan's Bar, as well as the Draco Tavern sequence. The conceit is simple: people gather to consume alcohol and share stories or experience events not necessarily inhibited by plausibility. It's a variation on the club stories genre, which itself is a riff on the general trope of people telling stories to each other in some plausible setting. Decameron (people tell stories in a villa); Canterbury Tales (people tell stories on pilgrimage); people telling stories by the comfy fireside, or on a dark and stormy night, or around a campfire … Authors have come up with a multitude of settings in which people might be telling stories to each other.
In the case of the Callahan's tales, all of the stories are told by habitual barfly Jake. Everyone at the bar has some traumatic backstory which they are trying to blot out by consuming excessive amounts of a toxic depressant in the company of like-minded friends. Jake, for example, invested years killing brain cells and slowing dissolving his liver in his effort to forget how his efforts at car maintenance killed his wife and child. So far, the Callahan cure does not appear to have worked, but hey, it's drink to excess or take a course in auto mechanics.
Anyone is welcome at Callahan's, from aliens to talking dogs to time travelers1.
As is generally the case with bar stories, these are (supposedly) comic. Some of you may remember that I have a barely discernible sense of humour and may therefore wonder if I am the best choice to review this venerable collection. Let's find out together.
There will be some spoilers.

---
Because My Tears Are Delicious To You
Titan — John Varley
Gaea, book 1
1979's Titan is the first novel in John Varley's Gaea trilogy.
Ringmaster is the first crewed spacecraft to visit distant Saturn. The crew discovers a twelfth moon of Saturn, the first discovered in the six decades since Janus and Epimethius were detected in the 1960s1. What at first appears to be a small object turns out to be huge, over 1300 kilometres in diameter2. By rights, any moon that large should be spherical and comparable in mass to our Moon. This object, which the astronauts initially call Themis, is a torus of low mass which is spinning rapidly enough that any object on its surface would be flicked off into space. The obvious conclusion is that the object is artificial, possibly an alien generation ship.
When Ringmaster approaches the object, they discover something else about Themis. It knows that Ringmaster is nearby and is able to reach out and tear the spacecraft apart. The crew — Cirocco Jones, Bill NLN, April and August Polo, Gaby Plauget, Calvin Greene, and Gene Springfield — are grabbed by immense tentacles and borne off into the depths of the vast moon.

---
Because My Tears Are Delicious To You
Worlds — Joe Haldeman
Worlds, book 1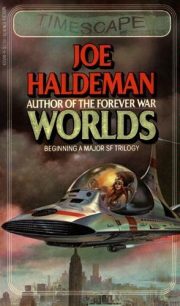 1981's Worlds is the first volume in Joe Haldeman's Worlds trilogy.
By 2084, half a million people live in forty-one orbital habitats circling the Earth; they are the so-called Worlds. New New York is largest of the Worlds. It is the only home our protagonist Marianne O'Hara has ever known. University in Old New York will be an entirely new experience for her. If she plays her cards wrong, possibly her last experience ever.

---
Because My Tears Are Delicious To You
Orbitsville — Bob Shaw
Orbitsville, book 1
1975's Orbitsville is the first volume in Bob Shaw's Orbitsville trilogy.
Vance Garamond is a competent starship pilot but a terrible babysitter. He fails to prevent his boss's son from falling to his death. His boss, Elizabeth Lindstrom, the autocratic president of the company that controls interstellar flight, is notoriously vindictive. Rather than wait to see what form her vengeance will take, Garamond collects his wife Aileen and son Christopher and flees to the stars in a commandeered flickerwing starship, the Bissendorf.
If only there were somewhere beyond Lindstrom's reach Garamond and his family could flee …

---
Because My Tears Are Delicious To You
Watchtower — Elizabeth A. Lynn
Chronicles of Tornor, book 1
1979's Watchtower is the first volume in Elizabeth A. Lynn's Chronicles of Tornor.
Most of Tornor Keep's defenders died in a futile attempt to bar invaders led by Col Istor. Knocked out cold early in the battle, the armsman Ryke was spared. Not out of charity. Istor respected Ryke's abilities and preferred to keep him alive and useful. Not that Istor wholly trusts Ryke, but he does have leverage.
That leverage is Errel, heir to the late lord of Tornor Keep. Errel lives only as long as Ryke serves Istor. At that, Errel survives only as a "cheari" or jester.

---
Because My Tears Are Delicious To You
A Fond Farewell to Dying — Syd Logsdon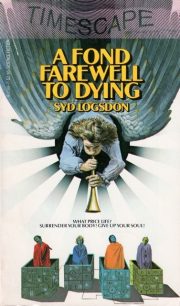 1981's A Fond Farewell to Dying is a novel-length expansion of Syd Logsdon's 1978 novella To Go Not Gently.
Of all the nations of Earth, India has been least affected by the Cataclysm that ended Euro-American domination of the world. Though even India was changed: sea level rise has cut it off from mainland Asia and the fallout that made it over the Himalayas has forced birth rates below replacement levels. Two centuries after the nuclear conflict, India is a much emptier place.
Scientist David Singer has abandoned the North America of his birth for India, the most advanced nation on the planet. Now calling himself Ram David Singh, he is researching what he conceives as immortality tech. The odds of an American hick garnering the required resources from the Indian state may seen poor, but geopolitics is his friend.

---
Because My Tears Are Delicious To You
The Exiles Trilogy — Ben Bova
1971's Exiled From Earth, 1972's Flight of Exiles, and 1975's End of Exile form Ben Bova's Exile Trilogy.
Cast out from overcrowded Earth, will our heroes be able to maintain a stable culture for the decades or centuries it will take to find a new Earth … or will they, like pretty much every other generation ship in the genre — last week's excepted — end up recapitulating Robert Heinlein's Orphans of the Sky?

---
Because My Tears Are Delicious To You
Fuzzy Sapiens — H. Beam Piper
Little Fuzzy, book 2
1964's Fuzzy Sapiens, first published under the title The Other Human Race, is the sequel1 to H. Beam Piper's Little Fuzzy.

Previously: old Jack Holloway, Ben Rainsford, Ruth Otheris, and their allies triumphed over the forces of pure capitalist evil, as represented by Victor Grego and his Chartered Zarathustra Company. Zarathustra was reclassified from Class-III to Class-IV and its native Fuzzies legally accepted as people.
Now Jack and his friends get to grapple with the consequences of winning.

---
Because My Tears Are Delicious To You
The Makeshift Rocket — Poul Anderson
1962's standalone comic SF novel The Makeshift Rocket is an expansion of Poul Anderson's 1958 A Bicycle Built for Brew.
The gyrogravitic generator gave humans and Martians cheap space flight and the ability to transform any dead rock in space into an acceptable facsimile of a habitable world, one with Earth-like gravity and an atmosphere. Any gang of idiots with enough money could create their own pocket nation out in the Asteroid belt. Many idiots did.
Captain Dhan Gopal Radhakrishnan and Engineer Knud Axel Syrup of Mercury Girl sense that something is wrong on the worldlette Lois. Clue: the flags.

---
Because My Tears Are Delicious To You
A World Out of Time — Larry Niven

ISFDB lists 1976's A World Out of Time as one of Larry Niven's State novels1, which it is. I liked to think of it as the last fun Niven novel. Having reread it, I am not so sure that's right.
Jerome Branch Corbell had himself frozen in 1970 in a desperate bid to escape terminal cancer. In 2190, a man with Corbell's memories woke up to discover a world unlike any Corbell had expected back in 1970, a world that expected him to expiate a crime he had no memory of committing … with a mission that would consume three centuries.
---
Because My Tears Are Delicious To You