Cross Fire — Fonda Lee
Exo, book 2
2018's Cross Fire is the second volume in Fonda Lee's Exo series.
While the crisis in the previous novel was successfully handled, that did not bring Donovan Reyes's father back to life, nor did it resolve the fundamental problem of how to reconcile the Commonwealth's strategic goals with Earth's defensive needs. Earth is, after all, merely one of a great many worlds in the Mur Erzen Commonwealth and not a particular rich one. Defending it from the Rii could prove expensive.
The zhree who invaded Earth have a simple, economically justifiable plan: abandon the Earth to their rapacious cousins.

---
Military Speculative Fiction That Doesn't Suck
Hullmetal Girls — Emily Skrutskie
Emily Skrutskie's 2018 Hullmetal Girls is a standalone SF novel.
Three centuries ago, a fleet set out from the Solar System determined to find a new world to replace the one they had squandered. Worlds sufficiently Earth-like to support a human population proved rare; to date the only one known is the previous, pre-trashed Earth. Generations after launch, the fleet has settled into a regimented seven-tiered society. Life in first tier, where the administrators live, is tolerable. Life in the impoverished seventh tier is short.
Having learned the hard way that heavy weapons are a poor way to maintain peace in an environment one hull-breach away from mass death, the ruling General Body has turned enforcement over to an elite force of cyborgs, the Scela. Conversion is dangerous, even for teens, and only highly motivated people volunteer to become Scela. Poverty-stricken Aisha Un-Haad, for example, is determined to earn enough to pay for her brother's medical treatment and to keep her little sister out of the dye factory.
First-tier teen Key Tanaka could not tell you why she volunteered, although her reasons were likely not financial. Where her pre-conversion memories should be is a great blank. Whatever her reasons for submitting to the operation, they must have been compelling.
---
Military Speculative Fiction That Doesn't Suck
Fonda Lee's 2017 Exo is a standalone young-adult SF adventure novel. (No, this is not a review of Steven Gould's Exo, even if my editor wishes it were.)
Earth is a colony of the Mur Commonwealth, a colony protected by its benevolent zhree overlords from their rapacious Rii cousins. Most humans, secure in their placid second-class existence, regard the brutal resistance that first met the zhree as a regrettable mistake. For the insurgents of the Sapience, the resistance is an inspiration.
Teenager Donovan Reyes is a loyal soldier for the zhree: an elite soldier, hardened with alien biotechnology. Donovan and those like him are charged with maintaining the peace in West America. His enhancements provide Donovan and his comrades with the durability, speed, and lethality required to protect the "squishies," as the soldiers deem the unenhanced humans, from their own worst impulses.
A moment of poor judgment lets the insurgents capture Donovan. Sapience's policy is to brutally murder any soldiers they capture, pour encourager les autres. Donovan's prospects are dim — or they would be if not for the fact that in addition to being a willing ally of the zhree, he is also the only son of West America's Prime Liaison Reyes. Donovan has considerable hostage value.
The Reyes government does not negotiate with terrorists.

---
Military Speculative Fiction That Doesn't Suck
Sungrazer — Jay Posey
Outriders, book 2
Sungrazer is the second book in Jay Posey's Outriders series.
The United States may be just one part of the pole-to-pole United American Federation, but Americans still have their own covert programs. One of them is SUNGRAZER, a stealth satellite orbiting ten million kilometers from Mars. SUNGRAZER is self-contained and self-directed. It collects useful data re the Martian colonies for the US; it can also deliver between fifteen to three hundred kinetic strikes, strikes ranging from simple block-busters to city killers. Which would terrify the Martians if they knew about it.
A decade into its long term mission, SUNGRAZER vanishes from American ken. Someone has taken control of the US asset, sending it off in a direction the Americans cannot detect, for a purpose about which they can only speculate.
---
Military Speculative Fiction That Doesn't Suck
The Last Good Man — Linda Nagata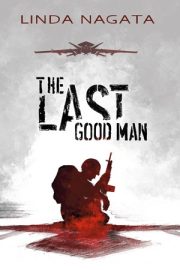 Linda Nagata's 2017 The Last Good Man is a standalone milSF novel.
Four months after Fatima Atwan was kidnapped by El-Hashem's Al-Furat Coalition, the US State Department has done nothing to rescue her. Fatima's desperate father turns to military contractor Requisite Operations to do what the State Department either can not or will not do: save the young woman.
By law, Requisite Operations (RO) cannot deliver a ransom. What the law will let them do is attempt a foray into the chaos left after Daesh's collapse, a foray to retrieve Fatima. Hussam El-Hashem1 may be a mere bandit using religion as justification for robbery and slavery, but he's no idiot. Not only is his location secret, it changes on a weekly basis.
It would take extraordinary resources to find him. Luckily for Fatima, RO has those resources.
---
Military Speculative Fiction That Doesn't Suck
Raven Stratagem — Yoon Ha Lee
Machineries of Empire, book 2
2017's Raven Stratagem is the second novel in Yoon Ha Lee's Machineries of Empire series. The first novel in the series, Ninefox Gambit, was reviewed here. Readers are well advised to read Ninefox Gambit before reading Raven Stratagem.
The Hexarchate is far too sensible to rely on the obedience of soldiers with free will. Instead, every soldier of the Kel has no choice in the matter, thanks to formation instinct conditioning. To see a superior officer is to be compelled to obey them. It's a system designed to make mutiny impossible. For the person wearing senior officer Cheris' body, it means that taking control of the Swanknot shipswarm is merely a matter of establishing that they are the undead General Shuos Jedao. Once they believe they are confronted with a general with three centuries of seniority, the hapless soldiers have no choice but to obey.
By the time the Hexarchate's rulers discover what Jedao has done, he and his little fleet are long gone.
---
Military Speculative Fiction That Doesn't Suck
A Peace Divided — Tanya Huff
Peacekeeper, book 2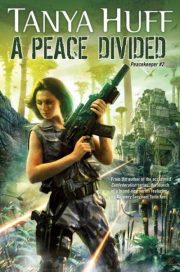 2017's A Peace Divided is the second novel in Tanya Huff's Peacekeeper series.
War's end means that many former soldiers are dumped back into civilian life. Not all of the veterans are suited to peacetime occupations. Some, like Gunnery Sergeant Torin Kerr and her team, find gainful employment as Wardens, the interstellar police of the Confederation. Less fortunate cast-offs, like Commander Yurrisk and his soldiers, become bandits and mercenaries.
33X73's natives vanished long before the Confederation was formed. Even at their height, they never got close to star-flight or Elder-Race-level technology. Why then did Yurrisk's mercenaries attack and occupy an archaeological dig on 33X73?
The fact that the attackers are drawn from both Confederation and Primacy forces is a clue. Though rivals, the two polities do have a mutual enemy: the so-called plastic aliens. 33X73 offers a unique opportunity to hit back at the enemy.
---
Military Speculative Fiction That Doesn't Suck
The Sorcerer of the Wildeeps — Kai Ashante Wilson

Kai Ashante Wilson's 2015 The Sorcerer of the Wildeeps is set in the same universe as his A Taste of Honey (reviewed here).
Long ago, the gods fled Earth, leaving their mortal offspring behind. The demigods are too weighted by flesh to ascend, but have great powers in the mortal realm.
One demigod, the Captain, uses his gifts to lead a company of mercenaries. Demane, also semi-divine, is one of his soldiers. Demane is hopelessly smitten with the Captain and follows him despite having no real taste for the life of a mercenary. His fellow soldiers are wary of him; they call him a sorcerer, even though he tries to conceal his gifts.
Both men's gifts will be needed to get the mercenaries and the merchants they are guarding through the Wildeeps. Well, at least some of the mercenaries and some of the merchants.
---
Military Speculative Fiction That Doesn't Suck
An Ancient Peace — Tanya Huff
Peacekeeper, book 1
Set in the same Confederation universe as her Valor novels, 2015's An Ancient Peace is the first volume in Tanya Huff's Peacekeeper series.
A covert op seems like a useful application of the skills of Torin Kerr's elite squad … as well as a welcome distraction from the revelation that the war that killed so many was an enigmatic civilization's science project. And it's not as if the op is unimportant: the future of the human and other Younger races may depend on what it finds.
Archaeology sounds so harmless.
---
Military Speculative Fiction That Doesn't Suck
Going Dark — Linda Nagata
Red, book 3
2015's Going Dark is the third and final volume in Linda Nagata's Red Trilogy.
As far as the world is concerned, James Shelly died when his space plane was blown out of the sky. But he isn't dead; he's just gone undercover. He's a member of ETM Strike Squad 7-1, an elite strike force formed to combat existential threats.
7-1 is beyond covert, not listed in any official records, staffed by the officially dead, funded with a fortune stolen from a mad billionaire. Missions are selected by the enigmatic Red. In theory, all of them involve crises that could end human civilization. But there is a catch:
The Red is not infallible. It is not all powerful. It is not even human.
---
Military Speculative Fiction That Doesn't Suck
Law of Survival — Kristine Smith
Jani Kilian, book 3
2001's Law of Survival is the third novel in Kristine Smith's Jani Kilian series.
Jani Kilian has had a tumultuous life. Framed for a murder, cashiered from the service, doomed to life as a fugitive … but eventually she achieves a soft landing. She has been cleared of the murder and is no longer hiding from the law. Well, cleared of that particular crime. Life as a fugitive meant cutting a few legal corners. The smart thing to do would be to find some unobtrusive niche in which she can exercise her considerable bureaucratic skills1 and lay low.
But poor Jani is drawn, willy-nilly, back into human-alien conflict.
---
Military Speculative Fiction That Doesn't Suck
Although professional-game-designer-turned-SF-author Jay Posey has been publishing novels ever since 2013, 2016's Outriders is the first novel of his that I have read.
Given a choice between two very different career paths, Captain Lincoln Suh took the one that led him to join the 301st Information Support Brigade's 519th Applied Intelligence Group. The unit's name may seem to promise days of riveting paperwork and nights spent staring at glowing screens, but names can be deceptive, particularly in the intelligence game.
Thus the suit of powered armour the 519 th issues Suh.
---
Military Speculative Fiction That Doesn't Suck
The Ted Quantrill Trilogy — Dean Ing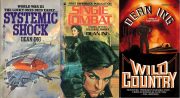 Dean Ing's Ted Quantrill trilogy—1981's Systemic Shock, 1983's Single Combat, and 1985's Wild Country—is an odd relic of Cold War America. Many authors presented us with various versions of Cold Wars Gone Hot, but few took the tack that Dean Ing does in this series.
It's not just that this is explicitly a sequel to someone else's book, General Sir John Hackett's The Third World War. Or that Ing teeters on the edge of inventing the technothriller genre (before Tom Clancy, if one considers The Hunt For Red October the first technothriller; please feel free to debate genre history in comments). Or even that one of the books features a lovingly depicted Segway, decades before those were invented. Ing brings an … ahem … unusual political sensibility to this trilogy. I believe that's what has kept this series out of print.
---
Military Speculative Fiction That Doesn't Suck
Rules of Conflict — Kristine Smith
Jani Kilian Chronicles, book 2
Kristine Smith's 2000 novel Rules of Conflict is the second volume of her Jani Kilian Chronicles.
Jani Kilian is a cautious woman for very good reasons. Until now, her caution has served her well, keeping her out of the clutches of Commonwealth military services. This time her healthy paranoia betrays her. Fearing her allies, she walks into a trap and is recaptured.
Although "recaptured" is not quite the right word. She wakes to discover she is not a prisoner. She is a patient.
---
Military Speculative Fiction That Doesn't Suck
The Star Fox — Poul Anderson
Gunnar Heim, book 1
Poul Anderson's 1964 fix-up The Star Fox has been on my to-review list ever since I started the Military Speculative Fiction That Doesn't Suck series. And it took me less than a year to get to it!
---
Military Speculative Fiction That Doesn't Suck
The Trials — Linda Nagata
The Red, book 2
2015's near-future MilSF novel The Trials, the second volume in Linda Nagata's The Red trilogy, picks up where First Light left off.
SPOILER WARNING: if you haven't read the first book yet, this review may reveal too much. You may want to minimize this browser window, buy and read the first book, and then return to the review. Just saying.
In First Light, James Shelley's Apocalypse Squad, a unit of elite, enhanced soldiers, acted resolutely to punish the highly connected billionaire who orchestrated Coma Day, a series of tactical nuclear strikes on the US. Heroes all! It's kind of a shame that soldiers taking it on themselves to kidnap an American and transport her to a foreign court so that she can be tried for crimes against humanity is what the army calls "highly illegal," The surviving members of the LCS are be rewarded with what the army calls "a court martial."
And the penalty for conviction is death.
---
Military Speculative Fiction That Doesn't Suck
Code of Conduct — Kristine Smith
Chronicles of Jani Kilian, book 1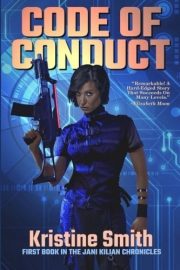 1999's Code of Conduct is the first volume in Kristine Smith's Chronicles of Jani Kilian pentology. This review is almost certainly going to be one of my Military Speculative Fiction That Doesn't Suck reviews … but only because it has some MisSF elements, not because it checks all the genre boxes. Code of Conduct is as much detective fiction as it is MilSF; it is definitely not the big-guns, pew-pew-pew variety of MilSF.
As far as anyone from the Commonwealth knows, Jani Kilian died when a military transport starship exploded. Everyone else onboard perished; Jani was only mostly dead. Immediate, cutting-edge medical intervention saved her life. Since her supposed death, Jani has been careful not to let her former bosses know that she is still alive. That would put her in legal peril, as she was confined to the brig was a prisoner(for having shot her highly-connected superior officer) before the explosion.
Jani's ex-lover Evan van Reuter doesn't believe Jani is dead. As a member of one of the Families who run the Commonwealth, he has the resources to find her. He is also highly motivated to track Jani down. He has a job for which he believes she is ideally suited.
Clearing his name.
---
Military Speculative Fiction That Doesn't Suck
Duty After School — Ha Il-Kwon
This week's unexpected discovery is Ha Il-Kwon's webtoon Duty After School, recommended in one of the many, many, very long comment threads over File770, in the context of "works worthy of a Hugo." I had planned to limit myself to a quick glance, which is how my archive binges always begin….
Being a high school student is stressful enough; if you're not swotting to pass university entrance exams, you're probably trying to figure out what real world job to try for after graduation. And you have to deal with crushes, friendships, and the adolescent pecking order. Happily for Chi Kim and his fellow students of Sungdong high school, life hands them an effective distraction.
Less happily, it's in the form of an alien invasion.
---
Military Speculative Fiction That Doesn't Suck
The Rosinante Trilogy — Alexis A. Gilliland
Alexis Gilliland is a four time Hugo winner—but not for his written fiction. Only his 1982 John W. Campbell Award for Best New Writer was for fiction; his fellow nominees were Robert Stallman, Paul O. Williams, David Brin, and Michael Swanwick 1. You may have heard of some of these guys. When he won, Gilliland had just two novels in print 2.
You may be wondering "How did someone with such a small body of work manage to win the Campbell?"
Partly it's because most Campbell nominees tend to have only small bodies of work when they win, due to the whole New Writer thing. Cynics might say that Gilliland's long career as fan and lauded fan artist ensured name recognition. But I would credit his Campbell win to the fact that those two novels, The Revolution from Rosinante and Long Shot For Rosinante , really are fun little books, books I was certain I would not regret revisiting after a gap of twenty-two years 3.
(I do understand that's like saying "Don't worry, I know what I am doing" while playing with burning plastic.)
They are also the first two volumes in the Rosinante Trilogy, the subject of today's review.
---
Military Speculative Fiction That Doesn't Suck
War Games — Karl Hansen
Hybrid Wars, book 1
It's a good thing that the title for this review series is Military Speculative Fiction That Doesn't Suck and not, say, Military Speculative Fiction That is an Exemplar of All That is Good in Fiction. I'm not sure that I would say that Karl Hansen's 1981 War Games is good. That may be too positive a word for this enthusiastically nihilistic war story. The book has definite points of interest—but I am not 100% sure I would call it good.
But it sure is energetic.
---
Military Speculative Fiction That Doesn't Suck
Space Viking — H. Beam Piper
Space Viking, book 1
I will probably review all of my H. Beam Piper novels (or at least the SF ones) eventually. I have a specific reason for reviewing 1962's Space Viking this week. A reason I will not explain until Friday. Foreshadowing! The mark of quality literature!
Speaking of foreshadowing, when Lady Elaine warns her husband-to-be Lucas, Lord Trask, Baron of Traskon that
"It's bad luck to be called by your married name before the wedding."
Trask should have listened. For that matter, every aristocrat on the planet Gram should have noticed just how crazy Lord Andray Dunnan was, and what a bad idea it was to allow Dunnan to assemble his own private army. Elaine and Trask in particular have good reason to be worried: through no fault of her own, Elaine plays a central role in Dunnan's rich fantasy life. But … Dunnan is the nephew of Duke Angus, who is poised to make himself king of all Gram. Dunnan is too well-connected to be shot out of hand, so everyone tacitly tolerates his obvious craziness.
Then everything goes pear-shaped. Dunnan's men hijack the starship Enterprise; in retrospect, the purpose for which Dunnan recruited all those mercenaries. Dunnan tries to assassinate Elaine (for rejecting him) and Trask (for winning her) before fleeing in the Enterprise. Dunnan's mistake is to kill Elaine, but only wound Trask. While the aristocracy of Gram may not be inclined to pursue their vendetta into space, nothing will stop Trask from chasing Dunnan to the ends of the galaxy.
Chasing is easy enough. Actually finding Dunnan, on the other hand….
---
Military Speculative Fiction That Doesn't Suck
The Red: First Light — Linda Nagata
Red Trilogy, book 1
Linda Nagata's Nebula-nominated The Red: First Light is the first volume in Linda Nagata's Red Trilogy.
At first glance, life in Nagata's near-future seems pretty sweet. Many of the civil liberties that have long been such an onerous burden to hard-working Americans have been set aside, allowing them to focus on more important matters. Lieutenant James Shelley is a fine example: in another life he might have wasted his life as a political activist, agitating against wars and other profitable activities. In this life, his first attempt at political activism prompted a firm response from the government that stands in loco parentis over all its subjects. One plea bargain later and Shelly became a hard-working member of America's military forces serving overseas.
If that wasn't wonderful enough, the same advances in neurological interfaces that allow Shelley and his fellow soldiers to function as a Linked Combat Squad allow his minders to keep an eye on what he is doing, or even feeling, pretty much 24/7.
There is, however, one glitch in the program.
---
Military Speculative Fiction That Doesn't Suck
Trading in Danger — Elizabeth Moon
Vatta's War, book 1
If I am going to review MilSF that doesn't suck, at some point I need to address the Elizabeth Moon issue. On the one hand her books (or at least some of them) are clearly candidates. On the other hand, many of them have been published by Baen, whose publisher is a willing participant in this year's attempt to nobble the Hugos. Baen is a company whose works I don't review. A company that's dead to me.
However … thanks to various events that are Googleable, Moon moved over to Del Rey. That company is not colluding in an attempt to nobble the Hugos and is not dead to me. The system works!
2003's Trading in Danger kicks off Moon's Vatta's War series. Well-meaning Ky Vatta is booted out of the naval academy when a well-meaning attempt to help a friend results in a PR-disaster for the service. The navy doesn't consider "meant well" a defense. Former cadet Ky finds herself on the curb outside the Academy, waiting for a ride home.
This is a bold opening gambit if the series as a whole is supposed to be military science fiction.
---
Military Speculative Fiction That Doesn't Suck
A Small Colonial War — Robert Frezza
Small Colonial War, book 1
1989's A Small Colonial War is Robert Frezza's debut novel [1]. It is also the first volume of Frezza's short lived Small Colonial War sequence, a military science fiction series that would bookend Frezza's career as an SF novelist.
All the world's problems finally came to a head in the great calamity known as the break up. Four billion corpses later, Japan emerged as the remaining dominant power on Earth. Not especially humanitarian in purpose, the empire seems no better and no worse than the empires that came before it.

By the 22nd Century, Japan's empire reaches to the stars. But there's a catch: their ships may be faster than light, but they're still slow. A combination of time dilation and time spent in hibernation means that travellers return home to Earth to find that decades have passed while they have only aged months or years themselves. As a result, the Japanese Diet has only the vaguest ideas as to what its imperial tendrils are doing, way out in the stars. A second consequence is that interstellar travel is exile, something that those in power avoid if they can.
Which brings us to Lieutenant-Colonel Anton "the Veriag" Vereshchagin and his command, the 1st Battalion, 35th Imperial Infantry.
---
Military Speculative Fiction That Doesn't Suck
Leviathan Wakes — James S. A. Corey
Expanse, book 1
I remember 2011's Leviathan Wakes, the first book in the currently ongoing Expanse series by pseudonymous author James S. A. Corey, as a welcome breath of fresh air and a refreshingly upbeat novel. (I will return to the "upbeat" thing later.)
While Jim Holden's job is suitably SFnal, the XO of the interplanetary ice transport vessel Canterbury, Detective Miller languishes in a far more mundane position, as a cop on the beat in Ceres. He's that detective on the force with whom nobody wants to partner. This is not because he's the kinda can-do guy who doesn't let the rules get in way of justice, but because he's long past his best days. He's on the fast-track to career oblivion and obscurity.
Then Miller is handed the seemingly low-priority job of finding the vanished heiress and political idealist, Julie Mao. It is a case that will ensure that everyone in the Solar System knows Detective Miller.
---
Military Speculative Fiction That Doesn't Suck