Summer in Orcus — T. Kingfisher
T. Kingfisher's 2017's Summer in Orcus is a standalone young-adult portal fantasy.
Determined to keep Summer safe, Summer's mother has spent years protecting the girl from every possible danger, no matter how small. No matter how ludicrous. The weight of her mother's love is a heavy burden.
Perhaps another girl would have turned down the Baba Yaga's offer to give her her heart's desire. Summer accepts and is immediately dispatched to a new, unfamiliar world. One that comes with a quest.

---
Miscellaneous Reviews
Under The Pendulum Sun — Jeannette Ng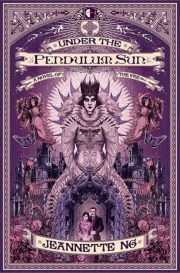 Jeannette Ng's 2017 Under the Pendulum Sun: A Novel of the Fae is a standalone Gothic fantasy novel.
In this world, Captain Cook's explorations found a route to the Faelands. Just as India, China, and other far off lands were eventually forced to grant Englishmen access, so too has Arcadia been opened to traders, diplomats, and others. Change has come into the world beneath the Pendulum Sun.
The Reverend Laon Helstone has travelled to Arcadia hoping to convert the heathen to the one true, Anglican, faith. Was he successful? Impossible to say, as no word has returned from this visitor to the Faerie realm. The silence is ominous, given the fate of his predecessor.
Concerned for his well-being, his sister Catherine Helstone follows in Laon's footsteps.

---
Miscellaneous Reviews
The Tea Master and the Detective — Aliette de Bodard
Aliette de Bodard's 2018 mystery The Tea Master and the Detective takes place in her Xuya universe.
Cashiered following a deep-space calamity, shipmind The Shadow's Child now makes a meagre living brewing medicinal infusions. It claims that these infusions will alleviate the stresses of other-dimensional travel.
Long Chau seems to be just another human client. She is in fact something unusual.

---
Miscellaneous Reviews
S. J. Morden's 2018 One Way is an SF murder mystery.
Franklin Kittridge accepted that the cost of killing his son's pusher would be a life spent in prison. He expects to die in prison. Imagine his surprise when Xenosystems Operations, the parent company of the corporation that owns Frank's prison, offers him an alternative:
Die on Mars instead.
---
Miscellaneous Reviews
The Awakened Kingdom — N. K. Jemisin

2014's The Awakened Kingdom is a sequel to N. K. Jemisin's Inheritance Trilogy.
Years after the events of the trilogy, the Gods Itempas and Yeinne make a godling, one who might fit the place left empty by the late Sieh. Being gods, they raise their child Shill in the manner befitting gods, which is essentially to kick the kid out the door and hope for the best.
---
Miscellaneous Reviews
The Gathering — Virginia Hamilton
Justice Trilogy, book 3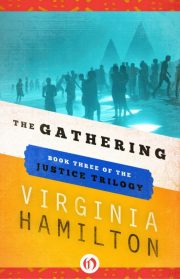 1981's The Gathering is the third book in Virginia Hamilton's Justice Trilogy.
Justice, Levi, Thomas, and Dorian each have their own special power. Apart, they are impressive (even if some of them do not think so), but together they can step through time itself.
That's good, because they have unfinished business in the future.

---
Miscellaneous Reviews
Red Rider's Hood — Neal Shusterman
Dark Fusion, book 2
2005's Red Rider's Hood is the second volume in Neal Shusterman's Dark Fusion series. It is a modern-day retelling of Little Red Riding Hood.
Sixteen-year-old Red allows himself to be distracted by the revelation that classmate Marissa Flowers might have a bit of a crush on him. His befuddlement allows Cedric Soames' Wolf gang to ambush, overpower, and rob Red and his beloved Grandma. Worse, the gang steals Red's beloved Mustang.
Of course, this means war.

---
Miscellaneous Reviews
Bloodchild and Other Stories — Octavia E. Butler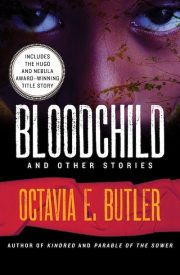 Octavia E. Butler's 1995 Bloodchild and Other Stories is a collection. The particular edition I have is the Open Road Media edition; I know there's an updated version, but I do not know if that edition is different from the one I have in hand.

---
Miscellaneous Reviews
Domino Falls — Steven Barnes & Tananarive Due
Devil's Wake, book 2
2013's Domino Falls is a sequel to Stephen Barnes and Tananarive Due's 2012 novel, Devil's Wake.
Freak Day, when the infected turned on their former friends, neighbours, and family members, ended the comfortable old world. Mere weeks after Freak Day, most humans are either dead or infected. The few untainted survivors struggle to survive and to avoid the infection even one bite can transmit.
Kendra lost her family to Freak Day and its aftermath. No person can survive alone for long; luckily for Kendra, she has five reliable allies in Terry, Piranha, Sonia, Dean, and Darius. Even better, the six teens may have found the refuge they need in Domino Falls, one of the few towns to survive Freak Day.
Or they may not.

---
Miscellaneous Reviews
To Raise a Clenched Fist to the Sky — T. Thorn Coyle
The Panther Chronicles, book 1
To Raise a Clenched Fist to the Sky is the first volume in T. Thorn Coyle's Panther Chronicles.
By 1968 the Summer of Love is a fading memory. Activism has taken centre stage. Nowhere is that more true than in Oakland, where the Black Panthers are working hard to set up community kitchens and raise political consciousness. It's a heady time for Berkeley freshman Jasmine, who is new to the Bay Area.
Jasmine has a lot to offer the Panthers, not least of which is magic.

---
Miscellaneous Reviews
Redemption in Indigo — Karen Lord
Karen Lord's 2010 debut Redemption in Indigo is a standalone fantasy novel.
Paama finally has had it with her gluttonous fool of a husband, Ansige, and leaves. Ansige is unwilling to let her go, and hires master tracker Kwame to find her. Kwame cannot convince Paama to return to Ansige. What he does do is draw the attention of the Djombi to Paama.
These great spirits have vast powers, but they still have need of someone like Paama.

---
Miscellaneous Reviews
The Ballad of Black Tom — Victor Lavalle
Victor Lavalle's 2016 novella The Ballad of Black Tom is a standalone tale of cosmic horror. It is a retelling of Lovecraft's "The Horror at Red Hook" told from a perspective Lovecraft would never have considered.
Charles Thomas Tester, black and forever denied full membership in American society, supports his aged father by serving as middleman between rich New York clients and the occult community. They want artefacts of power; he can provide. But Tester is careful. He does his best to limit his exposure to dread powers. Let rich white fools dabble in the forbidden; Tester is a sensible man who plans to remain alive and sane.
Tester makes just two mistakes.

---
Miscellaneous Reviews
So I Might Be a Vampire — Rodney V. Smith
Chasing the Sun, book 1
2017's So I Might Be a Vampire is the first volume in Rodney V. Smith's Chasing the Sun series.
Vampires! Irresistible and sexy, self-confident aristocrats of the night!
Bob the vampire isn't any of those things.

---
Miscellaneous Reviews
Report from Planet Midnight — Nalo Hopkinson
Nalo Hopkinson's 2012 Report from Planet Midnight is a collection. It is the ninth volume in PM Press's Outspoken Authors series.

---
Miscellaneous Reviews
Binti — Nnedi Okorafor
Binti, book 1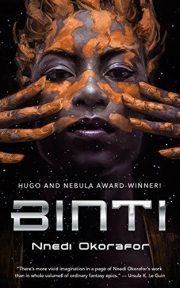 2016's Binti is the first volume in Nnedi Okorafor's Binti series.
Early one morning, young Binti Ekeopara Zuzu Dambu Kaipka packs her things and leaves her home. None of her family is awake. None of them would approve if they knew she was leaving. And why she was leaving. Binti is abandoning her Himba community to accept a scholarship at university.
And not just any university. Oomza Uni is on another world. Binti is not just leaving her homeland of Namib behind. She is leaving Earth.

---
Miscellaneous Reviews
Gods, Monsters, and the Lucky Peach — Kelly Robson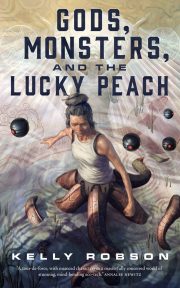 Kelly Robson's 2018 Gods, Monsters, and the Lucky Peach is a time-travel story.
Large-scale ecological remediation used to be a booming field. Then TERN developed time travel and remediation faltered. Bankers were convinced that access to the past would allow immediate remediation of past insults to the environment. Funds for the slow, laborious process of rebuilding the Earth's ravaged surface have dried up. Like too many rivers.
Minh, one of the ecological remediators whose projects have been sidelined, must face the inevitable: survival means joining the enemy.

---
Miscellaneous Reviews
Blood Binds The Pack — Alex Wells
Hob Raveni, book 2
Blood Binds the Pack is the second volume in Alex Wells' Hob Raveni series.
In the previous volume, Hob Raveni and the Ghost Wolves achieved the near-impossible: they assassinated Mr. Green, one of TransRift's psionic-adept Weathermen. But that was not the end of the story. TransRift is determined to crush the resistance and take total control of Tanegawa's World. They have sent a new enforcer: Mr. Yellow. Hob and the Wolves were lucky to kill one Weatherman. Can they kill two?

---
Miscellaneous Reviews
Every Heart a Doorway — Seanan McGuire
Wayward Children, book 1
2016's Nebula and Hugo-winning Every Heart a Doorway is the first volume in Seanan McGuire's Wayward Children series.
Children through the ages have stepped through doors to other lands. Some, like Nancy, return — only to find themselves rejected by families unable to accept what their children have become. A lucky few, like Nancy, find their way to Eleanor West's Home for Wayward Children.

---
Miscellaneous Reviews
The Poppy War — R. F. Kuang
Poppy Wars, book 1
R. F. Kuang's 2018 debut The Poppy War is the first volume in her secondary world Poppy Wars fantasy trilogy.
Faced with an arranged marriage to an odious merchant (plan A), Fang "Rin" Runin opts for plan B: pass the arduous Keju test, which will give her a place at the prestigious academy in Sinegard. The odds that a war orphan fostered to a family of no particular rank will pass the exam are poor, but nevertheless, she persists. The highly motivated Rin places first for the entire Rooster province.
She soon discovers that winning entrance at Sinegard is not at all the same thing being accepted there.
Spoilers.

---
Miscellaneous Reviews
A is for Alibi — Sue Grafton
Alphabet, book 1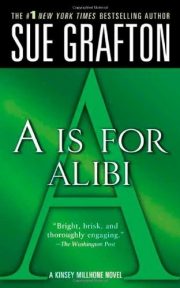 1982's Shamus Award nominee A is for Alibi is the first volume in Sue Grafton's Alphabet series. Grafton died in late 2017, twenty five books into a twenty six book series.
After serving eight years for murdering her husband, socialite turned reluctant ex-con Nikki Fife hires private investigator Kinsey Millhone to clear her name. Five thousand dollars1 is enough to get Millhone's attention, although not, as she warns her client, her exclusive attention.
The first step is to figure out who wanted Laurence Fife dead. Millhone very quickly discovers that the list of suspects is a long one.

---
Miscellaneous Reviews
The Lilies of Dawn — Vanessa Fogg
Vanessa Fogg's 2016 The Lilies of Dawn is a standalone fantasy.
Kai's mother and foremothers have served as the Dawn Mother's priestesses for many generations. They live next to the sacred lake and never marry. Nonetheless, they have daughters. Each priestess chooses her successor from among her daughters. Traditionally the successor is the older daughter. But Kai's mother chose Kai, the younger daughter, over her older sister Suna. Kai cannot understand the why of the odd choice; unlike Suna or their mother, Kai has never heard the Dawn Mother's voice.
Not that it matters, since their ancient way of life is doomed.

---
Miscellaneous Reviews
The Little Homo Sapiens Scientist — S. L. Huang
S. L. Huang's 2017 The Little Homo Sapiens Scientist is a standalone SF retelling of Hans Christian Andersen's The Little Mermaid.
Dr. Cadence Mbella specializes in piscianthropology, the study of atargati culture and society. Not much is known about the atargati, the so-called mermaids, except that they live in the abyssal depths of the world's ocean and they are as intelligent as humans.
As Mbella warns anyone reading her ongoing account, it is a mistake to allow the arbitrary terms that humans apply to the abyssals to shape human perceptions. The atargati are quite unlike humans or their myths. Exactly how unlike, Mbella is going to learn first-hand.

---
Miscellaneous Reviews
The Dark Intercept — Julia Keller
Julia Keller's 2017 The Dark Intercept is a standalone young-adult SF dystopia.
High above the Earth's surface, the six floating cities that comprise New Earth offer everything that the war-torn ground level cannot: prosperity, security, and peace. The Intercept is the primary weapon used to keep the chaos of the old world at bay. It reduces any miscreant to a whimpering heap, using the miscreant's own weaponized emotions.
Sixteen year old Violet Crowley accepts the new world order without question. After all, her father Ogden created it.
Her world is about to fall apart.

---
Miscellaneous Reviews
Where The Stars Rise: Asian Science Fiction & Fantasy — Lucas K. Law & Derwin Mak
2017's Where The Stars Rise: Asian Science Fiction & Fantasy is an anthology edited by Lucas K. Law and Derwin Mak1.

---
Miscellaneous Reviews
Patsy Walker A.K.A. Hellcat! — Kate Leth & Brittney Williams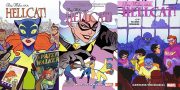 Hooked on a Feline, Don't Stop Me-ow, and Careless Whisker(s) collect all seventeen issues of Kate Leth and Brittney Williams' comic Patsy Walker A.K.A. Hellcat!
Granted an open-ended, unpaid leave from her duties as an investigator, unwilling to go back to life as a costumed adventurer, Patsy "Hellcat" Walker boldly embraces a new career:
Temping!
With a side-order of retail.
---