The Meek — Der-shing Helmer
The Meek is a webcomic by Der-shing Helmer (last seen here as the author of Mare Internum).
Fifteen year old Angora has been dispatched to save her world by the ancient and powerful giant salamander Mocheril, whom Angora calls Grandfather. Angora is energetic, determined, and able to command plants. She is also fearfully ignorant of the world and deficient in many attributes that would facilitate her quest.
Her utter lack of clothing proves unpleasantly attention-getting.
---
Miscellaneous Reviews
An Unkindness of Ghosts — Rivers Solomon
Rivers Solomon's 2017 An Unkindness of Ghosts is a generation-ship novel.
The generation ship Matilda set out lifetimes ago to convey a handful of people to a distant promised land1. It carries within it every flaw known to human society. Until the ship arrives at its destination, there is no escape, not for the ship's rulers (the Sovereignty) and not for the unfortunates relegated to the lower decks.
Aster is brilliant. Her intellectual gifts recommend her to the great surgeon Theo — not as a potential surgeon, but as a surgeon's assistant. That is all she can ever be, because her skin is brown. That marks her as one of the underclass, as someone who can be oppressed and victimized without consequence.

---
Miscellaneous Reviews
Sleepless Domain — Mary Cagle
Sleepless Domain is an ongoing webcomic by Mary Cagle.
The time is now 10

PM

. All citizens should be indoors, and all magical girls transformed.
The unnamed city is perpetually under siege; monsters have overrun the world. During the day, the monsters are kept at bay by a magical barrier. At night, the monsters are able to make their way into the city. At night, it is up to the city's magical girls to protect the city and its mundane inhabitants.
Team Alchemical — Undine Wells, Gwen Morita, Sylvia Skylark, Tessa Quinn, and Sally Fintan, or, as they are known by the city, Alchemical Water, Alchemical Earth, Alchemical Air, Alchemical Aether, and Alchemical Fire — spend their days in school and their nights fighting monsters. Now they've found a new enemy to fight.
Each other.
(spoilers)

---
Miscellaneous Reviews
What's Left of Me — Kat Zhang
Hybrid Chronicles, book 1
2012's What's Left of Me is the first volume in Kat Zhang's Hybrid Chronicles.
Alone of all the world's regions, only the Americas have chosen to eliminate the two-minded adult hybrids, to seal themselves off from the chaos that hybrids cause. The rest of the world can have its Great Wars, but North and South America are secure, peaceful, and steadfastly conventional.
Like all human children everywhere, Eva and Addie were born as hybrids, two minds sharing a single body. Most New World children settle, a process in which the weaker of the two minds fades away, leaving only a single, stable, intellect. Although clearly fated to vanish, Eva lingered on, unable to control the shared body, but still present. Despite the best treatments modern medicine could offer, it seemed the child was doomed to be one of those unfortunates safely sequestered away from decent folk.
Eva_and_Addie eluded institutionalization by embracing the one technique that would keep the adults satisfied. They lied.

---
Miscellaneous Reviews
We Could Be Villains — Missy Meyer
Valentine & Hart, book 1
2014's We Could Be Villains is the first volume in Missy Meyer's Valentine & Hart series.
Sarah Valentine has an unrewarding job working for Seattle software company WonderPop. Her social life isn't too hot either. Small wonder that when she meets personable mail room employee Nathan Anderson, she embraces the opportunity for a dalliance. She is rather disgruntled when Nathan suddenly vanishes without so much as a goodbye.
Next: Sarah finds herself collateral damage when Seattle's own super-hero team, the Ultimate Faction, takes an interest in WonderPop.

---
Miscellaneous Reviews
Heroine's Journey — Sarah Kuhn
Heroine Complex, book 3
2018's Heroine's Journey is the third instalment in Sarah Kuhn's Heroine Complex series.
Like her sister Evie and her sister's best friend, Aveda Jupiter, Beatrice "Bea" Tanaka has bona-fide superpowers. However …
The ten-year age difference between Evie and Bea means that Evie sees Bea as a kid sister. Not only that, she's the kid sister whom Evie raised after the death of their mother. Evie cannot see Bea as anything but a child and relegates her sister to support roles.
Evie is also suspicious of Bea's superpowers. Bea can control other people's emotions, which is a super-villainous sort of power. (It doesn't help that Bea once sided with a black hat.) True, Bea can also scream loudly enough to shatter solid objects, but it's not at all clear that she can use this superpower in an emergency or that it will even be useful when used.
Bea is afraid that Evie will never accept her as an equal; she is less and less interested in helping Evie and Aveda.

---
Miscellaneous Reviews
The Calculating Stars — Mary Robinette Kowal
Lady Astronaut, book 1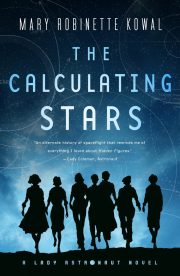 The Calculating Stars is the first novel in Mary Robinette Kowal's Lady Astronaut series1.
President Dewey's Take That! to Communist Russia took the form of not one but three successful space launches. Dewey scarcely has time to revel in America's success before a space rock obliterates Dewey, Washington DC, and everyone else within hundreds of miles of the impact point.
Five hundred miles away, Elma York and her husband Nathaniel survive the impact and the immediate aftermath. Once the implications of the impact become clear, they realize that their survival — and the survival of the biosphere — may be strictly temporary.
---
Miscellaneous Reviews
Empire of Sand — Tasha Suri
The Books of Ambha, book 1
Empire of Sand is the first book in Tasha Suri's new series, The Books of Ambha.
Being the daughter of Governor of Irinah has its benefits, even for illegitimate children, like Mehr. Benefits even though her exiled mother was an Amrithi, a folk despised by the Ambhan ruling class. Mehr appreciates her privileges only when she loses them.

---
Miscellaneous Reviews
Rob Boffard's 2018 Adrift is a standalone SF adventure.
Sigma Station began as a helium three mining station. Its spectacular view of the Horse Head Nebula transformed it into a tourist destination. Now it has been slated to play a crucial role in interstellar relations.
Not a role that most of the station's inhabitants will survive to appreciate, mind you.
[spoiler warning]
---
Miscellaneous Reviews
The Nearest Fire — Cherry Wilder
Torin, book 2
1980's The Nearest Fire is the second volume in Cherry Wilder's Torin series.
Yolo Harn is principled and inflexible. Her righteous fury leads to an angry assault, a crime Yolo will regret for the rest of her life. Regardless of her motivation, assault is assault. Nothing for it but to send her off to prison.
Offered a poisoned amnesty, one that would trade a jail term for lifelong vassalage, Yolo sticks to her principles and declines the offer. Affronted, officials send Yolo away, to serve out her term in distant Itsik, the worst prison colony on Torin.
That act of spite places Torin's destiny in Yolo's hands.

---
Miscellaneous Reviews
Winter Tide — Ruthanna Emrys
Innsmouth Legacy, book 1
2017's Winter Tide is the first volume in Ruthanna Emrys's Innsmouth Legacy series.
The American government's ample experience at rounding up and exterminating unwanted indigenous populations was evident in 1928, in the campaign against the Deep Ones. The government swept up the entire population of Innsmouth, consigning the unlucky inhabitants to incarceration and eventual execution in a desert concentration camp. By the time Japanese internees began to arrive in the 1940s, just two Deep Ones were left: Aphra and Caleb March.
Inadvertently freed with the Japanese internees at the end of the war, Aphra and Caleb prefer to avoid contact with the authorities who targeted their race for extermination. How unexpected, therefore, for the former génocidaires to reach out to Aphra for help.

---
Miscellaneous Reviews
Just One Damned Thing After Another — Jodi Taylor
The Chronicles of St. Mary's, book 1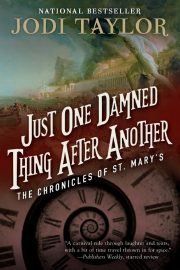 2013's Just One Damned Thing After Another is the first volume in Jodi Taylor's The Chronicles of St Mary's.
Academic achievement offered teenaged Madelaine Maxwell an escape from her horrific homelife. Her credentials as a historian prompted an offer of something even better: time travel.

---
Miscellaneous Reviews
The Dolphins of Altair — Margaret St. Clair
1967's The Dolphins of Altair is an SF novel by Margaret St. Clair.
Fed up with brutal exploitation, the dolphins of Earth take a desperate step. They reach out telepathically to their oppressors. Three humans prove sympathetic: Secretary Madeline Paxton, dock worker Sven Erikson, a former soldier, and Navy psychiatrist Dr. Edward Lawrence.

---
Miscellaneous Reviews
Rogue Protocol — Martha Wells
Murderbot Diaries, book 3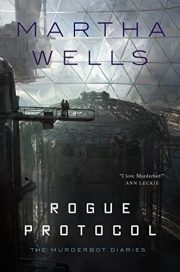 2018's Rogue Protocol is the third book in Martha Wells' Murderbot Diaries series.
Frustrated with the progress of the case against the GrayCris Corporation (more exactly, the lack thereof), rogue SecUnit (self-designated Murderbot) reluctantly heads off to find damning evidence on GrayCris.
Which brings us to certain events in the Milu System.

---
Miscellaneous Reviews
Free Chocolate — Amber Royer
2018's Free Chocolate is an interstellar adventure by Amber Royer.
Humans were surprised and alarmed to discover that alien Krom had infiltrated the Earth, passing themselves off as Homo sapiens. Humans were surprised and enraged to discover that their Krom visitors had used their time on Earth to purchase samples of particularly enticing Terrestrial products: coffee, sugar, tea, vanilla.
By the time technologically backward Earth had adjusted to the new state of affairs and was finally able to market their unique biological materials to the galaxy … earthlings found that the Krom already controlled the market for the sampled goods. In doing so, the Krom had violated no galactic regulations. Just business. Nothing to see here. Humanity could only react with impotent fury and close off Earth to other aliens.
But the Krom overlooked one potential export:

---
Miscellaneous Reviews
Lamb Will Slaughter the Lion — Margaret Killjoy
Danielle Cain, book 1
2017's The Lamb Will Slaughter the Lion is the first story in Margaret Killjoy's
Danielle Cain series.
Determined to find out why her friend Clay killed himself, Danielle Cain travels to Freedom City. Once a ghost town, the community has been commandeered by idealistic anarchists determined to create a living utopia. Aside from one small detail, they appear to have succeeded.

---
Miscellaneous Reviews
Cho Seok's Moon You is a post-apocalyptic webtoon.
An optimist would say the mission to save the Earth was 10/11th successful. A cynic would say that 1/11th failure was enough to doom civilization as we know it. Moon Yoo would say that he got left behind when the other stalwarts returned from the Moon to the Earth and so the whole end of the world thing is pretty academic from his perspective.

---
Miscellaneous Reviews
Feather Bound — Sarah Raughley
Sarah Raughley's 2014 debut novel, Feather Bound, is a standalone young-adult urban fantasy.
The Davis sisters have survived a difficult childhood (no thanks to their alcoholic father). Each sister has reacted in different fashion. Ericka marries for money; Adriana works to earn enough money that she need not depend on her dad; Deanna is left behind, stuck with the responsibility for the feckless father.
It's Deanna who attends the funeral of their father's estranged best friend, magazine magnate Ralph Hedley. She is present when Swan-activist Shannon Dalhousey accuses Hedley of being a feather-stealer. She is also there to witness the surprising appearance of Hyde Hedley, Ralph's son (he was believed to be dead).

---
Miscellaneous Reviews
The Black Gods Drums — P. Djeli Clark
P. Djeli Clark's 2018 The Black God's Drums is a steampunk fantasy novella.
Orphaned at ten, Jacqueline renamed herself "Creeper" and embraced life on the streets of the free city of New Orleans. An independent city state since the British, French, and Haitian airships forced peace on the Union and Confederacy, the city is neutral ground where all nationalities can mix … and conspire against each other.
Little noted by adults, thirteen-year-old Creeper believes what she has overheard will earn her a place on Ann-Marie St. Augustine's airship Midnight Robber.

---
Miscellaneous Reviews
Killing Gravity — Corey J. White
Voidwitch, book 1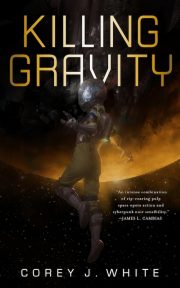 2017's Killing Gravity is the first instalment in Corey J. White's Voidwitch series.
The MEPHISTO corporation purchased Mariam from her father and turned her from an unremarkable little girl into a living weapon who could liquefy soldiers and divert asteroids with a thought. Much to the corporation's surprise, Mariam — Mars Xi — felt little gratitude for the gift of such power; she resented the terrible cost she had paid in pain and suffering. And she was unwilling to become a corporate tool. She fled, hoping to put her past behind her.
Years later, her past catches up to her.
---
Miscellaneous Reviews
Murder on the Titania and Other Steam-Powered Adventures — Alex Acks
Alex Acks' 2018 Murder on the Titania and Other Steam-Powered Adventures is a collection of short stories set in an America run, not by oligarchs and tech-bros, but by a collection of titled aristocrats. Each noble is eager to expand their pocket kingdom at the expense of their rival dukes. All stories feature Captain Marta Ramos (engineer and thief) and her steadfast subordinate, Meriwether Octavian Simms.
---
Miscellaneous Reviews
The Descent of Monsters — JY Yang
Tensorate, book 3
The Descent of Monsters is the third volume in JY Yang's Tensorate silkpunk series.
An isolated research facility falls silent. When concerned Protectorate officials send subordinates to find out why, all that investigators find are fragments of brutally murdered researchers and animals, a dead monster, and two still living Machinist rebels. Investigator Chuwan Sariman is tasked with solving the puzzle.
Or rather, the task of arriving at an explanation that is acceptable to her bosses, bosses who are in no way tolerant of failure or excessive independent thought.

---
Miscellaneous Reviews
Summer in Orcus — T. Kingfisher
T. Kingfisher's 2017's Summer in Orcus is a standalone young-adult portal fantasy.
Determined to keep Summer safe, Summer's mother has spent years protecting the girl from every possible danger, no matter how small. No matter how ludicrous. The weight of her mother's love is a heavy burden.
Perhaps another girl would have turned down the Baba Yaga's offer to give her her heart's desire. Summer accepts and is immediately dispatched to a new, unfamiliar world. One that comes with a quest.

---
Miscellaneous Reviews
Under The Pendulum Sun — Jeannette Ng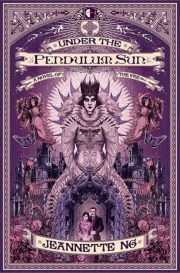 Jeannette Ng's 2017 Under the Pendulum Sun: A Novel of the Fae is a standalone Gothic fantasy novel.
In this world, Captain Cook's explorations found a route to the Faelands. Just as India, China, and other far off lands were eventually forced to grant Englishmen access, so too has Arcadia been opened to traders, diplomats, and others. Change has come into the world beneath the Pendulum Sun.
The Reverend Laon Helstone has travelled to Arcadia hoping to convert the heathen to the one true, Anglican, faith. Was he successful? Impossible to say, as no word has returned from this visitor to the Faerie realm. The silence is ominous, given the fate of his predecessor.
Concerned for his well-being, his sister Catherine Helstone follows in Laon's footsteps.

---
Miscellaneous Reviews
The Tea Master and the Detective — Aliette de Bodard
Aliette de Bodard's 2018 mystery The Tea Master and the Detective takes place in her Xuya universe.
Cashiered following a deep-space calamity, shipmind The Shadow's Child now makes a meagre living brewing medicinal infusions. It claims that these infusions will alleviate the stresses of other-dimensional travel.
Long Chau seems to be just another human client. She is in fact something unusual.

---