The Chaos — Nalo Hopkinson
2012's The Chaos is a standalone young adult urban fantasy novel by Nalo Hopkinson.
Sixteen-year-old Sojourner Smith leads a far–from- perfect life; she knows it and she knows why. She's too white to be black, too black to be white, and subject to her parents' draconian discipline (the same inflexible standards that consigned her older brother to prison). School is something of a refuge: there, she is nicknamed Scotch and admired because she is pretty, flirtatious, and a star performer of the Raw Gyals dance troupe.
Of course, nothing is perfect, and there are a few problems even there. She's fallen out with Raw Gyals troupe leader and former best friend Gloria. Scotch is convinced that Gloria has her eye on Scotch's ex-boyfriend Tafari. Not what a real BFF would do.
Oh, and there's Scotch's new skin condition and the fact that she's been seeing floating heads lately….
A night out with her older brother Rich sounds like a welcome respite from parents and school. Pity the Smith siblings picked the night all hell broke loose in Toronto 1 Welcome to the Chaos!
---
Miscellaneous Reviews
Devil's Wake — Steven Barnes & Tananarive Due
Devil's Wake, book 1
2012's Devil's Wake is the first volume in Steven Barnes and Tananarive Due's Devil's Wake series.
It didn't take long for the plague of angry ghouls to sweep across America, because to be bitten by one of the infected is to become one of the infected. There is no cure and there is no vaccine. The only reliable prophylaxis is preparedness or simple dumb luck.
Given enough time, even the prepared run into something unexpected. Given time, the best luck in the world runs out.
---
Miscellaneous Reviews
The Broken Kingdoms — N. K. Jemisin
The Inheritance Trilogy, book 2
2010's The Broken Kingdoms is the second volume in N. K. Jemisin's The Inheritance Trilogy.
Ten years after the world changed, blind artist Oree makes a living in the city of Shadow, once called Sky. Although enforcement of the god Intempas' laws is far laxer for reasons those in charge decline to explain in detail, it would be very bad for Oree Shoth if she were to come to the attention of the Order-Keepers.
Bad enough she found a murdered godling. Much worse that the Order-Keepers know she found Role's corpse.
---
Miscellaneous Reviews
Batman: Blink — Dwayne McDuffie

Dwayne McDuffie's 2015 volume, Batman: Blink, collects Legends of the Dark Knight issues #156-158 and #164-167, which were first published in 2002–2003. To put it another way, he has put together two related story lines: Blink and its sequel, Don't Blink.
Blink
Women are being killed in horrific ways. But aside from the ugly nature of their deaths, there seems to be nothing that explains why these women were targeted or who has been targeting them. At least nothing that the police or Batman can see. Lee Hyland is the only surviving witness and the cops don't expect he will be a useful one. Not because Lee is a career criminal—he has been careful to keep that a secret—but because Lee is blind.
---
Miscellaneous Reviews
Dark Matter — Sheree R. Thomas
Dark Matter, book 1
Sheree R. Thomas' 2000 anthology Dark Matter: A Century of Speculative Fiction from the African Diaspora delivers what it promises. One clarification, however: it is not a Resnickian collection of works about members of the African Diaspora but works by members of the African Diaspora.
---
Miscellaneous Reviews
Binti: Home — Nnedi Okorafor
Binti, book 2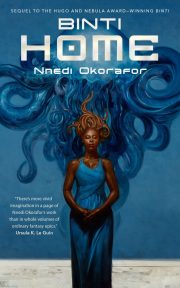 2017's Binti: Home is the sequel to Nnedi Okorafor's Nebula and Hugo-winning Binti.
Binti has been a student at Oomza University for a year. It's a year that has transformed her, both physically and mentally. Some of those changes were beneficial. Others, like her post-traumatic stress disorder, are not. Seeking an end to the nightmares, Binti returns to her home on Earth, in Africa, to participate in a healing pilgrimage.
---
Miscellaneous Reviews
Buffalo Soldier — Maurice Broaddus
Maurice Broaddus' 2017 Buffalo Soldier is a steam-punk western. It will be published in April.
Desmond Coke and Lij Tafari appear to be father and son, just a pair of migrant workers making their way across the Tejas Free Republic in search of employment. Jamaica and Albion's agents know the truth: Lij is a treasure their master are determined to possess and Desmond is an impediment to be removed.
---
Miscellaneous Reviews
Racing the Dark — Alaya Dawn Johnson
Spirit Binders, book 1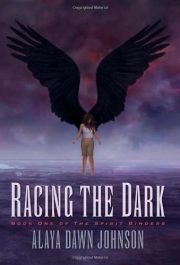 Alaya Dawn Johnson's 2007 debut novel Racing the Dark is the first of the Spirit Binders secondary world fantasy series.
The great elemental spirits leave chaos in their wake. Centuries before, the islanders dealt with them by binding the great spirits, death, fire, water and air, into forms abhorrent to the spirits but tolerable to the humans.
Born on a backwater island, Lana would have been content to be just another diver among many, talented but not remarkable. Instead, her rite of passage into adulthood marked her as extraordinary. She will be no mere diver. She will be a harbinger of doom.
---
Miscellaneous Reviews
A Taste of Honey — Kai Ashante Wilson
Kai Ashante Wilson's 2016 A Taste of Honey is a stand-alone story set in the same universe as Wilson's The Sorcerer of the Wildeeps.
Aqib's life has been charted out for him. For his family to regain the status they lost when Aqib's father was tempted by love to marry far beneath him, Aqib must marry well. This is a sacrifice his family is more than willing for Aqib to make.
Man plans, gods laugh.
---
Miscellaneous Reviews
Dustland — Virginia Hamilton
Justice Cycle, book 2
1980's Dustland is the second book in Virginia Hamilton's Justice Trilogy.
Tom, Levi and Dorian's psionic abilities are impressive but it took Justice to weld them together into the Unit, able to span time and space at will. There are limits.Although they can project their minds out of their home space-time, the Unit aways manifests in the same distant location. And what an odd location it is.
---
Miscellaneous Reviews
The Lottery and Other Stories — Shirley Jackson
1949's The Lottery and Other Stories is a collection of short pieces by Shirley Jackson. Aside from The Haunting of Hill House, there's a giant Jackson-sized hole in my reading. When I saw how inexpensive The Lottery ebook was, I snapped it up. Time spent in various waiting rooms allowed me the leisure to actually read it.
There are twenty-five pieces in this book. I am not going to do my usual story by story approach; cue sighs of relief all round.
---
Miscellaneous Reviews
Hammers on Bone — Cassandra Khaw
Persons Non Grata, book 1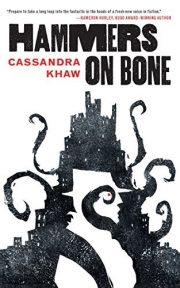 2016's Hammers on Bone is the first work in Cassandra Khaw's Persons Non Grata series.
The sign on his door says "John Persons, PI". It doesn't say "John Persons, Killer for Hire." Abel, the kid currently on the other side of Persons desk, wants a killer, someone who will deal with his stepdad McKinsey before the stepdad can kill Abel and his brother James.
Persons has killed, but only in self-defence. Just like any other completely normal person. Persons is trying very hard to be a normal person. Abel is convinced that there's more to Persons than meets the eye and he's a very persuasive kid. Persons agrees to take a look at the stepdad and proceed as seems … ethical.
A faint mewling voice in the back of Persons' head thinks that this is the right choice.
---
Miscellaneous Reviews
Crosstalk — Connie Willis
Connie Willis' 2016 Crosstalk is a standalone near-future SF novel. I regret to inform my readers that this review may not be as enjoyably vitriolic as previous Willis reviews. (I may revisit that decision once Crosstalk gets its inevitable, inexplicable Hugo nomination.) As Willis novels go, I didn't hate it all that much.
In the exciting world of Tomorrow CE, couples are not limited to intrusive social media and ever-present electronic communications. Now there's the option of the EED, a device that creates an empathic link between lovebirds. Or at least, it's supposed to.
Pressured into submitting to elective brain surgery by her loving fiancé Trent, Briddey Flannigan gets an EED. Alas! there is no sign of the empathic link that should have formed between Briddey and Trent. What Briddey got was…
---
Miscellaneous Reviews
Fractured: Tales of the Canadian Post-Apocalypse — Silvia Moreno-Garcia
Silvia Moreno-Garcia's 2014 anthology Fractured: Tales of the Canadian Post-Apocalypse delivers exactly what it promises: post-apocalyptic tales told from Canadian perspectives.
The moral here seems to be that it's going to get worse before it gets better.
Also, it's not going to get better.
---
Miscellaneous Reviews
Martians Abroad — Carrie Vaughn
Carrie Vaughn's 2017 Martians Abroad is a standalone young-adult SF novel, written in the manner of a very famous series of juvenile SF novels. In fact, it seems to be a response to a specific juvenile SF novel, about which more anon.
Young Polly Newton has a bold plan for her life, one that involves pilot school and helming humanity's first starship. Polly's mother also has bold plans for Polly and her brother Charles. Those plans involve an unwanted sojourn at the prestigious Galileo Academy on Earth. Polly's plans are irrelevant. Mother knows best.
Martha Newton didn't become Director of the Mars Colony by being easy to out-manoeuvre. By the time Polly learns what her mother has planned, it is too late for either Polly or her brother to do anything about it except pack their bags and give in to the inevitable.
---
Miscellaneous Reviews
Ninefox Gambit — Yoon Ha Lee
The Machineries of Empire, book 1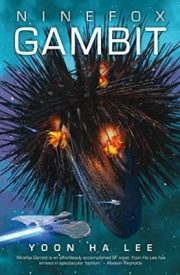 2016's Ninefox Gambit is the first volume in Yoon Ha Lee's projected trilogy, The Machineries of Empire.
Success is often punished harshly. Consider the case of Captain Kel Cheris of Heron Company, 109-229th Battalion. She has excelled on the battlefield due to her skill and ingenuity. Those are exactly the qualities her superiors need if they are to retake the Fortress of Scattered Needles from the rebels who currently hold it.
Well, skill, ingenuity, and expendability.
---
Miscellaneous Reviews
Survival Rout — Ana Mardoll
Earthside, book 2
2016's Survival Rout is the second book in Ana Mardoll's Earthside series.
College roommates Aniyah and Miyuki expect a summer vacation rich in opportunities for hanging out and having intense discussions about gender and orientation. Thanks to their ever-so-helpful chums Timothy and Craig, what they actually get is kidnapped, mindwiped, and sold to the faerie lord Master of Masques.
Keoki is in the wrong place at the wrong time; his good Samaritan instincts get him abducted and sold as well.
---
Miscellaneous Reviews
After Atlas — Emma Newman
Planetfall, book 2
Emma Newman's 2016 After Atlas is a sequel to her 2015 novel Planetfall.

The Pathfinder, Lee Suh-Mi, led her people to a glorious destiny among the stars. The Pathfinder's starship only had room for the chosen few. Carlos Moreno's mother made the cut, but Carlos and his father did not. His father then joined a community of starship rejectees, one led by a Lee deputy named Alejandro Casales, dragging an unhappy young Carlos in his wake. It took years for Carlos to escape.
Decades later, Carlos is a prized asset of the Noropean Ministry of Justice. He is a talented investigator whose indentured status ensures that his efforts on the MOJ's behalf will not be sabotaged by nonsense like so-called human rights.
---
Miscellaneous Reviews
The Stars Are Legion — Kameron Hurley
Kameron Hurley's 2017's The Star Are Legion is a standalone space opera.
In a distant future, a flock of huge world-ships orbit an unnamed star. Within the ships, there are life forms of all kinds, including humans. But every living thing has its allotted span and the world-ships are no exception. They are dying and when they do die, so too will all the humans who live within them.
Zan and Jayd have a cunning plan to escape the coming mass extinction. The cost of the plan will be much greater than they expect.
---
Miscellaneous Reviews
Light and Shadow: Eight Short Stories by Linda Nagata — Linda Nagata
2016's Light and Shadow: Eight Short Stories by Linda Nagata collects eight of Linda Nagata's short pieces. Straightforward, that.
Nagata's career began in 19871, but the focus of this collection is on recent work, published after the years-long hiatus that divides her career in two.
---
Miscellaneous Reviews
The Mystic Marriage — Heather Rose Jones
Alpennia, book 2
2015's The Mystic Marriage is the second volume in Heather Rose Jones' Alpennia series.
Antuniet Chazillen has lost everything: her foolish brother has been executed for treason and her mother is dead by her own hand. Antuniet has been stripped of her aristocratic rank. Determined to restore the family honour, Antuniet flees Alpennia for Austria, there to use her alchemical skills to win back for her family the respect and position her brother cost it.
In Austria she finds a treasure of rare value, a treasure others are determined to wrest from her. She escapes from Vienna to Heidelberg, but her enemies are still close on her heels. She sees no choice but to trade her virtue for transportation to safety.
Which means returning to Alpennia…
---
Miscellaneous Reviews
She Walks in Shadows — Silvia Moreno-Garcia & Paula R. Stiles
2015's She Walks in Shadows (published by Prime under the less evocative but also less ambiguous title Cthulhu's Daughters: Stories of Lovecraftian Horror ) was compiled by editors Silvia Moreno-Garcia and Paula R. Stiles. The theme of the collection:
The present volume assembles stories about women, by women. Why an all-woman volume? The first spark was the notion, among some fans of the Lovecraft Mythos, that women do not like to write in this category, that they can't write in this category. […] We hope this anthology will help to dispel such notions.
It's always a mistake to think that the mere existence of an anthology filled with cosmic horror stories will dispel delusions rooted in knuckle-dragging prejudice. Still, despite the generally troglodytic nature of the Lovecraft community, this anthology won a World Fantasy Award in 2015.
---
Miscellaneous Reviews
Rosewater — Tade Thompson
2016's Rosewater is Tade Thompson's second novel; it follows 2015's (unrelated) mystery Making Wolf.
Kaaro was once a talented thief. Now he's a very reluctant member of Nigeria's Section Forty-five, an obscure branch of the Ministry of Agriculture. S45 specializes in the odd and weird, the occult phenomena that have become all too real in the world created by the alien incursion of 2015.Nowhere on the world is the strange as present as it is in Kaaro's hometown of Rosewater, which formed around an alien dome (known as Utopicity) in the 2050s.
Utopicity seems happy to remain sealed and indifferent to humanity but the lifeforms it released have spread quietly across the world. A lucky few have been transformed. Kaaro is one of those changed ; that's why he has ESP. Which in turn makes him valuable to S45.
Kaaro is a reluctant draftee, but he's also too lazy to do anything strenuous to escape his bureaucratic servitude. He limits his protest to habitual insubordination. Happily for Kaaro, adventure is coming for him.
---
Miscellaneous Reviews
Brute Force — K. B. Spangler
Rachel Peng, book 4
2016's Brute Force is the fourth instalment in K. B. Spangler's Rachel Peng series.
Hope Blackwell can handle herself, but the child with her cannot. Ambushed, Blackwell has no choice but to go peacefully with her kidnappers for the sake of young Avery.
Taking Blackwell is a bold move for the kidnappers. Not only will Blackwell be a very … uh, challenging prisoner to contain, but by kidnapping her, they've made themselves targets for her husband, Patrick Mulcahy, head of the Office of Adaptive and Complementary Enhancement Technologies. Behind OACET's harmless name is a tight-knit community of cyborgs.
---
Miscellaneous Reviews
Penric's Mission — Lois McMaster Bujold
Penric and Desdemona, book 3
Penric's Mission is the third instalment in Lois McMaster Bujold's Penric and Desdemona series.
Following an ill-fated foray into medicine, demon-haunted, all-round-nice-guy Penric takes up a new occupation: covert agent for the Duke of Adria. As the novel opens, he is travelling into Cedonia, there to contact to recruit a Cedonian general who is believed to be disaffected.
No sooner does he step off the boat than Penric is arrested, beaten, and thrown into prison. Not an auspicious beginning, particularly since his cell is designed to fill with water once his captors have no further use for him. Eventually, they do not.
---