Report from Planet Midnight — Nalo Hopkinson
Nalo Hopkinson's 2012 Report from Planet Midnight is a collection. It is the ninth volume in PM Press's Outspoken Authors series.

---
Miscellaneous Reviews
Binti — Nnedi Okorafor
Binti, book 1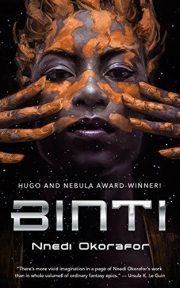 2016's Binti is the first volume in Nnedi Okorafor's Binti series.
Early one morning, young Binti Ekeopara Zuzu Dambu Kaipka packs her things and leaves her home. None of her family is awake. None of them would approve if they knew she was leaving. And why she was leaving. Binti is abandoning her Himba community to accept a scholarship at university.
And not just any university. Oomza Uni is on another world. Binti is not just leaving her homeland of Namib behind. She is leaving Earth.

---
Miscellaneous Reviews
Gods, Monsters, and the Lucky Peach — Kelly Robson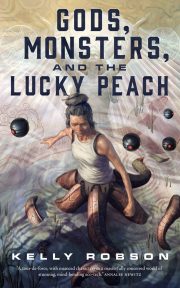 Kelly Robson's 2018 Gods, Monsters, and the Lucky Peach is a time-travel story.
Large-scale ecological remediation used to be a booming field. Then TERN developed time travel and remediation faltered. Bankers were convinced that access to the past would allow immediate remediation of past insults to the environment. Funds for the slow, laborious process of rebuilding the Earth's ravaged surface have dried up. Like too many rivers.
Minh, one of the ecological remediators whose projects have been sidelined, must face the inevitable: survival means joining the enemy.

---
Miscellaneous Reviews
Blood Binds The Pack — Alex Wells
Hob Raveni, book 2
Blood Binds the Pack is the second volume in Alex Wells' Hob Raveni series.
In the previous volume, Hob Raveni and the Ghost Wolves achieved the near-impossible: they assassinated Mr. Green, one of TransRift's psionic-adept Weathermen. But that was not the end of the story. TransRift is determined to crush the resistance and take total control of Tanegawa's World. They have sent a new enforcer: Mr. Yellow. Hob and the Wolves were lucky to kill one Weatherman. Can they kill two?

---
Miscellaneous Reviews
Every Heart a Doorway — Seanan McGuire
Wayward Children, book 1
2016's Nebula and Hugo-winning Every Heart a Doorway is the first volume in Seanan McGuire's Wayward Children series.
Children through the ages have stepped through doors to other lands. Some, like Nancy, return — only to find themselves rejected by families unable to accept what their children have become. A lucky few, like Nancy, find their way to Eleanor West's Home for Wayward Children.

---
Miscellaneous Reviews
The Poppy War — R. F. Kuang
Poppy Wars, book 1
R. F. Kuang's 2018 debut The Poppy War is the first volume in her secondary world Poppy Wars fantasy trilogy.
Faced with an arranged marriage to an odious merchant (plan A), Fang "Rin" Runin opts for plan B: pass the arduous Keju test, which will give her a place at the prestigious academy in Sinegard. The odds that a war orphan fostered to a family of no particular rank will pass the exam are poor, but nevertheless, she persists. The highly motivated Rin places first for the entire Rooster province.
She soon discovers that winning entrance at Sinegard is not at all the same thing being accepted there.
Spoilers.

---
Miscellaneous Reviews
A is for Alibi — Sue Grafton
Alphabet, book 1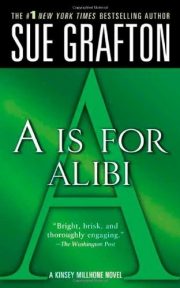 1982's Shamus Award nominee A is for Alibi is the first volume in Sue Grafton's Alphabet series. Grafton died in late 2017, twenty five books into a twenty six book series.
After serving eight years for murdering her husband, socialite turned reluctant ex-con Nikki Fife hires private investigator Kinsey Millhone to clear her name. Five thousand dollars1 is enough to get Millhone's attention, although not, as she warns her client, her exclusive attention.
The first step is to figure out who wanted Laurence Fife dead. Millhone very quickly discovers that the list of suspects is a long one.

---
Miscellaneous Reviews
The Lilies of Dawn — Vanessa Fogg
Vanessa Fogg's 2016 The Lilies of Dawn is a standalone fantasy.
Kai's mother and foremothers have served as the Dawn Mother's priestesses for many generations. They live next to the sacred lake and never marry. Nonetheless, they have daughters. Each priestess chooses her successor from among her daughters. Traditionally the successor is the older daughter. But Kai's mother chose Kai, the younger daughter, over her older sister Suna. Kai cannot understand the why of the odd choice; unlike Suna or their mother, Kai has never heard the Dawn Mother's voice.
Not that it matters, since their ancient way of life is doomed.

---
Miscellaneous Reviews
The Little Homo Sapiens Scientist — S. L. Huang
S. L. Huang's 2017 The Little Homo Sapiens Scientist is a standalone SF retelling of Hans Christian Andersen's The Little Mermaid.
Dr. Cadence Mbella specializes in piscianthropology, the study of atargati culture and society. Not much is known about the atargati, the so-called mermaids, except that they live in the abyssal depths of the world's ocean and they are as intelligent as humans.
As Mbella warns anyone reading her ongoing account, it is a mistake to allow the arbitrary terms that humans apply to the abyssals to shape human perceptions. The atargati are quite unlike humans or their myths. Exactly how unlike, Mbella is going to learn first-hand.

---
Miscellaneous Reviews
The Dark Intercept — Julia Keller
Julia Keller's 2017 The Dark Intercept is a standalone young-adult SF dystopia.
High above the Earth's surface, the six floating cities that comprise New Earth offer everything that the war-torn ground level cannot: prosperity, security, and peace. The Intercept is the primary weapon used to keep the chaos of the old world at bay. It reduces any miscreant to a whimpering heap, using the miscreant's own weaponized emotions.
Sixteen year old Violet Crowley accepts the new world order without question. After all, her father Ogden created it.
Her world is about to fall apart.

---
Miscellaneous Reviews
Where The Stars Rise: Asian Science Fiction & Fantasy — Lucas K. Law & Derwin Mak
2017's Where The Stars Rise: Asian Science Fiction & Fantasy is an anthology edited by Lucas K. Law and Derwin Mak1.

---
Miscellaneous Reviews
Patsy Walker A.K.A. Hellcat! — Kate Leth & Brittney Williams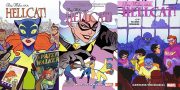 Hooked on a Feline, Don't Stop Me-ow, and Careless Whisker(s) collect all seventeen issues of Kate Leth and Brittney Williams' comic Patsy Walker A.K.A. Hellcat!
Granted an open-ended, unpaid leave from her duties as an investigator, unwilling to go back to life as a costumed adventurer, Patsy "Hellcat" Walker boldly embraces a new career:
Temping!
With a side-order of retail.
---
Miscellaneous Reviews
Children of the Divide — Patrick S. Tomlinson
Children of a Dead Earth, book 3
2017's Children of the Divide is the third but probably not final volume in Patrick S. Tomlinson's Children of a Dead Earth series.
A generation after their ark parked in orbit around Gaea (one of Tau Ceti's life-bearing worlds), the refugees are well on their way to building a new civilization to replace the one they lost. There are just two problems:
Tensions between humans and Gaean natives could result in civil war.

The aliens who destroyed Earth may have once lived in the Tau Ceti system — and may return.
---
Miscellaneous Reviews
Prime Meridian — Silvia Moreno-Garcia
2017's Prime Meridian is a standalone science fiction novella by Silvia Moreno-Garcia.
In the glorious world of tomorrow, anyone with enough money can buy a ticket to the Martian settlements. Anyone with the right credentials can indenture themself to buy that precious ticket.
Thanks to her decision to drop out of college to care for her dying mother, Amelia doesn't have money or credentials. Instead, she is one of Mexico City's precariate. A new life on Mars can only be a dream.

---
Miscellaneous Reviews
Places in the Darkness — Chris Brookmyre
2017's Places in the Darkness is a standalone near-future police procedural thriller by Chris Brookmyre.
230,000 kilometres above the Earth's surface, Ciudad de Cielo is supposed to be the shining city on the hill, a utopia where the technology needed to reach the stars will be developed. It should be filled with pristine rooms and corridors filled with hard-working, well behaved idealists, a glorious celebration of humanity's loftiest goals.
In actual fact, some fool staffed CdC with actual humans, not flawless paragons. Almost every vice known to humanity exists and is catered to by someone within the great space city. Not murder, however. That's one failing not found in space.
Until now.

---
Miscellaneous Reviews
Artificial Condition — Martha Wells
The Murderbot Diaries, book 2
2018's Artificial Condition is the second volume in Martha Wells' Murderbot Diaries. A review of the first volume, All Systems Red, is here.
Rather than trust its fate to humans, no matter how well intentioned, the freethinking construct calling itself Murderbot decides to evade its protectors and find freedom. But first, a few loose ends to be cleared. Such as what role Murderbot might have played in the deaths of dozens of people on planet RaviHyral.
Step one is getting to aforesaid obscure world without being exposed as a rogue SecUnit and forcibly returned to factory settings.
Bored AIs piloting interstellar transport ships turn out to be very observant.

---
Miscellaneous Reviews
An Oath of Dogs — Wendy N. Wagner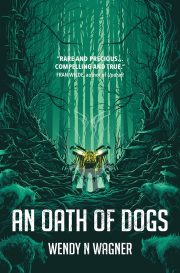 2017's An Oath of Dogs is a standalone SF novel by Wendy N. Wagner.
A near-fatal accident has left Kate Standish traumatized, paralyzed by acrophobia. Thanks to her therapeutic dog Hattie, Standish is able to function well enough to work again. Thanks to the selfless benevolence of the Songheuser company, she has a job wherein she can demonstrate her hard-won stability.
Poor Standish.

---
Miscellaneous Reviews
Four Roads Cross — Max Gladstone
Craft Sequence, book 5
Four Roads Cross is the fifth book published in Max Gladstone's Craft sequence. It is the fourth book by internal chronology.
Many in Alt Coulumb believe that Seril the Moon Goddess betrayed them when she left the city to fight and die in the God Wars. Seril has revived and returned, sans publicity. She helps her people where she can do so without revealing herself. The city's priests know, but are still considering how best to handle Seril's reappearance.
When Seril dispatches one of her gargoyles to save a woman from muggers, the victim turns out to be one of Alt Coulumb's Criers, the local equivalent of a plucky reporter. Being saved from a brutal death is one thing, but a story is a story. The world will learn the goddess walks again.
Journalistic diligence may have doomed a city.

---
Miscellaneous Reviews
Jade City — Fonda Lee
Green Bone Saga, book 1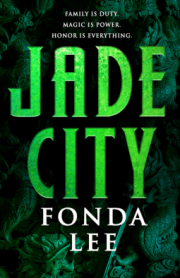 2017's Jade City is the first installment in Fonda Lee's Green Bone Saga secondary-world kung-fu gangster saga. At 512 pages, it's significantly longer than either Exo's 369 pages or Zeroboxer's 351. It's also significantly more ambitious.
The island of Kekon is the only known source of jade, which in this world is a miraculous substance that can grant enhanced abilities to those few whom it does not drive mad or kill. The minority who can use it safely are known as Green Bones. Custom grants the Green Bones a role as protectors of Kekon and its merchants (whether the merchants want protection or not). Since the Green Bone clans are constantly feuding, the island is far from peaceful.
Ayt Mada plans to transform a divided island into a unified whole.

---
Miscellaneous Reviews
Binti: The Night Masquerade — Nnedi Okorafor
Binti, book 3
2018's Binti: The Night Masquerade is the third and possibly final instalment in Nnedi Okorafor's Binti series.
Still digesting the lessons learned in Binti: Home, young Binti is woken by a dreadful vision: her family trapped in the basement of their burning dwelling. She rushes home. She finds charred ruins and no visible survivors.

---
Miscellaneous Reviews
The Prey of Gods — Nicky Drayden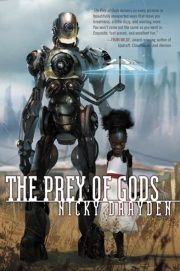 2017's The Prey of Gods is Nicky Drayden's debut novel.
Sydney Mazwai may be passing as a simple beautician now, but she has big plans. She appears to be just another human … but she is a being of power, a being who is scheming to unleash a new age of gods on humanity. The chaos will be delightful! And Sydney intends to be the greatest, meanest god of all.
Mr. Tau's protégée Nomvula could just possibly derail her plans, but Sydney isn't worried. Nomvula is, after all, only one little girl. How much trouble could one little girl cause? Even if that little girl is a godling herself?

---
Miscellaneous Reviews
Power Ballad — Molly Brooks
Molly Brooks' 2017 Power Ballad is, in the words of its creator, a "lesbian superhero romcom" webcomic.
Meera Verma is the perfect personal assistant, so keen that it has taken her only two days to realize that her boss, talented musician Carina Peterson, is also Los Angeles' two-fisted costumed vigilante, the Skeleton. As any respectable personal assistant would, Meera immediately extends her services to the Skeleton as well.
Meera has only one defect as an employee. She's made the terrible error of falling hard for her boss.

---
Miscellaneous Reviews
Lightning in the Blood — Marie Brennan
Books of the Varekai, book 2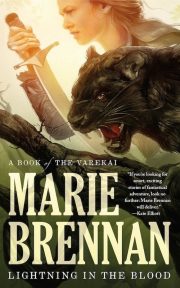 2017's Lightning in the Blood is the second in Marie Brennan's Books of the Varekai series.
At the end of Cold-Forged Flame, Ree set out to help her new friend Aadet overthrow the tyrant of Solaine. With the tyrant deposed and rightful heir Enkettsivaane in power, that leaves the question of what to do with Ree, who is an archon, a being of great power. A useful ally, yes, but a dangerous next-door neighbour.
Every archon must follow its nature. Providentially for Enkettsivaane, Ree's nature provides a solution that will keep his hands clean. Ree's wanderlust compels her towards Solaine's border, towards new lands and new adventures.
She very nearly makes it out of Solaine.
---
Miscellaneous Reviews
The Murders of Molly Southbourne — Tade Thompson
Tade Thompson's 2017 The Murders Of Molly Southbourne is a standalone novel of SF horror.
Molly's parents taught her four simple rules:
If you see a girl who looks like you, run and fight.
Don't bleed.
If you bleed, blot, burn, and bleach.
If you find a hole, find your parents.
Failure to follow any one of these rules could mean death. For Molly, for her parents, for anyone involved.
---
Miscellaneous Reviews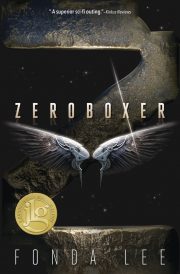 2015's standalone futuristic sports story Zeroboxer was Fonda Lee's debut novel.
Zero gravity boxing — zeroboxing — provided Carr "the Raptor" Luka with his ticket out of Toronto and up into orbit, where the best people live. It's a brutal sport — but for the handful who claw their way to the top, it can be lucrative. Despite his youth, Carr is a promising boxer, promising enough that respected impresario Gant offers Carr a contract. With luck and the right handler, Carr could become one of the luminaries of the Zero Gravity Fighting Association.
Pity that Carr's success is based on a lie.

---