Children of Ruin — Adrian Tchaikovsky
Children of Time, book 2
2019's Children of Ruin is the second book in Adrian Tchaikovsky's Children of Time series.
Before it annihilated itself, Earth's first great technological civilization dispatched starships to nearby star systems, there to terraform promising worlds. Millennia later, Earth's second great technological civilization also dispatched starships. The purpose was not to reshape worlds according to humanity's whim, but to escape the deadly trap Earth had become.
Nobody expected to find a planet full of portiids, genetically engineered intelligent spiders, but humans were convinced… compelled, really, to come to terms with the unintended products of Avrana Kern's bold uplifting efforts. The starship Voyager is the product of the unexpected partnership, crewed by humans, portiids, and an emulation of the long-dead Kern, dispatched to explore a neighbouring star system. Who knows what wonders await them?
---
Space Opera That Doesn't Suck
Escaping Exodus — Nicky Drayden
Nicky Drayden's 2019 Escaping Exodus is a standalone SF novel.
Seske Kaleigh was born to become the leader of her spacefaring community. Becoming a leader involves onerous education and personal sacrifice. Seske would far rather spend her time having adventures with her lower-class crush, Adalla.
Seske's culture is trapped on the edge of survival. Allowing Seske to follow her heart is not in the cards.
---
Space Opera That Doesn't Suck
Medusa Uploaded — Emily Devenport
Medusa Cycle, book 1
Emily Devenport's Medusa Uploaded is the first volume in her generation ship series, the Medusa Cycle.
Olympia and Titania are two vast generation ships, dispatched on a long, slow journey to another star system. This was lifetimes ago. Olympia is still functioning, but poor Titania is lifeless wreckage tumbling across the stars, the victim of an act of sabotage. Oichi was born on Titania but was fortunate enough to emigrate to Olympia before Titania's destruction. The rest of her family was not so lucky.
Oichi isn't one of the ruling Executives; she's a so-called worm. Her lot is to work hard for her whole life, hoping that no Executive will order her tossed out an airlock. Oichi's fortune turns sour. Suspected as a potential dissident, she is cast out into the interstellar cold.
This is not the end of her story.
---
Space Opera That Doesn't Suck
Walking to Aldebaran — Adrian Tchaikovsky
Adrian Tchaikovsky's Walking to Aldebaran is a standalone science fiction novella.
Lucky Gary Rendell has realized his childhood dream of being an astronaut! Even better, what was thought to be Planet Nine has turned out to be an enigmatic alien artifact and Gary has been assigned to the joint mission dispatched to examine the massive structure.
Marvels wait inside.
---
Space Opera That Doesn't Suck
Velocity Weapon — Megan E. O'Keefe
Protectorate, book 1
Megan E. O'Keefe's upcoming 2019 Velocity Weapon is the first volume in her projected Protectorate series.
In the 22nd century, Alexandra Halston's invention of Prime gave humanity the Casimir Gates and access to the stars. By the 36th century, Prime spans many systems. Prime's Keepers carefully maintain the network and all that is necessary to create more gates, in return for which they impose tariffs on the goods shipped from system to system. Everyone who matters agrees that this is a just arrangement — save for the planet of Icarion.
---
Space Opera That Doesn't Suck
A Memory Called Empire — Arkady Martine
A Memory Called Empire is Arkady Martine's debut novel. It is a space opera.
Lsel Station has spent ages engaged in a careful dance with the Teixcalaanli Empire. It tries to maintain vital trade ties to the vast polity, but avoids becoming so essential as to invite annexation. The empire is a dangerous neighbour, but it protects Lsel from neighboring polities who are even worse. Hence the dance.
Mahit Dzmare is the latest ambassador to be dispatched by the Stationers to the empire. If she plays her cards badly, she may be the final ambassador to the empire.
---
Space Opera That Doesn't Suck
Finders — Melissa Scott
Firstborn, Lastborn, book 1
2018's Finders is the first volume in Melissa Scott's Firstborn, Lastborn series.
The Ancestors disappeared millennia ago, leaving behind some garbled myths and the scattered relics of their nigh-godlike technology. Cassilde Sam and her partner Dai Winter make their meagre living tracking down and salvaging Ancestor relics. It's a hard life, but not one that Cassilde will have to endure much longer. Third-stage Lightman's will soon end her life. There is no treatment for Lightman's.
Cassilde is desperate to secure financial security for Dai before she dies. An opportunity presents itself, but it comes at a high price: accepting scholar Summerlad Ashe as a partner once more.

---
Space Opera That Doesn't Suck
The Trove — Tobias S. Buckell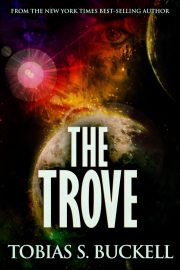 Tobias S. Buckell's 2018 The Trove is a standalone SF adventure novel.
Interstellar travel has not eliminated social stratification. Earth is home to oligarchs whose wealth is hard to measure. In contrast, the wealth of Jane Hawkins and her two mothers, Sadayya and Tia, is very easy to measure: it is the Nelson Inn, located in the unfashionable part of Sargasso Port. Customers are few, the inn is struggling, and Tia is slowly dying of an incurable disease.
A more prosperous inn would have turned away rigger Villem Osteonidus. Not only does the cyborg lacks any personal charm, he's a drug addict. But the Hawkins Inn needs every customer it can get. Villem gets a room, one his hosts expect him to occupy for only as long as it takes for the drugs to kill him.
Villem has far worse problems than his addiction.

---
Space Opera That Doesn't Suck
Revenant Gun — Yoon Ha Lee
Machineries of Empires, book 3
2018's Revenant Gun is the third volume in Yoon Ha Lee's Machineries of Empire trilogy.
Seventeen-year-old Shuos Jedao wakes to discover he is actually over four centuries old. Most of his memories have been stolen by the enemy. Despite having few conscious memories of military experience, he is expected to command a vast military in a war over the fundamental rules of existence.

---
Space Opera That Doesn't Suck
Space Opera — Catherynne M. Valente
Catherynne M. Valente's 2018 Space Opera is a standalone space opera.
In the not too distant future, humanity finds itself invited into the Warm Fuzzy Galactic Family, an interstellar community of beings who agree to recognize each others' personhood. There are a couple of tiny catches: membership is not automatic and failing the test will result in the total extermination of the human race. Also, the test is mandatory.
The good news is that the test is fairly straightforward: participate in the Metagalactic Grand Prix, a galaxy-wide musical contest. Humanity's champions don't even have to win, just avoid coming in dead last. The aliens are even kind enough to provide a list of musicians they feel have a chance of not abjectly losing. It's too bad that everyone on that list is dead.
Well, not quite everyone.

---
16
Apr
2018
/ 10 Comments
Space Opera That Doesn't Suck
The Citadel of Weeping Pearls — Aliette de Bodard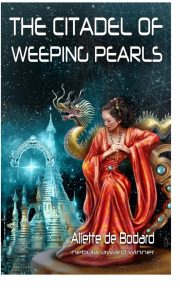 Aliette de Bodard's 2015 space-opera The Citadel of Weeping Pearls is an instalment in her Universe of Xuya, an alternate history/future in which the West never dominated the world. The galaxy is ruled by Confucian powers.
Suu Nuoc is woken from a sound sleep by his alarmed shipmind, The Turtle's Golden Claw. The artificial intelligence reports that Grand Master of Design Harmony Bach Cuc has seemingly vanished, in a manner the shipmind cannot comprehend. As far as The Turtle's Golden Claw is concerned, it is up to Suu Nuoc — an Official of the First Order despite his low birth — to work out what happened to the missing scientist.

---
Space Opera That Doesn't Suck
A Matter of Oaths — Helen S. Wright
Helen S. Wright's 1988 A Matter of Oaths is a standalone (thus far) space opera.
Desperate for crew but short on qualified candidates, Commander Rallya of the patrolship Bhattya grudgingly hires Rafe. His service record is glowing, his professional qualifications are exemplary, but … Rafe has been mind-wiped, for reasons about which Rallya can only speculate.
Not having a choice really speeds up the decision making process. At least Commander Rallya can be sure that whatever Rafe's past, identity erasure has made it completely irrelevant to his present.
Right?

---
Space Opera That Doesn't Suck
Waiting on a Bright Moon — JY Yang
JY Yang's Waiting on a Bright Moon is a standalone space opera.
In another life, Ansible Xin might have been a starmage. In this one, her sexual orientation was the pretext used to strip her of her birth name and consign her to endless drudgery as a living communications device on Eighth Colony.
The appearance of a mysterious corpse on the threshold of an interstellar portal sets in motion events that will transform Xin's life.

---
Space Opera That Doesn't Suck
Barbary Station — R. E. Stearns
Shieldrunner Pirates, book 1
2017's Barbary Station is the first book in R. E. Stearns' Shieldrunner Pirates series.
Faced with crushing debt and poor employment prospects, two women in love plan to hijack a large, expensive space ship and use it to buy their way into the pirate gang currently in possession of the so-called Barbary Station. Thelma and Louise, in SPAAACE.
Adda and Iridian's scheme is such a simple, straight forward plan it's hard to see how it could possibly go wrong. Indeed, it works almost perfectly until the pair and their hapless, expendable ally arrive at the station, whereupon their helper is shot dead and the two women learn they have made a slight miscalculation.

---
Space Opera That Doesn't Suck
Caliban's War — James S. A. Corey
Expanse, book 2
2012's Caliban's War is the second book in James S. A. Corey's ongoing Expanse series.
Fresh off playing a central role in the intensification of the ongoing Earth-Mars rivalry (from cold war to the brink of the real thing), James Holden and the crew of the Rocinante now work for the Outer Planets Alliance. Their job: tracking down and dealing with pirates eager to take advantage of the current chaos. It's a grim job but at least Holden and his people can be sure the alien protomolecule — a super-powerful nanotech able to reshape living things according to inscrutable and ancient protocols — is safely confined on Venus and will never bother humanity again.
It bothers humanity again.

---
Space Opera That Doesn't Suck
Stoneskin — K. B. Spangler
Deep Witch
2017's Stoneskin is a prequel to K. B. Spangler's upcoming Deep Witch trilogy.
Tembi Moon, one of the poorest of Adhama's poor, knows her alleys and she knows that the alley in which she has awakened is no alley that she has ever seen. It's the first hint that something vast and alien has taken a personal interest in her.
Vast, alien, and as friendly as a puppy dog.

---
Space Opera That Doesn't Suck
Ann Leckie's 2017's Provenance is either a standalone novel set in the same universe as the Ancillary books, or the first book in a series set in the same universe as the Ancillary books. I should find out which it is before posting this. Wonder if I will.
Oh, well.
Determined to prove her worth to her high-ranking foster-mother Netano Aughskold, Ingray Aughskold has invested most of her money in a very bold scheme, a scheme so well planned that it does not go off the rails until shortly before the book begins.
Ingray paid to have a very special person retrieved from durance vile. She did not expect him to arrive in a suspension box1. Nor did she anticipate that meticulously conscientious Captain Uisine would insist on talking to the man in the box to make sure that he wanted to be transported from Tyr Siilas to distant Hwae. Nor did Ingray foresee that the man in the box would deny being Pahlad Budrakim, the arch-criminal who is the key to Ingray's cunning plan.
And then the real complications begin.

---
Space Opera That Doesn't Suck
Revenger — Alastair Reynolds
Alastair Reynold's 2016 Revenger is a standalone SF novel.
Eager to escape her foolish father and his incredibly creepy associate Doctor Morcenx, teenaged Adrana Ness talks her way onto Captain Rackamore's light-sail spacecraft. Rather than abandon her younger sister Fura to Morcenx, Adrana convinces her sister to accompany her into deepest space in search of freedom and fortune.
What they get is death and corruption but hey, A for effort.
---
Space Opera That Doesn't Suck
Consider Phlebas — Iain M. Banks
Culture, book 1
What better novel to inaugurate Space Opera That Doesn't Suck than Consider Phlebas? This 1987 novel by the (sadly) late Iain M. Banks wasn't Banks' debut novel, but it was the first novel to feature his star-spanning, anarchistic utopia, the Culture.
Banks chooses to introduce the Culture not from the perspective of a sympathetic observer, but rather from the point of view of an enemy. The Changer Horza sees Minds, the artificial intelligences that dominate the Culture, as anti-life and the culture of the Culture as an anti-evolutionary dead end. Accordingly, when the Idiran-Culture War breaks out, Horza casts his lot with the Idirans. The Idirans might be violent, repressive, bigoted religious fanatics but at least they are on the side of life. Or so Horza sees it. And a shapeshifter like Horza is a valuable asset….
His cover blown, shackled to a cell wall, waiting for a rising tide of waste to drown him …
---
Space Opera That Doesn't Suck