Jo Walton's 2019 Lent is a standalone historical fantasy.
Dominican prior Girolamo Savonarola of Florence is a man of many gifts. He can see demons. He can cast them back to Hell. He has profound powers of persuasion. He is a man who can shape history.
He is also fated to be hanged and burned in May of 1498.
---
Special Requests
The Affair of the Mysterious Letter — Alexis Hall
Alexis Hall's 2019 The Affair of the Mysterious Letter is a standalone fantasy mystery.
Wounded in the war against the Empress of Nothing, Captain John Wyndham returns not to Ey, the straitlaced home of his youth, but to his college town, the cosmopolitan city of Kelathra-Ven. Despite years spent away at the front, John is at heart still a small-town boy.
He ends up rooming with the flamboyantly decadent sorcerer(ess) Shaharazad Haas. Haas appreciates Wyndham for his placid toleration of Haas' eccentricities.
---
Special Requests
Off the Main Sequence: The Other Science Fiction Stories of Robert A. Heinlein — Robert A. Heinlein
Off the Main Sequence: The Other Science Fiction Stories of Robert A. Heinlein was edited by Andrew Wheeler, then of the Science Fiction Book Club. It delivers exactly what it says on the tin.
This book has been out of print since its first and only printing in 2005 [1]. It seems to be surprising available as a used book (which I would not have expected) but I was spared the immense difficulty of ordering and waiting for a copy, as I already owned an early cut of the book, thanks to my then job at the Science Fiction Book Club.
---
Special Requests
Carry On — Rainbow Rowell
Simon Snow, book 1
Rainbow Rowell's Carry On is a fanfic of Gemma T. Leslie's Simon Snow series. It would be an unauthorized fanfic were it not that Gemma T. Leslie and Simon Snow were both created by Rainbow Rowell. They were introduced in Rowell's novel Fangirl.
Simon Snow returns to wizard school Watford for the final year of his magical education. Summer at the latest foster home in the Normal world has been dreadful as always. Life at Watford isn't without its challenges, but at least at Watford Simon has his friendship with Penelope and his joyless romance with the beautiful Agatha.
---
Special Requests
The Utterly Uninteresting and Unadventurous Tales of Fred, the Vampire Accountant — Drew Hayes
Fred, the Vampire Accountant, book 1
2014's The Utterly Uninteresting and Unadventurous Tales of Fred, the Vampire Accountant is the first volume of Drew Hayes' Fred, the Vampire Accountant series. It is a fix-up urban fantasy novel. Or possibly a collection of linked stories, depending on how you look at it.
Transformed into an undead, Fredrick "Fred" Frankford Fletcher (accountant) has made the minimum necessary adjustments to existence as a vampire. He may work nights now, but he's still an accountant and as exciting as a ledger. Boring in life, boring in undeath.
At least until the night of his high school reunion.
---
Special Requests
Meddling Kids — Edgar Cantero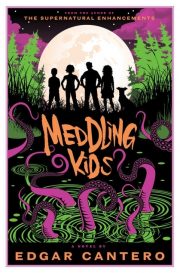 Edgar Cantero's 2018 Meddling Kids is the latest book in the Blyton Summer Detective Club Adventure series1.
In 1977, the Blyton Summer Detective Club — Peter, Kerri, Andy, Nate, and their dog Sean — capped off their successful teen detecting careers with the revelation of that the Sleepy Lake Monster was just would-be burglar Thomas Wickley in a rubber mask.
Wickley was sent off to prison. The four teens got on their lives. Thirteen years later, the surviving members of the Blyton Summer Detective Club are faced with a terrible revelation: they got their final case wrong.
---
Special Requests
Making History — Stephen Fry
Stephen Fry's 1996 Making History is an alternate history. It won the 1998 Sidewise Award1.
To his biochemist girlfriend Jane Michael, "Puppy" Young is a charming, bumbling idiot who cannot be trusted unattended in a laboratory. He's an amusement, but not a man with whom she could possibly spend her life. To the world at large, Puppy is a feckless graduate student working toward a PhD in history, a field he believes is (like Puppy himself) cruelly unappreciated by the world. His grand ambitions run up against reality when his advisor reveals to Puppy that large swaths of Puppy's thesis on Hitler are utter crap.
This academic setback isn't the only downer; Puppy finds out that Jane is moving to Princeton without him. It's at this moment of utter personal failure that some misaddressed mail provides Puppy with an introduction to physicist Leo Zuckerman. It is an encounter that will reshape history.
---
Special Requests
Point of Knives — Melissa Scott
Melissa Scott's Point of Knives is set at a time between that of Point of Hopes and that of Point of Dreams, the first and second instalments of the Astreiant series. Since my site does not do fractions or decimals, numbering Point of Knives is a bit tricky. So I will not even try.
Adjunct Point Nicolas Rathe is called from his bed to attend to a murder. Rathe soon discovers that there were two murders: both Grandad Steen and his son Old Steen were mortally injured, although by someone inept enough that dying Old Steen tried to run to safety.
The motive for some murders is obscure. In Grandad Steen's case, the motive seems clear: treasure.
---
Special Requests
Sandwriter — Monica Hughes
Sandwriter, book 1
Monica Hughes' 1985 Sandwriter is the first entry in her Sandwriter duology.
Princess Antia of Kamalant has led a pampered life. Her parents are dead (of an accident, it is said) but she has been carefully raised by King Rangor (her uncle) and Queen Sankath (her aunt). Her immediate retinue includes doting nurse Nan and tutor Eskoril (whom Antia finds most attractive). Her childhood has been pleasant.
Now the bill for that childhood has come due.
---
Special Requests
Predestination — Michael Spierig & Peter Spierig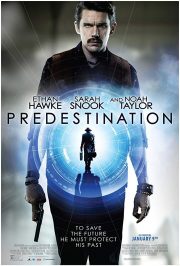 Michael and Peter Spierig's 2014 Predestination is an SF film based on Robert A. Heinlein's short story " — All You Zombies — ." Predestination stars Ethan Hawke, and Sarah Snook. Bizarrely enough, it is not a terrible film inspiring lamentations from all who see it.
Maimed trying to disarm a bomb planted by the notorious Fizzle bomber, an agent is given a new face and a new assignment in Disco-era New York. His assignment begins with an orchestrated meeting in a bar.
---
Special Requests
Renegades — Marissa Meyer
Renegades, book 1
2017's Renegades is the first volume in Marissa Meyer's novel series, also known as Renegades.
Once prodigies (people with superpowers) were feared and oppressed. Thanks to the efforts of paramount prodigy Ace Artino (AKA Ace Anarchy) prodigies were feared but no longer oppressed, albeit at the cost of the temporary collapse of civilization during the Age of Anarchy.
The super-powered Renegades ended the Age of Anarchy by crushing every rival group. Based in Gatlon City, the Renegades have replaced the vanished civilian government with their own (well-intended) rule. This new arrangement is short on democratic niceties but it's better than the never-ending gang war it replaced. Most people are willing to live with rule by Renegade.
But not Nova "Nightmare" Artino.
---
Special Requests
The Kingdom of Copper — S. A. Chakraborty
Daevabad, book 2
2019's The Kingdom of Copper is the second volume in S. A. Chakraborty's Daevabad Trilogy.
Nahri escaped her life as a confidence agent in French-and-Turkish occupied Cairo with a few, well-chosen words. Or rather, by accidentally summoning a djinn during a faked exorcism. The djinn Dara whisked Nahri off to Daevabad, the city of the djinn, where she was soon entangled in cut-throat court politics. Nahri is, it seems, the last remaining person with a blood tie to the previous dynasty, the Nahids.
Her mere existence threatens the current ruler, Ghassan. Ghassan attempts to defuse the threat by marrying Nahri to his loyal, if dissolute, son Muntadhir.
---
Special Requests
Ordinary Jack — Helen Cresswell
Bagthorpe Saga, book 1
1977's Ordinary Jack is the first volume in Helen Cresswell's YA Bagthorpe Saga.
The Bagthorpes are perhaps the single greatest collection of geniuses the world has ever seen. At least, that is what the Bagthorpes would say … and if you cannot trust the single greatest collection of geniuses the world has ever seen, whom1 can you trust?
Jack Bagthorpe is the sole exception. Poor Jack is exceptionally unexceptional.

---
Special Requests
Mrs. Frisby and the Rats of NIMH — Robert C. O'Brien
Robert C. O'Brien's 1971 Mrs. Frisby and the Rats of NIMH is a standalone children's SF novel. O'Brien wrote no sequels.
Mrs. Frisby (a mouse) and her children (mice) have taken shelter in a cinder block near one of the fields owned by farmer Fitzgibbons. Winter is over and plowing season is approaching. The widow Frisby must move her children before a plow smashes into their home.
In previous years, Mrs. Frisby had no trouble relocating her family before plowing season. This year is different.
---
Special Requests
The Changeover — Margaret Mahy
Margaret Mahy's 1984 The Changeover is a standalone YA fantasy novel.
Schoolgirl Laura Chant lives with her divorced mother Kate and her younger brother Jacko. One morning she wakes with a premonition that life in the quiet Christchurch suburb of Gardendale is about to change for the worse. She knows from past experience that her premonitions are trustworthy. However, there seems to be nothing she can do to prevent whatever fate is looming. She must carry on as normal and hope for the best.
She does not get the best.
---
Special Requests
The Wizard Children of Finn — Mary Tannen
Finn, book 1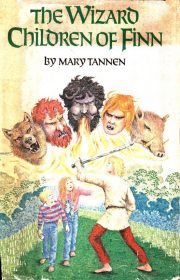 Mary Tannen's 1981 time-travel juvenile fantasy The Wizard Children of Finn is the first of her Finn novels.
Sent off by their actress mother for a summer stay at their uncle Rupert's estate, eleven-year-old Fiona and eight-year-old Bran McCool foresee a summer of boredom. They'll miss their mother; their uncle will not be in residence. The children have only the company of two eccentric old women whom they barely know, Lia and Bovmall.

---
Special Requests
Servant of the Crown — Melissa McShane
Tremontane, book 1
Servant of the Crown is the first volume in Melissa McShane's Tremontane series.
Alison Quinn, Countess of Waxwold, distrusts men. Every man she has ever met has wanted her title, her money, and/or her body. She has turned her back on romance to focus on her father's publishing company. But rank comes with obligations. When Queen Zara North summons Alison to Aurilien to serve as a companion to Zara's mother, the Dowager Queen, Alison has no choice but to obey.
The Dowager Queen is friendly, if a bit naïve. Her son Anthony is also friendly. Too friendly. As the heir apparent to the unmarried and childless Zara, he is confident that he is irresistible.
Alison and Anthony's first meeting ends in a slap heard around the court.
---
Special Requests
The Afterward — E. K. Johnston
E. K. Johnston's 2019 The Afterward is a standalone secondary-universe fantasy.
Summoned out of oblivion by power-hungry fools, the Old God raised an army of mind-controlled slaves and marched to retake the world it once owned. As so often happens to world-conquering villains, the God was vanquished by seven adventurers led by Sir Erris Quicksword.
The world saved, the adventurers were each rewarded (although not too lavishly) and were free to return to their old lives. Or so some might have thought.
---
Special Requests
Burning Bright — Melissa McShane
Extraordinaries, book 1
2016's Burning Bright is the first volume of Melissa McShane's Extraordinaries series.
Elinor Pembroke discovers she has extraordinary powers when she wakes to discover her bedchamber is on fire. She extinguishes the flames with a thought. This marks her not just as a so-called scorcher, a pyrokinetic, but as the very special sort of scorcher who can control and dismiss the flames she creates.
Since the year is 1812, this means that Elinor is no longer an unremarkable middle sister well on her way towards spinsterhood. She's now a valuable commodity on the marriage mart. Her father is eager to hawk her to the first sufficiently well-born prospect.
---
Special Requests
The Element of Fire — Martha Wells
Martha Wells' 1993 debut novel The Element of Fire is a standalone secondary-universe fantasy. It is the first of Wells' Ile-Rien books. It was followed by The Death of the Necromancer, The Fall of Ile-Rien trilogy (The Wizard Hunters, The Ships of Air, and The Gate of Gods) and various short pieces.
A daring night-time raid on a sorcerer's lair, a victim recovered, a mansion left aflame: enough of an adventure in itself. For Captain Thomas Boniface, this was just the beginning of a longer, more perilous campaign.
---
Special Requests
The Smoke-Scented Girl — Melissa McShane
Dalanine, book 1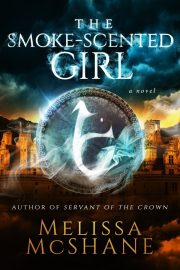 2015's The Smoke-Scented Girl is the first volume in Melissa McShane's Dalanine secondary-universe fantasy series.
The kingdom of Dalanine is under attack. The Despot is marching steadily, unstoppably, towards the capital. Dalanine is also dealing with a rash of deadly arson attacks.
Research magician Evon Lorantis is working desperately to work out who or what agency is causing the fires.
What he discovers: a young woman who can't control her new powers.
---
Special Requests
Carpe Diem — Sharon Lee & Steve Miller
Liaden, book 3
Sharon Lee and Steve Miller's 1989 Carpe Diem is the third novel published in their long-running Liaden series.
Set upon by the predatory Yxtrang, Val Con yos'Phelium makes a desperate bid to escape into faster-than-light drive. It's successful in the sense that Val Con and his companion Miri Robertson escape horrific deaths at the hands of the Yxtrang. It's unsuccessful in that their badly damaged ship ends up in the back of beyond, orbiting the interdicted world of Vandar.
Briefly orbiting. A forced descent follows.
---
Special Requests
This Alien Shore — C. S. Friedman
C. S. Friedman's This Alien Shore is a standalone space-opera/cyberpunk novel.
The Hausman drive gave humanity the stars. It also induced mutations in crew, passengers, and colonists. The mutations thrived in the new colonies, which became known as Variants. A bigoted, xenophobic Earth abandoned its colonies. Two centuries later, the Guerans developed an entirely new method of faster-than-light travel, via ainniq, points that give access to an alien realm governed by unfamiliar laws. The Gueran Guild reached out to all of humanity's worlds, including standoffish Earth, and rebuilt the interstellar community Earth had cast aside.
Now someone is trying to destroy that community.
---
Special Requests
City of Bones — Martha Wells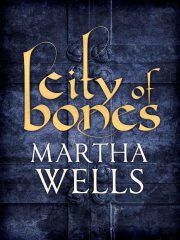 Martha Wells' 1995 City of Bones is a standalone secondary-world fantasy.
The relic trade is chancy enough, but for krismen like Khat in a city like Charisat, it is especially risky. Even if Khat can avoid violating Charisat's trade laws, he could still be murdered by greedy criminals … or off-handedly killed by the city guard or their masters. He is, after all, a despised non-human.
Too bad that there are so few jobs open to Khat. This is the best of the few; as a krisman, he has some advantages.
---
Special Requests
Travel Light — Naomi Mitchison
Naomi Mitchison's 1952 Travel Light is a standalone fantasy.
A widowed king remarries. His new wife may have many virtues, but love for her stepdaughter Halla is not one of them. Eager to please his new bride, the king orders his daughter Halla cast out in the wilderness to die.
This should have been the end for Halla. It wasn't.
---