Record of a Spaceborn Few — Becky Chambers
Galactic Commons, book 3
2018's Record of a Spaceborn Few is the third volume in Becky Chambers' Galactic Commons series.
Having ruined the Earth, humans mined the Earth's cities and turned them into a vast interstellar fleet. The Exodus Fleet's design proved surprisingly robust; not only did the fleet survive centuries and light-years, the people riding the ships neither went mad nor devolved into cannibalistic barbarians. The Exodus Fleet was an impressive achievement. Even if the technology involved was hilariously backward by galactic standards.
If only humans had encountered the galaxy-spanning Galactic Commons (GC) before the Fleet set out, the whole endeavour might have been unnecessary. As it is, the human race was allowed to join the GC as a very junior member, while the aging Fleet was graciously permitted to park itself in an otherwise useless stellar system.
Where it still orbits.

---
Special Requests
The Gate of Gods — Martha Wells
The Fall of Ile-Rien, book 3
2005's The Gate of Gods is the third book in Martha Wells' Fall of Ile-Rien trilogy.
Ile-Rien has fallen to the mysterious, implacable Gardier. Tremaine Valiarde managed to escape. She and her handful of allies — some from Ile-Rien, some from another timeline, and one ambiguously alive sorcerer — have taken refuge in allied Capidara. There they hope come up with a plan for defeating the invaders.
But it turns out that the Gardier have infiltrated Capidara. The supposed refuge is in no way safe.

---
Special Requests
Point of Dreams: A Novel of Astreiant — Melissa Scott & Lisa A. Barnett
Astreiant, book 2
2001's Point of Dreams: A Novel of Astreiant is the second volume in Melissa Scott and Lisa A. Barnett's Astreiant series.
Pointsman (city guard) Nicolas Rathe and his lover (ex-soldier Philip Eslingen) face a truly terrifying challenge:
Theatre folk.

---
Special Requests
Exit Strategy — Martha Wells
The Murderbot Diaries, book 4
2018's Exit Strategy is the fourth volume in Martha Wells' Murderbot Diaries series of novellas.
Returning from its field trip to Milu, Murderbot covertly accesses local security networks and discovers that there is a security detail waiting for the ship on which it has stowed away. Further probing verifies that, yes, the detail is waiting for Murderbot.
It's not the worst news Murderbot has ever heard. In fact, it's not even the worst news Murderbot has heard that day.

---
Special Requests
Freeport — Maldoror_Chant

Maldoror_Chant's 2017 Freeport is a fanfic set in the world of Mobile Suit Gundam Wing.
The grand conflict in MSGW is over. The heroic terrorist protagonists of MSGW now must find new roles for themselves, preferably roles that do not leave a swath of death and property destruction in their wake.
Chang Wufei's solution is to become a cop. He is dispatched to problem spot after problem spot, by a federation government striving endlessly to keep discord from boiling over into open chaos. Intrepid, uninhibited by petty bureaucratic rules, Wufei lives on a knife edge: he must be useful enough that he will not be cashiered for his frequent use of excessive force.
Assigned to bring a hitman known only as Carver to justice, Wufei recruits his old ally Duo. Duo has become a borderline criminal who operates out of the colony of Freeport — which is Carver's last known destination. Wufei hopes that Duo's connections will allow Wufei to nab Carver.

---
Special Requests
A Natural History of Dragons: A Memoir by Lady Trent — Marie Brennan
Lady Trent, book 1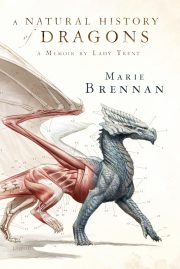 2013's A Natural History of Dragons: A Memoir by Lady Trent is the first volume in Marie Brennan's Lady Trent series.
Scirland is not known for encouraging the intellectual interests of its women — not even its high-born women. Isabella, the future Lady Trent, is one of the determined few who prevailed despite all the pressures to focus on the lady-like pursuits she finds boring beyond words.
Why focus on tedious social gatherings when she lives in a world full of natural wonders like dragons?

---
Special Requests
Daughter of the Lilies — Meg Syverud & Jessica "Yoko" Weaver
Daughter of the Lilies is an ongoing webcomic. Meg Syverud writes and draws the comic, assisted by colourist Jessica "Yoko" Weaver (aka Nytrinhia).
Given her druthers, masked mage Thistle prefers to perform beneficial magic: healing, plant growth, and entertaining illusions. As one of the members of Orc mercenary Orrig's little troupe, she is valued for her lethal spells. Not the life she'd prefer, but one that circumstances have forced on her.

---
Special Requests
Skeen's Leap — Jo Clayton
Skeen, book 1
1986's Skeen's Leap is the first volume in Jo Clayton's Skeen trilogy.
Skeen is her own creation, from her name to her career as a star-faring grave robber, looting the relics of ancient civilizations for her own enrichment. It's a heartwarming tale of personal re-invention.
Or it was, until Skeen's lover Tibo stole her starship and marooned Skeen on Kildun Aalda. Although the authorities do not know who Skeen really is, it's only a matter of time before she ends up in prison or dead.
Happily, there is a third option.

---
Special Requests
The Human Dress — Graydon Saunders
Graydon Saunders's 2018 The Human Dress is a standalone secondary-world fantasy novel.
Braemor lies just south of lands still claimed by the Walking Ice. It's a challenging place for humans. It is barely post-glacial and home to humongous beasts that we might call "dinosaurs." Misfortune or a bad winter could send the community into a death spiral.
So could a deliberate campaign of sabotage.

---
Special Requests
Arkfall — Carolyn Ives Gilman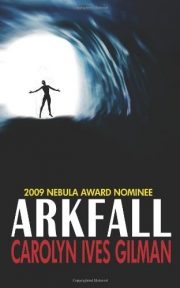 Carolyn Ives Gilman's 2008 Arkfall takes place in her Twenty Planets setting.
An ice-covered ocean world like a scaled-up Europa, Ben has no known native life. Centuries ago, humans settled inside the ice-enclosed Saltese Sea and began their long effort to transform Ben's oceans into living seas. The Saltese Sea, which is surrounded by mountains high enough to reach the icy surface of the world, is small enough that \their Great Work will have a measurable effect within a few generations. The volcanic Cleft of Golconda =provides the energy that will maintain the new ecosystem.
It's a hard and demanding life for the human settlers. They cope by cooperating. Courtesy and non-confrontation are the rule. Loud and self-centred people are judged very harshly by their neighbours.
Osaji's sister Kitani married, leaving Osaji to care for their grandmother Mota. Frail and struggling with dementia, Mota is unable to care for herself. Osaji finds herself resenting Mota (much to her dismay, but there it is) and briefly considers leaving Ben for some other world. But a momentary encounter with a brash off-worlder named Scrappin' Jack brings Osaji back to her senses. Imagine living with a whole world of such rude barbarians!

---
Special Requests
Pursuit of the Screamer — Ansen Dibell
Strange and Fantastic History of the King of Kantmorie, book 1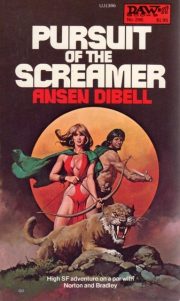 Ansen Dibell's 1978 Pursuit of the Screamer is the first volume in her Strange and Fantastic History of the King of Kantmorie planetary adventure series. It is also the very first Dibell I've ever read.
Jannus encounters Lur, a Screamer, so named because they telepathically broadcast confusion and fear. The empathic Valde, a guild of female warriors and guards, kill Screamers whenever discovered. But telepathically deaf Jannus sees only a small, frail fellow human. Rather than hand the Screamer to the Valde to be killed, Jannus helps the Screamer escape. It's a decision that will shape the boy's life.

---
Special Requests
Always Human — Walkingnorth
Walkingnorth's Always Human is a hard-SF-romance webtoon.
Intrigued by the oddly modless woman whose path she keeps crossing at the local transport station, VR environment designer Sunati sees the stranger's hayfever attack as a chance to introduce herself. The offer of an appropriate mod (biomanipulating nanotech) does not go as Sunati envisioned. Instead of gratitude, the offer provokes tears.

---
Special Requests
Winterlong — Elizabeth Hand
Winterlong Trilogy, book 1
Elizabeth Hand's 1990 debut novel Winterlong is the first volume in her Winterlong Trilogy.
Nuclear war and germ warfare have left Washington a shadow of its once glorious past. A handful of administrators, descended from self-appointed curators, control the relics of America's lost past, defending the remnants from the diseased, mutated, and simply unlucky inhabitants of the surrounding sea of ruins.
A desperate woman appealed to House Miramar for refuge. Too damaged to be of use to Miramar, the woman was cast out to die at the hands of the lazars. But Miramar did keep her two beautiful children, as new Paphians for Miramar's bordellos. Only Raphael proved suitable. Autistic Wendy Wanders was consigned to HEL.

---
Special Requests
A Darker Shade of Magic — V. E. Schwab
Shades of Magic, book 1
A Darker Shade of Magic is the first volume in V. E. Schwab's Shades of Magic series.
Kell is an Antari, one of two known world-walkers, able to travel between the four known alternate Londons, White, Red, Gray, and forbidden Black. His is a gift rare enough to make him a treasured possession of Red London's Royal Family.
Officially, Kell uses his gift to serve as an ambassador between the three Londons — White, Red, and Gray — that are still in limited contact with each other. On his own time Kell likes to collect souvenirs. That's forbidden. But moving minor trinkets from one world to another seems a harmless hobby.
It isn't.

---
Special Requests
Anthonology — Piers Anthony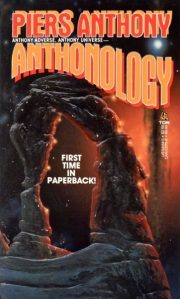 Piers Anthony's 1985 Anthonology is a collection of his short works, with added commentary by the author's foremost admirer, Piers Anthony. The stories are for the most part dreadful … but at least there are a lot of them.
---
Special Requests
The Green Glass Sea — Ellen Klages
Ellen Klages' 2006 Scott O'Dell Award winner The Green Glass Sea is a young-adult historical fiction novel.
Having been abandoned by her mother and left to the care of her aged grandmother by her hard-working father, Dewey Kerrigan's life has achieved some stability and comfort. But this too ends. Her grandmother suffers a stroke and there's no other choice for her but to leave her familiar surroundings for life with her father. In an obscure New Mexican town called Los Alamos. It's 1943.

---
Special Requests
Twenty Palaces — Harry Connolly

2013's Twenty Palaces is a prequel to Harry Connolly's Twenty Palaces series.
Fresh out of prison, all Ray Lilly wants to do is find a legitimate job and rebuild his life. His uncle Karl, a cop, warns Ray that his future won't be as straightforward as Ray hopes. Ray may think he's paid his debt to society but society doesn't agree.
As it turns out, American unfamiliarity with mercy is the least of Ray's problems. Some of Ray's old friends have picked up a very interesting hobby: magic.

---
Special Requests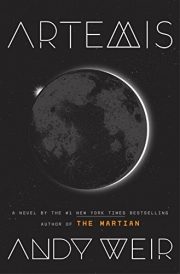 2017's Artemis is a standalone hard-SF novel by Andy Weir.
A century after the first Moon landings, Jasmine "Jazz" Bashara is living proof to the other residents in the lunar city, Artemis, that sufficiently poor judgment can lead to many exciting adventures. There may, however, be a hard limit to how long one such miscreant can survive on the unforgiving Moon.

---
Special Requests
Northern Tier — David Axel Kurtz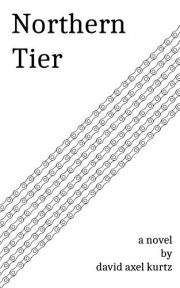 2017's Northern Tier is a standalone post-apocalyptic novel by David Axel Kurtz.
Two centuries after nuclear war and the collapse of petroleum-based civilization, North America is divided between several nations: Nova Scotia et Hibernia, Minnetonka, Central, Two Crowns, and others. Trade between nations has become slow and difficult, creating a niche for couriers who are willing to brave the dangers of the open road to deliver small, valuable packages quickly. The cycers, bicycle couriers like Slip, fill this niche.
Slip is a survivor, smart and cautious enough to survive a lifestyle that kills most cycers young. But this time, one moment of bad judgment on her part may doom not just Slip, but the entire cycer way of life.

---
Special Requests
The Dazzle of Day — Molly Gloss
1998's The Dazzle of Day is a standalone generation ship novel by Molly Gloss.
Frustrated with conditions on Earth, a community of Quakers re-purposes an orbiting space habitat. Renamed the Dusty Miller, equipped with vast solar sails, the vessel heads into deepest space for a 175-year journey to another star.

---
Special Requests
Exo — Steven Gould
Jumper, book 4
2015's Exo is the fourth book in Steven Gould's long-running Jumper series.
Cent is one of just three humans able to teleport; the other two are her mother Millie and her father Davy. The ability allows the family to treat the entire planet as their home. It has also led to decades of persecution (stalking, abduction, imprisonment) by those determined to control and exploit the trio.
So far, they have survived by hiding. Only a handful of people know what the three can do. Thanks to Cent's current hobby, that's going to change.

---
Special Requests
Emissaries From The Dead — Adam-Troy Castro
Andrea Cort, book 1
2008's Emissaries from the Dead is the second story and first novel in Adam-Troy Castro's Andrea Cort series.
When she was eight, Andrea Cort's home community on Bocai descended into violent mass insanity. Cort succumbed to the madness but emerged one of the few survivors. Cort still thinks of herself as a Monster-with-a-capital-M but her trauma makes her valuable to the Homo Sapiens Confederacy Diplomatic Corps. The Corps stands between Cort and the aliens who would like her tried for her past. If Cort is to stay within the Corps' safe harbour, she must accept every crappy assignment they hand her.
Which is how Associate Legal Counsel for the Homo Sapiens Confederacy Diplomatic Corps Judge Advocate Andrea Cort finds herself headed to One One One, with strict orders to find a politically acceptable person to blame for a brutal murder, regardless of who the actual killer might be.

---
Special Requests
Noumenon — Marina J. Lostetter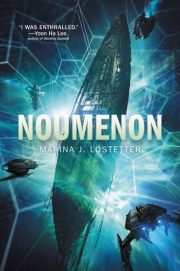 2017's Noumenon is a standalone generation-ship epic from Marina J. Lostetter.
Reggie Straifer is twice lucky. First, he has boosted his career with his discovery of an enigmatic stellar object, one that is quite possibly artificial. Second, he has made his discovery at a time when humanity has both the means and the will to travel to that distant object.
There's just one catch: the round trip will take two thousand years by Earth's clocks and over two centuries by any traveller's clock. Happily, the means and the will to deal with that issue also exist. Less happily, the means turns out to be inhumane.

---
Special Requests
An Unkindness of Magicians — Kat Howard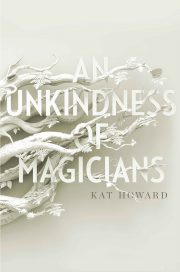 Kat Howard's 2017 An Unkindness of Magicians is a standalone urban fantasy.
Every twenty years, the magical houses of New York City's Unseen World struggle for dominance in a series of increasingly dangerous contests known as the Turning. This time, the Turning is seven years early. The premature Turning is just one of the disquieting anomalies plaguing the Unseen World. Which may hint that magic itself may be dying.

---
Special Requests
The High Couch of Silistra — Janet E. Morris
Silistra Quartet, book 1
1977's The High Couch of Silistra is the first volume in Janet Morris' Silistra Quartet. It's also proof that not every reviewer should review every book, because the market it caters to, the BDSM crowd, is not one to which I belong. I'm mostly blind to whatever strengths this work may have.
The ancient Silistrans used their impressive technology to scour their own homeworld. A handful survived in underground refuges. When the surface of Silistra recovered and the descendants of the survivors emerged from their warrens, they vowed to never again become dependent on technology.
Silistrans are hardy, long-lived, and thanks to that ancient war, infertile. High technology might have dealt with the fertility issue. The Silistrans chose an entirely different solution.

---