Godzilla: Planet of the Monsters — Gen Urobuchi, Kōbun Shizuno, Hiroyuki Seshita

2017's anime film Godzilla: Planet of the Monsters is the first in a trilogy of animated films about the big galoot. It was written by Gen Urobuchi and co-directed by Kōbun Shizuno and Hiroyuki Seshita. Voice actors include Kana Hanazawa, Yuki Kaji. Mamoru Miyano, Daisuke Ono, Takahiro Sakurai, Tomokazu Sugita, and Junichi Suwabe.
Humanity was seemingly helpless in the face of the kaiju, in particular Godzilla itself. Timely first contact with not one but two highly advanced aliens — the pious Exif and the technologically sophisticated Bilusaludo — proved humanity's salvation. Not because the Exif and Bilusaludo were any more adept at fighting giant, indestructible monsters than the humans. They weren't. But with alien help, a handful of humans was able to board starship Aratrum and flee towards the possible haven of Tau Ceti e.
Twenty years later….
---
Translation
Adachitoka
Noragami, book 2
Noragami, Volume 2 collects issues four through seven of a series from Adachitoka. It's the tale of a minor god's efforts to establish himself in modern-day Japan.
Minor god Yato is not well known, but he has profound effects on those who meet him. Yukini may be dead, but his spirit has been recruited to serve as Yato's reluctant sidekick and magical weapon. Schoolgirl Hiyori Iki has gained a wonderous ability to astrally project! Even if she cannot control her potentially fatal condition, this is still a profound effect. Right?

---
Translation
Kotono Katō
Altair: A Record of Battles, book 1
Altair: A Record of Battles, Volume One collects the first fasıls (as the author calls her chapters) of Kotono Katō's manga series.
The continent of Rumelania is dominated by two great powers: the Türkiye stratocracy and the Balt-Rhein empire. Both are limited meritocracies, both are expansionist. Türkiye prefers persuasive annexation; Balt-Rhein has opted for outright conquest.
Mahmut lost his family and entire clan to war when he was a young boy. Determined to prevent another destructive war, he is the stratocracy's youngest pasha and perhaps its most idealistic. Alas for Mahmut's pacifism, it only takes one great power (one clearly based on the Holy Roman Empire) to start a war.
In fact, it only takes one faction within Balt-Rhein to bring Balt-Rhein and Türkiye to the brink of war.

---
Translation
The Erinys Incident — Tani Kōshū
The 1983 novel The Erinys Incident is part of a future history series by Tani Kōshū. The 2018 Korudahan Press edition was translated by Simon Varnam.
The 2099 Outer Planet Revolt was as bold as it was unsuccessful. Tactical success failed to compensate for strategic errors. A year after it began, the Revolt was crushed by TerraLune's AeroSpaceForce. Occupation of the rebel planetary systems followed, then status as quasi-independent states under the eye of the ASF.
A generation after the Revolt, the diehards of the Outer Planet Alliance are ready to try again.

---
Translation
Masamune Shirow
Ghost in the Shell, book 1
Masamune Shirow's 1991 Ghost in the Shell, volume 1, collects the first eleven chapters of the serial post-cyberpunk manga. The 1995 English translation is courtesy of Frederik Schodt and Toren Smith.
The 2030s! A wonderful era of realistic robotic servants, cybernetic brain enhancement, and advanced prosthetic augmentation. All are valuable tools in the endless struggle between nation-states. As well as the battle to contain terrorists/freedom fighters/mafias. (Which label to apply depends on your POV.)

---
Translation
The Empire of Corpses — Ryoutarou Makihara
The 2015 anime The Empire of Corpses is director Ryoutarou Makihara's adaptation of a 2012 steampunk novel by Toh EnJoe1 and Project Itoh.
Victor Frankenstein taught the world how to re-animate the dead. But one crucial component of Frankenstein's research was lost: the art of imbuing the reanimated dead with an actual soul. Others may call the dead back to life, but none will be able to replicate the will and soul of the One, Frankenstein's first creation. No matter: necroware suffices to restore a semblance of life to the dead, a semblance that sentences them to unpaid labour under the direction of the living.
Doctor John Watson is determined to rediscover the lost method of soul restoration. He is so determined that he persists in his researches even though they are illegal: reanimation is a closely held state secret. He succeeds in resurrecting a dead friend, but fails to restore his soul. The reanimated man is an empty shell, which Watson nicknames Friday.
The British Empire is adept at dealing with amateurs like Watson. Soon after Friday is reanimated, Watson is arrested. M, head of the Secret Service, offers Watson a choice: a lengthy prison term or service as a British agent overseas, there to use his recherché talent in the interests of the empire. Watson takes the second option.
---
Translation
Makoto Yukimura
Planetes Omnibus, book 1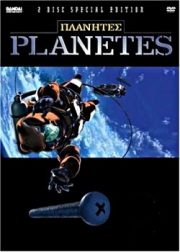 2015's Planetes Omnibus Volume 1 collects the Yuki Johnson translation of Phases 1 to 12 of Makoto Yukimura's near-future hard-SF manga, Planetes. The Japanese original first saw print between 1999 and 2003.
By the last quarter of the 21st century, humanity's glorious space ventures include crewed facilities in orbit, the Moon, and beyond. Gone, the energy concerns of the old days. Lunar helium three1 provides all the cheap energy humanity needs, at least for the moment. It's a wonderful shiny future in which humans can engage in all manner of exotic occupations.
Hachirota "Hachimaki" Hoshino is a garbage collector.

---
Translation
ONE & Yusuke Murata
One Punch Man, book 1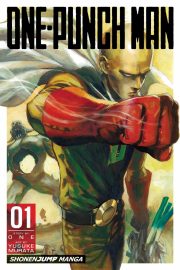 One-Punch Man Volume One collects Punches 1 through 8 of ONE and Yusuke Murata's ongoing manga.
Salaryman turned superhero Saitama wrestles every day with a terrible burden.

---
Translation
The Thousand Year Beach — Tobi Hirotaka
2002's The Thousand Year Beach is a standalone SF novel by Tobi Hirotaka. The 2018 Anglophone edition was translated by Matt Treyvaud.
The Realm of Summer is a pleasing simulation of perfect summer in a Southern European seaside town, an idealization of something that would no doubt prove sadly flawed in real life. This perfection has been unsullied by human tourists for a thousand years (at least by the inhabitants' virtual clocks), leaving them free to enjoy their lives without the complications humans would inflict.
All things end.

---
Translation
Voices of a Distant Star — Makoto Shinkai & Sumomo Yumeka
2002's Voices of a Distant Star is a standalone original video animation by Makoto Shinkai. It was later the basis of a 2004 manga by Sumomo Yumeka.
Noboru Terao, obviously (although inarticulately) smitten with fellow student Mikako Nagamine, expects to spend his years in high school mooning after Mikako. Unbeknownst to Noboru, Mikako has volunteered to join the UN Space Army. Mikako will not be attending high school. She will be travelling across the solar system and beyond.
They are determined to remain in contact. Physics will not be their friend in this matter.

---
Translation
Noriko Ogiwara & Haruhiko Momokawa
Good Witch of the West, book 1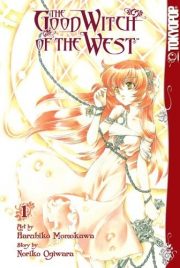 The Good Witch of the West, Volume 1, is the first installment of a manga adaptation of Noriko Ogiwara's eponymous light novel series. Art is by Haruhiko Momokawa. translation is by Barbara Randall Kessell.
Firiel Dee was raised in rustic isolation by her widower father and his elderly retainers, with surly apprentice Rune as her main companion. Accompanied by a more outgoing friend, Firiel decides to attend a ball given by a local count. Just like Cinderella in the fairy tale. Matters develop in a non-Cinderella direction.
---
Translation
Samurai Gourmet — Michihito Fujii, Mamoru Hoshi, Masayuki Kusumi, Yoshihiro Taguchi, Kiyoto Wada
In Netflix's 2017 Samurai Gourmet, Takeshi Kasumi faces a challenge for which he has no easy answer. Having retired at age sixty, what is he to do with all his time?

---
Translation
Adachitoka
Noragami, book 1
Adachitoka's 2011 Noragami volume 1 is the first installment in the titular series. It was first published in English in 2014.
One day all Japan will bow to Yato, greatest of all the nation's gods! Today, however, he is merely a minor kami, known to a very very few and worshiped by none. He lives by performing miracles for the desperate, five yen a wish.
It's a living…

---
Translation
Hiromu Arakawa & Yoshiki Tanaka
The Heroic Legend of Arslan, book 4
The Heroic Legend of Arslan, book 4 is the fourth collection of Hiromu Arakawa's adaptation of Yoshiki Tanaka's light novel series of the same name1. It contains issues 20 to 29.
Hundreds of thousands of Lusitanian soldiers are occupying Pars. Prince Arslan's handful of companions will not be enough to free his land from foreign religious fanatics. Arslan needs an ally who commands an army.
Hodir commands Kashan Fortress' troops and Hodir is eager to support Arslan. There are, however, two impediments.

---
Translation
Mobilization — Yoshiki Tanaka
Legend of the Galactic Heroes, book 5
First published under the title Ginga Eiyu Densetsu volume 5, 1984's Mobilization is the fifth volume in Yoshiki Tanaka's Legend of the Galactic Heroes1. Tyran Grillo's translation was published by Haikasoru in 2017.
Reinhard von Lohengramm has conquered the Phezzan Dominion for the Galactic Empire, which puts him one step closer to unifying all of humanity's worlds under one Emperor. Currently, that Emperor is an Empress: young Katharin Katchen I. As soon as it suits his purposes, von Lohengramm will replace her with von Lohengramm.
There's only one catch.

---
Translation
Tsukumizu
Girls' Last Tour, book 4
2016's Girls' Last Tour Book 4 is yet another instalment of Tsukumizu's post-apocalyptic wanderjahr. Amanda Hayley translated this volume.
It's not at all clear where the automated train buried deep beneath the dying city will take Chito and Yuuri, but at least they will get there quickly.

---
Translation
Sisyphean — Dempow Torishima
2018's Sisyphean is a standalone work of SF that hovers between a short story collection and a novel. The stories are connected by their setting. It was translated by Daniel Huddleston, written and illustrated by Dempow Torishima.
Welcome to the exciting world of tomorrow, where many of society's institutions appear not to have changed, even if the beings that inhabit them are unfamiliar in form.
---
Translation
Tsukumizu
Girl's Last Tour, book 3
Onward to the third volume of stories in Tsukumizu's Girl's Last Tour series.
---
Translation
Hiromu Arakawa & Yoshiki Tanaka
The Heroic Legend of Arslan, book 3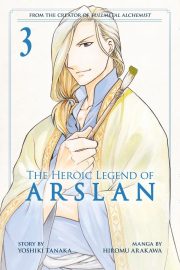 The Heroic Legend of Arslan book 3 collects issues 11 to 19 of Hiromu Arakawa's manga adaptation of Yoshiki Tanaka's Heroic Legend of Arslan light novel series.
Pars has fallen and its king has been imprisoned, but Prince Arslan is still free. Traitor Kharlan is determined to prove his worth by capturing Arslan. Kharlan has a small army at his command, whereas Arslan counts but four people in his force — and that only if he counts himself.

---
Translation
Tsukumizu
Girl's Last Tour, book 1
Girls' Last Tour, Volume 1, is the first instalment in Tsukumizu's Girls' Last Tour series.
Lost in a vast, empty, decaying city complex, Chito (the smart one) and Yuuri (the other one) wander in search of supplies. Failure may be inevitable; if so, their ultimate fate will be to starve. But at least they will starve together.

---
Translation
Hiromu Arakawa & Yoshiki Tanaka
The Heroic Legend of Arslan, book 2
The Heroic Legend of Arslan, Volume 2 is the second collection of Hiromu Arakawa's manga adaptation of Yoshiki Tanaka's light novel series.
In volume one, overconfidence and arrogance led King Andragoras and his vast Parsian army into ambush and defeat at the hands of the Lusitanian invaders. The King's fate is unknown. Prince Arslan escaped, but it is unclear how long he can remain free.

---
Translation
Tsukumizu
Girls' Last Tour, book 2
Girls' Last Tour, Volume 2 is the second collection of Tsukumizu's Girls' Last Tour manga.
Just because the world has ended doesn't mean the struggle to stay alive one more day is over. Just ask Yuuri and Chito. Driving through a vast, unnamed city after some event removed or killed most of the population, they live hand-to-mouth, salvaging supplies in an empty world.
Chito is the dark haired smart one. Yuuri is blonde and rarely burdened by excessive introspection.
---
Translation
Yoshiki Tanaka & Hiromu Arakawa
Heroic Legend of Arslan, book 1
Heroic Legend of Arslan, Volume 1 collects the first four issues of Yoshiki Tanaka and Hiromu Arakawa's 2013 manga adaptation of Yoshi Tanaka's light-novel series, The Heroic Legend of Arslan.
When we first meet young Arslan, he seems unlikely to figure in any legend, much less a heroic legend. Though he is the crown prince of Pars, he is timid and unsure of himself. He's certainly not a self-assured, bold figure like his father, Andragoras III. As confident off the battlefield as he is on it, Andragoras III is the embodiment of Parsian virtue.

---
Translation
Blue Exorcist — Kazue Kato
Kazue Kato's Blue Exorcist (Ao no Ekusoshisuto) is an on-going supernatural manga series.
Father Fugimoto does his best to keep his adoptive son Rin Okumura on the straight and narrow. Alas, Rin has a talent for self-sabotage. He is a stark contrast with his fraternal twin Yukio, who exemplifies self-control and diligence. If they are twins, how is that they are so different?
A supernatural encounter forces Father Fugimoto tell Rin what makes him special. Rin is the literal Son of Satan1, a potential gateway through which the evil lord could enter our world. Any other mortal host, even the purest of souls, would quickly be destroyed if Satan possessed them. Only Rin can provide a long-term home.

---
Translation
Train to Busan — Yeon Sang-ho
Yeon Sang-ho's 2016's Train to Busan is a horror film1 starring Gong Yoo, Jung Yu-mi, and Ma Dong-seok.
Fund manager Seok-woo's laudable work ethic has driven his wife away and alienated his young daughter Soo-an. No worries! It's nothing that lavishing expensive presents on his daughter cannot fix. Except when he spaces out and buys her two identical presents. Seeing her hopeless expression as she receives his clumsy gifts, he begins to understand his neglect may have driven a wedge between them that no amount of last-minute, distracted gift-buying can fix.
He can at least give Soo-an the one gift she does want, which is to send her home to her mother on the other side of Korea. Although she would prefer to make the trip alone, he insists on accompanying the ten year old on the KTX [2]. It won't be a happy trip but at least it should be a placid respite from his usual frantic, workaholic life.

---