Akihito Tsukushi
Made in Abyss, book 2
Made in Abyss Volume 2 includes issues 9 to 16 of Akihito Tsukushi's archaeology adventure manga Meido in Abisu.
Riko is determined to find her long-lost mother Lyza, who disappeared into the kilometres-deep Abyss. Riko and her robot boyfriend Reg have sneaked out of the orphanage and headed into the Abyss. Foolish kids. There are many dangers in the depths; if they do manage to reach the bottom of the Abyss, they cannot return. Or so it is said.
Their journey has hardly begun when they realize that someone is pursuing them.

---
Translation
The Elder Sister-like One — Iida Pochi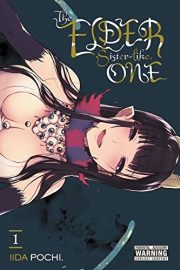 The Elder Sister-like One is the English translation of Iida Pochi's Ane Naru Mono.
Security, happiness, a loving family: Yuu has had none of these since a car crash left him an orphan at age five. Passed from one resentful relative to another, Yuu has finally landed in his uncle's household.
The uncle is too obsessed with Dark Knowledge Man Was Not Meant to Know to care much about Yuu. However. Yuu's uncle does provide him with shelter, clothes, and food. This benign neglect is more than Yuu's other relatives gave him.
When his uncle descends into madness, Yuu must find the uncle's health card in order to call in the health services. Failing to find it in the house, he ventures into the storehouse, the one part of the household his uncle had declared off limits. There the unprepared boy finds himself face to face with the sanity-shattering reality of Shub-Niggurath, the Black Goat of the Woods of a Thousand Young, who appears, possibly for marketing reasons, as an extremely buxom, scantily-clad, be-tentacled, obviously demonic woman.
Being somewhat naive, Yuu jumps to the conclusion that Shub-Niggurath must be an angel.
---
Translation
Adachitoka
Noragami, book 5
Adachitoka's Noragami Volume 5 collects issues 16 to 19 of the adventures of the stray god Yato.
16. "Hell" (地獄 "Jigoku")
17. "Yearning for Someone to Trust" (寄る辺を求めて "Yorube o Motomete")
18. "Naked Sword" (抜き身 "Nuki Mi")
19. "Prayer" (願 "Negai")
Of all those who despise Yato, none hate him more than the war god Bishamonten. Bishamonten's hatred blinds her. She is also blind to the dangers she incurs by her greed to recruit as many ghosts as she can, ghosts who will serve as her shinki, servants1. Both blindnesses are weapons that her enemy will use against her.
Unfortunately for Bishamonten, that enemy is not Yato, but someone she considers her closest ally.

---
Translation
Huang Jin Zhou & Hiromu Arakawa
Hero Tales, book 1
Hero Tales, volume 1 collects the first three issues of Huang Jin Zhou and Hiromu Arakawa's Jūshin Enbu.
Taitou hates the Empire. Reforming the corrupt state seems impossible. At least it is for a hot-headed young man living out in the sticks. He settles for beating up imperial functionaries whenever they pass by his home town.
Taitou has potential of which he is utterly unaware. His grandfather knows full well what power Taitou has within him and how to enable Taitou to draw on it. Step one: orchestrate Taitou's humiliating loss to another martial artist.

---
Translation
Adachitoka
Noragami, book 4
Noragami, Volume Four collects issues 12 to 15 of Adachitoka's on-going series about the stray god Yato and his peers:
"To Kill, or Not To Kill" (きる、きらない "Kiru, Kiranai"),

"Omen" (兆し "Kizashi"),

"Her Memories" (彼女の思い出 "Kanojo no Omoide"),

"That Which Withers" (枯れゆくもの "Kare Yuku Mono").
Having survived his servant Yukini's flirtation with corruption, Yato must now figure out how to help his human friend Hiyori.

---
Translation
Akihito Tsukushi
Made in Abyss, book 1
Made in Abyss, Volume One collects issues one through eight of Akihito Tsukushi's SF manga.
Riko's world is thoroughly explored, save for one location. On an island in the middle of the Beoluska Sea there is a tremendous vertical cave structure known as the Abyss. Scattered here and there throughout the Abyss are marvellous artifacts of a long-vanished civilization. Bold Cave Raiders, as Riko's mother Lyza was and Riko hopes to be, delve deep into the Abyss in search of wonders.
There are a few problems.

---
Translation
Hikaru Nakamura
Arakawa Under The Bridge, book 1
Arakawa Under The Bridge 1 collects volumes 1 & 2 of Hikaru Nakamura's manga Arakawa Andā za Burijji. The 2017 translation is by Andrew Cunningham.
Brilliant, hard-working, driven, and wealthy, Kou Ichinomiya has striven his whole life to prove himself worthy of one day inheriting the Inchinomiya Corporation. Key to this quest is Kou's steadfast adherence to the family motto: never owe anyone.
Calamity strikes when Kou tries to recover his trousers from the bridge where they have been hung by teenaged hooligans. Bad enough to fall into the river below. Much worse to be saved from drowning by a homeless stranger. Now Kou owes Nino and he will do anything to pay back the debt to her before his judgemental father finds out.
All stoic Nino wants is love.

---
Translation
Flight — Yoshiki Tanaka
Legend of the Galactic Heroes, book 6
First published under the title Ginga Eiyu Densetsu volume 6, 1985's Flight is the sixth volume in Yoshiki Tanaka's Legend of the Galactic Heroes1. Tyran Grillo's translation was published by Haikasoru in 2018.
Reinhard von Lohengramm finally outmanoeuvred his rival Yang Wen-li. The Galactic Empire finally reabsorbed the Free Planets Alliance. A man more vindictive than Reinhard might have had Yang executed. Reinhard allowed Yang to retire.
All that is necessary for this peaceful state of affairs to continue is for high ranking persons to do nothing to rock the boat. Of course, patience is such a difficult virtue to cultivate.
---
Translation
Adachitoka
Noragami, book 3
Noragami Book 3 collects issues 8 to 11 of Adachitoka's on-going series. Although just how long it will be on-going is open to question in these issues.

---
Translation
Vestiges — Laurence Suhner
QuanTika, book 1
Vestiges is the first volume in Laurence Suhner's QuanTika trilogy. Although Suhner writes in French, I was able to find an English translation of at least this first volume.
Having failed to terraform Mars, humanity transfers its colonizing enthusiasm to the nearby AltaMira system. Only six and a half light years from the Solar System, AltaMira is within reach of sub-light starships. Like the Solar System, it has an Earth-like world with a breathable atmosphere in the double star's habitable zone. More or less. The "or less" is thanks to an eccentric orbit that dooms the world to snowball status for most of its year.
It is also the site of humanity's first contact with an alien civilization — or rather, the relics of one. A structure dubbed the Great Arch orbits Gemma and is clearly artificial. It is also seemingly inert and impenetrable. Its secrets have been well hidden. That is about to change.

---
Translation
Godzilla: Planet of the Monsters — Gen Urobuchi, Kōbun Shizuno, Hiroyuki Seshita

2017's anime film Godzilla: Planet of the Monsters is the first in a trilogy of animated films about the big galoot. It was written by Gen Urobuchi and co-directed by Kōbun Shizuno and Hiroyuki Seshita. Voice actors include Kana Hanazawa, Yuki Kaji. Mamoru Miyano, Daisuke Ono, Takahiro Sakurai, Tomokazu Sugita, and Junichi Suwabe.
Humanity was seemingly helpless in the face of the kaiju, in particular Godzilla itself. Timely first contact with not one but two highly advanced aliens — the pious Exif and the technologically sophisticated Bilusaludo — proved humanity's salvation. Not because the Exif and Bilusaludo were any more adept at fighting giant, indestructible monsters than the humans. They weren't. But with alien help, a handful of humans was able to board starship Aratrum and flee towards the possible haven of Tau Ceti e.
Twenty years later….
---
Translation
Adachitoka
Noragami, book 2
Noragami, Volume 2 collects issues four through seven of a series from Adachitoka. It's the tale of a minor god's efforts to establish himself in modern-day Japan.
Minor god Yato is not well known, but he has profound effects on those who meet him. Yukini may be dead, but his spirit has been recruited to serve as Yato's reluctant sidekick and magical weapon. Schoolgirl Hiyori Iki has gained a wonderous ability to astrally project! Even if she cannot control her potentially fatal condition, this is still a profound effect. Right?

---
Translation
Kotono Katō
Altair: A Record of Battles, book 1
Altair: A Record of Battles, Volume One collects the first fasıls (as the author calls her chapters) of Kotono Katō's manga series.
The continent of Rumelania is dominated by two great powers: the Türkiye stratocracy and the Balt-Rhein empire. Both are limited meritocracies, both are expansionist. Türkiye prefers persuasive annexation; Balt-Rhein has opted for outright conquest.
Mahmut lost his family and entire clan to war when he was a young boy. Determined to prevent another destructive war, he is the stratocracy's youngest pasha and perhaps its most idealistic. Alas for Mahmut's pacifism, it only takes one great power (one clearly based on the Holy Roman Empire) to start a war.
In fact, it only takes one faction within Balt-Rhein to bring Balt-Rhein and Türkiye to the brink of war.

---
Translation
The Erinys Incident — Tani Kōshū
The 1983 novel The Erinys Incident is part of a future history series by Tani Kōshū. The 2018 Korudahan Press edition was translated by Simon Varnam.
The 2099 Outer Planet Revolt was as bold as it was unsuccessful. Tactical success failed to compensate for strategic errors. A year after it began, the Revolt was crushed by TerraLune's AeroSpaceForce. Occupation of the rebel planetary systems followed, then status as quasi-independent states under the eye of the ASF.
A generation after the Revolt, the diehards of the Outer Planet Alliance are ready to try again.

---
Translation
Masamune Shirow
Ghost in the Shell, book 1
Masamune Shirow's 1991 Ghost in the Shell, volume 1, collects the first eleven chapters of the serial post-cyberpunk manga. The 1995 English translation is courtesy of Frederik Schodt and Toren Smith.
The 2030s! A wonderful era of realistic robotic servants, cybernetic brain enhancement, and advanced prosthetic augmentation. All are valuable tools in the endless struggle between nation-states. As well as the battle to contain terrorists/freedom fighters/mafias. (Which label to apply depends on your POV.)

---
Translation
The Empire of Corpses — Ryoutarou Makihara
The 2015 anime The Empire of Corpses is director Ryoutarou Makihara's adaptation of a 2012 steampunk novel by Toh EnJoe1 and Project Itoh.
Victor Frankenstein taught the world how to re-animate the dead. But one crucial component of Frankenstein's research was lost: the art of imbuing the reanimated dead with an actual soul. Others may call the dead back to life, but none will be able to replicate the will and soul of the One, Frankenstein's first creation. No matter: necroware suffices to restore a semblance of life to the dead, a semblance that sentences them to unpaid labour under the direction of the living.
Doctor John Watson is determined to rediscover the lost method of soul restoration. He is so determined that he persists in his researches even though they are illegal: reanimation is a closely held state secret. He succeeds in resurrecting a dead friend, but fails to restore his soul. The reanimated man is an empty shell, which Watson nicknames Friday.
The British Empire is adept at dealing with amateurs like Watson. Soon after Friday is reanimated, Watson is arrested. M, head of the Secret Service, offers Watson a choice: a lengthy prison term or service as a British agent overseas, there to use his recherché talent in the interests of the empire. Watson takes the second option.
---
Translation
Makoto Yukimura
Planetes Omnibus, book 1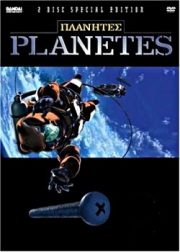 2015's Planetes Omnibus Volume 1 collects the Yuki Johnson translation of Phases 1 to 12 of Makoto Yukimura's near-future hard-SF manga, Planetes. The Japanese original first saw print between 1999 and 2003.
By the last quarter of the 21st century, humanity's glorious space ventures include crewed facilities in orbit, the Moon, and beyond. Gone, the energy concerns of the old days. Lunar helium three1 provides all the cheap energy humanity needs, at least for the moment. It's a wonderful shiny future in which humans can engage in all manner of exotic occupations.
Hachirota "Hachimaki" Hoshino is a garbage collector.

---
Translation
ONE & Yusuke Murata
One Punch Man, book 1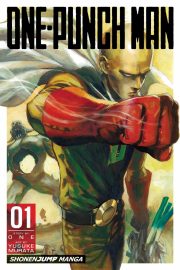 One-Punch Man Volume One collects Punches 1 through 8 of ONE and Yusuke Murata's ongoing manga.
Salaryman turned superhero Saitama wrestles every day with a terrible burden.

---
Translation
The Thousand Year Beach — Tobi Hirotaka
2002's The Thousand Year Beach is a standalone SF novel by Tobi Hirotaka. The 2018 Anglophone edition was translated by Matt Treyvaud.
The Realm of Summer is a pleasing simulation of perfect summer in a Southern European seaside town, an idealization of something that would no doubt prove sadly flawed in real life. This perfection has been unsullied by human tourists for a thousand years (at least by the inhabitants' virtual clocks), leaving them free to enjoy their lives without the complications humans would inflict.
All things end.

---
Translation
Voices of a Distant Star — Makoto Shinkai & Sumomo Yumeka
2002's Voices of a Distant Star is a standalone original video animation by Makoto Shinkai. It was later the basis of a 2004 manga by Sumomo Yumeka.
Noboru Terao, obviously (although inarticulately) smitten with fellow student Mikako Nagamine, expects to spend his years in high school mooning after Mikako. Unbeknownst to Noboru, Mikako has volunteered to join the UN Space Army. Mikako will not be attending high school. She will be travelling across the solar system and beyond.
They are determined to remain in contact. Physics will not be their friend in this matter.

---
Translation
Noriko Ogiwara & Haruhiko Momokawa
Good Witch of the West, book 1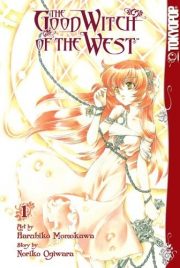 The Good Witch of the West, Volume 1, is the first installment of a manga adaptation of Noriko Ogiwara's eponymous light novel series. Art is by Haruhiko Momokawa. translation is by Barbara Randall Kessell.
Firiel Dee was raised in rustic isolation by her widower father and his elderly retainers, with surly apprentice Rune as her main companion. Accompanied by a more outgoing friend, Firiel decides to attend a ball given by a local count. Just like Cinderella in the fairy tale. Matters develop in a non-Cinderella direction.
---
Translation
Samurai Gourmet — Michihito Fujii, Mamoru Hoshi, Masayuki Kusumi, Yoshihiro Taguchi, Kiyoto Wada
In Netflix's 2017 Samurai Gourmet, Takeshi Kasumi faces a challenge for which he has no easy answer. Having retired at age sixty, what is he to do with all his time?

---
Translation
Adachitoka
Noragami, book 1
Adachitoka's 2011 Noragami volume 1 is the first installment in the titular series. It was first published in English in 2014.
One day all Japan will bow to Yato, greatest of all the nation's gods! Today, however, he is merely a minor kami, known to a very very few and worshiped by none. He lives by performing miracles for the desperate, five yen a wish.
It's a living…

---
Translation
Hiromu Arakawa & Yoshiki Tanaka
The Heroic Legend of Arslan, book 4
The Heroic Legend of Arslan, book 4 is the fourth collection of Hiromu Arakawa's adaptation of Yoshiki Tanaka's light novel series of the same name1. It contains issues 20 to 29.
Hundreds of thousands of Lusitanian soldiers are occupying Pars. Prince Arslan's handful of companions will not be enough to free his land from foreign religious fanatics. Arslan needs an ally who commands an army.
Hodir commands Kashan Fortress' troops and Hodir is eager to support Arslan. There are, however, two impediments.

---
Translation
Mobilization — Yoshiki Tanaka
Legend of the Galactic Heroes, book 5
First published under the title Ginga Eiyu Densetsu volume 5, 1984's Mobilization is the fifth volume in Yoshiki Tanaka's Legend of the Galactic Heroes1. Tyran Grillo's translation was published by Haikasoru in 2017.
Reinhard von Lohengramm has conquered the Phezzan Dominion for the Galactic Empire, which puts him one step closer to unifying all of humanity's worlds under one Emperor. Currently, that Emperor is an Empress: young Katharin Katchen I. As soon as it suits his purposes, von Lohengramm will replace her with von Lohengramm.
There's only one catch.

---