ONE & Yusuke Murata
One-Punch Man, book 2
One-Punch Man Volume Two collects Punches (issues) 9 through 15 (plus some bonus material) of ONE and Yusuke Murata's ongoing manga.
Determined to deal with an annoying campaign of harassment, nigh-indestructible powerhouse Saitama and his earnest cyborg acolyte Genos set out to confront the mysterious House of Evolution.
---
Translation
Adachitoka
Noragami, book 9
Adachitoka's Noragami Volume 9 collects issues 32 to 35 of the adventures of the stray god Yato. The manga was first published in 2013; the English translation was published in 2015. Included in the volume are
32. "She Who Invites" (誘な女 "Izanami")

33. "Wielder of an Iron Will" (イシ椎い持ち "Ishi Tsutsui Mochi")

34. "Such Were Their Desires" (斯く在りし望み "Kaku Arishi Nozomi")

35. "Death" (死 "Shi")
Things are not going well for Yato and his former shinki Nora. In fact, the two find themselves in hell.

---
Translation
Psychokinesis — Yeon Sang-Ho
Yeon Sang-Ho's 2018 Psychokinesis is a superhero movie. It stars Ryu Seung-ryong, Shim Eun-kyung, Park Jung-min, Kim Min-jae and Jung Yu-mi.
Shin Seok-heon (Ryu Seung-ryong) is a bank security guard. He's content to waste his life filching supplies from the bank and drinking himself into a stupor every night.
Then:
His estranged daughter Shin Roo-mi (Shim Eun-kyung) contacts Seok-heon with the news that his ex-wife is dead, killed in an altercation with thugs.

A sip of meteor-tainted water imbues Seok-heon with psychic powers.
---
Translation
Kore Yamazaki
The Ancient Magus' Bride, book 1
The Ancient Magus' Bride, volume 1 collects the first five issues of Kore Yamazaki's ongoing manga Mahō Tsukai no Yome.
Abandoned by her parents, despised by her peers, and plagued by visions she does not understand, high school student Chise Hitori decides to sell herself into slavery. That way, at least, she will have a place in the world.
The bidding is heated. At the end of it, Chise is the property of mage Elias Ainsworth, a British person of sufficient means to pay five million pounds sterling for Chise. Well dressed and unflappably polite, Elias is a striking figure.
---
Translation
Choukakou, which is also known as Chang Ge Xing, Chang Ge's Journey or Song of the Long March, is an ongoing manhua (Chinese comic) series by Xia Da. Volume one collects the first four issues.
Seeking to succeed to the throne in the newly born Tang Dynasty, Li Shimin murders his brothers Crown Prince Li Jiancheng and Prince Li. To prevent future unpleasantness, Li Shimin has his brothers' families massacred as well.
Later centuries will remember Li Shimin as Emperor Taizong of Tang, one of China's most capable emperors. Mission accomplished! Save for one small detail.
---
Translation
Over the Horizon — Lee Yeongdo
Lee Yeongdo's Over the Horizon is a fantasy novella. It is also the sole translated example of Yeongdo's work that I could find.
Sheriff Yiphari may only be a small town sheriff, but when he learns of Professor Mataphi's uncharacteristically pugilistic behavior, the orc instantly realizes there can only be one correct course of action: send his assistant Tyr out into the raging winter storm. Tyr is to walk twelve miles to the professor's home and there demand an explanation.
Mataphi spins a tale of woe and violins.

---
Translation
Adachitoka
Noragami, book 8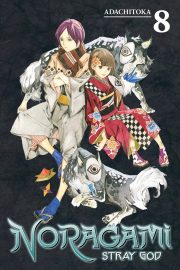 Adachitoka's Noragami Volume 8 collects issues 28 to 31 of the adventures of the stray god Yato. The manga was first published in 2013; the English translation was published in 2015. Included in the volume are
28. "God of Calamity" (禍津神 "Magatsukami")
29. "The Three Affairs of Three Realms" (三つの国の諸事情 Mittsu no Kuni no Sho Jijō)

30. "The Sound of Thread Snapping" (糸の切れる音 "Ito no Kireru Oto")

31. "Like Parent, Like Child" (親なり、子なり Oya Nari, Konari")
Yato, newly minted god, vanishes.

---
Translation
Katsura Hoshino
D.Grayman, book 1
D.Gray-Man volume one collects the first seven issues of Katsura Hoshino's on-going manga series.
Lost a loved one? The Millennium Earl is here to help! Simply provide the Earl with the relevant details and he will raise the spirit of your loved one, installed in a wonderful robot body. The robot is an Akuma, a self-evolving homicidal killbot bent on the destruction of all humanity. Think of it as a more genocidal version of Pokemon.
---
Translation
Steel Rain — Yang Woo-suk
Steel Rain is a Korean thriller movie, written and directed by Yang Woo-suk. It is based on the webcomic of the same name.
Retired North Korean agent Cheol-woo Eom is covertly contacted by his former boss, Chief Ri. Ri informs Eom that two senior functionaries (Park and Kim) are plotting a coup. Since the two men are highly placed and can keep Ri from alerting the Great Leader to the plot, Ri has no choice but to have both men killed.
Ri cannot use one of his subordinates for the job because if the operative fails, the assassination attempt could touch off an inter-service civil war. If Eom is caught, he can be thrown under the bus. Eom agrees to work for Ri one last time.
On a certain fateful day, Eom is in position, ready to kill Park and Kim. There are two problems. The first is that Park is not at the rally where Eom is waiting hidden with his rifle. The second is that agents unknown detonate several hijacked cluster bombs, bombs that kill most of the people attending and leave the Great Leader badly injured, perhaps dying.
Luck and skill get Eom through the attack unscathed, as well as the massacre of the few survivors that follows. Realizing a coup is underway, Eom and helpful cheerleaders Kwon and Song flee with the Great Leader into South Korea. Behind them, North Korea descends into chaos.

---
Translation
Tempest — Yoshiki Tanaka
Legend of the Galactic Heroes, book 7
First published under the title Ginga Eiyu Densetsu volume 7, 1986's Tempest is the sixth volume in Yoshiki Tanaka's Legend of the Galactic Heroes 1. Daniel Huddleston's translation was published by Haikasoru in 2018.
All hail the glorious Kaiser Reinhard, who has either conquered or neutralized all enemies of his galactic empire. Having unified the galaxy, it's odd that the Kaiser is not a happier man.
---
Translation
Adachitoka
Noragami, book 7

Adachitoka's Noragami Volume 7 collects issues 24 to 27 of the adventures of the stray god Yato. The manga was first published in 2013; the English translation dates from 2015. Included are:
24. "Always" (ずっと一 "Zuttou")

25. "When Sleeping Gods Are Provoked" (触った神の祟り "Sawatta Kami no Tatari")

26. "How to Worship a God" (神様の祀リ方 "Kamisama no Matsuri Kata")

27. "Do and Due" (業と業 "Gyō to Gō")
Yato is a god, but even a god suffers when snubbed by a friend.
---
Translation
NieR: Automata: Long Story Short — Jun Eishima & Yoko Taro
2017's NieR: Automata: Long Story Short is Jun Eishima's novelization of Square Enix's computer game of the same name. The original story is by Yoko Taro. Translation is by Shota Okui.
Seven thousand years ago, aliens conquered the Earth, or rather, their Machines conquered the Earth. Humanity's last refuge is the Moon. Just as the aliens act through their artificial servants, so too has humanity left the war for Earth to their creations, the YoHRa androids. Between android and Machine, there can be no peace.

---
Translation
City of Ash and Red — Hye-Young Pyun
Hye-Young Pyun's 2010 City of Ash and Red is a standalone horror novel. The 2018 translation is by Sora Kim-Russell.
Although in no way a remarkable worker, the unnamed protagonist is promoted to a post in the head office of his pest extermination company. The office is located in an unfamiliar city, Y, in even more unfamiliar country, C.
He finds himself a figure of envy for his co-workers. But the loss of his friends (if grudgingly tolerant co-workers can be considered friends) is just another blow, following upon a nasty divorce. He can only hope that the transfer will let him rebuild his life.
Or perhaps not. Perhaps the transfer is merely the first step in another, even more epic catastrophe.

---
Translation
Adachitoka
Noragami, book 6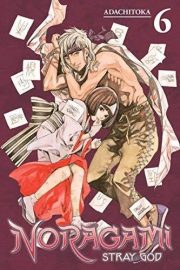 Adachitoka's Noragami Volume 6 collects issues 20 to 23 of the adventures of the stray god Yato. The manga was first published in 2013; the English translation dates from 2015. Included are:
20. "Prayerful Oath" (神祝き、呪きき "Kamuhosaki, Hosakiki")
21. "Don't Go — Stay with Me" (消えないで、傍にいて "Kienai de, Soba ni Ite")
22. "What Must Be Done" (為すべきこと "Nasubeki Koto")
23. "Guiding Light" (道標 "Michishirube")
The last volume ended on something of a cliffhanger, as Yato's shinki (ghost servant able to manifest as a weapon) Yukine was shattered by Bishamonten. Perhaps it's significant that Yato is god of nothing in particular, whereas Bishamonten is a god of war. Poor Yukine; no doubt that was the end for him.

---
Translation
Rumiko Takahashi
Ranma 1/2, book 1
Ranma 1/2, Volume One collects the first fourteen chapters of Rumiko Takahashi's best-selling manga. This volume was first published in Japan in 1988, Gerard Jones and Matt Thorn's English adaptation of Volume One was published in 1993.
Soun Tendo surprises his three daughters with the news that long ago he agreed to marry one of them to Ranma, the son of his good friend (and complete stranger to the girls) Genma Saotome. This marriage will secure the future of the Tendo family dojo and the indiscriminate grappling school of martial arts.
Soun and Genma's contract did not specify which daughter would marry Gemma's' son, Ranma. Soun is happy to leave that detail to his daughters. Oldest daughter Kasumi and second oldest daughter Nabiki graciously agree between them that they should grant the youngest daughter, Akane, this precious opportunity. Akane is shockingly ungrateful.
As soon as Genma and son arrive at the dojo, the sisters notice previously unmentioned details that could well complicate the betrothal. Genma is a large panda. Ranma is human … but also a girl.

---
Translation
Akihito Tsukushi
Made in Abyss, book 2
Made in Abyss Book 2 includes issues 9 to 16 of Akihito Tsukushi's archaeology adventure manga Meido in Abisu.
Riko is determined to find her long-lost mother Lyza, who disappeared into the kilometres-deep Abyss. Riko and her robot boyfriend Reg have sneaked out of the orphanage and headed into the Abyss. Foolish kids. There are many dangers in the depths; if they do manage to reach the bottom of the Abyss, they cannot return. Or so it is said.
Their journey has hardly begun when they realize that someone is pursuing them.

---
Translation
The Elder Sister-like One — Iida Pochi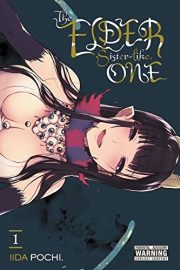 The Elder Sister-like One is the English translation of Iida Pochi's Ane Naru Mono.
Security, happiness, a loving family: Yuu has had none of these since a car crash left him an orphan at age five. Passed from one resentful relative to another, Yuu has finally landed in his uncle's household.
The uncle is too obsessed with Dark Knowledge Man Was Not Meant to Know to care much about Yuu. However. Yuu's uncle does provide him with shelter, clothes, and food. This benign neglect is more than Yuu's other relatives gave him.
When his uncle descends into madness, Yuu must find the uncle's health card in order to call in the health services. Failing to find it in the house, he ventures into the storehouse, the one part of the household his uncle had declared off limits. There the unprepared boy finds himself face to face with the sanity-shattering reality of Shub-Niggurath, the Black Goat of the Woods of a Thousand Young, who appears, possibly for marketing reasons, as an extremely buxom, scantily-clad, be-tentacled, obviously demonic woman.
Being somewhat naive, Yuu jumps to the conclusion that Shub-Niggurath must be an angel.
---
Translation
Adachitoka
Noragami, book 5
Adachitoka's Noragami Volume 5 collects issues 16 to 19 of the adventures of the stray god Yato.
16. "Hell" (地獄 "Jigoku")
17. "Yearning for Someone to Trust" (寄る辺を求めて "Yorube o Motomete")
18. "Naked Sword" (抜き身 "Nuki Mi")
19. "Prayer" (願 "Negai")
Of all those who despise Yato, none hate him more than the war god Bishamonten. Bishamonten's hatred blinds her. She is also blind to the dangers she incurs by her greed to recruit as many ghosts as she can, ghosts who will serve as her shinki, servants1. Both blindnesses are weapons that her enemy will use against her.
Unfortunately for Bishamonten, that enemy is not Yato, but someone she considers her closest ally.

---
Translation
Huang Jin Zhou & Hiromu Arakawa
Hero Tales, book 1
Hero Tales, volume 1 collects the first three issues of Huang Jin Zhou and Hiromu Arakawa's Jūshin Enbu.
Taitou hates the Empire. Reforming the corrupt state seems impossible. At least it is for a hot-headed young man living out in the sticks. He settles for beating up imperial functionaries whenever they pass by his home town.
Taitou has potential of which he is utterly unaware. His grandfather knows full well what power Taitou has within him and how to enable Taitou to draw on it. Step one: orchestrate Taitou's humiliating loss to another martial artist.

---
Translation
Adachitoka
Noragami, book 4
Noragami, Volume Four collects issues 12 to 15 of Adachitoka's on-going series about the stray god Yato and his peers:
"To Kill, or Not To Kill" (きる、きらない "Kiru, Kiranai"),

"Omen" (兆し "Kizashi"),

"Her Memories" (彼女の思い出 "Kanojo no Omoide"),

"That Which Withers" (枯れゆくもの "Kare Yuku Mono").
Having survived his servant Yukini's flirtation with corruption, Yato must now figure out how to help his human friend Hiyori.

---
Translation
Akihito Tsukushi
Made in Abyss, book 1
Made in Abyss, Volume One collects issues one through eight of Akihito Tsukushi's SF manga.
Riko's world is thoroughly explored, save for one location. On an island in the middle of the Beoluska Sea there is a tremendous vertical cave structure known as the Abyss. Scattered here and there throughout the Abyss are marvellous artifacts of a long-vanished civilization. Bold Cave Raiders, as Riko's mother Lyza was and Riko hopes to be, delve deep into the Abyss in search of wonders.
There are a few problems.

---
Translation
Hikaru Nakamura
Arakawa Under The Bridge, book 1
Arakawa Under The Bridge 1 collects volumes 1 & 2 of Hikaru Nakamura's manga Arakawa Andā za Burijji. The 2017 translation is by Andrew Cunningham.
Brilliant, hard-working, driven, and wealthy, Kou Ichinomiya has striven his whole life to prove himself worthy of one day inheriting the Inchinomiya Corporation. Key to this quest is Kou's steadfast adherence to the family motto: never owe anyone.
Calamity strikes when Kou tries to recover his trousers from the bridge where they have been hung by teenaged hooligans. Bad enough to fall into the river below. Much worse to be saved from drowning by a homeless stranger. Now Kou owes Nino and he will do anything to pay back the debt to her before his judgemental father finds out.
All stoic Nino wants is love.

---
Translation
Flight — Yoshiki Tanaka
Legend of the Galactic Heroes, book 6
First published under the title Ginga Eiyu Densetsu volume 6, 1985's Flight is the sixth volume in Yoshiki Tanaka's Legend of the Galactic Heroes1. Tyran Grillo's translation was published by Haikasoru in 2018.
Reinhard von Lohengramm finally outmanoeuvred his rival Yang Wen-li. The Galactic Empire finally reabsorbed the Free Planets Alliance. A man more vindictive than Reinhard might have had Yang executed. Reinhard allowed Yang to retire.
All that is necessary for this peaceful state of affairs to continue is for high ranking persons to do nothing to rock the boat. Of course, patience is such a difficult virtue to cultivate.
---
Translation
Adachitoka
Noragami, book 3
Noragami Book 3 collects issues 8 to 11 of Adachitoka's on-going series. Although just how long it will be on-going is open to question in these issues.

---
Translation
Vestiges — Laurence Suhner
QuanTika, book 1
Vestiges is the first volume in Laurence Suhner's QuanTika trilogy. Although Suhner writes in French, I was able to find an English translation of at least this first volume.
Having failed to terraform Mars, humanity transfers its colonizing enthusiasm to the nearby AltaMira system. Only six and a half light years from the Solar System, AltaMira is within reach of sub-light starships. Like the Solar System, it has an Earth-like world with a breathable atmosphere in the double star's habitable zone. More or less. The "or less" is thanks to an eccentric orbit that dooms the world to snowball status for most of its year.
It is also the site of humanity's first contact with an alien civilization — or rather, the relics of one. A structure dubbed the Great Arch orbits Gemma and is clearly artificial. It is also seemingly inert and impenetrable. Its secrets have been well hidden. That is about to change.

---