Books Received, Feb
10

 — 

16
Across the border, the Witch Lords of Vaskandar are preparing for war. But before an invasion can begin, they must call a rare gathering of all seventeen lords to decide a course of action.
Lady Amalia Cornaro knows that this Conclave might be her only chance to smother the growing flames of war, and she is ready to make any sacrifice if it means saving Raverra from destruction.
Amalia and Zaira must go behind enemy lines, using every ounce of wit and cunning they have, to sway Vaskandar from war. Or else it will all come down to swords and fire.
This got a bit long.…
The stunning military science fiction novel from the New York Times bestselling author of Prospero Burns.
The colony planet of Eighty-Six looks as dull as all its fellow new worlds to veteran journalist Lex Falk, but when a local squabble starts to turn violent, and the media start getting the runaround from the military high command, his interest is seriously piqued.
Forbidden from approaching the battlezone, he gets himself chipped inside the head of a combat veteran – and uncovers the story of a lifetime. When the soldier is killed, however, Falk must use all his resourcefulness to get back home again… and blow the lid off the whole damn thing.
The Tower of Babel is proving to be as difficult to reenter as it was to break out of. Forced into a life of piracy, Senlin and his eclectic crew are struggling to survive aboard their stolen airship as the hunt to rescue Senlin's lost wife continues.
Hopeless and desolate, they turn to a legend of the Tower, the mysterious Sphinx. But help from the Sphinx never comes cheaply, and as Senlin knows, debts aren't always what they seem in the Tower of Babel.
Time is running out, and now Senlin must choose between his friends, his freedom, and his wife.
Does anyone truly escape the Tower?

A girl named Mirror has been irrevocably changed by her time locked in a clock painted over with Ladybirds, so she and her shapeshifting guardian Goliath must solve the mystery of her imprisonment while escaping the pursuit of the dangerous Mr. John Loveheart, Esq.
Across the border, the Witch Lords of Vaskandar are preparing for war. But before an invasion can begin, they must call a rare gathering of all seventeen lords to decide a course of action.
Lady Amalia Cornaro knows that this Conclave might be her only chance to smother the growing flames of war, and she is ready to make any sacrifice if it means saving Raverra from destruction.
Amalia and Zaira must go behind enemy lines, using every ounce of wit and cunning they have, to sway Vaskandar from war. Or else it will all come down to swords and fire.
Elizabeth Barnabus lives a double life – as herself and as her brother, the private detective. She is trying to solve the mystery of a disappearing aristocrat and a hoard of arcane machines. In her way stand the rogues, freaks and self-proclaimed alchemists of a travelling circus.
But when she comes up against an agent of the all-powerful Patent Office, her life and the course of history will begin to change. And not necessarily for the better…
You'd have to be mad to steal from the feared International Patent Office. But that's what Elizabeth Barnabus is about to try. A one-time enemy from the circus has persuaded her to attempt a heist that will be the ultimate conjuring trick.
Hidden in the vaults of the Patent Court in London lie secrets that could shake the very pillars of the Gas-Lit Empire. All that stands in Elizabeth's way are the agents of the Patent Office, a Duke's private army and the mysterious Custodian of Marvels.
Rod Duncan returns with the climactic volume ofThe Fall of the Gas-Lit Empire, the breathtaking alternate history series that began with the Philip K. Dick Award-nominated The Bullet-Catcher's Daughter.
In the divided land of England, Elizabeth Barnabus has been living a double life — as both herself and as her brother, the private detective. Witnessing the hanging of Alice Carter, the false duchess, Elizabeth resolves to throw the Bullet Catcher's Handbook into the fire, and forget her past. If only it were that easy!
There is a new charitable organisation in town, run by some highly respectable women. But something doesn't feel right to Elizabeth. Perhaps it is time for her fictional brother to come out of retirement for one last case…? Her unstoppable curiosity leads her to a dark world of body-snatching, unseemly experimentation, politics and scandal. Never was it harder for a woman in a man's world…

My name's Markowski. I carry a badge. Also, a crucifix, some wooden stakes, a big vial of holy water, and a

9

mm Beretta loaded with silver bullets.A series of seemingly motiveless murders of supernatural creatures points to a vigilante targeting the supe community. Markowski wouldn't normally have much of a problem with that, but his daughter may be next on the killer's list.
Stan Markowski is a Detective Sergeant on the Scranton PD's Supernatural Crimes Investigation Unit.
Like the rest of America, Scranton's got an uneasy ​

'

live and let unlive' relationship with the supernatural. But when a vamp puts the bite on an unwilling victim, or some witch casts the wrong kind of spell, that's when they call Markowski. He carries a badge. Also, a crucifix, some wooden stakes, a big vial of holy water, and a

9

mm Beretta loaded with silver bullets.
"

My name's Markowski. I carry a badge. Also, a crucifix, some wooden stakes, a big vial of holy water, and a

9

mm Beretta loaded with silver bullets.
A new supernatural gang is intent on invading Scranton and it looks like I'm going to have to work with the current mob to prevent a demonic gang war.
If there's one thing I hate more than living with supernatural scumbags, it's working with them! But you know that they say, better the devil you know…"
Near the end of the

21

st century, Earth is in chaos from environmental devastation and a vicious undeclared war against binaries, genetically engineered assassins. Composed of a single consciousness inhabiting two human bodies (tways), binaries are ruled by an alpha breed, the Royal Caste.
Nick Smith, computer programmer and brilliant strategist, hooks up with Annabel Bakana, the savvy new director of E‑Tech, an organization dedicated to limiting runaway technological growth. Together both romantically and professionally, they secretly assemble a small combat team to hunt and kill binaries.
But there's a fly in the ointment, the mysterious team leader, Gillian. A tormented soul with an unseemly attraction to Annabel, his actions just might help the Royal Caste's cause and draw the world closer to Armageddon.
Serving as both a stand-alone novel and prequel toLiege-Killer, Binary Storm is a futuristic tale of bold characters pushed to the brink in a dangerous world. Startling action, political intrigue and powerful themes that echo our contemporary era are fused into a plot brimming with twists and surprises.
For five centuries, a witch's curse has bound the trolls to their city beneath the ruins of Forsaken Mountain. Time enough for their dark and nefarious magic to fade from human memory and into myth. But a prophesy has been spoken of a union with the power to set the trolls free, and when Cécile de Troyes is kidnapped and taken beneath the mountain, she learns there is far more to the myth of the trolls than she could have imagined.
Cécile has only one thing on her mind after she is brought to Trollus: escape. Only the trolls are clever, fast, and inhumanly strong. She will have to bide her time, wait for the perfect opportunity.
But something unexpected happens while she's waiting – she begins to fall for the enigmatic troll prince to whom she has been bonded and married. She begins to make friends. And she begins to see that she may be the only hope for the half-bloods – part troll, part human creatures who are slaves to the full-blooded trolls. There is a rebellion brewing. And her prince, Tristan, the future king, is its secret leader.
As Cécile becomes involved in the intricate political games of Trollus, she becomes more than a farmer's daughter. She becomes a princess, the hope of a people, and a witch with magic powerful enough to change Trollus forever.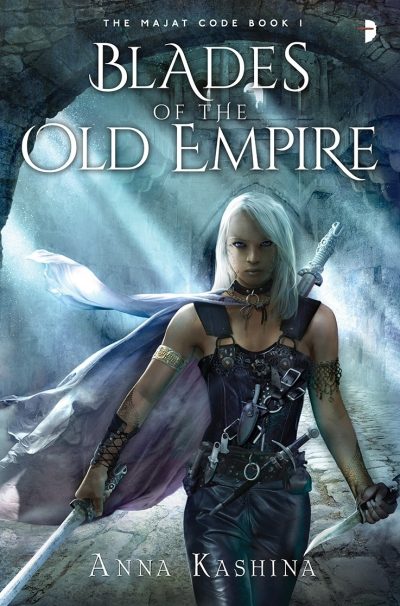 Action, intrigue, and romance in this fantasy series from two-time Prism Award winner Anna Kashina.When Prince Kythar falls under attack in his own castle, he has no idea that his enemies are none other than the ancient Kaddim Brotherhood plotting to destroy his royal line. His inborn ability to control the elements is the only power that can stop this plot, but there is one problem. Kyth's fighting skills are no match for the Kaddim, leaving him no time to put his magic to work. To defeat the Kaddim, Kyth must rely on his bodyguard Kara, a beautiful Diamond-ranked assassin from the elite Majat Guild. But his enemies develop an elaborate plan to remove her from their way. Acting through treachery and scheming, they pitch Kara against the Majat, marking her as a target for the only warrior who can defeat her in battle. With the deadly assassin on their trail, Kythar and Kara must face impossible odds to save the kingdom and their lives.
Hitman Don Drake owes a gambling debt to a demon. Forced to carry out one more assassination to clear his debt, Don unwittingly kills an innocent child and brings the Furies of Greek myth down upon himself.Rescued by an almost-fallen angel called Trixie, Don and his magical accomplice The Burned Man, an imprisoned archdemon, are forced to deal with Lucifer himself whilst battling a powerful evil magician.Now Don must foil Lucifer's plan to complete Trixie's fall and save her soul whilst preventing the Burned Man from breaking free from captivity and wreaking havoc on the entire world.
When Saffron Coulter stumbles through a hole in reality, she finds herself trapped in Kena, a magical realm on the brink of civil war.
There, her fate becomes intertwined with that of three very different women: Zech, the fast-thinking acolyte of a cunning, powerful exile; Viya, the spoiled, runaway consort of the empire-building ruler, Vex Leoden; and Gwen, an Earth-born worldwalker whose greatest regret is putting Leoden on the throne. But Leoden has allies, too, chief among them the Vex'Mara Kadeja, a dangerous ex-priestess who shares his dreams of conquest.
Pursued by Leoden and aided by the Shavaktiin, a secretive order of storytellers and mystics, the rebels flee to Veksh, a neighboring matriarchy ruled by the fearsome Council of Queens. Saffron is out of her world and out of her depth, but the further she travels, the more she finds herself bound to her friends with ties of blood and magic.
Can one girl — an accidental worldwalker — really be the key to saving Kena? Or will she just die trying?
TORN is the first book in an enchanting debut fantasy series featuring a seamstress who stitches magic into clothing, and the mounting political uprising that forces her to choose between her family and her ambitions, for fans of The Queen of the Tearling.In a time of revolution, everyone must take a side.Sophie, a dressmaker and charm caster, has lifted her family out of poverty with a hard-won reputation for beautiful ball gowns and discreetly embroidered spells. A commission from the royal family could secure her future — and thrust her into a dangerous new world. Revolution is brewing. As Sophie's brother, Kristos, rises to prominence in the growing anti-monarchist movement, it is only a matter of time before their fortunes collide.When the unrest erupts into violence, she and Kristos are drawn into a deadly magical plot. Sophie is torn — between her family and her future.
When the small crew of ex cons working on Mars start getting murdered, everyone is a suspect in this terrifying science fiction thriller from bona fide rocket scientist and award winning-author S. J. Morden.
It's the dawn of a new era — and we're ready to colonize Mars. But the company that's been contracted to construct a new Mars base, has made promises they can't fulfill and is desperate enough to cut corners. The first thing to go is the automation … the next thing they'll have to deal with is the eight astronauts they'll send to Mars, when there aren't supposed to be any at all.
Frank — father, architect, murderer — is recruited for the mission to Mars with the promise of a better life, along with seven of his most notorious fellow inmates. But as his crew sets to work on the red wasteland of Mars, the accidents mount up, and Frank begins to suspect they might not be accidents at all. As the list of suspects grows shorter, it's up to Frank to uncover the terrible truth before it's too late.
The penalty for Dani Cumali's murder: £

84

,

000

.
Theo works in the Criminal Audit Office. He assesses each crime that crosses his desk and makes sure the correct debt to society is paid in full.
These days, there's no need to go to prison — provided that you can afford to pay the penalty for the crime you've committed. If you're rich enough, you can get away with murder.
But Dani's murder is different. When Theo finds her lifeless body, and a hired killer standing over her and calmly calling the police to confess, he can't let her death become just an entry on a balance sheet.
Someone is responsible. And Theo is going to find them and make them pay.
Detan Honding, a wanted conman of noble birth and ignoble tongue, has found himself in the oasis city of Aransa. He and his trusted companion Tibs may have pulled off one too many cons against the city's elite and need to make a quick escape. They set their sights on their biggest heist yet — the gorgeous airship of the exiled commodore Thratia.
But in the middle of his scheme, a face changer known as a doppel starts murdering key members of Aransa's government. The sudden paranoia makes Detan's plans of stealing Thratia's ship that much harder. And with this sudden power vacuum, Thratia can solidify her power and wreak havoc against the Empire. But the doppel isn't working for Thratia and has her own intentions. Did Detan accidentally walk into a revolution and a crusade? He has to be careful — there's a reason most people think he's dead. And if his dangerous secret gets revealed, he has a lot more to worry about than a stolen airship.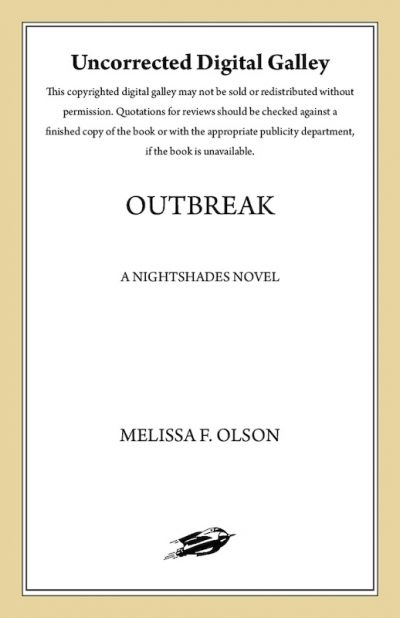 Melissa F. Olson's thrilling FBI vampire procedural Nightshades series concludes with Outbreak.
The Chicago field office of the Bureau of Preternatural Investigation is facing its deadliest challenge, yet — internal investigation! Alex and Lindy are on the hook, and on the run.
But when all of the BPI's captive vampires are broken free from their maximum security prison, and Hector finally steps out of the shadows, Alex must use every trick to stay ahead of both the BPI and the world's most dangerous shade.Confrontation is inevitable. Success is not.
Decades ago, Japan won the Second World War. Americans worship their infallible Emperor, and nobody believes that Japan's conduct in the war was anything but exemplary. Nobody, that is, except the George Washingtons — a group of rebels fighting for freedom. Their latest terrorist tactic is to distribute an illegal video game that asks players to imagine what the world might be like if the United States had won the war instead. Captain Beniko Ishimura's job is to censor video games, and he's tasked with getting to the bottom of this disturbing new development. But Ishimura's hiding something…kind of. He's slowly been discovering that the case of the George Washingtons is more complicated than it seems, and the subversive videogame's origins are even more controversial and dangerous than the censors originally suspected.
STEVIE IS A KILLER.
But she brings her victims back to life to demand of them: ​

"

WHAT DO YOU SEE?P"
Now she's about to find out for herself…
After an accident in which her mother dies, Stevie has a near-death experience, and finds herself in a room full of people — everyone she's ever annoyed. They clutch at her, scratch and tear at her. But she finds herself drawn back to this place, again and again, determined to unlock its secrets. Which means she has to die, again and again. And Stevie starts to wonder whether other people see the same room… when they die.
The most disturbing novel of

2010

… read it if you dare.