Books Received, March
3

to March

9
Science-based wonder is the core of science fiction. Yet the genre mostly casts science as either triumphalism or hubris. In To Shape the Dark, editor Athena Andreadis offers readers women heroes doing science not-as-usual. Scientists are astrogators who never sleep; To Shape the Dark is part of that vigil.
From the depths of time comes a story of wicked villains, terrible secrets, and monumental screw-ups! The Order of the Stick: Start of Darkness reveals for the first time the secret origins of Xykon, Redcloak, the Monster in the Darkness, heck, even the demon cockroaches. Containing

112

pages of all-new never-published-online comics in dramatic black-and-white, Start of Darkness is full of villainy goodness for any fan of the OOTS. Learn such secrets as: How did Xykon and Redcloak meet? How did Xykon became a lich? Why did Eugene Greenhilt swear revenge on Xykon? What ever happened to Lirian's Gate, anyway? How did Redcloak discover the Monster in the Darkness? Why on earth does Redcloak put up with Xykon's crap The Order of the Stick: Start of Darkness is presented primarily in black-and-white, similar to our bestselling On the Origin of PCs, but features a special full-color insert detailing the Secret Lore of the Crimson Mantle – in the popular crayon format, first seen in No Cure for the Paladin Blues. Featuring introductions by the author and Miko Miyazaki, paladin of the Sapphire Guard, this book is a flat-out must have for fans of the OOTS plotline, as it fills in missing details in the story of who these evildoers are and why they do evil. Wallowing in unrepentant villainy has never been this much fun (legally)!
Aliette de Bodard brings us a new novella set in the award-winning, critically acclaimed Xuya universe!
Seattle, February

2076

. The Marq'ssan bring business as usual to a screeching halt all over the world, and Professor Kay Zeldin joins Robert Sedgewick, US Chief of Security Services, in his war against the invaders. But as she goes head-to-head against the Marq'ssan, the long-buried secrets of her past resurface, and her conflicts with Sedgewick and Security Services multiply. Whose side is she really on? And how far will she go in serving that side?
In the year

2060

, the next plague has arrived. MaGo bots, the nanotechnology used for everything from fighting the common cold to radical life extension, have begun to malfunction, latching onto the brain's acetylcholine receptors to cause a permanent state of delirium. The effects are devastating.
THE BIRTHDAY PROBLEM follows four Seattle survivors and how their lives irrevocably intersect: Chaaya Gopal Lee, great-granddaughter of the MaGo programmer, whom the pandemic turns into a killer;

40

-something ex-rock star and pharmacy technician Greystone Toussaint, the ​

"

King of Seattle"; Alastair Gomez-Larsen, forced to become a blood-smuggler to treat his father's liver disease; and Didi VanNess, a lovesick former-WNBA center and CNA, who tries to win back her wife's heart against a backdrop of madness, death and

30

cats, all named Ira. Exploring themes of perception, probability, and redemption, THE BIRTHDAY PROBLEM is told from multiple points-of-view, moving back and forth in time, as the characters struggle to find their places in a – literally – mad world.
Sir Mary de Courey is the doughtiest knight in the virtual reality land of Chivalry. But when, in the real world, her plane crashes and her car is driven off the road, she finds herself in more trouble than single combat can solve. Someone appears to want to retrieve the mysterious manor that she won from an anonymous knight, and is willing to kill her to get it back. Now she must travel through the world of Chivalry to find the secret door that leads from the most mundane of Virtual Reality libraries to the most magical of worlds!
The Crabs are coming. They're coming, and the only thing between them and Earth is an already winnowed Terran military– and their allies, suppliers of technology, the alien Fiddlers. Magda ​

"

Spots" Guitart is a retired Marine, sent back to the front lines to shore up a crippled company. She's ten years older than her squad, a lot more rickety, and she's new to powered armor. It's not going to take her long to fit in. And God save the Crabs when she and the rest of her squad set their sights on the enemy.
A little uncivil disobedience is good for the soul… Gaia Jones is on A‑Ki space station for one reason, and it's not to ogle the hermaphroditic aliens. She's out to make a name for herself and her line of intoxicating human snacks. Not easy in A‑Ki's tightly controlled society. Her task gets even more delicate when she rushes to the aid of a dying alien — and finds herself the unwilling guardian of a shunned alien ghost named Kenjan. And the new owner of his slave. The danger mounts when Kenjan's grieving lover, the powerful leader of the Kishocha, offers her a dream and a nightmare rolled into one: a new store all her own with a strange double purpose — half snack bar, half shrine. The catch? She must spend the rest of her life there, tending Kenjan the Heretic's ghost. Or the entire station will be destroyed. There's only one way to gain both her freedom and justice for Kenjan — teach both the powerful government elite and the Kishocha theocracy a lesson in uncivil disobedience… Warning: This book contains excessive consumption of clams and clam-based snacks. Also, gratuitous abuse of orange dye, as well as summary decapitation, forbidden love, alien sex and one beloved hamster named Microbe.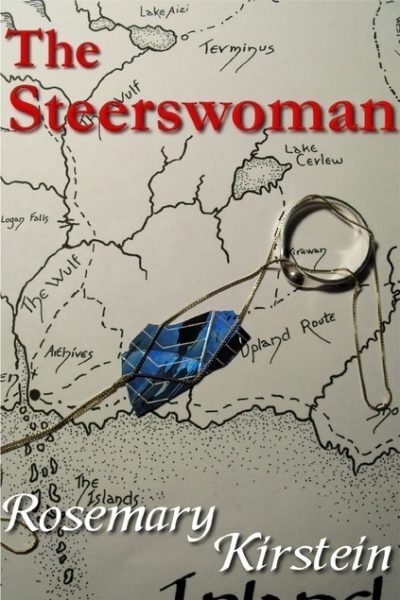 FREEDOM OF INFORMATION
If you ask, she must answer. A steerswoman's knowledge is shared with any who request it; no steerswoman may refuse a question, and no steerswoman may answer with anything but the truth. And if she asks, you must answer. It is the other side of tradition's contract — and if you refuse the question, or lie, no steerswoman will ever again answer even your most casual question.
And so, the steerswomen — always seeking, always investigating — have gathered more and more knowledge about the world they traveled, and they share that knowledge freely. Until the day that the steerswoman Rowan begins asking innocent questions about one small, lovely, inexplicable object… Her discoveries grow stranger and deeper, and more dangerous, until suddenly she finds she must flee or fight for her life. Or worse — lie.
Because one kind of knowledge has always been denied to the steerswomen: Magic.
Machineries Of Empire, the most exciting science fiction trilogy of the decade, reaches its astonishing conclusion!
Shuos Jedao is awake.
…and nothing is as he remembers. In his mind he's a teenager, a cadet — a nobody. But he finds himself in the body of an old man, a general controlling the elite forces of the hexarchate, and the most feared — and reviled — man in the galaxy.
Jedao carries ordered from Hexarch Nirai Kujen to re-conquer the fractured pieces of the hexarchate on his behalf. But he has no memory of ever being a soldier, let alone a general, and the Kel soldiers under his command hate him for a massacre he can't remember committing.
Kujen's friendliness can't hide the fact that he's a tyrant. And what's worse, Jedao and Kujen are being hunted by an enemy who knows more about Jedao and his crimes than he does himself…
On the planet of Irustan, where women have few rights, mendicant Zahra IbSada helps her friend Kalen retrieve Kalen's daughter from an abusive marriage, an act of terrorism that comes to have life-changing consequences for the women of the planet.

The starship Starfarer prepares for Earth's first interstellar voyage. Its diverse faculty includes J.D. Sauvage, the alien contact specialist; the other members of the alien contact department: Victoria Fraser MacKenzie, Satoshi Lono, and Stephen Thomas Gregory; J.D.'s friend Zev, the diver; a world-famous sensory artist; Crimson Ng, paleontologist and performance artist; Miensaem Thanthavong, Nobel laureate; General Nikolai Petrovich Cherenkov, cosmonaut, hero of the Soviet Union and (in the eyes of the political entity that swallowed up his homeland) war criminal; Griffith, the man from the GAO who says he's an accountant; Infinity Kenjiro Yanagihara y Mendoza, the gardener, among other things; and Florrie Brown, the first member of Grandparents in Space.
But political conditions on Earth are shaky and delicate. As J.D. her colleagues eagerly anticipate their departure…
… EarthSpace cancels the deep space expedition.
So what do they do? They do what any red-blooded multi- national starship faculty

&

staff would do.
They steal the starship.
Transition
The starship Starfarer plunges into the Tau Ceti system, its computer web crashed and its surface penetrated by a nuclear missile. J.D. Sauvage finds evidence of an interstellar community… but will it welcome Starfarer, or drive human beings away?
Metaphase
J.D. Sauvage encounters Nemo, a squidmoth. It has one trait in common with human beings: they all are outcasts.
Nautilus
The starship Starfarer and its faculty and staff encounter the Four Worlds, their sponsors into Civilization. J.D. Sauvage, alien contact specialist, meets the four different peoples of the Four Worlds: the charming Largerfarthings, the mysterious and demanding Smallerfarthings, the whale-eel Orchestra of Largernearer, and the unique, lonely Smallernearer.
Performance artist and paleontologist Crimson Ng grapples with ethical problems when the Four Worlds representatives take her archaeological art project all too seriously. Victoria Fraser MacKenzie, Satoshi Lono, and Stephen Thomas Gregory struggle to keep their family partnership from fragmenting under the strain of love, fear, and unacknowledged grief.
And the cosmic string is moving again.
Victorian missionaries travel into the heart of the newly discovered lands of the Fae, in a stunningly different fantasy that mixes Crimson Peak with Jonathan Strange

&

Mr Norrell. Catherine Helstone's brother, Laon, has disappeared in Arcadia, legendary land of the magical fae. Desperate for news of him, she makes the perilous journey, but once there, she finds herself alone and isolated in the sinister house of Gethsemane. At last there comes news: her beloved brother is riding to be reunited with her soon – but the Queen of the Fae and her insane court are hard on his heels.
Captain Jani Kilian's life should have ended in front of a firing squad. Instead, she evaded battlefield justice by dying in a transport crash. End of story, according to official Commonwealth Service records. But doctors repaired her in secret, using the most advanced Service Medical technologies available, or so they assured her. In the last days of the idomeni civil war, she escaped their homeworld of Shera, and spent the next

18

years on the run.
But someone like Jani leaves a trail no matter how hard they try to hide it, and she soon learns the Service hunt for her never ended. When Interior Minister Evan van Reuter, her former lover, tracks her down and begs her help in finding his wife's killer, she has no choice but to agree. The search takes her to the Commonwealth capital of Chicago, a hotbed of political intrigue as dangerous as any warzone. As the danger mounts, so do Jani's struggles. Her rebuilt body is breaking down, and memories long suppressed are flooding back. Of one horrible night

18

years ago, and the gut-wrenching decision that changed her life forever.
Somtow's far-flung galactic civilization is a creation to rival Silverberg's Majipoor or Herbert's Dune. It is a universe with its own language and exotic customs, vividly etched characters and rich history that spans thousands of worlds and tens of thousands of years.

The godlike Inquestors of the High Inquest had forsaken all that made them human. But one young Inquestor rediscovered the power of compassion and hastened the end of their ancient, starflung empire.…
S.P. Somtow's UTOPIA HUNTERS is an introduction to one of the most far-flung galactic civilizations ever created, In the words of Theodore Sturgeon, Somtow's CHRONICLES OF THE HIGH INQUEST deal with ​

"

the greatest magnitude of spectacle and color since Stapledon." UTOPIA HUNTERS can be read out of sequence.
On a world where high school test scores determine your future, six students rebel. They'll outrun society as fast as their questionably obtained spaceship will take them. Rhiannon doesn't technically cheat the Test. She's smarter than the computers that administer it, and she uses that to her advantage. She emerges from Test Day with the most prestigious future career possible: Hive Queen. Gwyn and Victor are madly in love, but their Test results will tear them apart. Good thing Rhiannon is Gwyn's best friend. Rhiannon can fix this. Queens can do anything. Gavin is the wild card. Raised off-planet, he can't wait to leave again… and he's heard of an empty ship in orbit. The Ceridwen's Cauldron. Both Luciano and Alan fit in the system. They don't need to leave. Only their devotion to Rhiannon spurs them to join the Cauldron's crew. Spaceships. Blackmail. Anywhere but here.
Chito and Yuuri board a train that runs below the forgotten remains of the streets above and take it to the end of the line. When they finally reach the surface of this new layer of battered city, they discover a mysterious creature that can learn human languages. With a new companion along for the ride, the girls' tour gets a little more lively-but what awaits them is beyond what they could ever imagine!
Sisters of the Revolution gathers a highly curated selection of feminist speculative fiction (science fiction, fantasy, horror, and more) chosen by one of the most respected editorial teams in speculative literature today, the award-winning Ann and Jeff VanderMeer. Including stories from the

1970

s to the present day, the collection seeks to expand the conversation about feminism while engaging the reader in a wealth of imaginative ideas. From the literary heft of Angela Carter to the searing power of Octavia Butler, Sisters of the Revolution gathers daring examples of speculative fiction's engagement with feminism. Dark, satirical stories such as Eileen Gunn's ​

"

Stable Strategies for Middle Management" and the disturbing horror of James Tiptree Jr.'s ​

"

The Screwfly Solution" reveal the charged intensity at work in the field. Including new, emerging voices such as Nnedi Okorafor and featuring international contributions from Angelica Gorodischer and many more, this collection seeks to expand the ideas of both contemporary fiction and feminism to new fronts. Moving from the fantastic to the futuristic, subtle to surreal, these stories will provoke thoughts and emotions about feminism like no other book available today. Other contributors include Anne Richter, Carol Emshwiller, Eleanor Arnason, Hiromi Goto, Joanna Russ, Karin Tidbeck, Kelley Eskridge, Kelly Barnhill, Kit Reed, L. Timmel Duchamp, Leena Krohn, Leonora Carrington, Pamela Sargent, Rose Lemberg, Susan Palwick, Tanith Lee, Ursula K. Le Guin, and Vandana Singh.