Beauty: A Retelling of Beauty and the Beast (Folktales, volume
1

)
By Robin McKinley
Robin McKinley's 1978 Beauty: A Retelling of Beauty and the Beast is the first volume in her Folktales series. McKinley's debut novel was a retelling of a classic fairy tale. See if you can guess which one.
As a little girl, Honour Huston, the youngest of three sisters, rejected her given name in favour of what she sees as a far better name, ​"Beauty." To her disappointment, when she looks in a mirror, Beauty sees a plain girl, not the remarkable beauty that her sisters Grace and Hope are. At least she is smart, hardworking, and born into a well-to-do family.
Wealth can be ephemeral.
Mr. Huston has a penchant for high-risk, high-profit ventures. His luck runs out. His ships (one bearing Grace's fiancé) set out on a trading venture. Only melancholy news returns. Suddenly unable to pay his bills, Mr. Huston and his family are forced to sell their home and possessions before relocating to a small town where Hope's husband establishes himself as blacksmith.
When news comes that at least one of the ships has returned, Mr. Huston leaves his family in their new home to investigate. Alas, it is not the ship bearing Grace's fiancé. Worse yet, on the way home Mr. Huston makes two errors. He stays overnight in what was in retrospect an enchanted household. He deeply offends his host by cutting a rose for Beauty. Huston will pay for this.
Mr. Huston's host is a large talking beast and clearly supernatural. The Beast gives Mr. Huston two choices: pay with his life or dispatch one of his daughters to live with the Beast. As any father would do, Mr. Huston resolves to pay with his life. Returning home for a last time he explains the situation to his daughter. Beauty insists on going in his place.
While the Beast's appearance and demeanor are ferocious, he is an exemplary host. Beauty is given a commodious bedroom and access to a library filled with many new and enticing texts. Her needs are solicitously attended to — by what is not clear. The Beast proposes marriage over and over but always accepts Beauty's ​"no."
Beauty's circumstances would be very nearly paradise if she weren't exiled from her family. Eventually she begs leave to visit her family. The Beast reluctantly assents. The consequences will be life-altering.
~oOo~
This is clearly a historical fantasy set in the past. Just when was unclear, at least to me. The same can be said of the setting, although clearly, it's Western Europe somewhere.
One might get the sense from the cover of my edition1 that this is aimed at fans of gothic romances. I couldn't say if it adheres to the conventions of that genre. Note, however, that the scene on the cover is daylit and without the requisite lamp in an attic window. Really, Beauty is more running towards a goal rather than from it.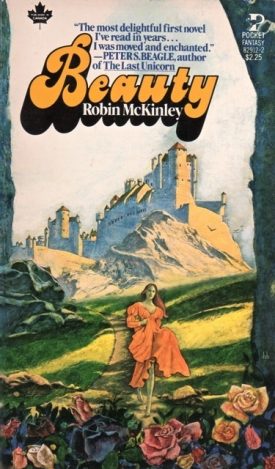 For the most part, McKinley is faithful to the events of the famous fairy tale. Where her narrative differs is in the characters. There are many versions of this story in which Beauty's father fails to protect Beauty. In this telling, Beauty's resolve is what sends her to the mansion. Her older sisters are not the plot-enabling bullies some authors have preferred; they are beloved kin whom Beauty misses.
Indeed, none of the characters here are malicious. The Beast might be said to be an antagonist, at least at the beginning, but he is acting under magical compulsion. The tale abounds with people doing their best to help each other however they can. Misfortune is for the most part due to impersonal forces, like weather, or offstage characters, like the magician who cursed the Beast.
Many modern retellings of old stories prefer versions in which every event is worse than in the original; many of the characters are more despicable and the events more horrific. This book is not at all dystopic. It's not surprising that such an amiable book is still in print.
Beauty is available here (Amazon US), here (Amazon Canada), here (Amazon UK), here (Apple Books), here (Barnes & Noble), and here (Chapters-Indigo).
1: While searching the ISFDB to find a scan of the cover of my edition of this novel, I noticed that Boris Vallejo did a cover for a later Pocket edition. Oddly, although that cover, seen below, isn't hard to find online, the ISFDB does not have a scan of it.