Who Would Have Expected a Yokohama Shopping Trip in Yokohama Kaidashi Kiko?
Yokohama Kaidashi Kikō (Yokohama Kaidashi Kikō, volume
5

)
By Hitoshi Ashinano
I am going to read my way through Hitoshi Ashinano's Yokohama Kaidashi Kikō and then when I am done, I will probably track down the rest of his works. It's not addiction! It's being a completist.
So. Volume Five.
Mt. Fuji:
On a pleasant do-nothing day, Alpha is treated to a rare glimpse of Mt. Fuji in the distance. The current Mt. Fuji.
Comments:
When Mt Fuji erupt? Did this play a role in the disruptions about which Ashinano has hinted here and there? I will probably never know.…
Shopping in Yokohama:
Remember Yokohama? And shopping trips involving Yokohama? In this declining world, it's more practical for Alpha to close down her cafe for a week so she can head to the Big City to pick up coffee beans.
Comments:
Or perhaps there's something … someone else drawing her to Yokohama.
Customer:
Dispatched to deliver a message to a rather bohemian robot, Kokone becomes inexplicably shy about the information transfer process.
Comments:
For those of you new to YKK or who have forgotten this particular detail, this is how robots exchange files.
Kokone's new client is very enthusiastic about Kokone's file transfer protocol.
Scent of the Evening:
Confronted by an unexpected house guest, Kokone offers her home to Alpha for as long as Alpha cares to stay. Still affected by the day's file transfer, Kokone reflects on that time she and Alpha … exchanged files.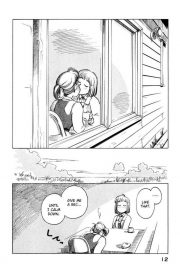 Comments:
Alpha seems delightfully clueless in this story. But she is just a simple country robot.…
Scent of the Town:
What was supposed to be a quick trip turns into a three-day, two-night exploration of Yokohama.
Early Morning:
Alpha is recruited to remotely pilot a relic of the Old Days, the last remaining example of an experimental ekranoplan. Sensei's team demonstrated it in a previous story.
Comments:
At least, I think it's an ekranoplan. They call it a boat but it has wings and is definitely skimming above the ocean at high speed.
Sea Current:
Alpha is quite reluctant to take control of Sensei's vehicle, but discovers to her surprise that the experience is very moving.
Comments:
I am rather alarmed that the ekranoplan is left to continue on its way after Alpha loses contact. Yes, they were aiming for the open sea but seas sometimes have boats on them. The placid acceptance of unforeseen consequences does seem to be characteristic of Sensei.
Barley Tea in the Afternoon:
Matsuki accompanies Takahiro on an expedition to the beach in hopes of seeing the Misago. The journey is longer than Matsuki expected and she's not entirely certain she wants to encounter anything as scary as the Misago.…
Watching the Moonlit Night:
Ayase waits for a sign that it is time for the wandering labourer to head down the road in search of new opportunities.
Comments:
This episode contains a hint suggesting that rice is hard to come by. However, food in general does not seem to be in short supply.
Eye:
Alpha muses on the pictures within her camera; they cannot be printed out and in fact can only be experienced by robots. It is just one aspect of her life that she cannot share with the humans.
General Comments:
Another amiable ramble through Ashinano's twilight world.
There is an immense tower in Yokohama that, for some reason, lacks elevators. Or at least functioning elevators. There doesn't seem to be a general dearth of electricity so I have no idea what's up. I don't know if I am reading more into the extremely impressionistic worldbuilding than I should … but it seems to me that the robots not only have access to more high-tech equipment than the humans do (e. g. the robot-only camera), but that the robots seem to be going out of their way to create technology humans cannot use. Are the robots implementing a slow phase-out of humans? Well, at least as a high-tech species; humans might be kept as pets.
Ah, well. No doubt answers await me in future volumes.