The Trouble With Tribbles — David Gerrold
David Gerrold's 1973 non-fiction book The Trouble with Tribbles may be the only SF-related biography I own whose subject is not a person but a story. By 1973, Star Trek novelizations and tie-ins were nothing new. Blish was credited with seven eight collections of Trek adaptations1, as well as the tie-in Spock Must Die! And then there was Mack Reynolds' obscure Mission to Horatius. Gerrold's book was something else. Let the subtitle speak for itself:
The Birth, Sale, and Final Production of One Episode.
---
Because My Tears Are Delicious To You
The Flying Sorcerers — David Gerrold & Larry Niven
David Gerrold and Larry Niven's 1971 standalone novel, The Flying Sorcerers, was Gerrold's first published novel and Niven's fourth. Even though this book uses the vernacular of fantasy, it is a science fiction comedy. More on that last bit later.
---
Because My Tears Are Delicious To You
Moonstar: Jobe Book One — David Gerrold
Jobe, book 1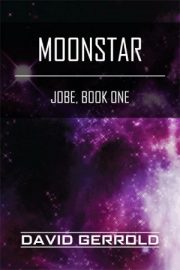 Moonstar: Jobe Book One, is, as far as I can tell, David Gerrold's 1977 Moonstar Odyssey under a new title. I own a first edition of the older book1; I compared it to the later ebook; they seem substantially the same.
This book was an obvious candidate for an ebook re-issue. The 1977 original earned a Nebula nomination and I expect it would have been mentioned by the Tiptree Award people—if the Tiptree Award had existed then.
I don't think this book quite works, but at least it's an ambitious book. Where it fails, it fails in interesting ways.
Satlik is an unusual world; its origin is unclear and it orbits an atypical main sequence star. It was a lifeless world until human starfarers arrived, as colonists who terraformed the world. That was centuries ago. Satlik is now a fragile paradise.
The human inhabitants of Satlik are nearly as unusual as their world.
---
Because My Tears Are Delicious To You