Fonda Lee's 2017 Exo is a standalone young-adult SF adventure novel. (No, this is not a review of Steven Gould's Exo, even if my editor wishes it were.)
Earth is a colony of the Mur Commonwealth, a colony protected by its benevolent zhree overlords from their rapacious Rii cousins. Most humans, secure in their placid second-class existence, regard the brutal resistance that first met the zhree as a regrettable mistake. For the insurgents of the Sapience, the resistance is an inspiration.
Teenager Donovan Reyes is a loyal soldier for the zhree: an elite soldier, hardened with alien biotechnology. Donovan and those like him are charged with maintaining the peace in West America. His enhancements provide Donovan and his comrades with the durability, speed, and lethality required to protect the "squishies," as the soldiers deem the unenhanced humans, from their own worst impulses.
A moment of poor judgment lets the insurgents capture Donovan. Sapience's policy is to brutally murder any soldiers they capture, pour encourager les autres. Donovan's prospects are dim — or they would be if not for the fact that in addition to being a willing ally of the zhree, he is also the only son of West America's Prime Liaison Reyes. Donovan has considerable hostage value.
The Reyes government does not negotiate with terrorists.

---
Military Speculative Fiction That Doesn't Suck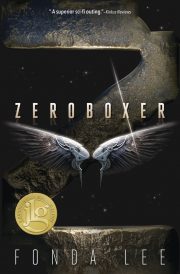 2015's standalone futuristic sports story Zeroboxer was Fonda Lee's debut novel.
Zero gravity boxing — zeroboxing — provided Carr "the Raptor" Luka with his ticket out of Toronto and up into orbit, where the best people live. It's a brutal sport — but for the handful who claw their way to the top, it can be lucrative. Despite his youth, Carr is a promising boxer, promising enough that respected impresario Gant offers Carr a contract. With luck and the right handler, Carr could become one of the luminaries of the Zero Gravity Fighting Association.
Pity that Carr's success is based on a lie.

---