This sophisticated, scary anthology collects the best horror fiction published between

1984

and

2005

, one of horror's most innovative eras. These exceptionally diverse stories, hand-picked by horror-expert editor Ellen Datlow, are tales of the subtly psychological, the unpredictably mischievous, and the disturbingly visceral.
Here are classics, such as horror master Stephen King's ​

"

Chattery Teeth," the tautly drawn account of a traveling salesman who unwisely picks up yet another hitchhiker; Peter Straub's eerie ​

"

The Juniper Tree," describing a man whose nostalgia for the movies of his childhood leads to his stolen innocence; and George R. R. Martin's sinister ​

"

The Pear-Shaped Man," in which a young woman encounters a neighbor who likes her a bit too much.
Whether you grew up on Clive Barker's Books of Blood; Joyce Carol Oates's ​

"

Where Are You Going, Where Have You Been?"; Neil Gaiman's Sandman; or are newly discovering Stephen King's son, breakout author Joe Hill; there is something here for everyone who enjoys being more than just a little bit scared.
Welcome to the many worlds of #

1

New York Timesbestselling author Kelley Armstrong (Otherworld, Cainsville). As her SyFychannel series, Bitten, enters its second season, Armstrong continues to breathe new life into city-dwelling vampires, werewolves, and zombies. Now travel even further with her, to a post-apocalyptic fortress, a superstitious village, a supernatural brothel, and even feudal Japan.
In Led Astray, you'll discover the stories of new characters from within and outside Armstrong's popular novels. Here you will find two original tales from Cainsville, plus journeys to and beyond the worlds of Darkest Powers, Age of Legends, Otherworld, and more.
Bold and humorous, passionate and heart-stopping, here is Kelley Armstrong at her versatile best.
From the acclaimed author of The Last Unicorncomes a new, exquisitely-told fable for the modern age.
Claudio Bianchi has lived alone for many years on a hillside in Southern Italy's scenic Calabria. Set in his ways and suspicious of outsiders, Claudio has always resisted change, preferring farming and writing poetry. But one chilly morning, as though from a dream, an impossible visitor appears at the farm. When Claudio comes to her aid, an act of kindness throws his world into chaos. Suddenly he must stave off inquisitive onlookers, invasive media, and even more sinister influences.
Lyrical, gripping, and wise, In Calabria confirms Peter S. Beagle's continuing legacy as one of fantasy's most legendary authors.
What would you do if a tornado wanted you to be its Valentine? Or if a haunted spacesuit banged on your door? When is the ideal time to turn into a tiger? Would you post a supernatural portal on Craigslist?
In these nineteen stories, the enfants terribles of fantasy have arrived. The New Voices of Fantasycaptures some of the fastest-rising talents of the last five years, including Sofia Samatar, Maria Dahvana Headley, Max Gladstone, Alyssa Wong, Usman T. Malik, Brooke Bolander, E. Lily Yu, Ben Loory, Ursula Vernon, and more. Their tales were hand-picked by the legendary Peter S. Beagle (The Last Unicorn) and genre expert Jacob Weisman (The Treasury of the Fantastic).
So go ahead and join the Communist revolution of the honeybees. The new kids got your back.
One of the Web's most celebrated high-tech culture mavens returns with this second collection of essays and polemics. Discussing complex topics in an accessible manner, Cory Doctorow's visions of a future where artists have full freedom of expression is tempered with his understanding that creators need to benefit from their own creations. From extolling the Etsy makerverse to excoriating Apple for dumbing down technology while creating an information monopoly, each unique piece is brief, witty, and at the cutting edge of tech. Now a stay-at-home dad as well as an international activist, Doctorow writes as eloquently about creating real-time Internet theater with his daughter as he does while lambasting the corporations that want to profit from inherent intellectual freedoms.
Kickass heroines and riveting storytelling are the calling cards of groundbreaking fantasy author Kate Elliott (Crown of Stars, Crossroads, Court of Fives). Here her bold adventuresses, complex quests, noble sacrifices, and hard-won victories shine in classic, compact legends. In ​

"

The Memory of Peace," a girl's powerful emotions rouse the magic of a city devastated by war. Meeting in ​

"

The Queen's Garden," two princesses unite to protect their kingdom from the blind ambition of their corrupted father. While ​

"

Riding the Shore of the River of Death" a chieftain's daughter finds an unlikely ally on her path to self-determination.
Nalo Hopkinson (Brown Girl in the Ring, The Salt Roads, Sister Mine) is an internationally-beloved storyteller. Hailed by the Los Angeles Times as having ​

"

an imagination that most of us would kill for," her Afro-Caribbean, Canadian, and American influences shine in truly unique stories that are filled with striking imagery, unlikely beauty, and delightful strangeness.
In this long-awaited collection, Hopkinson continues to expand the boundaries of culture and imagination. Whether she is retelling The Tempestas a new Caribbean myth, filling a shopping mall with unfulfilled ghosts, or herding chickens that occasionally breathe fire, Hopkinson continues to create bold fiction that transcends boundaries and borders.
Cyberpunk is dead. The revolution has been co-opted by half-assed heroes, overclocked CGI, and tricked-out shades. Once radical, cyberpunk is now nothing more than a brand.
Time to stop flipping the channel.
These sixteen extreme stories reveal a government ninja routed by a bicycle repairman, the inventor of digitized paper hijacked by his college crush, a dead boy trapped in a warped storybook paradise, and the queen of England attacked with the deadliest of forbidden technology: a working modem. You'll meet Manfred Macx, renegade meme-broker, Red Sonja, virtual reality sex-goddess, and Felix, humble sys-admin and post-apocalyptic hero.
Editors James Patrick Kelly and John Kessel (Feeling Very Strange: The Slipstream Anthology) have united cyberpunk visionaries William Gibson, Bruce Sterling, and Pat Cadigan with the new post-cyberpunk vanguard, including Cory Doctorow, Charles Stross, and Jonathan Lethem. Including a canon-establishing introduction and excerpts from a hotly contested online debate, Rewired is the first anthology to define and capture the crackling excitement of the post-cyberpunks.
From the grittiness of Mirrorshades to the Singularity and beyond, it's time to revive the revolution.
"

A rebellious child identifies with Maleficent instead of Sleeping Beauty. Best friends Anna and Corry share one last morning on Earth. A solitary woman inherits a penny arcade haunted by a beautiful stranger. A prep-school student requires more than luck when playing dice with a faerie. Ladies who lunch – dividing one last bite of dessert – delve into new dimensions of quantum politeness. At summer camp, a young girl discovers the heartbreak of forbidden love. Whether on a habitat on Mars or in a boardinghouse in London, discover Ellen Klages' wicked, wondrous adventures full of cheeky wit, empathy, and courage."

A new novel celebrating the second season of the Sundance TV Hap and Leonard series starring Michael K. Williams (The Wire), James Purefoy (The Following), and Christina Hendricks (Mad Men).
Hap Collins is becoming a man — just not the man he's expected to be. His East Texan childhood has been chock full of ignorant rednecks, bullies, and bigots. As a more enlightened sort, Hap went and figured out that being right is a lot less fun that kicking ass.
But singlehandedly punishing the jerks of the world is a tough row to hoe. Luckily, Hap's about to meet his unlikely partner-in-crime-solving.
Leonard Pine is many things Hap is not: black, gay, and surprisingly conservative. Frankly, the two young men seem ill-matched at best. But when Hap sees Leonard demolishing an angry mob with both his fists and words, it's immediately clear that they have a lot in common.
Hap and Leonard: Blood and Lemonadebrings together the origins of Joe R. Lansdale's popular Texan crime-fighting duo. These new, familiar, and definitive adventures show once and for all how two pissed-off young men became one heck of a bad-ass team.
A SundanceTV miniseries starring Michael K. Williams (The Wire), James Purefoy (Rome), and Christina Hendricks (Mad Men).
Hap and Leonard don't fit the profile. Hap Collins looks like a good ​

'

ol boy, but his liberal politics don't match. After a number of failed careers, Hap has discovered that what he's best at: kicking ass. Vietnam veteran Leonard Pine is even more complicated: black, conservative, gay … and an occasional arsonist.
Join in on Hap and Leonard's gritty Texan crime-fighting adventures, including four pieces of bonus material only found in this edition. The Dixie Mafia and small-time crooks alike had best be extremely nervous.
Pass through fairy tales into the magic of invisible worlds in these opulent stories by a beloved fantasy icon and author of the classic Riddlemaster trilogy. Patricia McKillip has inspired generations of dedicated readers with enchanting tales that are as romantic as they are unexpected. Her lush, mesmerizing narratives are as deliciously bittersweet as the finest chocolate and as intoxicating as the finest wine.
The bewitching wonders offered here include princesses dancing with dead suitors, a knight in love with an official of exotic lineage, and fortune's fool stealing into the present instead of the future. You'll discover a ravishing undine and her mortal bridegroom who is more infatuated with politics than pleasure, a time-traveling angel forbidden to intervene in Cotton Mather's religious ravings, a wizard seduced in his youth by the Faerie Queen returning with a treasure that is rightfully hers, and an overachieving teenage mage tricked into discovering her true name very close to home.
When Shai is caught replacing the Moon Scepter with her nearly flawless forgery, she must bargain for her life. An assassin has left the Emperor Ashravan without consciousness, a circumstance concealed only by the death of his wife. If the emperor does not emerge after his hundred-day mourning period, the rule of the Heritage Faction will be forfeit and the empire will fall into chaos.
Shai is given an impossible task: to create — to Forge — a new soul for the emperor in less than one hundred days. But her soul-Forgery is considered an abomination by her captors. She is confined to a tiny, dirty chamber, guarded by a man who hates her, spied upon by politicians, and trapped behind a door sealed in her own blood. Shai's only possible ally is the emperor's most loyal counselor, Gaotona, who struggles to understand her true talent.
Time is running out for Shai. Forging, while deducing the motivations of her captors, she needs a perfect plan to escape…
Original introduction by Warren Ellis, author ofTransmetropolitan and Gun Machine
Who are these bold rebels pillaging their European neighbors in the name of revolution? The Futurists! Utopian pirate warriors of the diminutive Regency of Carnaro, scourge of the Adriatic Sea. Mortal enemies of communists, capitalists, and even fascists (to whom they are notentirely unsympathetic).
The ambitious Soldier-Citizens of Carnaro are led by a brilliant and passionate coterie of the perhaps insane. Lorenzo Secondari, World War I veteran, engineering genius, and leader of Croatian raiders. Frau Piffer, Syndicalist manufacturer of torpedos at a factory run by and for women. The Ace of Hearts, a dashing Milanese aristocrat, spymaster, and tactical savant. And the Prophet, a seductive warrior-poet who leads via free love and military ruthlessness.
Fresh off of a worldwide demonstration of their might, can the Futurists engage the aid of sinister American traitors and establish global domination?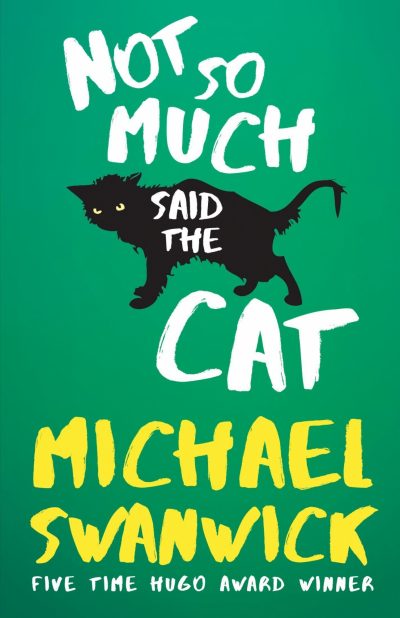 The master of short science-fiction follows up his acclaimed collection The Dog Said Bow-Wow with feline grace, precision, and total impertinence. Michael Swanwick takes us on a whirlwind journey across the globe and across time and space, where magic and science exist in possibilities that are not of this world. These tales are intimate in their telling, galactic in their scope, and delightfully sesquipedalian in their verbiage.

Join the caravan through Swanwick's worlds and into the playground of his mind. Discover a calculus problem that rocks the ages and robots who both nurture and kill. Meet a magical horse who protects the innocent, a confused but semi-repentant troll, a savvy teenager who takes on the Devil, and time travelers from the Mesozoic who party till the end of time…

Gentle Readers, after the outraged letters following our first volume, I would be remiss not to warn you. The handsome tome of classic and original fiction, nonfiction, and illustrations is perhaps even more shocking than its predecessor. And yet, I see that your curiosity is piqued, so.…
Enter the Scintillating Clockpunk Gear-o-Torium: Herein dwell the breathless adventures that you secretly seek. Gaze upon the rebellious Mecha-Ostrich, the seductive Steam Dancer, the intrepid Mssrs. Balfour and Meriwether, and the hithertofore undefeated Cast-Iron Kid.
Experience the Delights of the Chrononaut Odditorium: An esteemed panel of self-appointed experts, under pain of ridicule, will reveal Top Secret Historical Enticements. Be dazzled by the first English translation of the quintessential Steampunk story ​

"

Flying Fish Prometheus" by Vilhelm Bergsøe.
Oooh and Ahhh at the Subculture Contraptor Lounge: Authoress of the Parasol Protectorate Gail Carriger gaily holds forth on the fashionable subjects of fashion, fiction, and more. The Steampunk Workshop founder Jake von Slatt's ​

"

Steampunk Manifesto" shares his musings amusing and profound on the future of Steam.
Look Upon Our Brass-Plated Wonders: From the rough streets of modern-day Manchester, world-famous adventurer John Coulthart provides the near-tactile visual experience of this elaborative tome. He is joined by the likes of the artistes Secret Agent Ramona Szczerba (a.k.a. Winona Cookie) and Lovereaftian maestro Eric Orchard.
Meet the Masterminds: Editors Extraordinaire Ann and Jeff VanderMeer, the well-known literary vagabonds and mesmerists, do fully guarantee your satisfaction. However, the publisher does regret that the VanderMeers have become mysteriously unavailable to respond to any grievances.
It's Steampunk — and it's reloaded.
Playfully mashing up the romantic elegance of the Victorian era with whimsically modernized technology, the wildly popular steampunk genre is here to stay. Now…long live the revolution!
Steampunk Revolution features a renegade collective of writers and artists, including steampunk legends and hot, new talents rebooting the steam-driven past and powering it into the future. Lev Grossman's ​

"

Sir Ranulph Wykeham-Rackham, GBE, a.k.a. Roboticus the All-Knowing" is the Six-Million-Dollar Steampunk Man, possessing appendages and workings recycled from metal parts, yet also fully human, resilient, and determined. Bruce Sterling's ​

"

White Fungus" introduces steampunk's younger cousin, salvage-punk, speculating on how cities will be built in the future using preexisting materials. Cat Valente's ​

"

Mother Is a Machine" explores the merging of man and machine and a whole new form of parenting. In Jeff VanderMeer's anti-steampunk story ​

"

Fixing Hanover," a creator must turn his back on his creation because it is so utterly destructive. And Cherie Priest presents ​

"

The Clockroach," a new and very unsettling mode of transportation.
Going far beyond corsets and goggles, Steampunk Revolution is not just your granddad's zeppelin — it's an even wilder ride.
Featuring two tales of Mord, the bear immortalized in VanderMeer's bestseller, Borne
Compared by critics to Borges, Nabokov, and Kafka, contemporary fantasist Jeff VanderMeer (The Southern Reach Trilogy) continues to amaze with this surreal, innovative, and absurdist gathering of award-winning short fiction. Exotic beasts and improbable travelers roam restlessly through these darkly diverting and finely honed tales.
In ​

"

The Situation," a beleaguered office worker creates a child-swallowing manta-ray to be used for educational purposes (once described as Dilbert meets Gormenghast). In ​

"

Three Days in a Border Town," a sharpshooter seeks the truth about her husband in an elusive floating city beyond a far-future horizon; ​

"

Errata" follows an oddly familiar writer who has marshaled a penguin, a shaman, and two pearl-handled pistols with which to plot the end of the world. Also included are two stories original to this collection, including ​

"

The Quickening," in which a lonely child is torn between familial obligation and loyalty to a maligned talking rabbit.
Chimerical and hypnotic, VanderMeer leads readers into a new literature of the imagination.
Skillfully combining complex science with finely executed prose, these edgy, award-winning tales explore the always-shifting border between the known and the alien.
The beauty and peril of technology and the passion and penalties of conviction merge in stories that are by turns dark, satiric, bold, and introspective. A seemingly humanized monster from John Carpenter's The Thing reveals the true villains in an Antarctic showdown. An artificial intelligence shields a biologically-enhanced prodigy from her overwhelmed parents. A deep-sea diver discovers that her true nature lies not within the confines of her mission but in the depths of her psyche. A court psychologist analyzes a psychotic graduate student who has learned to reprogram reality itself. A father tries to hold his broken family together in the wake of an ongoing assault by sentient rainstorms.
Gorgeously saturnine and exceptionally powerful, these collected fictions are both intensely thought-provoking and impossible to forget.
The invasion of the future has begun.
Literary legends including Steven Millhauser, Junot Diáz, Amiri Baraka, and Katharine Dunn have attacked the borders of the every day. Like time traveling mad-scientists, they have concocted outrageous creations from the future. They have seized upon tales of technology gone wrong and mandated that pulp fiction must finally grow up.
In these wildly-speculative stories you will discover the company that controls the world from an alley in Greenwich Village. You'll find nanotechnology that returns memories to the residents of a nursing home. You'll rally an avian-like alien to become a mascot for a Major League Baseball team.
The Invaders are here. But did science fiction colonize them first?
Within these pages you will find such delightful and curious things as a strange storytelling vampire, two woefully-overmatched angels, a dragon in cahoots with a knight and a witch, an ineptly duplicitous fish, the loyal robot butler of Werner Von Secondstage Booster, and the Greatest Wizard of All (disputed).
From his epic fantasy series, including Memory Sorrow and Thorn — which George R. R. Martin cited as an inspiration for Game of Thrones—to the classic novel Tailchaser's Song, Tad Williams has mastered every genre he has set his pen to. Here are the stories that showcase the exhilarating breadth of Williams' imagination, hearkening back to such classic fantasists as J. R. R. Tolkien, Ray Bradbury, Peter S. Beagle, and beyond. Whether you are a devoted reader of his longer works, already a devotee of his short fiction, or even new to his writing entirely, The Very Best of Tad Williamsis the perfect place to discover one of the most talented and versatile authors writing at any length today.