This isn't a Commonweal story. This is something Past Me wrote, and refered to as The Doorstop.It's been said that everyone of a certain age who winds up writing fantasy in English has a response to The Lord of the Rings in them.This book is mine.It's about grief, duty, and royalty as responses to violation of the natural order. Also adversity, social change, terrible sartorial choices, and an obscure literary revenge on Thomas Hardy.The acts of vengeance taking place in the text aren't obscure at all. Some people make Adversity very, very sorry it ever said anything. Gruesome and terrible things happen.There were giants in the earth in those days.
Futurist Karl Schroeder imagines infiltrating the elite of a marginal society in The MillionEvery thirty years, ten billion visitors overrun Earth during one month of madness: partying, polluting, and brawling. In between, the world is ruled by the Million; the inheritors and custodians of all of humanity's wealth and history, they lead unimaginable lives of privilege and wealth, and they see it as their due.Gavin Penn-of-Chaffee is an illegal child — a visitor hidden among the Million. When the family that raised him in secret is torn apart, Gavin must impersonate a dead boy to survive. What he doesn't know is that his new identity is expected at the School of Auditors — the Million's feared police force, sworn to find and capture outcasts like him to keep the peace. In order to solve the murder of his adoptive father, Gavin must keep his disguise and his wits intact within the stronghold of those threatened by his very existence.
Winner of the Hugo, Nebula and World Fantasy Life Achievement Awards "One of the masters of modern science fiction." — The Washington Post Book World Eight-year-old Horty Bluett has never known love. His adoptive parents are violent; his classmates are cruel. So he runs away from home and joins a carnival. Performing alongside the fireaters, snakemen and "little people," Horty is accepted. But he is not safe. For when he loses three fingers in an accident and they grow back, it becomes clear that Horty is not like other boys. And it is a difference some people might want to use. But his difference risks not only his own life but the lives of the outcasts who provided for him, for so many years, with a place to call home. In The Dreaming Jewels, Theodore Sturgeon renders the multiple wounds of loneliness, fear, and persecution with uncanny precision. Vividly drawn, expertly plotted, The Dreaming Jewels is a Sturgeon masterpiece.
Winner of the Hugo, Nebula and World Fantasy Life Achievement Awards "One of the masters of modern science fiction." — The Washington Post Book World Eight-year-old Horty Bluett has never known love. His adoptive parents are violent; his classmates are cruel. So he runs away from home and joins a carnival. Performing alongside the fireaters, snakemen and "little people," Horty is accepted. But he is not safe. For when he loses three fingers in an accident and they grow back, it becomes clear that Horty is not like other boys. And it is a difference some people might want to use. But his difference risks not only his own life but the lives of the outcasts who provided for him, for so many years, with a place to call home. In The Dreaming Jewels, Theodore Sturgeon renders the multiple wounds of loneliness, fear, and persecution with uncanny precision. Vividly drawn, expertly plotted, The Dreaming Jewels is a Sturgeon masterpiece.
Six misfits, one powerful entity. A novel about belonging by "one of the greatest writers of science fiction and fantasy who ever lived" (Stephen King). Individually, they are a seemingly simpleminded young man living in the woods who can read the thoughts of others, a runaway girl with telekinetic powers, twin girls who can barely speak but can teleport across great distances, and an infant with a mind like a supercomputer. Together, they are the Gestalt — a single extraordinary being comprised of remarkable parts — although an essential piece may be missing . . . But are they the next stage in human development or harbingers of the end of civilization? The answer may come when they are joined by Gerry. Powerfully telepathic, he lacks a moral compass — and his hatred of the world that has rejected him could prove catastrophic. Winner of the International Fantasy Award and considered Theodore Sturgeon's masterpiece, More Than Human is a genre-bending wonder that explores themes of responsibility and morality, individuality, and belonging. Moving and suspenseful, lyrical and provocative, the novel was one of the first to elevate science fiction into the realm of literature, and inspired musicians and artists, including the Grateful Dead and Crosby, Stills and Nash. From the Nebula Award–winning author of Godbody, The Dreaming Jewels, and other great works of science fiction, this is an unforgettable reading experience and a must for anyone who enjoys Ramsey Campbell, Robert Silverberg, or Philip José Farmer.
A Nebula Award–winning author reinvents the alien invasion novel with this story of a malevolent, galaxy-consuming hive mind — and its surprising human hosts. Drunk, angry, abusive, and pathetic, Dan Gurlick exists at the very lowest level of human civilization, sleeping in junkyard cars and scrounging through garbage cans for his dinner. But his last rotting meal contains something unexpected: a spore that originated from a galaxy many light-years away. First, Dan eats the spore, then, the spore eats Dan; and the homeless alcoholic becomes a host for the Medusa. An insatiable alien hive mind, the Medusa has already consumed the life forms of a billion planets. Now, it hungers for the dominant species of Earth. But to do so, it must somehow unite the planet's intelligent creatures into a single shared consciousness: an assignment the miserable wretch Dan may prove surprisingly capable of carrying out. To Marry Medusa is suspenseful, inventive, and surprisingly compassionate; a vibrant and unforgettable exploration of what it means to be more — or less — than human. This ebook features an illustrated biography of Theodore Sturgeon including rare images and never-before-seen documents from the University of Kansas's Kenneth Spencer Research Library and the author's estate, among other sources.
Theodore Sturgeon's visionary tale sends a man into a utopian future, where perfection has been achieved at a shocking cost — especially for our ideas about genderNothing about Charlie Johns's life is particularly unusual until the day he wakes up in the future. Suddenly surrounded by impossible architecture and technology, Charlie finds himself warmly welcomed by the citizens of Ledom, a fantastic, futuristic Eden with no poverty, no pollution, no wars, no strife, and only one gender. Everything Charlie has always believed about men, women, and sexual identity has been proven wrong, and now he is being asked by his eager hosts to judge their perfect society before he returns to his own time. But something isn't quite right about Ledom's ideal existence — and when cracks begin to appear in its flawless façade, Charlie must unearth the city's hidden secrets … before it's too late. Sturgeon's Venus Plus X is literary science fiction at its most brazen and inventive. A scathing critique of American puritanism that unabashedly explores questions of sexuality and gender, it remains as relevant, insightful, provocative, and troubling as when it first appeared in print. This ebook features an illustrated biography of Theodore Sturgeon including rare images and never-before-seen documents from the University of Kansas's Kenneth Spencer Research Library and the author's estate, among other sources.
---
---
---

Captain Marta Ramos, the most notorious pirate in the Duchy of Denver, has her hands full, what between fascinating murder mysteries, the delectable and devious Delilah Nimowitz, Colonel Geoffrey Douglas (the Duke of Denver's new head of security) and her usual activities: piracy, banditry and burglary. Not to mention the horrors of high society tea parties. In contrast, Simms, her second in command, longs only for a quiet life, filled with tasty sausages and fewer explosions. Or does he? Join Captain Ramos, Simms and their crew as they negotiate the perils of air, land and drawing room in a series of fast-paced adventures in a North America that never was.

Not all patients can be cured — or want to be.
Psychologist Carolyn Fern's newest patient suffers from nightmares that leave glyph-shaped wounds across her skin. The case is odd, even for an institution like Arkham Sanatorium, where the unusual becomes the everyday. Things become even more complicated after the young woman claims to have met Malachi — Carolyn's former patient whose treatment was cut short when he was brutally murdered — in her dreams. What is the link between the two, and how can Carolyn help a patient who, it seems, does not wish to be cured?
The captains of two famous steamboats fight to win a race on the Mississippi River from New Orleans to St. Louis.
Rising

SFF

star P. Djèlí Clark brings an alternate New Orleans of orisha, airships, and adventure to life in his immersive debut novella The Black God's DrumsIn an alternate New Orleans caught in the tangle of the American Civil War, the wall-scaling girl named Creeper yearns to escape the streets for the air – in particular, by earning a spot on-board the airship Midnight Robber. Creeper plans to earn Captain Ann-Marie's trust with information she discovers about a Haitian scientist and a mysterious weapon he calls The Black God's Drums.But Creeper also has a secret herself: Oya, the African orisha of the wind and storms, speaks inside her head, and may have her own ulterior motivations.Soon, Creeper, Oya, and the crew of the Midnight Robber are pulled into a perilous mission aimed to stop the Black God's Drums from being unleashed and wiping out the entirety of New Orleans.
An anthology of authors eligible for the John W. Campbell Award for Best New Writer.
Huge.

From #1 bestselling author of A Game of Thrones: Nightflyers, coming to television on SyFy, is an epic story of space exploration and cosmic horror, plus five George

R. R.

Martin classic science fiction tales.On a voyage toward the boundaries of the known universe, nine misfit academics seek out first contact with a shadowy alien race.But another enigma is the Nightflyer itself, a cybernetic wonder with an elusive captain no one has ever seen in the flesh. Soon, however, the crew discovers that their greatest mystery – and most dangerous threat – is an unexpected force wielding a thirst for blood and terror….Also included are five additional classic George

R. R.

Martin tales of science fiction that explore the breadth of technology and the dark corners of the human mind.
For fans of Pierce Brown and Rhoda Belleza, here is epic space adventure full of action, heart and two kick-butt heroines.Aisha Un-Haad would do anything for her family. When her brother contracts a plague, she knows her janitor's salary isn't enough to fund his treatment. So she volunteers to become a Scela, a mechanically enhanced soldier sworn to protect and serve the governing body of the Fleet, the collective of starships they call home. If Aisha can survive the harrowing modifications and earn an elite place in the Scela ranks, she may be able to save her brother.Key Tanaka awakens in a Scela body with only hazy memories of her life before. She knows she's from the privileged end of the Fleet, but she has no recollection of why she chose to give up a life of luxury to become a hulking cyborg soldier. If she can make it through the training, she might have a shot at recovering her missing past.In a unit of new recruits vying for top placement, Aisha's and Key's paths collide, and the two must learn to work together — a tall order for girls from opposite ends of the Fleet. But a rebellion is stirring, pitting those who yearn for independence from the Fleet against a government struggling to maintian unity.With violence brewing and dark secrets surfacing, Aisha and Key find themselves questioning their loyalties. They will have to put aside their differences, though, if they want to keep humanity from tearing itself apart.




JY

Yang continues to redefine the limits of silkpunk fantasy with their Tensorate novellas, which the New York Times lauded as "joyously wild." In this third volume, an investigation into atrocities committed at a classified research facility threaten to expose secrets that the Protectorate will do anything to keep hiddenYou are reading this because I am dead.Something terrible happened at the Rewar Teng Institute of Experimental Methods. When the Tensorate's investigators arrived, they found a sea of blood and bones as far as the eye could see. One of the institute's experiments got loose, and its rage left no survivors. The investigators returned to the capital with few clues and two prisoners: the terrorist leader Sanao Akeha and a companion known only as Rider.Investigator Chuwan faces a puzzle. What really happened at the institute? What drew the Machinists there? What are her superiors trying to cover up? And why does she feel as if her strange dreams are forcing her down a narrowing path she cannot escape?

---
Science-based wonder is the core of science fiction. Yet the genre mostly casts science as either triumphalism or hubris. In To Shape the Dark, editor Athena Andreadis offers readers women heroes doing science not-as-usual. Scientists are astrogators who never sleep; To Shape the Dark is part of that vigil.
---
When Peter Smith's classmate snaps a picture of him during a late night run at the track, Peter thinks he might be in trouble. When she posts that photo―along with the caption, "See the Pretty Boy Run,"―Peter knows he's in trouble. But when hostiles drop through the ceiling of his 6th period Chem Class, Peter's pretty sure his trouble just became a national emergency.
Because he's not really Peter Smith. He's Jake Morrow, former foster-kid turned

CIA

operative. After a massive screw-up on his first mission, he's on a pity assignment, a dozen hit lists and now, social media, apparently. As #Prettyboy, of all freaking things.
His cover's blown, his school's under siege, and if he screws up now, #Prettyboy will become #Deadboy faster than you can say, 'fifteen minutes of fame.' Trapped in a high school with rabid killers and rabid fans, he'll need all his training and then some to save his job, his school and, oh yeah, his life.
I have no idea where to find descriptive text for Locus.

In an epic fantasy kingdom inspired by African legends, a young assassin finds himself hunted by the brothers and sisters he has trained alongside since birth Neythan is one of five young warriors trained and raised together by a mysterious brotherhood of assassins known as the Shedaím. When Neythan is framed for the murder of his closest friend, he pursues his betrayer – and in so doing learns there's far more to the Brotherhood, and the machinations of the rulers of the warring kingdoms, than he'd ever thought possible.
---
February
20 books read. 11.5 by women (58%), 8.5 by men (43%). There is a round off error.

Works by POC: 15* (75%)
Year to Date
43 books read. 23.5 by women (55%), 16.5 by men (38%), 3 by persons whose gender is unknown (7%).
Works by POC: 23 (53%)
And now, the meaningless table.
---
Have you wanted to draw a book to my attention without actually commissioning a review? Now you can. Simply click on the "suggestion book" icon to the upper right of the site's front page and fill out the form.

I may or may not then review it but I will always appreciate the suggestions.

---
Across the border, the Witch Lords of Vaskandar are preparing for war. But before an invasion can begin, they must call a rare gathering of all seventeen lords to decide a course of action.
Lady Amalia Cornaro knows that this Conclave might be her only chance to smother the growing flames of war, and she is ready to make any sacrifice if it means saving Raverra from destruction.
Amalia and Zaira must go behind enemy lines, using every ounce of wit and cunning they have, to sway Vaskandar from war. Or else it will all come down to swords and fire.
This got a bit long….
---
---
---
January

23 books read. 12 by women (52%), 8 by men (35%), 3 by persons whose gender is unknown (13%).
Works by POC: 8 (35%)
Year to Date
23 books read. 12 by women (52%), 8 by men (35%), 3 by persons whose gender is unknown (13%).
Works by POC: 8 (35%)
And now, the meaningless table.
---
Shaggy herds of mammoths still roam the Great Plains — to the delight of President Thomas Jefferson — in this imaginative alternative history in which the beasts thunder over the grasslands as living symbols of the oncoming struggle between the Native peoples and the European invaders. This unforgettable saga soars from the Badlands of the Dakota Territory to the icy wastes of Siberia, from the Russian Revolution to the American Indian Movement protests of the 1960s and one woman's attempt to harness

DNA

science to fulfill the ancient promises of her Lakota heritage. In addition, this volume includes the essay "Writing During World War Three," a politically incorrect take on multiculturalism from a science fiction point of view and an outspoken interview with the writer of some of today's edgiest and most uncompromising speculative fiction.
Sardonic and merciless, this satire of the entire apocalyptic enterprise provides a humorous and timely interpretation of the bestselling Left Behind series — the adventures of those "left behind" to battle the Anti-Christ after all Born-Again Christians have ascended into heaven. From predatory preachers and goth lingerie to Indian casinos and "art cars" at Burning Man, this religious spoof deftly pairs the personal with the fictional. Featuring an extensive author interview and biography, this contemporary parody also includes the unique one-act drama, Special Relativity, which asks the question: When Paul Robeson, J. Edgar Hoover, and Albert Einstein are raised from the dead at an anti-Bush rally, which one wears the dress?
The classic science fiction trilogy in an omnibus edition. Back in print after two decades!
To the totalitarian state of Oerlikon, change is the most fearsome enemy. So a secret weapon was created to preserve the status quo-the Morphodite. A bioengineered and laboratory-raised super assassin, the Morphodite was designed to scent out and destroy subversive conspiracies. A unique being, it can change its sex, identity, and even its genetic code as a defense. But its creators did not foresee that this untraceable, powerful assassin would morph into a true revolutionary hero-that would turn against the police state that created it.
The title story, "Fire." written especially for this volume, is a harrowing postapocalyptic adventure in a world threated by global conflagration. Based on Hand's real-life experience as a participant in a governmental climate change think tank, it follows a ragtag cadre of scientists and artists racing to save both civilization and themselves from fast-moving global fires. "The Woman Men Couldn't See" is an expansion of Hand's acclaimed critical assessment of author Alice Sheldon, who wrote award-winning

SF

as "James Tiptree, Jr." in order to conceal identity from both the

SF

community and her

CIA

overlords. Another nonfiction piece, "Beyond Belief" recounts her difficult passage from alienated teen to serious artist. Also included are "Kronia," a poignant time-travel romance, and "The Saffron Gatherers," two of Hand's favorite and less familiar stories. Plus: a bibliography and our candid and illuminating Outspoken Interview with one of today's most inventive authors.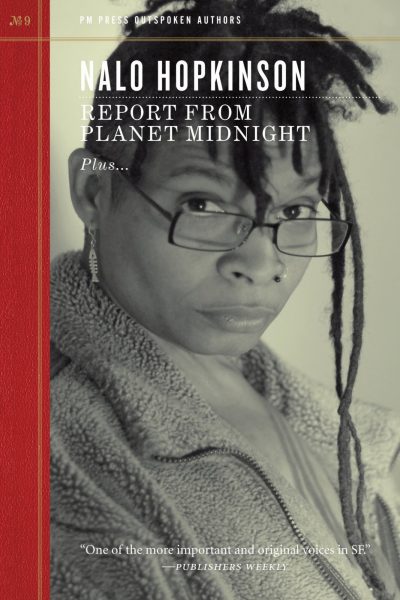 Infused with feminist, Afro-Caribbean views of the science fiction and fantasy genres, this collection of offbeat and highly original works takes aim at race and racism in literature. In "Report from Planet Midnight," at the International Association of the Fantastic in the Arts, an alien addresses the crowd, evaluating Earth's "strange" customs, including the marginalization of works by nonwhite and female writers. "Message in a Bottle" shows Greg, an American Indian artist, befriending a strange four-year-old who seems wise beyond her years. While preparing an exhibition, he discovers that the young girl is a traveler from the future sent to recover art from the distant past — which apparently includes his own work. Concluding the book with series editor Terry Bisson's Outspoken Interview, Nalo Hopkinson shares laughs, loves, and top-secret Caribbean spells.
By turns teasing and terrifying, laconic and luminous, the stories in this anthology are drawn from sources as diverse as Borges, Nabokov, Garcia-Marquez, and traditional Japanese folklore, and yet they ultimately reside in a slyly subversive literary world that is all their own. Blending an uncompromising ethical vision with exuberant, free-wheeling imagery and bracing formal experimentation, the five short stories and three novellas included in We, the Children of Cats show the full range and force of Hoshino's imagination. The stories include a man and woman who find their genders and sexualities brought radically into question when their bodies sprout new parts; a man who travels from Japan to Latin America in search of revolutionary purpose only to find much more than he bargained for; a journalist who investigates a poisoning at an elementary school and gets lost in an underworld of buried crimes, secret societies, and haunted forests; and two young killers, exiled from Japan, who find a new beginning as resistance fighters in Peru. An afterword by translator and editor Brian Bergstrom and a new preface by Hoshino himself is also included.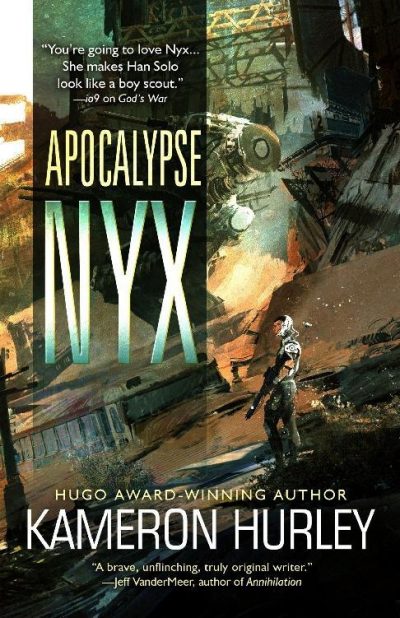 Move over Mad Max―here comes Nyx.
Ex-government assassin turned bounty-hunter, Nyx, is good at solving other people's problems. Her favorite problem-solving solution is punching people in the face. Then maybe chopping off some heads. Hey―it's a living.
Her disreputable reputation has been well earned. To Nyx's mind, it's also justified. After all, she's trying to navigate an apocalyptic world full of giant bugs, contaminated deserts, scheming magicians, and a centuries-long war that's consuming her future. Managing her ragtag squad of misfits has required a lot of morally-gray choices.
Every new job is another day alive. Every new mission is another step toward changing a hellish future―but only if she can survive.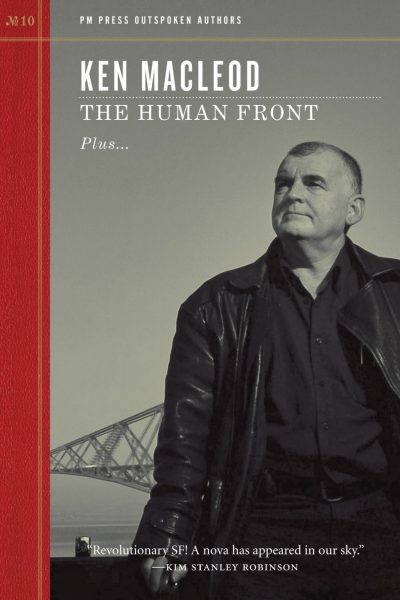 Winner of a Prometheus and Sidewise Award, this science fiction novella is a comedic and biting commentary on capitalism and an exploration of technological singularity in a posthuman civilization. As a world war rages on without an emerging victor, the story follows John Matheson, an idealistic teenage Scottish guerilla warrior who must change his tactics and alliances with the arrival of an alien species. This alternate history and poignant political satire flips hero types and expectations, delivering a lively tale of adventure — as dramatic and thought provoking as it is funny. Also included is an interview with the author and two essays that relate his poignant views on social philosophies.
Meet Maxim Arturovitch Pyatnitski, also known as Pyat. Tsarist rebel, Nazi thug, continental conman and reactionary counterspy: the dark and dangerous antihero of Michael Moorcock's most controversial work. Published in 1981 to great critical acclaim — then condemned to the shadows and unavailable in the United States for 30 years — Byzantium Endures, the first of the Pyat quartet, is not a book for the faint-hearted. It is the story of a cocaine addict, sexual adventurer, and obsessive anti-Semite whose epic journey from Leningrad to London connects him with scoundrels and heroes from Trotsky to Makhno and whose career echoes that of the 20th century's descent into fascism and total war. This is Moorcock at his audacious, iconoclastic best: a grand sweeping overview of the events of the last century, as revealed in the secret journals of modern literature's most proudly unredeemable outlaw. This authoritative edition presents the author's final cut, restoring previously forbidden passages and deleted scenes.
Her name is Binti, and she is the first of the Himba people ever to be offered a place at Oomza University, the finest institution of higher learning in the galaxy. But to accept the offer will mean giving up her place in her family to travel between the stars among strangers who do not share her ways or respect her customs.
Knowledge comes at a cost, one that Binti is willing to pay, but her journey will not be easy. The world she seeks to enter has long warred with the Meduse, an alien race that has become the stuff of nightmares. Oomza University has wronged the Meduse, and Binti's stellar travel will bring her within their deadly reach.
If Binti hopes to survive the legacy of a war not of her making, she will need both the the gifts of her people and the wisdom enshrined within the University, itself — but first she has to make it there, alive.
When Isabella died, her parents were determined to ensure her education wouldn't suffer.
But Isabella's parents had not informed her new governess of Isabella's… condition, and when Ms Valdez arrives at the estate, having forced herself through a surreal nightmare maze of twisted human-like statues, she discovers that there is no girl to tutor.
Or is there…?
With seven books for seven sins, Taste of Wrath is the adrenaline-fuelled finalé to Matt Wallace's Sin du Jour series, which Chuck Wendig calls "a raucous, riotous tale of culinary madness"!Bronko and his team of crack chefs and kitchen staff have been serving the New York supernatural community for decades. But all that could be about to change.The entity formerly known as Allensworth has been manipulating Bronko and his team from Day One, and the gang at Sin du Jour have had enough.Old debts are called in, and an alliance is formed with the unlikeliest of comrades.Some will die. Some will descend. And some will rise
.
---
Out of print since 1985, these three classic novels form a trilogy that chronicles the history of an alternate human race, the Ler, from their origins as a bioengineered "superhuman" race on Earth to their complex civilizations in space. Together, the books form a challenging examination of what it means to be human.
A brilliantly imaginative talent makes her exciting debut with this epic historical military fantasy, inspired by the bloody history of China's twentieth century and filled with treachery and magic, in the tradition of Ken Liu's Grace of Kings and

N.K.

Jemisin's Inheritance Trilogy.When Rin aced the Keju — the Empire-wide test to find the most talented youth to learn at the Academies — it was a shock to everyone: to the test officials, who couldn't believe a war orphan from Rooster Province could pass without cheating; to Rin's guardians, who believed they'd finally be able to marry her off and further their criminal enterprise; and to Rin herself, who realized she was finally free of the servitude and despair that had made up her daily existence. That she got into Sinegard — the most elite military school in Nikan — was even more surprising.But surprises aren't always good.Because being a dark-skinned peasant girl from the south is not an easy thing at Sinegard. Targeted from the outset by rival classmates for her color, poverty, and gender, Rin discovers she possesses a lethal, unearthly power — an aptitude for the nearly-mythical art of shamanism. Exploring the depths of her gift with the help of a seemingly insane teacher and psychoactive substances, Rin learns that gods long thought dead are very much alive — and that mastering control over those powers could mean more than just surviving school.For while the Nikara Empire is at peace, the Federation of Mugen still lurks across a narrow sea. The militarily advanced Federation occupied Nikan for decades after the First Poppy War, and only barely lost the continent in the Second. And while most of the people are complacent to go about their lives, a few are aware that a Third Poppy War is just a spark away …Rin's shamanic powers may be the only way to save her people. But as she finds out more about the god that has chosen her, the vengeful Phoenix, she fears that winning the war may cost her humanity … and that it may already be too late.
The most stimulating challenge that has come to science fiction writers recently has been the question of whether it is time for a change. The advocates of what is called the New Wave say yes. They insist that the "old" science fiction belongs to the past, is stereotyped, and no longer represents the whirl of modern times, the revolution of new thinking and the mind-tingling innovations that seem to be prevalent in all the arts these days.
The New Wave in

SF

 — they prefer to call it Speculative Fiction — has its roots among the imaginative writers of England, most specifically around the magazine New Worlds, and a great deal has been coming from that source that is indeed different and surprising. Judith Merril, an acknowledged authority on science fiction, has made herself the foremost American defender of the New Wave, and in this book

ENGLAND

SWINGS

SF

she has produced an anthology and a running, sparkling dialogue between its contributors and its editor on what they are doing to

SF

in England and why they are doing it.
Are the New Wave advocates correct? Is it indeed time for new forms and new approaches to imaginative speculative fiction? Has science fiction as we have known it really become moribund?
Here is the book which may be the turning point of that New Wave. Ace Books presents it because it is a work, a manifesto perhaps in the form of a group of most unusual

SF

stories, which everyone interested in science fiction ought to read. It will be a stimulating experience, whether you agree with Miss Merril or not.
Ace Books, long the foremost publisher of science fiction in America, does not take any stand on this controversy. We have published and will continue to publish the best obtainable in all types of writing, from space-action adventures to the award-winning Specials, from the old "classics" to the best of the new collections of short stories. We reprint

ENGLAND

SWINGS

SF

not because we are in agreement or in disagreement with it, but because we think it is part of Ace's traditional service to science fiction.
Two quotes may be apropos. Josephine Saxton says, inside the book, "British writers are in the vanguard — one thing they do is make much American

S.F.

look old-fashioned."
Isaac Asimov said, outside the book, "I hope that when the New Wave has deposited its froth and receded, the vast and solid shore of science fiction will appear once more."
Decide for yourself.
Luminescent Threads celebrates Octavia E. Butler, a pioneer of the Science Fiction genre who paved the way for future African American writers and other writers of colour.
Original essays and letters sourced and curated for this collection explore Butler's depiction of power relationships, her complex treatment of race and identity, and her impact on feminism and women in Science Fiction.
Follow the luminescent threads that connect Octavia E. Butler and her body of work to the many readers and writers who have found inspiration in her words, and the complex universes she created.
---
Young up-and-coming author Liz McKinnen has no idea that her life is about to change forever when she comes home from her first book tour. When she's kidnapped and told by her captors that she has to kill her fantasy book's antagonist, she thinks that she's fallen into the hands of crazy, dangerous fans… until her antagonist sends a real, fire-breathing dragon after her.
Liz is quickly initiated into the Immortal Writers, a group of authors from throughout time whose words have given them eternal life, and whose prose is so powerful that it's brought stories over from the Imagination Field into the Reality Field. As Liz meets authors such as William Shakespeare,

JRR

Tolkien, Edgar Allan Poe, and Jane Austen, she has to learn how to control magic, fight dragons, and face her own troubled past before her power-hungry villain takes over the world. Will she survive the ultimate battle against the dragon lord whom she created?
Young up-and-coming author Liz McKinnen has no idea that her life is about to change forever when she comes home from her first book tour. When she's kidnapped and told by her captors that she has to kill her fantasy book's antagonist, she thinks that she's fallen into the hands of crazy, dangerous fans… until her antagonist sends a real, fire-breathing dragon after her.
Liz is quickly initiated into the Immortal Writers, a group of authors from throughout time whose words have given them eternal life, and whose prose is so powerful that it's brought stories over from the Imagination Field into the Reality Field. As Liz meets authors such as William Shakespeare,

JRR

Tolkien, Edgar Allan Poe, and Jane Austen, she has to learn how to control magic, fight dragons, and face her own troubled past before her power-hungry villain takes over the world. Will she survive the ultimate battle against the dragon lord whom she created?
---

Now a nascent demon-hunting crew on the lam, Danielle and her friends arrive in a small town that contains a secret occult library run by anarchists and residents who claim to have come back from the dead. When Danielle and her crew investigate, they are put directly in the crosshairs of a necromancer's wrath — whose actions threaten to trigger the apocalypse itself.
The Godfather meets Guardians of the Galaxy in this crazy-ass adventure set on Viridian, a prison planet full of aliens who want to eat you. Tig, the only human, is thrust into a lose/lose/lose situation when the mob boss he works for asks him to pick up and deliver a package that the Fed — the governing body of the known universe — also wants. To make matters worse, the package has curves for days, an attitude to match, and her own agenda for how this is all going down.
---
December

21 books read. 11 by women (52%), 8 by men (38%), 1 by a non-binary author (5%) and one (NA 5%).
Works by POC: 6 (29%)
Year to Date
255 works reviewed. 138.5 by women (54%). 109.5 by men (43%). 5 by non-binary authors (2%). 2 by N/A (1%)
Works by POC: 75.5 (30%)
Well, not quite as productive a year as I had hoped but not without its bright points. For example, I review books at a rate about 45 times that of the median reviewer in the Strange Horizons' count, books by WNB authors at a rate 90 times that of the median reviewer in the Strange Horizons' count and books by POC at a rate 160 times that of the median reviewer in the Strange Horizons' count. While I didn't increase the number of books by NB authors as much as I hoped, I did increase it. Incremental efforts over time can accomplish great goals.

All I have to do is keep on incrementing….

I have some interesting goals for 2018.
And now, the meaningless table.
---

The Citadel of Weeping Pearls was a great wonder; a perfect meld between cutting edge technology and esoteric sciences — its inhabitants capable of teleporting themselves anywhere, its weapons small and undetectable and deadly.Thirty years ago, threatened by an invading fleet from the Dai Viet Empire, the Citadel disappeared and was never seen again.
But now the Dai Viet Empire itself is under siege, on the verge of a war against an enemy that turns their own mindships against them; and the Empress, who once gave the order to raze the Citadel, is in desperate needs of its weapons. Meanwhile, on a small isolated space station, an engineer obsessed with the past works on a machine that will send her thirty years back, to the height of the Citadel's power.
But the Citadel's disappearance still extends chains of grief and regrets all the way into the fraught atmosphere of the Imperial Court; and this casual summoning of the past might have world-shattering consequences…A new book set in the award-winning, critically acclaimed Xuya universe.
There is a lake of marvels. A lake of water lilies that glow with the color of dawn. For generations Kai's people have harvested these lilies, dependent upon them for the precious medicines they provide.
But now a flock of enchanted cranes has come to steal and poison the harvest. The lilies are dying. Kai's people are in peril. A mysterious young man from the city thinks he might have a solution. Kai must work with him to solve the mystery of the cranes, and it will take all her courage, love, strength, and wisdom to do what she must to save both the lilies and her people.
The Lilies of Dawn is a lushly written, lyrical fairy tale of love, duty, family, and one young woman's coming of age.
Alone in a Spartan black cockpit, test pilot Mike Melvill rocketed toward space. He had eighty seconds to exceed the speed of sound and begin the climb to a target no civilian pilot had ever reached. He might not make it back alive. If he did, he would make history as the world's first commercial astronaut. The spectacle defied reason, the result of a competition dreamed up by entrepreneur Peter Diamandis, whose vision for a new race to space required small teams to do what only the world's largest governments had done before. Peter Diamandis was the son of hardworking immigrants who wanted their science prodigy to make the family proud and become a doctor. But from the age of eight, when he watched Apollo 11 land on the Moon, his singular goal was to get to space. When he realized

NASA

was winding down manned space flight, Diamandis set out on one of the great entrepreneurial adventure stories of our time. If the government wouldn't send him to space, he would create a private space flight industry himself.

In the 1990s, this idea was the stuff of science fiction. Undaunted, Diamandis found inspiration in an unlikely place: the golden age of aviation. He discovered that Charles Lindbergh made his transatlantic flight to win a $25,000 prize. The flight made Lindbergh the most famous man on earth and galvanized the airline industry. Why, Diamandis thought, couldn't the same be done for space flight?

The story of the bullet-shaped SpaceShipOne, and the other teams in the hunt, is an extraordinary tale of making the impossible possible. It is driven by outsized characters — Burt Rutan, Richard Branson, John Carmack, Paul Allen — and obsessive pursuits. In the end, as Diamandis dreamed, the result wasn't just a victory for one team; it was the foundation for a new industry and a new age.
Distant lights illuminating the darkness pique Chito's and Yuuri's curiosity, so the two hop aboard their beloved Kettenkrad and head for the horizon. What they find may not be what they were looking for, but the surviving fragments of civilization are enough to keep them going. There's no telling what other strange surprises lie in store as their journey continues…
---

Whatever your holiday of choice may be.

Thanks to my editor Karen Lofstrom and my web person Adrienne L. Travis. Thank you all of my readers for sticking around for three and a bit years! Especially everyone who has commissioned a review or been part of my Patreon. And a big thanks to all of you authors, without whom book reviewers would be very challenging.

Review One Thousand in just a few weeks!

---
That's a Because My Tears Are Delicious To You review. To recap, Tears is the series


In which I revisit books that I loved when I was a teenager, back in the 1970s. Some of these have aged well. Others …. not so well. Come for my delighted surprise at discovering new depths in old friends, stay for my writhing agony as old favourites betray me.

I need to have read them before March 1981, when I turned 20 and was no longer a teen1. I am torn between reading one I think will have aged well, and one I know has not. Or some other possibility.
1: Note that comparatively few dates after March 18, 1981 are before March 18, 1961. The Internet Speculative Fiction Database is your friend.

---
A retrospective anthology of tales is highlighted by autobiographical accounts of the experiences that have shaped his fantasy and science fiction work.

The gruff and mysterious warrior known as Vargus has meant many things to many people over the course of his long life. But when he hears of a village suffering strange attacks in the dead of night, he must take up the role of the Gath - the people's protector - once again, before any more children go missing.Exclusive to ebook and audiobook, Of Gods and Men is an original epic fantasy novella by Stephen Aryan focusing on a fan-favourite character from the Age of Dread trilogy. Story takes place before the events of Battlemage.
In a desperate bid to escape the bounty on his head, assassin Girton Club-Foot has returned to Maniyadoc, but the kingdom he knew no longer exists.
Three kings battle for supremacy in a land ravaged by war-and one of them is his old friend Rufra. With threats inside and outside the war encampment, Girton races to find the traitor behind an assassination plot. But his magic can no longer be contained and Girton may not be able to save even himself.
It's assassin versus assassin for the life of a king.

Readers met the irrepressible Karen Memory in Elizabeth Bear's 2015 novel Karen Memory, and fell in love with her steampunk Victorian Pacific Northwest city, and her down-to-earth story-telling voice.
Now Karen is back with Stone Mad, a new story about spiritualists, magicians, con-men, and an angry lost tommy-knocker — a magical creature who generally lives in the deep gold mines of Alaska, but has been kidnapped and brought to Rapid City.
Karen and Priya are out for a night on the town, celebrating the purchase of their own little ranch and Karen's retirement from the Hotel Ma Cherie, when they meet the Arcadia Sisters, spiritualists who unexpectedly stir up the tommy-knocker in the basement. The ensuing show could bring down the house, if Karen didn't rush in to rescue everyone she can.

Manhattan has many secrets. Some are older than the city itself.
Summer in New York: a golden hour on the city streets, but a dark time for Selene. She's lost her home and the man she loves.
A cult hungry for ancient power has kidnapped her father and targeted her friends. To save them, Selene must face the past she's been running from - a past that stretches back millennia, to when the faithful called her Huntress. Moon Goddess. Artemis.
With the pantheon at her side, Selene must journey back to the seat of her immortal power: from the streets of Rome and the temples of Athens — to the heights of Mount Olympus itself.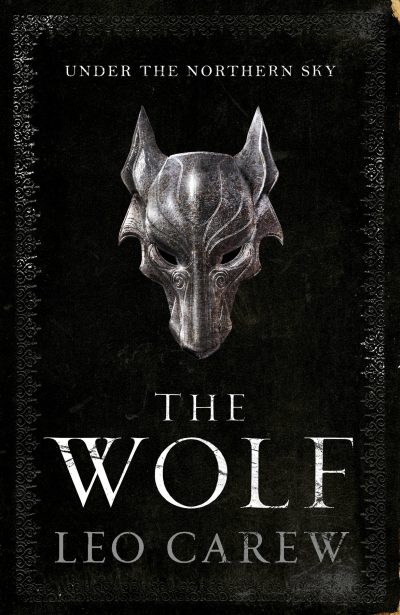 Leo Carew's debut novel The Wolf, the first book in the Under the Northern Sky series, is a masterpiece in epic historical fantasy - a new voice to rival David Gemmell or George

RR

Martin. Violence and death have come to the land under the Northern Sky. The Anakim dwell in the desolate forests and mountains beyond the black river, the land under the Northern Sky. Their ancient ways are forged in Unthank silver and carved in the grey stone of their heartland, their lives measured out in the turning of centuries, not years. By contrast, the Sutherners live in the moment, their vitality much more immediate and ephemeral than their Anakim neighbours. Fragile is the peace that has existed between these very different races - and that peace is shattered when the Suthern armies flood the lands to the north. These two races revive their age-old hatred and fear of each other. Within the maelstrom of war, two leaders will rise to lead their people to victory. Only one will succeed. The Wolf is a thrilling, savagely visceral, politically nuanced and unexpectedly wry exploration of power and identity - and how far one will go to defend them.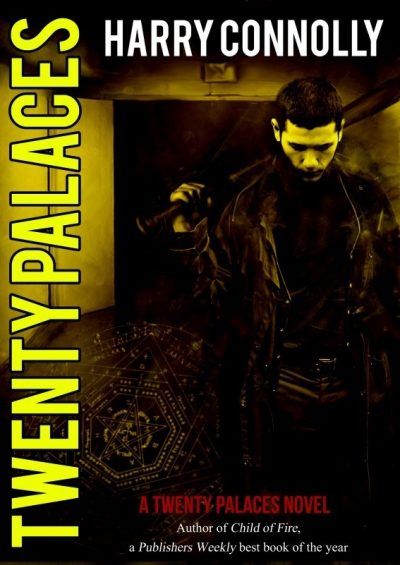 When Ray Lilly was 13 years old, a handgun accident landed his best friend, Jon Burrows, in a wheelchair and turned Ray into a runaway and petty criminal. Fifteen years later, Ray returns home after a stint in prison; he's determined to go straight, but he knows he can't do that without making peace with his old friend. What Ray doesn't expect is to discover that Jon has just received a mysterious cure–not only is he out of his wheelchair, he seems stronger and faster than… well, pretty much anyone. Worse, his cure has drawn the attention of all sorts of powerful people: the media are camped out on his block, the police are investigating him for insurance fraud, and weird shadowy figures have begun to draw closer, figures who clearly do not mean to do Jon any good. Can Ray atone for the biggest mistake of his life by protecting his oldest friend? And what terrible price will the world have to pay if he succeeds?
Tara's quirky

PI

business is attracting some even quirkier customers. She's not sure how Madame Vine's Escort Agency got her number. And then there's the eccentric motorcycle racing team owner, Bolo Ignatius. Both these clients want to Tara to investigate suspicious circumstances that turn up dead bodies. That can only mean one thing in this town: John Viaspa. Tara goes in for round two with the local crime boss, while balancing the tight rope of her deliciously complicated love life.Tara Sharp's life can only be describe as furious fun.

At the heart of the Dark Zone, a duel for the universe rages.
In an ancient Jorian temple, Jaqi faces John Starfire, the new ruler of the Empire. He has set all the worlds aflame in his quest to destroy humankind. Jaqi has sworn to stop him. Problem is, Jaqi isn't much of a fighter.
Meanwhile, the sun-eating cosmic spiders, the Shir, have moved out of the Dark Zone and are consuming the galaxy. Araskar knows that he must hold them back, but to do that, he has to give himself over to the Resistance, under the command of John Starfire's wife. And she wants him dead more than she wants the stars to live.
If Jaqi and Araskar can fight their way out, they can use a secret at the heart of the Dark Zone to free the galaxy, and end John Starfire's new tyranny. They lose, and every star in the sky will go dark.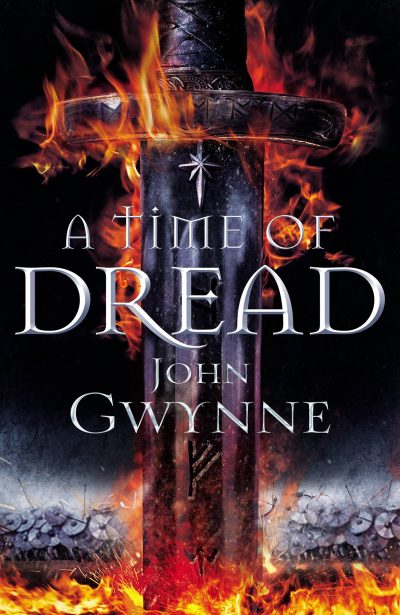 The Ben-Elim, a race of warrior angels, once vanquished a mighty demon horde. Now they rule the Banished lands. But their dominion is brutally enforced and their ancient enemy may not be as crushed as they thought.
In the snowbound north, Drem, a trapper, finds mutilated corpses in the forests - a sign of demonic black magic.
In the south, Riv, a young, tempestuous soldier, discovers a deadly rift within the Ben-Elim themselves.
Two individuals with two world-changing secrets. But where will they lead? And what role will Drem and Riv play in the Banished Land's fate? Difficult choices need to be made.
In the shadows, dark forces are gathering, waiting for their time to rise…
It is the year 7000 by Noble reckoning, and the vampire rulers of the world have grown complacent. When the shape-shifting Outer Space Beings invade, the Noble warrior Greylancer must pit his skills and magic against the technology of the OSBs, quash an anti-Noble rebellion, outwit the Ultimate Mind, and, when he is critically injured, turn to mere humans for help. The Three Thousand Year War of Vampire Hunter D begins here!
Also includes the bonus short story "An Irreplaceable Existence"!
A murderer doing time in Hell. A girl who just wants to win her high school band contest…no matter what it takes. Sumo wrestlers with a supernatural secret. A future Tokyo where vampires are menial laborers nursing long-held grudges against humanity. And even a very conscientious, if unstable, Universal Transverse Mercator projection. These crime and mystery stories from and about Japan explore myth, technology, the sharpness of a sleuth's mind, and the darkness in the hearts of criminals. Read these stories and learn that hanzai means crime!
Karsman has a dozen different people living in his head, each the master of a different set of skills and hoping to gain mastery of Karsman's body. He survives on a backwater planet dominated by the Muljaddy, a mostly ambivalent religious autocracy, where devotion and prayer can be traded in for subsistence wages and enough food to survive. Surrounded by artifacts of a long dead civilization, the population survives off its salvage, with Karsman eking out an uneventful life as the unofficial mayor of his small town.
But that life is soon interrupted, when a group of commandos arrive, coming from the wastelands as only off-worlders could. They've come to kill a woman, or so they say. At first the commandos merely threaten as they search. Unable to find what they're looking for, they begin to ratchet up their measures, separating the men from the women, instigating violent encounters, and eventually staging a coup against the Muljaddy and his Temple.
Faced with the task of protecting his quiet town and a woman he might love from the commandos who could want to kill her, Karsman must balance between maintaining his personality and harnessing the personas whose skills he desperately needs.

Ten thousand city-state habitats orbit the planet Yellowstone, forming a near-perfect democratic human paradise.
But even utopia needs a police force. For the citizens of the Glitter Band that organization is Panoply, and the prefects are its operatives.
Prefect Tom Dreyfus has a new emergency on his hands. Across the habitats and their hundred million citizens, people are dying suddenly and randomly, victims of a bizarre and unprecedented malfunction of their neural implants. And these "melters" leave no clues behind as to the cause of their deaths…
As panic rises in the populace, a charismatic figure is sowing insurrection, convincing a small but growing number of habitats to break away from the Glitter Band and form their own independent colonies.
Imperial forces have captured the Phezzan Dominion and draw ever closer to the Free Planets Alliance capital of Heinessen. Yang hurriedly abandons Iserlohn Fortress and heads for the capital to protect countless civilians. Taking out Reinhard is the alliance's only path to victory. Despite the empire's superior numbers, Yang continues to outwit its most resourceful generals via tactical wizardry. Reinhard, on the other hand, seeing through Yang's devices, opts for all-out war. And so, the "invincible" and "undefeated" once again clash swords. Who will emerge victorious?

Even after the world and humanity itself have been rendered nearly unrecognizable by genetic engineering, a day in the office can feel…Sisyphean.
The company stands atop a tiny deck supported by huge iron columns a hundred meters high. The boss there is its president — a large creature of unstable, shifting form once called "human." The world of his dedicated worker contains only the deck and the sea of mud surrounding it, and and the worker's daily routine is anything but peaceful. A mosaic novel of extreme science and high weirdness, Sisyphean will change the way you see existence itself.
A strange journey into the far future of genetic engineering, and working life. After centuries of tinkering, many human bodies only have a casual similarity to what we now know, but both work and school continue apace. Will the enigmatic sad sack known only as "the worker" survive the day? Will the young student Hanishibe get his questions about the biological future of humanity answered, or will he have to transfer to the department of theology? Will Umari and her master ever comprehend the secrets of nanodust?
IMAGINE

A

GAME

WITH

NO

BOUNDARIES

-

WAITING

IN

A

PARKING

LOT

,

SITTING

AT

YOUR

COMPUTER

,

WALKING

DOWN

THE

STREET

.

YOU

COULD

BE

CALLED

AT

ANY

MOMENT

-

AND

YOU

'D

BETTER

BE

READY

.

THIS

IS

NOT

A

GAME

.
THIS

IS

A

NOVEL

OF

GREED

,

BETRAYAL

,

AND

SOCIAL

NETWORKING

.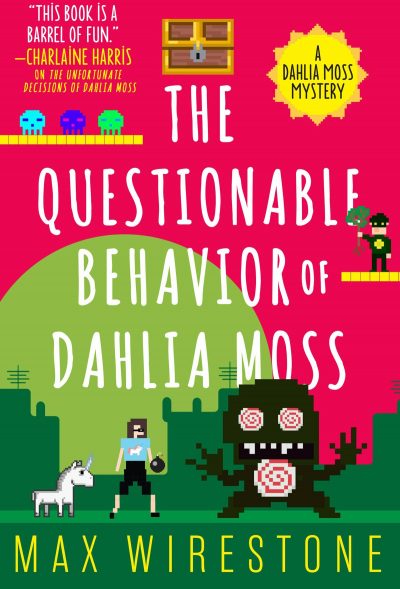 Veronica Mars meets the World of Warcraft in this mystery romp with a hilarious heroine.Working for a games development company is my dream job. So, when a slightly sketchy lawyer offered me the opportunity, I had to take it! Who cares that the company has some quirks? No job is perfect. Some questionable, but probably totally normal issues:A mysterious whistle-blower is posting the industry's dirty laundry on Reddit.An unidentified corpse is in the staff room.The game under development is for filthy casuals, and unwisely involves matching talking peppermints.My job, technically speaking, is "Industry Spy."It's all just a typical day at the office. Right?
---
Set in a future Great Britain scarred by fracking and ecological collapse, The Race opens in the coastal town of Sapphire, dominated by the illegal sport of smartdog racing: greyhounds genetically modified with human

DNA

. For Jenna, the latest Cup meet bears a significance far beyond the simple hunger for victory. Christy's life is dominated by fear of her brother, a man she knows capable of monstrous acts and suspects of hiding even darker ones. Desperate to learn the truth she contacts Alex, a stranger she knows only by name. Together they must face their demons, wherever that may lead. Raised at the Croft, a secret government programme focusing on smartdogs, Maree has to undertake a journey through shipping lanes haunted by the enigmatic and dangerous Atlantic whale. What she discovers en route will change her world forever.
The story of four damaged people whose lives are inextricably linked, The Race is a novel of tender nuances, brutality, insight and great ambition, a narrative that lays bare the fears and joys of being human, and, ultimately, offers hope to us all.
A collection of stories and essays that imagine the near future of human activity in space, informed by the economic and social history of exploration, plus current technical and scientific research.
Unfortunately, I think the anthology above falls short of the minimum fraction of pieces by woman writers for a review. I require at least 40% and it's 30%.
I suppose if this is going to be recorded somewhere for posterity, I should set the record straight. The ghostwriter will probably cut it all, but hey, it's the principle of the thing.
Dr. Cadence Mbella is the world's most celebrated scholar of the atargati: sentient, intelligent deep-water beings who are most definitely not mermaids. When Cadence decides to release a captive atargati from scientific experimentation and interrogation, she knows her career and her life is forfeit. But she still yearns for the atargati — there is still so much to know about their physiology, their society, their culture. And Cadence would do anything to more fully understand the atargati… no matter what the cost.
A vampiric Snow White whose pious stepmother is her only salvation….
A supernatural Cinderella who strikes at midnight, leaving behind a prince mad with desire….
A sleeping beauty never meant to be woken…
In her World Fantasy Award-nominated short story collection, Red as Blood, Tanith Lee deconstructed familiar fairy tales, recapturing their original darkness and horror in haunting new interpretations. Behind gilded words and poised princesses, she exposed a sinister world of violence, madness, and dangerous enchantments. With Redder than Blood, Lee resumes the tradition of twisting tales. Among its nineteen tales, this volume explores unnerving variations of Beauty and the Beast, The Frog Prince, Snow White, and other classics, including three never-before-published stories. A recognized master fantasist, Tanith Lee has won multiple awards for her craft, including the British Fantasy Award, the World Fantasy Award for Life Achievement, and the Bram Stoker Award for Lifetime Achievement in Horror.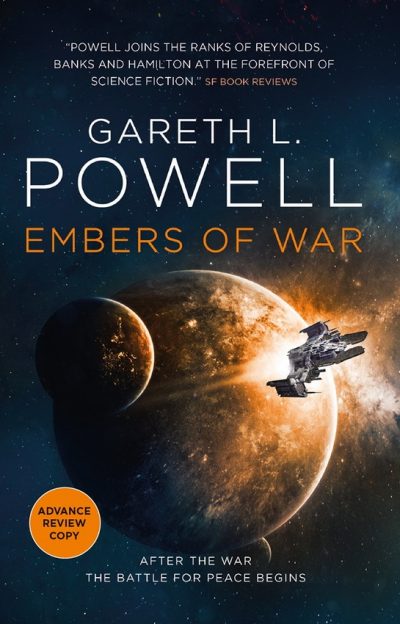 The sentient warship Trouble Dog was built for violence, yet following a brutal war, she is disgusted by her role in a genocide. Stripped of her weaponry and seeking to atone, she joins the House of Reclamation, an organisation dedicated to rescuing ships in distress. When a civilian ship goes missing in a disputed system, Trouble Dog and her new crew of loners, captained by Sal Konstanz, are sent on a rescue mission. Meanwhile, light years away, intelligence officer Ashton Childe is tasked with locating the poet, Ona Sudak, who was aboard the missing spaceship. What Childe doesn't know is that Sudak is not the person she appears to be. A straightforward rescue turns into something far more dangerous, as Trouble Dog, Konstanz and Childe find themselves at the centre of a conflict that could engulf the entire galaxy. If she is to save her crew, Trouble Dog is going to have to remember how to fight…
Emperor's daughter Mercedes is the first woman ever admitted to the High Ground, the elite training academy of the Solar League's Star Command, and she must graduate if she is to have any hope of taking the throne. Her classmate Tracy has more modest goals — to rise to the rank of captain, and win fame and honor. But a civil war is coming and the political machinations of those who yearn for power threaten the young cadets. In a time of intrigue and alien invasion, they will be tested as they never thought possible.
---
We've heard you loud and clear. We're not going to rollout the changes to our payments system that we announced last week. We still have to fix the problems that those changes addressed, but we're going to fix them in a different way, and we're going to work with you to come up with the specifics, as we should have done the first time around. Many of you lost patrons, and you lost income. No apology will make up for that, but nevertheless, I'm sorry. It is our core belief that you should own the relationships with your fans. These are your businesses, and they are your fans.


---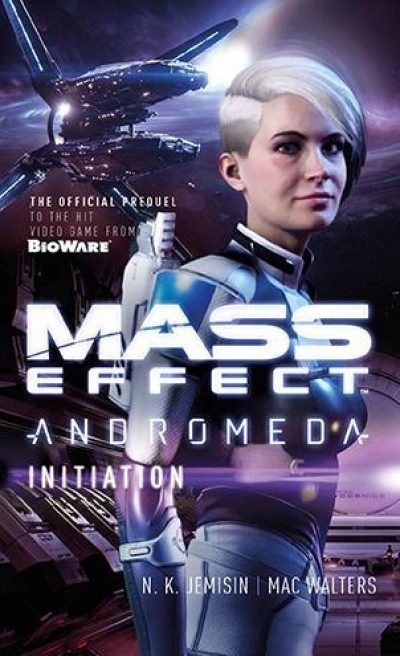 Lieutenant Cora Harper joined the Systems Alliance to develop and enhance her powerful biotic talents. She was assigned to the asari commando unit Talein's Daughters, where she honed her abilities to become a skilled and deadly huntress.
Returning to Earth, Cora finds herself a stranger among other humans, and joins the Andromeda Initiative as Alec Ryder's second-in-command. The mission will send 100,000 colonists on a one-way, 600-year-long journey into the unknown. When essential — and dangerous — tech is stolen, Cora is assigned to recover it before it can be used against the Initiative, and end the mission before it can begin.
Adda and Iridian are newly-minted engineers, but in a solar system wracked by economic collapse after an interplanetary war, an engineering degree isn't worth the paper it's printed on. Desperate for gainful employment, they hijack a colony ship, planning to join a pirate crew at Barbary Station, an abandoned shipbreaking station in deep space.
But when they arrive at Barbary Station, nothing is as they expected. The pirates aren't living in luxury — they're hiding in a makeshift base welded onto the station's exterior hull. The artificial intelligence controlling the station's security system has gone mad, trying to kill all station residents. And it shoots down any ship that tries to leave, so there's no way out.
Adda and Iridian have one chance to earn a place on the pirate crew: destroy the artificial intelligence. The last engineer who went up against the security system suffered explosive decapitation, and the pirates are taking bets on how the newcomers will die. But Adda and Iridian plan to beat the odds.
There's a glorious future in piracy…if they can survive long enough.
---
Widespread outrage greeted Patreon's announcement of a new fee structure that will charge patrons (donors) for making donations, too, on top of the existing 5% fee paid by creators.
---