A thrilling, atmospheric debut with the intensive drive of The Martian and Gravity and the creeping dread of Annihilation, in which a caver on a foreign planet finds herself on a terrifying psychological and emotional journey for survival.When Gyre Price lied her way into this expedition, she thought she'd be mapping mineral deposits, and that her biggest problems would be cave collapses and gear malfunctions. She also thought that the fat paycheck—enough to get her off-planet and on the trail of her mother—meant she'd get a skilled surface team, monitoring her suit and environment, keeping her safe. Keeping her sane. Instead, she got Em. Em sees nothing wrong with controlling Gyre's body with drugs or withholding critical information to "ensure the smooth operation" of her expedition. Em knows all about Gyre's falsified credentials, and has no qualms using them as a leash—and a lash. And Em has secrets, too . . . As Gyre descends, little inconsistencies—missing supplies, unexpected changes in the route, and, worst of all, shifts in Em's motivations—drive her out of her depths. Lost and disoriented, her control giving way to paranoia and anger, Gyre severs her connection with Em and the outside world. On her own in this mysterious, deadly place, surrounded by darkness and the unknown, Gyre must overcome more than just the dangerous terrain and the Tunneler which calls underground its home if she wants to make it out alive—she must confront the ghosts in her own head.But how come she can't shake the feeling she's being followed?
---
S. A. Chakraborty continues the sweeping adventure begun in The City of Brass—"the best adult fantasy I've read since The Name of the Wind" (#1 New York Times bestselling author Sabaa Tahir)—conjuring a world where djinn summon flames with the snap of a finger and waters run deep with old magic; where blood can be dangerous as any spell, and a clever con artist from Cairo will alter the fate of a kingdom.Nahri's life changed forever the moment she accidentally summoned Dara, a formidable, mysterious djinn, during one of her schemes. Whisked from her home in Cairo, she was thrust into the dazzling royal court of Daevabad—and quickly discovered she would need all her grifter instincts to survive there. Now, with Daevabad entrenched in the dark aftermath of the battle that saw Dara slain at Prince Ali's hand, Nahri must forge a new path for herself, without the protection of the guardian who stole her heart or the counsel of the prince she considered a friend. But even as she embraces her heritage and the power it holds, she knows she's been trapped in a gilded cage, watched by a king who rules from the throne that once belonged to her family—and one misstep will doom her tribe.Meanwhile, Ali has been exiled for daring to defy his father. Hunted by assassins, adrift on the unforgiving copper sands of his ancestral land, he is forced to rely on the frightening abilities the marid—the unpredictable water spirits—have gifted him. But in doing so, he threatens to unearth a terrible secret his family has long kept buried.And as a new century approaches and the djinn gather within Daevabad's towering brass walls for celebrations, a threat brews unseen in the desolate north. It's a force that would bring a storm of fire straight to the city's gates . . . and one that seeks the aid of a warrior trapped between worlds, torn between a violent duty he can never escape and a peace he fears he will never deserve.
---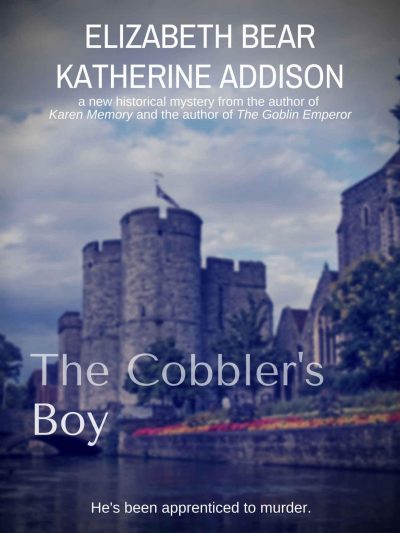 Brilliant, bookish Christopher Marlowe is fifteen years old and desperate to qualify for a scholarship to the King's School in order to escape his brutal father.
But the only man who could have helped him has been murdered... and now the killers are looking for Kit.
---
An anthology of science fiction, written by women, exploring different visions of the future.
---
August
22 books read. 11 by women (50%), 11 by men (50%).
Works by POC: 7 (32%)
Year to Date
175 books read. 93.5 by women (53%), 72.5 by men (41%), 2 by NB (1%). 5 by persons whose gender is unknown (3%).
Works by POC: 59 (34%) And now, the meaningless table.

---
The land is in turmoil. Mages are hunted by men and gods alike. Even their own kind betray each other in the name of safety and protection.
With their last refuge fallen, two young mages must conspire against a god to show the world that their abilities aren't a curse; they are the only way to ensure lasting peace. Under the threat of anti-magic fanatics, Wren struggles to find her place as a leader and to keep her people safe as they build a new home. While Danoph searches for answers on a spiritual journey, determined to find out who he really is and where he came from in an effort to calm the coming storm.
Their world has turned against them, yet only they can save the world.
---
Acheron's human death unleashed an unspeakable horror that almost destroyed the earth. Then, brought back against his will, he became the sole defender of mankind. Only it was never that simple. For centuries, Acheron has fought for our survival and hidden a past he'll do anything to keep concealed. Until a lone woman who refuses to be intimidated by him threatens his very existence. Now his survival―and ours―hinges on hers, and old enemies reawaken and unite to kill them both. War has never been more deadly...or more fun.
---
Original Science Fiction Stories About Young People of the Future

What will life be like for the young people of the future? What will they inherit from today, and what strange new situations will they face?

Nine popular science fiction writers confront these questions in lively stories created especially for this collection. Their answers are intriguing and remarkably varied. Each author presents a possible world of the future. And each examines the lives of young people who are balancing their own dreams against the peculiar demands of their world.
Contents:
Come Sing the Moons of Moravenn - Leigh Brackett
Examination Day - Gordon Eklund
The Speeders - Arthur Tofte
Let My People Go! - Joseph Green
Night of the Millennium - Edward D. Hoch
A Bowl of Biskies Makes a Growing Boy - Raymond F. Jones
Final Exam - Thomas N. Scortia
The Others - J. Hunter Holly
Peace Love and Food for the Hungry - Gail Kimberly
---
Jane Hawkins lives on a floating space port where she tries to help her mothers run a failing inn. Every day she watches starships land from far-off places, bound for exotic adventures.
But a new occupant under their roof is about to change everything. His name is Villem Osteonides. More machine than man, he's crewed aboard ships that sail through the universe faster than light.

And he has a secret that will change Jane's life forever.
---
My venerable laptop has been displaying disturbing behavior of the sort that suggests it's time to replace it. Accordingly, any reviews commissioned between now and August 15, 2018 are half off! Fifty dollars will buy you a book review by yours truly! Multiples of fifty will buy you multiple reviews!

(Because I don't want my loyal patreon supporters to feel short-changed, any Patreon review credits claimed between now and the 15th are also doubled.).
---
July
22 books read. 13 by women (59%), 9 by men (41%).

Works by POC: 4 (20%)
Year to Date
151 books read. 82.5 by women (55%), 61.5 by men (41%), 2 by NB (1%). 5 by persons whose gender is unknown (3%).
Works by POC: 52 (34%)
And now, the meaningless table.

---
Liv Burnham thinks nobody knows Morgan Frost like she does, but a terrible accident pushes her down the rabbit hole where Morgan's secrets hide and she'll be lucky to make it out alive....
On a hot summer night, Liv, Morgan, Clay and Nathan are on the way home from a party in Clay's convertible. Best friends dating brothers? It doesn't get better than that. But the joyride ends in sudden impact, a screech of brakes, and shattering glass. On that lonely country road, four lives change forever.
Liv wakes in the hospital. At first she's confused when they call her Morgan, but she assumes it's a case of mistaken identity. Yet when the bandages come off, it's not her face inthe mirror anymore. It's Morgan's.
Morgan always seemed to have the perfect life. But as Liv tries to fit herself into Morgan's world, she discovers endlessly disturbing secrets of the criminal and murderous variety and a dark task to finish...if she doesn't lose her mind first.
Forced to confront the disturbing truths that Morgan kept hidden in life, Liv must navigate a world of long-buried murder, a dangerous love affair―and a romance that feels like a betrayal.
---
---
Only days have passed since a freak accident granted four college students superhuman powers. Now Jools and her friends (who haven't even picked out a name for their superhero team yet) get caught up in the hunt for a Mad Genius's misplaced super-weapon. But when Jools falls in with a modern-day Robin Hood and his band of super-powered Merry Men, she finds it hard to sort out the Good Guys from the Bad Guys―and to figure out which side she truly belong on.
Especially since nobody knows exactly what the Gun does . . . .
---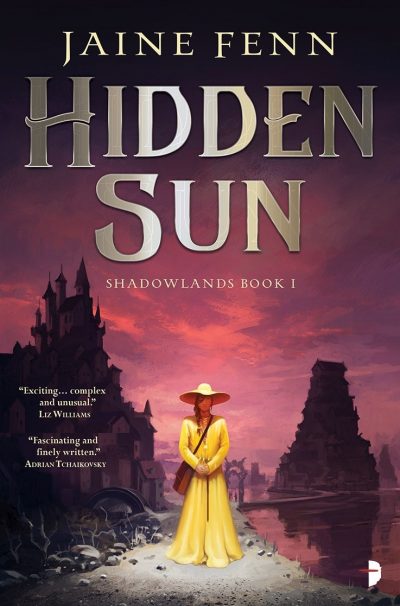 An eccentric noblewoman scientist's journey into a hostile environment will change her world forever, in this enthralling fantasy novel.Rhia Harlyn is a noble in Shen, one of the dozens of shadowlands which separate the bright, alien skyland. She has a missing brother, an unwanted marriage proposal and an interest in science considered unbecoming in her gender. Her brother's disappearance coincided with a violent unsolved murder, and Rhia impulsively joins the search party headed into the skyland - a place whose dangers and wonders have long fascinated her. The dangerous journey brings her into conflict with a young rebel stuck between the worlds of shadow and light, and a charismatic cult leader who believes he can defeat death itself.
---
June

21 books read. 11 by women (52%), 9 by men (43%). One by a person whose gender is unknown (5%)

Works by POC: 6.5 (31%)
Year to Date
129 books read. 69.5 by women (54%), 52.5 by men (41%), 2 by NB (2%). 5 by persons whose gender is unknown (4%).
Works by POC: 48 (37%)
And now, the meaningless table.
---
Asimov combines many of his science fiction favorites from the thirties with his personal reflections on his early years, interests, and influences

---
Theo Mackey only remembers one thing for certain about the fire that destroyed his home: he lit the match.
Sure, it was an accident. But the blaze killed his mom and set his dad on a path to self-destruction. Everything else about that fateful night is full of gaping holes in Theo's mind, for good reason. Maybe it's better that way. As captain of the Ellis Hollow Diving Team, with straight A's and solid friends, he's only one semester away from securing a scholarship, and leaving his past behind.
But when a family history project gets assigned at school, new memories come rushing to the surface, memories that make Theo question what he really knows about his family, the night of the fire, and if he can trust anyone―including himself.
---
THE KING IS DEAD, LONG LIVE THE KING . . .Many years of peace have passed in Maniyadoc, years of relative calm for the assassin Girton Club-Foot. Even the Forgetting Plague, which ravaged the rest of the kingdoms, seemed to pass them by. But now Rufra ap Vthyr eyes the vacant High-King's throne and will take his court to the capital, a rat's nest of intrigue and murder, where every enemy he has ever made will gather and the endgame of twenty years of politics and murder will be played out in his bid to become the King of all Kings.Friends become enemies, enemies become friends and the god of death, Xus the Unseen, stands closer than ever - casting his shadow over everything most dear to Girton.
---
RuneQuest: Roleplaying in Glorantha is an all-new edition of one of the world's most influential and acclaimed fantasy roleplaying games. First appearing almost 40 years ago, RuneQuest is as dynamic and vital as ever. This all-new, deluxe edition introduces RuneQuest and its setting of Glorantha to new players everywhere.
---
My father's eyes were steady on my face as I blew out the last bubbles of my breath. I pressed my knife into his hand but he could not make his fingers close around the hilt. I screamed for help with my first lungful of air, and dove again with my second. I was too late.
Fourteen-year-old Taver didn't know he was a nobleman's bastard until his real father died. Eleven-year-old Elaku has always known she was the bastard daughter of the same nobleman. When the two siblings meet in the Empress of Timbra's palace, they become fast friends.
Around them, intrigue and rumour swirl. Not everybody is happy with the rule of the Empress of Timbra. Some have plans for Taver and Elaku. And when treachery and war threaten their home, Taver and Elaku must rely on their magic, their wits, and each other to have any chance of preventing disaster.
---
May
22 books read. 12.5 by women (57%), 9.5 by men (43%).
Works by POC: 5 (23%)
Year to Date
108 books read. 58.5 by women (54%), 43.5 by men (40%), 2 by NB (2%). 4 by persons whose gender is unknown (4%).
Works by POC: 41.5 (38%)
And now, the meaningless table.
---
Journey with twenty-one speculative fiction authors through the fractured borders of human migration to examine assumptions and catch a glimpse of the dreams, struggles, and triumphs of those who choose--or are forced--to leave home and familiar places. Who straddle borders within our worlds--and within us.
Migration. A transformation of time, place, and being . . .
We are called drifters, nomads. We are expatriates, evacuees, and pilgrims. We are colonists, aliens, explorers; strangers, visitors--intruders, conquerors--exiles, asylum seekers, and . . . outsiders.
An American father shields his son from Irish discrimination. A Chinese foreign student wrestles to safeguard her family at the expense of her soul. A college graduate is displaced by technology. A Nigerian high school student chooses between revenge and redemption. A bureaucrat parses the mystery of Taiwanese time travellers. A defeated alien struggles to assimilate into human culture. A Czechoslovakian actress confronts the German WWII invasion. A child crosses an invisible border wall. And many more.
Stories that transcend borders, generations, and cultures. Each is a glimpse into our human need in face of change: to hold fast to home, to tradition, to family; and yet to reach out, to strive for a better life.
Featuring Original Stories by Vanessa Cardui, Elsie Chapman, Kate Heartfield, S.L. Huang, Tyler Keevil, Matthew Kressel, Rich Larson, Tonya Liburd, Karin Lowachee, Seanan McGuire, Brent Nichols, Julie NovÁkovÁ, Heather Osborne, Sarah Raughley, Alex Shvartsman, Amanda Sun, Jeremy Szal, Hayden Trenholm, Liz Westbrook-Trenholm, Christie Yant & Alvaro Zinos-Amaro
With An Introduction by Eric Choi & Gillian Clinton
Edited by Susan Forest & Lucas K. Law
---
---
Man brought life to the Moon...
And Man has the power to render the Moon barren again. As warring factions struggle for domination through control of essential resources—water, minerals, oxygen—the young Lunar republic becomes a political pawn. Just as Earth exerts its pull on the tidal waters of the Moon, it also commands the tide of events. And only two people can prevent the total destruction of the Moon's atmosphere—Galvanix, a man of science... and Taggart, a woman of war.

---