Deception Well is a world on the edge, home to an isolated remnant surviving at the farthest reach of human expansion. All across the frontier, other worlds have succumbed to the relentless attacks of robotic alien warships, while hundreds of light years away, the core of human civilization—those star systems closest to Earth, known as the Hallowed Vasties—have all fallen to ruins. Powerful telescopes can see only dust and debris where once there were orbital mega-structures so huge they eclipsed the light of their parent stars.
No one knows for sure what caused the Hallowed Vasties to fail, but a hardened adventurer named Urban intends to find out. He has the resources to do it. He commands a captive alien starship fully capable of facing the dangers that lie beyond Deception Well.
With a ship's company of explorers and scientists, Urban is embarking on a voyage of re-discovery. They will be the first in centuries to confront the hazards of an inverted frontier as they venture back along the path of human migration. Their goal: to unravel the mystery of the Hallowed Vasties and to discover what monstrous life might have grown up among the ruins.
Edges is a new entry point into the classic story world of Linda Nagata's The Nanotech Succession.
---
It is time to nominate works for the Hugo.

I know what I have done that last year but as to what categories they fall into? You guess is as good as mine. I think my grasp of the boundaries is worse than it was last year.

James Nicoll Reviews and my pieces for Tor might be best related? Or fan, perhaps? My Dreamwidth account might be Best Fan Writer eligible. And the various projects on the Young People site may count as a fanzine. Or, again, best fan writing.

---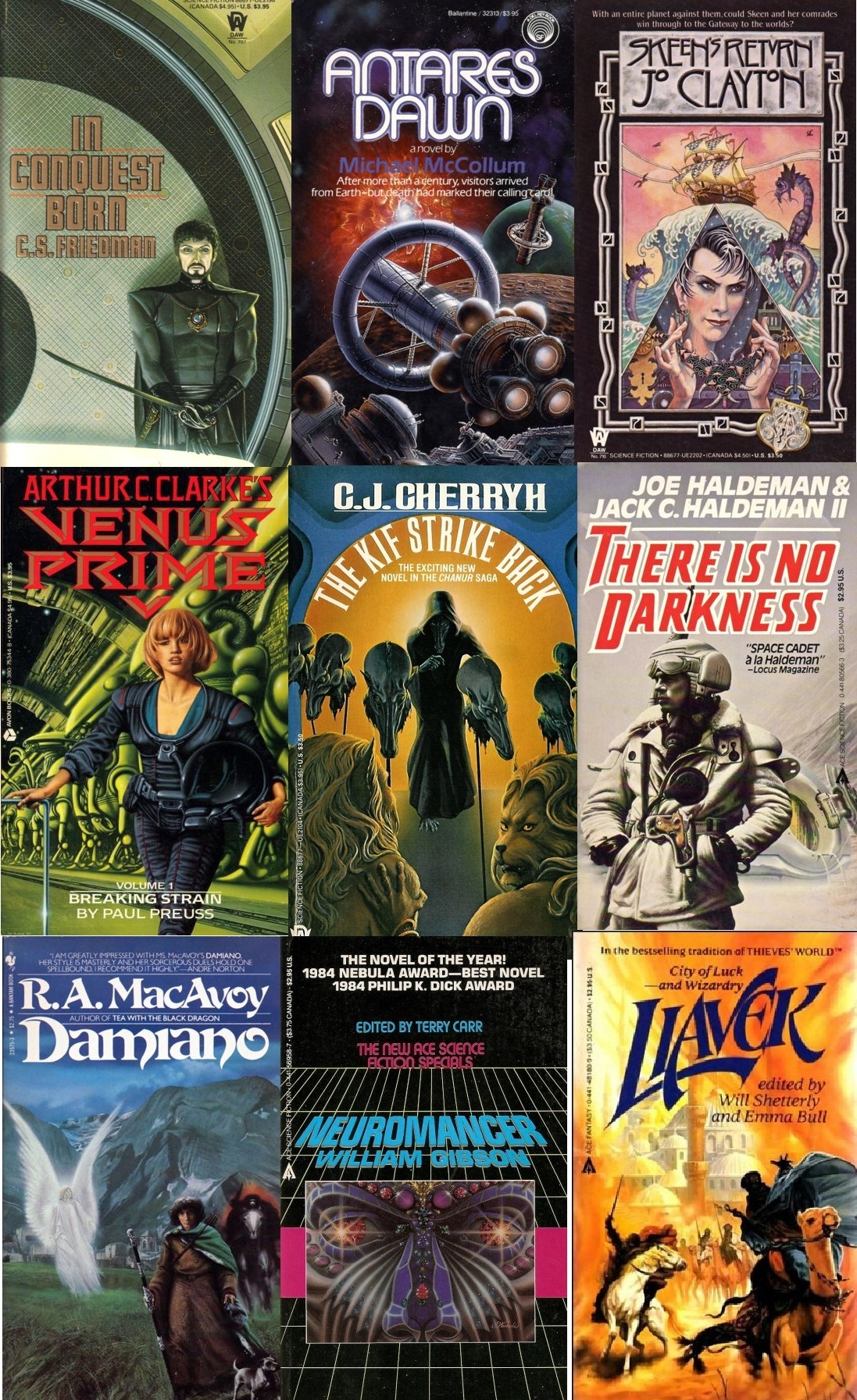 From time to time I consider reviewing an old favourite for my Because My Tears Are Delicious To You series, only to discover that the book in question was published after March 1981, too recent for Tears1. Pity, because there were a great many books published in the 1980s that were almost as formative for me as the ones I read as a teen. If only I had my own review site, I muse, I could indulge my whims.
It turns out I do have a review site that is completely under my control! Bwahahaha!
Welcome, therefore, to Big Hair, Big Guns, intermittent reviews of the best (or at least most notable) SF works of the 1980s.
1: Tears covers those books I read as a teen. Thanks to math and the Julian calendar, I was only a teen from 1974 to 1981.
---
HEAVEN IS A PRISON. HELL IS A PLAYGROUND.Ross Baker is an overworked scientist developing medical technology for corporate giant Neurosphere, but he'd rather be playing computer games than dealing with his nightmare boss or slacker co-workers.He volunteers as a test candidate for the new tech - anything to get out of the office for a few hours. But when he emerges from the scanner he discovers he's not only escaped the office, but possibly escaped real life for good. He's trapped in Starfire - a video game he played as a child - with no explanation, no backup and, most terrifyingly, no way out.
---
As always, something happened to inspire me. This year it was this tweet by award-winning author Silvia Moreno-Garcia:

So I've been wondering if I should say something here because I am busy and tired and I don't need the attention, but I think I must: the

WFC

guest of honor lineup for 2019 is sad. The con takes place in Los Angeles but all the GOHs are white. The theme is Fantasy Noir.

I could rebuke the WFC, but this might undermine my justly earned reputation for genial tolerance. Better that I should set aside any expressions of disappointment and irritation. Surely if the WFC could do better, they would be doing better. I shall embrace this problem as the inspiration for 2019's major reviewing project, offered in the spirit of community-building and good will:
Doing What the WFC Cannot Do, being an incomplete survey of POC currently active in speculative fiction. I will review 52 recent works by 52 different POC in 52 weeks.
I don't anticipate any particular difficulty in doing this. But then, I am not the WFC.
---
CONTENTS:
Prose –
THE ISHOLOGU // Jonathan Kincade
What truly separates good from evil? When a senseless act of violence unleashes an ancient evil on a community, it's up to one bokor–an his undead accomplice–to make things right.
GLOSS // Kola Heyward-Rotimi
For Ace and zeal, The Clipper is more than a glitch; it's an escape, a refuge from reality. But when developers patch their refuge out of existence, Ace has to figure out how to break reality one more time.
THE DAEMON KING OF ENGIM // Rafeeat Aliyu
Saya is a talented wizard who has dreams of being a fighter, but there's a problem: women aren't allowed to fight. She makes a deal with a capricious deity who says that they can make her dreams real…but is Saya prepared to pay the cost?
NOTES ON THE PLAGUE // Shamar Harriott
A mysterious plague is killing black people. Amidst this tragedy, a small group of hopeful survivors tries to figure out how to retain their will to survive without the ability to touch–or trust.
THE RAT KING OF SPANISH HARLEM // Nicky Drayden
A sweeping viral epidemic is changing the very fabric of humanity, and Alicia is one of the few unaffected humans remaining. In the midst of Humanity's change, will she find a place to belong?
Poetry –
NEST // B. Sharise Moore
THE BASKET WEAVER // Soonest Nathaniel
---
Short version: I produced about as many reviews as the median reviewer on the Strange Horizons count might over about half a century, about as many reviews of books by women and non-binary authors as the median reviewer on the Strange Horizons list might over the course of about a century and about as many reviews of books by POC as as the median reviewer on the Strange Horizons count might over about one hundred and seventy-five years. Let's see if I cannot at least make that last number a fifth of a millennium next year.

December
21 books read. 12 by women (57%), 8 by men (38%). 1 by an author whose gender is unknown (5%).
Works by POC: 5 (24%)
Year to Date 259 books read. 144 by women (56%), 105 by men (41%), 3 by NB (1%). 7 by persons whose gender is unknown (3%). Works by POC: 82.5 (32%) And now, the meaningless table.
---
There's nothing like a celebratory meal shared with friends and family! May you all enjoy!

Thanks to my editor Karen Lofstrom and my web person Adrienne L. Travis. Thank you all of my readers for sticking around for four and a bit years! Especially everyone who has commissioned a review or been part of my Patreon. And a big thanks to all of you authors, without whom writing book reviews would be very challenging.
---
One of the most important and blazingly original writers of his generation, George Saunders is an undisputed master of the short story, and Tenth of December is his most honest, accessible, and moving collection yet.

In the taut opener, "Victory Lap," a boy witnesses the attempted abduction of the girl next door and is faced with a harrowing choice: Does he ignore what he sees, or override years of smothering advice from his parents and act? In "Home," a combat-damaged soldier moves back in with his mother and struggles to reconcile the world he left with the one to which he has returned. And in the title story, a stunning meditation on imagination, memory, and loss, a middle-aged cancer patient walks into the woods to commit suicide, only to encounter a troubled young boy who, over the course of a fateful morning, gives the dying man a final chance to recall who he really is. A hapless, deluded owner of an antiques store; two mothers struggling to do the right thing; a teenage girl whose idealism is challenged by a brutal brush with reality; a man tormented by a series of pharmaceutical experiments that force him to lust, to love, to kill—the unforgettable characters that populate the pages of Tenth of December are vividly and lovingly infused with Saunders's signature blend of exuberant prose, deep humanity, and stylistic innovation.

Writing brilliantly and profoundly about class, sex, love, loss, work, despair, and war, Saunders cuts to the core of the contemporary experience. These stories take on the big questions and explore the fault lines of our own morality, delving into the questions of what makes us good and what makes us human.

Unsettling, insightful, and hilarious, the stories in Tenth of December—through their manic energy, their focus on what is redeemable in human beings, and their generosity of spirit—not only entertain and delight; they fulfill Chekhov's dictum that art should "prepare us for tenderness."
---
Five hundred years ago, magi created a weapon they couldn't control. An infestation that ate magic—and anything else it came into contact with. Enemies and allies were equally filling.
Only an elite team of non-magical humans, known as sweepers, can defuse and dispose of infestations before they spread. Most die before they finish training.
Laura, a new team member, has stayed alive longer than most. Now, she's the last—and only—sweeper standing between the city and a massive infestation.
---
The author of The Last Unicorn presents thirteen fantastical and mystical stories celebrating the most beloved mythical creature by some of today's top fantasy authors, including an original tale by Janet Berliner written especially for this edition.
---
November
21 books read. 12 by women (57%), 8 by men (38%). 1 by NB (5%).
Works by POC: 5 (24%)
Year to Date
238 books read. 132 by women (55%), 97 by men (41%), 3 by NB (1%). 6 by persons whose gender is unknown (3%). Works by POC: 77.5 (33%) And now, the meaningless table. Numbers drawn from the most recent Strange Horizons Count, which isn't all that recent anymore.

---
Ambassador Mahit Dzmare arrives in the center of the multi-system Teixcalaanli Empire only to discover that her predecessor, the previous ambassador from their small but fiercely independent mining Station, has died. But no one will admit that his death wasn't an accident—or that Mahit might be next to die, during a time of political instability in the highest echelons of the imperial court.
Now, Mahit must discover who is behind the murder, rescue herself, and save her Station from Teixcalaan's unceasing expansion—all while navigating an alien culture that is all too seductive, engaging in intrigues of her own, and hiding a deadly technological secret—one that might spell the end of her Station and her way of life—or rescue it from annihilation.
---
The United States. 2030. John McDean executive produces "Vigilance," a reality game show designed to make sure American citizens stay alert to foreign and domestic threats. Shooters are introduced into a "game environment," and the survivors get a cash prize.
The TV audience is not the only one that's watching though, and McDean soon finds out what it's like to be on the other side of the camera.
---
In a small religious community rocked by a spree of shocking murders, Detectives Salvi Brentt and Mitch Grenville find themselves surrounded by suspects. The Children of Christ have a tight grip on their people, and the Solme Complex neurally edit violent criminals – Subjugates – into placid servants called Serenes. In a town where purity and sin, temptation and repression live side by side, everyone has a motive. But as the bodies mount up, the frustrated detectives begin to crack under the pressure: their demons are coming to light, and who knows where that blurred line between man and monster truly lies.
---
October

22 books read. by women 13.5 (61%), 7.5 by men (34%).1 unknown (5%).

Works by POC: 6 (27%)
Year to Date
217 books read. 120 by women (55%), 89 by men (41%), 2 by NB (1%). 6 by persons whose gender is unknown (3%).
Works by POC: 72.5 (33%) And now, the meaningless table. Numbers drawn from the most recent Strange Horizons Count, which isn't all that recent anymore.

---
Since she was promoted to the head of the Lords Select Committee on Sanguinary Affairs, every workday for Mhari Murphy has been a nightmare. It doesn't help that her boss, the new Prime Minister of Britain, is a manipulative and deceptive pain in the butt. But what else can she expect when working under the thumb of none other than the elder god N'yar Lat-Hotep a.k.a the Creeping Chaos?
Mhari's most recent assignment takes her and a ragtag team of former Laundry agents across the pond into the depths of North America. The United States president has gone missing. Not that Americans are alarmed. For some mysterious reason, most of the country has forgotten the executive branch even exists. Perhaps it has to do with the Nazgûl currently occupying the government and attempting to summon Cthulhu.
It's now up to Mhari and her team to race against the Nazgûl's vampire-manned dragnet to find and, for his own protection, kidnap the president.
Who knew an egomaniacal, malevolent deity would have a soft spot for international relations?
---
---
---
In the vein of Kevin Hearne, Burning Ashes is the third book in the Ben Garston series, a contemporary fantasy tale of dragons and ancient magic hidden within our own world.
The Lore is over. For Ben Garston, the fight is just beginning.
The uneasy truce between the human and the mythical world has shattered. Betrayed by his oldest friend, with a tragic death on his hands, there isn't enough whiskey in England to wash away the taste of Ben's guilt. But for a one-time guardian dragon, there's no time to sit and sulk in the ruins.
Because the Long Sleep has come undone. Slowly but surely, Remnants are stirring under the earth, unleashing chaos and terror on an unsuspecting modern world. Worse still, the Fay are returning, travelling across the gulfs of the nether to bring a final reckoning to Remnants and humans alike.
A war is coming. A war to end all wars. And only Ben Garston stands in the way...
---
Thus the need for routine to keep me from getting as far behind with my tor dot com posts as I have.
---
Glen Cook, the father of Grimdark, returns to the Chronicles of the Black Company with a military fantasy adventure in Port of Shadows.
The soldiers of the Black Company don't ask questions, they get paid. But being "The Lady's favored" is attracting the wrong kind of attention and has put a target on their backs--and the Company's historian, Croaker, has the biggest target of all.
The one person who was taken into The Lady's Tower and returned unchanged has earned the special interest of the court of sorcerers known as The Ten Who Were Taken. Now, he and the company are being asked to seek the aid of their newest member, Mischievous Rain, to break a rebel army. However, Croaker doesn't trust any of the Taken, especially not ones that look so much like The Lady and her sister…
---
Fatima lives in the city of Noor, a thriving stop along the Silk Road. There the music of myriad languages fills the air, and people of all faiths weave their lives together. However, the city bears scars of its recent past, when the chaotic tribe of Shayateen djinn slaughtered its entire population -- except for Fatima and two other humans. Now ruled by a new maharajah, Noor is protected from the Shayateen by the Ifrit, djinn of order and reason, and by their commander, Zulfikar.
But when one of the most potent of the Ifrit dies, Fatima is changed in ways she cannot fathom, ways that scare even those who love her. Oud in hand, Fatima is drawn into the intrigues of the maharajah and his sister, the affairs of Zulfikar and the djinn, and the dangers of a magical battlefield.
Nafiza Azad weaves an immersive tale of magic and the importance of names; fiercely independent women; and, perhaps most importantly, the work for harmony within a city of a thousand cultures and cadences.
---
September

22 books read. 13 by women (59%), 9 by men (41%).
Works by POC: 7.5 (34%)
Year to Date
195 books read. 106.5 by women (55%), 81.5 by men (42%), 2 by NB (1%). 5 by persons whose gender is unknown (3%).
Works by POC: 66.5 (34%) And now, the meaningless table. Numbers drawn from the most recent Strange Horizons Count, which isn't all that recent anymore.
---
Imprisoned by her mother, the Dictatress, in a tower for seventeen years, Cija is released and given the task of seducing Zerd, the half-man, half-serpent commander of an invading army.
---