The United States. 2030. John McDean executive produces "Vigilance," a reality game show designed to make sure American citizens stay alert to foreign and domestic threats. Shooters are introduced into a "game environment," and the survivors get a cash prize.
The TV audience is not the only one that's watching though, and McDean soon finds out what it's like to be on the other side of the camera.
---
In a small religious community rocked by a spree of shocking murders, Detectives Salvi Brentt and Mitch Grenville find themselves surrounded by suspects. The Children of Christ have a tight grip on their people, and the Solme Complex neurally edit violent criminals – Subjugates – into placid servants called Serenes. In a town where purity and sin, temptation and repression live side by side, everyone has a motive. But as the bodies mount up, the frustrated detectives begin to crack under the pressure: their demons are coming to light, and who knows where that blurred line between man and monster truly lies.
---
October

22 books read. by women 13.5 (61%), 7.5 by men (34%).1 unknown (5%).

Works by POC: 6 (27%)
Year to Date
217 books read. 120 by women (55%), 89 by men (41%), 2 by NB (1%). 6 by persons whose gender is unknown (3%).
Works by POC: 72.5 (33%) And now, the meaningless table. Numbers drawn from the most recent Strange Horizons Count, which isn't all that recent anymore.

---
Since she was promoted to the head of the Lords Select Committee on Sanguinary Affairs, every workday for Mhari Murphy has been a nightmare. It doesn't help that her boss, the new Prime Minister of Britain, is a manipulative and deceptive pain in the butt. But what else can she expect when working under the thumb of none other than the elder god N'yar Lat-Hotep a.k.a the Creeping Chaos?
Mhari's most recent assignment takes her and a ragtag team of former Laundry agents across the pond into the depths of North America. The United States president has gone missing. Not that Americans are alarmed. For some mysterious reason, most of the country has forgotten the executive branch even exists. Perhaps it has to do with the Nazgûl currently occupying the government and attempting to summon Cthulhu.
It's now up to Mhari and her team to race against the Nazgûl's vampire-manned dragnet to find and, for his own protection, kidnap the president.
Who knew an egomaniacal, malevolent deity would have a soft spot for international relations?
---
---
---
In the vein of Kevin Hearne, Burning Ashes is the third book in the Ben Garston series, a contemporary fantasy tale of dragons and ancient magic hidden within our own world.
The Lore is over. For Ben Garston, the fight is just beginning.
The uneasy truce between the human and the mythical world has shattered. Betrayed by his oldest friend, with a tragic death on his hands, there isn't enough whiskey in England to wash away the taste of Ben's guilt. But for a one-time guardian dragon, there's no time to sit and sulk in the ruins.
Because the Long Sleep has come undone. Slowly but surely, Remnants are stirring under the earth, unleashing chaos and terror on an unsuspecting modern world. Worse still, the Fay are returning, travelling across the gulfs of the nether to bring a final reckoning to Remnants and humans alike.
A war is coming. A war to end all wars. And only Ben Garston stands in the way...
---
Thus the need for routine to keep me from getting as far behind with my tor dot com posts as I have.
---
Glen Cook, the father of Grimdark, returns to the Chronicles of the Black Company with a military fantasy adventure in Port of Shadows.
The soldiers of the Black Company don't ask questions, they get paid. But being "The Lady's favored" is attracting the wrong kind of attention and has put a target on their backs--and the Company's historian, Croaker, has the biggest target of all.
The one person who was taken into The Lady's Tower and returned unchanged has earned the special interest of the court of sorcerers known as The Ten Who Were Taken. Now, he and the company are being asked to seek the aid of their newest member, Mischievous Rain, to break a rebel army. However, Croaker doesn't trust any of the Taken, especially not ones that look so much like The Lady and her sister…
---
Fatima lives in the city of Noor, a thriving stop along the Silk Road. There the music of myriad languages fills the air, and people of all faiths weave their lives together. However, the city bears scars of its recent past, when the chaotic tribe of Shayateen djinn slaughtered its entire population -- except for Fatima and two other humans. Now ruled by a new maharajah, Noor is protected from the Shayateen by the Ifrit, djinn of order and reason, and by their commander, Zulfikar.
But when one of the most potent of the Ifrit dies, Fatima is changed in ways she cannot fathom, ways that scare even those who love her. Oud in hand, Fatima is drawn into the intrigues of the maharajah and his sister, the affairs of Zulfikar and the djinn, and the dangers of a magical battlefield.
Nafiza Azad weaves an immersive tale of magic and the importance of names; fiercely independent women; and, perhaps most importantly, the work for harmony within a city of a thousand cultures and cadences.
---
September

22 books read. 13 by women (59%), 9 by men (41%).
Works by POC: 7.5 (34%)
Year to Date
195 books read. 106.5 by women (55%), 81.5 by men (42%), 2 by NB (1%). 5 by persons whose gender is unknown (3%).
Works by POC: 66.5 (34%) And now, the meaningless table. Numbers drawn from the most recent Strange Horizons Count, which isn't all that recent anymore.
---
Imprisoned by her mother, the Dictatress, in a tower for seventeen years, Cija is released and given the task of seducing Zerd, the half-man, half-serpent commander of an invading army.
---
A thrilling, atmospheric debut with the intensive drive of The Martian and Gravity and the creeping dread of Annihilation, in which a caver on a foreign planet finds herself on a terrifying psychological and emotional journey for survival.When Gyre Price lied her way into this expedition, she thought she'd be mapping mineral deposits, and that her biggest problems would be cave collapses and gear malfunctions. She also thought that the fat paycheck—enough to get her off-planet and on the trail of her mother—meant she'd get a skilled surface team, monitoring her suit and environment, keeping her safe. Keeping her sane. Instead, she got Em. Em sees nothing wrong with controlling Gyre's body with drugs or withholding critical information to "ensure the smooth operation" of her expedition. Em knows all about Gyre's falsified credentials, and has no qualms using them as a leash—and a lash. And Em has secrets, too . . . As Gyre descends, little inconsistencies—missing supplies, unexpected changes in the route, and, worst of all, shifts in Em's motivations—drive her out of her depths. Lost and disoriented, her control giving way to paranoia and anger, Gyre severs her connection with Em and the outside world. On her own in this mysterious, deadly place, surrounded by darkness and the unknown, Gyre must overcome more than just the dangerous terrain and the Tunneler which calls underground its home if she wants to make it out alive—she must confront the ghosts in her own head.But how come she can't shake the feeling she's being followed?
---
S. A. Chakraborty continues the sweeping adventure begun in The City of Brass—"the best adult fantasy I've read since The Name of the Wind" (#1 New York Times bestselling author Sabaa Tahir)—conjuring a world where djinn summon flames with the snap of a finger and waters run deep with old magic; where blood can be dangerous as any spell, and a clever con artist from Cairo will alter the fate of a kingdom.Nahri's life changed forever the moment she accidentally summoned Dara, a formidable, mysterious djinn, during one of her schemes. Whisked from her home in Cairo, she was thrust into the dazzling royal court of Daevabad—and quickly discovered she would need all her grifter instincts to survive there. Now, with Daevabad entrenched in the dark aftermath of the battle that saw Dara slain at Prince Ali's hand, Nahri must forge a new path for herself, without the protection of the guardian who stole her heart or the counsel of the prince she considered a friend. But even as she embraces her heritage and the power it holds, she knows she's been trapped in a gilded cage, watched by a king who rules from the throne that once belonged to her family—and one misstep will doom her tribe.Meanwhile, Ali has been exiled for daring to defy his father. Hunted by assassins, adrift on the unforgiving copper sands of his ancestral land, he is forced to rely on the frightening abilities the marid—the unpredictable water spirits—have gifted him. But in doing so, he threatens to unearth a terrible secret his family has long kept buried.And as a new century approaches and the djinn gather within Daevabad's towering brass walls for celebrations, a threat brews unseen in the desolate north. It's a force that would bring a storm of fire straight to the city's gates . . . and one that seeks the aid of a warrior trapped between worlds, torn between a violent duty he can never escape and a peace he fears he will never deserve.
---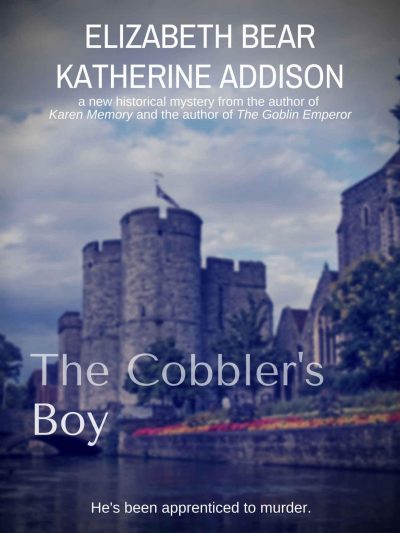 Brilliant, bookish Christopher Marlowe is fifteen years old and desperate to qualify for a scholarship to the King's School in order to escape his brutal father.
But the only man who could have helped him has been murdered... and now the killers are looking for Kit.
---
An anthology of science fiction, written by women, exploring different visions of the future.
---
August
22 books read. 11 by women (50%), 11 by men (50%).
Works by POC: 7 (32%)
Year to Date
173 books read. 93.5 by women (54%), 72.5 by men (42%), 2 by NB (1%). 5 by persons whose gender is unknown (3%).
Works by POC: 59 (34%) And now, the meaningless table.

---
The land is in turmoil. Mages are hunted by men and gods alike. Even their own kind betray each other in the name of safety and protection.
With their last refuge fallen, two young mages must conspire against a god to show the world that their abilities aren't a curse; they are the only way to ensure lasting peace. Under the threat of anti-magic fanatics, Wren struggles to find her place as a leader and to keep her people safe as they build a new home. While Danoph searches for answers on a spiritual journey, determined to find out who he really is and where he came from in an effort to calm the coming storm.
Their world has turned against them, yet only they can save the world.
---
Acheron's human death unleashed an unspeakable horror that almost destroyed the earth. Then, brought back against his will, he became the sole defender of mankind. Only it was never that simple. For centuries, Acheron has fought for our survival and hidden a past he'll do anything to keep concealed. Until a lone woman who refuses to be intimidated by him threatens his very existence. Now his survival―and ours―hinges on hers, and old enemies reawaken and unite to kill them both. War has never been more deadly...or more fun.
---
Original Science Fiction Stories About Young People of the Future

What will life be like for the young people of the future? What will they inherit from today, and what strange new situations will they face?

Nine popular science fiction writers confront these questions in lively stories created especially for this collection. Their answers are intriguing and remarkably varied. Each author presents a possible world of the future. And each examines the lives of young people who are balancing their own dreams against the peculiar demands of their world.
Contents:
Come Sing the Moons of Moravenn - Leigh Brackett
Examination Day - Gordon Eklund
The Speeders - Arthur Tofte
Let My People Go! - Joseph Green
Night of the Millennium - Edward D. Hoch
A Bowl of Biskies Makes a Growing Boy - Raymond F. Jones
Final Exam - Thomas N. Scortia
The Others - J. Hunter Holly
Peace Love and Food for the Hungry - Gail Kimberly
---
Jane Hawkins lives on a floating space port where she tries to help her mothers run a failing inn. Every day she watches starships land from far-off places, bound for exotic adventures.
But a new occupant under their roof is about to change everything. His name is Villem Osteonides. More machine than man, he's crewed aboard ships that sail through the universe faster than light.

And he has a secret that will change Jane's life forever.
---
My venerable laptop has been displaying disturbing behavior of the sort that suggests it's time to replace it. Accordingly, any reviews commissioned between now and August 15, 2018 are half off! Fifty dollars will buy you a book review by yours truly! Multiples of fifty will buy you multiple reviews!

(Because I don't want my loyal patreon supporters to feel short-changed, any Patreon review credits claimed between now and the 15th are also doubled.).
---
July
22 books read. 13 by women (59%), 9 by men (41%).

Works by POC: 4 (20%)
Year to Date
151 books read. 82.5 by women (55%), 61.5 by men (41%), 2 by NB (1%). 5 by persons whose gender is unknown (3%).
Works by POC: 52 (34%)
And now, the meaningless table.

---
Liv Burnham thinks nobody knows Morgan Frost like she does, but a terrible accident pushes her down the rabbit hole where Morgan's secrets hide and she'll be lucky to make it out alive....
On a hot summer night, Liv, Morgan, Clay and Nathan are on the way home from a party in Clay's convertible. Best friends dating brothers? It doesn't get better than that. But the joyride ends in sudden impact, a screech of brakes, and shattering glass. On that lonely country road, four lives change forever.
Liv wakes in the hospital. At first she's confused when they call her Morgan, but she assumes it's a case of mistaken identity. Yet when the bandages come off, it's not her face inthe mirror anymore. It's Morgan's.
Morgan always seemed to have the perfect life. But as Liv tries to fit herself into Morgan's world, she discovers endlessly disturbing secrets of the criminal and murderous variety and a dark task to finish...if she doesn't lose her mind first.
Forced to confront the disturbing truths that Morgan kept hidden in life, Liv must navigate a world of long-buried murder, a dangerous love affair―and a romance that feels like a betrayal.
---