Colonists from Earth wanted the perfect home, but they'll have to survive on the one they found. They don't realize another life form watches...and waits...
Only mutual communication can forge an alliance with the planet's sentient species and prove that humans are more than tools.
---
Captain Marta Ramos, the most notorious pirate in the Duchy of Denver, has her hands full between fascinating murder mysteries, the delectable and devious Deliah Nimowitz, Colonel Geoffrey Douglas (the Duke of Denver's new head of security), a spot of airship engineering and her usual activities: piracy, banditry and burglary. Not to mention the horror of high society tea parties. In contrast, Simms, her second in command, longs only for a quiet life, filled with tasty sausages and fewer explosions. Or does he? Join Captain Ramos, Simms and their crew as they negotiate the perils of air, land and drawing room in a series of fast-paced adventures in a North America that never was.
Murder on the Titania and Other Steam-Powered Adventures includes 4 novellas and a short story about piracy, banditry, burglary, jail-breaking, several brilliant bits of detective work and all manner of otherwise lawless hijinks performed by the valiant Captain Ramos and her crew.
Murder on the Titania: Colonel Geoffrey Douglas, the Duke of Denver's new head of security, is drawn into a high society murder mystery on the Airship Titania. None of the passengers are quite what they seem, including the mysterious young woman who always turns up where she is least expected.
The Curious Case of Clementine Nimowitz (and Her Exceedingly Tiny Dog): A simple burglary goes horribly awry when Captain Ramos and Simms stumble across a dead body, a small dog and the deceased's heirs, the noisome Morris and the rather too interesting Deliah.
The Jade Tiger: a mysterious woman enlists Captain Ramos's aid in getting her revenge on her former employer and Captain Ramos finds herself doing an unintentional good deed.
The Ugly Tin Orrery: Captain Ramos and her crew embark on what appears to be a perfectly ordinary train robbery, only to be drawn into the Duke of Denver's political machinations via a strange metal artifact. Throw in a spot of jail breaking and an encounter with the lovely Deliah, and it's all in a day's work for Captain Ramos and Simms.
The Flying Turk: The Airship Titania is entering a new era and welcoming its first automaton pilot. Or, perhaps not. Captain Ramos and Simms are back aboard the Titania for a heady mix of murder, robbery, peeved scientists and oblivious peers, with a spot of engineering thrown in.

---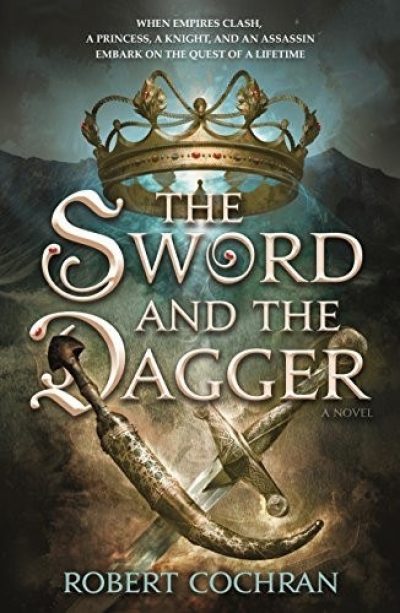 During the time of the Crusades, an unlikely trio—a Christian princess, her affianced prince, and a Muslim assassin—embarks on a quest to the court of the most fearsome warrior the world has ever known, Genghis Khan.
A rousing tale of adventure and romance about three young people who must grapple with fundamental issues of loyalty, friendship, faith, honor, and courage against the backdrop of conflicts that still resonate today.
---
February
21 books read. 12 by women (57%), 8 by men (38%), 1 by unknown (5%)
Works by POC: 8 (38%)
Year to Date

41 books read. 22.75 by women (55%). 17.25 by men (42%). 1 by an author whose gender is unknown (2%).
Works by POC: 17.75 (23%)

And installment two of my year long slog up the meaningless table.
---
---
Cairo, 1912: The case started as a simple one for the Ministry of Alchemy, Enchantments and Supernatural Entities — handling a possessed tram car.
Soon, however, Agent Hamed Nasr and his new partner Agent Onsi Youssef are exposed to a new side of Cairo stirring with suffragettes, secret societies, and sentient automatons in a race against time to protect the city from an encroaching danger that crosses the line between the magical and the mundane.
---
---
While winter snows keep the Witch Lord Ruven's invading armies at bay, Lady Amalia Cornaro and the fire warlock Zaira attempt to change the fate of mages in the Raverran Empire forever, earning the enmity of those in power who will do anything to keep all magic under tight imperial control. But in the season of the Serene City's great masquerade, Ruven executes a devastating surprise strike at the heart of the Empire - and at everything Amalia holds most dear.
To stand a chance of defeating Ruven, Amalia and Zaira must face their worst nightmares, expose their deepest secrets, and unleash Zaira's most devastating fire.
---
Thousands of years ago, the city of Athanor was set adrift in time and space by alchemists, called "the Curious Men". Ever since, it has accumulated cultures, citizens and species into a vast, unmappable metropolis.
Isten and her gang of half-starved political exiles live off petty crime and gangland warfare in Athanor's seediest alleys. Though they dream of returning home to lead a glorious revolution, Isten's downward spiral drags them into a mire of addiction and violence. Isten must find a way to save the exiles and herself if they are ever to build a better, fairer world for the people of their distant homeland.
---
January
20 books read. 10.75 by women (54%), 9.25 by men (46%).

Works by POC: 9.75 (49%)

Year to Date

See above. And now, the beginning of my long slog up the meaningless table.

---
Speaking of Amazon, an interesting phenomenon (and kudos to you): for several of the books on your "100 books to read in 2019" list, the Amazon listings of what "Customers Also Viewed" are largely or entirely made up of *other* books from your list. You singlehandedly transformed Amazon viewing data for a number of them. (Including, at least, The Fortunate Fall, A Voice out of Ramah, and Sibyl Sue Blue. Probably many others, too.)
---
Some dreams become nightmares . . .
An invasion is headed for Crosspointe, but three friends will find themselves at war long before the first enemy touches the shore.
One man will betray her.
Fairlie, a master metalsmith, is discovered to have a rare magical talent that could save Crosspointe from destruction. Against her will, she is forced to make a monstrous sacrifice. What happens next could tear the world apart.
One man will risk everything to save her
The future hangs in the balance. Everything depends on Fairlie. Driven to the edge of sanity and endurance, she must choose who will live and who will die.
One man will come face to face with his worst nightmare.
The enemy is coming to Crosspointe, but a worse one lurks within. As secrets get ripped open and truths are revealed, Crosspointe's future looks ever bleaker.
---
Deception Well is a world on the edge, home to an isolated remnant surviving at the farthest reach of human expansion. All across the frontier, other worlds have succumbed to the relentless attacks of robotic alien warships, while hundreds of light years away, the core of human civilization—those star systems closest to Earth, known as the Hallowed Vasties—have all fallen to ruins. Powerful telescopes can see only dust and debris where once there were orbital mega-structures so huge they eclipsed the light of their parent stars.
No one knows for sure what caused the Hallowed Vasties to fail, but a hardened adventurer named Urban intends to find out. He has the resources to do it. He commands a captive alien starship fully capable of facing the dangers that lie beyond Deception Well.
With a ship's company of explorers and scientists, Urban is embarking on a voyage of re-discovery. They will be the first in centuries to confront the hazards of an inverted frontier as they venture back along the path of human migration. Their goal: to unravel the mystery of the Hallowed Vasties and to discover what monstrous life might have grown up among the ruins.
Edges is a new entry point into the classic story world of Linda Nagata's The Nanotech Succession.
---
It is time to nominate works for the Hugo.

I know what I have done that last year but as to what categories they fall into? You guess is as good as mine. I think my grasp of the boundaries is worse than it was last year.

James Nicoll Reviews and my pieces for Tor might be best related? Or fan, perhaps? My Dreamwidth account might be Best Fan Writer eligible. And the various projects on the Young People site may count as a fanzine. Or, again, best fan writing.

---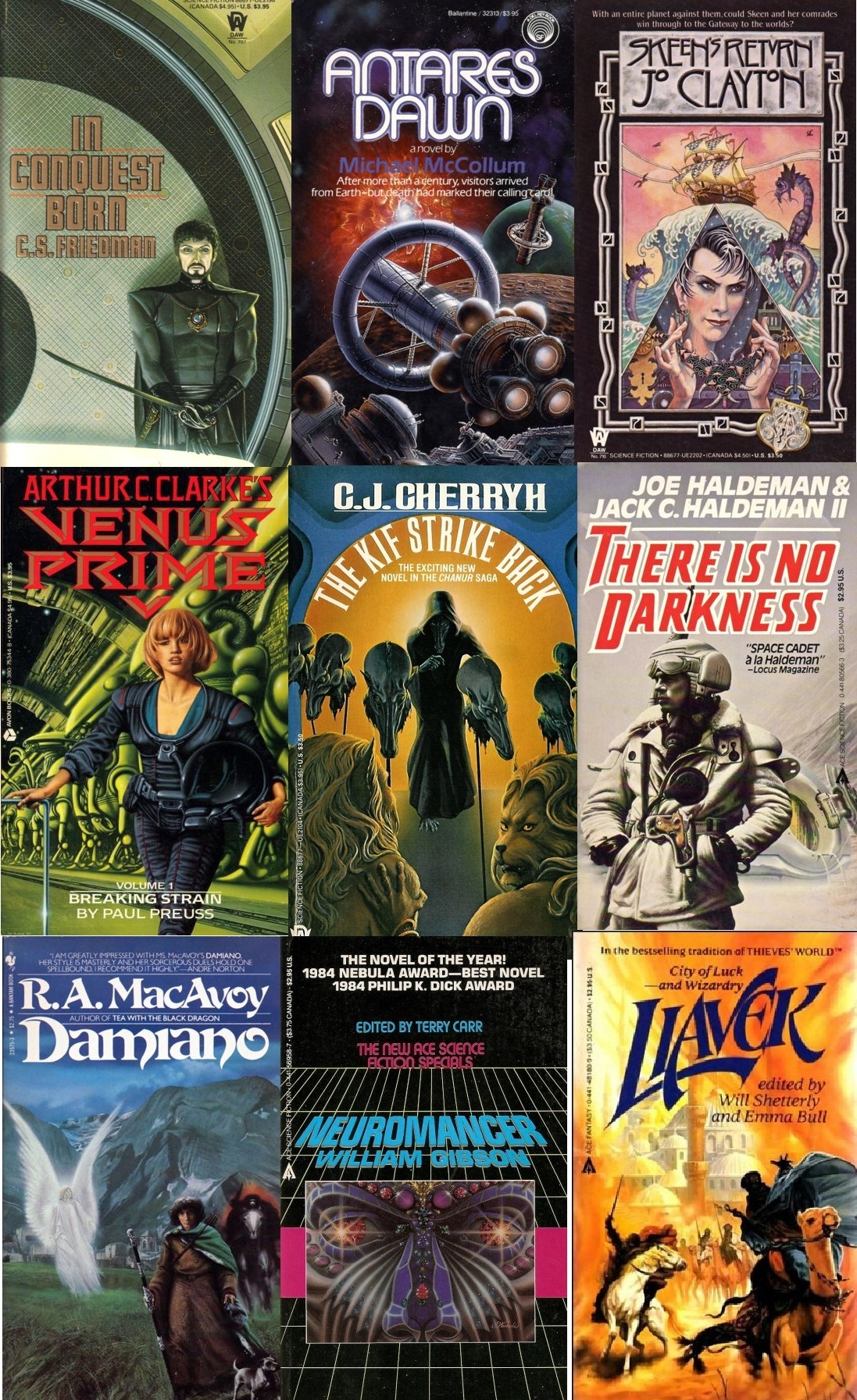 From time to time I consider reviewing an old favourite for my Because My Tears Are Delicious To You series, only to discover that the book in question was published after March 1981, too recent for Tears1. Pity, because there were a great many books published in the 1980s that were almost as formative for me as the ones I read as a teen. If only I had my own review site, I muse, I could indulge my whims.
It turns out I do have a review site that is completely under my control! Bwahahaha!
Welcome, therefore, to Big Hair, Big Guns, intermittent reviews of the best (or at least most notable) SF works of the 1980s.
1: Tears covers those books I read as a teen. Thanks to math and the Julian calendar, I was only a teen from 1974 to 1981.
---
HEAVEN IS A PRISON. HELL IS A PLAYGROUND.Ross Baker is an overworked scientist developing medical technology for corporate giant Neurosphere, but he'd rather be playing computer games than dealing with his nightmare boss or slacker co-workers.He volunteers as a test candidate for the new tech - anything to get out of the office for a few hours. But when he emerges from the scanner he discovers he's not only escaped the office, but possibly escaped real life for good. He's trapped in Starfire - a video game he played as a child - with no explanation, no backup and, most terrifyingly, no way out.
---
As always, something happened to inspire me. This year it was this tweet by award-winning author Silvia Moreno-Garcia:

So I've been wondering if I should say something here because I am busy and tired and I don't need the attention, but I think I must: the

WFC

guest of honor lineup for 2019 is sad. The con takes place in Los Angeles but all the GOHs are white. The theme is Fantasy Noir.

I could rebuke the WFC, but this might undermine my justly earned reputation for genial tolerance. Better that I should set aside any expressions of disappointment and irritation. Surely if the WFC could do better, they would be doing better. I shall embrace this problem as the inspiration for 2019's major reviewing project, offered in the spirit of community-building and good will:
Doing What the WFC Cannot Do, being an incomplete survey of POC currently active in speculative fiction. I will review 52 recent works by 52 different POC in 52 weeks.
I don't anticipate any particular difficulty in doing this. But then, I am not the WFC.
---
CONTENTS:
Prose –
THE ISHOLOGU // Jonathan Kincade
What truly separates good from evil? When a senseless act of violence unleashes an ancient evil on a community, it's up to one bokor–an his undead accomplice–to make things right.
GLOSS // Kola Heyward-Rotimi
For Ace and zeal, The Clipper is more than a glitch; it's an escape, a refuge from reality. But when developers patch their refuge out of existence, Ace has to figure out how to break reality one more time.
THE DAEMON KING OF ENGIM // Rafeeat Aliyu
Saya is a talented wizard who has dreams of being a fighter, but there's a problem: women aren't allowed to fight. She makes a deal with a capricious deity who says that they can make her dreams real…but is Saya prepared to pay the cost?
NOTES ON THE PLAGUE // Shamar Harriott
A mysterious plague is killing black people. Amidst this tragedy, a small group of hopeful survivors tries to figure out how to retain their will to survive without the ability to touch–or trust.
THE RAT KING OF SPANISH HARLEM // Nicky Drayden
A sweeping viral epidemic is changing the very fabric of humanity, and Alicia is one of the few unaffected humans remaining. In the midst of Humanity's change, will she find a place to belong?
Poetry –
NEST // B. Sharise Moore
THE BASKET WEAVER // Soonest Nathaniel
---
Short version: I produced about as many reviews as the median reviewer on the Strange Horizons count might over about half a century, about as many reviews of books by women and non-binary authors as the median reviewer on the Strange Horizons list might over the course of about a century and about as many reviews of books by POC as as the median reviewer on the Strange Horizons count might over about one hundred and seventy-five years. Let's see if I cannot at least make that last number a fifth of a millennium next year.

December
21 books read. 12 by women (57%), 8 by men (38%). 1 by an author whose gender is unknown (5%).
Works by POC: 5 (24%)
Year to Date 259 books read. 144 by women (56%), 105 by men (41%), 3 by NB (1%). 7 by persons whose gender is unknown (3%). Works by POC: 82.5 (32%) And now, the meaningless table.
---
There's nothing like a celebratory meal shared with friends and family! May you all enjoy!

Thanks to my editor Karen Lofstrom and my web person Adrienne L. Travis. Thank you all of my readers for sticking around for four and a bit years! Especially everyone who has commissioned a review or been part of my Patreon. And a big thanks to all of you authors, without whom writing book reviews would be very challenging.
---
One of the most important and blazingly original writers of his generation, George Saunders is an undisputed master of the short story, and Tenth of December is his most honest, accessible, and moving collection yet.

In the taut opener, "Victory Lap," a boy witnesses the attempted abduction of the girl next door and is faced with a harrowing choice: Does he ignore what he sees, or override years of smothering advice from his parents and act? In "Home," a combat-damaged soldier moves back in with his mother and struggles to reconcile the world he left with the one to which he has returned. And in the title story, a stunning meditation on imagination, memory, and loss, a middle-aged cancer patient walks into the woods to commit suicide, only to encounter a troubled young boy who, over the course of a fateful morning, gives the dying man a final chance to recall who he really is. A hapless, deluded owner of an antiques store; two mothers struggling to do the right thing; a teenage girl whose idealism is challenged by a brutal brush with reality; a man tormented by a series of pharmaceutical experiments that force him to lust, to love, to kill—the unforgettable characters that populate the pages of Tenth of December are vividly and lovingly infused with Saunders's signature blend of exuberant prose, deep humanity, and stylistic innovation.

Writing brilliantly and profoundly about class, sex, love, loss, work, despair, and war, Saunders cuts to the core of the contemporary experience. These stories take on the big questions and explore the fault lines of our own morality, delving into the questions of what makes us good and what makes us human.

Unsettling, insightful, and hilarious, the stories in Tenth of December—through their manic energy, their focus on what is redeemable in human beings, and their generosity of spirit—not only entertain and delight; they fulfill Chekhov's dictum that art should "prepare us for tenderness."
---
Five hundred years ago, magi created a weapon they couldn't control. An infestation that ate magic—and anything else it came into contact with. Enemies and allies were equally filling.
Only an elite team of non-magical humans, known as sweepers, can defuse and dispose of infestations before they spread. Most die before they finish training.
Laura, a new team member, has stayed alive longer than most. Now, she's the last—and only—sweeper standing between the city and a massive infestation.
---
The author of The Last Unicorn presents thirteen fantastical and mystical stories celebrating the most beloved mythical creature by some of today's top fantasy authors, including an original tale by Janet Berliner written especially for this edition.
---
November
21 books read. 12 by women (57%), 8 by men (38%). 1 by NB (5%).
Works by POC: 5 (24%)
Year to Date
238 books read. 132 by women (55%), 97 by men (41%), 3 by NB (1%). 6 by persons whose gender is unknown (3%). Works by POC: 77.5 (33%) And now, the meaningless table. Numbers drawn from the most recent Strange Horizons Count, which isn't all that recent anymore.

---
Ambassador Mahit Dzmare arrives in the center of the multi-system Teixcalaanli Empire only to discover that her predecessor, the previous ambassador from their small but fiercely independent mining Station, has died. But no one will admit that his death wasn't an accident—or that Mahit might be next to die, during a time of political instability in the highest echelons of the imperial court.
Now, Mahit must discover who is behind the murder, rescue herself, and save her Station from Teixcalaan's unceasing expansion—all while navigating an alien culture that is all too seductive, engaging in intrigues of her own, and hiding a deadly technological secret—one that might spell the end of her Station and her way of life—or rescue it from annihilation.
---