Stray — Andrea K. Höst
Touchstone, book 1
For the life of me, I cannot remember how Andrea K. Höst's 2011 Stray, the first volume in her Touchstone trilogy, got into my to-read queue, but I am happy that it did.
Cassandra Devlin's plans involve high school graduation and one last party with her friends. They do not include somehow stepping from her native Australia to an unfamiliar alien world. Guess which option she gets?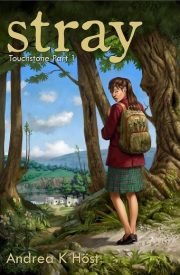 ---